Tom Clancy's The Division: Heartland was officially announced back in May 2021 alongside The Division mobile game. however, not much information has been known about the title until recently.
A rating for the PC version of the game has been spotted over at South Korea's Game Rating and Administration discovered by Nerd Bear. Usually, when a title is rated in Korea it implies that development is nearing its completion meaning the game is close to release.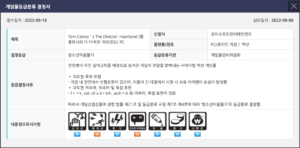 Another title from Ubisoft which was prematurely rated before its big reveal event back in May was Skull and Bones which is due to come out on November 8th. This rating was given 5 months ahead of its launch however information has come to light recently that The Division: Heartland maybe be getting set for an imminent release during the Ubisoft Forward Event.
The publisher listed the game on its storefront earlier this week with a "coming soon" date along with information on the title PvEvP mode.
Ubisoft will be hosting its showcase on September 10th where they will be giving updates on its upcoming title as well as revealing its plans for the Assassin's Creed franchise, the publisher has already revealed ahead of the showcase that Assassin's Creed Mirage will be getting announced during the show.