Martial arts and sports anime will have you searching for your local dojo or gym in no time. Boxing anime has some of the best hand-to-hand combat and badass main characters around.
This top ten has some true anime classics as well as newer editions to the anime boxing world. Here is a list of the top ten boxing anime's which will have you lacing up your gloves to get some of the action.
Best Boxing Anime
10. Meglobox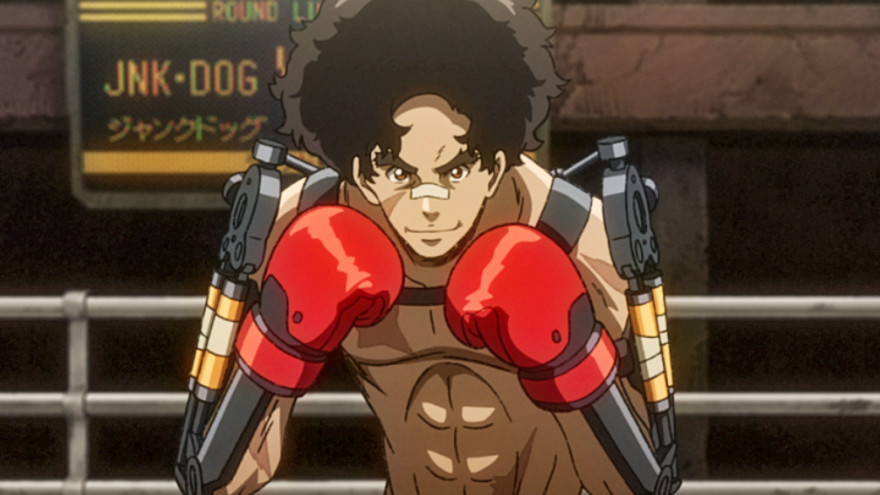 Boxing's evolution has once again made man with a machine in Meglobox. This anime is an exciting ride as the main character Junk Dog enters Megalonia the tournament to decide the world's best Meglobox boxer.
The stakes are high, and the crime syndicate backs him. But, will he make it to the top to challenge his rival? You will have to watch to find out. If you love Hajime Ippo, this should be next on your list.
9. Baki

This anime is centered around the underground and esteemed martial arts world of japan, colliding in a state of war.
Baki Hanma is badass and totally overpowered but still, nothing compared to his father. This anime is an epic showdown between contrasting martial arts worlds, which will keep you on your toes waiting for the next match.
8. Rainbow: Nishakubou No Shichinin

With friendships that will last to the very end and a storyline that will keep you in suspense with its many twists and turns.
This anime is definitely worth a watch. With only 26 episodes, it will be hard not to stay hooked. A memorable moment is the introduction of the six delinquents to their new mentor, while emotions are raw, the boxing is still skillful and savage.
7. One Pound Gospel

Hatanaka Kosaku has a mean punch, but weak will power when it comes to food. His infatuation with food means he will eat even right before he steps into the ring, meaning he ends up in the heavyweight category.
We see an interesting relationship develop between a nun (Sister Angela) and our heavyweight fighter in this anime. She is training to be a nun, and he is training to be a champion making for an interesting character duo.
6. Nozomi Witches

Ryoutaro Shiba is a boxing genius he just doesn't know it. Until his family moves to a new town where his neighbour, Nozomi Egawa, charms an unwilling Ryoutaro to take up boxing.
Nozomi has plans for Ryoutaro and submits a resume for him so he can join the boxing team. As it turns out, he has a special gift for boxing and soon finds himself in the ring trying to fulfill Nozomi's wishes.
5. Slow Step

If you like boxing anime but also a bit of romance, Slow Step is the anime for you. The main story centers around a slightly unconventional love triangle between a promising boxer, a student, and a softball player. It makes for a dramatic miniseries.
We see these romantic rivals Shū Akiba, and Naoto Kadomatsu use boxing as a way to fight for Minatsu Nakazato's affections. Throw in the affections of a teacher, and it could get messy with his bunch. You will have to watch to find out.
4. Ring NI Kakero 1

Takane Kiku and Takane Ryuji are two siblings training to make Ryuji the champion of the arena.
Their goal is to fulfill their dead father's wishes, but their journey also serves as a path for Ryuji to grow and mature as he takes on many rivals. Junior high, boxing, and arch-rivals. What more could you want from a high school boxing anime.
3. Ashita No Joe

In this anime, we see a rather unruly character, Joe, grow from a street fighting delinquent to a skilled champion boxer. His journey is tough, but he keeps on fighting.
He survives only with guidance and training from his mentor Danpei Tange. For many fans, this is the best anime ever and still stands the test of time, sharing the same charms as the classic Rocky movies.
2. Levius

Levius raises the stakes in the ring by creating mechanical martial art. A cyberpunk take on high-stakes boxing, Levius will keep you glued to the screen.
This anime is set at a time where society is rising from the effects of war. Where bionic fighters battle for their fortunes. The main character Levius Cromwell has a silent archetype, which keeps the mystery of the show intriguing.
1. Hajime No Ippo
Hajime Ni Ippo is the number 1 boxing anime possibly of all time! This anime followers Ippo Makunouchi on his journey from shy bullied high school student to an aspiring Japanese featherweight champion.
After receiving a fairly serious beating, Ippo is taken in by Mamoru Takamura, and this is where his boxing talents are discovered. Watching this anime will make you wonder if Ippo could even take on rocky balboa and win!
Final Thoughts
If you are into boxing anime's this list should keep you going for some time with some classic favorites such as Hajime No Ippo and some new additions such as Levius.
When it comes to fighting techniques, some are more nuanced than others, but every anime has its own style—each leaving you with a sense of satisfaction.
There is a good range of classic boxing, gritty street fighting, bionic boxing, and a little high school drama in this mix.
Whether it has been made in the '70s or new to our screens, these are a firm top ten. Do you prefer the rebellious delinquent or the little man who rises through the ranks? Which anime will be next on your watch list?
You might also be interested in: