It doesn't have to be December or be snowing outside to enjoy a good Christmas anime series.
Of course, it gets into the Christmas spirit, there's nothing better than watching 2D characters getting into the spirit.
So snuggle up with a blanket and hot cocoa and enjoy these anime shows surrounded by glowing lights, Christmas trees, presents, and family. 'Tis the season to be jolly for anime after all!
Best Christmas Anime
20. Itsudatta My Santa!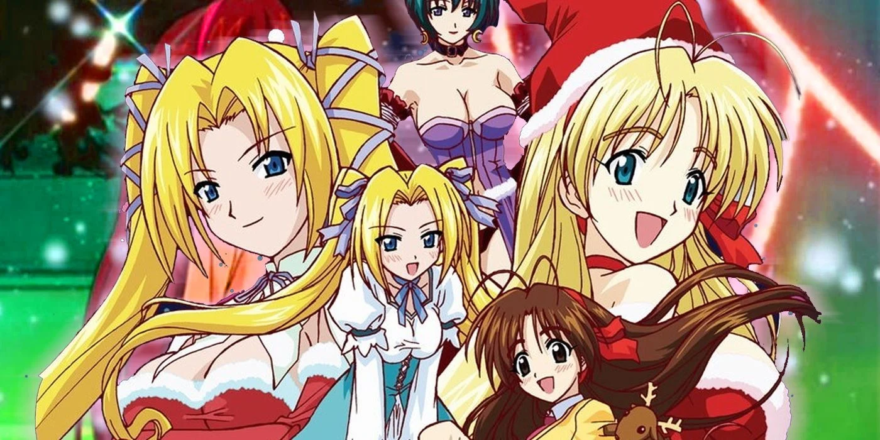 Having been born on Christmas Eve, Santa was named after Saint Nicholas and never had friends, often being made fun of for his name, and came to hate Christmas altogether.
Everything changes for San when he meets a girl named Mai. She is no ordinary girl: she's a Santa Claus Academy student who has trouble controlling her magic.
To gain strength and control in her magic, Mai hopes to improve San's life and change the way he sees Christmas.
19. Winter Garden

In a Christmas special from the series Di Gi Carat, the main character Dejiko is all grown up. A bittersweet love story that starts on Christmas day.
Dejiko is working at a bakery shop and, on her way home from work, she accidentally drops her cake and fatefully meets a young man in a park named Senba Takuro.
By fate, she meets him again in town and then again at the bakery. Bit by bit through all their unplanned meetings, Dejiko falls in love with Takuro and wants to continue seeing him.
But, does Takuro feels the same way for Dejiko, or is it just the wishful thinking of Christmas time?
18. Chocotto Sister

For Christmas, a young Haruma Kawagoe is an only child and wishes for a sibling. However, his mom suffers a miscarriage and loses the baby that would have been his baby sister.
Years later, Haruma is in college, his Christmas wish long forgotten—but Santa Claus hasn't and is determined to make Haruma's wish come true.
Santa delivers him a little sister named Choko and apologizes for taking so long before leaving.
Now, Haruma has the little sister he always wanted, and she comes with her own instruction manual!
17. Guilty Crown: Lost Christmas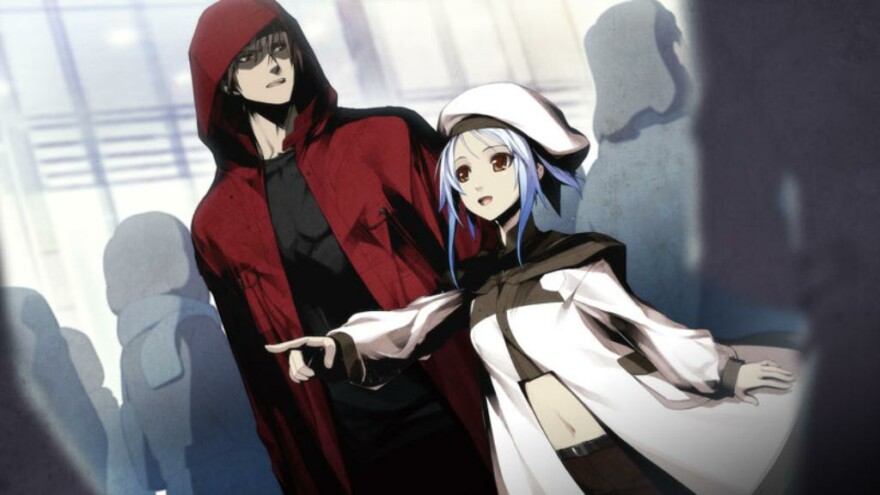 A prequel of Guilty Crown, this Christmas special takes place in 2029, 10 years before the start of the main series, the experimental subject with psychic abilities known as Scrooge escapes from his research facility.
While escaping, Scrooge meets another like him, a girl named Carol who can take out weapons from inside her body.
The two escape together where they meet another girl named Present, who connects all three of their fates together.
16. Tokyo Marble Chocolate

Two complete opposites who both have a hard time finding love. Yudai is kind and bighearted but extremely shy—especially when it comes to girls.
Chizuru is a joyful and lively girl but is unlucky with boyfriends and can never maintain a stable relationship.
The two find each other and are spending their first Christmas together as a couple.
They both love each other but are still haunted by their past relationships and are too afraid to tell each other their feelings.
Their relationship begins to suffer because of it. Chizuru thinks it's coming to an end, but Yudai doesn't want to lose her
. By the end of Christmas time, can their love survive before all the snow melts away?
15. Aggretsuko: We Wish You a Metal Christmas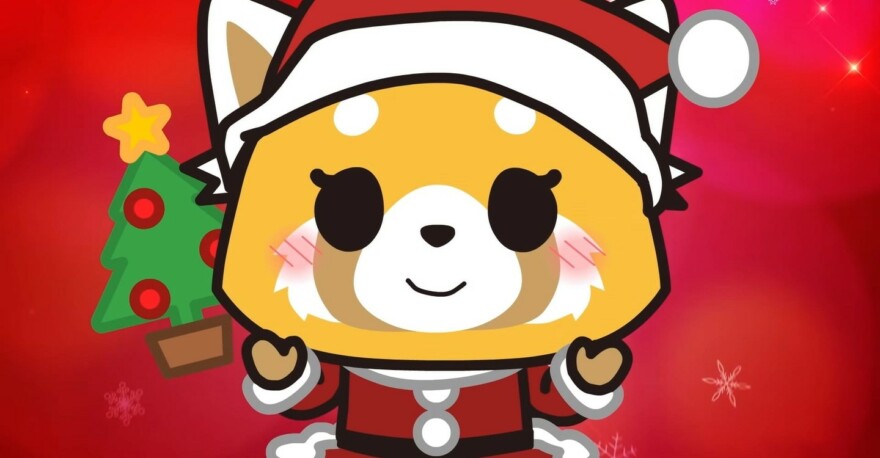 A Christmas special from Aggretsuko, the red panda, Retsuko works tirelessly at an office all day for a prejudiced pig and is surrounded by kiss-asses.
To release pent-up anger, Retsuko goes to karaoke, where she sings death metal.
Around Christmas time, Retsuko discovers Instagram and uses social media to vent her frustrations.
She soon finds herself beautifying her dull life to get more attention from social media.
Meanwhile, her co-worker hyena, Haida, doesn't want his friend to get lost in her phone and spend Christmas together with her.
14. Love Hina Christmas Special: Silent Eve

Following the characters from Love Hina, Christmas time comes to the residence of Hinata House, but Keitaro Urashima is too stressed about failing the entrance exam for Tokyo University to enjoy.
On top of that, he plans to confess his love to Naru Narusegawa before Christmas ends.
However, Naru is starting to become distant. Things become worse when Keitaro's friends find a love letter from Naru but don't know who it's for. Keitaro fears it's for her old tutor Seta and questioning his future and love for Naru.
Their relationship needs a Christmas miracle!
13. Amagami Ss

One Christmas Eve, high schooler Junichi Tachibana was stood up. 2-years-later, he's still trying to let go of his hurt feelings and never wants to be rejected again.
But now, it seems the shoe is on the other foot when Junichi meets six girls and becomes interested in them.
With Christmas Eve coming up again, Junichi will need to decide who he is in love with and who he wants to spend Christmas with.
The Christmas Eve rejected has become the rejecter.
12. Winter Sonata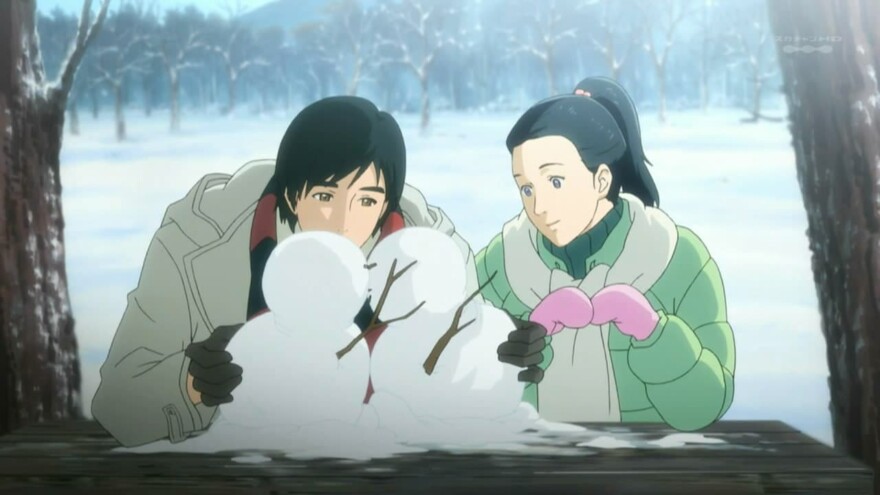 An anime adaptation from the Korean Drama, although Joon Sang is a bright student, he is the introverted guy.
Having struggled with his mother about his biological father, Joon Sang believes that no one will ever love him.
All it takes is one of his classmates, Yoo Jin, to fall asleep on his shoulder on the bus for him to fall in love.
However, their love wasn't meant to last when Yoo Jin losing Joon Sang in a car accident.
She becomes engaged to her childhood friend, and her life goes on, until one day when Yoo Jin encounters a man who bears a striking resemblance to her first love Joon Sang.
Can Yoo Jin's heart move on from Joon Sang, or was he never really gone, to begin with?
11. Love, Chunibyo & Other Delusions!: Sparkling…Slapstick Noel

A Christmas special that brings back all the weirdoes from Love, Chunibyo & Other Delusions! Yuta Togashi and Rikka Takanashi are new to the whole boyfriend-girlfriend thing still.
Rikka asks her class rep Shinka Nibutani for love advice, and Shinka subjects her to make the first move at Christmas time.
Perfect timing, their friends decide to hold a Christmas party! Rikka's plan goes out the window when she gets drunk!
Maybe this Christmas party was a huge mistake for Yuta and Rikka's new relationship.
10. Re:Zero – Memory Snow

A winter movie from after Re:ZERO ~Starting Life in Another World~, Subaru Natsuki has some extra time on his hands and wants to use it by going on a date with Emilia.
Subaru goes out to a neighboring village for the perfect dating spot and gets help from the local kids.
However, Subaru's plans get ruined by a giant snowstorm that leaves everyone stuck in Rosawaal's mansion.
But as it gets colder and colder, Subaru soon fears that his biggest problem is trying to stay alive for Emilia's date!
9. White Album 2

17-year-old Haruki Kitahara's dream is to perform at his school's festival with the light music club.
But with the club on the verge of disbandment, Haruki will have to give that all up. Picking up his guitar, he plays "White Album," the first song he ever played.
A beautiful voice and the elegant sound of a piano answered Haruki.
The voice belongs to the outgoing and kind-hearted Setsuna Ogiso and the piano to the cold and mysterious Kazusa Touma, daughter of a world-renowned musician.
Playing harmoniously, the two new friends help Haruki reach his dream—but will romance, and a complex love triangle destroy it all?
8. Sailor Moon S Movie: Hearts in Ice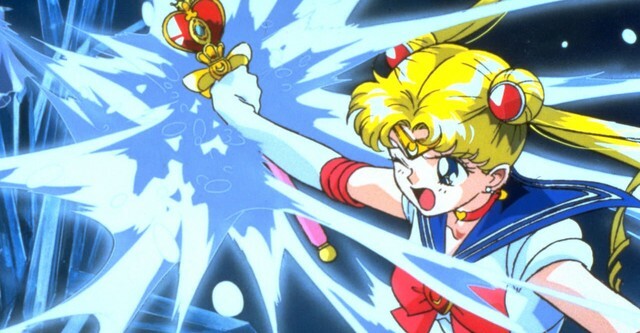 In a winter movie from Sailor Moon, the Sailor Senshi face a new enemy when a mysterious snow storm hits Tokyo and Princess Snow Kaguya, who wants to use her powers to freeze the Earth!
The thing getting in her way is Sailor Moon and her teammates.
While trying to save the world, Sailor Moon's partner, Luna, falls in love with an astronomer named Kakeru and has to face the heartbreak of unrequited love since she's a cat.
Luna makes a wish to be human, and it may be exactly what Sailor Moon needs to defeat the evil snow queen.
7. Mobile Suit Gundam Wing: Endless Waltz Movie

In the movie from Mobile Suit Gundam Wing, on Christmas Eve in the year AC 195, the Eve Wars has reached its peak following the World Nation leader's death and the White Fang's leader disappearance.
However, five Gundam pilots save Earth, and the people of both Earth and space are able to come together to form a new world government.
A whole year has passed with peace, and almost every mobile suit has been dismantled. Little do the people know that a new enemy is approaching that will need the Gundam once more.
6. Ef: A Tale of Memories.

A tale of two love stories. On Christmas Eve, 17-year-old Hiro Hirono's bike is "burrowed" by Miyako Miyamura's girl to chase after a thief.
Moments later, Hiro's bike is destroyed, and the Miyako girl is unconscious.
Nevertheless, they end up spending the rest of Christmas Eve together. When they learn they go to high school, the two become quick friends or something much more to the dismay of Hiro's childhood friend Kei Shidou.
Then there's 16-year-old Renji Asou, who wants to become a girl's knight in shining armor one day and meets Kei's twin sister Chihiro.
The shy bookworm spends most of her time alone at an abandoned train station. When they two meet, they come up with the idea to write a novel together.
But Renji can become the knight Chihiro needs when he uncovers her secret? Will either of these stories have a happy ending for everyone?
5. Toradora!

Because of his scary looks, high schooler Ryuji Takasu has always been seen as a delinquent despite being a kind and selfless person.
Starting his third year, Ryuji gets on the wrong side of Taiga Aisaka, the "Palmtop Tiger," a petite girl with a not-so-petite temper and spirit.
Although they want nothing to do with each other, their goals are aligned and form an unlikely friendship.
Through their remaining school days, celebrations, and the Christmas holiday, the odd duo of Ryuji and Taiga are there for each other in getting together with their crushes—their best friends!
4. Kanon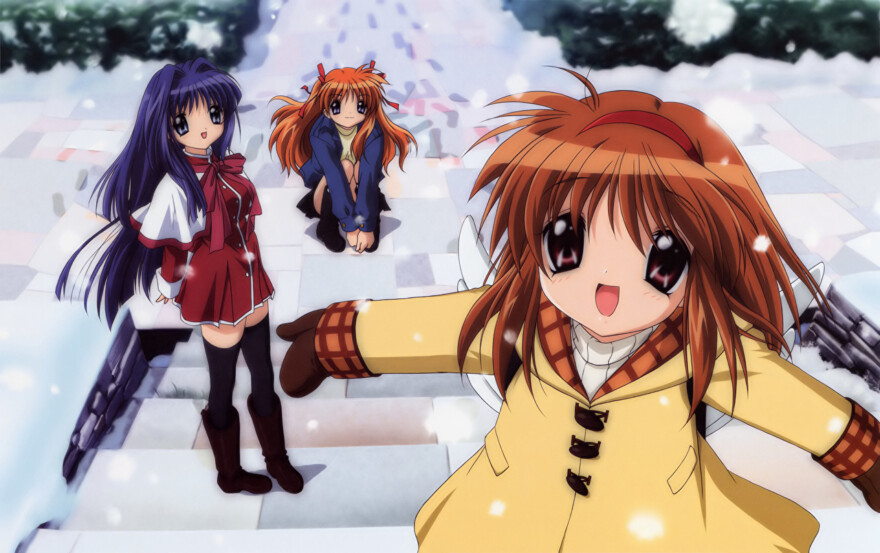 When Yuichi Aizawa was a kid, he always went to the city to see his cousin.
After seven years, Yuichi is finally able to return, but all his memories are completely gone.
Trying to find his footing back in the snow-covered town, Yuichi meets several girls that all have a connection to his forgotten past.
Ayu Tsukimiya: a short and strange girl with a winged backpack. Mai Kawasumi: a mysterious delinquent.
Makoto Sawatari: a girl with an unknown grudge against Yuichi. Nayuki Minase: Yuichi's cousin he used to visit all those years ago.
As he befriends each girl, he slowly starts to regain his lost memories that could reshape his future.
3. Persona 3 the Movie 4: Winter of Rebirth

From Persona 3, with the season has changed to winter, Makoto Yuuki and his allies must face new challenges together and be prepared to fight.
With the physical embodiments of their "Personas," they will continue to battle to protect the world and themselves.
One day, a boy approaches Makoto and his friends and tells them that humanity will crumble at the hands of a being called Nyx. The boy presences them all with a choice: spare Nyx or kill him.
If they spare Nyx, they will have to fight him fair and square. If they kill him and the boy will erase their memories and allow them to live blissfully ignorant.
2. Tokyo Godfathers

On the cold night of Christmas Eve, three homeless people are digging in the garbage.
Hana: a transgender woman, Gin: an aged alcoholic, and Miyuki: a teenage runaway. The last thing any of them expect to find among the trash is an abandoned baby!
Giving the newborn baby the name Kiyoko, the trio begins the search for the mother. All they have to go on is an odd-looking key with a note.
Hana, Gin, and Miyuki will create their own Christmas miracle by getting Kiyoko home and uncover the truth of why she was left in the garbage on that cold Christmas Eve night.
1. The Disappearance of Haruhi Suzumiya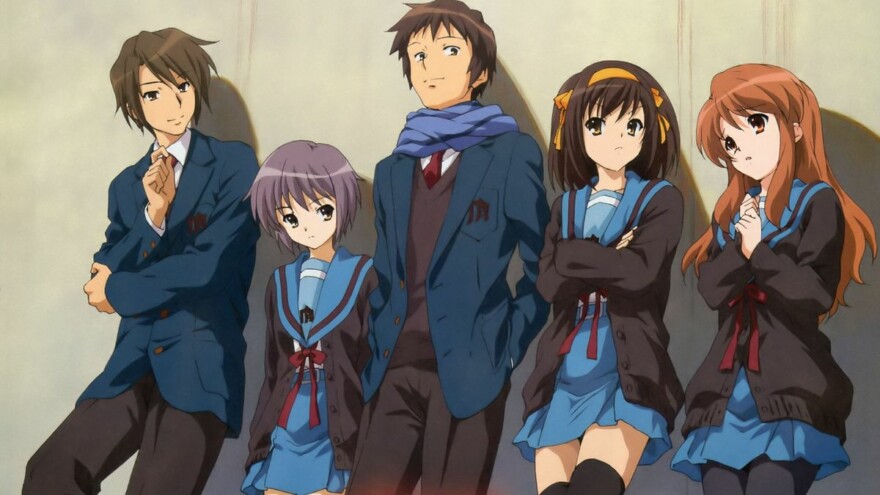 After the series The Melancholy of Haruhi Suzumiya, Kyon heads over to the school to enjoy his club, the SOS Brigade's Christmas celebration.
But, instead, he learns that Haruhi Suzumiya is nowhere to be found. Not only that, everyone except for Kyon has completely forgotten about Haruhi and the club and is all acting strange.
Mikuru Asahina is scared of Kyon, Itsuki Koizumi is missing, and Yuki Nagato has formed the Literature Club in the old clubroom.
Kyon has to rely on himself to unravel what has happened to his friends, his life, and find Haruhi—or leave things as they are.