Clicker and Idle games, also known as "incremental" games, are the simplest but possibly the most addictive genre of game available. They are created as boredom-killers; something to do with yourself while you're procrastinating, waiting for a train, or on your break without anyone to talk to. To play, all you really do is click your mouse or tap on your phone – it's that easy.
Top 10 Best Idle Games and Clicker Games on Ios and Android
For the gamer on the go, installing an idle or clicker game onto your mobile might just save you from making eye contact or small talk with strangers. After some research on our part, here are ten of the best incremental games that you can download on your phone.
Readers should know that all of these games are available on iOS and Android, as long as you don't have an extremely dated phone.
1. Bitcoin Billionaire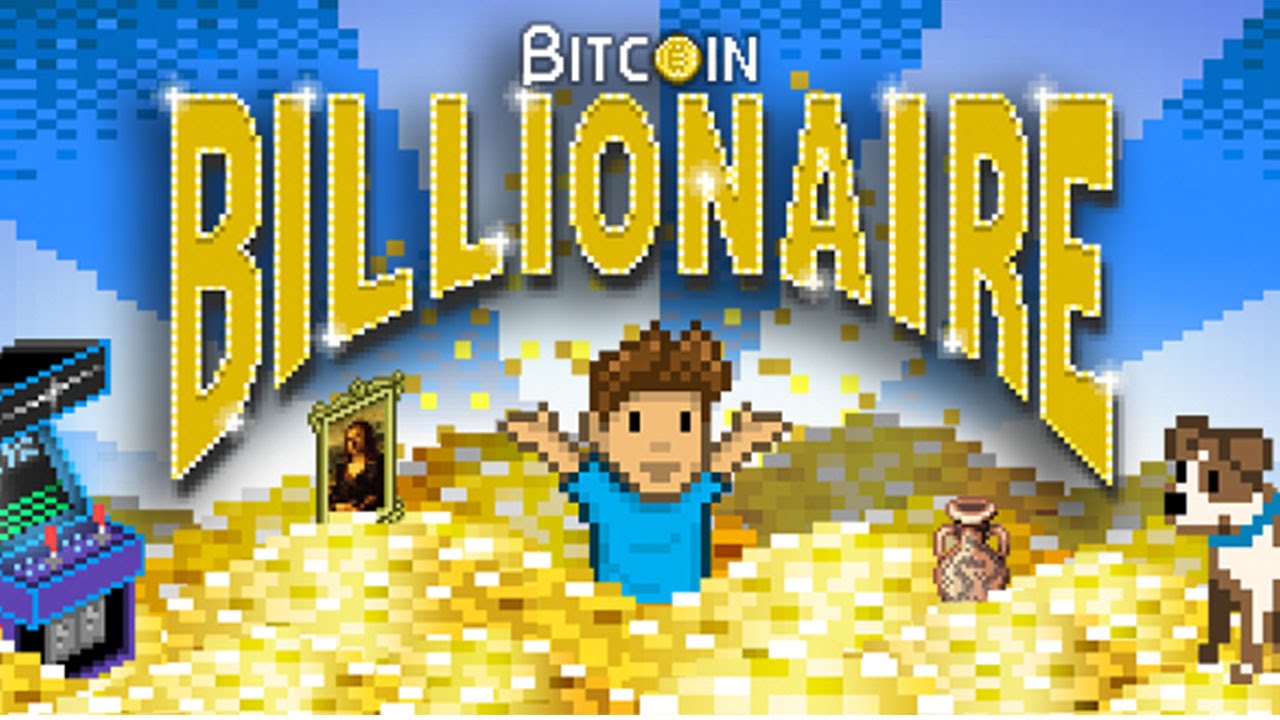 The humble bitcoin, still boggling the minds of the average member of society, but now available as a clicker game. Developed by Fizzpow but published by Noodlecake, Bitcoin Billionaire is a game where your character sits at their computer all day and invests in bitcoin to build their fortune.
You can customize your room with upgrades to show how far up the bitcoin ladder you've managed to go.
2. RO: Idle Poring
Perhaps one of the most aesthetic idle games available for your smartphone, Idle Poring by Gravity offers a fantastic system with a classic design. The game will help you level up even when you're not playing, and unlike many idle games, you can add friends from anywhere in the world.
The style is quite cute and well-detailed, especially for a mobile game. Enjoy your adventure and take advantage of the game's pet system.
3. Egg, Inc.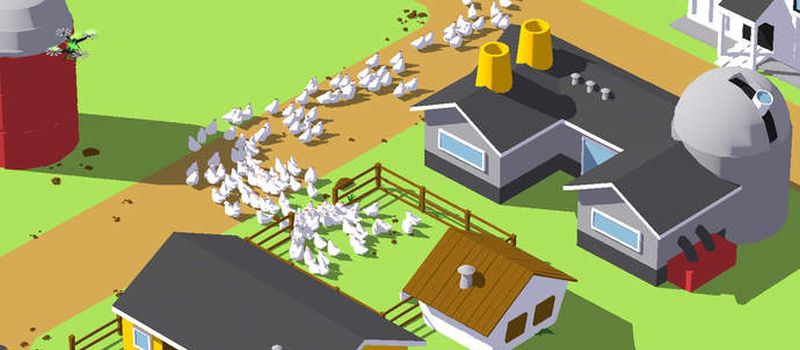 The world is built on eggs, and you need to be the best egg farmer possible to advance your farm into something more futuristic. Auxbrain, Inc. are the minds behind Egg, Inc., though they only show their most recent or more popular games on their website.
As you develop your farm, you'll see more and more of this beautiful creation. See how modernized you can make your farm become and keep tapping away for more eggs!
4. Tap Quest: Gate Keeper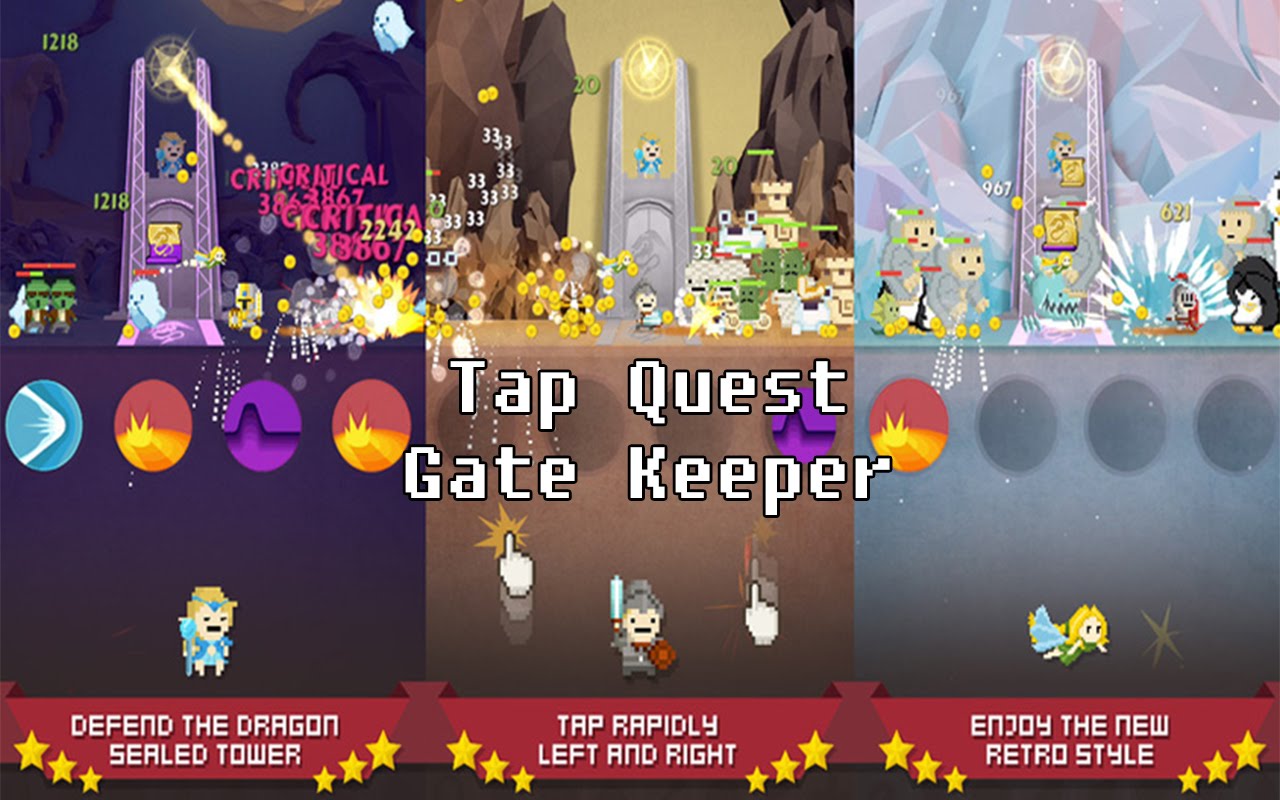 It's time for you to be a hero in Tap Quest: Gate Keeper. This idle game has retro-style graphics and animation, as well as mood-setting soundtracks. Tap left and right to move and attack while you progress through the chapters of the story.
Nanoo are the creators behind Tap Quest, and though the app is free, there are in-app purchases that you can make if you choose to.
5. Make It Rain: Love of Money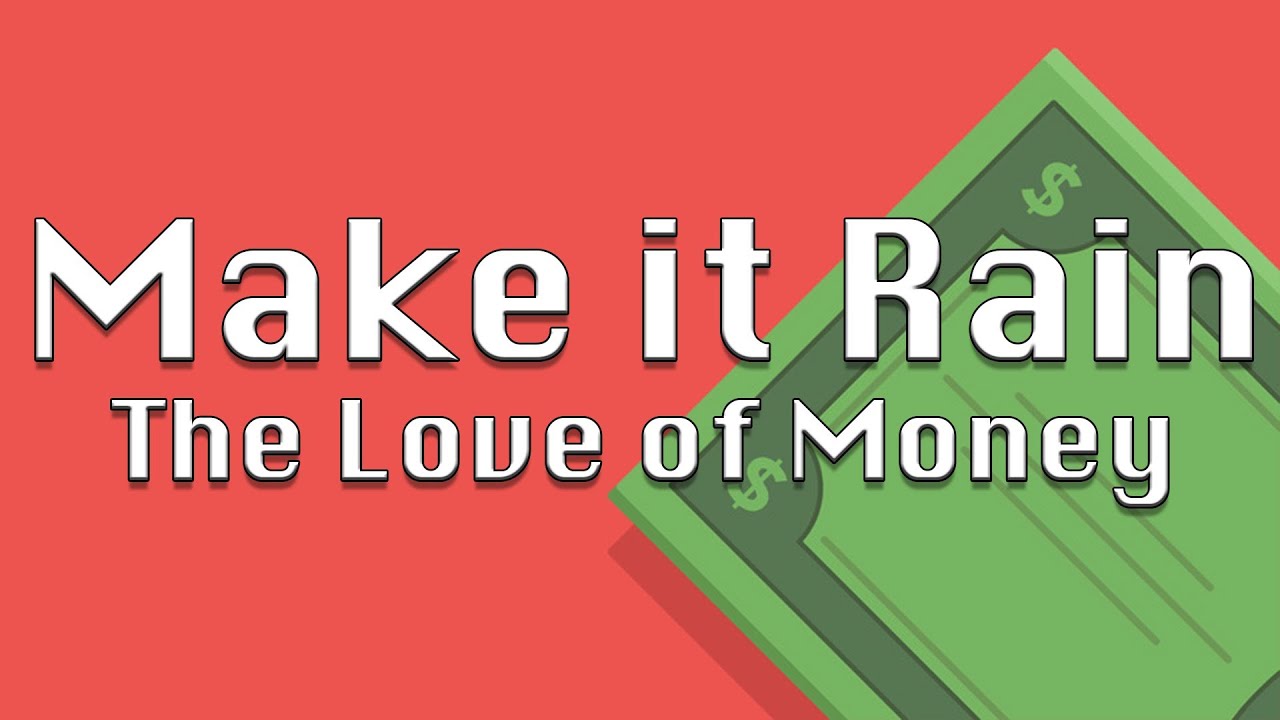 Love money? In Make it Rain, money loves you, too. Developed by Space Inch, Make it Rain is a phone swiping game where each swipe of your screen literally makes it rain money. Like AdVenture Capitalist, it's a game where Capitalism is played on to make a popular idle game which is simple to play.
To advance, make investments and establish a legacy – you can even make friends with people in the game's version of Congress. Make it Rain is a great game to play if you literally have nothing else to do at that moment in time.
6. Farm and Click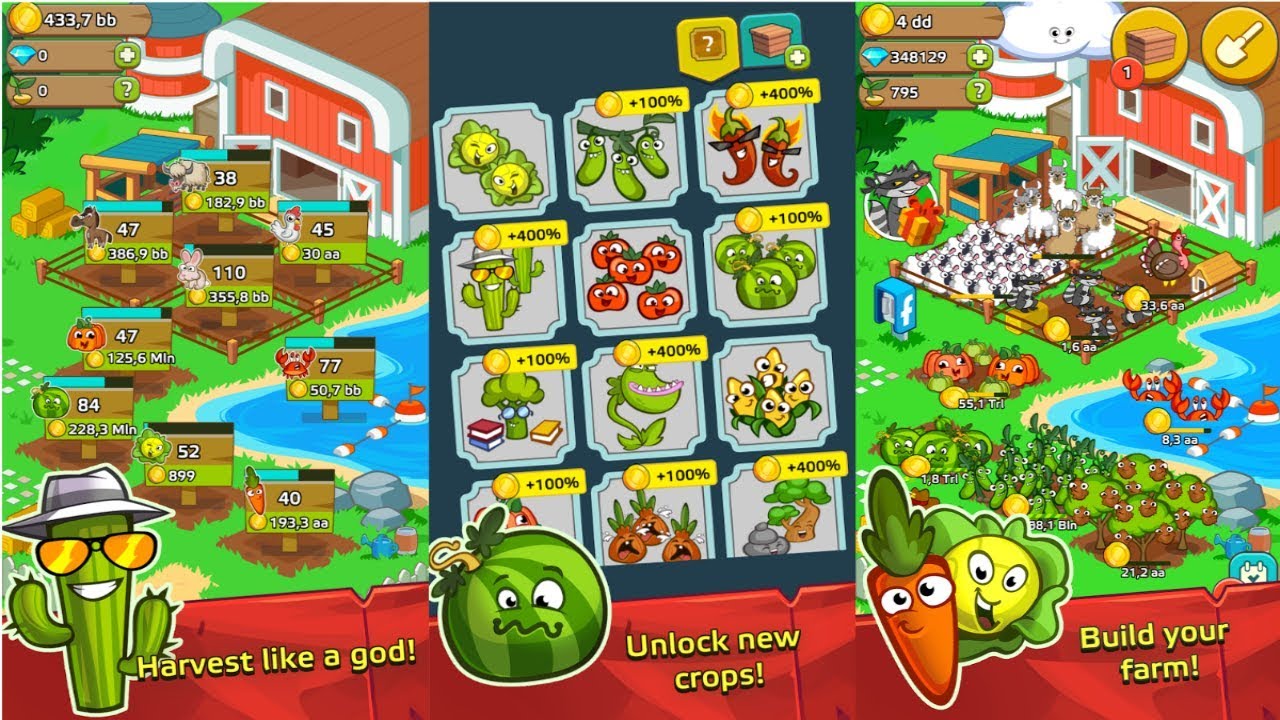 Red Machine Games created Farm and Click (also called "Friendly Farm" on their own website). This game is a little like Egg, Inc., and has a similar style, but it's very reminiscent of FarmLand on Facebook.
The game is farming at its finest, but it has a bit of a twist: you can grow dragons and unicorns alongside your chickens and pigs. If you're bored of the same old farming games, this might just be the idle game for you.
7. Semi Heroes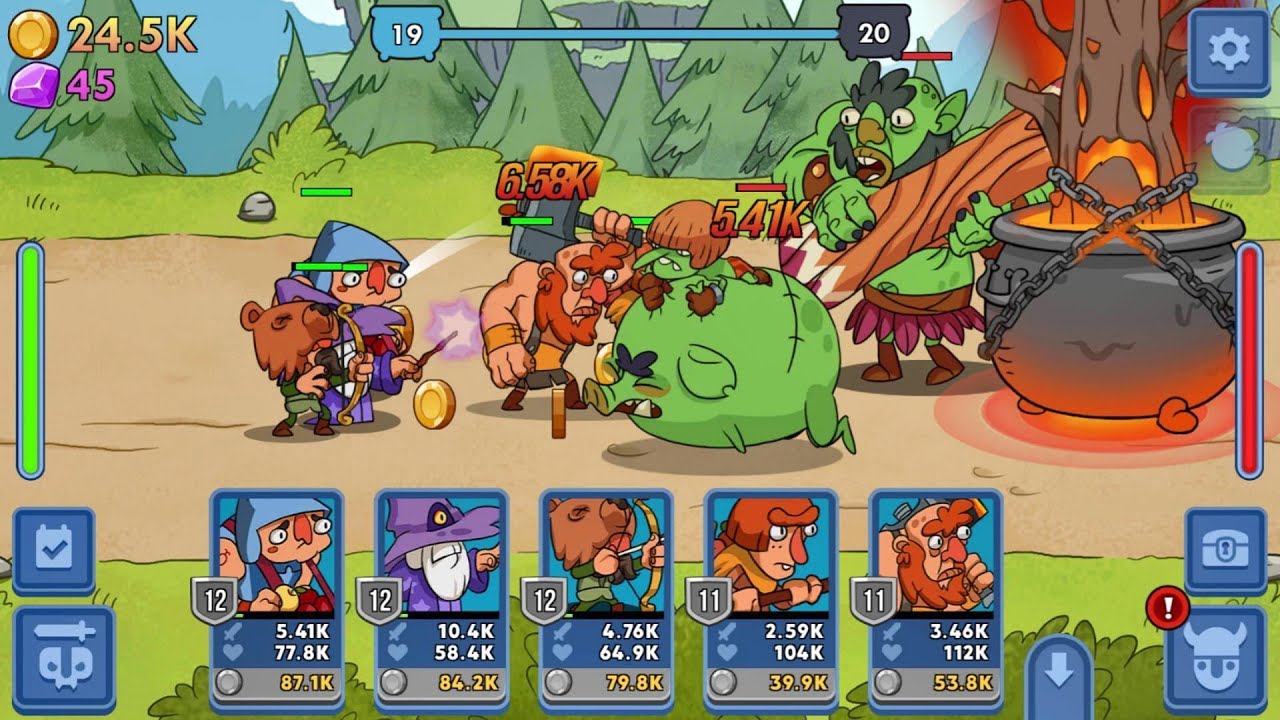 An idle adventure that works like a battle RPG. Semi Heroes has a modern cartoon style but plays very similarly to Tap Quest: Gate Keeper. Instead of defending a gate from a dragon, your aim in Semi Heroes is to experience huge battles across numerous realms in the game, defeat monsters, titans, and turn people into heroes.
There are quests for you to take, too, and artifacts for you to find. Red Antz Studio mainly operates from their Facebook page.
8. Terrarium: Garden Idle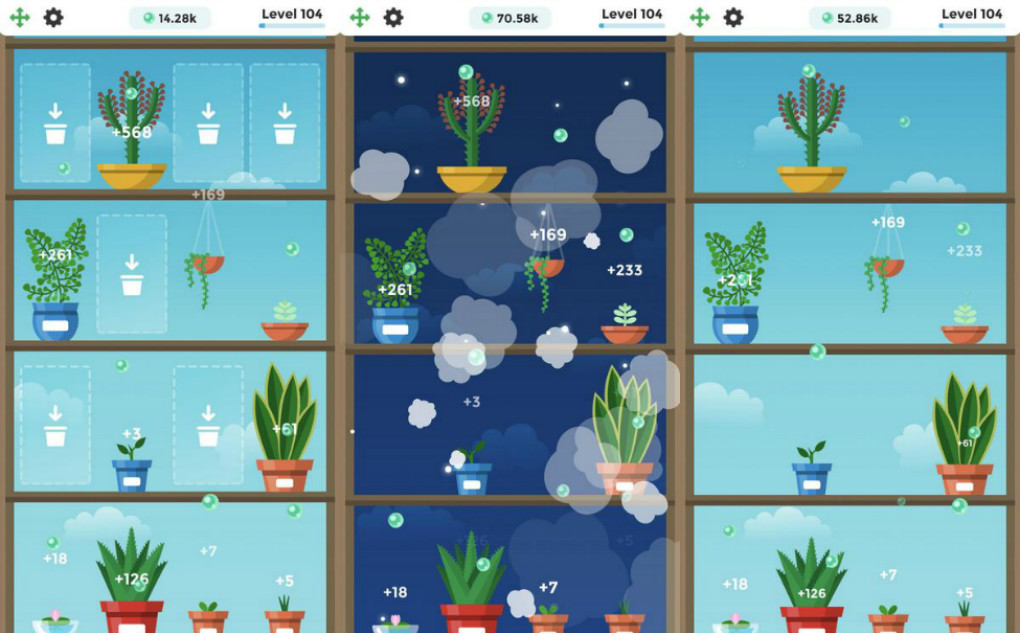 Green Panda Games developed Terrarium: Garden Idle, but it's something more than just a way to kill time. You need to build up your skills in this game and keep buying seeds and growing plants to keep your terrarium thriving.
This game is noted as one that gives you a sense of relaxation; it's brightly colored, calming, and you actually progress in the game. Reviews have also said that they've never felt like they needed to spend money in real life to advance. This adorable game is definitely one you should have on your smartphone.
9. Tap Tap Fish – Abyssrium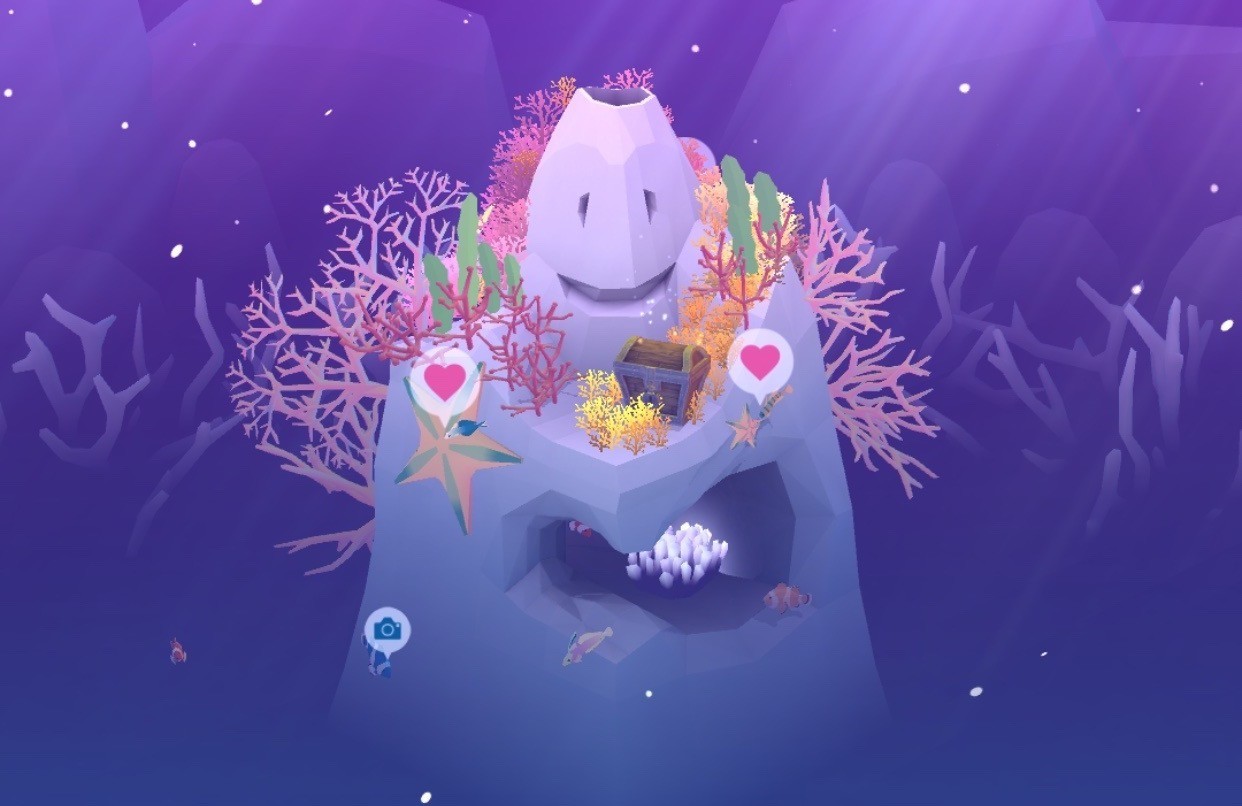 A good-natured game that has one thing in common with the rest of the idle games here – it's all about tapping. There are various features to Tap Tap Fish – AbyssRium that make it more than just a tapping game, though. Not only do you have set goals, but you can also create new fish to add to your game, and there are even special event fish and creatures, too.
It's beautiful, it's unique, and it has background music so calming that some players have used it as white noise to fall asleep to. AbyssRium has its own website and is noted as "the most beautiful clicker game ever." We have to agree with this statement, and it's something truly special.
10. Nonstop Knight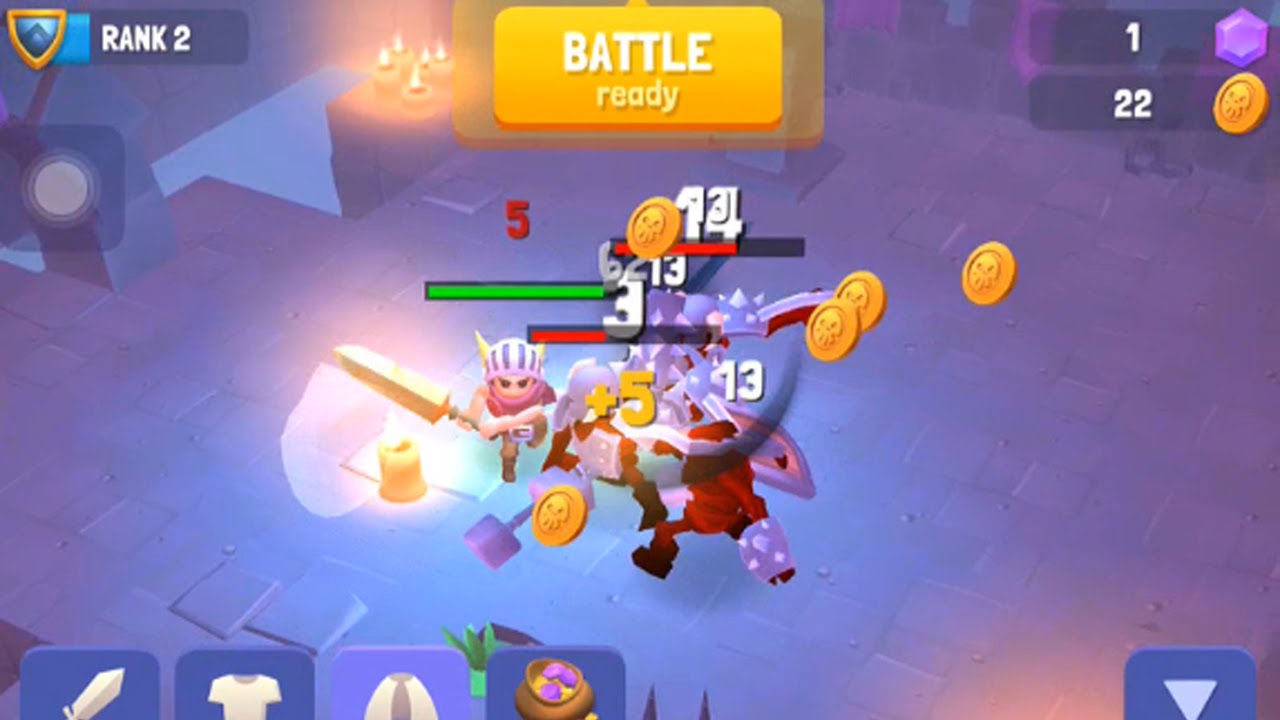 Another RPG idle game, but this one is brought to you by Flaregames, the guardians of joy. Flaregames are an award-winning publisher of mobile games who take pride in great games that aren't too complicated to play.
Nonstop Knight has idle and action elements; you can test your survival skills against enemies, earn rewards, and tap away in massive battles. Like RO: Idle Poring, it also has a pet feature, allowing you to have a collection of cute and powerful animals to help you during your adventure.
Top 10 Best Idle Games and Clicker Games on PC
Most PC-based clicker games can be found on Steam, though there are a few that have their own independent websites. For easier access, having all of your downloadable games on Steam can keep your PC nice and organised.
1. Adventure Capitalist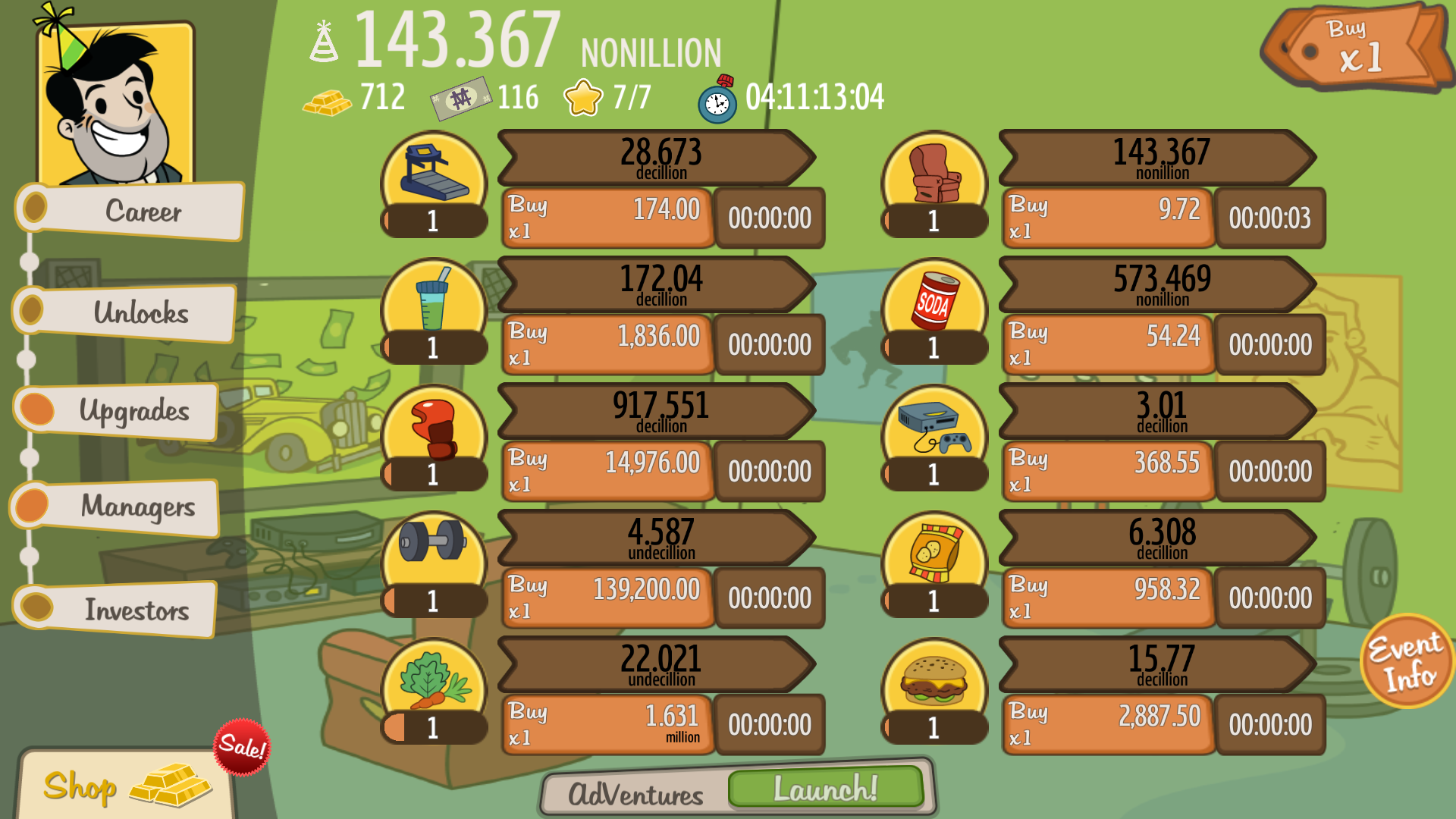 AdVenture Capitalist was created by Hyper Hippo Productions. Though we've included it in our PC section, this game is also available to play on Android and iOS. The game takes you through the motions of capitalism.
You start out as a poor lemonade stand salesperson, trying to rake in enough money to keep upgrading the things you have while you also take on other roles in the world of jobs. You do all of this to keep earning money on the game, nothing more, nothing less.
The interface is extremely friendly and has a cartoon style, which means it's fun to play and the game makes your time seem more rewarding by raining dollars down on you at various points.
2. Clicker Heroes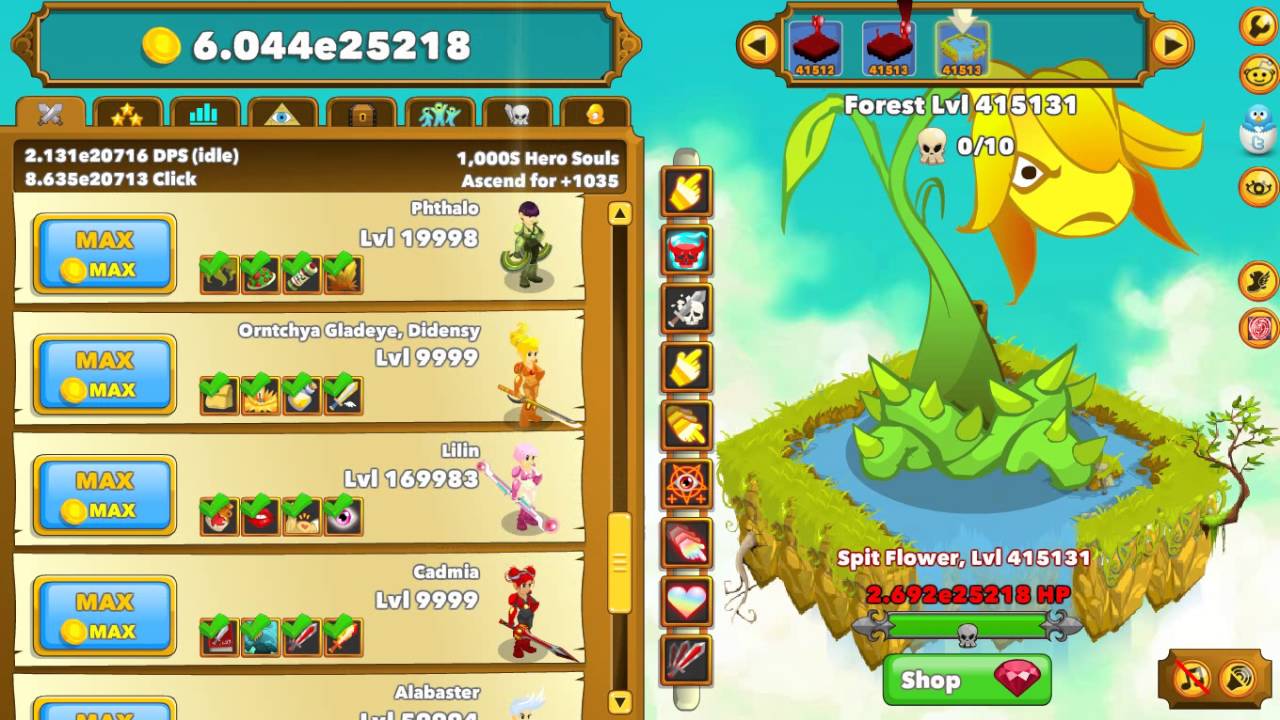 Clicker Heroes is an extremely popular clicker game for PC. It's available on Steam, though readers should note that Clicker Heroes 2 has been released, and the original Clicker Heroes website is pretty bare at the moment.
The sequel is available to purchase on the Clicker Heroes 2 website or on Steam. The first Clicker Heroes is free to play, and you play by clicking on the monsters to do huge numbers of damage per click. Once a monster is destroyed, you get their gold, which you can spend to hire a new hero.
3. Cookie Clicker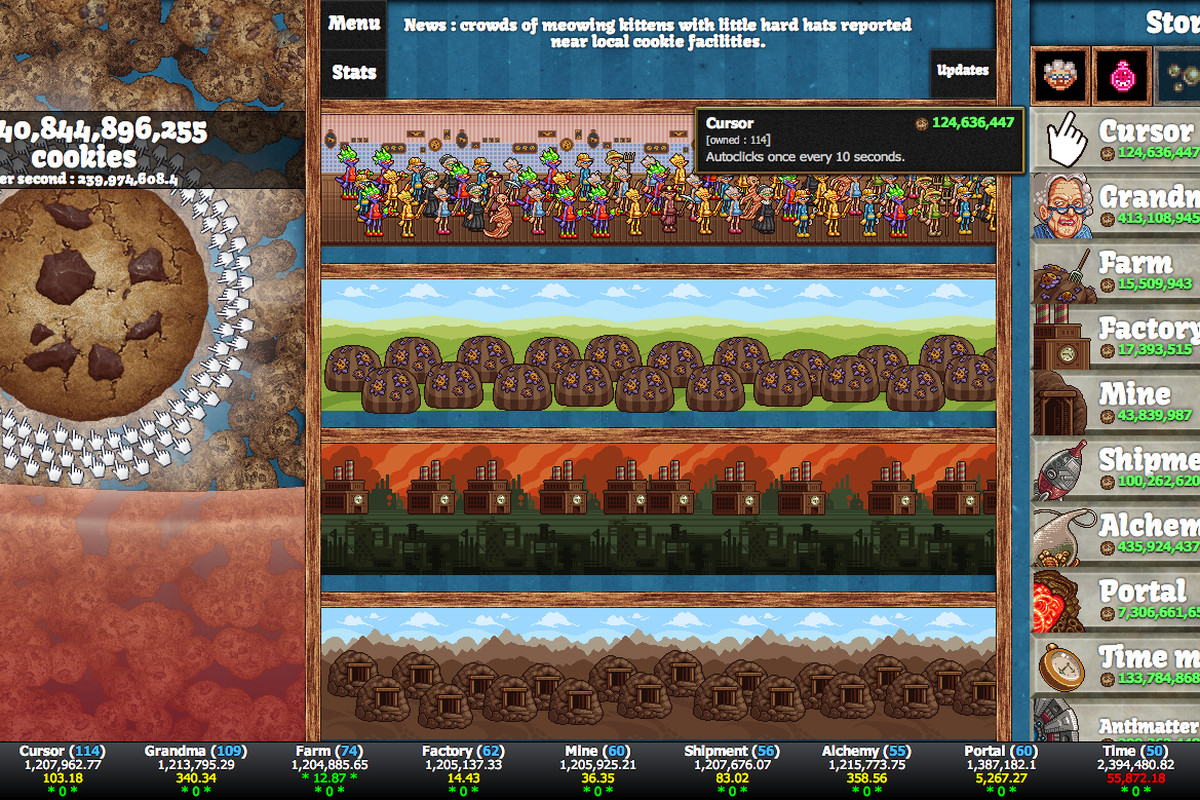 Cookie Clicker is played in your web browser and the game is split into three screens. The left side of the screen is the cookie that you tap with your mouse, the middle shows you your achievements and the different items you've purchased, the right hand side is the store.
By giving you things to buy and showing your progress, the game gives you a sense of accomplishment, even though all you're doing is clicking a cookie. The best thing about this clicker game is that you don't need to download anything onto your computer – and you don't need to actively click to play. Cookies will keep getting produced even if you aren't clicking; once you have items, of course.
4. Crush Crush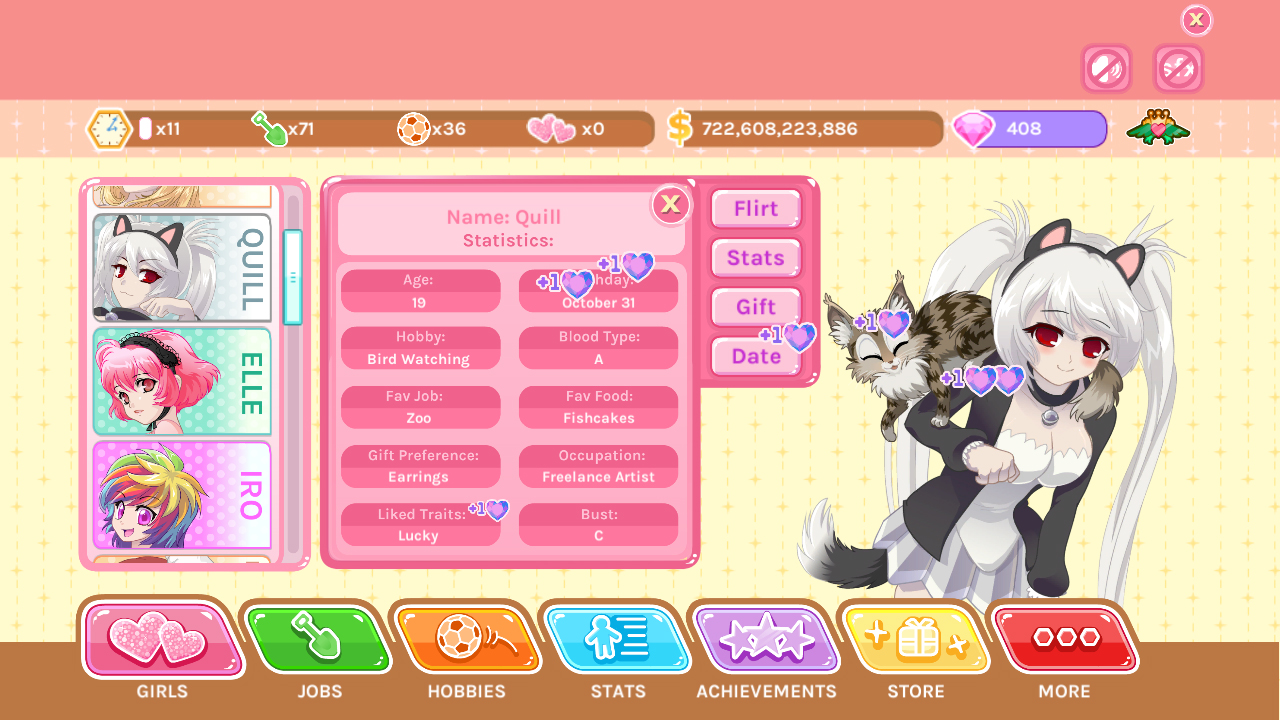 Crush Crush is an interesting take on the standard clicker game; it takes an idle game and a dating sim and crushes them together. The game was created by Sad Panda Studios, who advertise the game as something to play if you're looking to kill a bit of time and have a laugh.
Crush Crush is noted as one of the most popular idle games – an idle dating sim that is full of bright colors and an anime-style look. It's also free to play and you can download it through Steam.
5. A Dark Room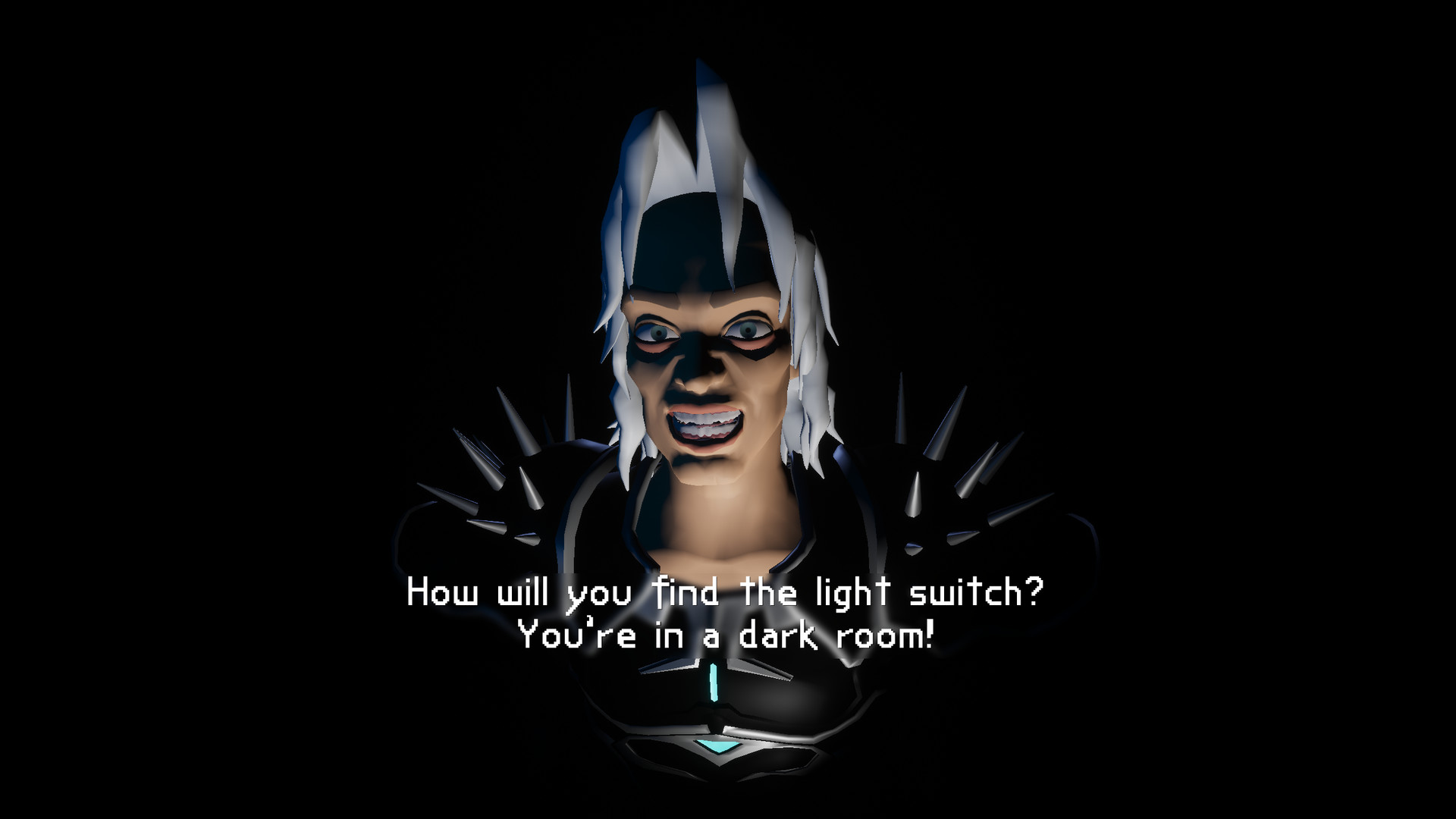 Created by Michael Townsend who's with Doublespeak Games, A Dark Room is noted as a minimalistic text adventure that's a little rogue like in nature. A Dark Room is unlike any other idle game you will have played. It runs like a story, giving you options to click while keeping a running track of your story for you. It's also free and runs entirely online.
It's a little weird at first, but an extremely interesting game to play. The lack of music may lend itself to the minimalistic theme, but we would suggest putting on some atmospheric music in the background while playing.
6. Plantera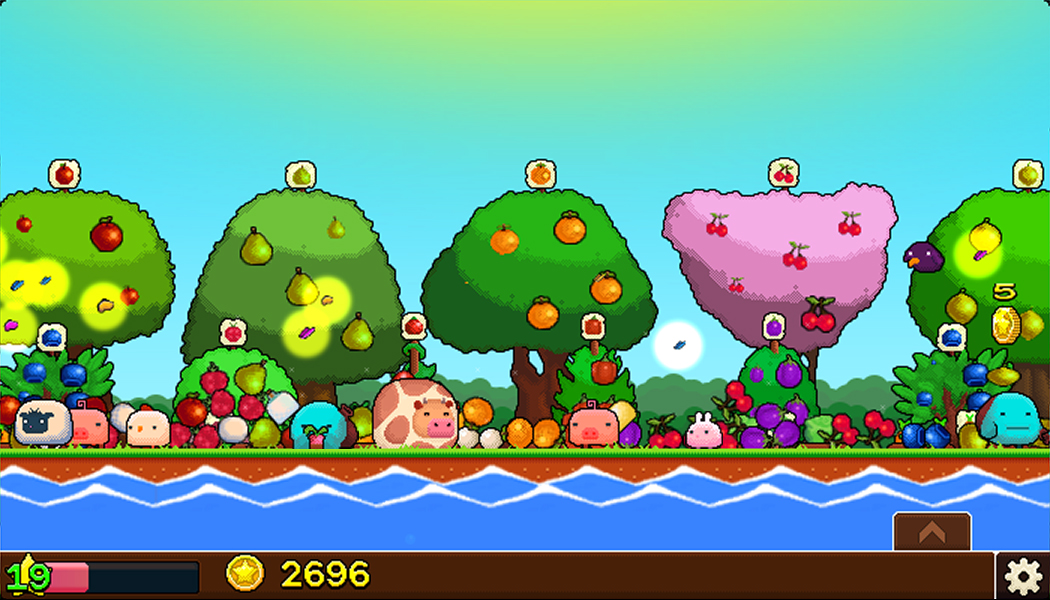 Plantera is a fun and cute clicker game that is relaxing and easy to play. You can grow your own garden and watch as it comes to life a little more with each click. Developed by VaragtP, Plantera is available on Steam for £2.09 at the time of writing, though you can also buy a set of the developers other games – including other clicker games.
If you're interested in owning the soundtrack of this wonderfully calming game, that is also purchasable.
7. Spaceplan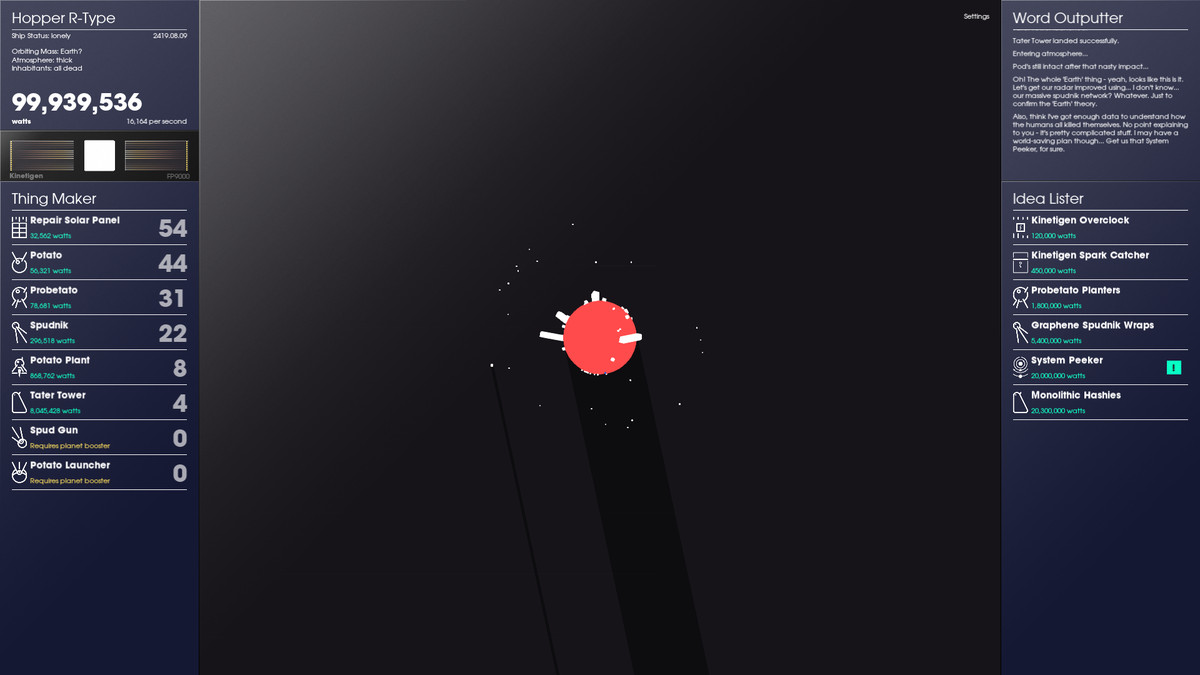 Spaceplan is a clicker game that revolves around a misunderstanding of "A Brief History of Time" by Stephen Hawking. It's a very experimental and abstract game, which can only be downloaded through Steam (though mobile versions do also exist).
You click your cursor to launch probes and devices from your own satellite, looking to uncover mysteries in the game's space world. Spaceplan is a well-loved sci-fi clicker game that any space-lover would enjoy; despite the inaccuracies.
8. Realm Grinder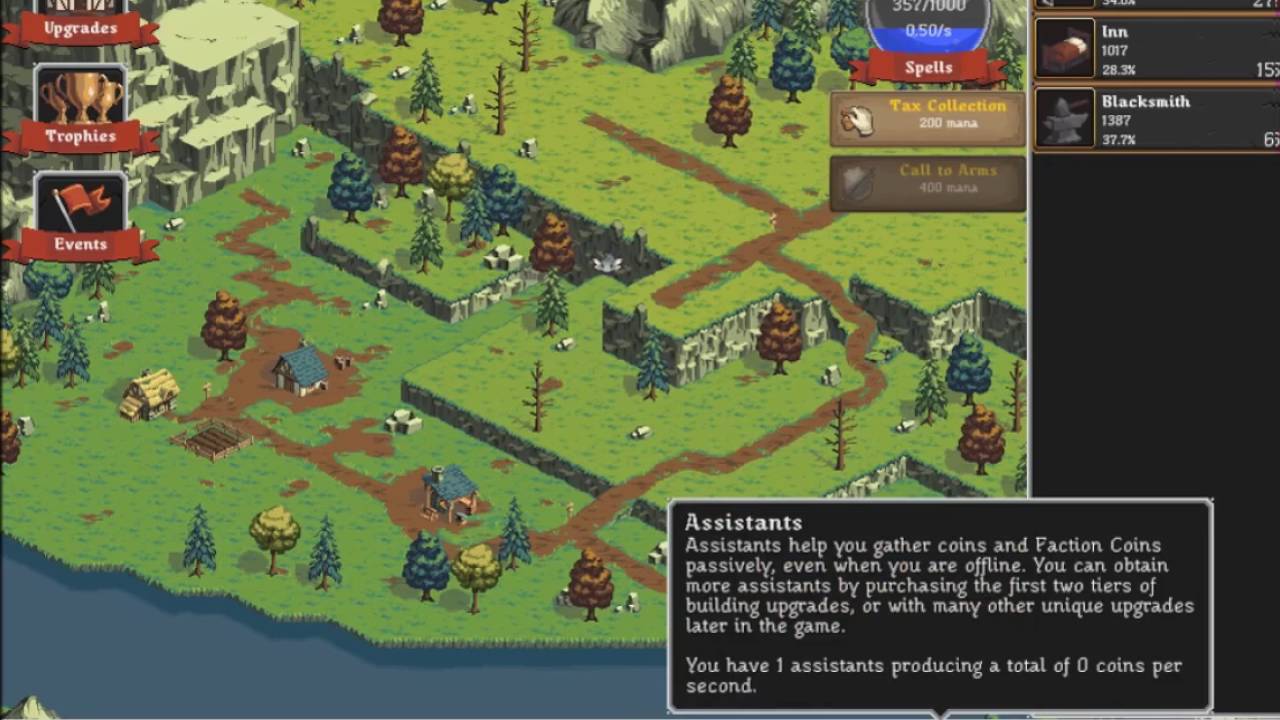 Divine Games is the creator of Realm Grinder, and this free-to-play clicker game is a huge hit. This is more than a simple clicker game, it's an RPG idle game where you can build your own kingdom and watch it grow into a realm to be proud of.
Realm Grinder can be added to your game library from Steam, and you'll soon be entranced by the land you forge under your own clicking power.
9. Idle Champions of the Forgotten Realms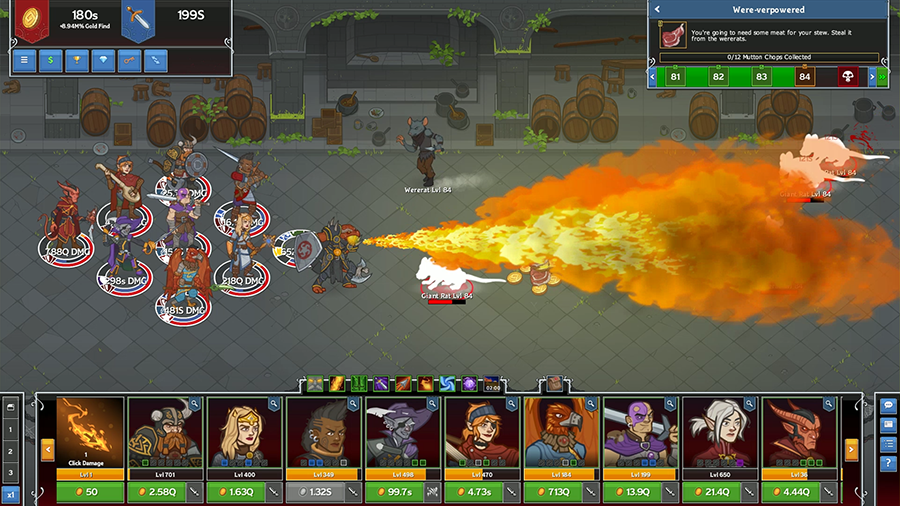 D&D players will fall for this free-to-play idle game. Idle Champions of the Forgotten Realms is a game officially based on Dungeons & Dragons. The game itself is noted as a "strategy management game", where you can play as pre-existing characters in an ever-evolving adventure.
The game was created by Codename Entertainment and is currently up on early access on Steam – meaning you play as the game is still being worked on. The premise for the game is excellent, and despite a few bugs, many are enjoying it.
10. Time Clickers
Time Clickers is all about being faster than the game and out-shooting your enemies. The biggest pro of this game is that you can hire teams to fight for you even when you aren't actively playing.
Proton Studio created this incremental game following the positivity around their other clicker games, and it's straightforward to pick up and start playing. Download it for free on Steam!
FAQ
Are idle games good?
Idle games are quite good (and additive!) as it is a good way to pass the time and there is always the next level or accomplishment to keep you sucked in. There is always an element of upgrades that keeps the game interesting too.