Log stakes are a DIY craftable item. You will get the DIY recipe automatically, so don't fret about that.
Log stakes can be used for decoration, for dividing up space on your island, and maybe the most exciting, for building your first bridge.
How To Get Log Stakes in Animal Crossing
Accessing Your Log Stakes Recipe
As mentioned above, you already have access to the Log Stakes DIY Recipe! It's one of the first recipes you receive in the game and comes in a bundle of other recipes.
Until preparing to craft your first bridge, you might not have even noticed you had the recipe!
To access your recipe, get out your Nook Phone and click on the "DIY Recipe Book" app. You can scroll through this app to see what DIY recipes you have.
Crafting Log Stakes
To craft log stakes, you'll need three pieces of wood. You can gather pieces of wood by hitting trees with your axe.
To do this, walk up to a tree on your island and repeatedly hit (a) until wood falls from the tree.
Trees on your island will drop three pieces of wood that vary from wood, softwood, and hardwood. This does not apply to bamboo trees.
Uses for Log Stakes
Now that you have crafted log stakes, you can use them for different things on your island!
Probably the most exciting thing to use log stakes for is visiting Tom Nook and building your first bridge.
Building Your First Bridge
To build your first bridge, you must first have three residents living on your island.
Once you have enough residents, Tom Nook will task you with building a bridge. He will give you the DIY recipe for a Bridge Construction Kit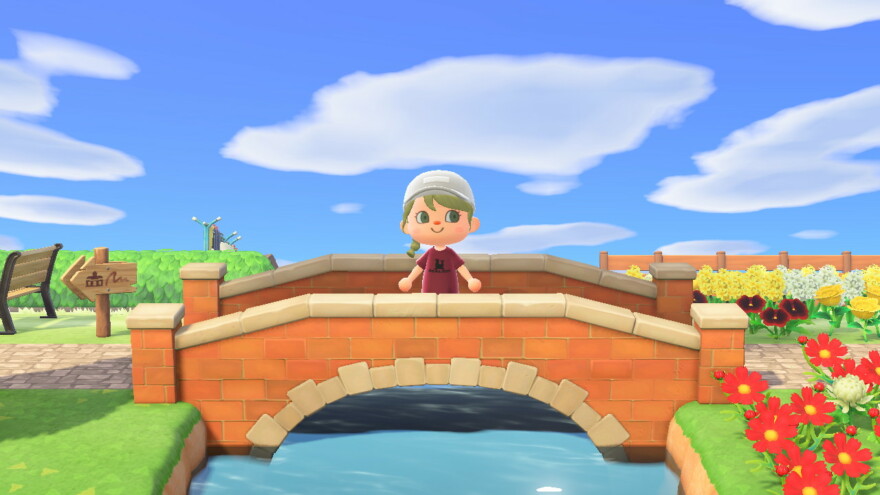 To build your first bridge, you'll need
Four log stakes
Four clay
Four stone
Tip: You can gather clay and stone by hitting rocks on your island with a shovel. Your island has six rocks that respawn daily that can produce up to eight pieces of crafting materials each.
Once you have your materials, craft your bridge at a DIY workbench!
Placing Your Bridge
Now that you've crafted your bridge, you'll need to find a place to build it.
This is similar to placing housing kits and other kits you've placed, but this time you need to be near a river.
Stand beside a river and open your storage to place your bridge. To see how the bridge will look, select the "Let me imagine it" option before confirming your placement.
Your bridge will be built and ready to use the following day! You can now venture to different parts of your island without having to rely on your pole vault.
Using Log Stakes for Decoration
Log stakes make great decorations – indoor and outdoor!
Indoor: Try using your log stakes indoors to bring the cabin feeling into your island home. Log Stakes are a part of the Log series, a DIY collection of log furniture such as a bed, table, chair, and more.
Outdoor: Log stakes can be used as decoration outdoors, too! Try placing your log stakes near existing trees to add some outdoor flair to your island.
Using Log Stakes as Dividers
You can use your log stakes to create dividers in your home as well as the outdoors. Try placing your log stakes right beside each other to create a divider.
Customizing Log Stakes
The Log Series can be customized once you've unlocked the ability to customize items.
Log Stakes have four variations: dark wood, orange wood, white wood, and white birch. Customizing Log Stakes calls for one customization kit.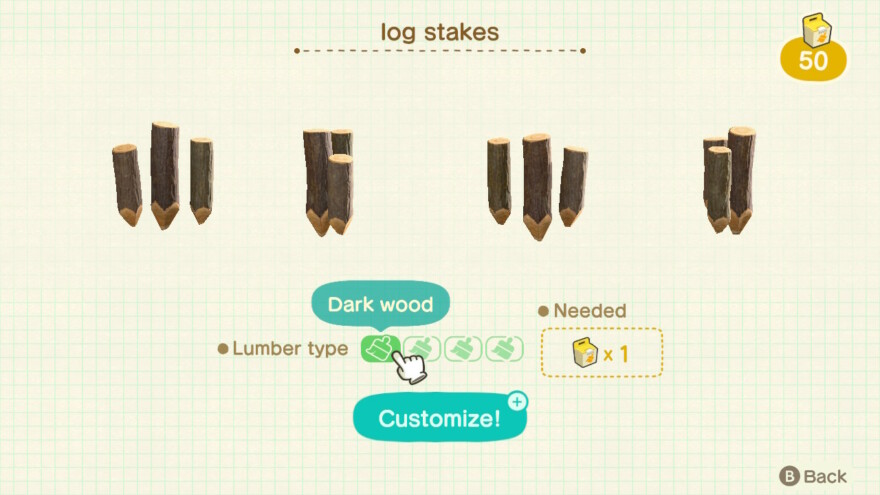 Tip: To unlock customization, you'll first need to open the museum and invite three villagers to join your island. Once these are accomplished, Tom Nook will invite you to a customization workshop.
You will receive 50 customization kits by attending this workshop. More customization kits can be purchased from Nooks' Cranny. They sell for 150 bells per kit.
Final Thoughts
Now that you've learned all there is to know about Log Stakes, you're ready to craft away! Remember that crafting log stakes are required to build your first bridge.
Try your hand in decorating and see what designs you can come up with while incorporating Log Stakes.
Use them to add a cozy cabin feel to your island home, or use them as dividers to keep your spaces separated and organized.