If you feel like buying a house is the lazy way to get on the property ladder and want to try your hand at building a house to be proud of, then you've come to the right place.
You'll need the Hearthfire DLC if you fancy yourself a bit of construction. The Hearthfire DLC will also allow you to adopt a child if you're that way inclined.
If you don't want to build a homestead you can buy a house in Skyrim instead.
Skyrim Hearthfire Locations
There are three locations where you can build a homestead.
Heljarchen Hall in The Pale Hold – (Dawnstar Jarl)
Lakeview Manor in Falkreath Hold – (Falkreath Jarl)
Windstad Manor in Hjaalmarch Hold – (Morthal Jarl)
How To Build a House in Skyrim Hearthfire
The first step to building a house is that you must complete some quests. These quests are given by the Jarls of the respective holds.
Heljarchen Hall – "Waking Nightmare" and "Kill the Giant."
Lakeview Manor – "Kill the Bandit Leader."
Windstad Manor – "Laid to Rest."
Once you completed each quest and spoke to the appropriate Jarl you will be given the opportunity to purchase a plot of land.
Each plot of land will cost 5,000 gold. Now you can begin construction!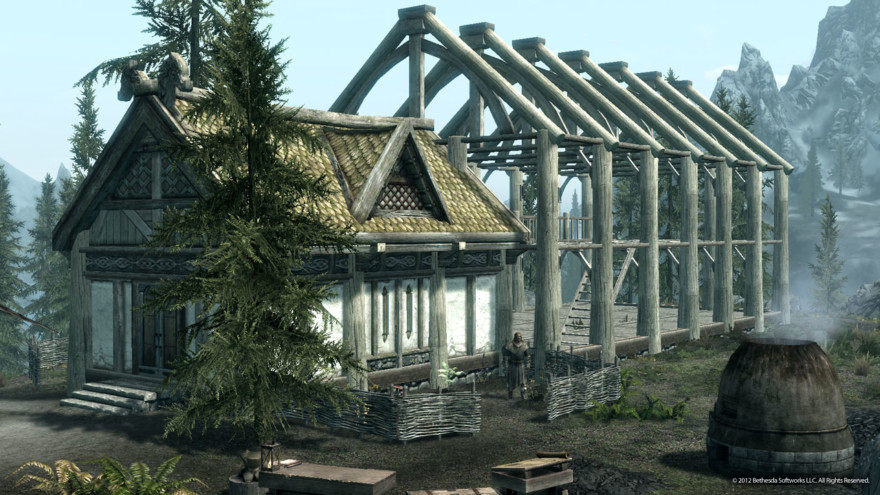 Homestead Building Materials
If you thought building a house was going to be simple, think again, but the pay off and feeling of satisfaction is certainly worth it.
You'll need the following materials to build a house in Skyrim.
Quarried Items
Purchased Items
Glass
Goat Horns
Sawn Logs
Straw
Crafted from Iron Ingots
Hinge
Iron Fittings
Lock
Nails
When you arrive at your building site there will be a drafting table and a carpenter's workbench.
The drafting table is used for planning your proposed build and the carpenter's workbench is used to actually build the house using the materials you have gathered.
Lucky for you there is also a chest that will have enough to get your homestead started with materials to build a small house.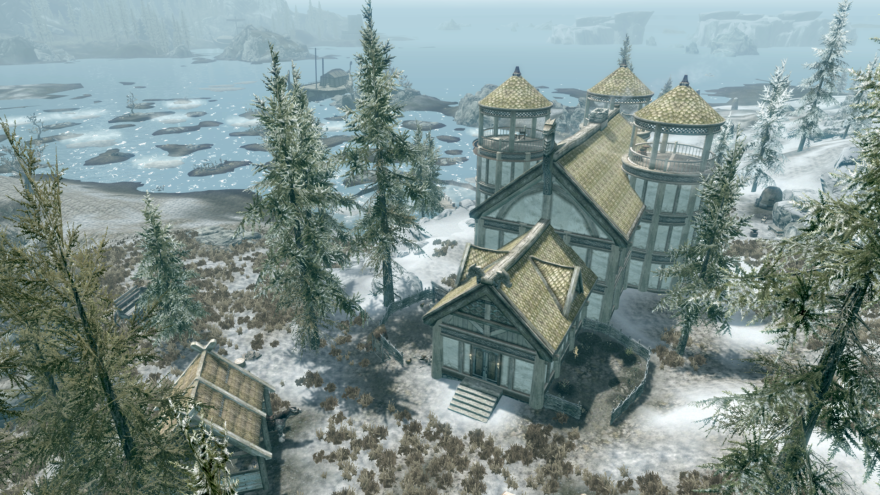 Building a Homestead Stages
There are several stages involved with building the most epic house ever and each will require mining, crafting and buying various materials.
Small House
The very start of your homestead will involve building a small house on your plot. For this you'll need:
17 x Sawn Logs
14 x Quarried Stone
30 x Nails
4 x Clay
1 x Iron Fittings
1 x Lock
2 x Hinge
Main Hall
Time to get really pimping by adding a main hall which will massive increase the size of your home with a dining hall fit for a king, wooden staircases and a master bedroom. For this you'll need:
55 x Sawn Logs
86 x Quarried Stone
85 x Nails
16 x Clay
1 x Iron Fittings
1 x Lock
2 x Hinge
Wings
Now you've got the central hub of your house going now it's time to kick it up a notch and add some wings.
There's a lot of scope here to really customize your house to fit your needs. You can add up to three wings; North, West and East. Each wing will give you three possible options. So many decisions!
West Wing
Enchanter's Tower
Bedrooms
Greenhouse (for growing alchemy ingredients)
North Wing
Trophy Room (for the hunter in you)
Storage
Alchemy Laboratory to make potions
East Wing
To make an Enchanter's Tower, Alchemy Laboratory or Library you'll need:
24 x Sawn Logs
16 x Quarried Stone
34 x Nails
9 x Clay
3 x Iron Fittings
3 x Lock
6 x Hinge
To make Bedrooms, Storage Room or Armory you'll need:
14 x Sawn Logs
18 x Quarried Stone
14 x Nails
3 x Clay
3 x Iron Fittings
3 x Lock
6 x Hinge
To make the Greenhouse, Trophy Room or Kitchen you'll need:
18 x Sawn Logs
14 x Quarried Stone
20 x Nails
3 x Clay
2 x Iron Fittings
2 x Lock
4 x Hinge
The Grounds
Finally, to make your crib complete you can make additions to the outside of your house.
Here you can add:
Animal Pen
Armourer Workbench
Garden
Grindstone
Smelter
Stable (costs an additional 1000 gold)
Adding all of these will require:
7 x Sawn Logs
7 x Quarried Stone
5 x Nails
6 x Clay
3 x Iron Fittings
6 x Iron Ingot
Each plot also has the option of three unique exterior additions:
Lakeview Manor – Apiary (beehive enclosure)
Windstad Manor – Fish Hatchery
Heljarchen Hall – Grain Mill
Cellar
The final piece of the house puzzle is to build yourself a cellar which can be added after you construct the Main Hall and is accessed through trap door in the floor.
The cellar is actually one of the most customizable rooms in your house and has a lot of options to suit any taste.
Feeling functional? Then containers, safes, tables and blacksmith equipment are the way to go. Need more display room? Then go for weapons racks and shelves.
If you want to really get your creepy on then go for the Taxidermy options. Stick a mounted Bear, Elk or Snowy Sabre Cat Head to your cellar walls!
People and Animals
Right enough of the dead stuff, time to bring some life to your homestead! Once you've built the small house part of your homestead, followers will offer to become your steward.
A steward is needed before you can acquire any other staff or animals for your house. Once you have a steward it is possible to purchase a bard, carriage and driver, a horse, cow and three chickens.
Fair warning, animals you kill can be replaced but killing your bard means that you will not be able to hire another one.
FAQ
How do you get a homestead in Skyrim?
First you'll need a buy a plot of land from the Jarl's in either Dawnstar, Falkreath, or Morthal. You'll have a complete a mission from a Jarl first. Once you have a plot of land you'll need to collect materials to start building.
How many homesteads are in Skyrim?
There are 3 homesteads you can build in Skyrim all of a similar size but with slight differences.
Which hearthfire house is best?
Lakeview Manor is the best looking of the three hearthfire houses. As the name suggests it has the best views and you can't get enough of the forests of Falkreath.