Whether they're serving at a maid café or a master at a wealthy mansion, anime maids produce some of the best characters alongside the best tea and desserts. Welcome the best maids, master~!
Best Anime Maids
15. Setsuna
Servant of Kyoshiro Ayankoji, Setsuna is the "Setsuna of the Moment of Dreams" is the Absolute Angel Claíomh Solais.
With her signature ribbon and bell, Setsuna who rarely speaks and bottles up her emotions but is unwaveringly loyal and dedicated to Kyoshiro and his ambitions.
Following his orders and will, Setsuna is going to destroy the last three Absolute Angels before they destroy the world—that includes herself. She doesn't care, as long as it makes Kyoshiro happy.
In Shattered Angels, her master's goals in his late brother's name are questioned when normal high school girl Kuu Shiratori gets caught up in their fight.
However, she might be the missing piece to winning their battle against the Absolute Angels and themselves.
14. Yoshino Koiwai

From Masamune-Kun's Revenge, Yoshino has been the servant to Aki Adagaki ever since they were little kids and follows all the way up to high school. Shy and quiet, Yoshino is the opposite of Aki, who is called the "Brutal Princess."
Yoshino becomes an important chest piece for Masamune Makabe, who wants to get revenge on Aki, who rejected him as a child.
Now, as a handsome and charismatic guy, Masamune meets Aki again and plans to make her fall in love with him and get revenge on her by humiliatingly rejecting her.
13. Alita Forland

In Murder Princess, the kingdom of Forland was overthrown by a coup and the death of the king and a maid named Milano.
One of the survivors is the second-born Alita. However, the near-death experience causes Princess Alita to switch bodies with Falis, a bounty hunter.
While Alita takes the identity of her former maid Milano, she begs Falis to protect her kingdom. She reluctantly agrees, but, as a bounty hunter, she would not lead in the way of a traditional sweet princess, but as fierce and wild "Murder Princess."
12. Matsurika Shinouji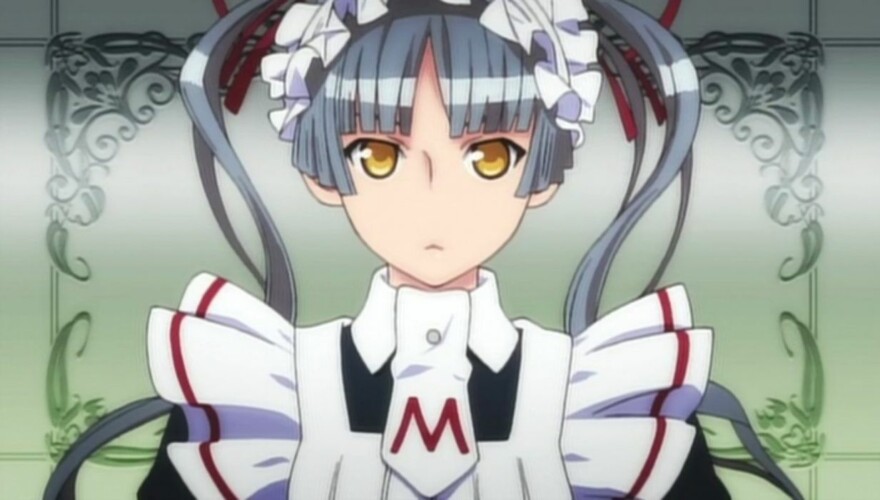 From Maria†Holic, Matsurika is the older sister of Rindou and the maid of Mariya Shidou. She is soft-spoken, but it's usually rude comments with a deadpan expression when she does talk.
This side of herself comes out the most when she's around Kanako Miyamae, who transferred to Ame no Kisaki Catholic School to find love! One problem: she transfers to an all-girl school!
This problem quickly gets solved when she meets Mariya and falls in love instantly—except Mariya is actually a cross-dressing boy. Kanako just can't get a win.
11. Mahoro Andou

In Mahoromatic: Automatic Maiden, Vesper is a secret agency that fights aliens using powerful androids. Mahoro was one of Vesper's strongest androids but wants to spend the remainder of her days having a more peaceful life.
She decides to give up her powers and begins to live the life of a simple maid. After his family passed away, Mahoro becomes a maid to the disheveled middle schooler Suguru Misato.
With only over a year of her life left, Mahoro hopes to support Suguru through his ups and downs and be able to carry on living as his best self.
10. Myucel Foaran

Myucel is a half-elf who tries to hide her ears and maid to Shinichi Kanou. She is a fast learner in the Japanese language as well as magic and loyal to Shinichi, who is traveling across her lands as the "Otaku Missionary."
After being rejected for being an otaku 19-year-old, Shinichi Kanou dropped out of school and became a NEET.
When threatened to be disowned for his lifestyle, Shinichi gets magically transported to the Holy Eldant Empire, a fantasy world where he is given the job of spreading knowledge of otaku culture throughout the lands.
9. Chihiro Komiya

Main character of Shonen Maid, after losing his mom, elementary schooler Chihiro has no home or family—or so he thought. By chance, Chihiro meets his wealthy uncle, Madoka Takatori, who decides to take Chihiro in.
Despite being rich and lives in a giant mansion, his uncle doesn't know how to take proper care of it or himself.
Neatfreak Chihiro can't handle all the trash and dust and becomes the maid of the house wearing his uncle's handmade uniforms.
8. Kaho Hinata

Hoping to make enough money to travel abroad, 16-year-old Maika Sakuranomiya is hunting for a part-time job. Because of her looks, her polite smile always looks menacing, and continues to fail interview after interview.
One day, Maika finds Café Stile, a shop with roleplaying maid waitresses. The store manager loves her frightening smile and becomes a waitress as the sadistic character.
Although Maika is nothing like that, she quickly learns that all her other coworkers aren't what they appear to either.
The most popular waitress, blonde twintailed Kaho, plays the part of a tsundere but is an actually carefree and cheerful girl who loves video games.
7. Maria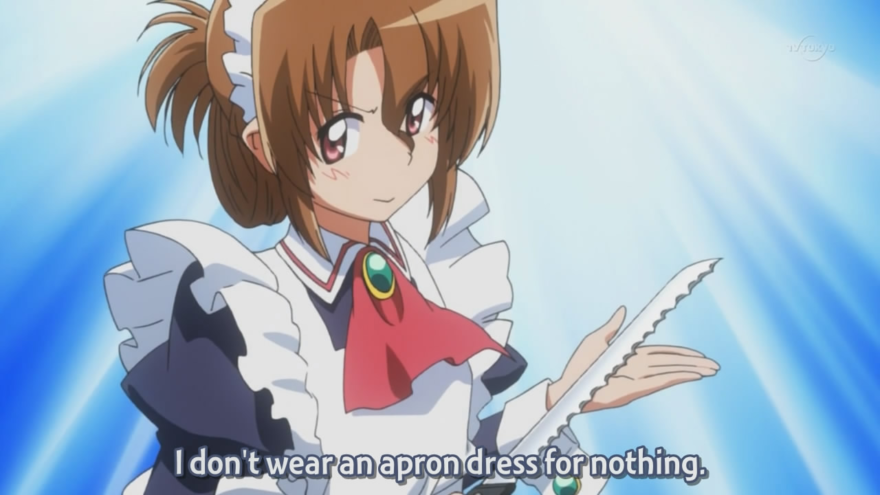 In Hayate the Combat Butler!, Maria is Nagi Sanzenin's maid who is intelligent and good at her job despite being deathly afraid of cockroaches and acts like an older sister or mother to main characters Nagi and Hayate Ayasaki.
Hayate has a string of bad luck. His family sold him away to a yakuza to pay off a giant debt. To escape all his problems, he kidnaps a young Nagi to get pay off his parents' debt for ransom.
However, Nagi might have misunderstood Hayate's intentions and believes that he is confessing his love to her!
Just Hayate's luck, he somehow ends up working for his former captive as her butler!
6. Emma

Taking place in 19th century London, Emma, from the namesake Emma: A Victorian Romance, has worked as a maid her whole life and is content with her life in society.
Her beauty and kindness haven't gone unnoticed by a string of middle-class men, but Emma has rejected them all, waiting for the right man to step the rest of her life with.
She finds herself falling for William Jones, eldest son of his high-class family, and he has fallen in love with her too. But society and tradition will not let a high-class man marry a lowly maid.
If Emma and William are going to be together, they will have to reject their society and hope their love for each other endures being ostracized.
5. Hildegarde

Hildegarde or Hilda is a Demon in Beezlebub and acts as a maid and adoptive mother of baby Beezlebub IV.
Although she always looks cold, she is protective and affectionate, especially to "Baby Beel."
Somehow, her life crosses paths with top delinquent Tatsumi Oga when he finds Baby Beel floating down a river. Tatsumi had no clue that he was no ordinary baby.
He is the son of the Demon Lord! Now, Hilda and Tatsumi have to work together to raise Baby Beel while constantly surrounded by a school full of delinquents and demonic enemies. What a peaceful upbringing.
4. Aoi Hyodo

Without Aoi, the story of Maid Sama wouldn't be possible. He is a professional crossdresser and, more importantly, the owner of Maid Latte and boss of Misaki Ayuzawa's.
Misaki worked hard to become president of the student council at a high school that uses to be an all-boy one.
It's no surprise that classmates dub her the "Demon President," but Misaki works hard to keep up appearances.
She can't let anyone at Seika High School know that their student council president works part-time at a maid café to pay off her family's bills.
Of course, someone discovers her little secret and that someone has to be the most popular boy at school, Takumi Usui!
3. Lilia Greyrat

Maid of the Greyrat Household, Lilia, helps Paul and Zenith Greyrat raise their first son, Rudeus, despite her unease with the child. She has no idea how right her instincts are.
Mushoku Tensei: Jobless Reincarnation follows Rudeus, the reincarnation of a 34-year-old shut-in who died in an accident trying to have one moment of heroism in his life.
With his memories and knowledge still intact, Rudeus is quickly able to learn the language, culture and master magic.
In this new life, Rudeus is not going to be that loser shut-in and grow up to be a man he can be proud of—and get himself a wife!
2. AI Hayasaka

In Kaguya-sama: Love is War, Ai is best friend and private maid to Kaguya Shinomiya. She is kind-hearted gyaru who is calculating, mature, and loves to mess with Kaguya about her crush on Miyuki Shirogane.
But Kaguya will never admit to it 'cause if she does, she loses the war!
In the elite Shuchiin Academy, Kaguya and Miyuki are the cream of the crop. Kaguya is the daughter of the well-heeled Shinomiya. Miyuki is the student council president with the top grades in Japan.
They would make the cutest couple—if either of them confessed their feelings! But whoever confesses first loses! They will do whatever it takes to make the only confess!
1. Marulk

Maid and apprentice of Ozen the Immovable, Marulk resides in the 2nd layer of the Abyss. He is able to help guide Riko and Reg along to the next layer of the Abyss and believes in the two of them.
Made in Abyss are humanity's curiosity and fascination with the Abyss, a giant gorge that reaches unknown depth into the earth filled with mystifying relics and creatures.
Divers want to reach the bottom and uncover the secrets of the Abyss.
When 12-year-old orphan Riko finds a strange robot boy named Reg while exploring the Abyss, she props her to discover the bottom of the Abyss where she believes her mom, the legendary Lyza the Annihilator, is waiting for her.