All these anime series are binge-watch worthy full of heart and stumbling blocks that make the characters' kawaii shine through! So turn off your brain and enjoy the cuteness!
Best Cute Anime
20. Love Live! Sunshine!! 7.39

16-year-old Chika Takami has always seen her as normal. She'd never been involved in clubs or had any talents and feared she'd stay normal by the time she has to graduate.
Everything changed for Chika when she visited Tokyo and feels in love with the world of school idols!
Chika becomes determined to start her own school idol club at her all-girl school, but no one is willing to give it a chance, even the student council president, who outright denies her request to start the club.
Just then, a miracle steps through the classroom doors in the form of new transfer student Riko Sakuruachi, a talented yet introverted pianist.
Chika is never giving up on her newfound passion, and soon she will bring nine girls together to begin their journey as school idols!
19. Our Love Has Always Been 10 Centimeters Apart.

Miou Aida is a shy art student who doesn't like to make waves, while Haruki Serizawa is a determined member of the movie club that dreams of becoming an award-winning director.
Somehow they are the best of a friend—and something more that neither of them is brave enough to say.
Time is running out for both of them as they are nearing their final year of high school and deciding the futures that could drive them apart. Although Miou and Haruki want more, they can't bring themselves to get past the last 10 centimeters.
18. Zombieland Saga

17-year-old Sakura Minamoto wants to become an idol. The day she goes to apply for her favorite idol group, her dreams are cut short by a truck.
She dies. 10-years-later, Sakura wakes up as a zombie! Without her memories, she meets Kotaro Tatsumi, who has big plans for Sakura.
Along with six other brainless zombie girls, Kotaro wants Sakura and the zombie girls to save the Saga Prefecture…by becoming an idol group!
17. Sweetness and Lightning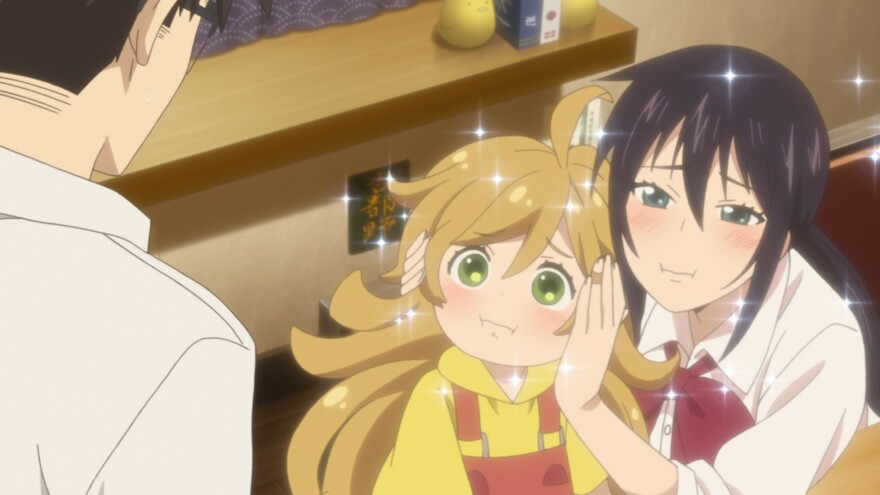 After Kouhei Inuzuka lost his wife, he has to take care of their daughter Tsumugi alone.
Working all day as a teacher, Kouhei struggles to find the time to cook notorious meals for his daughter and often buys microwavable meals from the store.
Wanting cooking advice, Kouhei goes to his student Kotori Iida's family restaurant. Kouhei and Tsumugi's first time at the restaurant, they learn that Kotori eats alone because her mother is busy at work.
Kouhei and Tsumugi come back to cook together and share their meals with Kotori.
16. New Game!

When Aoba Suzukaze graduates high school, she wants to pursue her childhood dream of becoming a game designer.
It really is like a dream come true when she gets a job at Eagle Jump and their new game: Fairies Story 3—her all-time favorite game that insured her dream!
Aoba is soon surrounded by talented and passionate people and all the different and eccentric characters who teach Aoba the rollercoaster experience of creating a videogame, character design, and frustrating game errors.
15. Cells at Work! 7.60

Taking place inside the human body, Red Blood Cell AE3803 is just one of 37.2 trillion cells that work around the clock to keep their host alive.
For Red Blood Cell AE803, it's her first real day on the job delivering oxygen.
On her route, when AE83 and other red blood cells get attacked by foreign bacteria, its White Blood Cell U-1146 shows up and eliminates them.
Just another day in the life for the cells.
14. Quintessential Quintuplets
Although Futarto Uesugi has the top grade in high school, he has no friends, and his family were just scraping by.
All of his changes when Futaro is offered a job as a private tutor to a rich doctor's daughter that could help Futaro pay off his family's debt.
Futaro didn't catch one tiny detail: he will be tutoring quintuplets, and all their grades are horrendous!
Best part: they want absolutely nothing to do with him.
13. Love, Chunibyo & Other Delusions!

Yuta Togashi is a former chunibyo: childish imagination that you are special and can wield magical powers.
Yuta is embarrassed to have once thought of himself as the "Dark Flame Master" and hides his chunibyo-side away as he starts high school, where no one knows about his past.
Yuta was going to be a normal high school student. At least, that's how it was supposed to go.
Yuta didn't anticipate classmate Rikka Takanashi, a chunibyo who possesses the "Wicked Eye," and she knows all about the Dark Flame Master.
Yuta tries to stay away from Rikka and the chunibyo world he once left behind, but more chunibyo start coming out of the woodworks, and Rikka wants to drag Yuta along for the ride.
12. K-on!

Clumsy and airheaded, Yui Hirasawa starts her first day at high school and gets overwhelmed by the pressures of joining a club.
Wanting to pick an easy club, Yui signs up for the Light Music Club but quickly quits when she realizes she would need to be able to play instruments like the guitar, drums, or piano.
However, without Yui, the Light Music Club will be forced to disband from lack of members.
The club members do whatever it takes to get Yui to stay in the club, and it somehow spurs Yui to develop a passion.
This series is full of goofing around, procrastinating—oh!—and a little bit of music if the club can get around to it.
11. School Babysitters

High school student Ryuichi Kashima loses both of his parents in a plane crash and becomes the guardian of his baby brother Kotaro.
At the funeral, the two brothers are taken in by Yoko Morinomiya, the chairwoman of an elite school.
Now of this comes for free. Ryuichi must enroll at her school and become the school's babysitter.
He starts up the babysitter's club to look after the female teacher's toddlers. Kotaro can handle it, but now Ryuichi has to take care of other kids with vibrant personalities.
10. Tonikawa: Over the Moon for You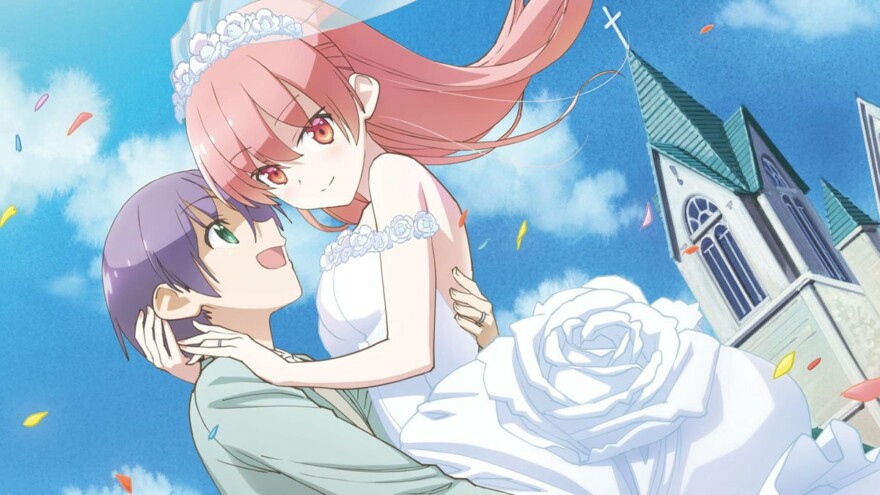 Being made fun of by his having the name NASA, Nasa Yuzaki wanted to be highly respected and worked harder than anyone on his grades and plans for the future.
However, his priorities suddenly change one snowy night when Nasa spots a beautiful girl across the road.
When he crosses the street to meet her—he gets struck by a truck. Luckily, the girl manages to save Nasa's life.
It's love at first sight for Nasa and, while waiting for the ambulance, Nasa asks her out. As the girl leaves, she states that she will be with him—if he marries her.
9. My Love Story!!

Although Takeo Gouda is a kind-hearted, courageous, and selfless high schoolboy, his love life is nonexistent cause of his tall and muscular appearance, hiat's worse: all the girls Takeo has ever liked confess their love to his handsome best friend, Makoto Sunakawa.
Takeo doesn't think about stepping up and helping others, so he doesn't hesitate to save a girl from being molested on a train.
Takeo immediately falls in love with the sweet and cute Rinko Yamato but thinks that she likes Sunakawa.
Takeo will do what he can to get Yamato and Sunakawa together, even ignoring his own love and chance for his love story.
8. Azumanga Daioh!

Chiyo Mihama is a 10-year-old prodigy who skips her grades all the way to high school. Chiyo thought she would be the strange classmate in her class.
It turns out she's one of many quirky students, including her homeroom teacher, Yukari Tanizaki, who can go from sweet and gentle to a merciless tyrant who won't hesitate to believe in her student while throwing blunt objects at them.
Chiyo becomes surrounded by friends just as weird and quirky as she is. Tomo Sakaki: the tall beauty who is obsessed with cats. Takino: no brains yet a buttload of gusto.
Ayumu Kasuga: the most airheaded girl you will ever meet.
Chiyo's high school life is going to be the strangest and funniest time she's ever had. Ring the school bell, let's begin!
7. Miss Kobayashi's Dragon Maid

On the way out the door to work, Kobayashi did not expect to be face-to-face with the head of a giant dragon—then having that dragon turn into a maid.
She introduces herself as Tohru of jogs Kobayashi's drunken memory of finding the dragon up in the mountains one night with a powerful sword stabbed in her back. Kobayashi helps Tohru and offers her a place to stay as her live-in maid.
Reluctantly, Kobayashi sticks to her word and allows Tohru to stay in her small apartment.
As Tohru's magical abilities and dragon friends begin to arrive at the door, Kobayashi quickly learns that her simple life with never be the same again.
6. Lovely★Complex

172cm tall Risa Koizumi is looking for a boyfriend to match her height. 156cm short Atsushi Otani is looking for a petite girlfriend.
Neither of them is a match for each other, but they become close friends to help the other find love during their years in high school.
Plans don't quite go according to plan for the duo as their crushes start dating each other!
On top of that, their classmates and homeroom teacher find their mismatched height and arguments hilarious.
It doesn't matter to Koizumi and Otani, they will always have each others' backs in finding love. But, it loves closer than they think?
5. Kamisama Kiss

High school girl Nanami Momozono is having the worst day: her father ditches her at home with all his debt and gets kicked out of their apartment, leaving her homeless. Worst dad ever.
But it looks like Nanami's luck is turning around when she saves a man frightened of a dog and offered her his home to look after him while he's gone. Not maybe.
His home is an old shrine, and that man was the land god of the shrine.
Now Nanami is the new land god and must take care of the shrine and the spirits that dwell in it as well as the fox familiar named Tomoe who isn't all too happy with the new arrangement.
Despite the hostility, Nanami is determined to fix up the shrine and take on her new responsibility, whether Tomoe likes it or not.
4. Cardcaptor Sakura

10-year-old Sakura Kinomoto was an ordinary girl until finds a mysterious book. When she curiously opens the book, a cluster of cards burst out and are sent flying.
The Beast of the Seal, Keroberos, awakens from within the book and tells Sakura that she has freed the magical Clow Cards, and now she's responsible for collecting them all before their powers through the world into chaos!
With Kero mentoring her and her best friend Tomoyo Daidouji as moral support and custom designer, Sakura becomes Sakura the Cardcaptor and tries to juggle her normal life with her friends, family, and new life protecting the world and facing unexpected danger.
3. Ouran High Host Club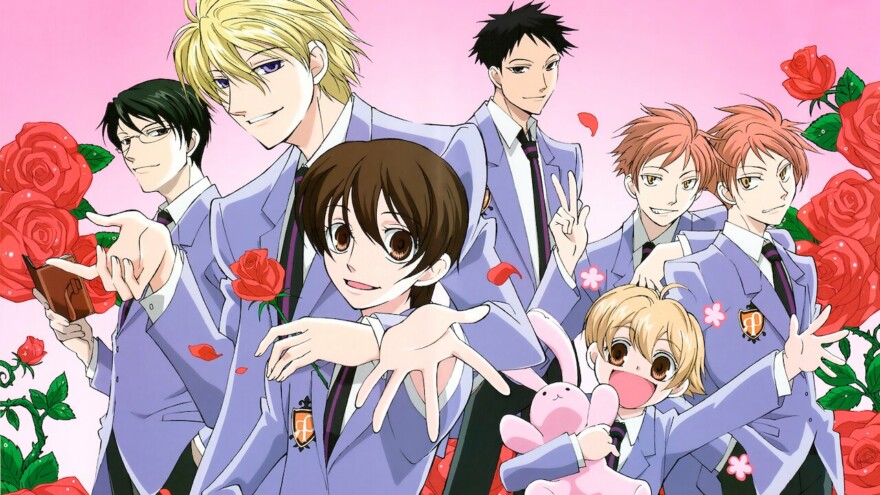 Ouran Academy is an elite school for rich students from famous bloodlines and wealthy families. Somehow Haruhi Fujioka is here too from a scholarship.
But she starts off on the wrong foot when she accidentally breaks a vase worth ¥8,000,000!
Haruhi is forced to join the school's Host Club and finds herself surrounded by an eccentric batch of club members to repay her impossible debt.
Tamaki Suou: the president prince, Kyouya Ootori: the "Shadow King," twins Kaoru and Hikaru, Mitsukuni "Honey" Haninozuka: the childish one, and the strong silent Takashi "Mori" Morinozuka.
Where handsome boys with too much time on their hands entertain girls with too much time on their hands, Haruhi will do whatever it takes to endure and work off her debt.
2. Yuru Camp△

In her off time, high schooler Rin Shima loves going camping by herself. At the bottom of Mt. Fuji, Rin enjoys the peace and quiet, pitching her tent, collecting firewood, and making food and warm drinks.
Her solo camping trip is disrupted by one ditsy and equally lost Nadeshiko Kagamihara.
Rin lets her stay at her campsite until she's able to get herself home. The two enjoy each other's company, and Nadeshiko learns more and wants to go camping again.
1. A Place Further Than the Universe

16-year-old Mari Tamaki is afraid of wasting away her youth. She has always wanted to explore the world outside her home and school but never had the push needed to take a chance and explore the unknown.
That push Mari need comes in the form of classmate Shirase Kobuchizawa and her ambitious dream.
After her mother's disappearance, Shirase is determined to go to Antarctica despite everyone telling her she's crazy.
Mari wants to give Shirase all of her support, but Shirase wants more—she wants Mari to come with her!