An essential to most of our outfits: jeans. One of the reasons they're so loved is because of how versatile they are, you can wear them with a graphic tee on a lazy day, dressed up with a nicer blouse, and just about anything in between.
Plus, there are so many types and styles of jeans, it's hard to not find a pair that matches someone's style!
Whether you're looking for a throwback pair of vintage jeans, some basic skinny jeans, or a trendy new pair of mom jeans, you're sure to find everything you need and more to fit your pants needs in this list of the top 21 best Sims 4 jeans cc!
Best Sims 4 Jeans CC
21. Denim Jeans with Warm Socks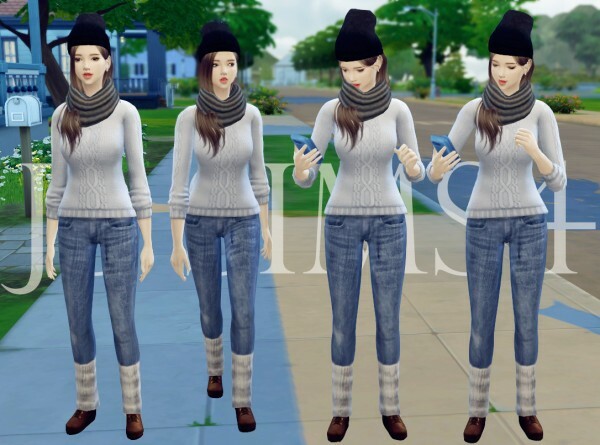 One of the easiest pairs of jeans to go to for a simple, cozy outfit is a pair of plain skinny jeans.
No holes, no crazy colors, just the tried and true denim blue. And what better way to make the outfit more comfortable than pairing them with a pair of super warm socks?
Personally, I've always been a fan of wearing my socks over my jeans.
Some may call it tacky, but I like making sure everything is insulated and provides my body with the ultimate warmth for whatever nature throws my way.
And now, your Sims can get the same amount of warmth and comfort with Denim Jeans with Warm Socks!
20. Ripped Jeans

We've all had the conversation, you're talking to one of your parents or your grandparents, and they make a joke about how much you paid for a pair of jeans that had a bunch of material missing from it.
Haha, very funny. But really, ripped jeans have been in style for as long as I can remember, and they don't show any signs of stopping.
However, with these Ripped Jeans, you can bring the style of these kinds of jeans to even your toddlers!
Yes, these are made specifically for the little guys, coming in 5 colors, including black and white, and they even have different variations for how many holes you want in your kids' jeans.
19. Ripped Jeans + Stickers

Jean jackets aren't the only articles of clothing that can have patches on them!
I'll admit, you don't see them nearly as much as you see patched on a jacket, but jeans are just as much of a space to express your passions with a couple of patches, and of course, we can't forget the rips on them, either.
Ripped Jeans + Stickers comes with 10 swatches, all with their own colored denim and a different theme of stickers.
Choose between space-themed aliens and even a cactus. Pair these with a plain tee or sweater, and you have a cute outfit in a matter of seconds.
18. Azariah Jeans

When a lot of people think about vintage jeans, they think about mom jeans that were popularized in the late 80s early 90s.
However, when I think of vintage jeans, my mind goes straight to bell bottoms. A cute 60s-70s look that went out of style for a while, but I honestly couldn't tell you why.
The straight-legged look with a flare at the bottom compliments just about any body type and looks good with a cute, chunky sweater!
And that's exactly what Azariah Jeans is- not the most dramatic flare, which is perfect for those who are just starting to play with the idea of bell bottoms, but they're also not too small of a flare where they remind us of the early 2000s.
17. Baggy Jeans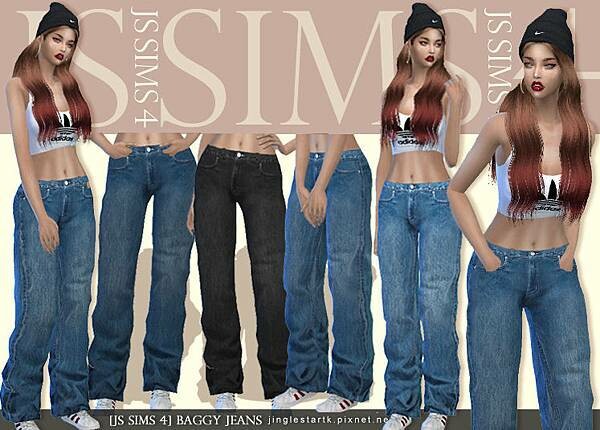 We don't want any kind of structure when it comes to our jeans, we want to feel loose, comfortable, and free!
What better way to achieve both the look and feel of total comfort while still wearing denim pants than with Baggy Jeans, as baggy as you can find?
When we say baggy jeans, these ones aren't kidding around. These come with a low-rise waist that reminds me of styles from a couple of decades ago, and I have to admit, I love it.
Pairing these with a cropped top and some low-top sneakers would make for the best early 2000s outfit ever.
16. Wholesome Jeans
A favorite of many, a go-to choice for any outfit you can imagine, the mom jean.
It took a while, but they're back, and they've been so popular in recent years that it's hard to imagine them ever going back out of style.
But, sometimes you don't want all the extra holes, patches, or designs to make them a statement pair of jeans, all you need is something basic.
Wholesome Jeans gives your Sims that classic, mom look with a high-waisted style and cuffed ankles (cuffed is the only way to wear jeans, and I don't regret anything I just said).
They're not too flashy, they're the perfect garment to dress up or dress down, and your Sim will never wear a graphic tee without them ever again.
15. Unif Inspired Jeans
Have you always wanted a pair of jeans from Unif but have never been able to justify the price to yourself?
I think we've all been there, we know the quality is there, and the style is like no other, but geez, that price tag gets me every time.
Luckily, our Sims don't really have to worry about money, whether it's using cheat codes to make sure all their furniture is the best it can be or using custom content to get them the most upscale clothing possible, who cares how many Simoleans something costs?
So if your Sim wants some Unif Jeans, their dreams have just come true.
14. Happy Valentines Jeans
A lot of us think of Valentine's Day bringing cold weather in the dead of winter, but I like to think of it as the beginning of spring.
With that being said, I think it's fitting that these Happy Valentine's Day Jeans are slightly cropped because it's definitely not warm enough to wear anything shorter, but we know that warmer days are coming soon!
These jeans come with a small, thin belt as an accessory to them and one of the best parts about them is that you can tuck your shirts into them!
Now your Sims won't look awkward with their bulky jeans showing through the bottom of their top.
13. Denim Pants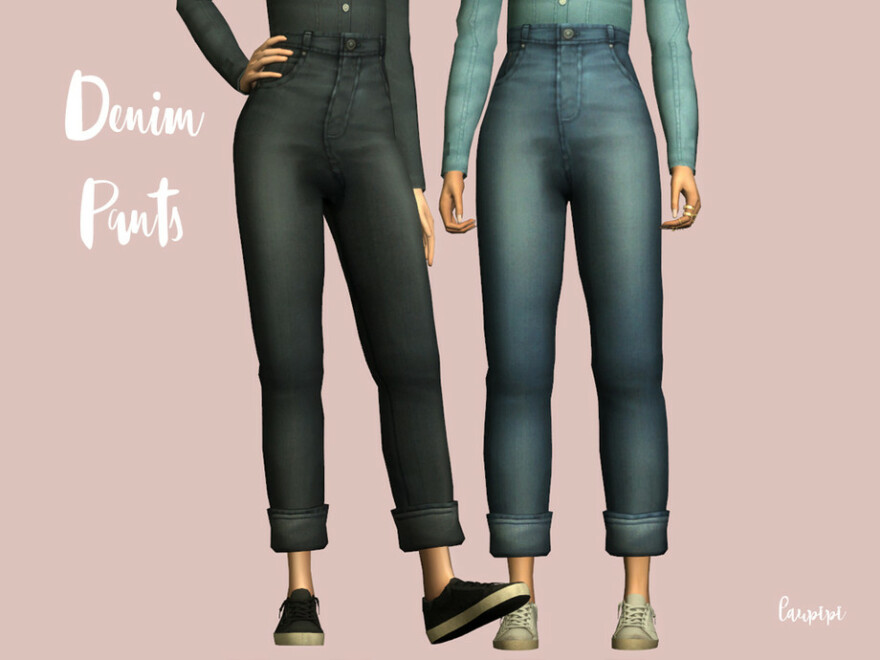 For crop tops, days where your Sim isn't feeling as confident as they usually do, and everything in between, nothing does the job quite right like a pair of high-waisted jeans.
Especially when they're a little extra baggy for that boyfriend look, these kinds of jeans are sure to compliment just about any Sims bodies, and they'll make their butt look fantastic too,
For a simple pair of high-waisted, roomy jeans, try out Denim Pants. They're sure to sinch at the waist and keep your Sim looking trendy no matter what they decide to pair with them.
12. Mom Jeans Recolored

We've talked a lot about mom jeans recently. Maybe I'm biased, I never really liked the idea of skinny jeans, they're too restricting- so when mom jeans became a thing, my legs couldn't have been happier.
But there's one problem, most of them so far have been pretty similar. Blue or black, cuffed at the bottom. We need variety.
Thankfully, Mom Jeans Recolored is here to add some color to your Sims wardrobe.
Their silhouette is just like any other, we have ket features like being high-waisted and cuffed, but now you can have that same style you love in colors like maroon, red, and even a pink plaid.
11. Azov

Can't decide between jeans with holes or without? Why not both?
The beauty of custom content like Azov is that it comes with a version that has both things you may want, so when the time comes, you don't have to look for something else to download to your computer- you've already got it in the same style that you love.
10. Bom pom Jeans

Holes at the knees, tiny tears, and a chain accessory- sounds like the perfect pair of jeans if you ask me.
Especially for looks, you want to create for your edgier Sims, the more detail is sometimes better, keeping a certain balance that doesn't make their clothes look too busy.
Bom pom Jeans come with over 21 swatches, and you can choose between adding accessories like belts and chains and even smaller details like whether you want the cuffs to be frayed or not.
9. Baggy Pants EP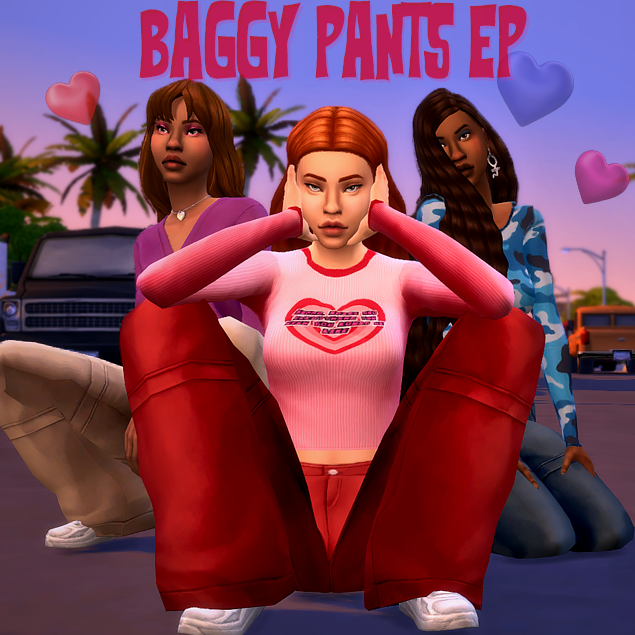 Pants as baggy as you can imagine, available in both denim opinions and a less-jean-like, cargo pant style, Baggy Pants EP is here to serve you all the Y2K vibes you could want for your Sims new style.
These jeans are available in 10 swatches and are beautifully textured to look like real jeans in the game, not flat and lifelike.
Get your baby tees and tiny sunglasses ready, and you've got yourself an amazing outfit.
8. MILF Skinnies

MILF Skinnies has so much variety, you'll have a hard time choosing which one is your favorite.
All styles are high-waisted, but some have buttons going up the front, some are textured differently, some have patches on them, and they're all unique in color for a completely different outfit every time you use these jeans.
7. NaNaNa

The NaNaNa collection comes with a variety of cute, stylish clothing that all features a cute street-style vibe to them.
Among the hats, skirts, and tee-shirts, you can find an interesting take on jeans that have just recently resurfaced into popularity but are still jeans nonetheless.
That's right, we're talking about overalls.
Especially with spring fashion blooming back into our lives, overalls are a cute way to make sure your Sim is still layered and warm, but they have the freedom to change up what they're wearing underneath to change with the weather.
Each pair of overalls come in a different color with a unique shirt underneath, so no repeating outfits anymore!
6. Carebear Jeans
Who didn't love waking up and watching The Care Bears as a kid?
I remember having a bunch of these cute little plushie bears all over my room growing up, and there's still a soft spot in my heart that wants to buy everything I see with these guys on them.
If you love Care Bears too and want to find a way to incorporate them into your Sims game, why not choose a unique pair of jeans! They're straight-legged, high-waisted, and sure to make any outfit you create more youthful and cute.
5. Destroy Skinny Jeans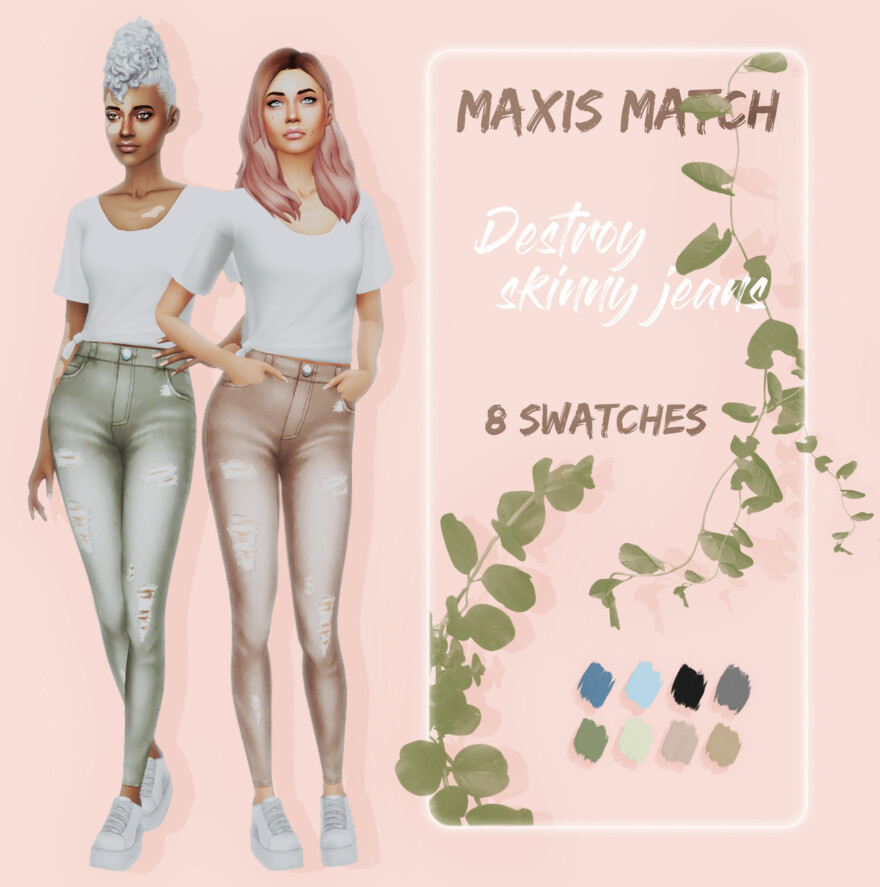 You've heard of regular distressed skinny jeans, but get ready for distressed skinny jeans with new, fun colors! In Destroy Skinny Jeans, you'll find 8 swatches of jeans that all have a light color and metallic finish to them.
That means olive green, rose gold, and even grey are all options you can now add to your wardrobe.
4. Dream Jeans

If you like distressed jeans, but you're not as much of a fan of the skinny jeans look, then Dream Jeans might be just the thing to put your Sim in next time you're making them an outfit.
They're baggy jeans with holes in them, not just in the knee but the thighs too, and they come in 14 swatches such as green and yellow for every occasion and every idea you have in mind.
3. Farrah Jeans

Most of your bell bottom, flared jeans tend to be on the low-waisted side of things.
With Farrah Jeans, you can have the best of both worlds when you're making the perfect retro outfit for your Sims- a high waist and a flare!
These jeans come with two color palettes, one for vintage tones and one for more modern-day colors, you're sure to find exactly what you're looking for.
2. Wide Jeans

Look, if you were to pull me aside and ask for my personal favorite style of jeans, it would be like what's found in Wide Jeans.
I know there's a big debate going on about skinny jeans versus mom jeans, but look at these!
They're super flowy, ultra-comfortable, and they go with literally everything. Tuck in a t-shirt, wear an oversized sweater, there are no laws when these jeans come on.
I digress. But the bottom line is, if you're looking for a new style for your Sim to try, these are where it's at!
1. Go Baby Pants Recolor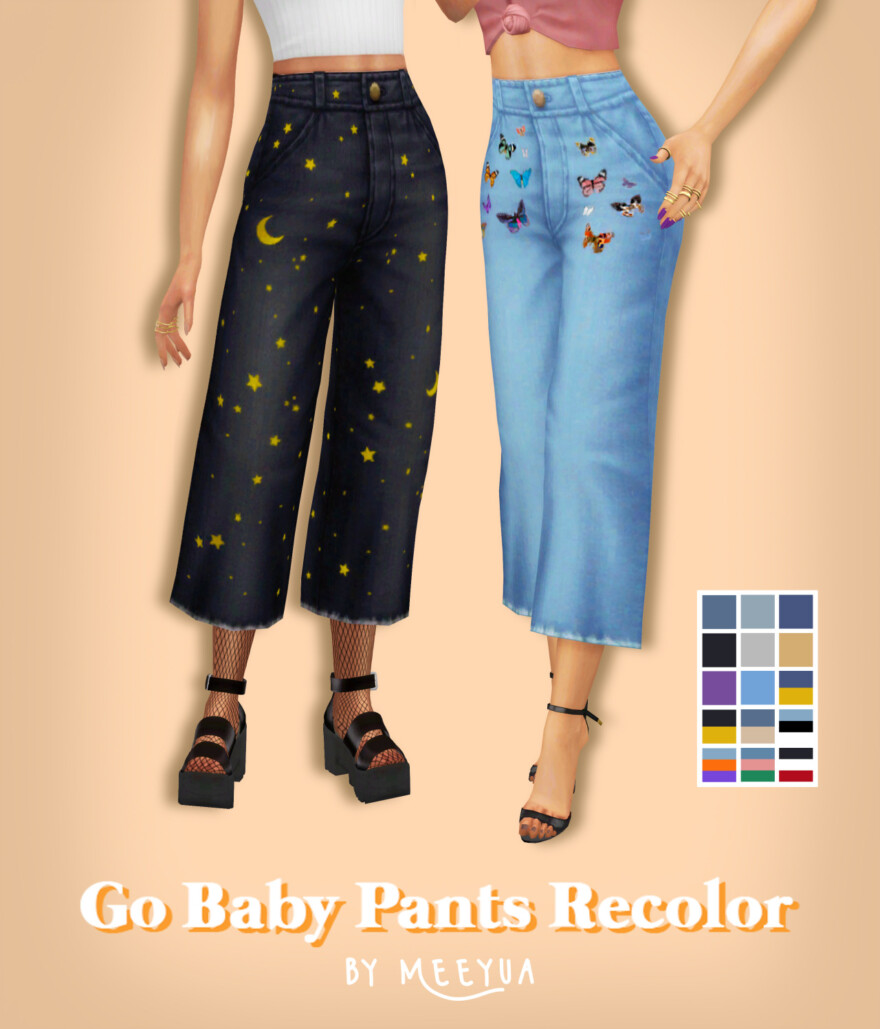 With the same wide-legged style that we saw before, which we already discussed, is the most superior style for your jeans, Go Baby Pants Recolor takes them one step further and gives them the most adorable designs imaginable.
Butterflies, stars, and even a purple pair make it so that you get the same great style with some cool options to keep your Sims looking fresh.