We put a lot of thought into our female Sim's appearance- their clothes, makeup, accessories, and even hair. But what about male Sims?
Too long have they been given the same haircut and outfit for generations, it's time to spice things up a bit, and if you're having trouble thinking of where to start, the hair is always a safe bet.
That's why today, we'll be talking about the top 10 Sims 4 Long Male Hair CC.
Best Sims 4 Long Male Hair CC
10. Aragorn
Let's keep things simple, your male Sim may like the look of long hair but doesn't want to become one of those people who takes hours to get ready in the morning. We can respect that, and we have a hairstyle that's perfect for what he's looking for.
Aragon is a long hair option for men that gives them texture and definition, complete with subtle waves and a slight bang that fits almost every style out there.
It comes with two options, one with the hair tucked behind the ear and one that doesn't. Plus, it's not too long, and it's not too short the perfect middle ground!
9. Blow Up The Outside

Blow Up The Outside comes with three hairstyle options, all for men that have a length like no other.
However, the specific piece of custom content in question features a man bun that has so much volume to it, you know he's got long locks as soon as he takes it out of the hair tie!
This style is perfect for when they're busy, and they need to get their hair out of their face, or even if it's a day that's too hot for them to keep it all down.
But, if you're not really looking for a bun, the other top options are great for long hair that's kept down and flowing in the wind.
8. Cass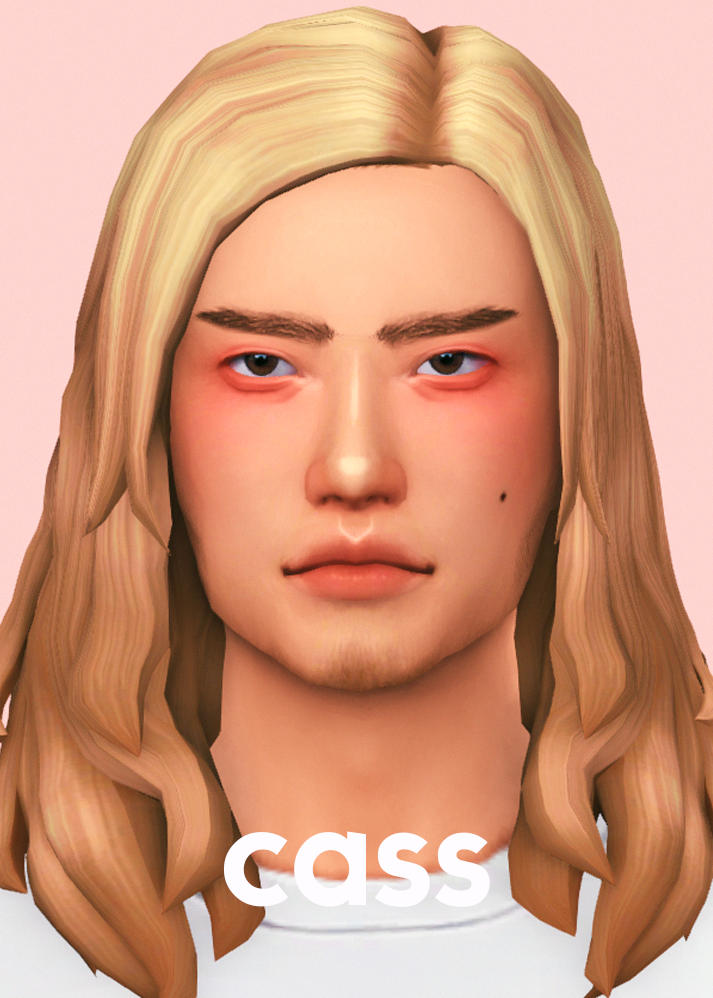 What's a good hairstyle for a Sim who not only values their appearance but wants to keep things on the longer side?
Cass is a well-kept option for men that features a layered look with hair that goes ever so slightly past their shoulders.
Complete with the option to either keep their bangs down or pushed off to the side, it's a great option for Sims, who like to look put together at all times.
7. Anka
We've all heard of the man bun, but what about simply putting their hair in a ponytail?
Whether they like the look better than having all of their hair sitting on top of their head, or they can't seem to get their bun technique down, Anka gives them a simple solution to keeping their long hair tied back.
6. Rhys
This, to me, is the perfect style for a Sim that likes the vintage look. Inspired from the '50s and 60's, this bad-boy style cut is a shaggy interpretation of a mullet that makes your Sims look like they have a bit of an edge to them.
Rhys is messy, it's layered, but it's professional though that he would wear his hair like this to meet their partner's parents.
All you need to complete the look is a matching jacket (it doesn't have to be leather, but is strongly suggested) and a pair of boots, and they're ready for anything!
5. Slick Back Long Hair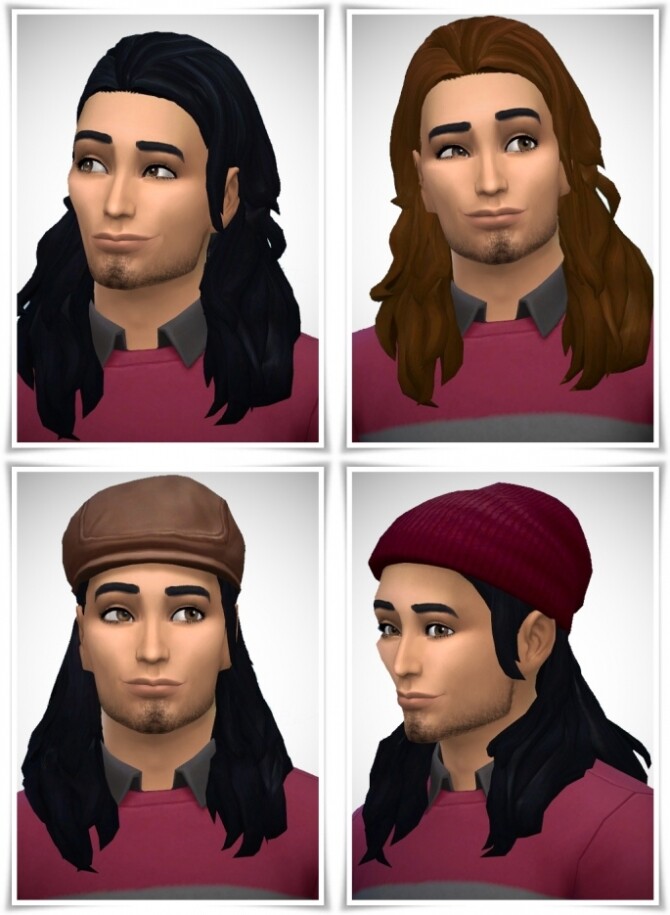 A man that's sophisticated. He's familiar with the arts, and he can tell you what wine pairs well with any cheese.
He's got a good-paying job, and maybe he's a little bit snobby about it, but that's the price you get for being such an upstanding Sim. What more could complete him?
The hair, of course. And if you're looking for the perfect style to suit a Sim like that description, then you're sure to fall in love with Slick Back Long Hair!
It offers just enough length to keep him in the cleaned-up category. The bangs are kept out of the way, and it pairs well with just about any hat you'd like to incorporate into his outfit.
4. Daryl

People have different definitions of long hair, especially when it comes to styles for men. So, whatever your preferred length for your guy is, we have your back.
That's why medium-long lengths have to be included, especially when it's a look that's as good as something like Daryl.
This style's main feature is the texture it has, the waves that look like he just stepped out of the ocean make them look so realistic, you might forget he's just a Sim.
With additional bangs that hit just below the cheekbone, he's sure to steal a couple of hearts in your neighborhood.
3. Riko
When we mean long hair, we mean long hair. Especially with something like Riko, we don't want to skimp out on length, we want our male Sims to have hair that grazes the floor! Well, maybe not that long, but you get the picture.
Either way, if you want some serious length, try out Riko. It reaches down to your Sims waist and is kept together with a simple, elegant braid. The perfect option for a scholar that refuses to cut his hair!
2. Howl

Another option for a man bun that implies the length but doesn't always have to show it. Howl is more of a messy bun option instead of one that's more professional and kept together.
That's not a bad thing, messy buns are always the way to go!
Something that makes this hairstyle stand out from the rest is it comes with two custom color palettes, so you can have fun and dye their hair every once in a while!
1. Kayn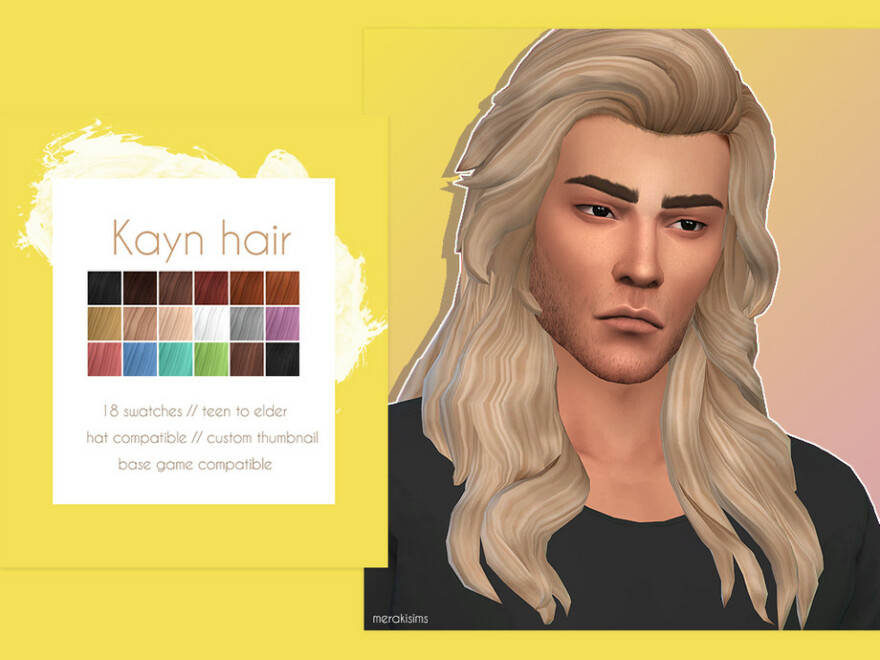 Long, feathered hair that flows in the wind like a scene straight out of a movie, that's the kind of vibe that Kayn is delivering.
It's simple enough where it doesn't need anything extra to get the point across, but it keeps its layers and length, so your Sim is always looking their best.