Masks. Long before the pandemic started, many of us had never heard of the concept of wearing a mask outside, they were for people like doctors, not for your average, everyday citizen.
Now, they're a must-have, and if you've gotta wear a mask, you might as well make it fashionable! Even before we had to constantly worry about a virus, some people have always thought the look of a mask was trendy, and I have to admit, I agree!
Whether you like the look of masks as a fashion statement, or you're trying to make your Sims universe as accurate as possible to what's going on outside, for all of your Sims 4 mask needs, here are the top 15 best masks for The Sims 4!
Best Sims 4 Mask CC
15. Fandom Masks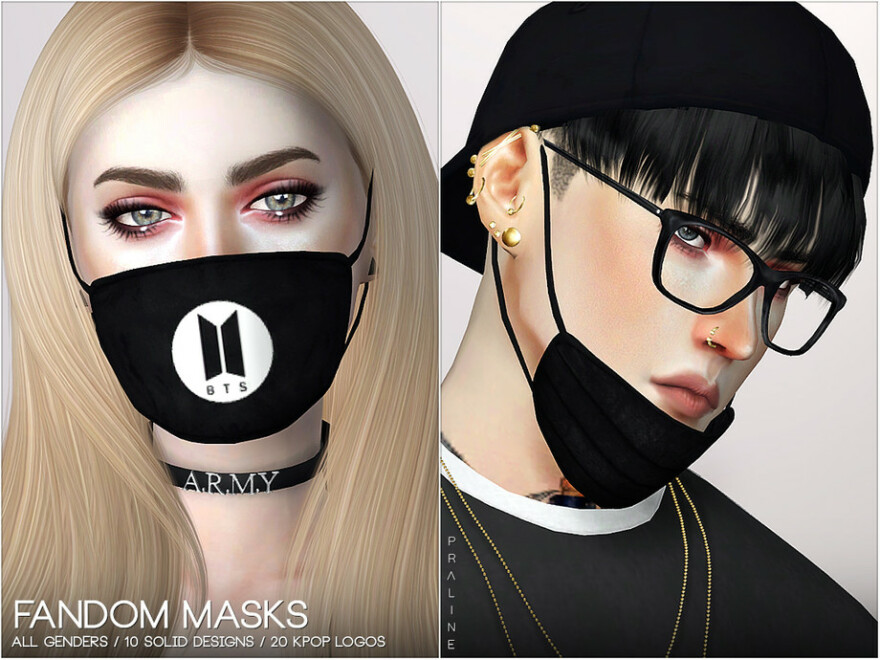 Everyone needs some variety when it comes to their masks, and they're the perfect way to express yourself with the most minimal amount of effort. So, why not put some of your favorite fandoms on your mask? Fandom Masks comes in 30 swatches, all in either black or white, and feature a variety of designs from solid colors to even some of your favorite K-Pop groups!
But, if you're not really looking for your mask to represent anything specific, there are also neutral masks like a mustache and a smiley face for days where you want your Sims mask to keep it simple.
14. Oni Mask

For a mask that gets the same job done as any other with an edgy, industrial twist, Oni Mask is here to serve whatever alternative look you're trying to create for your Sim. Each mask includes a simple design with two straps going behind the head, as well as bulky buckles on the sides for adjustments.
In addition to the little details that make this mask stand out, it also comes in 75 colors, including camo, dark red, and pastel yellow. You'll always have a matching mask for any outfit your Sim has picked out.
13. Paralyze Mask

Not all masks are created equal- some can be found off a cheap website for a dollar while others are more on the pricy side. And if you have a snooty Sim that likes to show off their wealth in every way they can, then Paralyze Mask might be the right choice to make.
Instead of having basic, boring designs that can be found anywhere, these masks are from designer brands, logos, and everything! Now every Sim walking past them is sure to know that when they say they have expensive taste, they mean it.
12. Haunting Grounds Mask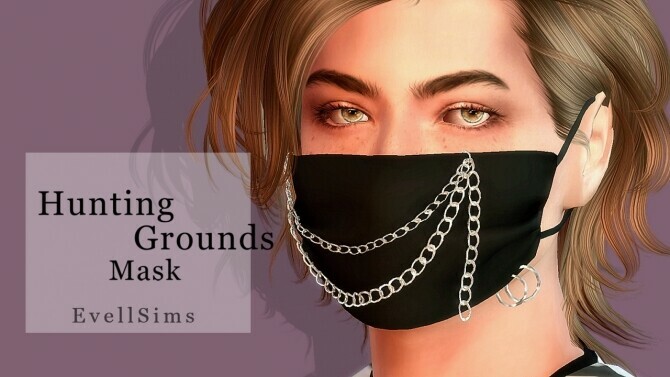 If you liked the idea of having a mask similar to the Oni Mask, but it didn't quite fit your Sims alternative style, then you might be thinking of adding other elements to make it perfect. Maybe some chains, a plaid print to it, something that's definitely worn as more of an accessory than anything and makes for great photoshoots.
If all of the above sounds exactly like what you've been searching the internet for, the Haunting Grounds Mask is sure to live up to your expectations. 30 swatches with plaids, solid prints, and even one that looks like a gruesome set of teeth, so you know you're getting as much variety as possible in terms of what your Sim has to choose from.
11. Kf 94

Sometimes, simple is a good thing. Not everyone needs a flashy mask when they're headed out to the grocery store, especially to match your Sims lazy day outfit that probably consists of a pair of sweatpants and a shirt they've had since they were in high school.
For a mask that fits the mood of not wanting to get too dressed up. KF 94 comes in a variety of simple patterns and a monotone color palette, so you don't even have to think about coordinating their outfit with their mask- black and white go with everything!
10. Toddler Face Mask

Everyone needs a mask when they're in public, even the little guys. Instead of giving them the standard blue mask to wear that can get uncomfortable and annoying after a while, give them a mask that they'll want to wear!
Toddler Face Mask comes in 15 kid-friendly swatches, like a smile with the tongue sticking out, a dragon, and even early 2000s inspired skulls. It's perfect for all toddlers, and it'll keep them protected from just about anything.
9. No Face Mask

Instead of keeping with today's idea of masks, this one's a little bit different. It sure wouldn't pass in today's outside world, but for your Sims, all rules go out the window, and they're allowed to wear pretty much whatever they want outside right now. And especially if you and your Sims are huge Studio Ghibli fans, then this mask might be one of the best you can find.
Introducing the No Face Mask! That's right, a mask that looks exactly like No Face from Spirited Away. Whether you're trying to come up with the most unique idea for a costume party, or you just really love this movie, adding a black cloak and this mask will complete the perfect No Face outfit for whenever they feel it's appropriate.
8. Spa Day Mud Masks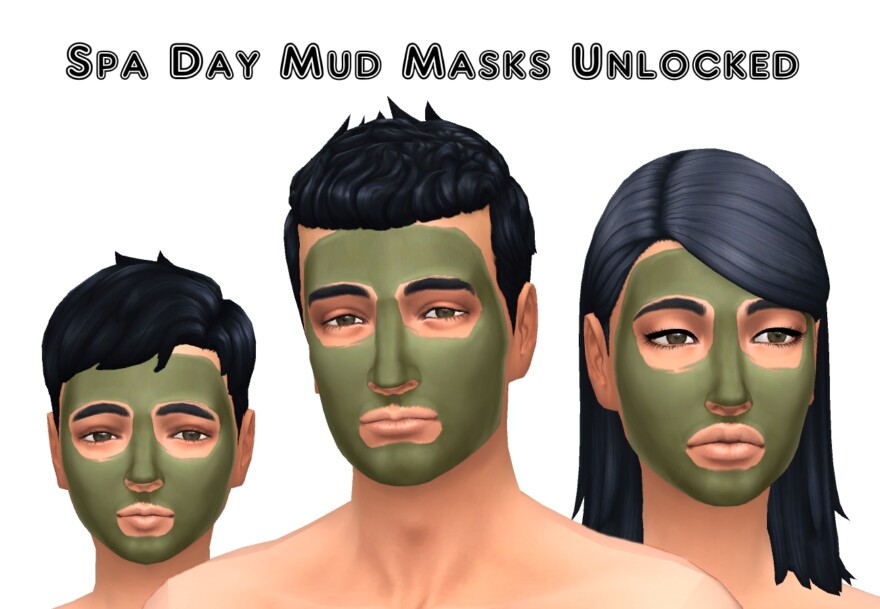 We've all heard of masks for outdoors by now, but what about masks for when your Sim is indoors? Especially when they're having a self-care day on their day off work, they need to maximize the amount of relaxation they feel, and nothing quite says that like a mud mask.
Spa Day Mud Masks allows your Sims to take care of their skincare while lounging around the house. Now they'll be able to put on their favorite mud mask, draw a bath, and take all the stress off their shoulders!
7. Akuma Mask

It's time to step it up a notch. Instead of settling for some boring, basic cloth mask, why not choose one with a bit more bling on it? And we're not just talking rhinestones or something, we're talking about the spikiest mask you've ever seen.
Akuma Mask is for those who have a style like no other, perfect for punk rock kids that never grew out of their high school phase. They come as one solid shade or two-toned, and the spikes themselves can be either silver, black, or gold.
6. Josephine Mask

Instead of an alternative, edgy look like we've seen so far with a lot of these mask options, why not go for something with a softer look? Especially for those Sims who enjoy everything and anything they can get their hands on that's cute, they need a mask to fit the rest of their style, and that's where Josephine Mask comes in.
A simple yet cute mask for your Sims that love to look pastel and sweet, this design comes in a variety of patterns you're sure to fall in love with, like sunflowers, daisies, and even polka dots!
5. Surgical Masks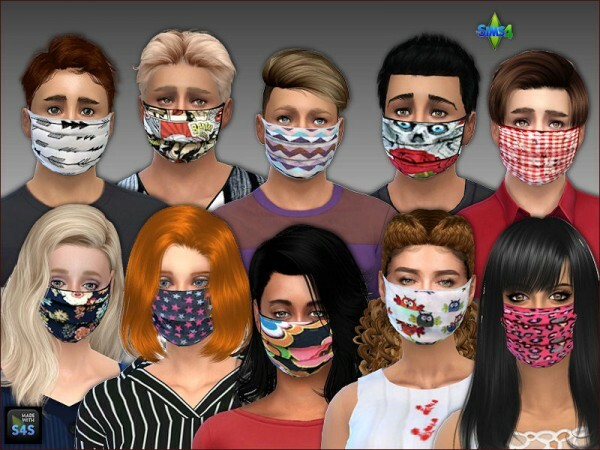 One reason why I love Surgical Masks as much as I do is that you can find a style for everyone in the family.
It's versatile enough where everyone from your Sim, their husband, and their kid could find a pattern that suits them, and you still have plenty of options left over for when they want to switch things up.
4. Paperbag Mask

Has your Sim woken up on the wrong side of the bed? Are they having a bad hair day, a bad skin day, or a bad day in general? Do they wish they could hide from the world for a day and avoid the stares of those around them? If any or all of the above applied to your Sim, then you might want to cover them up with a bag and have them move on with their day, and now they can!
The Paperbag Mask is exactly what it sounds like- a paper bag they can put over their head! No longer do they need to worry about how their hair looks, what their face looks like, or anything else in between. Better yet, these masks come with different designs to convey their mood for the day.
3. Face Mask

For the most basic of face masks, a name that says exactly what it is is all that we need.
Face Mask, no fancy introduction, is a collection of solid color masks that come with no fuss, no hassle, and no need to worry about whether your Sims mask matches their outfit or not.
2. Breakfast at Tiffanys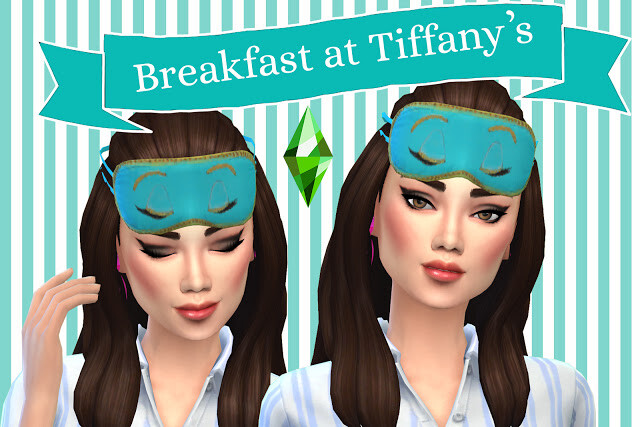 Who said masks had to be for your Sims face? Masks come in all different types, shapes, and sizes, and instead of wearing one outside to cover up from the germs of the outside world, why not shade your eyes from the lights around you when you're trying to catch up on sleep?
To optimize relaxation and sleep for your Sims, you need to take a look at Breakfast At Tiffany's. Inspired by the iconic movie that is still referenced today, you can now give your Sims the sleep mask Audrey Hepburn is wearing in the early scenes of the film, so they can sleep in style and feel luxurious regardless of what time it is.
1. Bad Girl Mask/Cap

And finally, one of the most referenced and thought of masks when we think of masks, especially before the pandemic began, a ski mask. Maybe your Sim is great at hitting the slopes, they like being outdoors in the winter, and they want to be able to keep warm while they participate in winter activities.
However, we all know that there is another purpose for ski masks, and with the Bad Girl Mask/Cap, you can be whatever you want in The Sims. I'm not necessarily saying you should, but you definitely could get away with a couple of crimes in your mischief career and never leave a trace.
You might also be interested in the following: