The Sims 4 has a huge collection of CC that adds a bit of flair, personality, and charm to the characters in the game. Here we will look at some CC based on the popular Game of Thrones series from HBO, based on George R.R. Martin's acclaimed series of novels.
Here are the best Sims 4 Game of Thrones CC, in no particular order.
Best Sims 4 Game of Thrones CC
10. Game of Thrones Houses Logo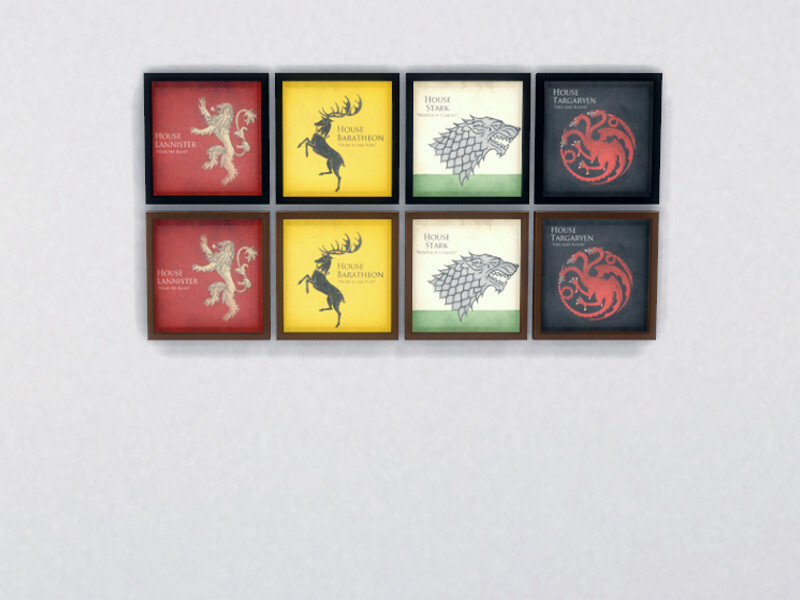 Show your support for your favorite noble house from old Westeros with the Game of Thrones Houses Logo. This CC adds framed versions of the symbols of the famous noble houses from the Game of Thrones series.
Included are the symbols for house Lannister, Stark, Targaryen, and Baratheon. Each one of these framed pieces of decor is available in two different colors.
This is a great CC to have if you're a fan of the game of thrones series or Simply want to add another dimension to the characters in the game.
9. Game of Thrones Set

If you have any favorite characters from the Game of Thrones universe, you can show your love for them by hanging portraits available in the Game of Thrones Set.
This CC features framed portraits of several characters from the Game of Thrones series, all rendered in a beautifully stylish art style. There are 8 portraits in total featuring characters from Jon Snow to Arya Stark and many more! No more boring fruit and basket paintings across your lovely home!
8. The Iron Throne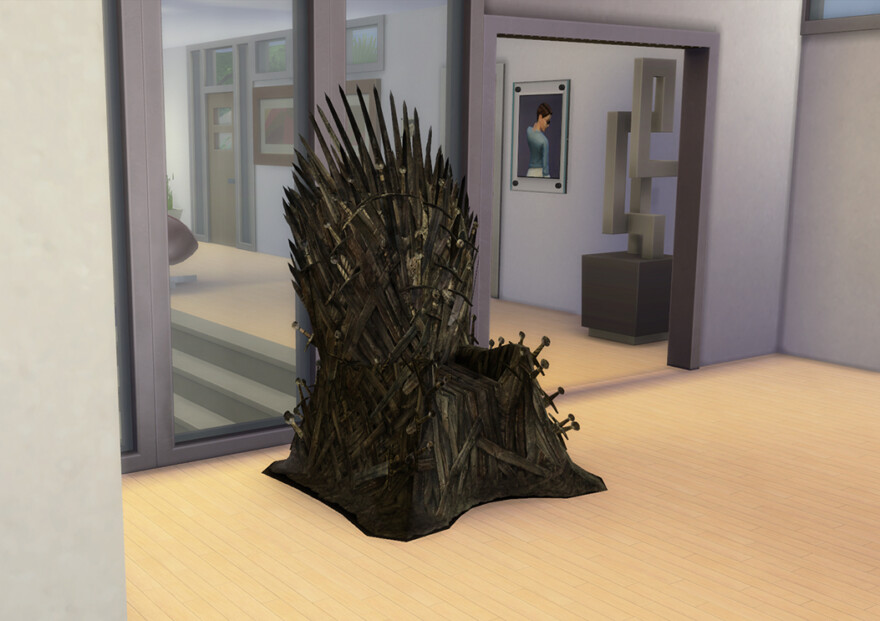 The Iron Throne in King's Landing is probably the most recognizable piece of furniture from Game of Thrones. The Iron Throne mod brings the famous Iron Throne into the Sims 4. This piece of custom content can be found under Comfort > Living chairs at the fair price of 1,200 Simoleons.
Now you can roleplay as the King of the Andals, sitting upon the Iron throne in the Red Keep.
However, be careful not to put down too many of these as it is pretty high poly, with 8076 polygons to bring those details out. You might end up crashing your system if you're not careful enough.
7. Game of Thrones Shirts

If you're not big on roleplaying a character from the Game of Thrones or cosplaying them with your Sims but still want a splash of the franchise in your game, then the Game of Thrones Shirts CC has you covered.
There is also afemale version available. This mod adds T-shirts with Game of Thrones designs on them to the game. It has 14 shirt designs for males and 10 for females to allow your Sims to show their support for one of the greatest fantasy series ever made.
6. Jon Snow Blue Leather Outfit

Jon Snow may be a b*stard, but he's one awesome b*stard. Your Sims can be too (or at least cosplay as Jon Snow) with the Jon Snow Blue Leather Outfit. This mod adds an outfit set featuring Jon Snow's armor from the show.
The outfit is available in two colors. Blue and Beige. It is also very customizable, with various bits coming in different colors and variations within the package file.
It is available in full-body clothing for male Sims from teens to elders. To use this piece of CC, you need to have the Get Famous expansion pack for the Sims 4.
5. Daenerys Dress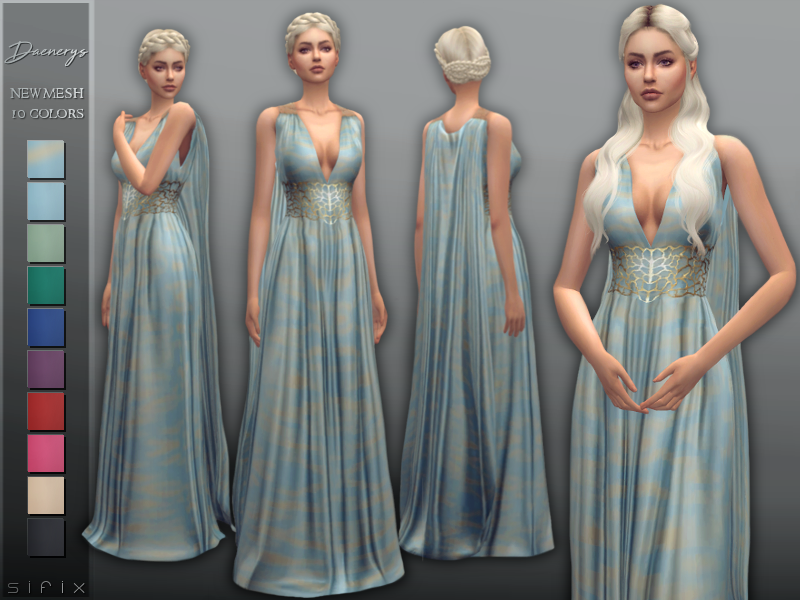 Daenerys Dress is a pretty self-explanatory piece of CC content. This CC adds Daenerys Targaryen's dress to your game. This Grecian-inspired dress features an intricately designed gold belt and cape. This particular dress is based on the one Daenerys wears in the second season of Game of Thrones while they were in Qarth.
This CC dress features some transparent bits that may not look right if your graphics setting is set to low. The dress comes in 10 different colors and a custom thumbnail to help you pick it out with your undoubtedly large collection of custom content. There is also another version from the same author available here.
4. Game of Thrones House Sigil Tattoos

This CC converts your Sims into Game of Thrones superfans by letting you give them Game of thrones tattoos! Game of Thrones House Sigil Tattoos is a CC that adds back tattoos of all the great noble houses from Game of Thrones.
The tattoo includes the symbol of the house as well as a phrase connected to each one. For example, House Stark is "Winter is Coming," and House Targaryen's is "Fire and Blood." The pack has tattoos for all the nine great houses for you to choose from.
3. Khal Drogo: Beard & Eyebrows Set

Ever wanted to make your Sims into great nomadic chieftains that rule over great swaths of land? Well, with this CC, you can at least look the part.
The mod Khal Drogo: Beard & Eyebrows Set adds beards and eyebrows in the style of Khal Drogo of the Dothraki to your game. It allows gamers to add a bit of rugged warrior nomad flair to their Sims.
2. Mhysa Hair
This CC goes well with the previously listed CC for Daenerys' Dress because Mhysa Hair is based on Daenerys Targaryen's hair. Mhysa hair adds a hairstyle based on Daenerys Targaryen's hair from the Game of Thrones series.
The hairstyle is brought to life in meticulous detail with high-quality textures and meshes and is available to female Sims from teen to elder.
1. Arya Stark

If you want to roleplay as a game of thrones character, the CC Arya Stark gives you a head start on that particular one. This adds a young adult female Sim of Arya Stark to your game.
The CC lets you either have her as one of your Sims or even a neighbor. This particular piece of CC is quite good as we think the author really captured Arya's look from the HBO series. Don't forget to check it out!
You might also be interested in the following: