Regardless of which stage of life they're in, every kid deserves to feel confident in their hairstyle.
And no, we're not talking about that at-home bowl cut their mom gave them in the kitchen, something they'll look back on their school pictures and feel proud that they had a nice head of hair.
Unfortunately, The Sims 4 isn't too kind to kid's hair. But, fortunately, we have endless options for custom content to spice up their look and make them the most popular kid in their class.
If you're looking for a new look for the kids in your household, then you'll love these best Sims 4 kids hair custom content!
Best Sims 4 Kids Hair CC
30. Taffy Toddler Hair

This cute and stylish hairstyle is perfect for any little Sim in your life simulation game.
Pigtails are a hairstyle where the hair is divided into two sections and tied together at the back of the head with two hair ties, one on each side.
They are often worn by children but can be worn by adults as well.
Featuring a pair of auburn pigtails, the Taffy hair CC is sure to turn heads on the playground and make your toddler stand out from the crowd.
With its utterly classic design, Taffy Toddler Hair is the perfect way to differentiate your Sim child's look from the base game's lacking selection.
29. Tammy Hairstyle

The Tammy Hairstyle is a piece of kids' hair custom content for The Sims 4 that adds a hairstyle for toddlers that is clean long hair with two strands tied into a small ponytail.
This new hairstyle is perfect for your toddler Sims who want to look age-appropriate but a little more formal!
Kids in formal settings, like school or church, often need to have their hair styled in a certain way.
This might mean putting it up in a bun or ponytail or using special products to make it look neat and tidy.
Some kids don't like having their hair done this way, but it's often necessary for looking polished and professional.
28. Angelo Hair

Looking for a cute, curly hair option for your boy toddlers in The Sims 4? Look no further than Angelo Hair!
This hair-for-kids CC adds a hairstyle that is a natural look for boy toddlers, and it is sure to be a hit with everyone who sees it.
With its soft, curly strands, this hairstyle is perfect for any little man who wants to look his best. His hair is trimmed and styled perfectly, and he looks like a little gentleman.
27. Xenna Hair

This Sims 4 content is perfect for a hairstyle that will make your little girl Sim look like a princess.
Xenna Hair is a beautiful hairstyle that features a full head of braids adorned with delicate, neatly-laid baby hairs.
It's perfect for any special occasion or just everyday wear.
Braiding natural hair is a tradition that has been carried out by women and girls for centuries.
It is a way to keep their hair healthy and styled while also creating a special bond between sisters, mothers, and friends.
There are many different ways to braid natural hair, each with its own unique look.
26. Marcy Hair

If you're looking for a sleek and simple hairstyle for your little girl, look no further than the Marcy Hairstyle.
This lovely long red hairstyle is perfect for any occasion and is sure to make your young Sims feel like princesses. With its classic style, the Marcy Hairstyle is sure to be a favorite for years to come.
Red hair is a beautiful color that is often misunderstood. Some people think that redheads are angry when in reality, they are just passionate people.
Redheads are some of the most outgoing and friendly people that you will ever meet.
25. Mandisa Hair

What little Sim wouldn't love to have this trendy, breezy hairstyle?
This Sims 4 kids' hair adds a hairstyle for little girls that consists of a pair of trendy, curly buns that sit high on the head.
Mandisa Hair is a great introduction to expressing your kid Sim's unique identity through their hair.
This versatile look comes in 30 different colors to suit every toddler you could make in-game.
24. Betsy Hair

Betsy Hair is the perfect hairstyle for your little girl toddler Sim in The Sims 4.
It features two thick braids on either side of the head and comes in 15 different colors.
There are many ways to braid hair, but the one of most popular is the dual thick braid. It can be worn as is or secured with an elastic band for a more polished look.
Betsy Hair is also compatible with hats, so your little digital girl can always look her best.
Whether she's off to school or just playing around the house, Betsy Hair is as pretty as it is functional.
23. Olivia Hair Retexture

This mod gives the Olivia Toddler Hair a more realistic and smooth appearance in The Sims 4, making it rank among the most natural-looking toddler hairstyles in the game.
Designed to perfectly frame your Sim toddler's face, this hairdo is perfect for a day at the park or a formal event.
The Sims 4 toddler hair textures can be lackluster, and mods make it better! The default textures are blurry and don't look very good up close.
Mods like this give you much better options for textures, making your toddlers' hair look much nicer.
This Sims resource only comes with the re-texture; it needs to be applied to the Olivia Hair mesh or a different mesh of the same shape.
22. Alexis Hair

Styles like the Alexis Hair with a short cropped haircut and classic braiding will never go out of fashion.
With the success of Hunger Games, they may even be MORE popular thanks to Katniss.
Coming in 15 color swatches, players can tailor their Alexis Hair download to suit any of their Sims families.
Plus, it's compatible with hats! This mod is completely friction-free.
21. Laura's Clips Recolor

On the hunt for a way to add some extra flair to your toddler Sim's hairstyle? Check out Laura's Clips Recolor!
This mod adds more colors for the hair clips in the Laura hairstyle, so you can really mix and match to create a unique look for your little one.
Color is a powerful tool that we can use to change our mood and our style. This mod is unique because it is a Sims 4 kids hair CC that has to do with a hair accessory.
With this mod, you'll have access to over 30 new colors for the hair clips, including some fun and bright options and combo patterns like pink, purple, and blue.
20. Short Bob Hairstyle for Toddler

This mod adds a beautifully cut bob that is sure to please both you and your simulated little one.
It is important to pick your toddler's hairstyle because it can affect their mood and self-esteem.
If you choose a style that is too complicated or time-consuming, it can be frustrating for both you and your toddler.
A style that is easy to manage and maintain will help keep your toddler looking neat and tidy.
Bob haircuts are popular with toddlers because they are easy to style and maintain.
There are many different types of bobs, including the inverted bob, the graduated bob, and the shaggy bob. This one, in particular, is a clean, simple bob.
19. Lola Hairstyle

The Lola Hairstyle is a cool-looking hairstyle for toddlers that can be customized with many different colors.
The hairstyle is full of braids with well-coiffed baby hairs on the forehead, which makes it look realistic and stylish.
Players can use the Lola Hairstyle to create unique and fabulous looks for their toddlers that are not possible with the default hairstyles.
Braids are a popular hairstyle for little girls of color because they are versatile and can be styled in many different ways.
They can be worn with or without beads and can be styled in a variety of ways to match the child's personality and taste. Braids are also a good way to keep hair healthy and free from tangles.
18. Trisha Tresses by Savvysweet

This hairstyle is great for toddler and child Sims who need more curly, textured hair.
Trisha Tresses is an up-do for kids that is seriously curly, with a cute bow in the middle of the ponytail.
Hair in the base game isn't as diversified as one would hope, so this CC is a great addition for those who want more representation of all types of hair.
There is also an adult version of this hairstyle, as well, and all versions are hat compatible.
Trisha Tresses CC also comes in all of the EA swatches, so you can color this hairstyle in blacks, reds, blondes, and more vibrant options, too!
17. Naevys-sims X Notdaniella Collab

This CC pack is a bit different since its' files are split into two files and features adult hair converted for kids; one for toddlers and one for older kids.
The Notdaniella CC comes with five hairstyles for toddlers, with three long choices and two ponytails. These same hairstyles can then be found for older kids with the Naevys-Sims CC.
The five hairstyles featured in this collection are called Brianna Hair, Cherry Picked Ponytail, Brooke hair, Gwen hair, and Cloe hair.
Most styles come with 18 EA swatches, while the Cloe hair only comes with 16. The Brianna and Cloe hair are also hat compatible.
This set is great for kid Sims of all hair types, as it features wavy, curly, and straight textures.
16. Rowan Hair

This is another converted hairstyle, but one that is simple and a staple for players who love having kid Sims.
The Rowan Hair is a simple shoulder-length hairstyle that has side fringe and slightly messy bangs.
Kids are lively and love to be active, so this hairstyle captures the low maintenance of kid's hair.
This CC comes in the standard 15 color options featured in EA's base game, so while there aren't any crazy vibrant colors to choose from, really, this simple haircut is a great option for the simple reality of what kids' hair is actually like.
15. Sivir Hair Toddler & Kid Edition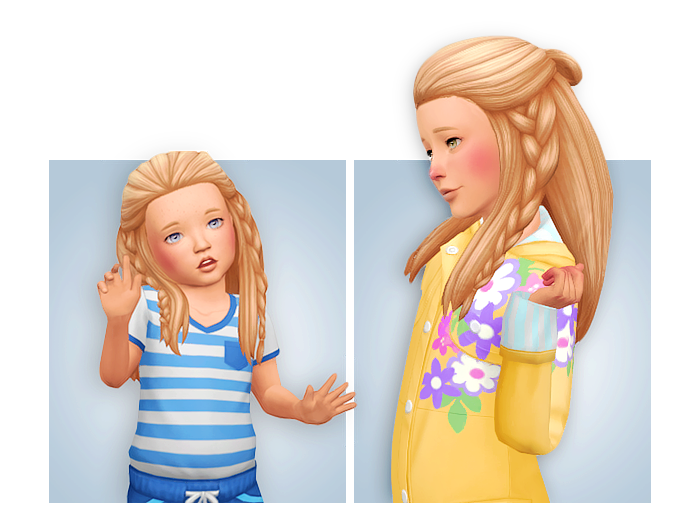 For a simple hairstyle that's cute enough to make the girliest of your children happy with how they look, SIVIR Hair Toddler & Kid Edition is a great way to go.
They get to have some length to their hair for starters, which can be something rare in children's hairstyles.
On top of that, braids are a fun, and easy style for kids to rock, and this piece of custom content comes with two of them- one on each side of the head.
This style is best for girls that like to wear skirts and dresses to school. It has enough detail to make it stand out from a lot of the other girls' hairstyles out there but keeps it appropriate enough for the little ones to wear.
It's also hat compatible, and there's an adult version of the same style so you can have a mommy-daughter matching moment!
14. Lily Hair

Bangs and braids- two staples for popular hairstyles that kids are always sure to love.
Luckily enough, Lily Hair is a combination of both of those things, so if that's what you're looking for to complete your kids' outfit, this is the way to go.
This hairstyle is only for toddlers, so, unfortunately, the older kids in your household won't be able to wear this style as they grow older.
It also isn't hat compatible, so if you want to make an outfit with a cute headband, you might want another option. But, for their go-to playtime style, this hair is a great fit.
13. Audrey Hair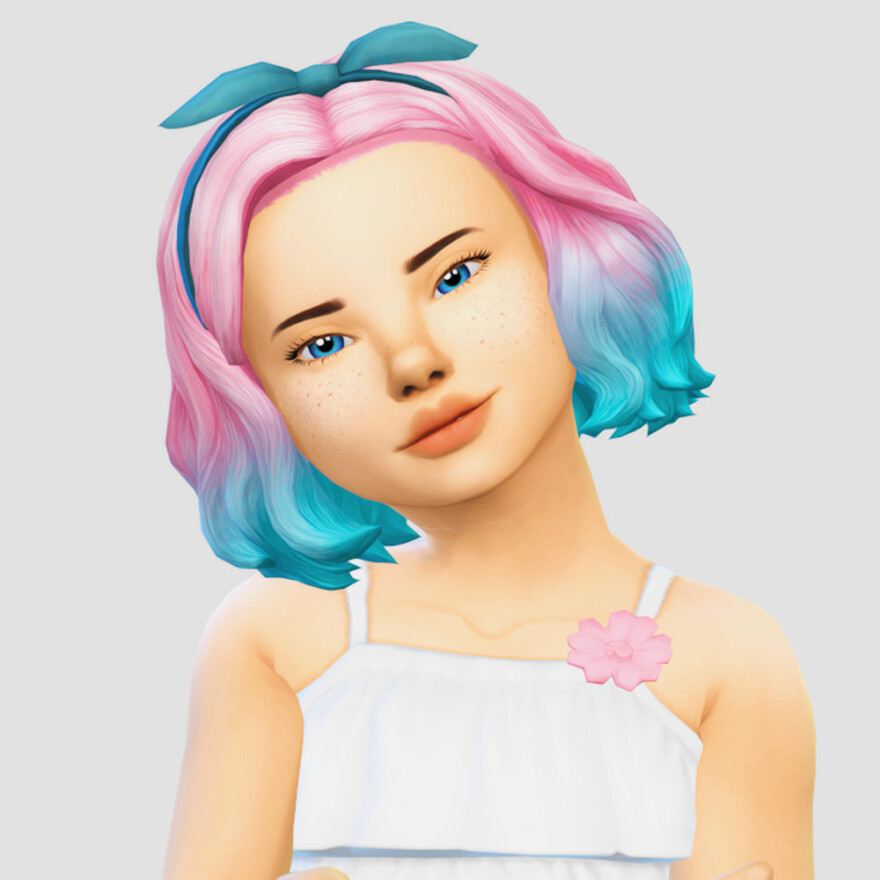 Some parents might not allow their kids to have colored hair, but in The Sims, anything's possible!
If you're looking to add a pop of color to your child's head, the Audrey Hair is a great way to let them experiment with hair dye and have a beautiful ombre look.
Short and sweet, a combination of blue and pink that resembles cotton candy, and an adorable headband tied at the top makes for one of the cutest styles for your younger Sims.
And if you thought the pink and blue wasn't exactly what you had in mind when you said you wanted your kids to have colored hair, this custom content comes in 32 swatches, so you're sure to find a look that suits your needs.
12. Jess Hair

One of the best things about Jess Hair is the fact that you're not just getting one style for your kids to experiment, you're getting four!
Yes, a hair pack for kids, exactly what you need, especially if you're having trouble finding a style that fits just right with the outfit you're trying to create.
Each style has the same general concept of keeping two braids at the front extending to the back of the hair, eventually fading into some variation of a tied-back style.
With options including two high buns to long pigtails that reach their collar bone, you can either find their signature length and style or change it up depending on their (and your) mood.
These hairstyles are also hat compatible and come in 18 swatches.
11. Daya Hair

When you say length, you mean length. Not just a style that goes a little below your kids' shoulders, you want your kids' hair to be something that Rapunzel would be envious of.
For some of the longest hair you can give to your younger Sims, Daya Hair is a great option.
Not only is the hair long, but it doesn't sacrifice texture with its smooth waves.
Another plus to the Daya Hair custom content is that you can choose whether or not you want to let your kids dye the ends of their hair.
Subtle pastels are perfect colors for kids, which is exactly what you'll find when you style an outfit around this look!
10. Ine's Hair

Sometimes, you need an option for kids' hair that's appropriate for a formal event.
Sure, pigtails are cute, but they need to look their best in front of the grandparents! For those occasions, something like Ine's Hair is a great choice.
It's a subtle option for their hair kept down, with the addition of bangs and a little hair tucked back behind their ear.
What's great about this hairstyle is that there's some layering to the length.
So, even though the overall hair is a bit shorter than some we've seen on this list, there's enough definition to make it stand out.
9. Aurora Hair for Kids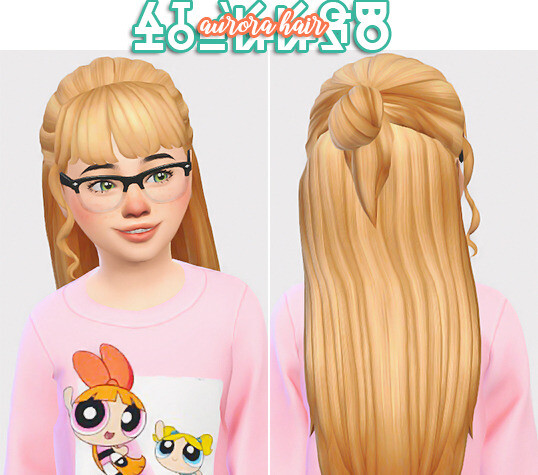 As a kid, and as an adult for that matter, one of my favorite ways to wear my hair was half up, half down. I
t's the best of both worlds, especially for someone who has a hard time making decisions, which is why a style like Aurora Hair is always a safe bet for any kid.
Complete with bangs, a bun in the back, one single curl in the front for extra detail, and a total of 18 swatches- you can't go wrong.
It goes well with outfits of all occasions, whether they're formal events or a playdate with their friends, and their hair will always look cute!
8. Babys French Braid

Toddlers need some cute hairstyles, too, especially since this is the time where you can usually get away with doing their hair however you want to, and they don't seem to mind much.
If you want to get the most out of your toddler's hair, but don't want to have a style that's too fussy, then something like Babys French Braid is a perfect option to give them something adorable without being too over the top.
It doesn't get much simpler than this, a short style with a single french braid and some bangs in the front.
It's sure to suit every toddler you have in your household regardless of the clothes they typically wear, and they may even like to rock a similar look as they get older!
7. Wings on 1017

Similar to the hairstyle before, this is another look that uses french braids to its advantage. Some of the differences- it's designed for older kids, not toddlers.
It also features two french braids instead of one for a pigtailed look, which is always something that we like to see.
But perhaps the biggest difference between this braided style and what we saw before is that there are two buns at the top of the hairstyle!
So, if you found yourself struggling to decide whether you should give your kid buns or braids, you don't have to choose with Wings ON 1017.
6. Breathin Hair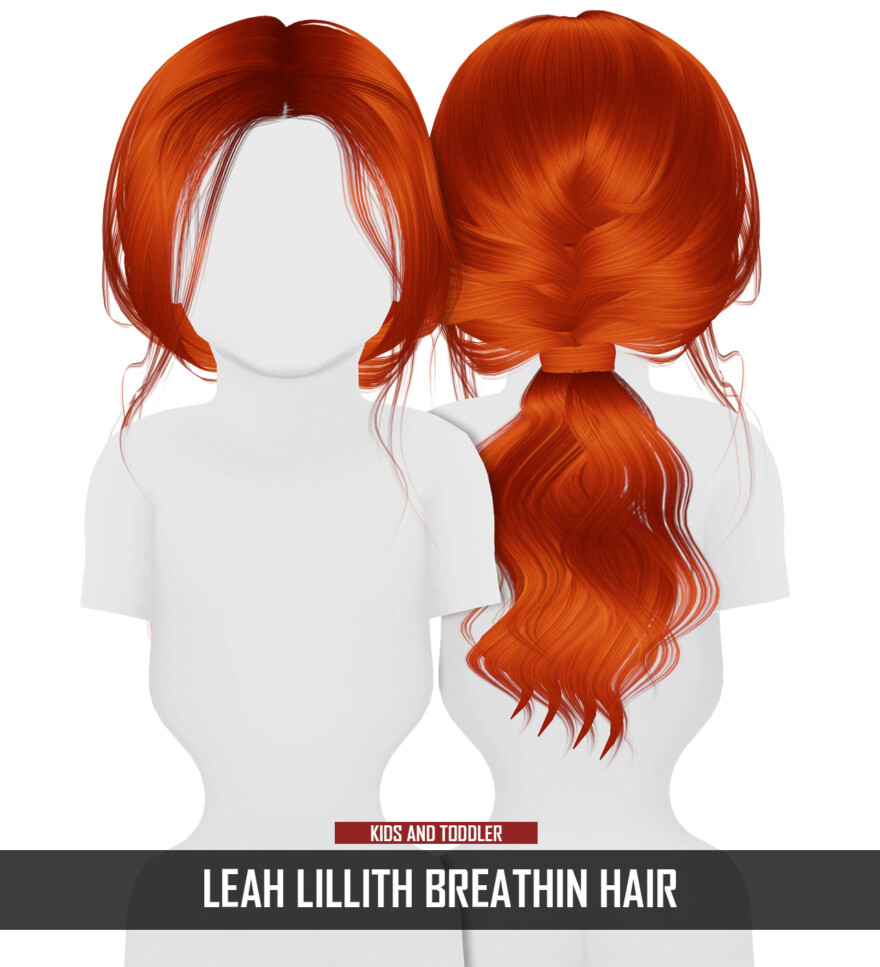 An interesting spin on the normal, boring ponytail, we have Breathin Hair.
A ponytail where instead of seeing the elastic you have, the hair wrapping around itself makes it look like a sophisticated style without having something too dramatic.
It also keeps the hair looking flowy and free by keeping some strands loose.
5. Kyra Hair

Sometimes, you don't need your kids to hair to be super intricate and pretty.
You need it to be out of the way while they're at play, and sometimes that even means the use of accessories like clips, but at the end of the day, they need to be able to function properly with however they choose to wear their hair.
Kyra Hair is definitely on the tomboy side of things. It's a pretty short cut with not a lot of special details, textures, or anything that may suggest that this kid fusses over their hair.
They've put a few fun clips to spice things up, but at the end of the day, this kid has bigger things to worry about than their hair.
4. Hugo Hair
We've given a lot of thought to our girls' hair choices, but what about hairstyles for young boys?
After all, they have hair just like any Sim, and they need something to do with it.
Hugo Hair is a simple boy's haircut that leaves them with a little length to play around with, and it's not dull and lifeless like a lot of the base game options tend to be.
When your young Sim boys need a new look, then this is the way to turn.
It works on both toddlers and children, and you'll love how cute they look with their hair slicked back!
3. Wings TZ 014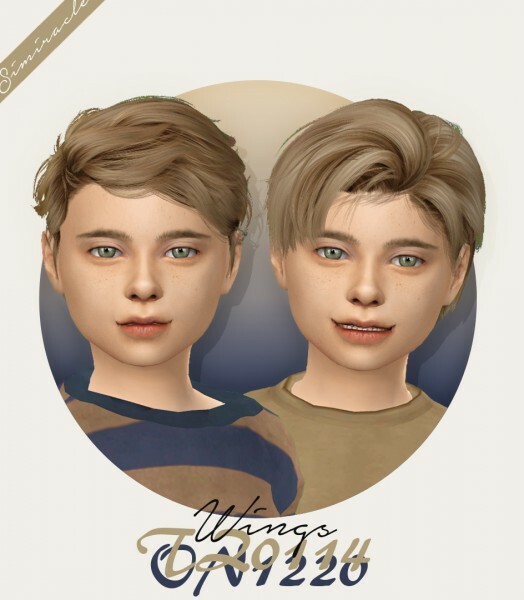 Another option for young boys, this custom content actually comes with two choices instead of just one.
The first is wavy, pushed to the side option that leaves things a little bit messy, but you can tell that they brushed their hair when they woke up this morning.
The second option is a little longer and a little messier. It uses your child's cowlick to its advantage as it makes a unique swoop motion to their hair.
Both choices are perfect for kids busy at play, and they're also both compatible for both toddlers and young children!
2. March Goodies Part Ii

March Goodies Part II is a small collection of kid's pigtails that come in both regular ponytails and braids for versatility and more options when you're designing your Sim.
These hairstyles vary in length, so instead of just choosing between how the hair is styled, you also get the option of playing around with the hair cut.
All of these hairstyles are hat compatible and are available to use for both children and toddlers alike.
1. It's Playtime Collection

The It's Playtime Collection is a massive collection, in total 111 items of custom content, that revolves around making your youngest Sims childhoods the best they can possibly be.
Some of the items you can expect to find include both build/buy items as well as CAS, of course, including some really great hairstyles!
In terms of hair, some of the styles that are included are the baby poof, which is a small ponytail on the top of your toddler's head, Kimmy, which is a much bigger ponytail with bangs, and even Curly Pigtails, which lives up to its name pretty well.
For all things, kids and toddlers, especially hair, this collection is a goldmine!
You might also be interested in the following: