Gnomes, despite their appearance and size, have been pretty famous for quite a long time. Way back when they filled stories and folktales of old, and even up to our modern time, you can literally see them standing in gardens, parks, and yards. Well, their statues, at least.
These small creatures' popularity even reached video games like Sims 4. This time we will go over the top 8 best gnomes CC in Sims 4 that you can brighten up your game.
Best Sims 4 Gnomes CC
8. Gnome Home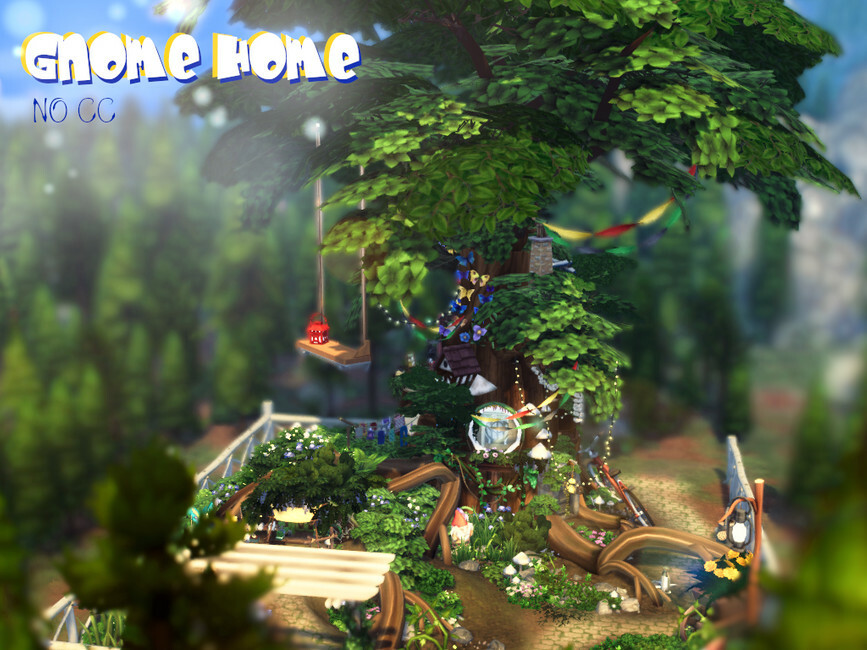 Where do dwarves live? Some say they can be found underground guarding loads of treasure. This CC from VirtualFairytales will take you into a heartwarming experience of living inside the gnome home. Yes, your sim can finally get to live with these little buddies.
Explore a giant tree filled with tiny, old, and strong residents. Gnome Home is a mystifying combination of nature and magic that will give you and your sim the relaxation and escape you deserve.
7. BBB Gnome Statue

Do you want a hospitable vibe for your home? Well, babybluebug got you covered with this bbb Gnome Statue CC.
You can place it in front of your house to give a welcoming wave to friends and guests. Its inviting presence may even attract good luck to your sim's home. Gnomes are believed to provide protection, especially to treasure. Having a gnome statue in your front yard just means you're a treasure yourself.
6. Gnomes Nursery Wall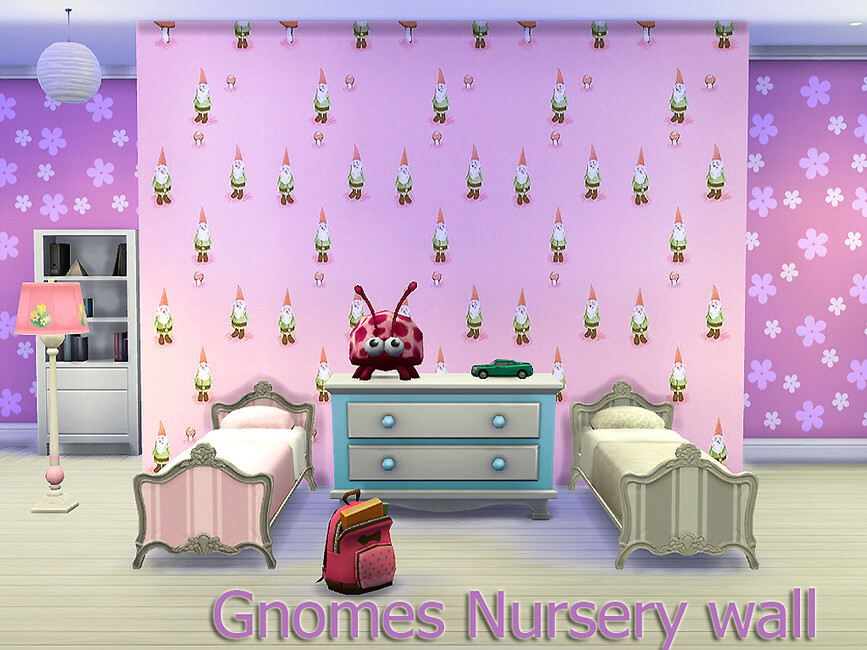 When our little friends aren't impish, they can be quite cute and adorable. Despite their old appearance, they can be as cute as a baby. Take a look at this cute Gnomes Nursery Wall CC from Pinkzombiecupcakes.
This wall decor is pretty adorable if you want something cute for your girl's room or nursery for baby. It has a pink background and little dwarf designs, which is perfect for a charming and magical feel.
5. Holiday Wonderland- Set 1

Dwarves have always been a part of Christmas. They're pretty famous for being hardworking assistants for Santa. Without them, there won't be any presents on Christmas eve.
If you're looking for a lovable Christmas decor, ArwenKaboom has the perfect Christmas gift for you. Holiday Wonderland- Set 1 feature gifts, cushions, shelves, and lamps. But the main highlight is the cutest Gnome Lamp. It's a lamp that looks like a Christmas tree with a red dwarf hat on top- a 3in1 Christmas decor that will make your holidays truly wonderful.
4. Angry Gnome
If happy and cute gnomes aren't your thing, then this Angry Gnome CC from BakieGaming might just be for you. Dwarves are known to be fun and adorable creatures, but they can also be impish sometimes.
This standalone object is one angry gnome giving off an intimidating and scary look. It's not just a simple face with emotions, it comes with animations like its steaming ears and an on-off switch. It's one of the best-designed gnome decors because of the effects that make it more unique.
If happy gnomes attract good luck, then the menacing look on this angry gnome's face will drive unwanted people away.
3. The Secret Life of Gnomes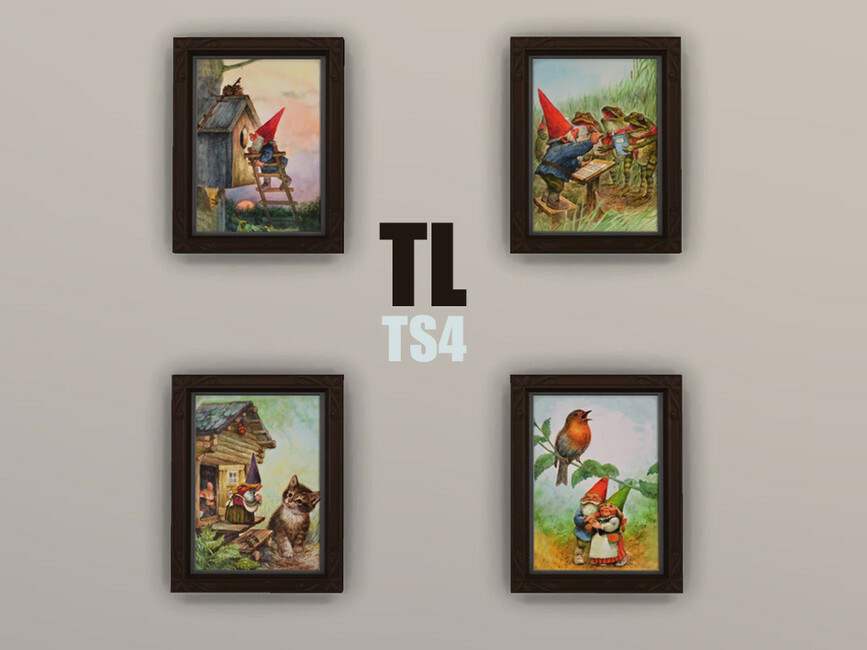 For those of you who don't want a statue standing around their yard but still likes the concept of gnomes, TitusLinde's gnome paintings might be the perfect decor for you.
The Secret Life of Gnomes CC features an array of paintings from Rien Poortvliet. The famous painter from the Netherlands showed his passion for gnomes through paintings and writing entire books about them. His works show us the secret life of these tiny helpers in the garden on frame.
This CC brings 4 of his leprechaun paintings for you to make your wall more magical.
2. Toddler Gnome Costume

Are you looking for a cute costume for your sim's little kids? This CC takes the old and aged look of gnomes and lets your kid wear them, creating a crossover of age that just looks simply adorable.
Toddler Gnome Costume is a set for toddlers only that includes a hat, shirt, boots, and a dress, plus a headband. Your sim's kids can wear a costume for Christmas, Halloween, birthdays, and many other occasions.
1. Gnome Hat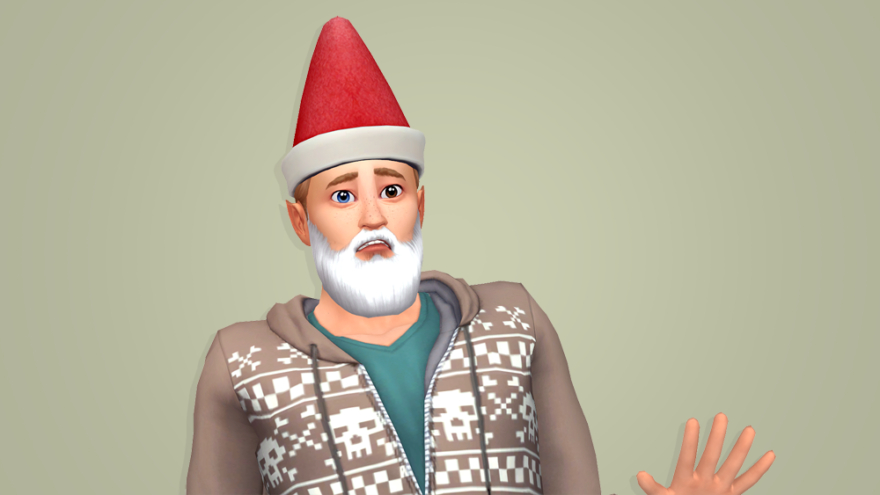 If we have a costume for kids, we also want to give the adults a chance to show their love for the gnome's life. This CC made by thatrayleen does just that and lets the adults have fun with a simple costume.
Gnome Hat is basically a dwarf's red pointed hat that comes with a beard. If you want to see, large human-sized gnomes, put this on your sim and enjoy the fun look. You can also combine this with the Toddler Gnome Costume, and you can have an entire family cosplaying as cute gnomes.
You might also be interested in the following: