Everyone loves the Sailor Guardians, one of the most loved nostalgic animes of our childhoods, and everyone loves The Sims 4. So why not put these two things together?
One of the best things about using custom content in The Sims is that you can create a unique world to live out your wildest fantasies in, whether that means creating look-alike characters, using mods, or simply finding adorable themed merch!
Suppose you're a fan of Sailor Moon and you're trying to find new and interesting ways to incorporate your love for the Sailor Guardians into your Sims universe.
In that case, you're sure to find some inspiration on this list because we'll be talking about the top 10 best Sims 4 Sailor Moon custom content!
Best Sims 4 Sailor Moon CC
13. Sailor Moon Leggings

In need of a pair of leggings to match that cute Sailor Moon-themed shirt? Look no further because these Sailor Moon Leggings have got you and your Sim covered!
The Sailor Moon Leggings come in eight variations, including some of the colors associated with the first Sailor Scouts.
Each variation features an incredible pattern that helps your Sim stand out amongst the crowd of other Sailor Moon fans.
Two variations come in lilac and feature images from Usagi's bedroom, including her adorable bunny blanket!
There is also a Sailor Mercury, Sailor Mars, and Sailor Jupiter legging variation.
12. Sailor Moon Pjs

Even Sailor Scouts have to sleep, so now your Sim can do so in comfortable by the power of the moon!
These Sailor Moon PJs feature two separate pieces, including a tank top and shorts.
Both items come in six different colors, one to signify a different Sailor Scout.
This CC clothing set includes images of Sailor Moon, Chibi Moon, Sailor Jupiter, Sailor Mars, Sailor Mercury, and Sailor Venus.
Each tank top is plain white with an image of each scout and can be paired with the matching sleep shorts that feature patterns associated with the characters.
11. Sailor Moon American Jackets

American jackets have become an iconic staple in many closets, even in the Sims world. But what better way to make these jackets even cooler than to make them Sailor Scout edition?
The Sailor Moon American Jackets CC includes one jacket that comes in five colorways.
The colorways represent five sailor scouts, including Sailors Moon, Mercury, Venus, Mars, and Jupiter.
Each version of the jacket changes the color and emblems, featuring each scouts associated planetary sign.
For every Sailor Moon fan, these jackets are a must because of how fun they look!
Each jacket also includes an image of the associated scout for maximum character representation.
10. Sailor Scout Tattoos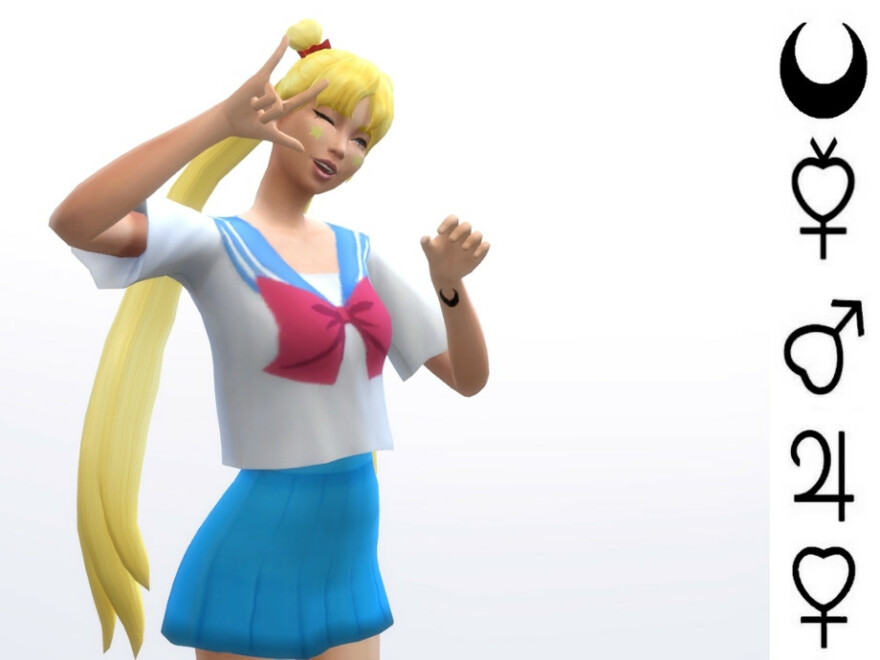 Everyone loves when they get to add some new ink to their collection on their bodies, and the same can be said for Sims.
Tattoos are an easy way to express yourself with the things that mean the most to you and have the most sentimental value, and for hardcore Sailor Moon fans, it would only make sense to give your Sim a Sailor Moon tattoo of their own.
Sailor Scout Tattoos is a collection of 5 small tattoos with the symbols of various guardians, including Usagi herself.
You can place them on your Sims wrist for something that's appropriate for their job or as something dainty to add to their skin.
9. Sailor Moon Wall

Kids' rooms are all about fun and function, they need to serve the purpose of a typical bedroom, but they also need to be a fun place where a child can relax, surrounded by all of their favorite characters.
If you have a young Sim that's taken a liking to Sailor Moon, it would only make sense to give them a themed bedroom to match, and what better way to achieve that than with the Sailor Moon Wall?
Simply put, this is a wallpaper for your Sims bedroom that's themed with colors of pink and blue and is the perfect way to tie in a room of fun collectibles and posters for the anime.
Even though we suggested using it for a kid, there's no reason why the older Sims can't get some use out of this wallpaper, too!
8. Sailor Moon X Colourpop Blush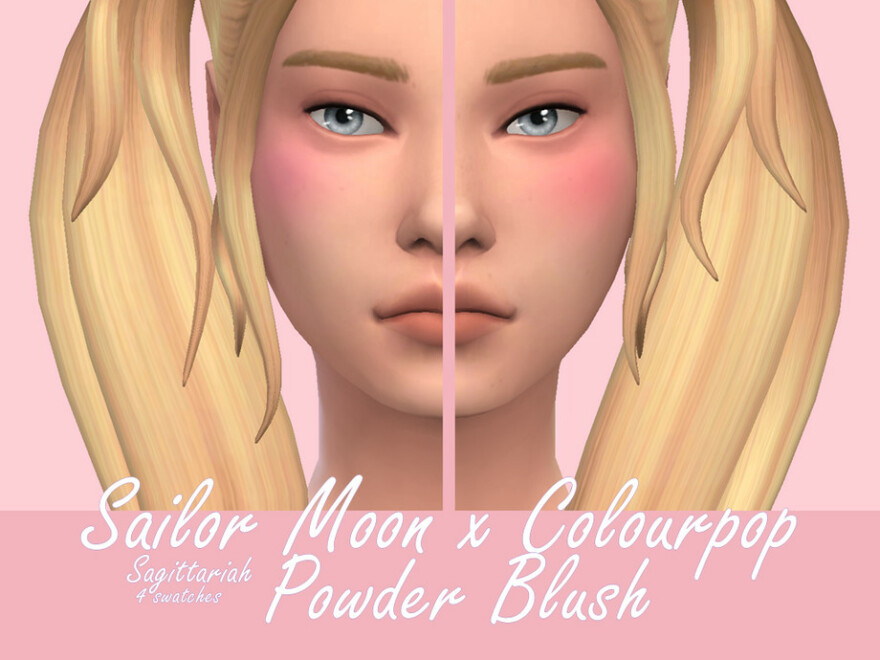 When Colourpop released their Sailor Moon collection, the whole internet basically lost their minds.
Personally, I was no exception and ended up purchasing the entire collection, and every time I put on those products, I feel like I could take on any bad guy that comes my way.
There's no reason your Sims should be left out on all the Sailor Moon cosmetic fun, which is why using the Sailor Moon X Colourpop Blush is a great way to spice up their makeup collection and subtly hint at their love for the show.
The best part about this piece of custom content is that it's not overtly Sailor Moon, so you can even use it on Sims that may not be familiar with the show.
7. Sailor Moon Dreams Bed

To complete your dream Sailor Moon bedroom, having just wallpaper isn't enough to make it the best room it can be.
You need posters, plushies, and everything that can make this bedroom something your Sims get excited over. And the icing on top of the cake would be getting a Sailor Moon Dreams Bed.
This bed comes with four swatches to choose from, everything from a pastel pink theme similar to what Usagi's bed looks like to the actual girls being on the comforter.
That with a couple of posters is sure to make your Sims bedroom complete.
6. Sailor Moon Girl's Tees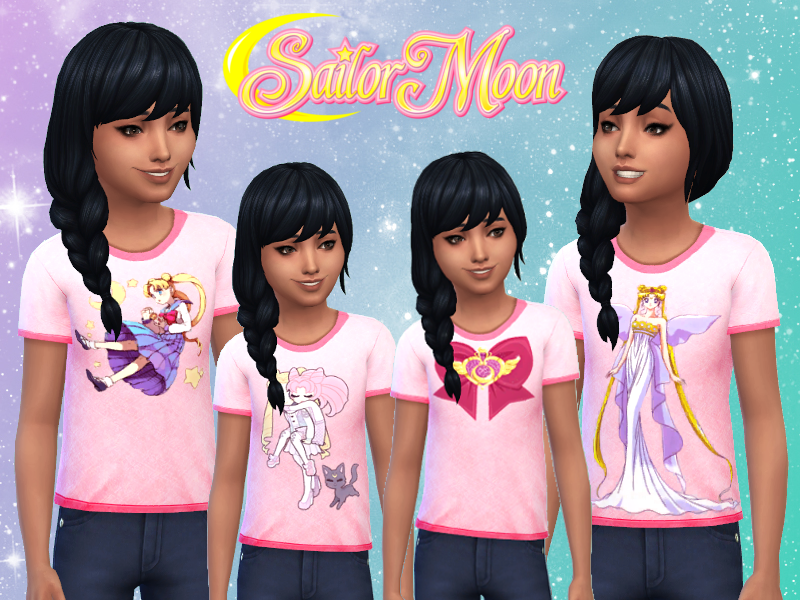 One of the best parts of being a kid is being able to show up to school in a shirt that has your favorite character on it. Everything has to be themed, we don't make the rules, they do.
Either way, to make sure they feel confident when they're roaming the halls, some new t-shirts are going to have to be added to their collection, and that's where Sailor Moon Girl's Tees comes into play.
This collection comes with four tee shirt options to choose from, all short-sleeved and pink with different designs on the front of them.
They even have retro-styled trimming on the collar and the sleeves with a different shade of pink.
5. Sailor Moon Necklace

Accessories are one of the best ways to make an outfit come together. The best part is- there's so much to choose from!
But if you're looking for a cute, girly way to include Sailor Moon into your Sims look of the day, whether it's inspired by the anime or not, then something like the Sailor Moon Necklace is a great way to tie everything together.
This necklace comes with different swatches for the different guardians, so no matter who's your favorite, there's an option for you.
4. Sailor Moon Sweater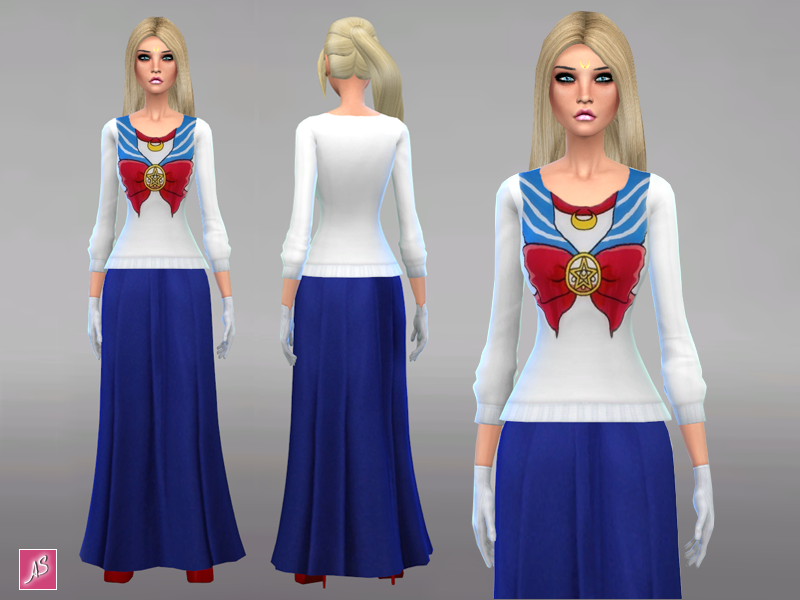 A huge perk of this Sweater is that it looks just like what Sailor Moon wears, but instead of being a full-on cosplay of her, it's just inspired by what she normally wears.
A benefit to wearing something like a Sailor Moon Sweater is that your Sim can wear this in the winter, which is a plus considering most inspired clothing from this show involves either t-shirts or tank tops.
All you need is a cute skirt and some long socks, and your Sim is ready to show off their look!
3. Sailor Moon Classic Pack

Speaking of cosplaying for characters, have you ever thought of dressing your Sim up to match your favorite guardian?
Or, maybe you want to create a household full of your favorite characters and see what it would be like if they all lived together.
If any of these apply, you need some accurate costumes to make the vision come to life. And, in order to do that, you need the Sailor Moon Classic Pack!
The beauty of this collection is that instead of trying to hunt down each character's outfit individually, they all come together in one easy, convenient file.
You can save time on searching and spent it playing with your new Sailor Moon-themed Sims.
2. Sailor Moon Cas Background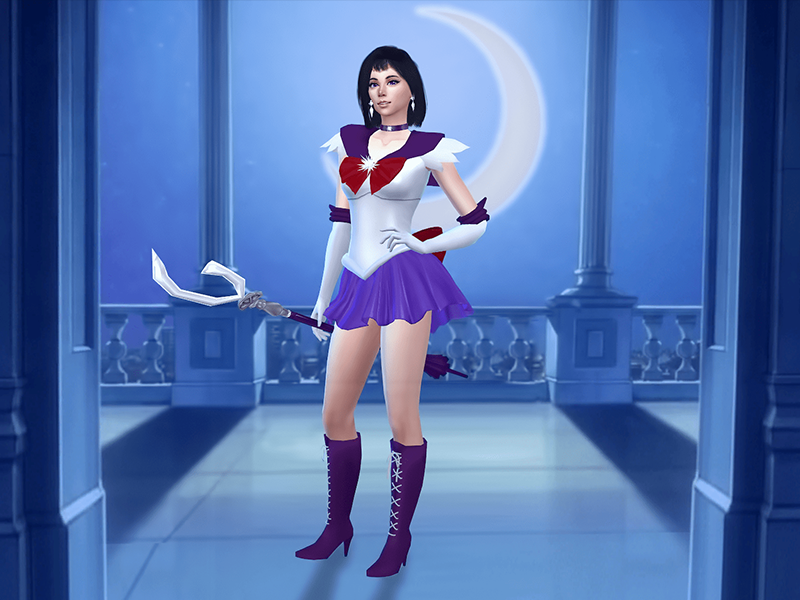 A lot of us forget that you really can customize every part of your Sims game, and when we say every part, we mean it.
That includes the CAS background, which makes sense considering we typically spend a lot of time there making sure our Sims come out just right.
So, if you're a big Sailor Moon fan, why not make it so that you're reminded of it every time you go to change your Sims outfit?
With the Sailor Moon CAS Background, you'll be reminded just how much you love the pretty guardians every time you go to make a new Sim, edit an old one, or even design your household pets!
1. Usagi Hair

We all know and love the iconic hairstyle that Usagi has in the show, who could forget those two little buns and the longer than imaginable pigtails that come with it?
It's such a popular hairstyle that if you look for recreation for your Sims, you'll find countless options to choose from, all with different features that make them different from each other.
However, Usagi Hair from Patreon creator Miiko is one of the best we could find.
One thing that makes it better than the rest is the texture used on the design, it looks so realistic and lively that it will make your Sims hair look like it's flowing in the wind for real, but not too realistic to the point where it doesn't look like it fits in the game.
Another bonus to this piece of custom content is that there are three bonus colors you can choose from, including pastel pink and pastel purple.
You might also be interested in the following: