Harry Potter is probably one of the most well-known franchises in the world. It's got just about everything a fan could ask for, wizards, magic, friendship, enemies, betrayals, and of course, a super cool plotline.
In The Sims, we've already had a couple of packs that were very Harry Potter-like, but never outright Harry Potter.
So, what if you would like to channel your love for everything magic and wizards into your Sims game? To make all of your Harry Potter dreams a reality as you play with the most imaginative, fun Sims you can?
If these are things that you're trying to achieve with your Sims game, then look no further because this is a list of the best Sims 4 Harry Potter custom content!
Best Sims 4 Harry Potter CC
30. Golden Snitch Earrings

Looking to add a touch of wizarding-world style to your Sims' jewelry box? These gorgeous Golden Snitch earrings are just what any Quiddich fan needs!
These delicate charms are the perfect way to add some magic and whimsy to your Sims' look.
Whether you're going to the stadium or just grabbing a butterbeer, these stunning earrings will have all mad eyes on you.
29. The Burrow

The Burrow from Harry Potter is one of the most iconic settings in the beloved book and film series. This quaint house is a sparkling nook of magic, laughter, and adventure.
Now, you can bring the magic of the Burrow to your favorite video game, The Sims 4.
Enjoy this virtual version of this magical house right in your own game.
Whether you want to recreate the cozy home where Molly Weasley raised her seven children or find somewhere amazing to build your own sim family, the Burrow offers endless possibilities for creativity and fun.
28. Luna Lovegood's Glasses

Luna Lovegood is an underrated but iconic character from the Harry Potter series, known for her quirky personality and fashion sense.
Whenever she appears in books or films, she is almost seen wearing her signature pair of thick-framed glasses with scintillating lenses.
If you're a fan of Luna Lovegood and The Sims 4, then you'll be happy to know that there are now Luna Lovegood glasses available for download.
These stylish glasses come in the flashy colors and frame shapes we love, giving you what you need to create your own lookalike version of this iconic character.
27. Harry Potter Shirts for Kids

Your Sims' kids will absolutely love these amazing t-shirts inspired by all things Wizarding World!
Featuring designs like the iconic lightning bolt scar, a collage of magical creatures, the Hogwarts crest, the deathly hallows symbol, and many more cool motifs, these shirts are perfect for showing off your love of Harry Potter in style.
In a number of colors and designs, there's a choice for any gender or style of Sim kid.
26. Malfoy's Manor

Located in the remote Scottish Highlands, Malfoy's Manor is a stunning piece of architecture that perfectly captures the lavish style and sophistication of one of the most iconic families from Harry Potter.
Whether you are an aspiring wizard or simply looking for a stunning new location to build and decorate in The Sims 4, this majestic manor is sure to meet all of your needs.
Boasting immaculate gardens, an exquisite ballroom, and breathtaking views from every room, Malfoy's Manor is the ultimate in high-end, albeit a little evil, fashion. So why wait?
Start your ultimate Slytherin Sim family.
25. Hermione Gown

No Hermione character creation or Yule Ball is complete with Hermione's signature gown. This Hermione Gown clothing CC is a near-perfect replica of the movie's adaptation of the dress.
This dress manages to capture the shiny silk fabric used to make the movie's dress, with shoulder straps delicately draped over the Sim's shoulders and flowing in the back.
Don't forget the cute, small bow in the center, almost appearing like a tie to hold a sash around the Sim's waist.
Sims of teen to elder age range can wear this gown, and it comes in ten colors, including the original periwinkle blue from the Harry Potter books.
24. Harry Potter Hogwarts Quidditch Jumpers

No Harry Potter fan should go without repping their favorite series in the cold. These Harry Potter Hogwarts Quidditch Jumpers are the perfect solution when to comes time to designing your Sims' outfits for cold weather.
Of course, this CC pack includes jumpers for all four houses, each with a house crest and logo on the upper left chest and featuring the house colors.
Whether you've downloaded the Hogwarts school mod and want to create a casual Friday day, or your Sim is just a big Harry Potter fan, you can show off your House pride with these sweaters.
23. Harry Potter Room Set

Make your Harry Potter Sims feel at home with this Harry Potter Room Set CC pack!
This CC pack includes 11 new magical items, featuring a bed, grandfather clock, two brooms, and assorted décor items. You can decorate your Sim's room with two versions of the Golden Snitch, as well as a set of Quidditch balls.
There are two wall items, including a Chudley Cannons flag, in black and orange, and a map of Hogwarts.
The two brooms are especially cool because one of them can actually be used for flying! By magic folk only, of course.
22. Dursley House 4 Privet Drive

Start from the beginning of Harry's journey with this incredible Dursley House 4 Privet Drive CC replica! This building CC is shot by shot, a near-perfect replica of the Dursley house from the Harry Potter Movies.
The house consists of two floors: the ground floor and the first floor. Included in the house is a kitchen, living room, three bedrooms, one bathroom, a dining area, and veranda. For what seemed like a small house in the movies is actually quite spacious!
The Dursley House has taken many different DLC packs to recreate, so you might need those equipped in order for this house to fully work.
21. Harry Potter Tattoos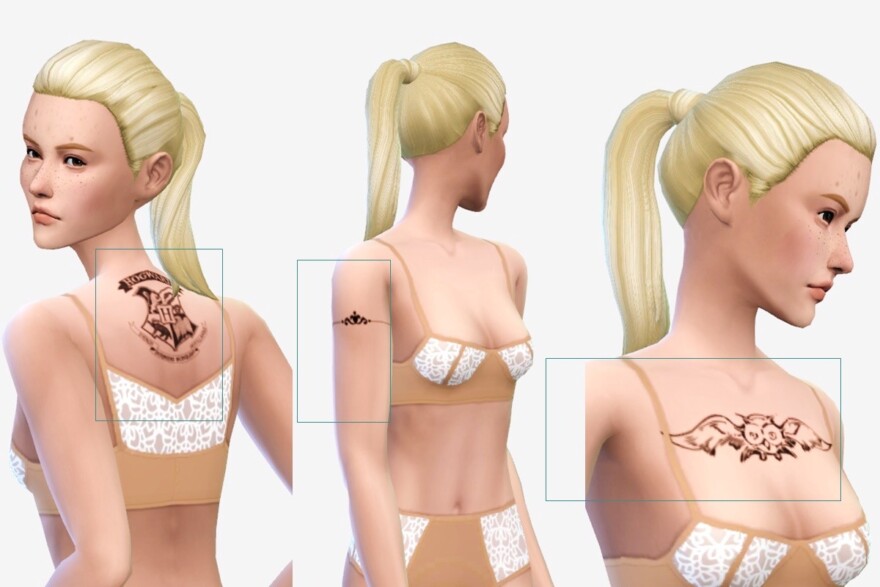 When something means a lot to you, there are a couple of things you can do. One, you could start a collection of all the cool memorabilia you've gotten together over the years. Or, as a lot of people do, you could get a tattoo!
Honestly, the Harry Potter fandom probably has the most tattoos about their franchise out there, you see one on almost everyone, and now your Sim can get in on the fun as well!
With these Harry Potter Tattoos, some of the placements you can choose from include on your Sims chest, arm, and even their back.
20. Harry Potter Art

Personally, what I like about this set of Harry Potter Art the most is that it's not just a collection of fan posters you might find in a teenager's bedroom.
Instead, these are real pieces of art that could definitely be placed in main rooms like the living room and even the hallways with how mature and beautifully made they are- but there are some of the poster-type as well, too, so everyone can find what they're looking for here.
This collection comes with 55 inspired prints, all of the same size and frame around them. Now you can have inconspicuous pieces of fandom art all over your Sims home.
19. Hogwarts House Ghost Paintings
If you liked the idea of having Harry Potter inspired art around your Sims house, but you're not really going for the cliche style that screams "I'm a huge fan!", rather, maybe you're looking for a more mature way to go about your love, then these might be one of the coolest ways to do it.
You still get inspired artworks to hang around your house, but these are all pictures of ghosts!
Yes, none other than Hogwarts House Ghost Paintings lets you take a spooky spin on the artworks you've already loved, with an antique-looking frame and photos that are clearly of the undead.
18. Harry Potter Mugs

What better way for your Sims to enjoy their morning coffee than in a mug that represents something that both you and they love?
I don't know about you, but in my kitchen, you're sure to find a bunch of mugs from all of my favorite tv shows and movies, because really, who likes boring mugs?
Thanks to this collection of Harry Potter Mugs, your Sim can choose between 23 swatches of mugs, all with different designs and colors, and are sure to spice up your coffee station even more in your kitchen.
Now all you'll have to do is decide how they're going to take their coffee in the morning.
17. Harry Potter Blanket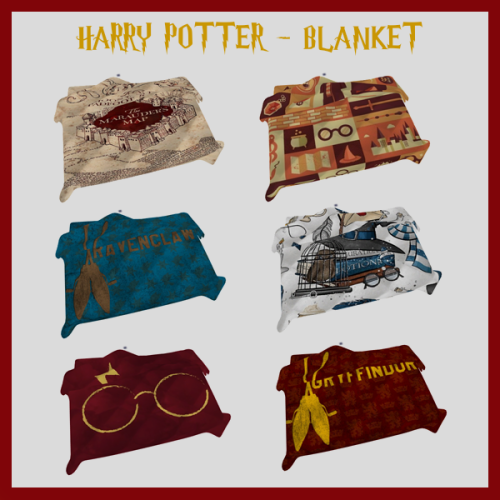 Both in real life and in The Sims, if there's something you wish you could get Harry Potter-themed, chances are, you totally can. If you really tried, I bet you could even find Harry Potter-themed toilet paper, and I would bet money on that one.
And that's no shame, either, I think it's great that if you wanted to, your entire life could be decorated by the thing you love.
With all that being said, what sounds better than relaxing at the end of the night, making a cup of tea, turning on the tv, and snuggling up in none other than your Harry Potter Blanket?
Your Sim is going to love the 6 designs this blanket comes in, and it'll be perfect for when they decide to start the series over again.
16. 7 Hogwy Tees

Nothing quite says love than a t-shirt. And t-shirts are great because you can literally wear them whenever, to the gym, to sleep, around the house, or even when you're going out with your friends.
But, instead of having a flashy Harry Potter t-shirt that might be difficult to accessorize around, why not choose a minimalist shirt that gets the same point across?
For those who think less is more in terms of design and maybe even like the idea of finding plain shirts to layer with, these 7 Hogwy Tees are for you.
They come in, you guessed it, 7 swatches and will help your Sim proudly show off whether they're a Hufflepuff or a Slytherin.
15. Laidback N' Lazy Hogwarts Uniforms

Not every outfit inspired by something has to look like a cosplay. In fact, I think that outfits that have a subtle reference to a book or a show are sometimes the best, it's not in your face, but if you know, you know.
And that's exactly what can be said about the Laidback N' Lazy Hogwarts Uniforms.
At first, these might just seem like a nice pair of dress pants, a white button-up, and a sweater around the neck in a very posh fashion.
But, if you look closely, each sweater has a slightly different design to make a clear distinction as to which house they belong to. Now your Sim can look like they're dressed for just another boring day, or are they?
14. Draco Malfoy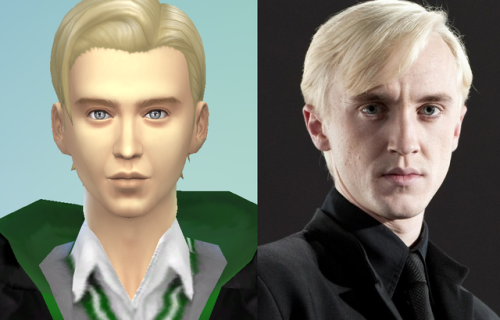 If you ever wanted the opportunity to play as a character from Harry Potter without spending hours trying to get the character design right, then you're in luck.
One of the many characters, Draco Malfoy, is premade and ready for you to play as in whatever household you put him in.
All the clothes, skin details, and hair have been picked out, but it's up to you to choose characteristics and a career path.
13. The Deathly Hallow

A simple yet effective way to show off your Harry Potter pride- a Deathly Hallow necklace.
It's an accessory that could be easily worn with every outfit, whether Harry Potter themed or not, and is an easy enough design that if you're crafty about it, you Sim could even wear it on a date (especially with another fan, they might even be impressed!).
And fear not, the description says that this necklace is for men, but we both know that doesn't mean anything, your female Sims can wear it as well.
12. Fandom Doors

While this piece of custom content isn't specifically for the Harry Potter fandom, there is, of course, one in this that makes it qualified to be a part of this.
Plus, the sound of having a super niche door in your Sims home sounds so cool, it couldn't be missed.
In the Fandom Doors collection, there is a brick door that can be found with the iconic Platform 9 ¾ that you can put on any door in your house.
Maybe beyond, your Sims bedroom could be found, or even a super-secret room where they keep all their collectibles. But, if you're ever interested, this collection also has doors inspired by other fandoms like Doctor Who.
11. Harry Potter Statues

Elegant statues, busts, and more instantly make any space more luxurious and mature, as you won them at an art auction and now have the privilege of putting them on display in the place that you live.
Of course, these statues are Harry Potter-themed, but that doesn't take away from how amazing they are!
These Harry Potter Statues could be placed in the garden to make it look more like a perfect getaway from the outside world, on a pedestal in the hallway, or even in the foyer as the first thing your guests see when they walk into your Sims house.
10. Lil Embroidered Things

If paintings aren't really your style, and neither are posters, but you really want to hang something up on your wall that will make your Sims space feel more like home, embroidered pieces are the way to go.
They add a sort of quaint charm, making it feel like your Sim spent hours pricking themselves with a needle and concentrating on getting the stitches just right when in reality, you downloaded that piece in no time at all.
Lil Embroidered Things has a collection of prints to choose from, including ones from Harry Potter, but also have others like floral designs, crystals, and even bees, so you can use the same piece of custom content for any room and any theme you have going on.
9. Harry Potter Scarves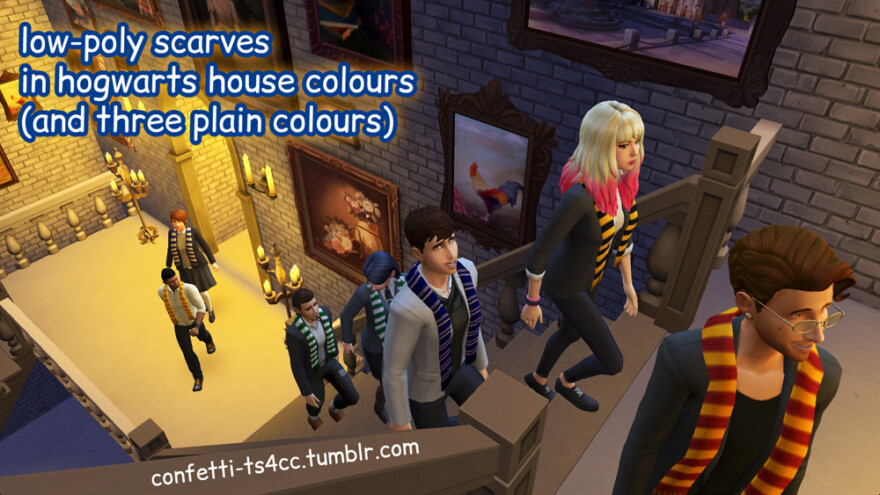 Even for those who aren't fans of Harry Potter, if there's one thing just about anyone can recognize from being a part of the franchise, other than the famous round glasses and lightning bolt, it would have to be the scarves.
Everyone knows the style, the stripes, and the color patterns, so why not give them to your Sims as well?
Whether it's a cold day outside or you're working on the perfect Harry Potter costume, these Harry Potter scarves are here for you to use however you want them to be used, even with the school uniform from before!
8. Harry Potter Toddler T-shirts

Everyone in the family should have an equal opportunity to dress up in Harry Potter clothing, not just the adults, especially if they're the ones that put them on to the movies and the books in the first place.
With Harry Potter Toddler T-Shirts, you can choose to either match with your younger Sims or even let their friends at school know how cool their taste is.
7. Hogwarts Crest Dressers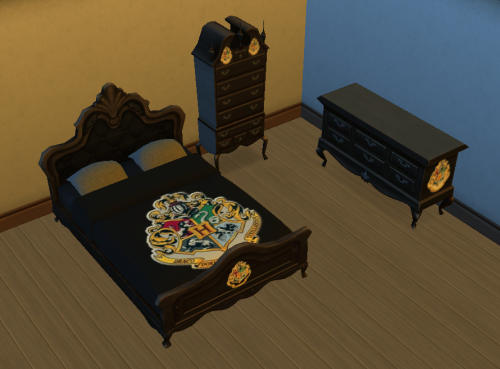 Fan memorabilia doesn't just come in the forms of action figures and t-shirts, it can be anything that people are creative enough to think of.
And as we talked about before, Harry Potter has something for everyone (remember my Harry Potter toilet paper bet? I'm still holding on to that one).
So if you want to make your entire bedroom themed with wizards and magic, then look no further.
Now even your furniture can be a part of all the fun, especially where your Sims store all of their Harry Potter t-shirts and accessories in their new Hogwarts Crest Dressers!
6. Harry Potter Uniform

Before we saw a uniform that was pretty discreet, like you could send your Sim off to their private school dressed up in it, and their teachers would be none the wiser.
But if you're looking for an authentic school uniform experience, then Harry Potter Uniform does all the work for you. You can look like all of your favorite characters, all you have to do is pick which house your Sim fits best in.
5. Harry Potter Decorative Books

You need to make sure all the little details in your Sims house are covered, so simply saying that you're a fan of Harry Potter isn't enough. Sure, your Sim has seen the movies, but have you read the books? Of course, they have!
And look, they have stacks of the Harry Potter Decorative Books on the coffee table to prove it.
4. Hogwarts Wardrobe

We've gone over some pretty cool stuff in this list, and now you might find yourself thinking, I have no idea where to start!
It's tough to make a decision, I mean, you never know when you're going to need something and when you're going to have an extra file of custom content taking up space on your computer.
That's why fan-made stuff packs such as Hogwarts Wardrobe are a great place to start.
Instead of picking and choosing the things that you want for your game, everything you could ever want, from sweaters, hoodies, t-shirts, and even uniforms, are all found in one convenient place.
3. Potterhead Stuff

Similar to the collection above, this collection keeps everything you could want in one neat place, so you know you're not missing anything.
But, instead of keeping it all about the clothes, Potterhead Stuff has everything from accessories to things for around the house so that every part of your Sims house is decorated with Harry Potter.
Books, posters, furniture, and even more clothing can all be found here in one easy link. It's easier than casting a spell!
2. Harry Potter Traits

Ok, so maybe you want to recreate Harry Potter in your Sims game, but you don't necessarily want to have all of the same characters from the books.
Instead, you want a more personalized experience that will help you live out your wildest fantasies.
If you were going to do that, you would need to be able to create the perfect Hogwarts students, a group of Sims that will blend in well with all the other wizards.
That's where Harry Potter Traits comes in. You can choose which house they belong to, they'll get perks based on the house that you choose, and you can even create clubs for them to be a part of to get the most out of their wizard school experience, all with this mod pack of traits.
1. Hogwarts School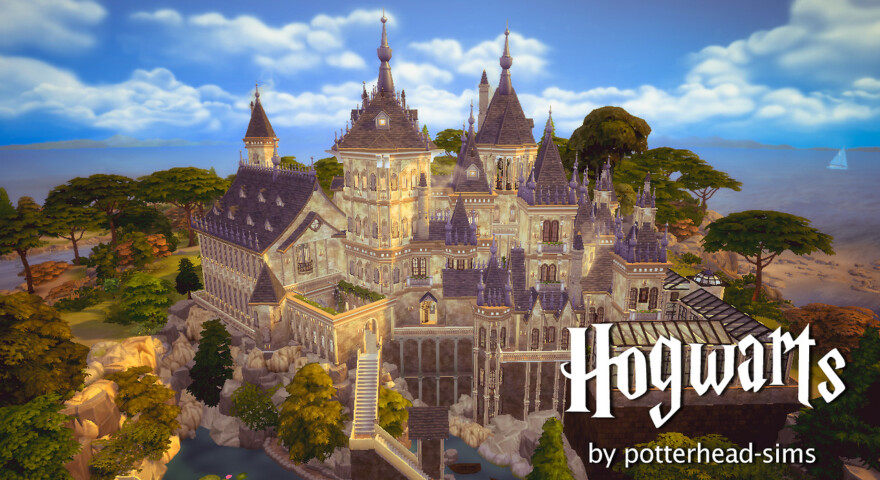 What would be a list of the top 21 best things for Harry Potter in The Sims without including a place for your Potterhead Sims to spend their time in? Not a very good list, that's for sure!
With Hogwarts School, you'll have an exact replica of Hogwarts in your Sims game for your Sims to study, make friends, and master wizardry in.
They'll have a reason to wear their uniforms, and they'll get to find their true potential all in a school they can be proud of.
You might also be interested in the following: