IO Interactive's Hitman game series came back better and stealthier than ever on its 2021 sequel.
You once again play as the genetically engineered assassin, Agent 47, as he stealthily pulls assassinations and chases the people behind the Providence organization.
Hitman 3 received a lot of positive reviews upon release. But although its story and gameplay were praised, some things can still be improved with mods.
Here are 20 of the best Hitman 3 mods that can up the quality-of-life and fun-factor of your next assassination sesh.
Best Hitman 3 Mods
Simple Mode Framework
Perhaps one of the most essential Hitman 3 mods to install is Atampy26's Simple Mode Framework mod.
Since most mods are lovingly made by fans using their free time, it can't be helped sometimes that creators don't have time to update things anymore.
Thankfully, Atampy26's mod simplifies things by checking which Hitman 3 mods still work. In addition, it also makes mod installation easy using a one-click process.
Just like our beloved Agent 47, efficiency truly is the key!
Skip Intro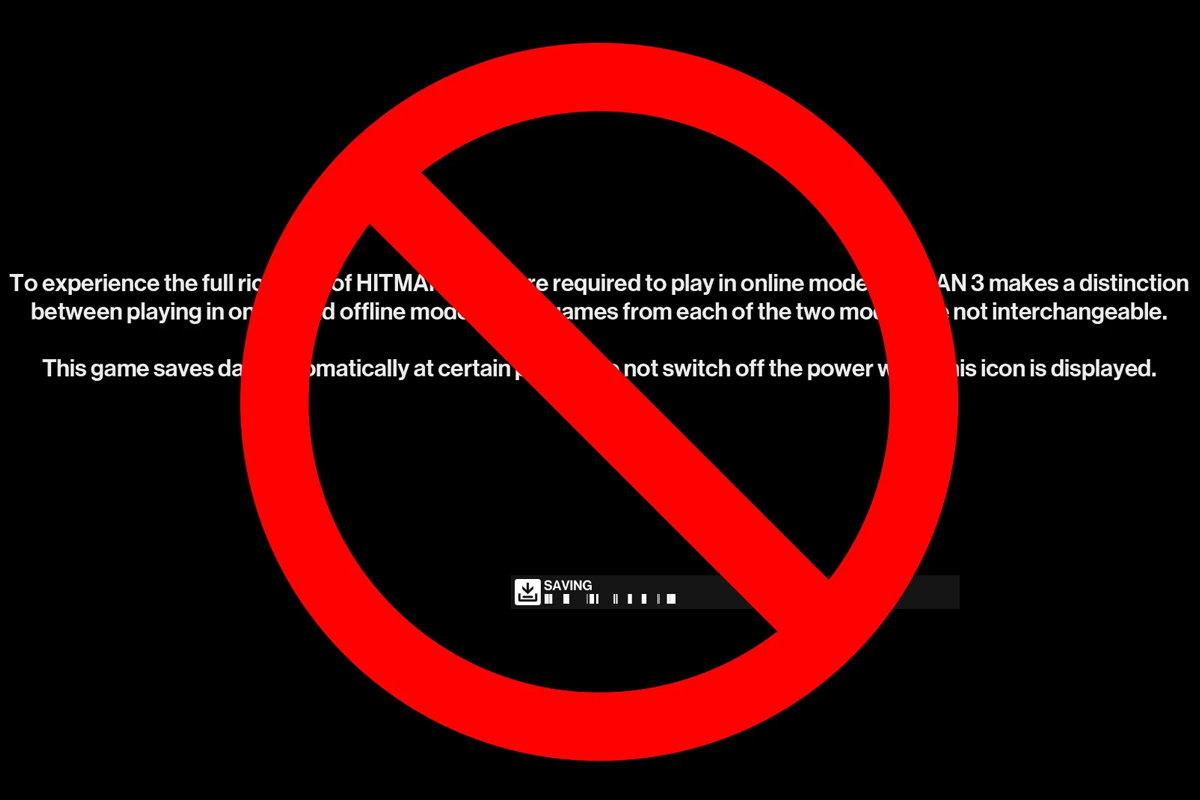 Not one for intros? No time for additional fluff when you just want the game to start already?
You can easily skip the game's introduction part with this simple mod called Skip Intro from Wryyyong.
As simple as that, you can quickly get into the meat of the game and skip IO Interactive's logo and the game's disclaimers.
If you're intimidated by mod stuff, the mod creator has kindly provided a lengthy and detailed installation guideline to help you get started.
And if you ever have any problems with the mod, the forum section of the post gives you a platform to voice out your concerns and suggestions. Mod communities are usually very nice and helpful, so you're in good hands!
Hitman 3 Pistol Sounds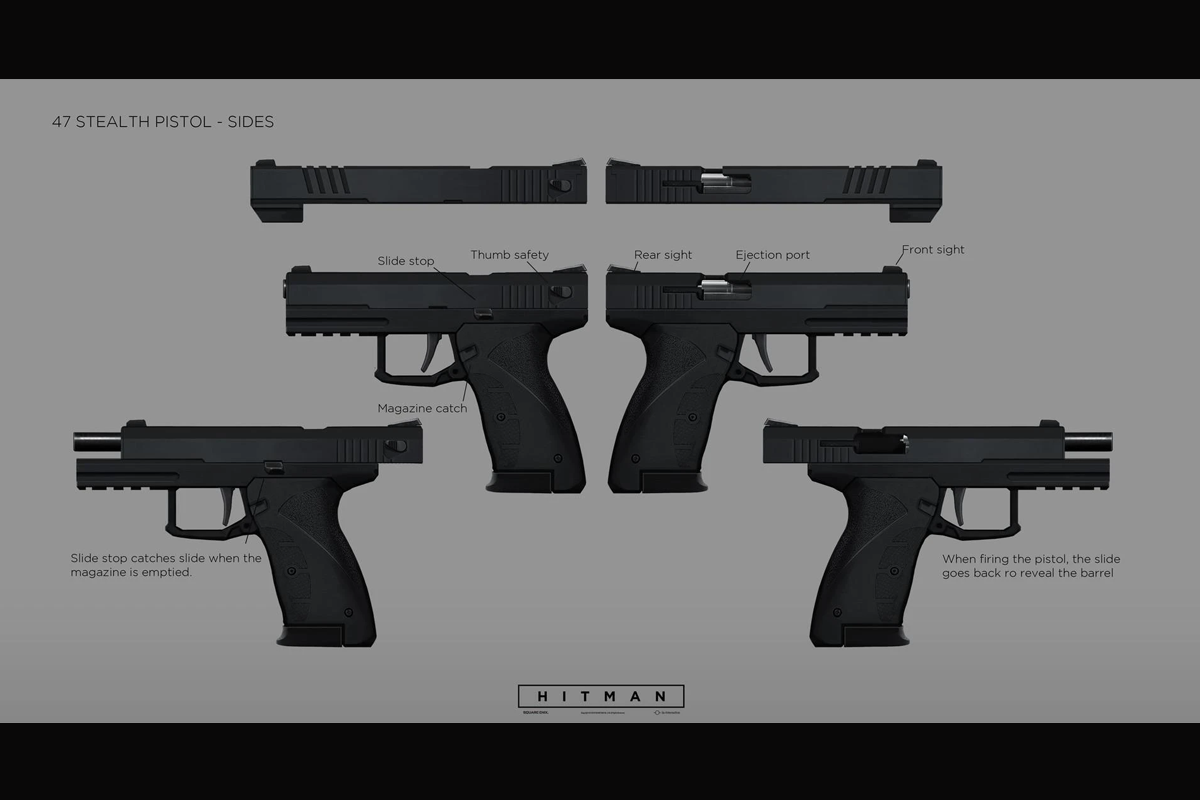 If you ever wanted your Hitman 3 pistol noises to sound more realistic, you've stumbled into the perfect mod.
This mod might seem simple, but it's perfect for gamers who like to improve their gameplay's immersion.
Jackleno567 has two pistol sound-related mods: Better Silenced Pistol Sounds and Better Unsilenced Pistol Sounds.
They both do what it says on the tin. These mods give your pistols a more realistic pew-pew-pew sound!
Portable Chair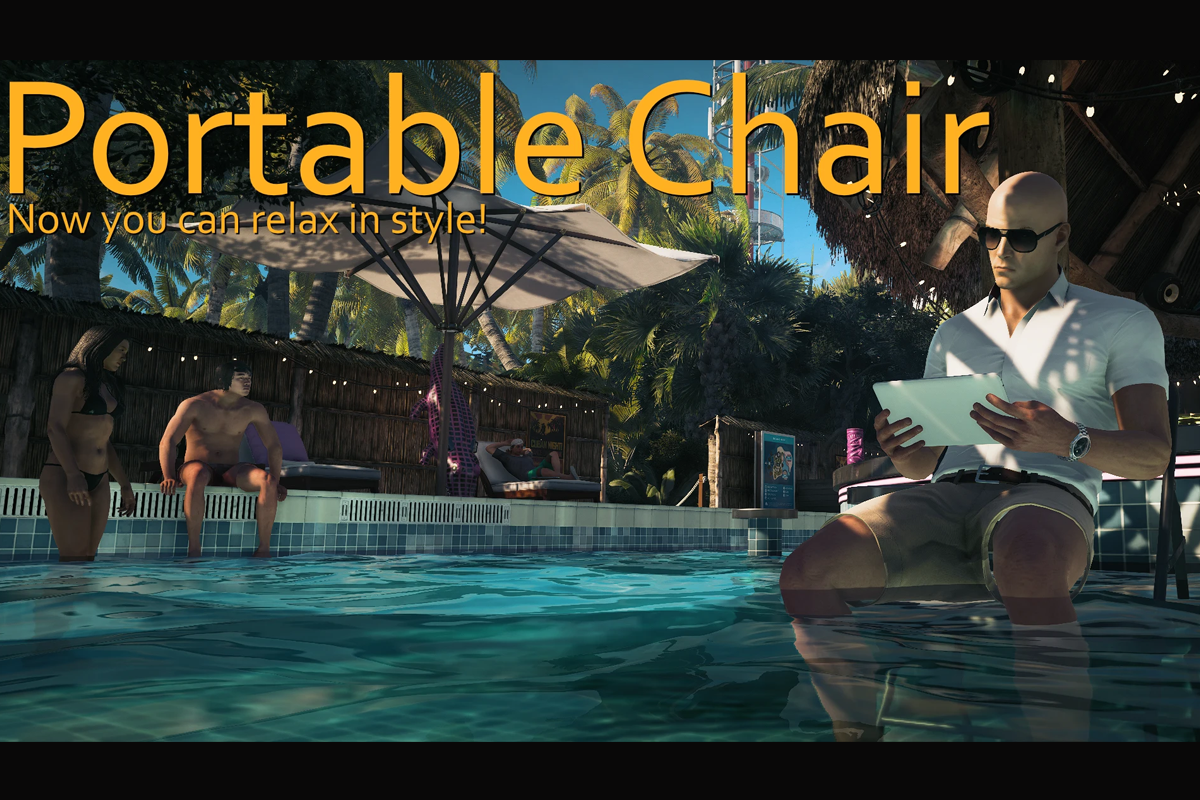 Assassin work can be tiresome. All that running, aiming, and stealthiness can be quite hard on the back, arms, and legs. So why not let Agent 47 rest with this Portable Chair mod by Notexe?
You get to carry a chair anywhere and pull it out whenever you want Agent 47 to take a break in between missions.
It might sound like a funny Hitman 3 mod, but it's a genius addition to the game in terms of immersion. You get to chill, relax, and take in the great views of the game.
Have a break—have a chair!
Jump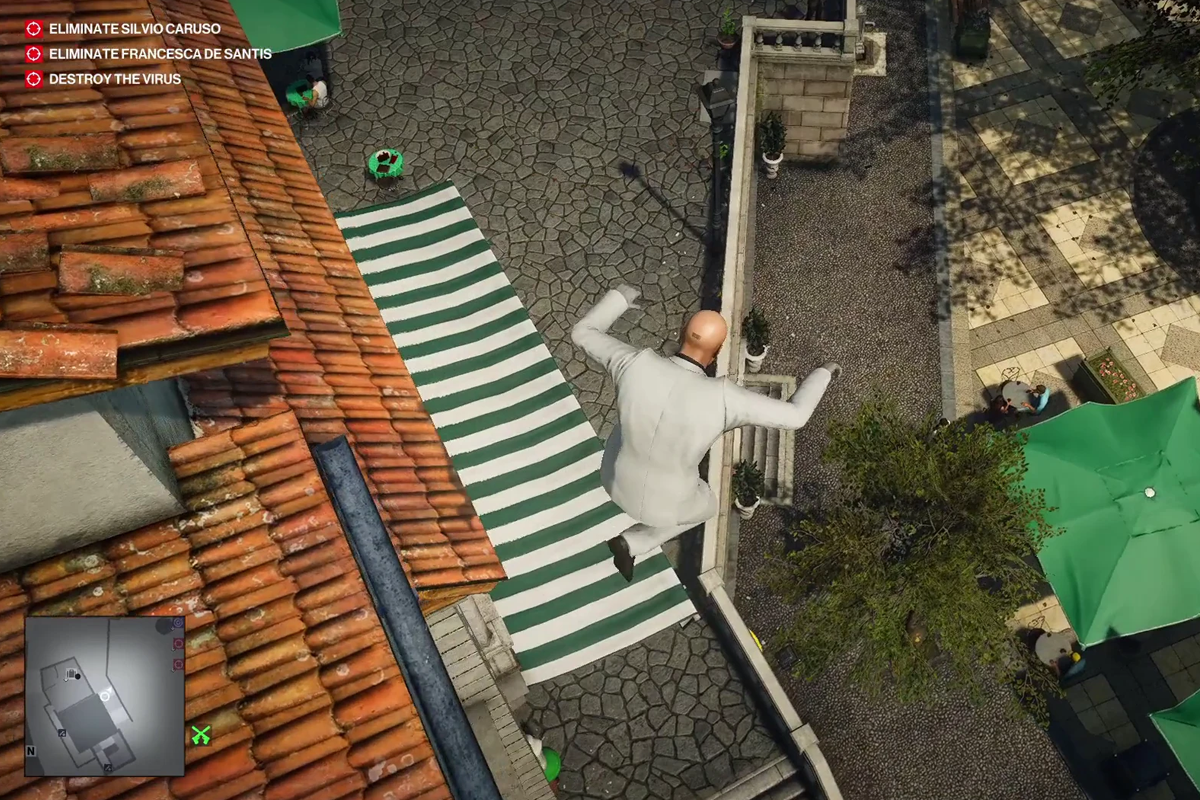 As cool as Agent 47 is, there's one glaring thing he can't do in the game: jump.
For those who have always wanted him to spring and hop, you can jump for joy now.
This Hitman 3 Jump Mod by 2kpr fixes his lack of jumping and lets our esteemed hitman lift himself high up in the air to excitingly traverse the maps or take leaping shots.
The mod creator, 2kpr, has also added detailed instructions on how to easily install this. Head over to the link above to check out the description and discussion. Happy leaping, assassins!
Lighting Mod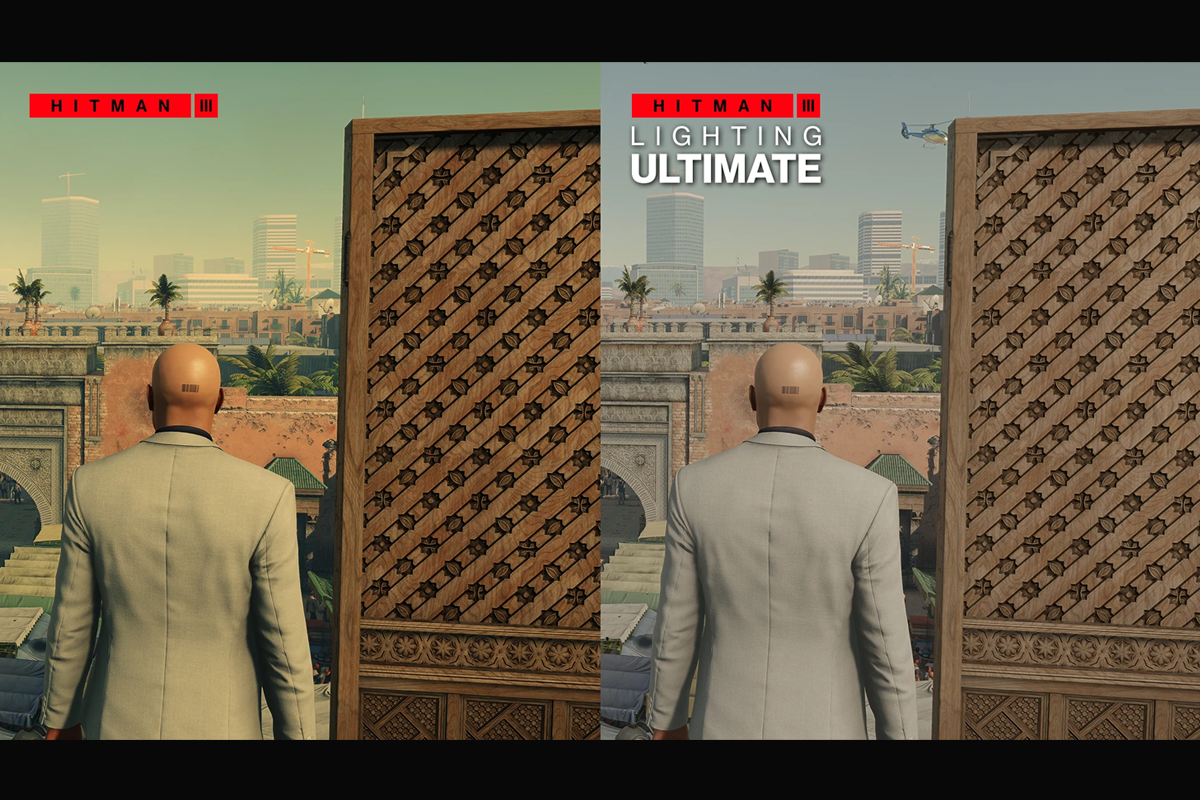 A game like Hitman 3 requires precision when doing assassination missions. However, that gets really difficult if you can't properly see things.
If you have a problem with the lighting and visibility of the game, consider installing this lighting mod by musicalmushr00m.
It's described as the definitive lighting mod for Hitman 3 and claims to boost the visibility and visual clarity of the game, as well as improve its accessibility and aesthetic choices. You'll see better and look better!
Many Items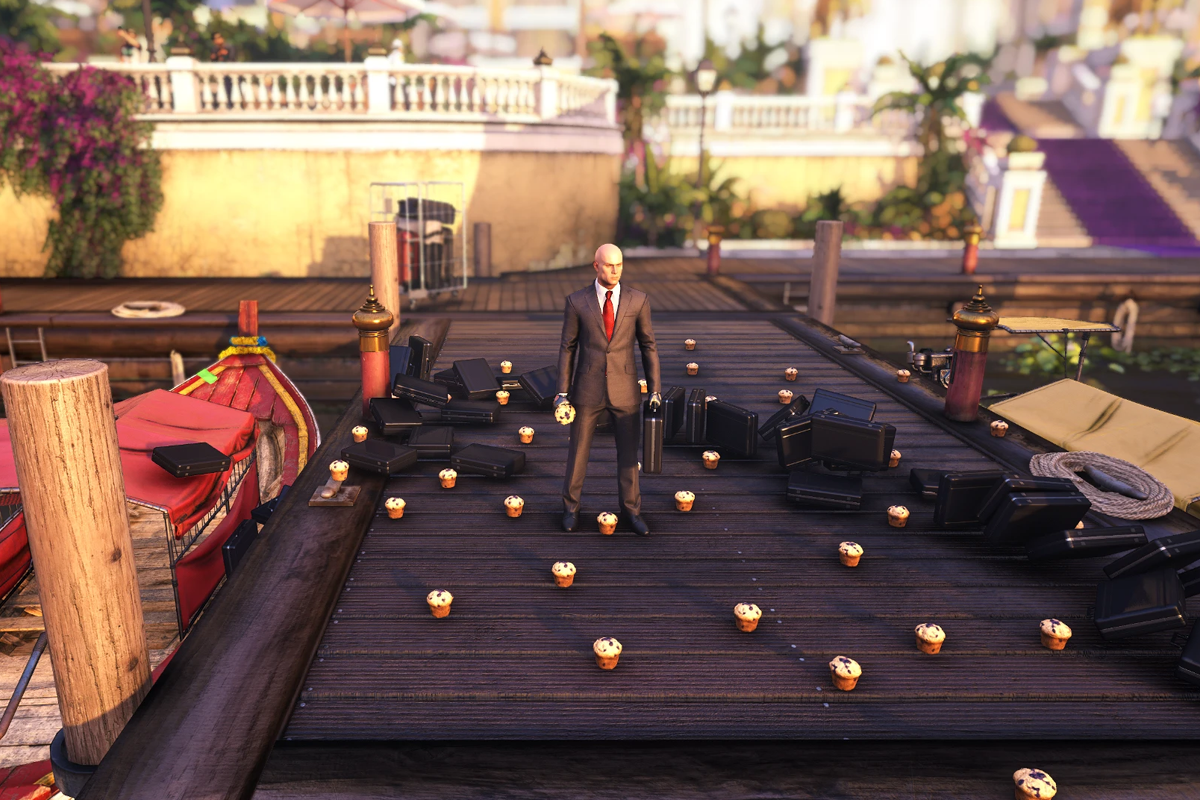 Do you want to make your Hitman 3 experience easy and be an assassin who's living breezy by having everything you want? Try andrewpratt64's Many Items mod!
This Hitman 3 mod unlocks x100 loadout items and gives you one of each item at the start. If you ever want to try all items in the game or just want to make your gameplay easier, this is a fun Hitman 3 mod to have.
The downside is that the mod might not work with other mods, so it's best to consult the discussion threads of this mod first.
Infinite Ammo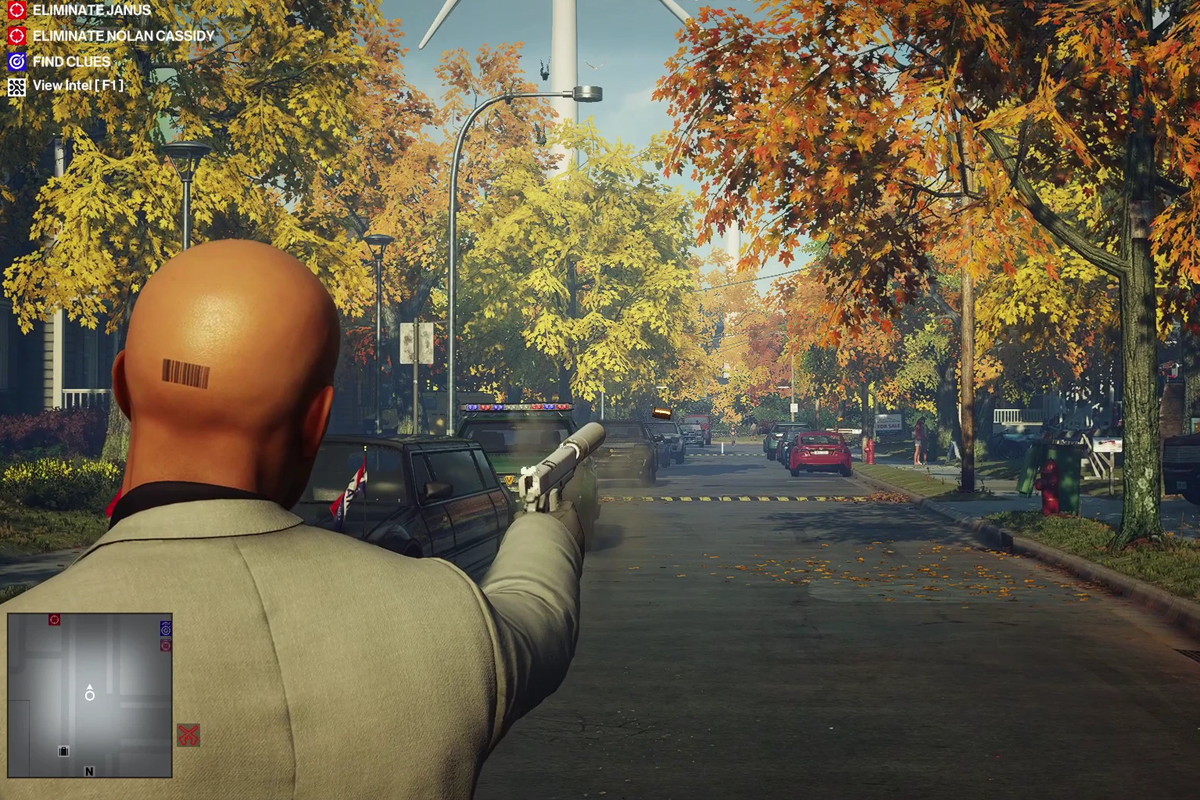 Unlocking all items? How about unlocking all the ammo you'll ever need?
With this mod by 2kpr, you'll be cruising through the game without a worry about your ammo consumption. You'll just have to worry about how to git gud.
This is also perfect for those long assassination sessions or missions that have you really focus on not-so-easy targets.
Shoot to your heart's content as Agent 47!
Glove and Accessory Mod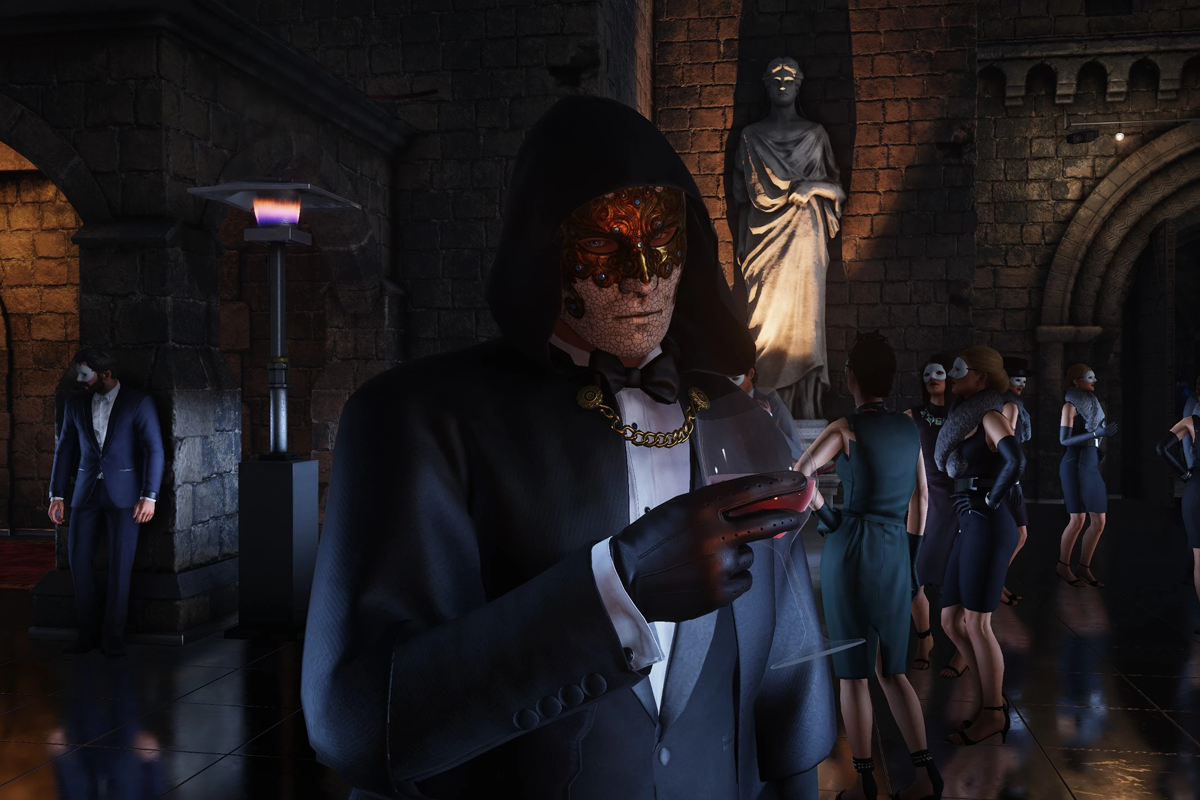 To be a great Agent 47, not only do you need to excel at shooting and stealth, but you should also have the drip to embody the renowned assassin.
If fashion is an important aspect for you, here's a great mod from metaphoria over at Nexus Mods that lets you customize the gloves and accessories that go with the suits in the game.
This Glove and Accessory mod can remove or mix and match gloves, hats, watches, and even sunglasses to your favorite outfits for Agent 47.
If you feel like some accessories don't match with the pre-determined outfit set, you can easily change it with this mod. Flaunt the style you want!
Any NPC As Possible Freelancer Target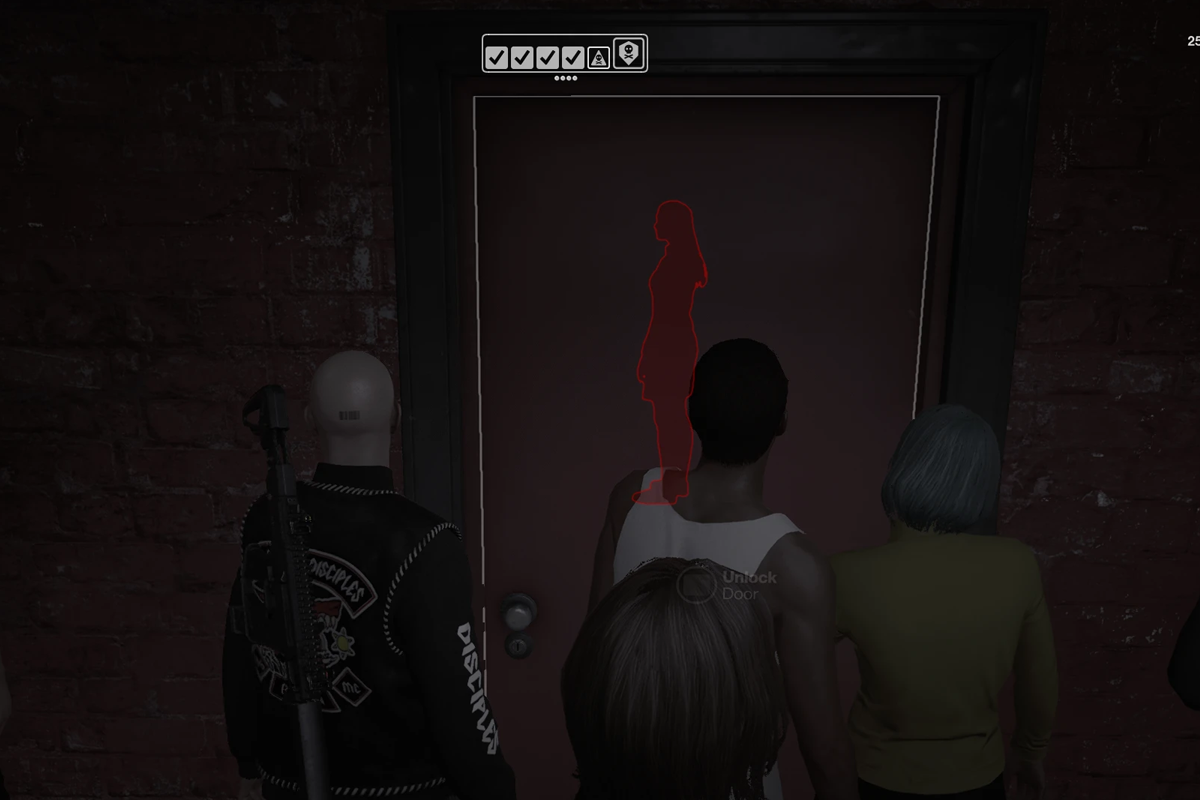 This mod might be new to the list of popular Hitman 3 mods, seeing as it was just uploaded in September 2023, but it's a useful and fun one.
This mod by The Mafia/PaganMinMan lets you pick any NPCs as your target in Freelancer mode. You don't have to follow the predetermined list given to you, which makes things convenient and unique.
This will give you variety in choosing your targets, resulting in quite a wacky time during Freelancer.
Take note that this only works for Freelancer-supported maps but not on Freelancer Variants. With that being said, go crazy with the randomness!
Offline Mode Enhanced and Custom Mission Pack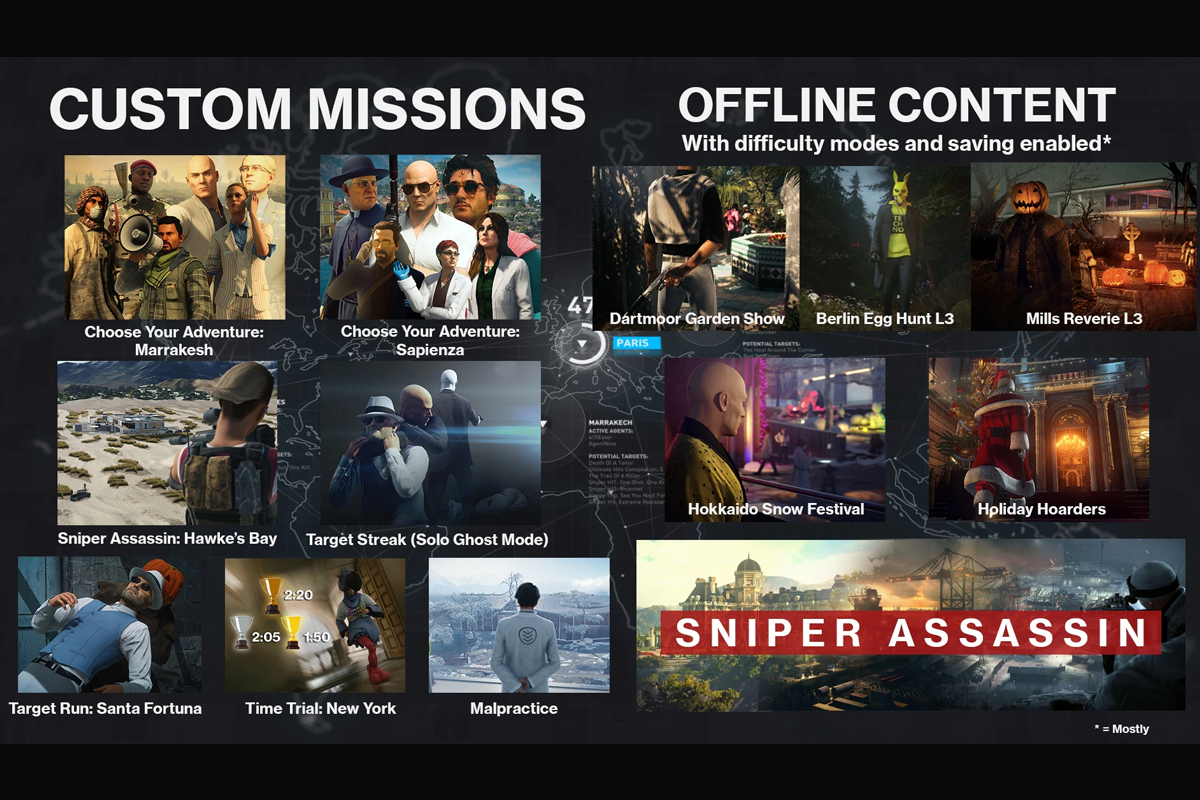 In terms of gaming, gamers far and wide have a lot to be thankful for with modern gaming. Better graphics, new technology, and online multiplayer gameplay are just some of the perks that we're enjoying at the moment.
However, one thing that can be a bummer is staying online to play and enjoy the game's full features. Sadly, Hitman 3 has this problem as well.
But thanks to modders like KevinRuddMP, your experience with offline Hitman 3 can now improve.
This mod adds features and content that are missing in Hitman 3's offline mode, such as seasonal missions and escalations. You also get custom missions like Solo Ghost and Chost Your Adventure modes.
Happy offline gaming, assassins!
Offline Elusives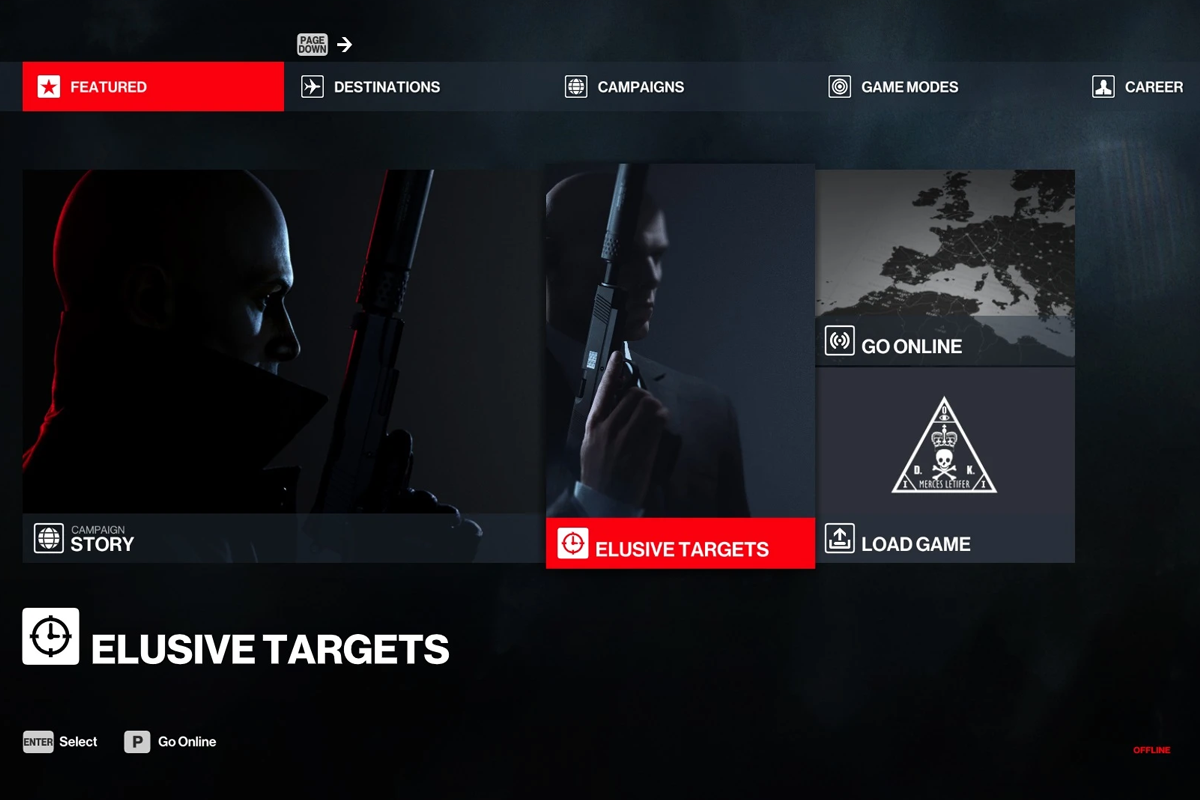 In Hitman 3, Elusive Targets are, well, elusive! However, their evasive nature definitely makes catching them fun and challenging.
To let you target these not-so-easy hits again and again and in a convenient way, consider unfunnygoober's Offline Elusives mod.
This mod conveniently adds a button on your dashboard that lets you do Elusive Targets quickly, immediately, and repeatedly.
The caveat is that it only works in offline mode and might clash with other mods. Thankfully, the mod creator has added a workaround for popular Hitman 3 mods.
Offline Unlocks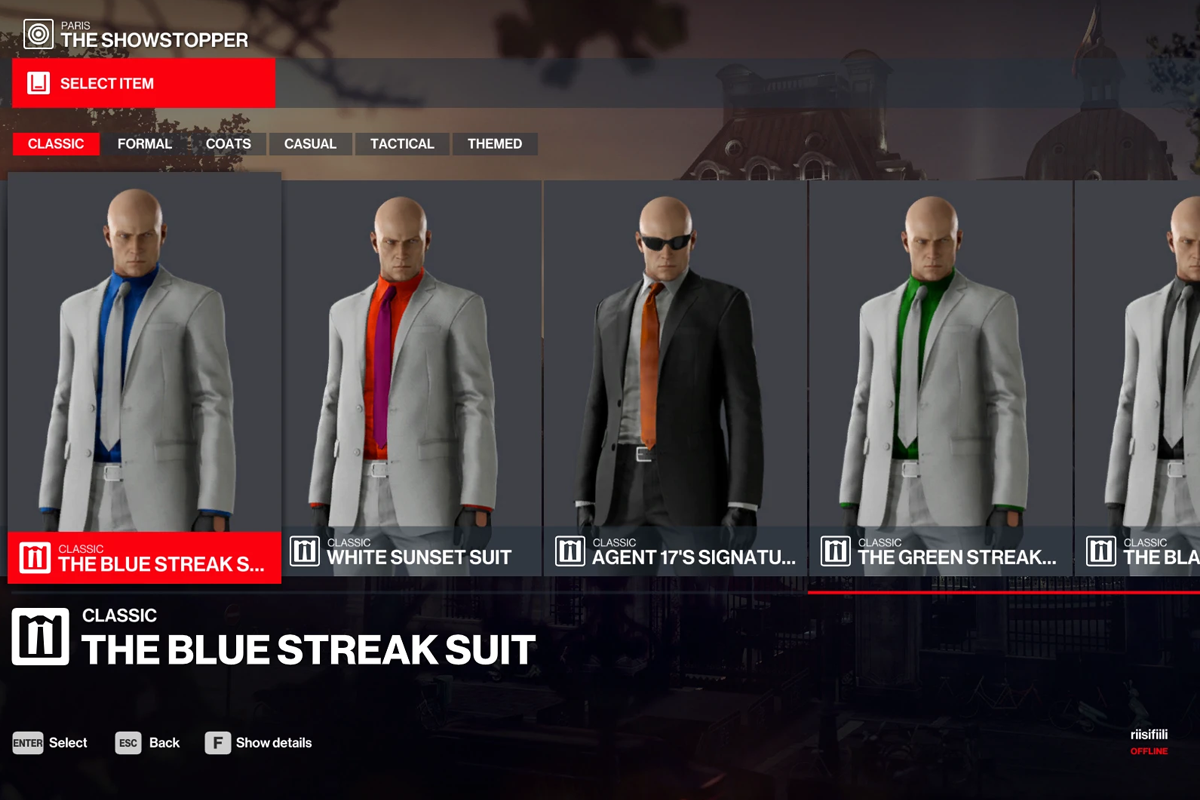 Here's another Hitman 3 mod that can improve your offline gaming.
With riisikumi's Offline Unlocks mod, you'll be able to unlock all the base game's items. Yep, that includes the entire selection of suits and items!
But the mod creator notes that this is only possible in the offline mode of the game. DLC items are also not included in this mod.
The good news is that the mod is quite easy to install. Unlock away, fellow assassins!
Hitman 3 Reimagined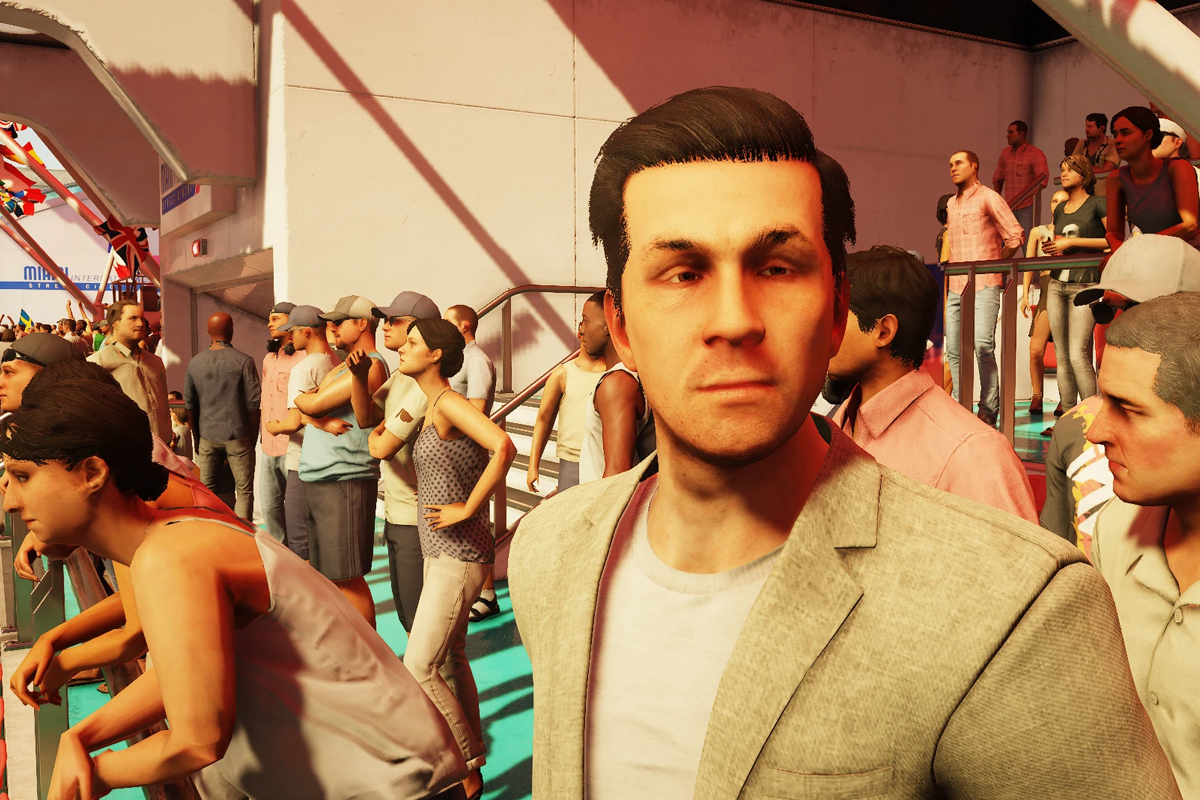 If you want to further enhance your Hitman 3 experience, take a peek at the development of this Hitman 3 Reimagined mod by DrMekar.
It's an ongoing project that aims to bring more life to the world of Hitman 3 by reducing clones and dupes of NPCs that are walking around the different areas of the game.
It has currently modified several areas already, such as Miami, Dubai, and Whittleton Creek. The next location targets are either Mumbai, Berlin, or Santa Fortuna.
Time of Day Mod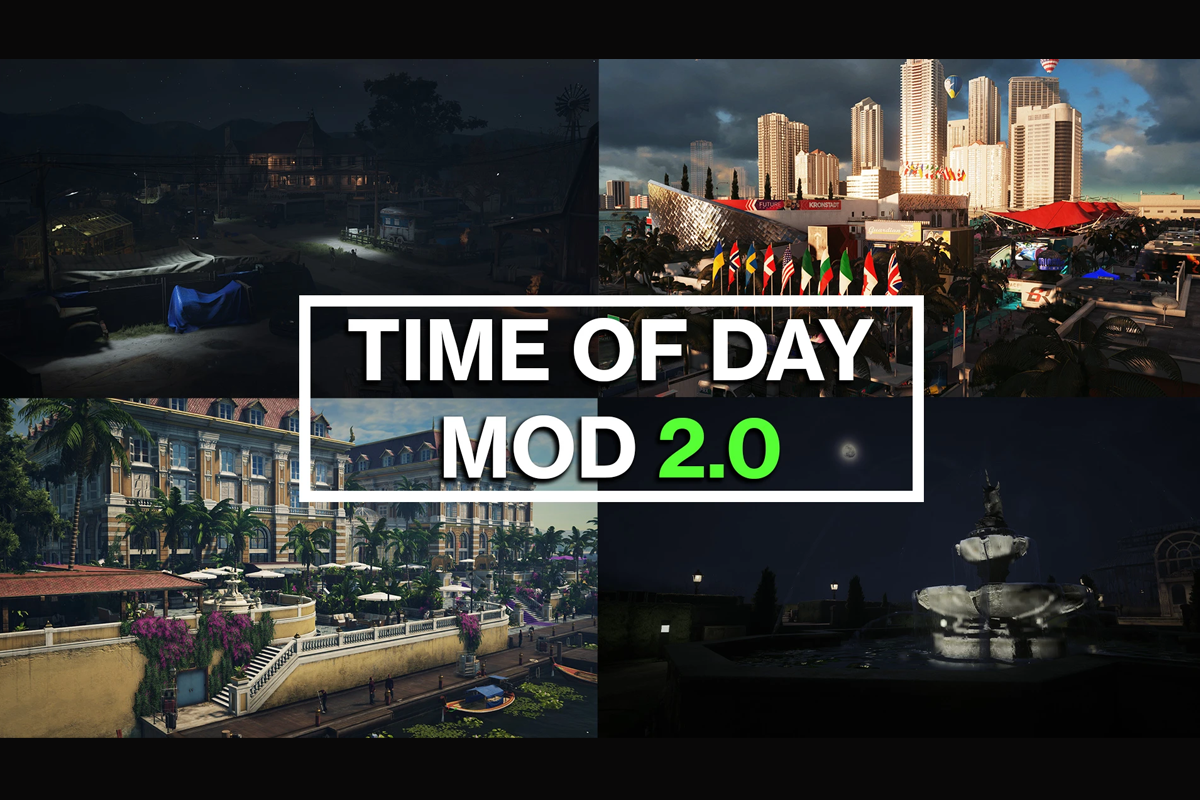 Ever wanted to explore certain maps during the day? How about infiltrating certain locations and doing some missions at night instead?
With this Time of Day mod by KevinRuddMP, it's now possible to change the time for certain maps. Imagine taking a walk through Chongqing during the day or seeing night-time Miami!
Since this is just a visual mod, it won't change the story of the game at all.
However, going through certain points in the game during a different time will give you a new experience. Give this mod a try for your next play-through!
All Starting Locations Unlocked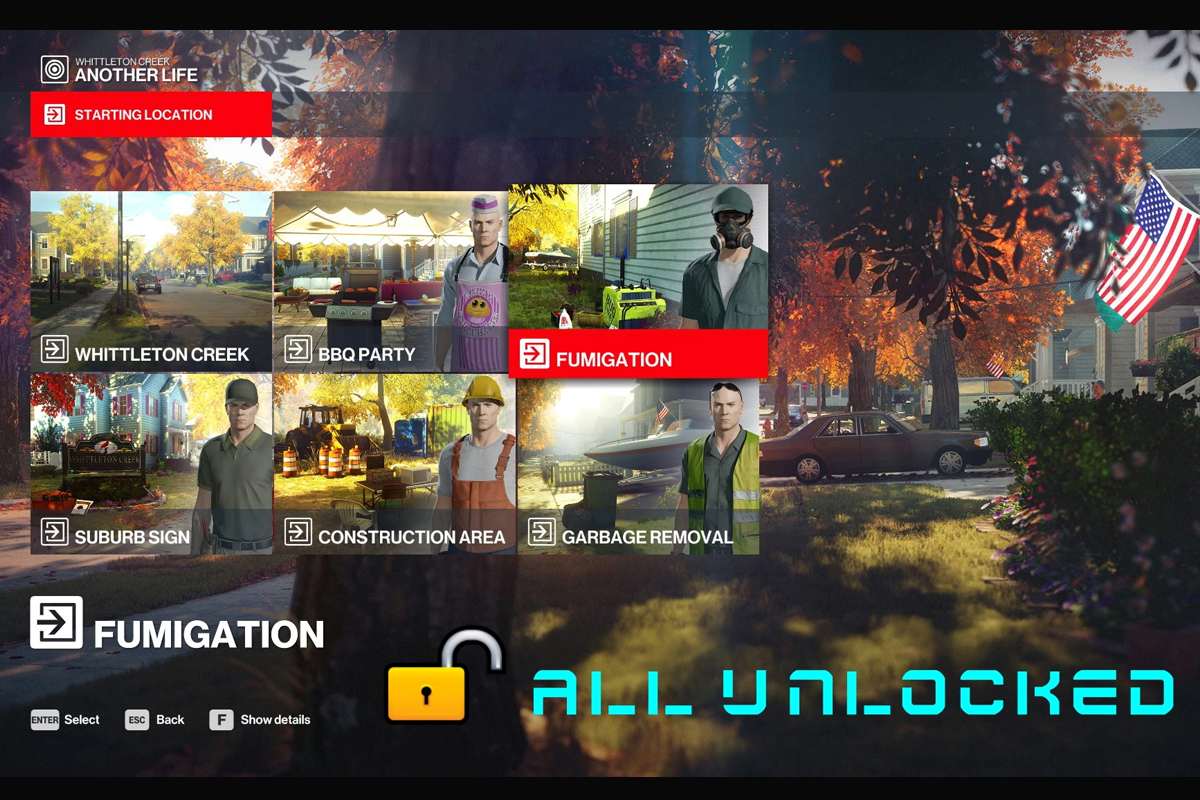 Don't have the time to unlock all of the starting locations at the beginning of the game or every episode? No worries, ramirezdu06 has your back with the All Starting Locations Unlocked mod.
Save yourself from all the trouble of getting these locations, and install this mod to immediately open up these areas.
Do take note that this only unlocks starting locations. And if you only have the demo of the game, you can only unlock the starting locations for the episodes you have.
Focus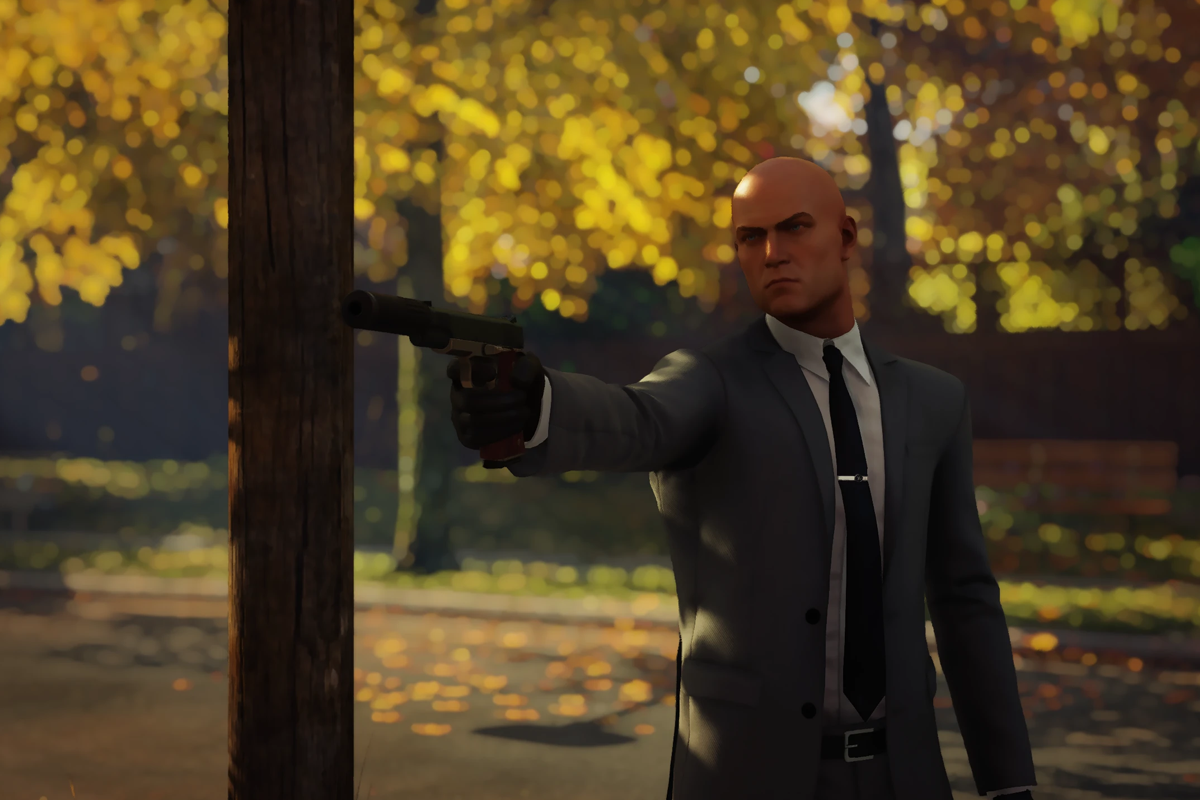 Do you want to improve your shooting, aiming, and accuracy to be worthy of playing Agent 47? Well, you can take a shortcut and install this Focus mod by Atampy26.
This mod gives the Marksman Perk on all your weapons of choice. With it installed, you simply have to press and hold the Shift button to trigger slow-mo to give you more time when aiming and shooting.
Important note to remember: this mod only works in offline mode. It might also clash with other mods, so make sure you check the mod creator's notes about it.
John Wick Mod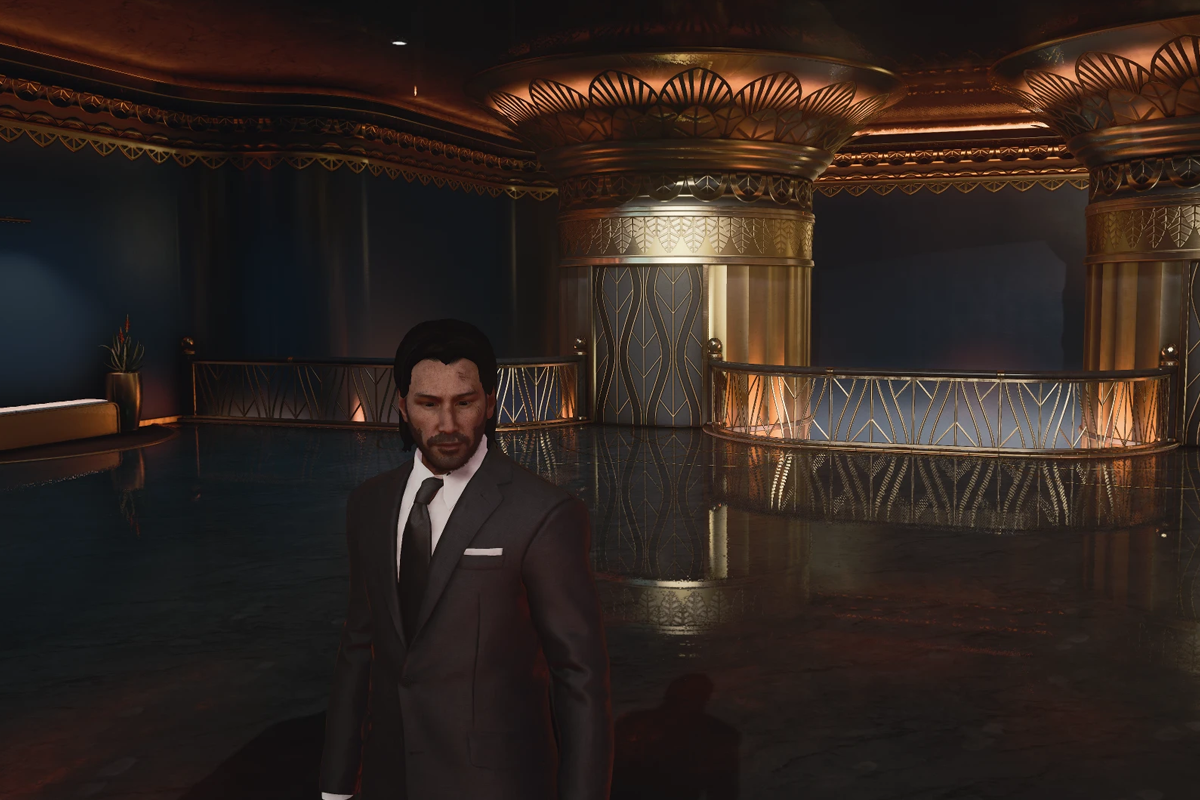 Agent 47 is cool and all, but if you ever wanted to be the legendary Baba Yaga of the John Wick movies, you now can with this John Wick mod from aquitaine01 over at Nexus Mods.
Be the cool, calm, but absolutely ruthless Keanu Reeves character in Hitman 3 and shoot your way through the missions as this retired-but-back-again assassin.
This is only a cosmetic mod, though, so you're not really John Wick in the story. Pencil weapons and pet dogs are also not included.
Hitman 2016 Movement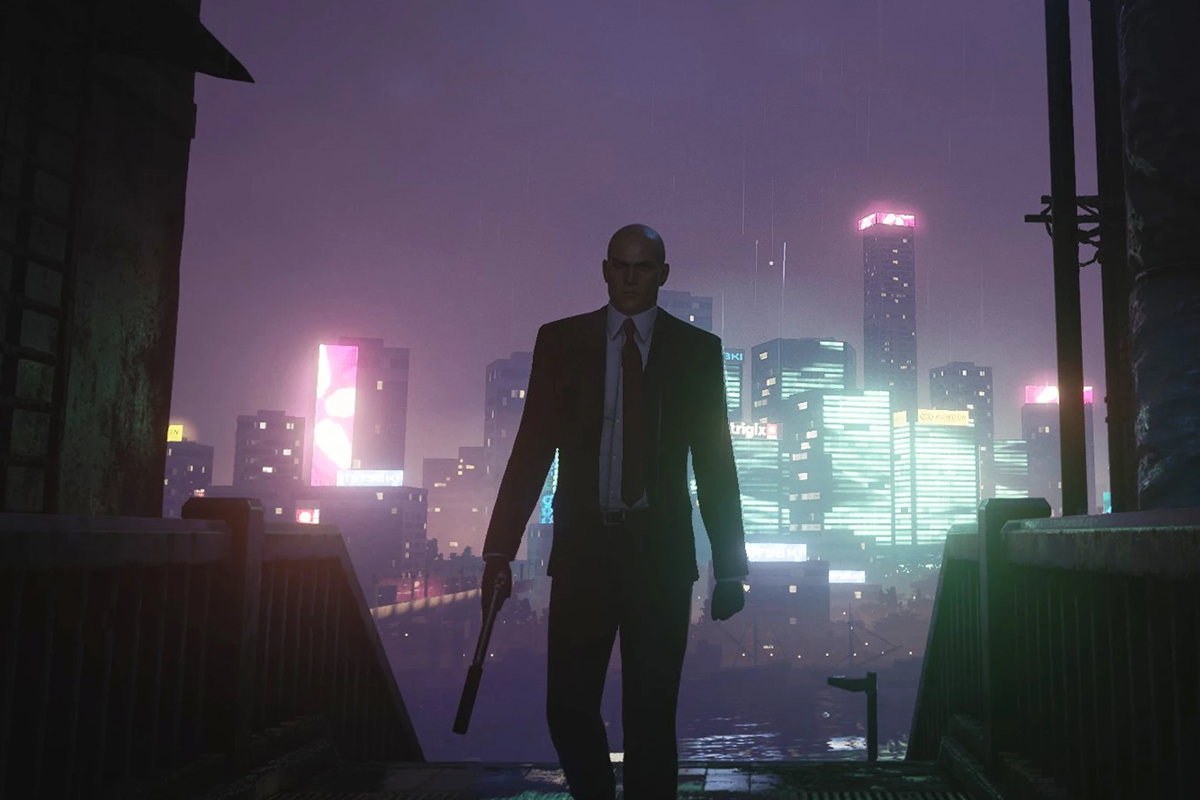 If you're a long-time Hitman fan and have missed the past animations and movement from its older game, you can recapture that and experience it again through this mod by te47.
A lot of older Hitman fans adored what the game developers did in past games, such as the execution of Agent 47's realistic moves and speed when running and walking and the higher quality of animation.
The current faster movements may seem better to some, gameplay-wise. But to others who yearn for a more realistic approach, this is an absolute travesty.
So, te47 went on a mission to make a mod that incorporates Agent 47's old way of moving. This mod gives Agent 47 his movement back in Hitman 2016 and incorporates the old animation.
The mod creator has also added a list of other visual and audio mods you can add, such as mods for removing poison smoke, bullet explosions, camera filters, and camera noises. There are also mods for immersive sound and Hitman 2 movements.
Freelancer Variations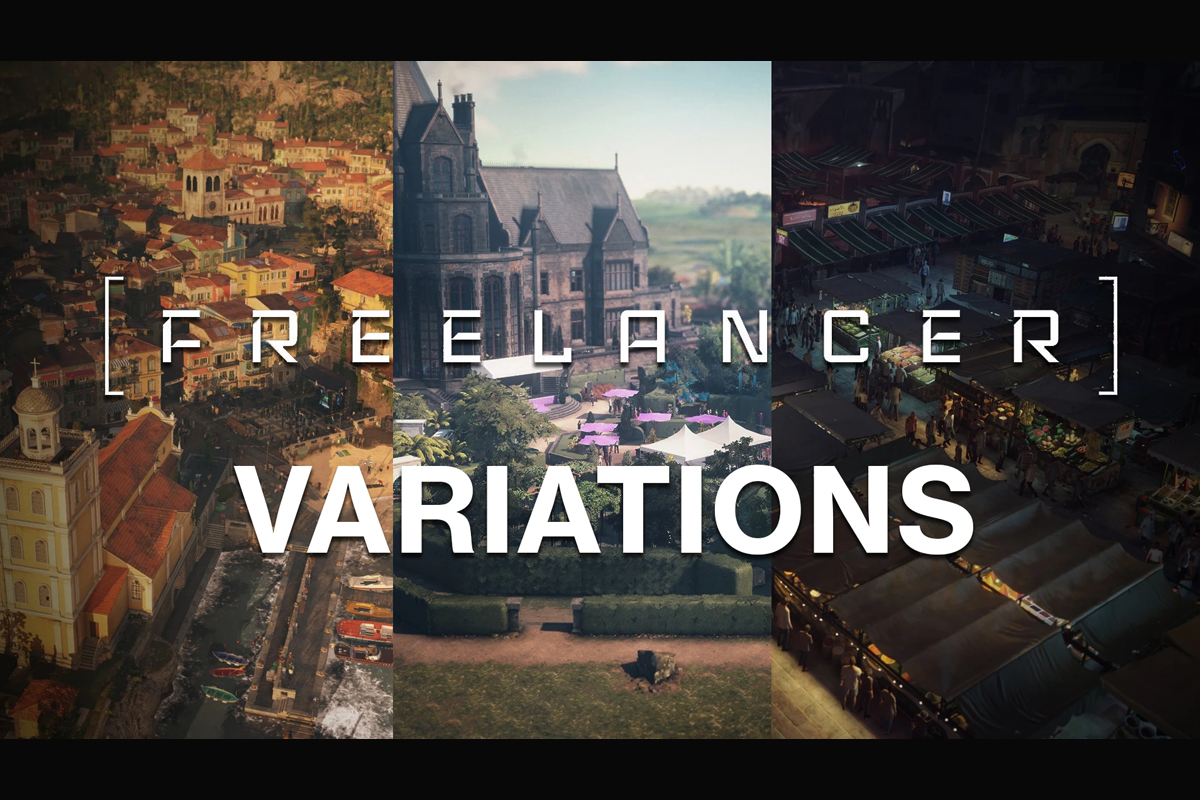 Can't get enough of Hitman 3's story, gameplay, and overall world? This Freelancer Variations mod by KevinRuddMP is a must-have for die-hard Hitman 3 fans!
This mod expands the Freelancer mode of the game and adds so much to the overall Hitman experience. You get bonus missions, different map versions, alternate day times, and more.
The mod creator and contributors have done a wonderful job at giving more life to the overall world of Hitman 3, which is why this mod is our current pick for the best Hitman 3 mod ever!