This article will tell you exactly what Shift Codes and golden keys are and how to get them, so you can get your hands on that sweet sweet loot.
What Are Shift Codes for Borderlands 3?
Shift Codes are Gearbox's way of rewarding players with rewards and top tier loot. Shift Codes are 25-digits long, are single-use, and usually have an expiry. Shift Codes can be used across all platforms and will give the player Golden Keys. Usually, each shift code will grant between 1 to 10 Golden Keys.
What Are Golden Keys?
Golden Keys are what you are really after here and these will open the Golden Chest abroad sanctuary. Each key can be used only once and give one unlock of the golden chest at a time.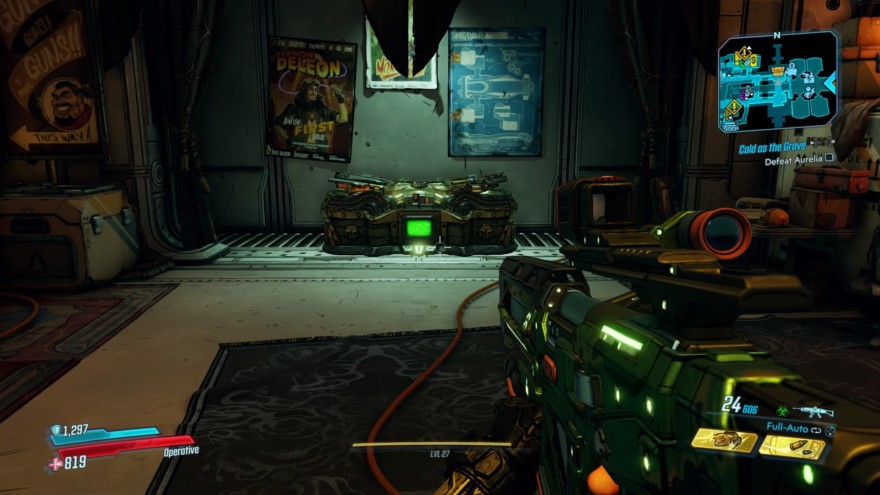 Where Is the Golden Chest?
Very small spoiler…
The Golden Chest can be found aboard Sanctuary III which is the ship you'll board at the end of Chapter 4 leaving behind Pandora.
The Golden Chest can be found not far from the fast travel point. Looking away from the fast travel point take the right corridor past the crew quarters and you'll see it there. If you reach Marcus Munitions and the vending machines, you've gone a little too far.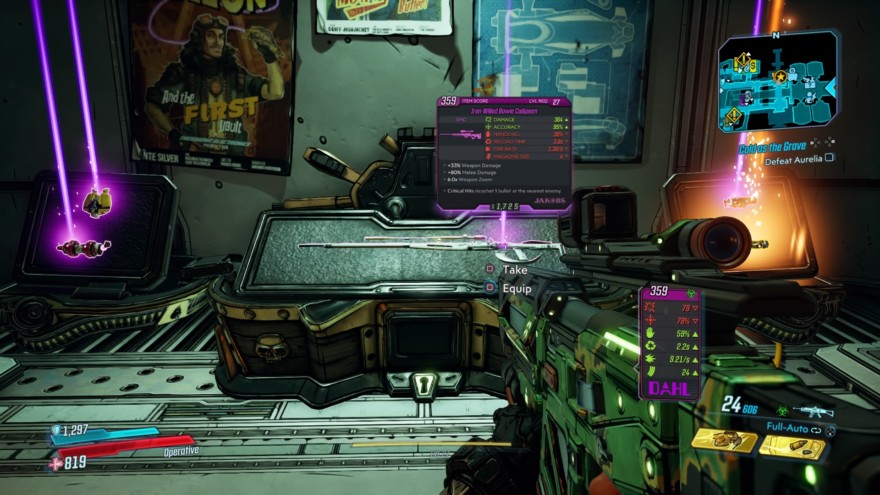 What Can You Get in the Golden Chest?
Each item in the Golden Chest will be at the very least Epic (purple) and sometimes Legendary (gold) gear. You could get anything including Weapon Slots, Class Mods, Artifact, Shield Mods, and Grenade Mods. The gear will always match your current level. It's much better than relying on your luck in Borderlands 3.
The chest will re-seal once you've collected your goodies so you can open it again if you have more keys. If you leave anything in the chest and walk away, you'll find it on the floor.
How Do I Get Shift Codes and Golden Keys in Borderlands 3?
Shift Codes are periodically released by Gearbox via the Borderlands Twitter account (@Borderlands), Facebook page, and the Twitter account of Gearbox CEO Randy Pitchford (@DuvalMagic).
Before we get into how you can keep track of newly released Shift Codes below are 7 permanent Borderlands 3 Shift Codes that will work regardless of when you use them. They don't have an expiry and these 7 Shift Codes will give you a total of 11 Golden Keys right now!
Permanent Borderlands 3 Shift Codes
9XCBT-WBXFR-5TRWJ-JJJ33-TX53Z (3 Golden Keys)
ZFKJ3-TT3BB-JTBJT-T3JJT-JWX9H (3 Golden Keys)
HXKBT-XJ6FR-WBRKJ-J3TTB-RSBHR (1 Golden Key)
ZFKJ3-TT6FF-KTFKT-T3JJT-JWX36 (1 Golden Key)
Z65B3-JCXX6-5JXW3-3B33J-9SWT6 (1 Golden Key)
ZRWBJ-ST6XR-CBFKT-JT3J3-FRXJ5 (1 Golden Key)
CHKB3-FJT9J-SK3K5-T33JJ-95J56 (1 Golden Key)
After you are done with the permanent codes, you'll be on the lookout for new ones. New codes will have an expiry date and time and they can disappear as quickly as 24 hours so you have to be quick.
How To Find New Shift Codes
While you can keep checking official sources like the Borderlands Twitter account there is a much easier and more direct way to keep on top of new Shift Codes. You can follow the @dgSHiFTCodesBL3 Twitter account which is a bot that automatically tweets out the latest Shift Code and when it expires. If you don't have Twitter you can just bookmark this page and revist. The feed below will automatically update showing the latest codes.
On top of following the account above make sure that you turn on notifications so that you know immediately that there is a new code to use and you won't miss the window and those important golden keys. It's right next to the Follow button.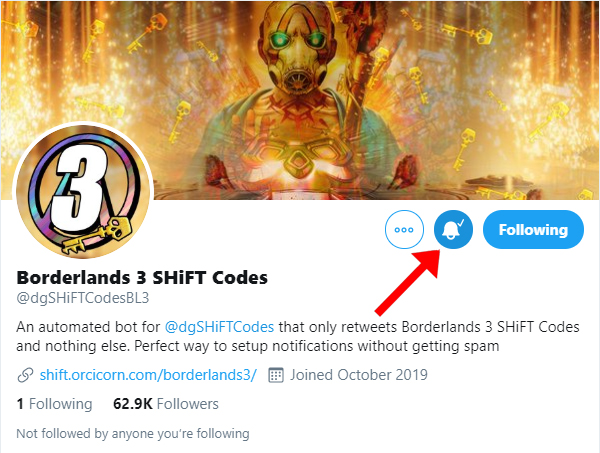 How to Apply Shift Codes
Now that you've got your hands on your Shift Codes, here's everything you need to do to apply them.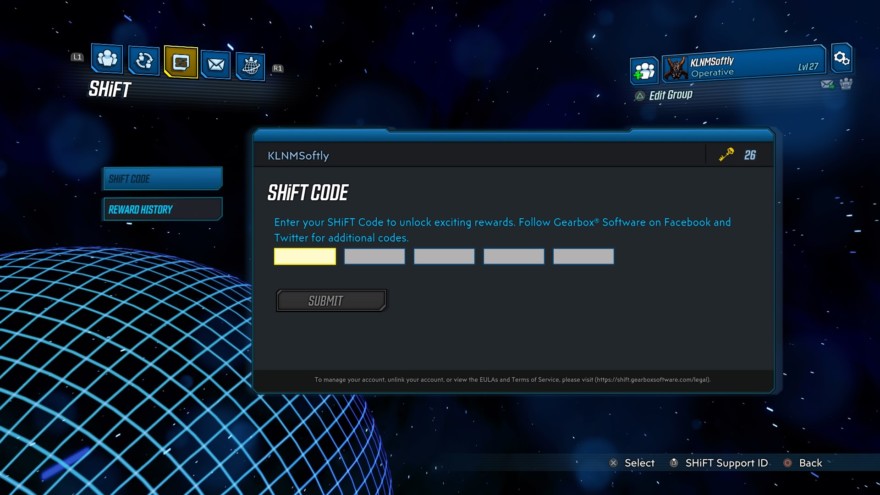 First, you'll need to enter the Shift Code either in-game (see above) or by creating a Gearbox Software account (free). The latter is easier you can copy and paste rather than having to type these out on your console.
Golden Keys aren't automatically allocated after redeeming a Shift Code. You will need to go into your mailbox (the next tab along) and accept them to receive your Golden Keys. Only then can you open the Golden Chest.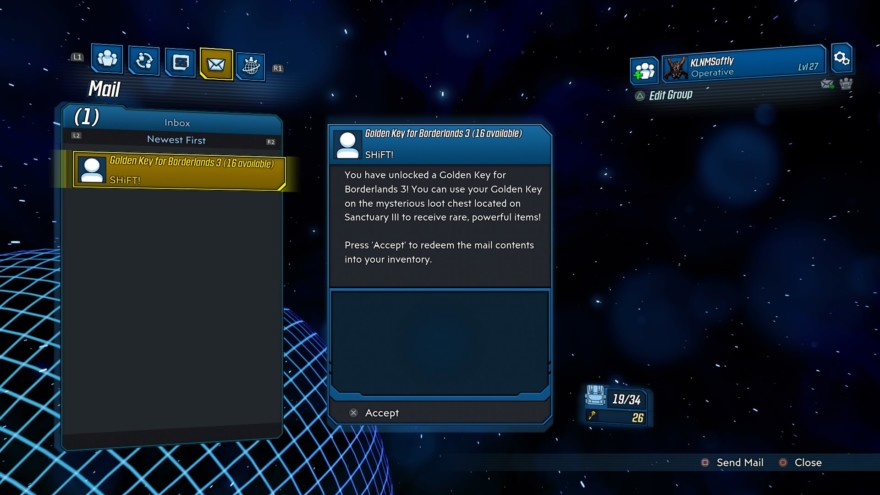 Shift Codes Not Working?
On occasion, some players report that the Shift Code isn't working. The most obvious reason is that the Shift Code has expired or it could be down to user error when typing it in. Some players have found that the code works in-game and not on the website and vice versa so give that a try if you're sure it's still valid.
How Often Should I Use My Golden Keys?
It's easy to get carried away on the Golden Chest and smash through your Golden Keys. Bear in mind that you may only get a handful of keys per month and that's only if you stay on top of it and redeem them before the Shift Codes expire.
The contents of the Golden Chest is always epic or legendary gear but maxed to your current level. If you were to open the chest 10 times you would end up with a lot of gear that is variations of the same thing giving no additional benefit.
We recommend that you use 1 or 2 Golden Keys every 3 or so levels. This will give you enough epic or legendary gear to give you an edge without being wasteful. You can then save up your Golden Keys for later in the game or when you hit the max level (currently 57) and get all the best gear and sell off everything you don't need.
FAQ
How do you get golden keys in bl3?
You can get Golden Keys in BL3 by redeeming Shift Codes found on Gearbox's Twitter and Facebook channels. Shift Codes will give between 1 - 10 Golden Keys.
Can you get Legendaries from Golden Keys Borderlands 3?
The Golden Keys in Borderlands 3 opens the Golden Chest, which contains, at the very least Epic gear, but can include Legendary.
When should I use Golden Keys?
You'll want to save your Golden Keys for higher levels as you will only get a few a month. During lower levels, the gear will become obsolete fairly quickly, so use them sparingly.