The Tier 3 redacted mission has you going after a new type of commander. You're certainly going to feel the heat with this one! We'll show you how to find the Pyro Commander in this guide.
DMZ Friendly Fire
The first mission in Tier 3 Redacted has you doing the following:
Kill the Pyro Commander
Kill 3 Pyro Guards With Fire
How To Find the Pyro Commander
There are a few methods for finding the Pyro Commander in Al Mazrah, and he has various spawn points across the map.
The Pyro Commander can be found in the following locations:
Air Traffic Control Tower at A.M. International
Al Mazrah City Post Office
U.S. Embassy
All of these locations are locked so not only do you have to locate the Pyro Commander, but you'll also need to either load in with the key or find one.
If you see a weapons case on the map that's not on the train, then this is the spawn location of the Pyro Commander.
If you don't see a weapons case on the map, you can do a secure intel mission that may reveal his location. You might have to do a few to get him to pop up on the map.
Finally, you can grab a helicopter and hoover over each of the locations above. You'll be alerted when he's close by.
Killing the Pyro Commander
Killing the Pyro Commander is no easy feat. He is equipped with a riot shield and a KV Broadside. He'll also be surrounded by explosive barrels and lots of AI just to make things even more interesting.
On his defeat, the Pyro Commander will drop:
KV Broadside
Golden Skull
Tempered Vest
Kill 3 Pyro Guards With Fire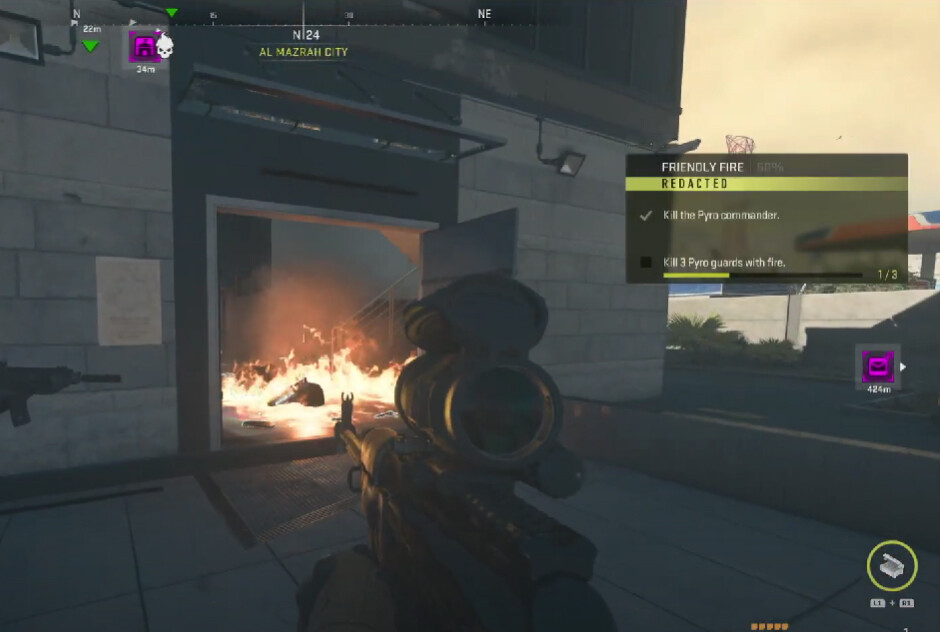 Right now, the only way to make progress for this mission is to kill the Pyro Guards with explosive barrels rather than thermite. Avoid hitting the directly with gunfire, watch them burn, and get that mission progress.