When it comes to singing, dancing, and pop star dreaming, your Peppy villagers got you covered.
They love the thought of performing, becoming a celebrity, and being fashionable. They're very energetic and, well, peppy!
Unfortunately, not all Peppy villagers are created equal. Some are definitely peppier than others in terms of character design.
One glance at them, you'll immediately see their innate singer and celeb-wannabe characteristics.
We've come up with what we think are the peppiest of Peppies in the game.
A round of applause for the most Peppy villagers in Animal Crossing! Music, maestro!
10. Pinky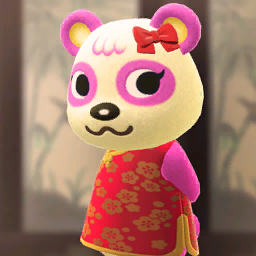 Catchphrase: Wah
Hobby: Fashion
Starting with number ten, we have Pinky, a Peppy bear villager! One look at her, and you'll immediately know she's a Peppy from her color alone.
Pinky is a pink panda who loves fashion, and when she's not talking about performing pop songs, you can see her walking around with a pink bag and some kind of hair accessory.
9. Penelope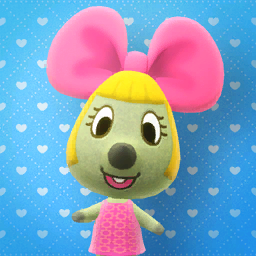 Catchphrase: Oh, bow
Hobby: Fashion
A pop star has to stand out, and Penelope definitely stands out from the rest of the Peppy villagers with her gigantic pink bow.
Her catchphrase even reflects this, as she can be seen saying "oh bow" in her conversations. We bow down to your pink bow, Penelope.
8. Bunnie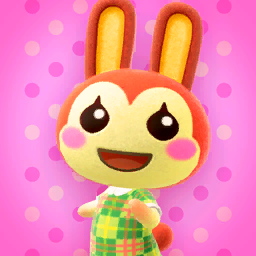 Catchphrase: Tee-hee
Hobby: Fashion
We got one bubbly bunny for number eight! Bunnie is a Peppy bunny with a huge interest in fashion, which works very well for her stardom dreams.
She loves using her pink purse with a white flower, as well as wearing hair accessories and hats.
7. Merry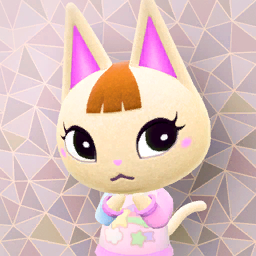 Catchphrase: Mwee
Hobby: Fashion
Merry might look a bit demure in her in-game official poster, but that's just the kind of Peppy pop star she is.
Pink and cream are her colors, with her cream fur, pink inner ears, tiny pink blushes, and Dreamy Sweater.
Some Animal Crossing players have noticed that she is hiding her double chin in her poster and framed photo, which fans have found adorable. No need to hide it, Merry. You're already cute!
6. Cheri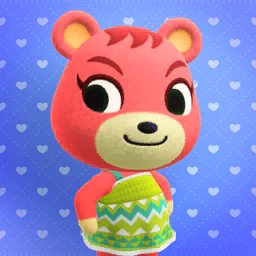 Catchphrase: Tralala
Hobby: Fashion
From her framed photo and poster, you can tell that Cheri knows she's got it!
This little bear cub villager might be tiny in size, but she knows how to bring the Peppy energy with just her expression. For that, you get the sixth spot, my dear!
5. Rilla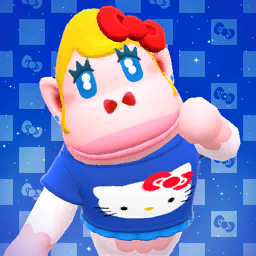 Catchphrase: Hello
Hobby: Nature
Rilla is one adorable gorilla villager! She is part of the special Sanrio villagers whose designs reflect various Sanrio characters.
For Rilla, her Sanrio counterpart is Hello Kitty, thus, she says hello with her catchphrase and wears a red bow. Hello there, cutie!
4. Audie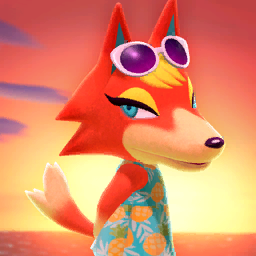 Catchphrase: Foxtrot
Hobby: Fitness
Audie is one fashionable Peppy wolf, and that's why she gets the fourth spot on our list.
You gotta be trendy with fashion if you want to be a pop star after all!
Her character design has her perpetually wear a pair of white sunglasses with dark violet lens on her head.
With her sunglasses and Tropical Muumuu default outfit, she looks perfect on an island setting. Time to sing some tropical tunes with Audie!
3. Rio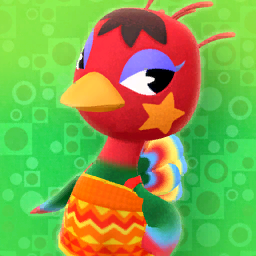 Catchphrase: Li'l chick
Hobby: Music
In third place, we have the dancing ostrich villager Rio! Her name and character design is a reference to Rio de Janeiro and the annual Rio Carnival that takes place there.
Isn't that absolutely perfect for a Peppy villager?
Rio is a red ostrich with a star mark on her face, purple eyeshadows, green feathers on her torso and wings, and a colorful feathered tail.
Her default clothes is an orange Zigzag Print Dress, which adds more color to her overall design.
Not a lot of Animal Crossing players might know about Rio, but she deserves the third spot for that name origin alone. Dance the night away, Rio!
2. Apple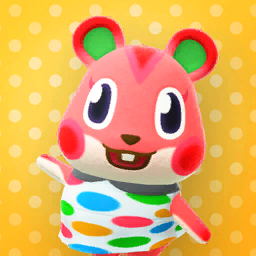 Catchphrase: Cheekers
Hobby: Play
For numero dos, here's Apple! She's a tiny red hamster packed with a lot of Peppy energy.
She gets the second spot for looking so happy and energetic all the time!
Her big and round red cheeks, partnered with her Marble Dots Tee outfit, make it look like she's walking and bouncing disco ball. Continue to be a cute ball of energy, Apple!
1. Chrissy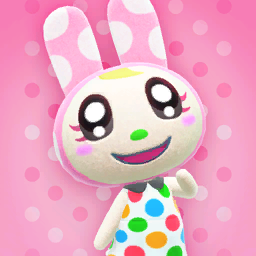 Catchphrase: Sparkles
Hobby: Fashion
And the peppiest of all peppies, the one who gets the ultimate spotlight on our list, and the villager who brings home the Peppy crown – please welcome Chrissy to the stage!
Chrissy gets the top spot on our list due to the reason that she is featured on K.K. Slider's Bubblegum K.K. album.
What higher honor can a Peppy get than be featured in the peppiest song in the game? I imagine it's a dream come true for any Peppy to be the face of Bubblegum K.K.!
Chrissy's character design is also adorable and very fitting for a Peppy. She is a bunny with pink fur, dark pink eyelashes, and wearing a polka-dotted dress as her default outfit.
On her head and ears, she is wearing a pink hood with white polka dots on it.
Enjoy the spotlight, Chrissy! You deserve it.