Superheroes are everywhere, and their global appeal is not slowing down any time soon. A superhero may be defined by their powers, and yet the essence of a superhero goes far deeper than that.
A superhero is defined by their righteous actions, their ability to lead and inspire others, their heroism and nobility in the face of obstacles, and their fortitude and moral compass in fighting injustice.
This can all be said for the inspirational, powerful, kind, and brave women we feature here.
We wanted to celebrate some defining moments over the last couple of years and the incredible women behind them.
For this, we thought it would be fitting to turn these superwomen into comic book strips, and the Real-Life Superwomen Project was born. We created four comic book pages, each with five panels depicting the superwomen moments.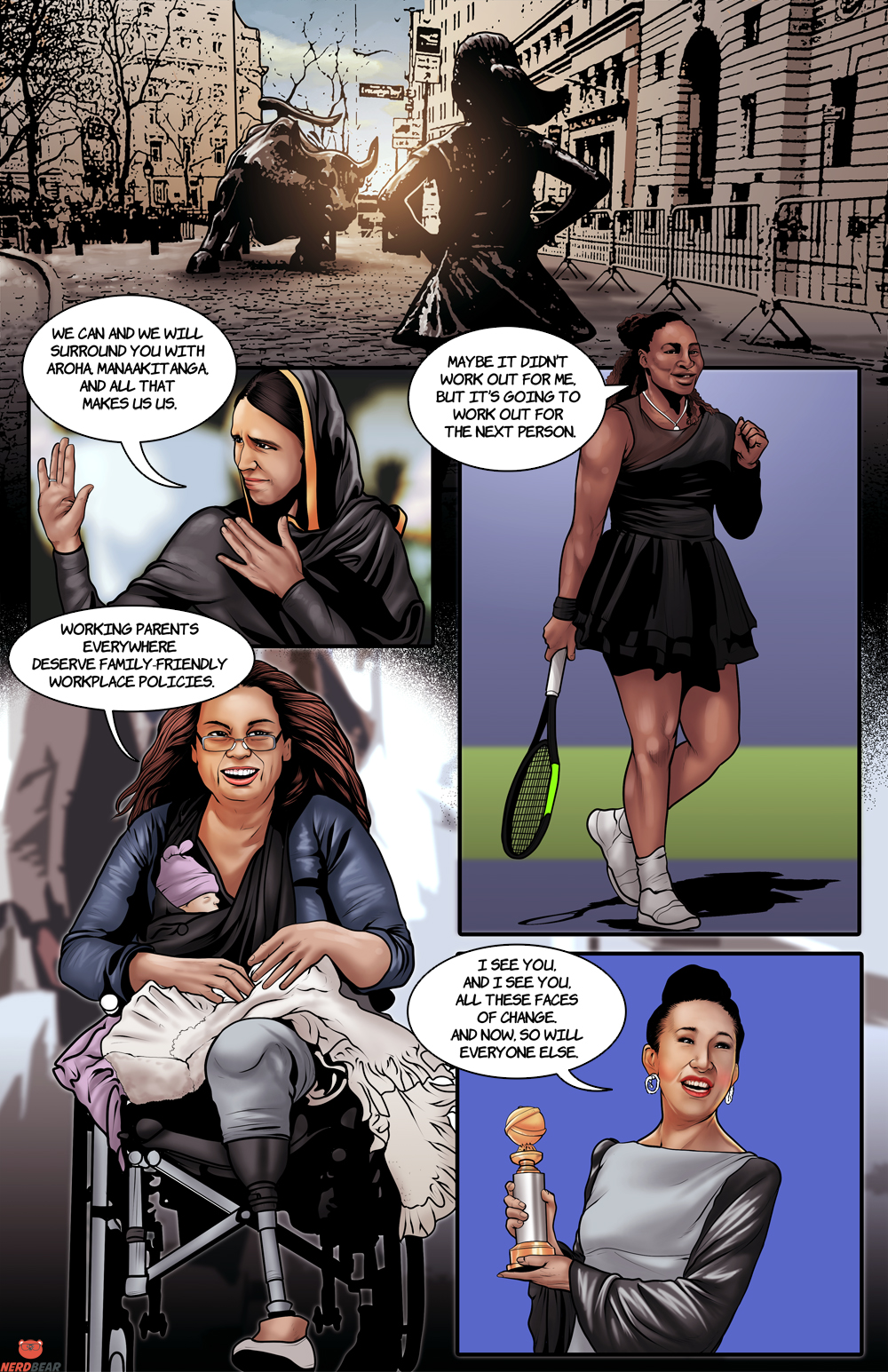 Fearless Girl
Fearless Girl is a 4-foot high bronze sculpture by Kristen Visbal. The sculpture was installed, staring down the Charging Bull statue.
The sculpture was commissioned to advertise a tracker fund that is made up of companies with gender-diversification among its corporate leadership.
The statue has become a symbol of female empowerment, and replicas of the sculpture have been unveiled in Oslo, Melbourne, and London.
Jacinda Ardern
The 40th Prime Minister of New Zealand showed extraordinary grace, compassion, and leadership during her handling of the terror attacks in March 2019.
Ardern did not use "us" vs. "them" rhetoric and even refused to mention the perpetrator's name stating, "New Zealand will give him nothing.
Not even his name." When speaking to the families of the victims, the Prime Minister used the Maori words aroha and manaakitanga, which mean kindness, compassion, and generosity.
Serena Williams
With 23 Grand Slam singles titles under her belt and four Olympic medals, Serena Williams is a superwoman to be reckoned with.
In September 2018, Williams hit the press when she accused the umpire of sexism in a controversial U.S. Open final defeat.
Williams pointed out the double standard of being penalized a game for calling the umpire a thief when men have said far worse and gone unscathed. "I'm here fighting for women's rights and for women's equality" she remarked.
Senator Tammy Duckworth
Senator Tammy Duckworth made history by becoming the first senator to cast a vote with a newborn baby.
First, the senator had to submit a resolution that would change longstanding rules that would not allow senators to bring a newborn on to the Senate floor during votes.
Senator Duckworth believed strongly that a newborn child should not prevent any senator from performing their constitutional responsibilities and that these types of policies should extend to working parents everywhere.
Sandra Oh
Sandra Oh made history by becoming the first Asian performer to win multiple Golden Globes and only the second woman of Asian descent to receive a Golden Globe for a leading TV role in the hit show Killing Eve.
Oh even thanked her parents in Korean during her acceptance speech.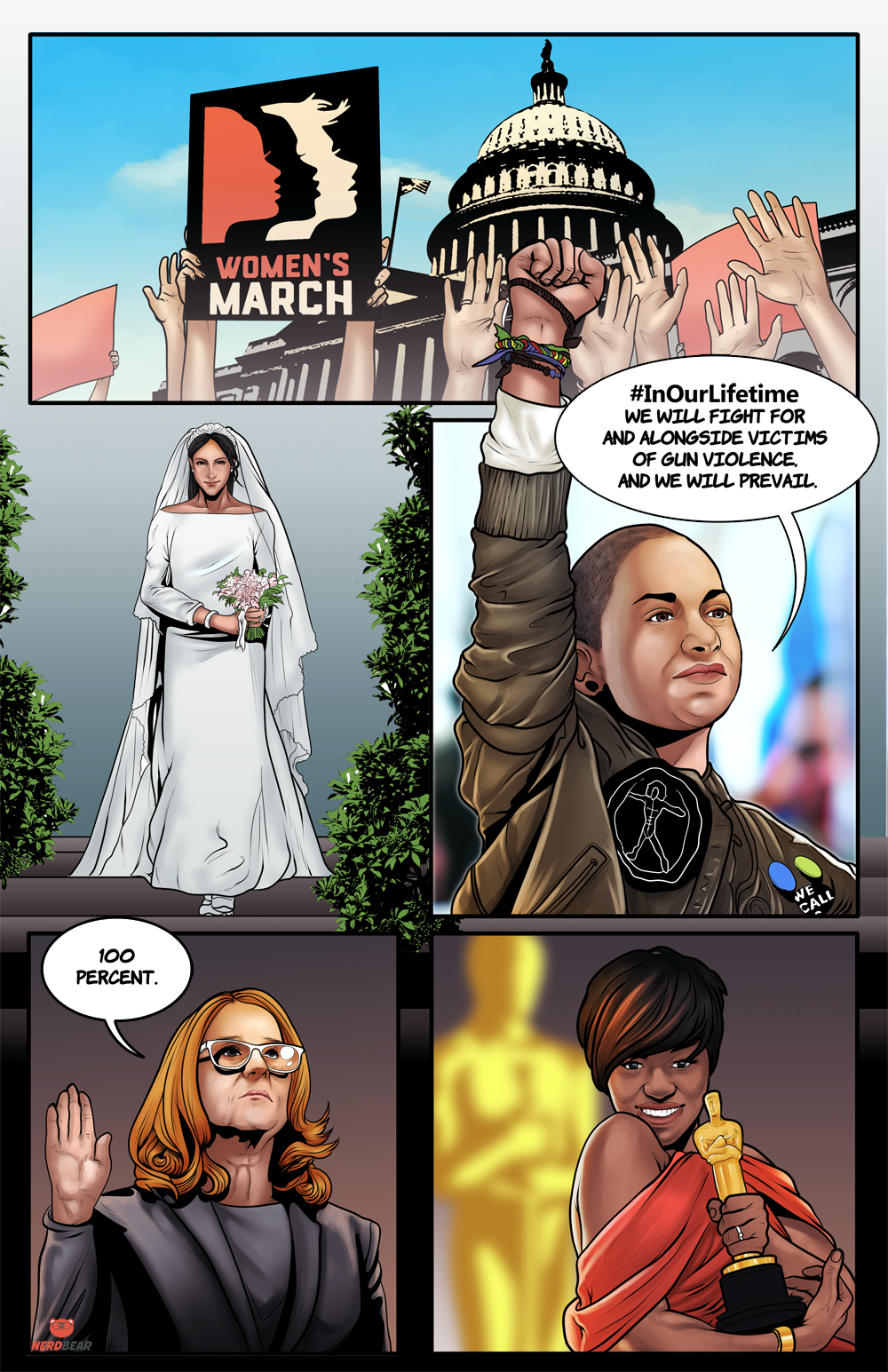 Women's March
Women's March was the largest single-day protest in U.S. history on January 21st, 2017 in response to the inauguration of President Donald Trump.
Since then, there have been two more marches in Washington D.C. with sister marches all over the U.S. and the world. Women's March continually strives for transformative social change through education, outreach, and events.
Meghan Markle
While some may think Meghan Markle had the good fortune of marrying a prince, it might just be that he was the lucky one instead.
Prior to her royal marriage, she had a successful acting career, successful lifestyle blog, and many philanthropic endeavors.
Markle is a vocal feminist and advocate of gender quality and empowerment of women and now has an even bigger platform to promote change.
Emma González
Emma González became a leading voice for gun reform during March for Our Lives in Washington, D.C.
Her powerful and inspiring speech to nearly 800,000 protesters brought many to tears after 17 of her teachers and fellow students were shot and killed in Parkland, Florida. Aged 19 now, González continues to advocate for gun-control.
Christine Blasey Ford
Christine Blasey Ford demonstrated bravery and courage by speaking out and testifying against Supreme Court nominee Brett Kavanaugh.
Kavanaugh has since been sworn in but the bravery shown has given hope and courage for other women to come forward with their own stories of assault.
Viola Davis
Viola Davis became the first black actress to achieve the Triple Crown, which includes winning an Academy Award, Emmy Award, and Tony Award.
This is no mean feat, and to date, only 24 people have done the same, of which 15 are women. During her Oscar's acceptance speech, she said "I became an artist—and thank God I did—because we are the only profession that celebrates what it means to live a life."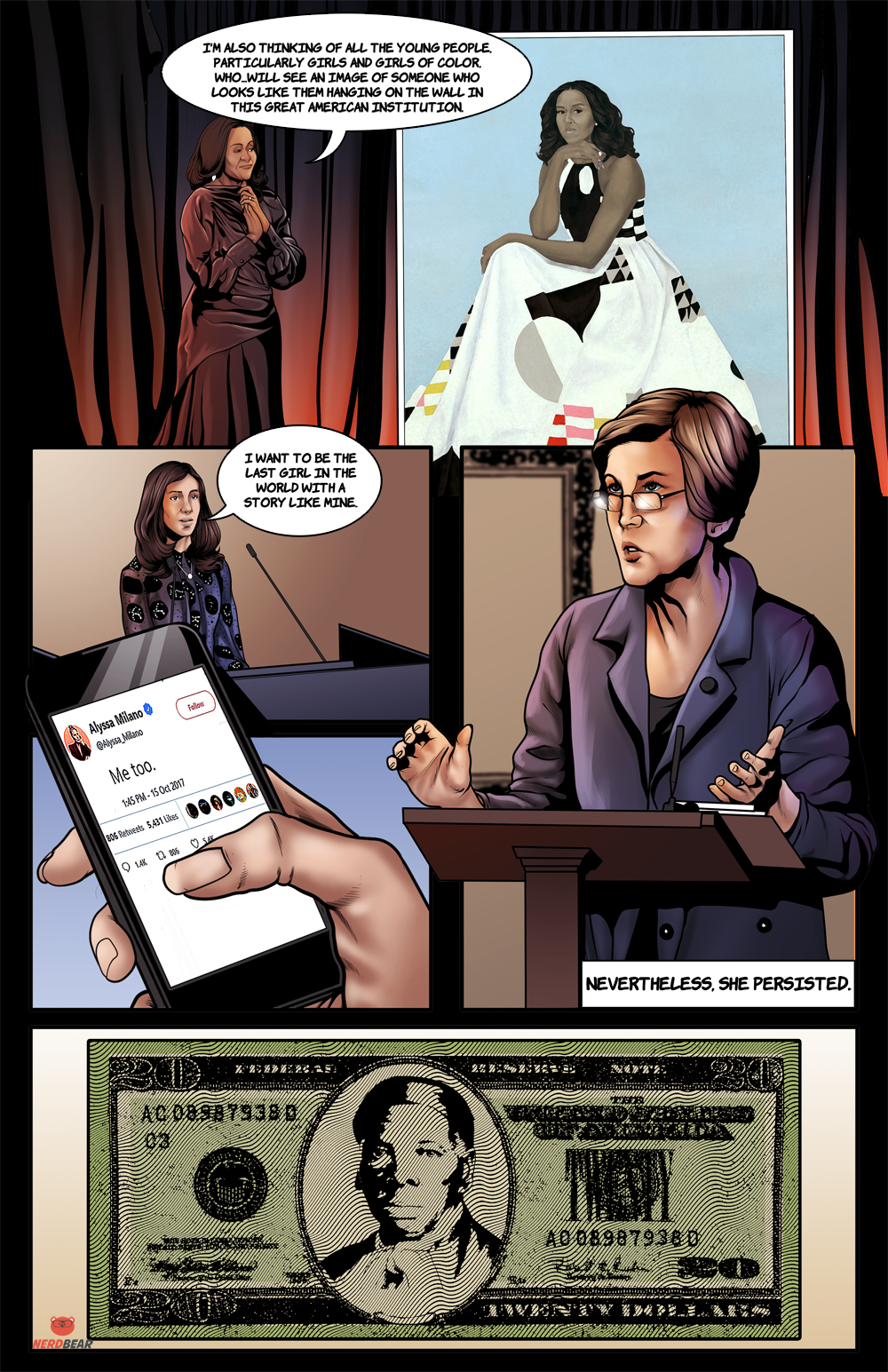 Michelle Obama and Amy Sherald
Amy Sherald was commissioned to paint Michelle Obama's portrait along with Kehinde Wiley, who painted President Barack Obama's.
They are the first African-American artists to be commissioned to paint the official presidential portraits.
The painting resides in the National Portrait Gallery in Washington D.C., and the portrait was so popular it had to be relocated to a bigger room to accommodate the volume of visitors.
Nadia Murad
Nadia Murad is an Iraqi Yazidi woman who was abducted by ISIS in 2014, who subsequently became a human rights activist.
In 2018 she was jointly awarded the Nobel Peace Prize for her work to end the use of sexual violence as a weapon of war and armed conflict. Murad donated her $500,000 winnings to charity.
Me Too Movement
On October 15th, 2017, actress Alyssa Milano tweeted two simple words "me too." To call the movement against sexual harassment and assault a viral phenomenon is an understatement.
Twelve million posts, including the hashtag, were posted on Facebook in the first 24 hours alone. The movement sparked discussions and awareness, not just in Hollywood, but in all industries, from politics to academia.
Senator Elizabeth Warren
Senator Elizabeth Warren objected to the confirmation of Senator Jeff Sessions becoming Attorney General.
During the debate, she read a letter from Coretta Scott King and was continually interrupted. The senate eventually ruled to silence Senator Warren, and it was remarked by Senator McConnell, "She had appeared to violate the rule.
She was warned. She was given an explanation. Nevertheless, she persisted." The phrase "Nevertheless, she persisted" has become a battle cry for women who refuse to be silenced.
Harriet Tubman
Harriet Tubman was an abolitionist and political activist who led 13 missions to free enslaved people via the Underground Railroad.
President Barack Obama referred to Harriet Tubman as an American hero, and his administration made plans for Tubman to be the first woman depicted on U.S. paper currency.
While the redesigned $20 bill was due to be put into circulation in 2020 but has since been delayed, we hope that this symbol of progress happens soon.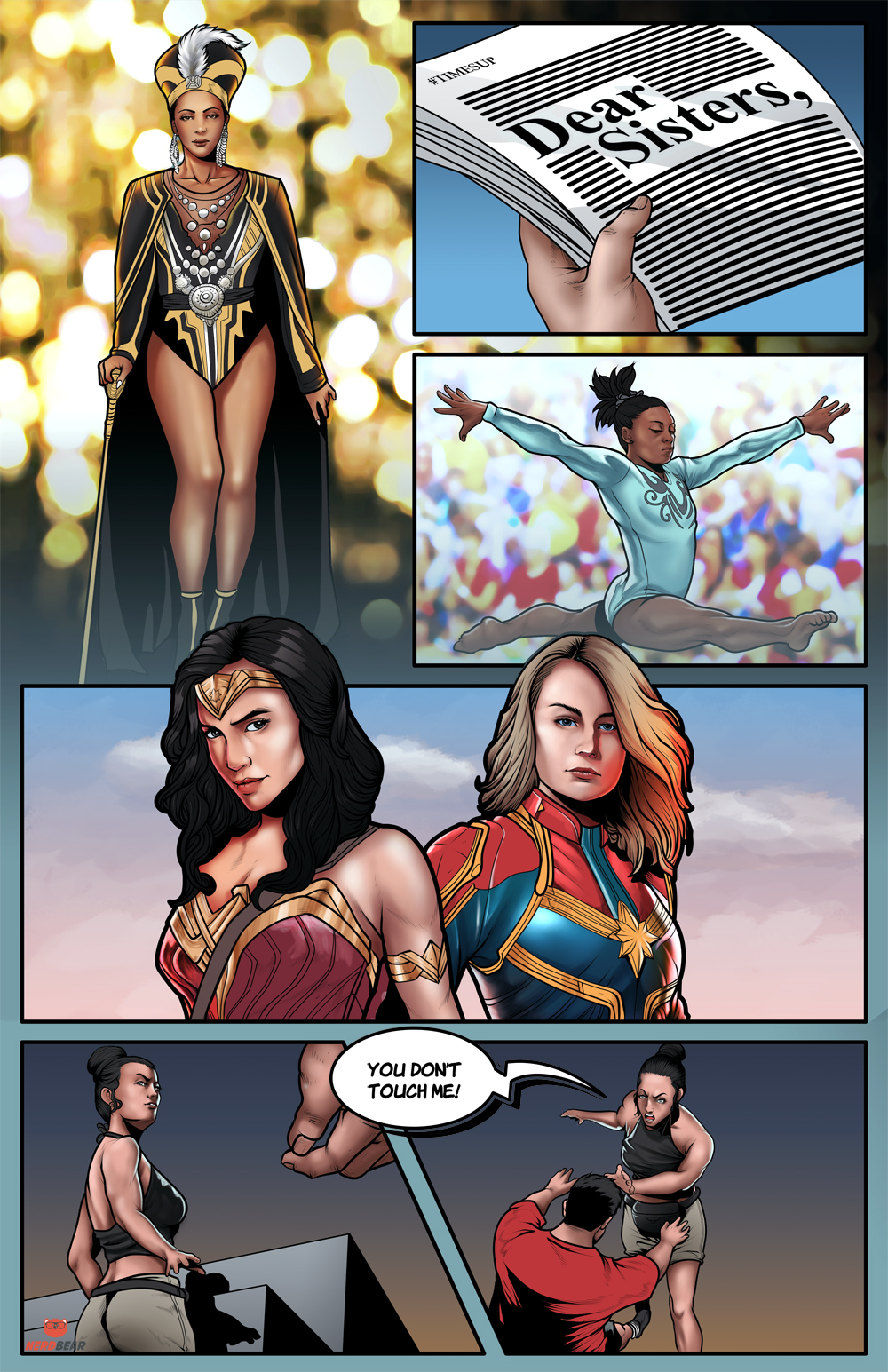 Beyoncé
In its 20 year history, only four women have headlined Coachella, and Beyoncé became the first black woman to do so.
If that wasn't enough, Beyoncé played a 27 song set that was the most-viewed performance on YouTube Live Stream with more than 43.1 million views and streams.
Time's Up Movement
Over 300 powerful women in Hollywood signed a public letter published in The New York Times announcing the launch of a legal defense fund to support women pursuing justice for sexual harassment. The fund currently sits at $22 million and has 780 volunteer lawyers.
Simone Biles
Simone Biles became the first woman to win five national all-around titles and the first female U.S. gymnast to win four Olympic gold medals in a single games which she did in Rio de Janeiro in 2016.
With 25 World Championship medals, this makes Biles the most decorated gymnast (male or female) of all time. Biles wears a teal uniform in solidarity with sexual abuse survivors.
Wonder Woman & Captain Marvel
Successful superhero movies have always been dominated by male leads, but then came Wonder Woman and Captain Marvel.
Directed by Patty Jenkins, Wonder Woman was a massive success and at the time, broke records such as the biggest superhero origin story (beating Spider-Man) and biggest film directed by a woman.
Nearly two years later, Captain Marvel, co-directed by Anna Boden, had even more success by becoming the highest-grossing female-led superhero film of all time by surpassing $1 billion and the biggest worldwide opening for any movie from a female director.
These films and their directors proved that women-led superhero movies can more than hold their own!
Emelia Holden
A surveillance video of 21-year-old waitress Emelia Holden went viral after it showed her throwing a male customer to the ground who had just groped her.
The man was arrested and charged with sexual battery. "You don't touch me" became a cry around the world.
There's Still More To Do…
While this wave of feminism has become a tsunami of change, the work is far from over. Here are some sobering facts that illustrate how far we still need to go:
Over 2.7 billion women are legally restricted from having the same choice of jobs as men.
Only 5% of Fortune 500 CEOs are Women.
The global proportion of parliamentary seats occupied by women stood at 23.8 percent in June 2018.
35 percent of women worldwide have experienced either physical or sexual violence.
137 women across the world are killed by a member of their own family every day.
Source: UN Women
Charities and Organizations You Can Support That Help
National Women's Law Center – "We use the law in all its forms to change culture and drive solutions to the gender inequity that shapes our society and to break down the barriers that harm all of us."
CAMFED – "CAMFED invests in girls and women in the poorest rural communities in sub-Saharan Africa, where girls face acute disadvantage, and where their empowerment is now transforming communities."
Girls Not Brides – "A global partnership of more than 1300 civil society organisations from over 100 countries committed to ending child marriage and enabling girls to fulfil their potential."
Dress For Success – "Dress for Success is an international not-for-profit organization that empowers women to achieve economic independence by providing a network of support, professional attire and the development tools to help women thrive in work and in life."
Futures Without Violence – "For more than 30 years, FUTURES has been providing groundbreaking programs, policies, and campaigns that empower individuals and organizations working to end violence against women and children around the world."