Google Assistant is on hand to enhance almost every area of your life. Not content are we with being able to make phone calls on the move or take our lives with us on our laptops; we are now a generation of technology users who are starting the reap the rewards of artificial intelligence in a day to day setting.
Voice-activated assistants like Google can be used across a range of devices so you can use it at home or on the go, and you can even add accessories to turn your home into a futuristic smart home that responds to your every command.
Play music, ask questions, make calls, send messages, ask questions, make a shopping list, set reminders and find the whole host of new and exciting ways to use your Google Assistant to make it work harder for you.
What Is Google Assistant?
Google Assistant is the dedicated voice assistant lovingly created by the tech wizards at Google. It can be used across a range of Android devices, and more recently, even dedicated iPhone users can also access Google Assistant to virtually help them plan their day.
As you would expect from a virtual assistant, this PA in a box can help you to access your contacts, fire up your apps, answer your questions, make plans with friends and even carry out a variety of useful tasks depending on your exacting desires.
Bottom Line
The artificial intelligence behind Google Assistant is undoubtedly just a taste of things to come, as we face a tech-laden future where our computers help us with every aspect of our day to day lives.
How To Use and Set Up Google Assistant
Unlike hiring a real-life assistant, Google Assistant can be set up and in action in just a few minutes. Google Assistant is very much designed to be as easy to use as merely talking to a friend, and even activating it is virtually child's play.
On your phone, you simply need to launch the Assistant for the first time. Follow these steps to set up Google Assistant on your phone or tablet:
Launch Google Assistant by holding down the home button
Tap "Next" on the "Meet your personal Google Assistant" screen
Tap Continue on the next screen to set up the Assistant and allow permissions.
And, that's really it! Your Assistant may still want to get to know you better so you may be prompted to configure the voice activation by simply repeating "OK Google" three times. The whole process takes just moments.
When you want to ask Google a question, need help opening an app, playing music, connecting to your smart home or need any other kind of everyday assistance simple start by asking "OK Google."
What Devices Is Google Assistant Available On?
Google Assistant can be used across a wide variety of devices, all designed to improve your life and help you to be that little more on top of things. Some of the most popular devices include:
Smartphones – ask Google anything you want on the go. Most smartphones will allow you to activate the app by holding down the button or saying, "Hey, Google."
Tablets – Similar to your smartphone, your tablet will use voice recognition to activate the app allowing you to operate smart appliances, ask questions, liaise with your contacts or open apps on your tablet.
Smartwatches – Monitor your fitness and activity levels, count calories, or even check your messages on the go using the Google Assistant app on your smartwatch.
Speakers – In order to offer a fully immersive experience, some speakers come with Google Assistant already built-in. This way you can talk to your Assistant, play music, or ask questions anywhere you choose to place your speaker.
Best Speakers With Google Assistant
Google Home Mini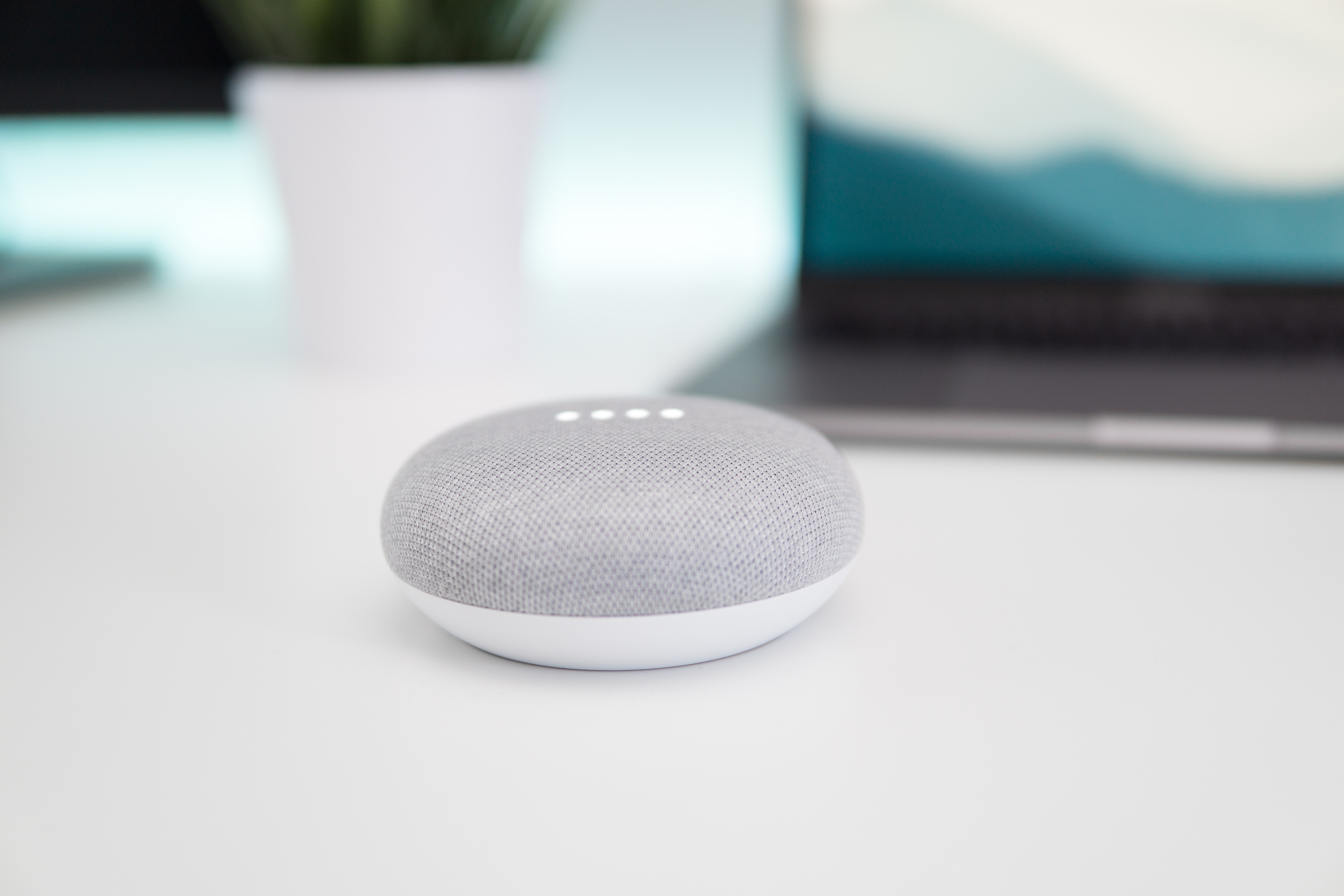 Google Home Mini offers a large amount of tech in a tiny package. As a direct response to Amazon's Echo Dot, the Google Home Mini enables users to access all of the Google Assistant functions using a small, discreet, voice-controlled speaker.
Its compact size also makes it an affordable option for users who would like speakers dotted around their home to ensure they are never far away from their beloved Assistant. Ask questions, make lists, play music, and control smart home gadgets with ease, from numerous locations around your home.
Google Home
Google Home is a larger and more powerful speaker that can play your tunes with as much clarity as it can make a phone call on your behalf. Using the usual voice commands, the Google Home speaker lets you control smart appliances and gadgets in your home, receive news or weather updates, ask questions, play your tunes and even tell you all about the weather.
A Google Home speaker is a great accessory to have in busy areas of the home like the kitchen or the living room, meaning you and your family can ask your virtual Assistant for help any time you need it.
Google Home Max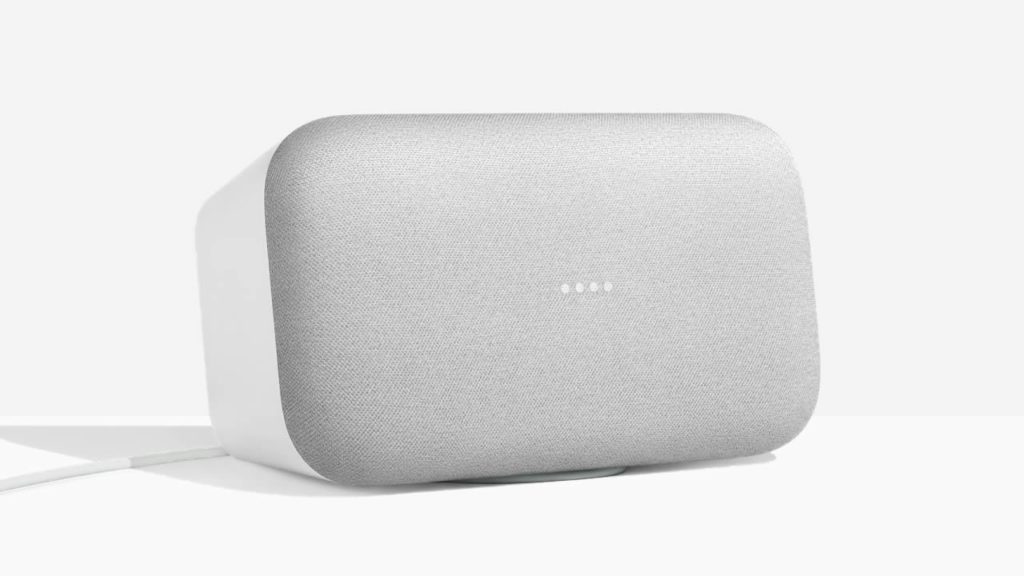 The Home Max is the largest version of the Google Home speaker and is perfect for those who want to blend excellent sound quality with the convenience of a virtual assistant. Designed to compete against the Apple HomePod and the Sonos, the Home Max comes complete with two 4.5 inch woofers, paired with impressive tweeters covered by a fabric grille.
Good looking and able to deliver impressive audio clarity you can turn it up, but still be heard with the far-field microphones that Google say will allow your Assistant to hear your commands even when the music is playing. Impressive!
Best Headphones With Google Assistant
Sony Wh-1000xm3
These on-trend headphones are perfect for commuters and travelers who appreciate a big sound wherever they are. With deep ear pads, amazing audio, soft-touch material that feels smooth beneath your fingers, long battery time, and two wide microphones that make the noise-canceling capabilities incredibly impressive, these look and feel worth every cent of their $300 price tag.
When you pair the Sony WH-1000XM3's up to your Google Assistant, you can search and operate your music collection from the comfort of your phone or tablet. You can also use the headset to operate the smartphone, perform a search, or even to ask Google to switch up the heating to make sure you return to a warm home after your evening commute.
Bose Qc 35 Ii
These industry-leading wireless speakers from Bose offer up to 20 hours of wireless playtime, noise rejecting dual microphones for adjustable active noise canceling, booming bass lines, sleek good looks, and the build quality and impressive audio you would expect from the big name brand.
You can also now use these award-winning speakers to connect to your Google Assistant, giving you complete control of your music library with a single swipe. You can also ask questions, check the weather, listen to the news, open your apps, activate your smart home, and connect with the world more efficiently than ever before.
Sony Wf-sp700n
These earbud-style earphones are designed with athletes in mind, and although they are tiny, they still offer incredibly impressive noise-canceling capabilities, splash and sweat resistance, big bass and sharp mid-range and a clever ambient audio feature.
When paired with your Google Assistant you can manage your day by asking your Assistant to tell you your schedule, listen to your favorite music, check the weather, ask Google for answers, set reminders and even operate your smartphone appliances while you are out for a run.
30 Best Google Assistant Skills
Google Assistant has a myriad of skills that you can harness to help hack your life and make it easier. Here are just a few:
News
Keep up with the latest going's on – Google Assistant can virtually "listen to the news" and read back the bits you want to know about. Set your morning briefing, or listen as it happens.
[wp-svg-icons icon="bubble" wrap="i" color="#E56C57″] "OK, Google, what's in the news?"
Choose your news publications – if you would rather only have news from particular sources just ask Google to talk to them instead.
[wp-svg-icons icon="bubble" wrap="i" color="#E56C57″] "Ok Google, what's the latest news from NBC?"
Get the latest tweets – If you want to know what your favorite politician, friend or celeb has tweeted just ask google to talk to them for you.
[wp-svg-icons icon="bubble" wrap="i" color="#E56C57″] "Ok Google, what's the latest tweets from Gordon Ramsay?"
Entertainment
Open your apps – forget scrolling through your app screen, just ask Google to find them instead. View, use, and play with all of compatible your apps on your command.
[wp-svg-icons icon="bubble" wrap="i" color="#E56C57″] "Ok Google, open LinkedIn App."
Watch TV – Got a film, TV show or even a celebrity in mind? Simply ask Google to start streaming the hottest new box set on Netflix, find your best films on Prime or even search using the name of your favorite actor.
[wp-svg-icons icon="bubble" wrap="i" color="#E56C57″] "Ok Google, open Stranger Things on Netflix."
Book your tickets – If you want to enjoy your entertainment outside the home, catch a movie, take in a show or see your favorite band using a compatible ticket booking service like Fandango or Ticketmaster.
[wp-svg-icons icon="bubble" wrap="i" color="#E56C57″] "Ok Google, book two tickets to see Ariana Grande on Ticketmaster."
Play your favorite tunes – Have Google play the soundtrack to your life via your smartphone, watch, TV or speaker. Simply ask the Assistant to play a song, an artist, a radio station, or shuffle them all to keep you tapping your toes along the way.
[wp-svg-icons icon="bubble" wrap="i" color="#E56C57″] "Ok Google, play Lil Wayne on Spotify."
Play games – All alone? Join Google for some fun. You can chat to your Assistant, guess the character with a game of Akinator, play quizzes, laugh at jokes, or even ask Google to read you your future.
[wp-svg-icons icon="bubble" wrap="i" color="#E56C57″] "Ok Google, tell me a riddle."
Identify songs – If you hear a song but don't know what it is, you can ask Google to find out for you. "OK Google, identify this song" should have the answer in seconds, and you can go ahead and add it to your playlist.
[wp-svg-icons icon="bubble" wrap="i" color="#E56C57″] "Ok Google, what song is this?"
Play Podcasts – Want to listen to something in the way to work? Ask Google to play the latest episode of your favorite podcast.
[wp-svg-icons icon="bubble" wrap="i" color="#E56C57″] "Ok Google, play the Joe Rogan podcast."
Use Genius to Find Songs – If you've got a lyric stuck in your head but can't remember the song, simply ask Genius to find it for you.
[wp-svg-icons icon="bubble" wrap="i" color="#E56C57″] "Ok Google, let me talk to Genius."
Check the scores – you can ask Google to let you know every time a goal is scored, a race is won or a game is finished. Simply set up your preferences in advance or ask Google as it happens.
[wp-svg-icons icon="bubble" wrap="i" color="#E56C57″] "Ok Google, who won the superbowl?"
Control Your Chromecast – choose what you watch and where by asking Google to play your favorite TV on your chosen device.
[wp-svg-icons icon="bubble" wrap="i" color="#E56C57″] "Ok Google, play Stranger Things on Downstairs TV."
Communications
Send a voice message – if you need to get in touch with the folks at home, activate Google Assistant on your smart device, and broadcast your message via the Google speaker in your home.
[wp-svg-icons icon="bubble" wrap="i" color="#E56C57″] "Ok Google, send a voice message to Dave."
Send a text message – ask Google Assistant to send a text message to any of your contacts by simply transcribing the words you want to send and telling her where to send them! Simple!
[wp-svg-icons icon="bubble" wrap="i" color="#E56C57″] "Ok Google, send a Whatsapp message to mom."
Check your emails – Your Assistant can provide you with all the information you need from your Gmail account in an instant. Ask who has emailed you what they are saying and pull up any unopened correspondence from anywhere in the world.
[wp-svg-icons icon="bubble" wrap="i" color="#E56C57″] "Ok Google, read my latest emails."
Translate different languages – You can choose to ask Google to say a particular word or phrase in a language or your choice, or go one step further by using the "Interpreter Mode" which will translate what you are saying in real-time.
[wp-svg-icons icon="bubble" wrap="i" color="#E56C57″] "Ok Google, how do you say hello in Italian?"
Make a call – Google Assistant can call anyone you want to speak to, as long as the number is either in your contacts or publicly listed. If you are in the car, you can even ask to go "on speakerphone" to go hands-free.
[wp-svg-icons icon="bubble" wrap="i" color="#E56C57″] "Ok Google, call Catherine."
Silence your phone – If you need to quiet your devices in a hurry, Google Assistant can put your phone into Do Not Disturb mode at a moments notice, then set it back on sound when you need it to.
[wp-svg-icons icon="bubble" wrap="i" color="#E56C57″] "Ok Google, put my phone on Do Not Disturb."
Screen your calls – If you are tired of getting bothered by telemarketers, the latest Google Pixels test Pixels knows when to answer on your behalf.
Talk to Alfred Quotes – If you want to impress your contacts with a quote, simply ask "OK Google, talk to Alfred" who will find a suitable quote to suit your mood.
Organization
Set reminders – Pay bills, schedule plans, and make sure you never forget a birthday or anniversary again using the reminder function on your Google Assistant. Your dates will even sync up with your Google calendar on your smartphone too.
[wp-svg-icons icon="bubble" wrap="i" color="#E56C57″] "Ok Google, set a reminder for a Dentist appointment."
Jog your memory – sometimes you need a little voice inside your head to remind you where you put things, or of tasks, you need to do. When that little voice fails, Google Assistant is there for you. Simply ask Google to remind you where you kept your keys or a post a letter to make your life easier.
[wp-svg-icons icon="bubble" wrap="i" color="#E56C57″] "Ok Google, remind me to put the trash out."
Compile your shopping list – If you like the list-making capabilities of Google Keep you will love the fact that Google Assistant can retrieve your shopping list for you.
[wp-svg-icons icon="bubble" wrap="i" color="#E56C57″] "Ok Google, start a new list."
Check your diary – keep track of your appointments and responsibilities with the diary function on Google Assistant. You can ask Google to tell you where you need to be and when to make sure you never miss a meeting again.
[wp-svg-icons icon="bubble" wrap="i" color="#E56C57″] "Ok Google, what meetings do I have today?"
Find your phone – We all lose our phones from time to time. If yours goes astray, use the find my phone feature on Google Assistant to locate it. It will ring loudly, so you know where it's waiting for you.
[wp-svg-icons icon="bubble" wrap="i" color="#E56C57″] "Ok Google, find my phone."
Let GA do the math – If numbers aren't your strong point, you can have Google Assistant work them out for you. Ask for the answer to complicated equations, or convert liters to gallons, euros to dollars and much more.
[wp-svg-icons icon="bubble" wrap="i" color="#E56C57″] "Ok Google, what is 473 plus 233?"
Log your work – set up a "Work Log" to keep log the time you are spending on up to 30 different projects.
[wp-svg-icons icon="bubble" wrap="i" color="#E56C57″] "Ok Google, add 4 hours to my work log."
Track your expenses – Launch the expense tracker and tell Google every time you make a payment.
[wp-svg-icons icon="bubble" wrap="i" color="#E56C57″] "Ok Google, add $200 to the client expense tracker."
Discover IFTTT Commands – integrate IFTTT commands into your Assistant to help automate your workflow. For example, simply saying goodnight could trigger a range of commands, including turning off lights and locking doors.
Act as your personal secretary – Google Assistant can compile a daily list of to-do's, ideas and other useful information and send you a list via email at the end of every day. It can also share the list with your contacts or send it via apps like Slack or Evernote.
Travel
Forecast the weather – Know what to pack and what to plan for with Google Assistant. You can simply ask Google the forecast for where you are now, or where you are headed to and ask for current conditions or projected forecasts.
[wp-svg-icons icon="bubble" wrap="i" color="#E56C57″] "Ok Google, what is the weather like tomorrow?"
Get directions – If you are lost, you can quickly and easily ask your Google Assistant for directions from where you are. Linking in with Google Maps means you can get back on track in moments.
[wp-svg-icons icon="bubble" wrap="i" color="#E56C57″] "Ok Google, how do I get to Best Buy?"
Plan your route – Planning a trip somewhere new? Your Google Assistant will help you not only to see the route on Google Maps, but you can also ask it to find information on public transports, schedules, and your nearest station.
[wp-svg-icons icon="bubble" wrap="i" color="#E56C57″] "Ok Google, what bus do I need to take to get to the Post Office?"
Check the traffic – Avoid long delays by asking Google Assistant to check on traffic announcements on your preferred route. If you need to find a new way to travel, Google can navigate around the problem for you.
[wp-svg-icons icon="bubble" wrap="i" color="#E56C57″] "Ok Google, what is the quickest way to Walmart?"
Hail a ride – provided you have an app like Lyft or Uber downloaded, and in use in your phone, your Google Assistant can get you home in a flash.
[wp-svg-icons icon="bubble" wrap="i" color="#E56C57″] "Ok Google, call me an Uber."
Track your flights – See if your flight is on-time by simply giving Google the flight number.
[wp-svg-icons icon="bubble" wrap="i" color="#E56C57″] "Ok Google, is my flight to New York on time?"
Food and Drink
Ask the bartender – make your party perfect with suggestions and recipes for cocktails from Google.
[wp-svg-icons icon="bubble" wrap="i" color="#E56C57″] "Ok Google, how do I make an espresso Martini?"
Order in – ask Google to re-order your favorite take out, or search for new menus and eateries that will deliver to you, all using the Google interface and Google Pay.
[wp-svg-icons icon="bubble" wrap="i" color="#E56C57″] "Ok Google, re-order the pizza I had last week?"
Find restaurants nearby – This one is easy. Simply ask Google for restaurants in your area.
[wp-svg-icons icon="bubble" wrap="i" color="#E56C57″] "Ok Google, what burger restaurants are nearby?"
Find a recipe – need some inspiration? Ask Google to find your recipes for all types of meal selections, including vegetarian, vegan, affordable, and even fancy.
[wp-svg-icons icon="bubble" wrap="i" color="#E56C57″] "Ok Google, how do I make guacamole?"
Log your meals – whether you are counting calories or simply keeping track, Google will help you to record your daily intake.
[wp-svg-icons icon="bubble" wrap="i" color="#E56C57″] "Ok Google, add 300 calories to my daily tracker?"
Go for a drink – ask Google to find bars in your area, as well as their opening hours and door policy.
[wp-svg-icons icon="bubble" wrap="i" color="#E56C57″] "Ok Google, where is my nearest Irish pub?"
Exercise
Track your activity – use your watch or wearable to track your activity. Set goals and smash them with Google Fit cheering you on.
Let Google coach you – have your assistant coach your through your workout and measure your success.
Lifestyle
Ask for recommendations– if you want to go out but aren't sure where – ask Google! You will receive a Google review rating, tell you the address and send the directions to your phone. Sorted!
[wp-svg-icons icon="bubble" wrap="i" color="#E56C57″] "Ok Google, where is my nearest bowling alley?"
Cheer up – you can ask Google to send motivational quotes to you to help cheer you on from the sidelines. Like a real assistant – only without any negativity.
[wp-svg-icons icon="bubble" wrap="i" color="#E56C57″] "Ok Google, read me a motivational quote?"
Control your smart home – if you are forward-thinking enough to live in a house with smart technology, you can link your Google Assistant to control it for you. Come home to a warm house, with the lights on and dinner cooking in the oven – perfect!
[wp-svg-icons icon="bubble" wrap="i" color="#E56C57″] "Ok Google, turn on the heating."
Control Smart Lights – control your smart-lights by just asking Google to switch them on or off, or dim or program them, even while you are out of the house.
[wp-svg-icons icon="bubble" wrap="i" color="#E56C57″] "Ok Google, turn on living room lights."
Lock your doors – if you have smart-locks, you can ask Google to lock, unlock, or simply check that everything is secure even when you are away from home.
[wp-svg-icons icon="bubble" wrap="i" color="#E56C57″] "Ok Google, lock all the doors."
Set up Stringify – this automation service lets you connect digital and physical things together meaning a single command can perform multiple actions.
Google Assistant and Your Smart Home
The Internet of Things is a wonderful thing, and thanks to your Google Assistant you can experience unprecedented levels of connectivity that can help you to heat, light and use appliances in your home like never before.
With a huge selection of accessories out there that work with your Google Assistant, everything from air-conditioning units and thermostats can keep the temperate comfortable, while garage doors can open on command, your dinner can be ready, and lights will welcome you home.
If you get it right, your voice-controlled smart home will not only wow and amaze your visitors, and it will also help to streamline your life and make everything that little bit easier.
Not sure where to start? Here are some of the most effective and efficient Google Home accessories your money can buy:
Smart Lighting
Control the lighting in your home with your Google Assistant using these clever light bulbs. You can ask Google to turn on the lights, dim them, set them to dance to your sound system, and even program your lights to come on at a certain time every day. Great fun to play with when you want to show off while offering a vital layer of protection when your home is empty, the Phillips Hue Light Starter Kit will have your home glowing in no time.
Smart Thermostats
Smart thermostats not only help to control the temperature of your house, but they can also make your home more energy-efficient and help to reduce power waste. You can set a smart thermostat to come on before you wake in the morning, or arrive home in the evening to ensure that you are yours are always cozy and warm. You can also reduce the need for power while you are away, or switch it off completely during the summer months.
Providers claim that using a smart thermostat could reduce your energy usage and your bills by between 3-40% per year, and accessories like the HIVE Active Heating system will allow you to control your home by just using your voice controls.
Smart Locks
Feel futuristic with a keyless entry system powered by your Google Assistant. Using just the power of your voice, you can ask Google to lock or unlock the doors in your home, allowing you to feel incredibly secure any time of the day or night. The August Smart Lock Pro allows you to monitor access to and from your home with virtual keys and a 24/7 activity feed.
Smart Surveillance
See what is happening in your home even when you are not there with smart cameras like Nest Cam IQ. You can integrate your camera with your Google Home Assistant a view a live feed from any Chromecast-enabled devices like your phone or laptop, wherever you are.
Chromecast
Google's very own Chromecast is a super cool way of playing video across a number of devices. It allows you to play your favorite shows anywhere in the house and the tiny device simply connects to your HDTV via an HDMI cable and your home Wi-Fi network.
Google Assistant and Your Phone
It is no secret that we are obsessed with our cell phones these days, and finding new ways to make our handheld devices even more useful is never off the agenda. You can set Google Assistant on your phone by simply downloading the app on either your Android phone or iPhone.
Much like Siri and other automated assistants, you can access Google by simply holding down the home button and asking questions, setting reminders, or accessing directions. It's easy to set up and even easier to use.
Some of the most fun you and your Google Assistant can have on your phone includes:
Starting your day with a news briefing – simply choose the sources you want to hear the news from, and Google will alert you with roundups and breaking news as it happens
Checking out the weather – ask Google what the weather is like where you are now, or where you are headed.
Cure your curiosity – if there is an answer to a question that you really need to know, Google will find it for you.
Keep in touch – Google can make hand-free calls for you, or transcribe audio into text messages, making it incredibly useful for using in the car.
Play music – fire up your Spotify, iTunes of other subscription and download service and play your music on the go. Search by artist, genre, or song title by just asking Google.
Look at your pictures – if you want to find photo's of a particular event or from a specific album, simply ask Google to bring them up on your phone for, and save time scrolling through your entire image library.
Make a shopping list – running low on milk? No problem. Simply ask Google to add it to your shopping list.
Translate between languages – if you are stuck in a foreign country without your phrasebook, don't panic, Google Assistant can translate for you. You can convert currency too, so you always know how much you are spending.
Google Assistant vs. Alexa
The Amazon Echo virtual assistant – more commonly known as Alexa – comes complete with its own inbuilt speaker, as well as smaller, mini speakers that you can communicate with. You can even use the Amazon Firestick to ask Alexa to play your favorite TV and Movies from your TV at home.
Both Google Assistant and Alexa are designed to integrate with other appliances and accessories within your home and offer lots of lovely features to make your daily life easier to deal with.
Google Assistant is easy to use, while Alexa can feel disjointed or hard of hearing on occasion, and Google has a huge amount of other Google-branded devices that the Assistant can work within the home as well as on the move. Other minuscule discrepancies can make a big difference to the end-user, including Amazon's inability to upload your own music library to its cloud, meaning you have to stream via a major streaming service.
Bottom Line
When all is said and done, both Alexa and Google Assistant are THE best voice-activated assistants on the market today. You may prefer the sleek good looks of Alexa or the user-friendly interface of Google Assistant – but the facts of the matter are, you can't really go wrong with either.
What Can't Google Assistant Do?
However clever your shiny new Google Assistant may be, it is worth remembering that it can't do everything for you. Obviously, it is just a bunch of wires and chips contained in a hard shell so it won't babysit your kids, take the dog for a walk or put away the laundry for you, but it also has some limitations even within its own parameters,
One of the biggest downfalls of the Google Assistant – or one of it's biggest selling point depending on how you see it – is that it cannot assist you with much without having access to a lot of your own personal data. From your calendar to your contacts, your location to your home, Google Assistant can only perform most of its magical tricks if it has enough of your personal information to go on.
Google Assistant Privacy Concerns
With the previous point in mind, it is not completely surprising that as many as 40% of Google Assistant users have concerns about how Google and other affiliates use their personal data. While users believe that they are innocently talking to a machine, it is easy to forget that there is a back-office component of the system, that relies on humans to input and share data.
Perhaps the most popular security concern shared by users is that their virtual assistants are always listening, even when they don't want them to. Does this mean, therefore, that all of your deepest, darkest secrets are being stored somewhere in the vaults of Google HQ? Or is it simply paranoia?
Neither Google nor nearest competitor Amazon is particularly transparent about how they use and store data, but if you are concerned, there are ways to ameliorate the risk of being heard when you don't want o to be.
These include:
Turn off the OK Google detection on your phone to stop it picking up your voice commands on the go.
Revoke Google's access to your microphone by denying permission
If you are very concerned, you can completely disable the Google Assistant to take a break from the service
To ensure that all of your Android devices are not taking instruction from your Assistant, you can also pause voice history for your entire Google account when you want to
If you want to know if your Google Assistant has accessed information you do not believe it has had permission to do so or has been "listening in," you can check this out using the portal it provides to view all of your interactions with its services.
Bottom Line
In reality, the issues behind the security of using virtual assistants are complex and ever-evolving. The truth is that if you are using Google Assistant or Alexa, you have already accepted some of the privacy risks associated with sharing your data online.
Final Thoughts
Google Assistant is a modern-day lifesaver that will organize your diary, compile your shopping list, play your music, heat your home, turn the lights on and help make every aspect of your life just that little bit easier.
Love it or hate it, the use of AI in affordable and accessible devices is increasingly becoming something that is becoming more and more popular, and we expect to see even more sophisticated virtual assistants on the market in the not too distant future.