Cooking is finally in Animal Crossing! Using fruits, fish, and crops that are now available in the game, we can now make scrumptious dishes and desserts that look absolutely amazing as decorations.
Want to make your kitchen a bit homier? Add some pie and cookies on the counter. Outdoor cafe looking a bit empty? You can now use drinks as decor!
Eating foods will give you the strength to shovel up trees or break rocks, but using them as decorations is where it's at.
We've come up with what we think are the top 10 recipes in Animal Crossing.
These recipes are not that difficult to obtain and can be used in a lot of design ideas. Let's get cooking!
10. Bread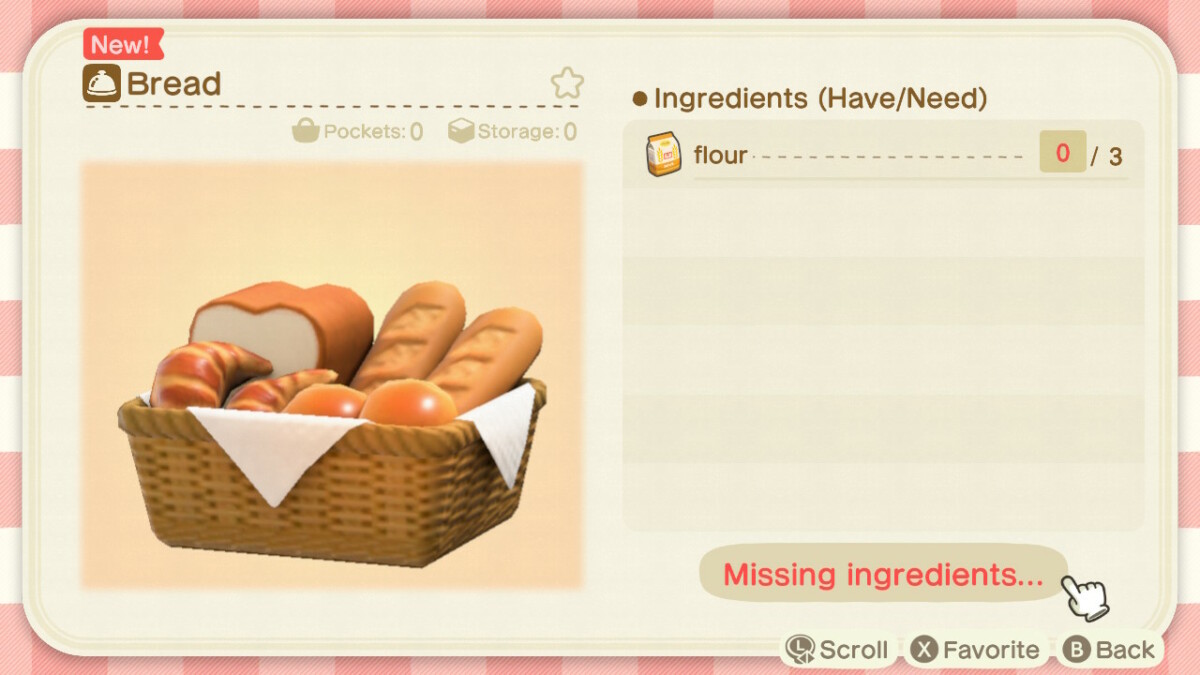 There's nothing like freshly-baked bread straight from the oven! In Animal Crossing, the bread you create will already be in a cute basket, with a loaf, croissants, and baguettes in it.
A bread basket will look great on a kitchen counter or breakfast table!
You will need three flour bags to cook this, which can be made with five wheat per bag.
The recipe for this can be obtained from any cooking villager or from your Happy Home Paradise restaurant.
09. Any Fruit Jam (Apple Jam, Cherry Jam, Peach Jam, Pear Jam, and Orange Marmalade)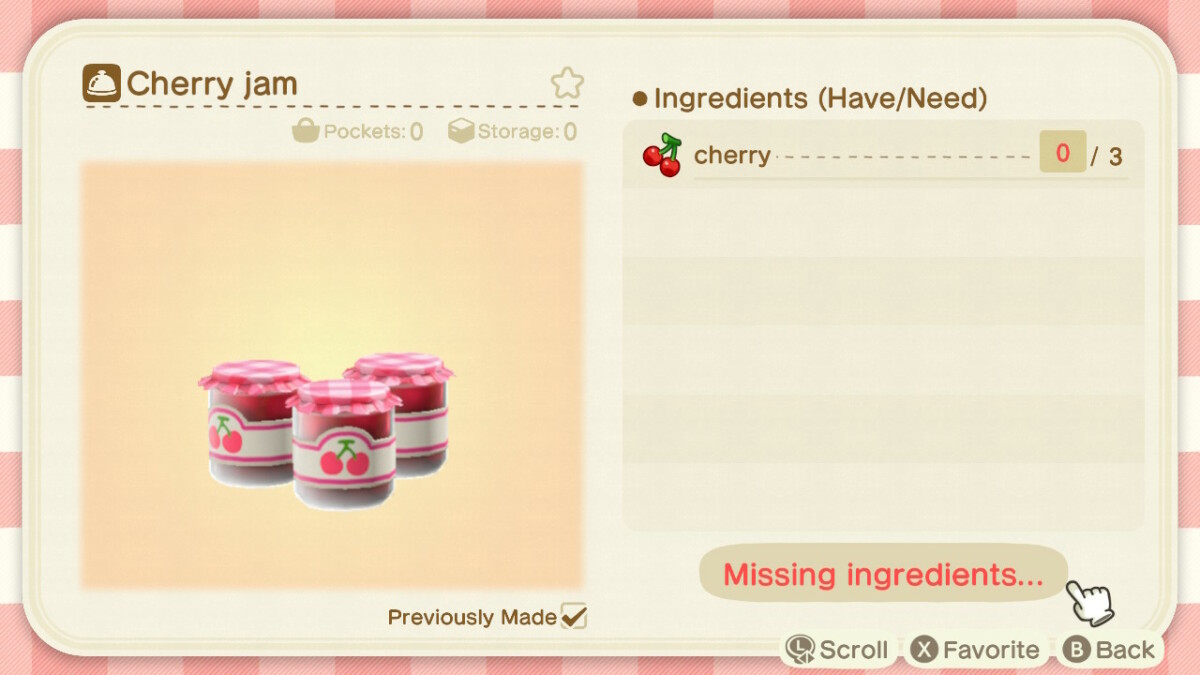 Got a lot of excess fruits? Turn them into jam! This is one of the easiest recipes you can do to use up your extra fruits.
There is also one jam recipe for each main fruit, and you'll most likely get the recipe for your native fruit first, so you don't have to worry if you don't have all the fruit trees yet.
To make jam, you will need three of a certain fruit.
For Apple Jam, you will need three apples. Cherry Jam requires three cherries. Three peaches are needed for Peach Jam. Pear Jam?
You bet you'll need three pears. And lastly, three oranges are necessary for Orange Marmalade.
The jams are in cute jars with checkered lids, so they look great as decor, especially in country-style or ranch-themed Animal Crossing kitchens.
08. Fruit Salad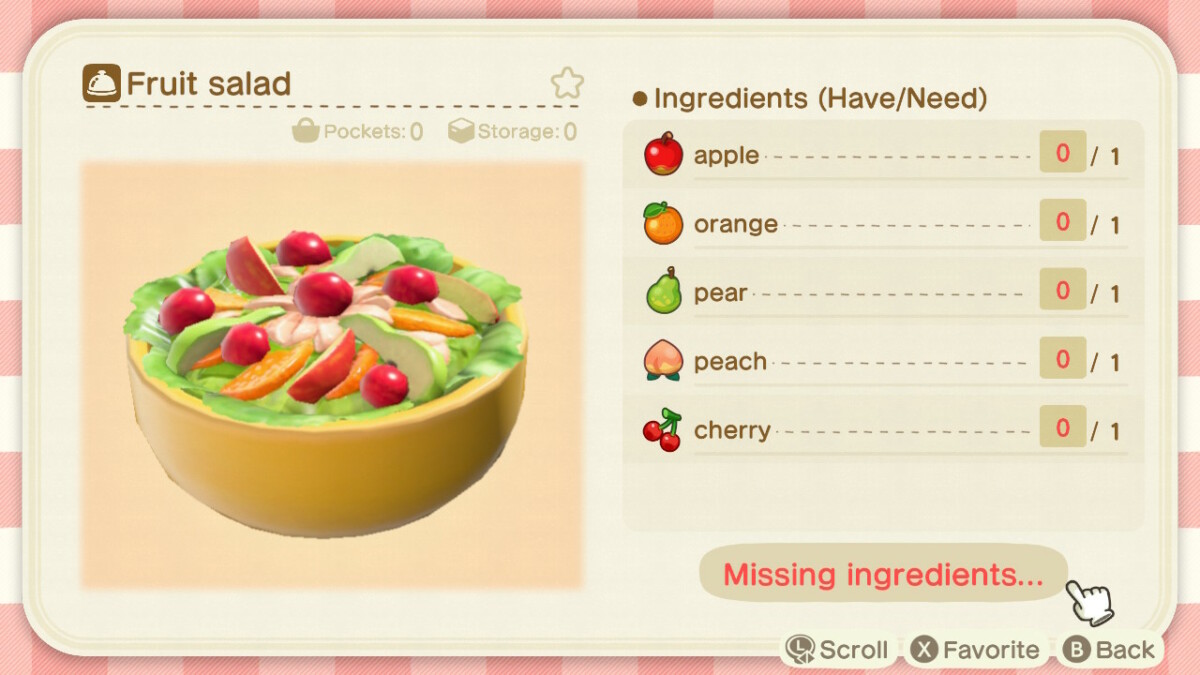 This is the recipe to make when you have all the fruits in the game. Gotta flex that achievement with Fruit Salad!
You can get this recipe from any of your villagers or talk to the chef at your Happy Home Paradise restaurant.
You will need one of each main fruit to make this.
07. Turnip Salad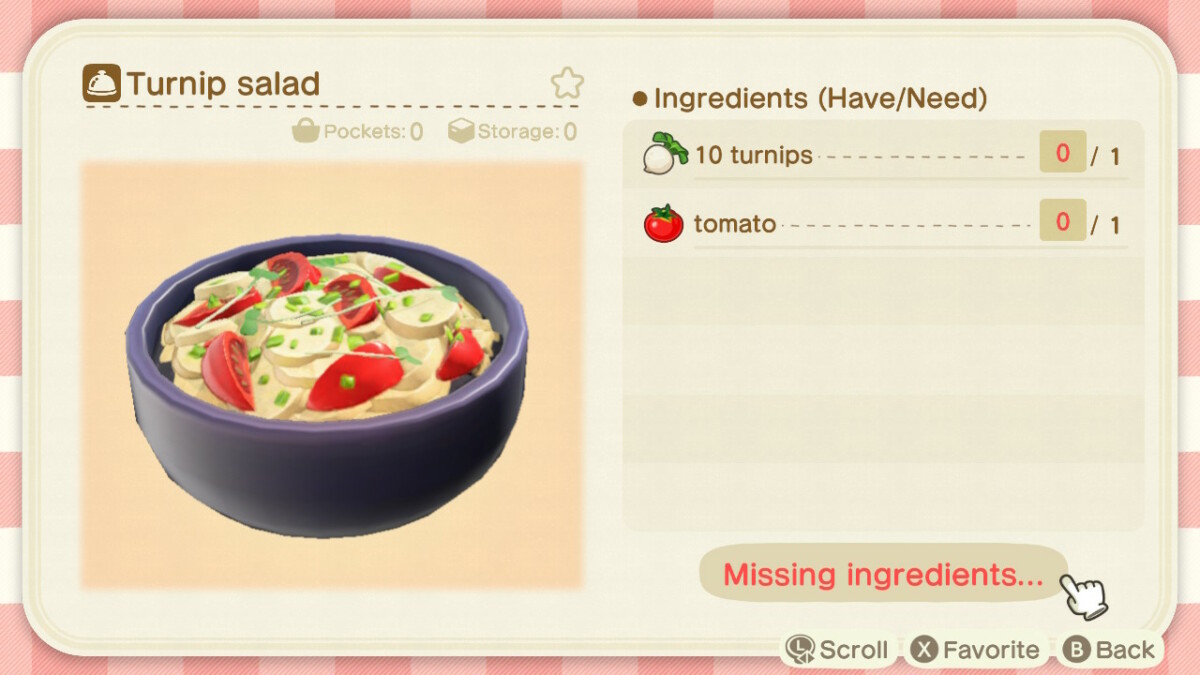 Turnips aren't just for selling and earning Bells now – you can now cook with them!
This recipe gets the seventh spot in our list because of the novelty of turnips and the special method of acquiring them.
To get this recipe, all you have to do is keep buying turnips from Daisy Mae every Sunday morning.
She will mail you something as thanks for your turnip patronage. She might mail you Bamboo Shoots or a recipe the next day.
You will need one stack of turnips and one tomato to make this recipe.
06. Coconut Milk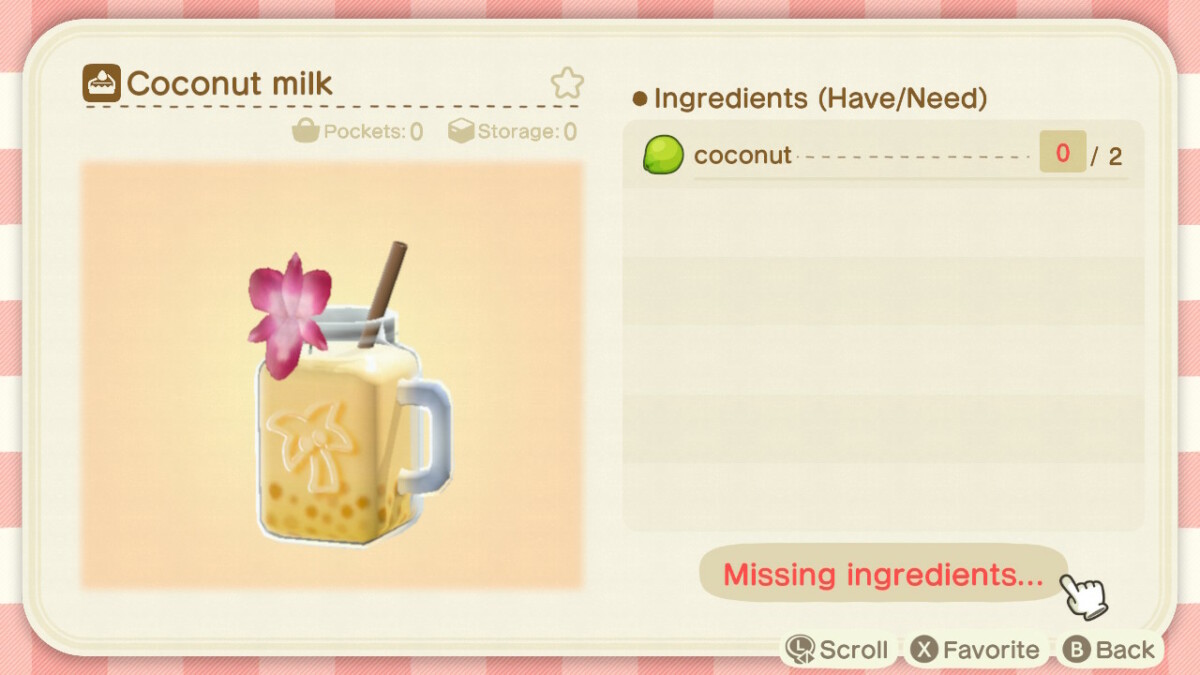 A tropical paradise like Animal Crossing: New Horizons won't be complete without an appropriately tropical drink.
It's in a glass mason jar with a flower topper and a straw – refreshing and beautiful!
For Coconut Milk, you simply need two coconuts. It's also an easy recipe to obtain from any cooking villager.
For a picture-perfect beach vacation, put this on a Rattan End Table while you lounge on a Beach Chair.
05. French Fries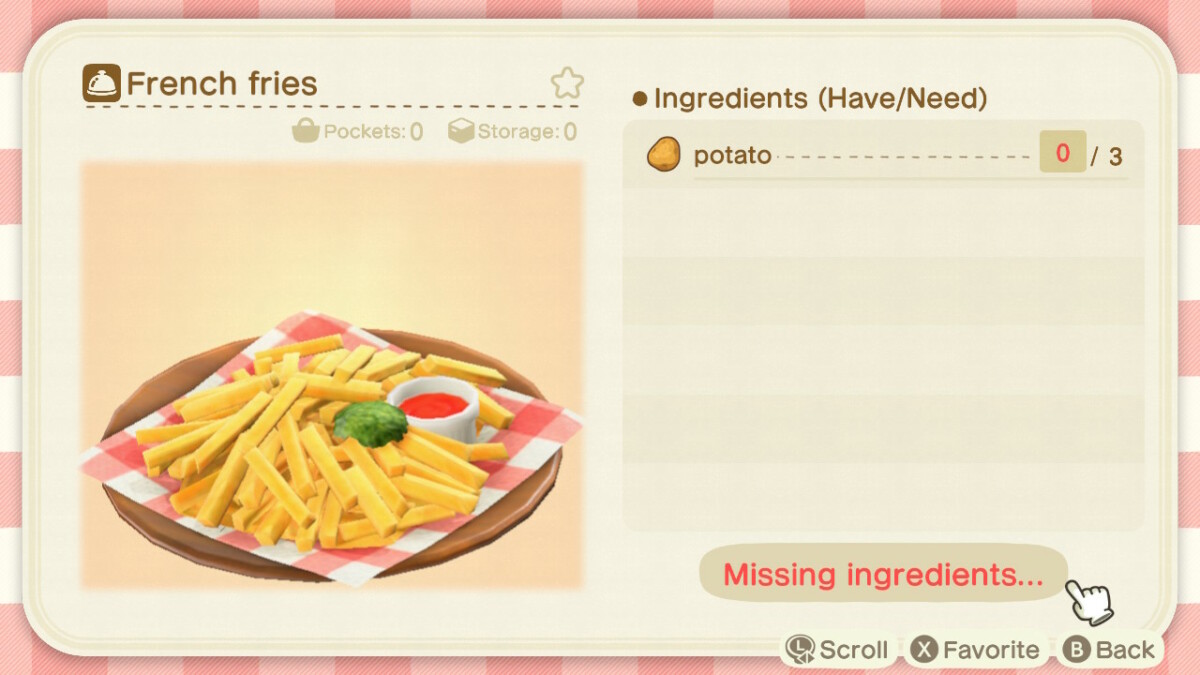 These classic deep-fried potatoes are in Animal Crossing too! If you're someone who beams at the sight of french fries, then this recipe is very close to your heart or arteries.
You will only need three potatoes to cook this, and can be learned from any cooking villager or from the chef at the Happy Home Paradise resto.
04. Pizza Margherita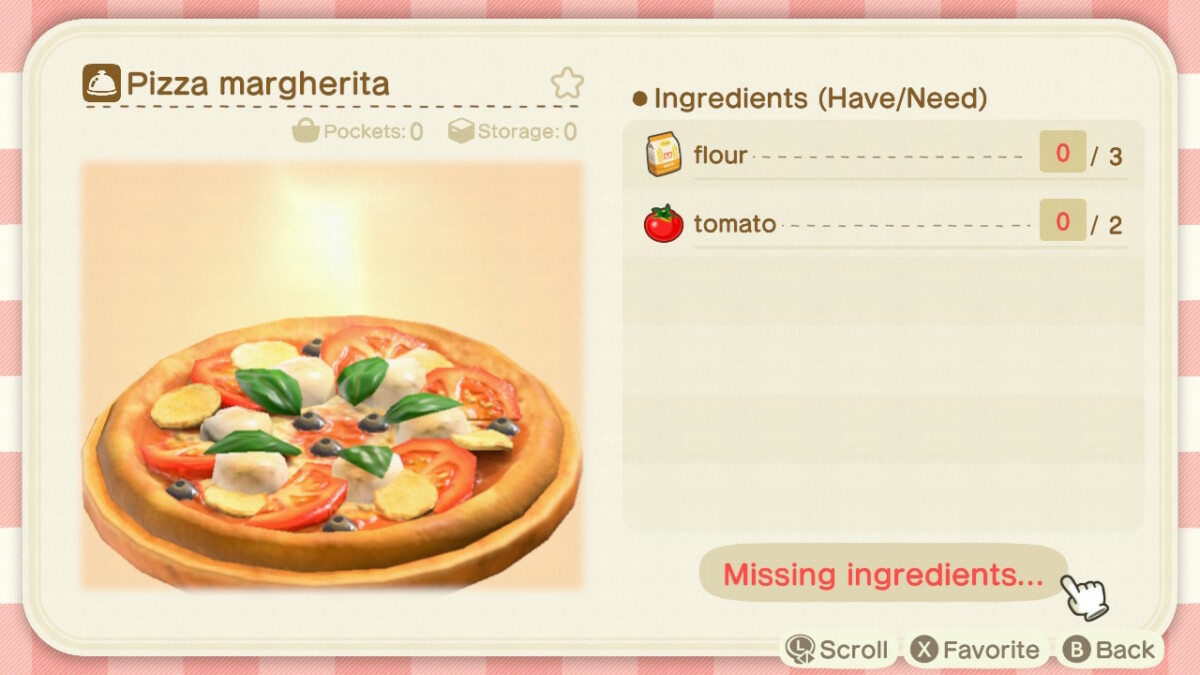 It's not outlandish to claim that a lot of people love pizza, and that is why Pizza Margherita gets the fourth spot.
You can cook this tasty treat with just three bags of flour and two tomatoes. No pineapples are in this, so we are spared from any pizza topping debate.
03. Cookies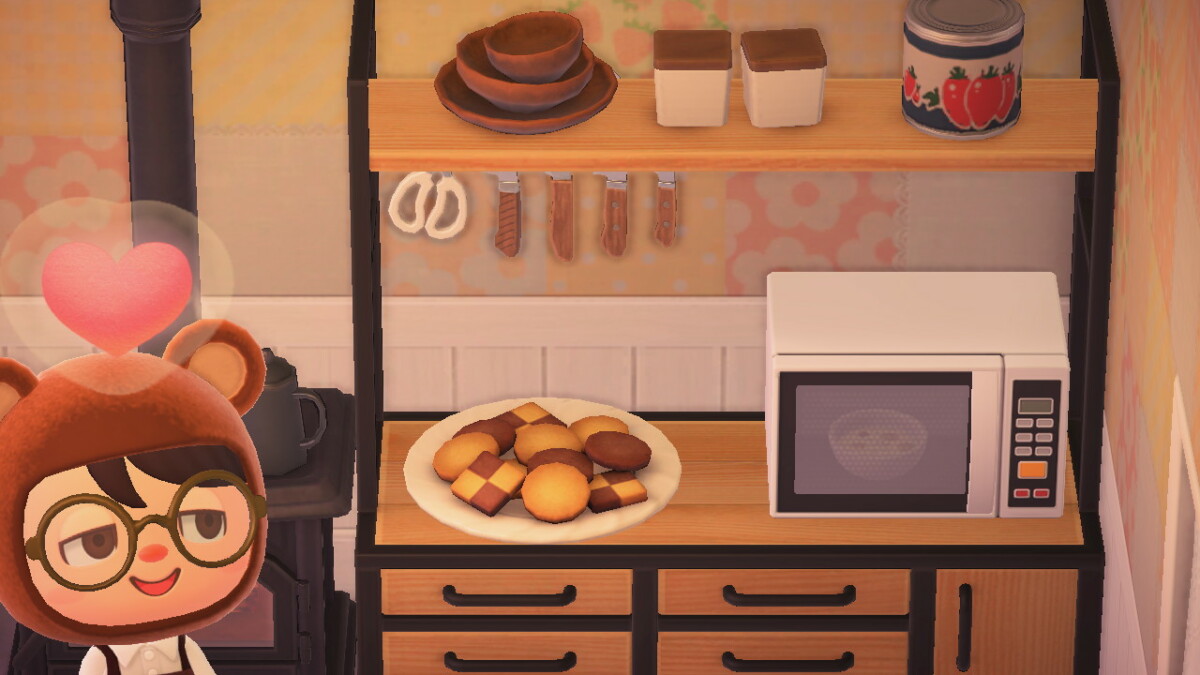 Have a full plate of cookies on your kitchen counter with this recipe. Cookies are a classic dessert and sweet treat for kids and adults alike, and that's why it's number three on our list.
This recipe can be offered by any villager who's cooking in their homes.
You can also talk to the chef in your Happy Home Paradise restaurant for a chance to learn this recipe.
You only need to have a bag of flour and a bag of sugar to cook this. Plant some wheat and sugarcane to get these ingredients.
02. Fruit-topped Pancakes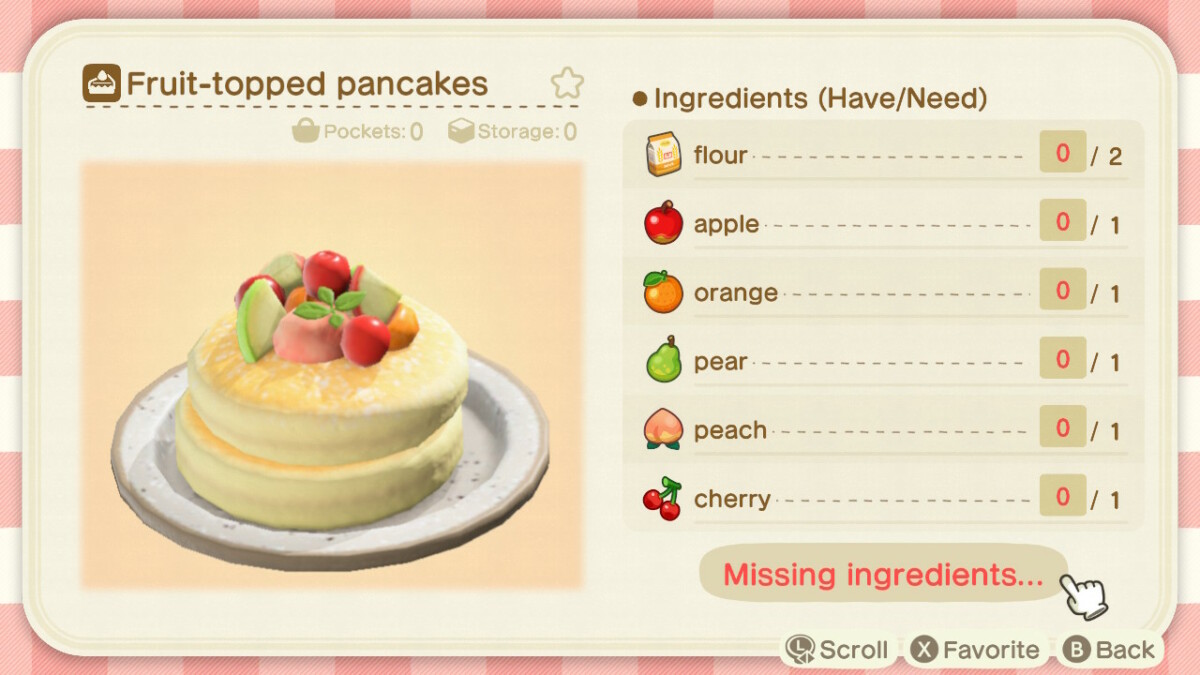 Fruit-topped Pancakes are an absolute upgrade to regular pancakes, thus getting the number two spot!
In this recipe, stacked fluffy pancakes are topped with dainty little fruits, making it look quite a fancy breakfast treat. Breakfast in bed, anyone?
You will need a lot of ingredients for this recipe. Prepare one of each main fruit and two bags of flour in order to cook these decadent pancakes.
01. Grilled Sea Bass With Herbs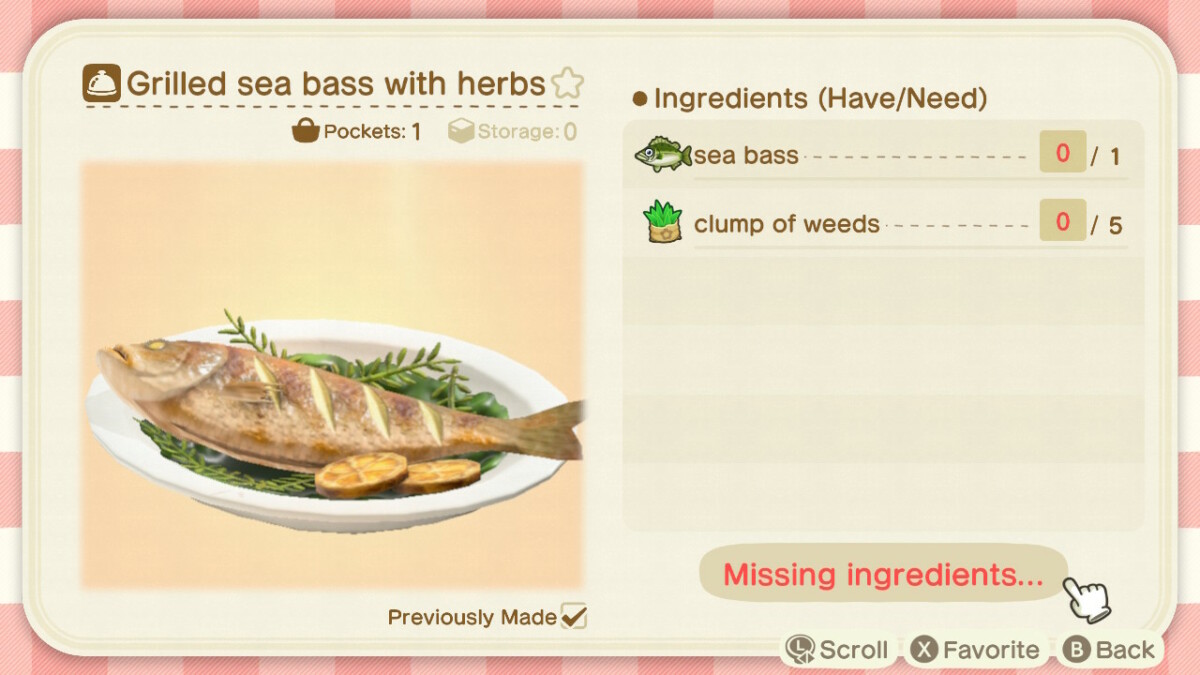 And the recipe that gets this list's number one spot is none other than Grilled Sea Bass with Herbs! Yes, thanks to the cooking update, we can now cook sea bass!
This fish has brought chaos into our waters for far too long, and now we can finally find a good use for it.
Gather all your sea bass rage and lovingly pour it into making this wonderful recipe.
The beauty of this recipe is that the ingredients are easy to obtain.
You only need to catch one sea bass, and believe me, it won't be difficult to find the little buggers and five clumps of weeds.
The recipe itself is easy to learn too. It's part of the Be a Chef! DIY Recipes+ set, which is redeemable from your Nook Stop for only 3,000 Nook Miles.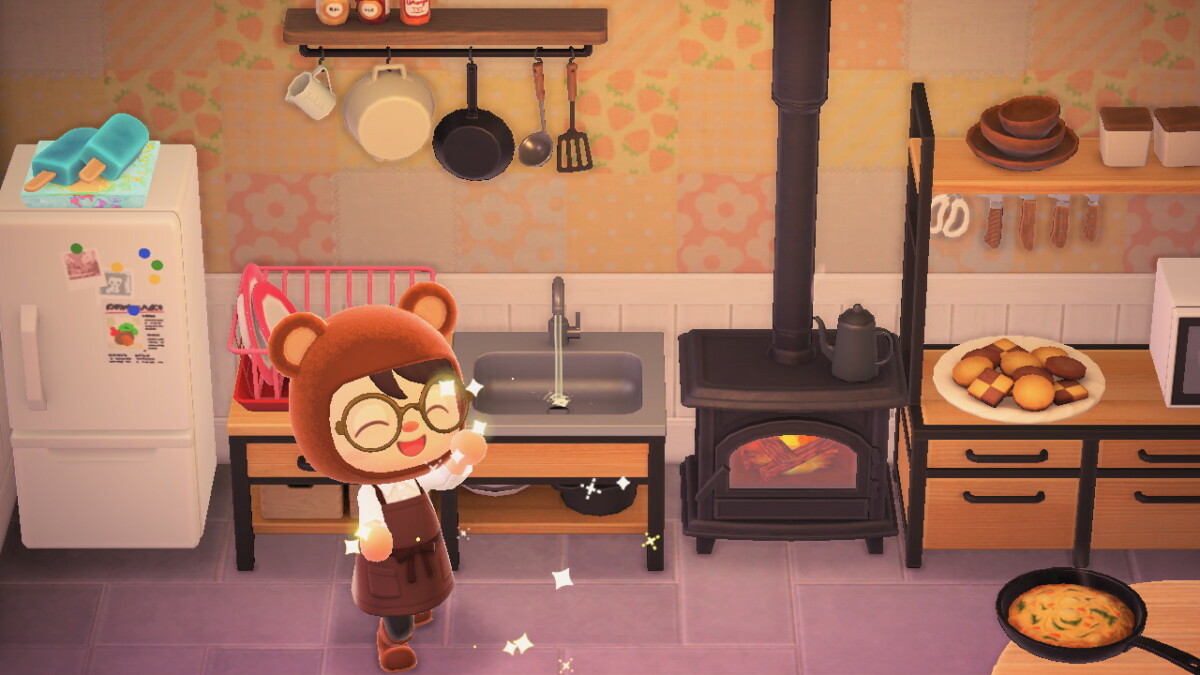 Which one's your favorite recipe? Did we include some of your favorites?
Let us know in the comments below!