When it comes to building a home in Minecraft, there's a great variety of approaches you can take.
Of course, it can be fun to kind of wing it and allow your home to develop organically according to your needs and whatever materials you have on hand.
But some folks have a vision for what they want their Minecraft habitation to look like.
It's your own little piece of this immense world, after all, and it can be nifty to make it feel unique and satisfying to carefully follow a detailed plan. But in order to do so, well, you'll need a blueprint before you can begin.
Below, we've listed 15 of our favorite blueprints for homes that you can build in Minecraft.
Best Minecraft House Ideas
1. Tiny Survival House 1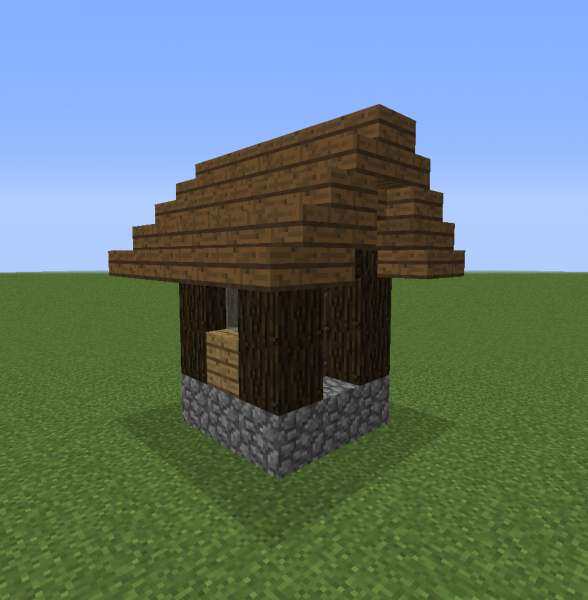 This is a great one to start with if it's your first time following a blueprint in Minecraft.
As the name implies, Tiny Survival House 1 is a very small house that's just big enough for a bed, making it good for survival and not much else.
Besides being good for practicing following a blueprint, this house's small size and simple resources (you'll just need wood and a little cobblestone) make it easy to build several of them.
If you plan to make extensive trips across the map, placing these houses at certain waypoints provides a handy source of shelter in a pinch, as well as a way of preserving your progress should you run into danger?
2. Tiny Stone House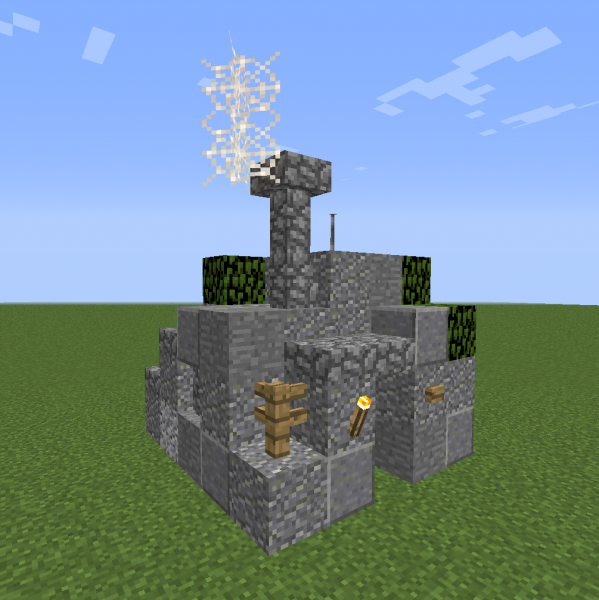 The Tiny Stone House is in a similar vein to the previous house, only, as you might guess, it's stone-based rather than wood-based.
Ultimately, it's all about what kind of aesthetic you prefer, but this, like the Tiny Survival House, is good practice for a newcomer to blueprints and a nice way of creating easily-crafted shelters across the map.
3. Village Hunters House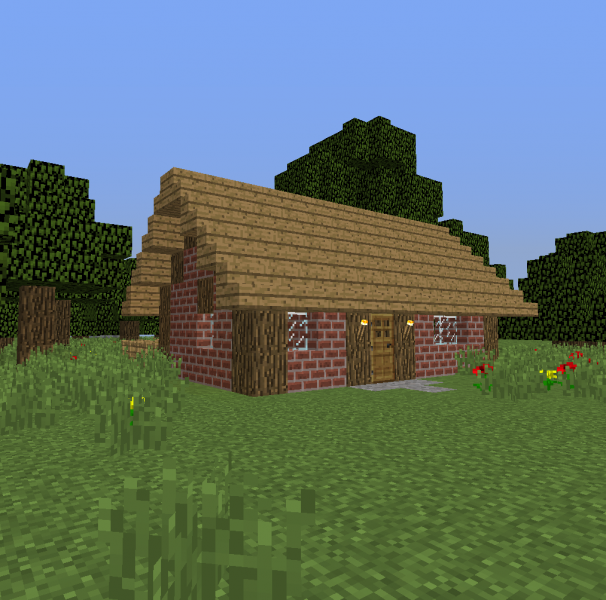 Prefer a more rusty brick color scheme? Then you'll want to try the Village Hunters House.
This very simple rectangular building remains great for practice but is also ideal for remote locations.
As the name implies, this house resembles a hunter's lodge; and amidst a lush, remote forest, this simple red-brick building will no doubt feel very cozy and inviting.
4. Minimalist Gothic House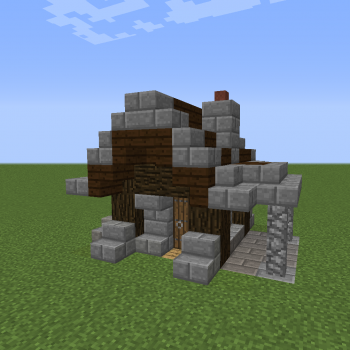 Continuing the theme of small, easily-constructed homes, the Minimalist Gothic House puts a rather classic architectural spin on these tiny abodes.
It's still small and simple to build, but with its overhanging roof and stone chimney, it's got a classical Gothic look to it that'll lend your Minecraft outpost a bit of class.
5. Small Survival House 1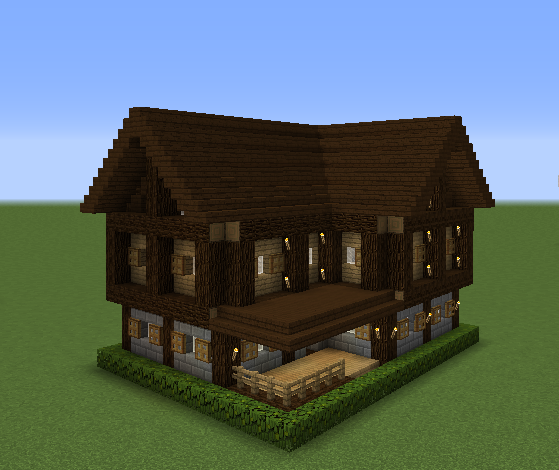 Stepping things up a bit, the Small Survival House 1 is the one to build when you're feeling a bit more confident about building off blueprints but aren't yet quite ready to construct full-scale mansions.
As the name implies, this is a house on a smaller scale, but it still has some size to it. It's a house with two floors, a hedge, a veranda, and a nice wooden exterior.
It's got all the vibes of a pleasant holiday cottage, and once you've got it decorated and furnished, it'll really feel like a home, regardless of whether or not you intend to use it as your main base of operations.
6. Simple Starter Treehouse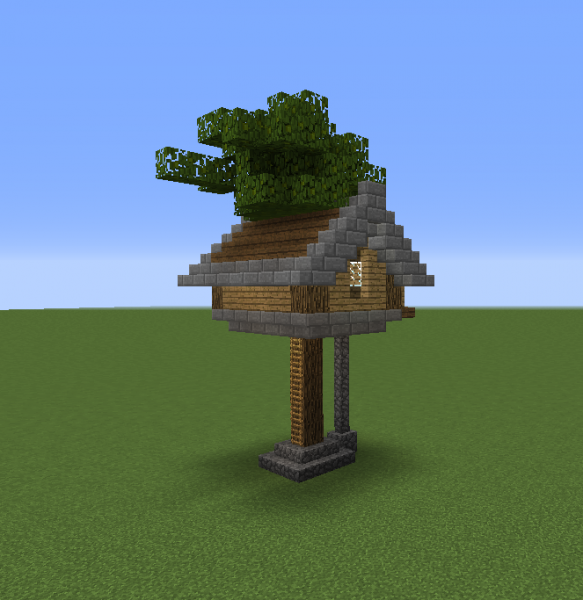 Once you've gotten used to the basics of following blueprints, it'll be time to start putting a twist on the abodes you choose to build. Treehouses, for instance.
The Simple Starter Treehouse is a great way to practice the complexities of building a home in a Minecraft tree.
It's a tricky process, but the unique experience of dwelling in the treetops is more than worth it.
Plus, pick the right tree, and you'll have a view even the most elaborate house can't provide.
7. Semi-organic Medieval Treehouse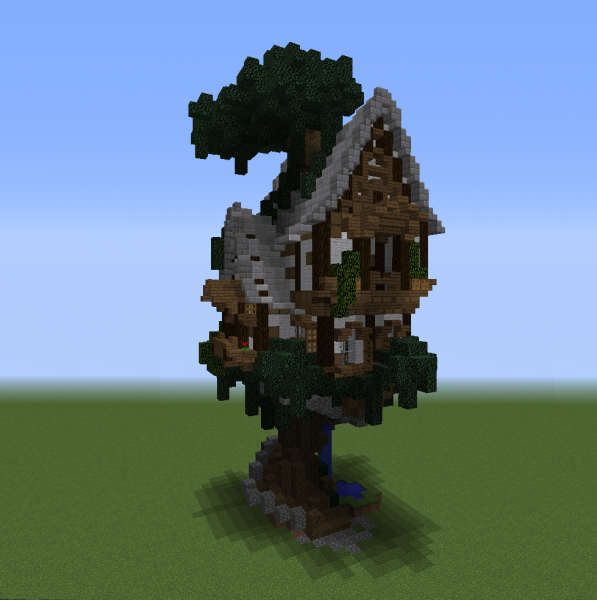 And once you've got the treehouse-building basics in the bag, it might be time to start experimenting with more elaborate treetop constructions.
The Semi-Organic Medieval Treehouse is just the thing to add a truly unique twist to your Minecraft habitation.
Really, now, how often are you going to see a medieval-themed treehouse, much less one with a partially organic structure?
It's structured like this one that reminds us how tremendously creative one can get with building in Minecraft.
8. Fantasy Victorian Mansion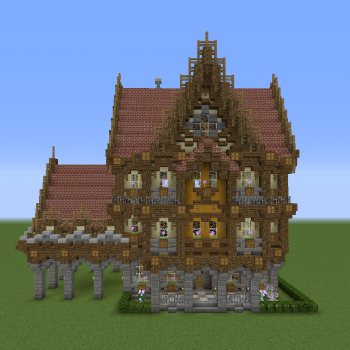 About time we start moving on to fancier things. Things like the Fantasy Victorian Mansion.
With its multiple stories and sharply tapering gables, this building very much brings to mind the style of Victorian architecture.
Sure, it's kind of elaborate, and you'll need to feel confident working with blueprints in order to attempt constructing it (oh, and you'll need a lot of oak wood).
However, once you feel ready, this is just the sort of abode to make you feel like the head of a refined noble family.
9. Big Village House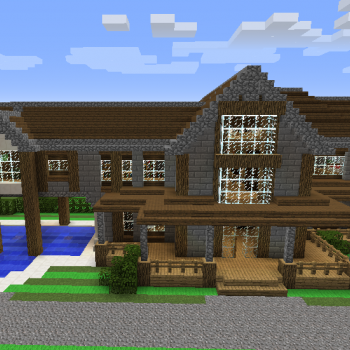 Want to stay minimal, but scale up a bit? Then you might want to try the Big Village House.
This one doesn't follow any particular architectural style and follows a relatively simple stone-and-wood exterior color scheme, but it's a sizable establishment, with multiple rooms and some very appealing interior décor.
It's the ideal sort of house for the player who doesn't want to be too ostentatious or showy but who still likes the notion of shacking up in a larger home, with plenty of storage space and room to move around.
As a nice bonus, it's also got a pool and some garden space for green-thumbed players.
10. Modern Mansion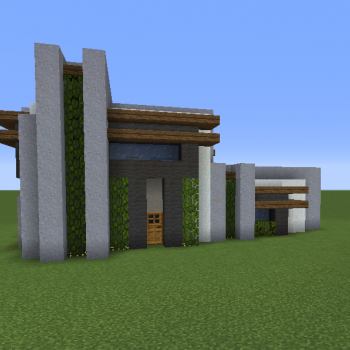 There's been a lot of stuff on this list with wood-based construction and Victorian aesthetics, but what if you prefer something a bit more modern? Well, naturally, you'll opt for a blueprint like the Modern Mansion.
Constructed chiefly of stone and clay, with a bit of wood to offset the lighter colors, this building has a minimalist style to it that greatly brings to mind the sort of place that a modern Silicone Valley billionaire might live.
It's a little more complicated to construct than some of the other stuff on this list, but it still has a relatively low block count, and its slick, geometric look is very satisfying to put together.
11. Simple Quartz Modern House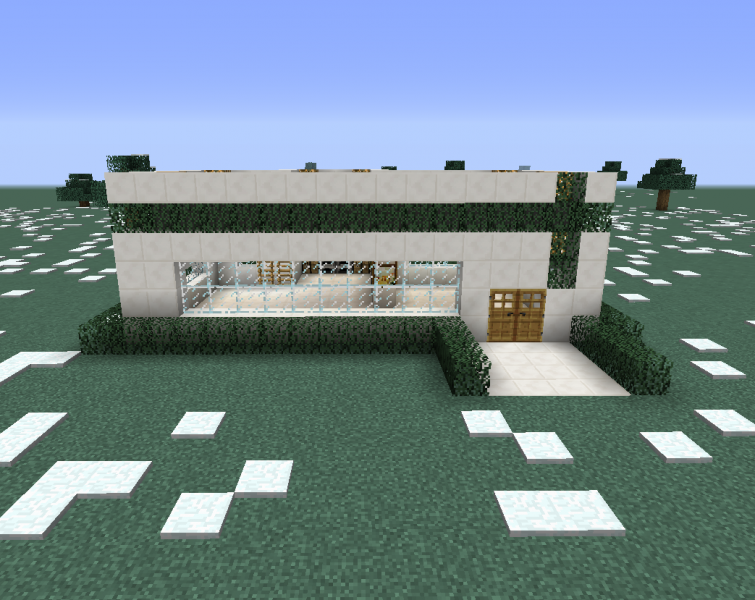 And sticking to the theme of homes with a modern aesthetic, the Simple Quartz Modern House follows that theme very much.
Chiefly constructed out of quartz and glass, it's got the kind of sleek, minimalist, open-plan style to it that'll really make you feel like a modern yuppie.
12. Quartz Suburban House With Pool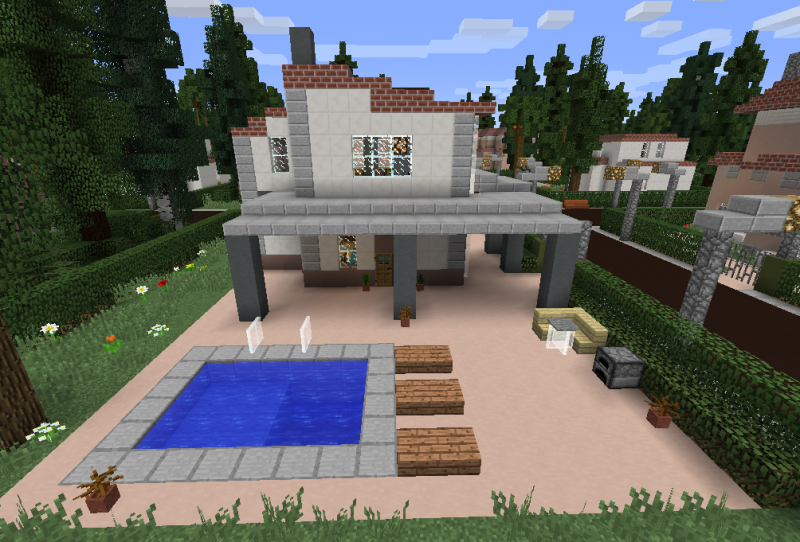 And if you end up taking to the quartz-based aesthetic, you can follow the billionaire's approach of taking what you like and getting more of it.
There's a whole lot of quartz-based house blueprints out there, but the Quartz Suburban House with a Pool is probably one of the most elaborate options.
It takes the geometric open-plan quartz design and offsets it with a bit of brick, adding a pool, patio, and backyard to really make your Minecraft self feel like a trendy upper-middle classer.
13. Krushchyovka Soviet Apartment Building 1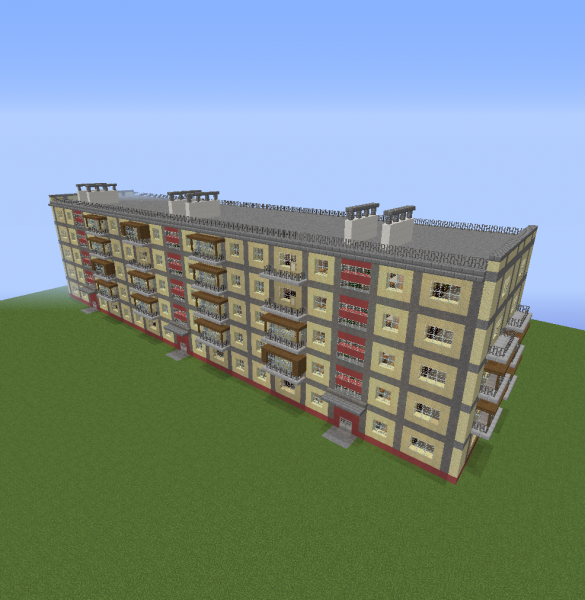 Soviet buildings, generally speaking, we're all about being blandly functional and, well, rather dull to look at.
That sort of thing is an acquired taste, to be sure, but if you'd like to bring that Eastern Bloc look to your map, blueprints like that of the Krushchyovka Soviet Apartment Building 1 are probably for you.
Build several of these together, and you'll really bring a grim industrial feeling to the wild world of Minecraft.
There's also a sizable number of apartments in the building, making it a handy place for storage or a good place for all your friends to shack up when you're playing one of those larger co-op games.
Just make sure they don't get too creative with the decoration if you want to keep that authentically somber Soviet look.
14. Governor's Palace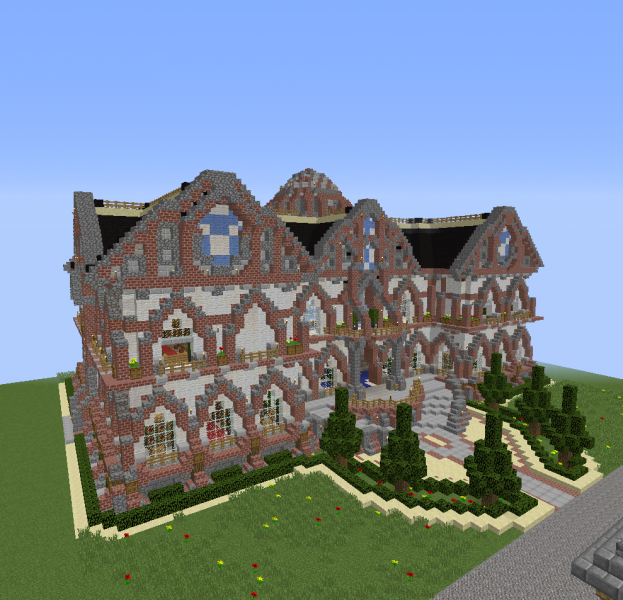 Let's go back to a more old-school look for the last few items on our list.
The Governor's Palace is a tremendously-sized Georgian mansion with tons of rooms, lush furnishing, and some eye-catching topiary out front.
Consisting of more than 40,000 blocks and calling for a variety of stone, brick, and wood, it goes without saying that this one is going to take a while to build.
Once you're done, however, it's the kind of place that'll truly make you (and your friends, should you deign to offer them a room or two) feel like the elected rulers of your Minecraft map.
15. Huge Modern Mansion
And in keeping with that theme, the Huge Modern Mansion is, well, a huge mansion, though it's more mock-Tudor than modern.
Consisting of more than 47,000 blocks, chiefly bricks and wood, this one is likewise going to take you some serious time to construct.
However, with its multiple floors, sprawling interior and exterior features, and pleasantly light color scheme, this is bound to be the sort of Minecraft house that'll really make you feel like you've established yourself in this highly competitive world.
You might also be interested in: