Who doesn't like the excitement and mysticality of mythological creatures? If given the opportunity, most of us would ditch our boring, mundane lives as a human and take the option of having special abilities, wings, and you guessed it- horns.
Everything from animalistic to reminiscent of a demon- these are the top 15 best Sims 4 horns so you can fulfill all of your fantasies in the Sims.
Best Sims 4 Horns CC
18. Fantasia Headdress

Delicate horns can be elegant as well as otherworldly! With this Fantasia Headdress CC, your Sim can look demonic without being scary.
This headdress features two slim horns that have been dressed with delicate strings of crystals. The Fantasia headdress was made for both male and female Sims, from the ages of teen to elder.
The headdress also comes in ten color swatches and can be located in the Hats category of the menu. In a separate download, this same CC was created for child Sims!
17. Rein Headband

Not all horns are restricted to demonic style Sims! But instead, you can dress up your Sim as a fantastical woodland creature with this Rein Headband.
This headband includes two adorable deer antlers and a set of animal ears. This CC comes in 12 different color swatches, including black, brown, tan, and grey, in varying patterns. Some swatches are also two-toned.
Paired with bright blush and dotted makeup, this headband is a must-have for Sim players who want to creature wonderous creature-like Sims.
16. Goop Horns

These small horns are so fun! These horns aren't inherently demonic or otherworldly creature-like but can make any outfit a bit more whimsical.
These Goop Horns come in 14 color swatches, mostly in neon colors, including purple, green, orange, red, and multiple shades of blue. Some swatches are two-toned as well.
These horns can be downloaded for adults and for child Sims and can be found in the Hat category of the accessory section. If you want to add a bit of whimsy and fun to your outfit, or need just that one trusty accessory for your boldly-dressed Sim, then these horns are for you!
15. Horns for Small Dogs
Starting off our list strong today, we have an option to turn your normal, everyday small dogs into something amazing!
With the Horns for Small Dogs by The Kalino, your canine friends can suddenly become transformed into a variety of different animals, such as a cow or a ram.
Perfect for animal lovers, a farm you may be looking to start in your game, or even to switch things up a bit when it feels like your Sims have already had all of the pets the Sims has to offer before.
14. Unicorn Horn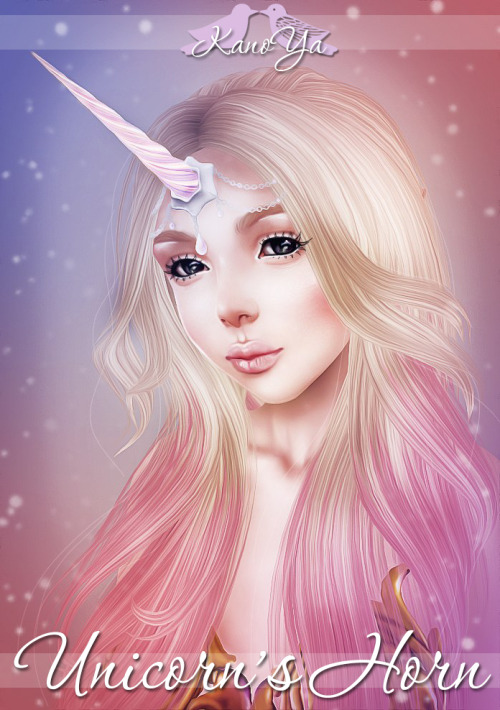 Remember a couple of years ago when the whole world seemed to be blown away by the idea of magical unicorns dancing around everywhere?
Some of us still love the idea of unicorns and aren't ready to let that era go- after all, they're majestic, mythical, and magical, which is just what some of us need from time to time.
If you would like to channel some of that unicorn energy into your game as you play, adding a unicorn horn to your Sims look is the perfect way to make them look free-spirited and youthful, and what more could you ask for?
13. Horns by Decayclownsims

For a lot of us, when we think of horns, we don't think about cutesy creatures in the forest. Instead, we get more of a devilish, dark vibe from the word, and these horns are exactly what I'm talking about.
These horns are reminiscent of classic devil horns. Long, slightly curved, upright, and beautifully textured, not to mention they come in a variety of dark colors, these Horns created by Decayclownsims are perfect for any Sim that could pass as the spawn of Satan himself.
12. Hathor Headband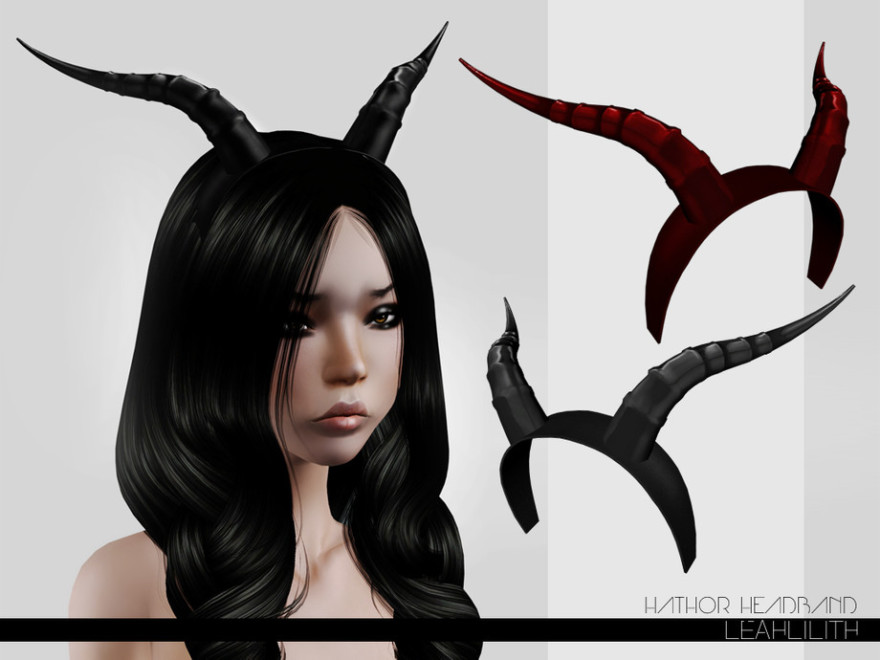 A set of horns without the commitment of making your Sim be a creature from another world, the Hathor Headband is a cute, subtle accessory to give your character a unique look.
Halloween parties, costume parties, or maybe even to achieve an in-game cosplay idea, you can't go wrong with a horned headband.
11. Flapjack's Ribbed Horns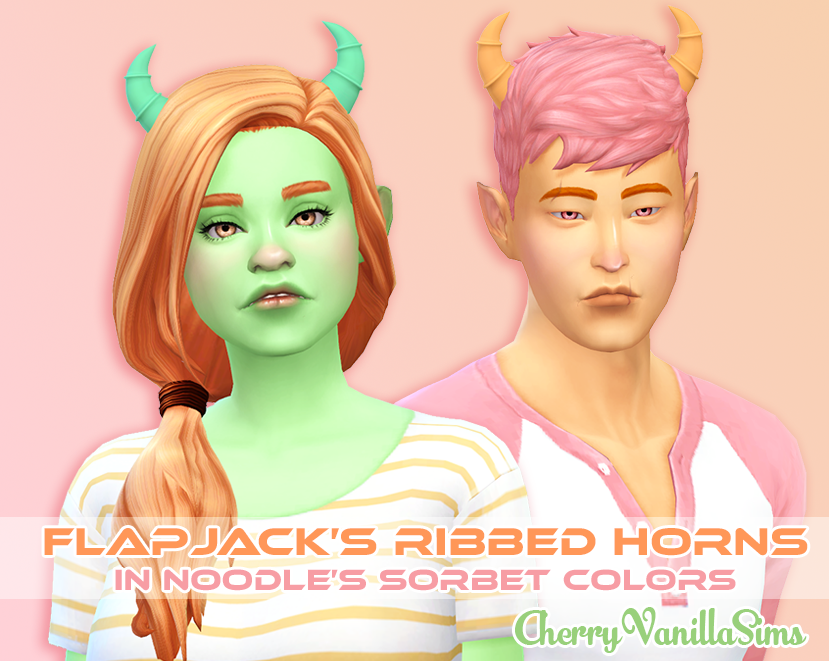 The Flapjack's Ribbed Horns are a great option for people who believe that creatures with horns don't always have to be mean and scary.
Their small shape, subtle texture, and of course, adorable color options are perfect for your soft-hearted Sims who just so happen to have been born with a pair of horns on their head.
These horns are also especially recolored to be what the creator refers to as a part of the "sorbet palette," so no longer do you have to subtle for boring neutrals or a traditional red hue- mix it up and play around with some fun colors!
10. Capricorn Horn Accessory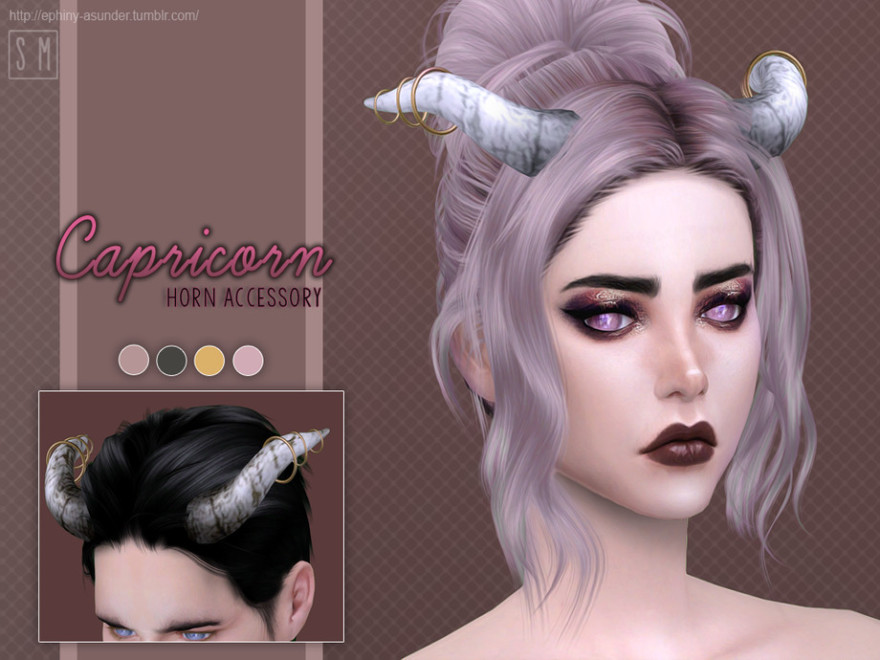 Where are all of my zodiac fans out there? Is your Sim a total Capricorn? I bet they're not if they don't have these horns on them already!
Not only are the Capricorn Horn Accessories perfect for people who either are or have an adoration for Capricorns, but their design makes them irresistible for everyone else, too!
All blinged out with rings for some extra flair and a subtle marbled design, you and all of your ram-friends in the Sims will look beautiful with their horns on.
9. Flapjack's Small Horns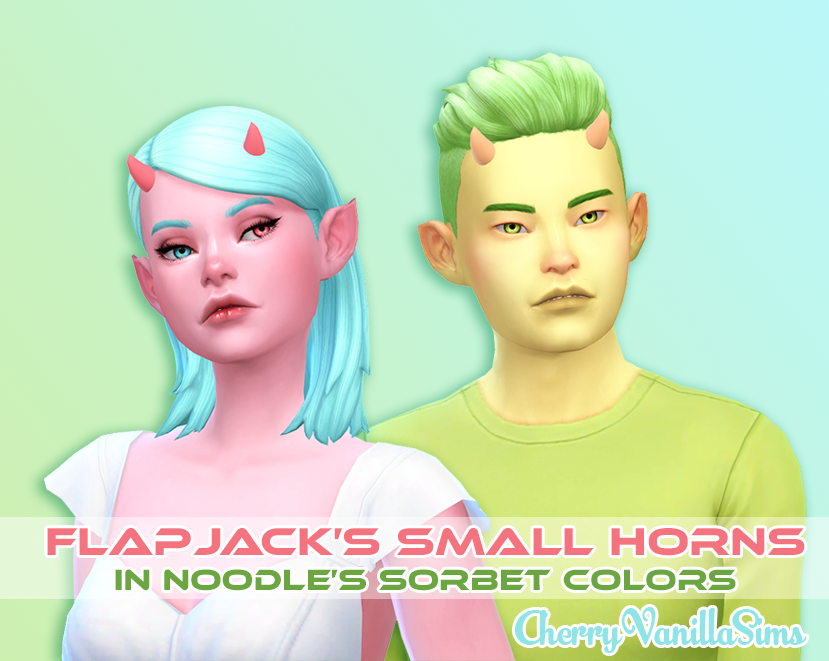 Not all horns have to be big and flashy, for our Sims that would much prefer to be the wallflower at a party- these are for you.
Small Horns such as these ones are extra cute from being so small, they come in a sorbet color palette similar to the Flapjack horns we say before and are a great way to add a magical touch to any of your Sims in your household.
8. World of Warcraft Demon Hunter Horns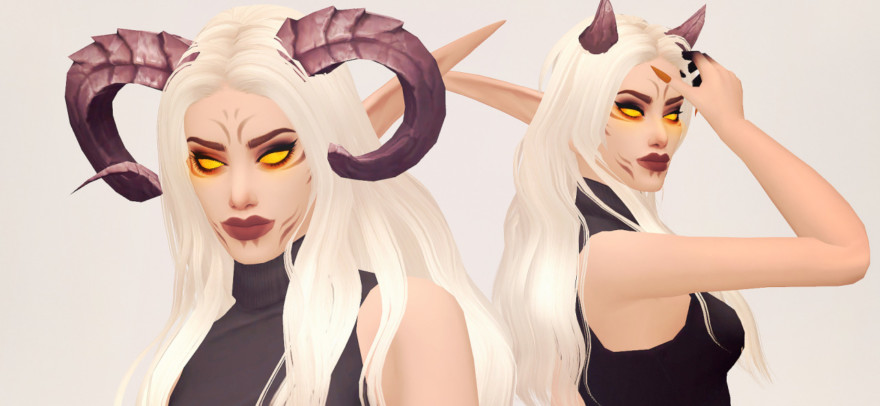 Anyone here a fan of World of Warcraft? Even if you're not, these unique horns designs can cater to just about anyone's horn needs.
There are 6 different options to choose from with these horns, including 25 colors to choose from when you find the perfect pair for your Sims style. Choose from big and extravagant to subtle and short.
This collection of W.O.W inspired horns is sure to have everything you're looking for and more.
7. Demon Horns V2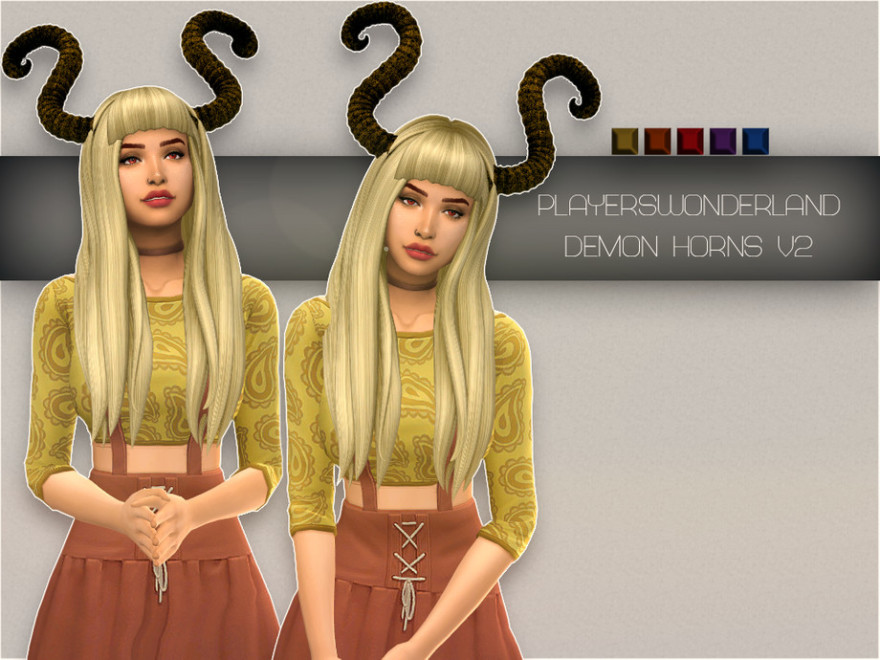 These demon horns are one of the most unique that you can get your hands on for your Sims. What makes them stand out is their interesting design, upright and long with a beautiful texture that looks so great, you'll forget they're for a demon.
These come in 5 colors to choose from, including a brown shade for a natural look and even purple for something a bit more whimsical with the same hellish look that you've been looking for.
6. Halloween Demon Horns
Even though Halloween has come and gone in the real world, this pair of Halloween Demon Horns can be used year-round or for the next Halloween party that your Sim gets an invite to.
This pair of horns is a classic in terms of how far devil horns go, they're the signature red color a lot of us think of and come as cute little nubs to go on top of your Sims head.
Let your Sim show off their devilish side, these horns were definitely made for exactly that.
5. Maleficent Horns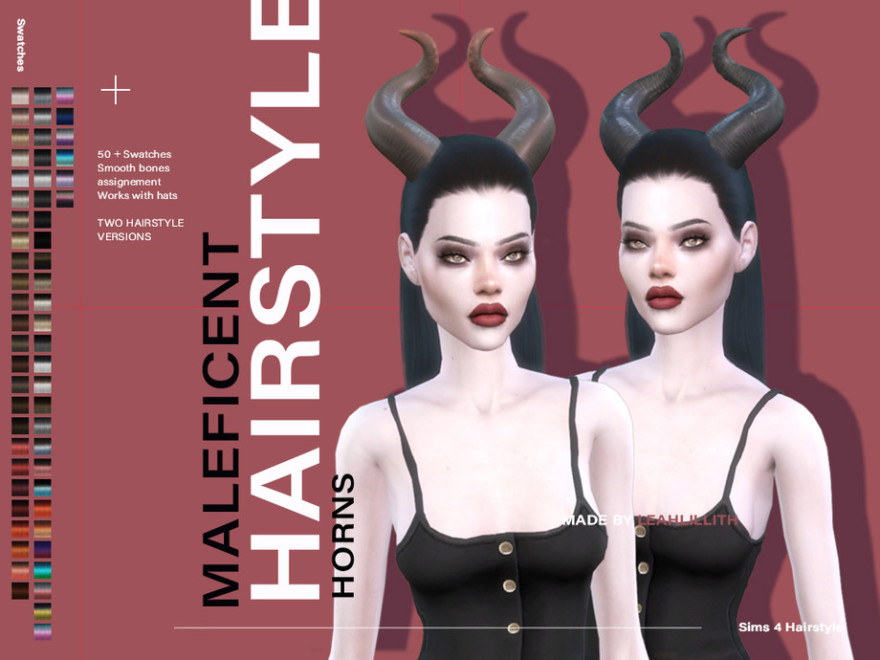 A classic Disney villain is now achievable to be played in your Sims game! No Maleficent that you create would be fully complete without her signature horns, and what would be better than that? Oh yea, these aren't just horns, but it's her complete hairstyle as well!
Disney fans and fans of using horns on your characters until the end of time, the Maleficent Horns by Leah Lillith are going to be the icing on top of the cake when you decide to put a curse on a newborn princess.
4. Devilia Horns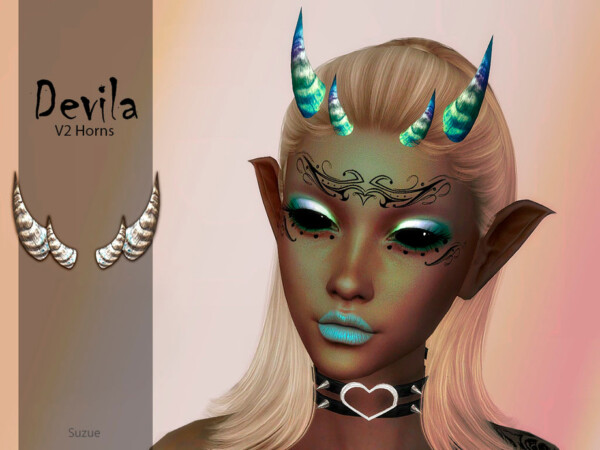 Half of the fun of finding new custom content to play around with is finding the most unique thing you can find in a specific subcategory. That can definitely be said about the Devilia Horns!
Ditch the traditional idea of only having two horns, instead, these are a set of four horns, two big and two small, with a magical color palette that could be used for any type of creature you're trying to create- even fairies and mermaids!
3. Chain Horns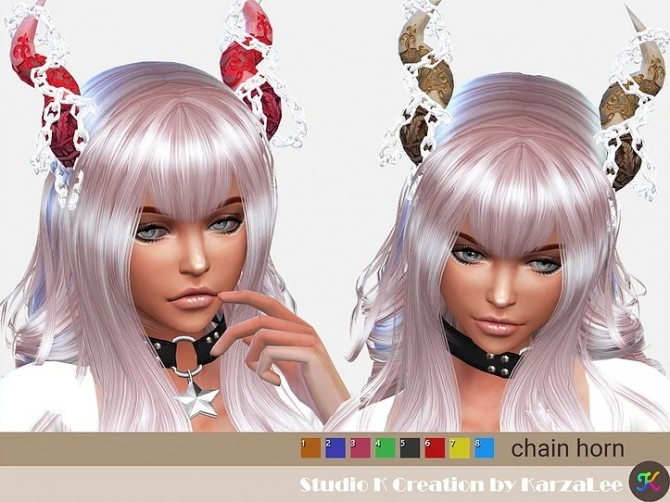 If plain old horns aren't enough to satisfy your needs, then check out some horns with some extra jewelry on them to spice things up.
Similar to the Capricorn Horns we talked about earlier on, these horns come with, you guessed it, a chain accessory.
More of an industrial look than the accessorized horns from before, these would work perfectly for your Sims that would rather not look cute and dainty.
Choose from 8 different colors to give your Sim the right vibe to match their personality and attitude.
2. Quinari Horns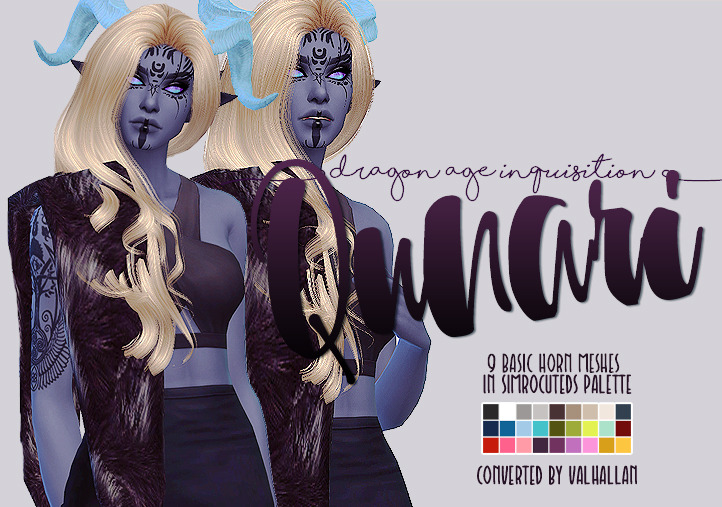 Here we have another pack of horns for your Sim, all unique from one another and look as if they were inspired by the horned animals we all know and love.
The Quinari Horns Collection offers 9 different horn styles and shapes so that you could create an entire family where having horns is in their DNA.
Created to look similar to the game Dragon Age: Inquisition, these horns work perfectly for fans who would like to channel their love into their Sims, or even those who, in general, think that having horns is pretty cool.
1. Horns Pack Vol 1
Kicking off this wonderful list of horns for you to choose from, we have a collection of horns from the Horns Pack Vol 1 created by the Tumblr user Zanedia & The Sims 4.
These headpieces truly look like they're from another world, full of fantasy creatures that are up to your own creativity to decide! Additionally, this option comes with a skin detail to make your creations look even more realistic than just horns could have pulled off.
You might also be interested in: