Let's be real here, a lot of the hairstyle options that the Sims have given us aren't that great. They feel like the same style that's been recycled over and over again, with no versatility and no room to play around.
Thankfully, we'll always have custom content to rely on, making our Sims look realistic and feel personalized to just how we want them to be.
For anyone who wants to give their Sim's hairstyle volume and bounce, look no further! These are the top 20 best Sims 4 curly hair.
Best Sims 4 Curly Hair CC
23. Dawn Hair

Leaving your Sim's forehead bare can be tricky to style and make look good, but it's effortless with the Dawn Hair CC!
The Dawn Hair is a perfectly wavy and curly combination that features hair tresses that cascade down one shoulder with the rest falling on your Sim's back. The forehead is left bare but with a noticeable hairline that makes the hair feel more realistic.
This hair CC is for female Sims and is base game compatible, ranging in 18 colors. You can equip this hairstyle for Sims from Teen to Elder ages, but unfortunately, this CC is not hat compatible.
22. Trip Hair

Short curly hair needs love, too, and this Trip Hair CC is a great option for Sim players who need a short look for all types of Sims.
This hair CC features shaved sides and underneath, with the majority of the curly hair on top of the Sim's head. The CC is also usable by both male and female Sims, from Teen to Elder ages.
This hairstyle is also both base game and hat compatible and comes in Maxis Match colors and modified Maxis colors.
You can also combine colors, as this hair allows an ombre effect for additional customization.
21. Carousel Hairstyle

Another great short curly hair option is the Carousel Hairstyle. This hair CC showcases a great wide curly texture with a smooth hairline.
This hairstyle is actually a converted version of a toddler hairstyle but less voluminous. This CC is available and usable for Sims of teen and elder ages, for both male and female Sims.
This CC is available in the base 19 colors, offering a range of natural and colorful options. It is also hat and base game compatible! So, if you're in need of a quality, short curly look, check this CC out.
20. Tiare Hair

Curls are beautiful in all shapes and sizes, which can be said for this short, curly-haired look!
An added detail of braided front pieces at the top of the head makes this to be a unique hairstyle if you're looking to switch up your Sims current look.
The Tiare Hair comes with 18 colors to choose from, and unfortunately is not hat compatible, but with such cute details- would you want to hide it anyway?
19. Kool Thing Hair – Dreambot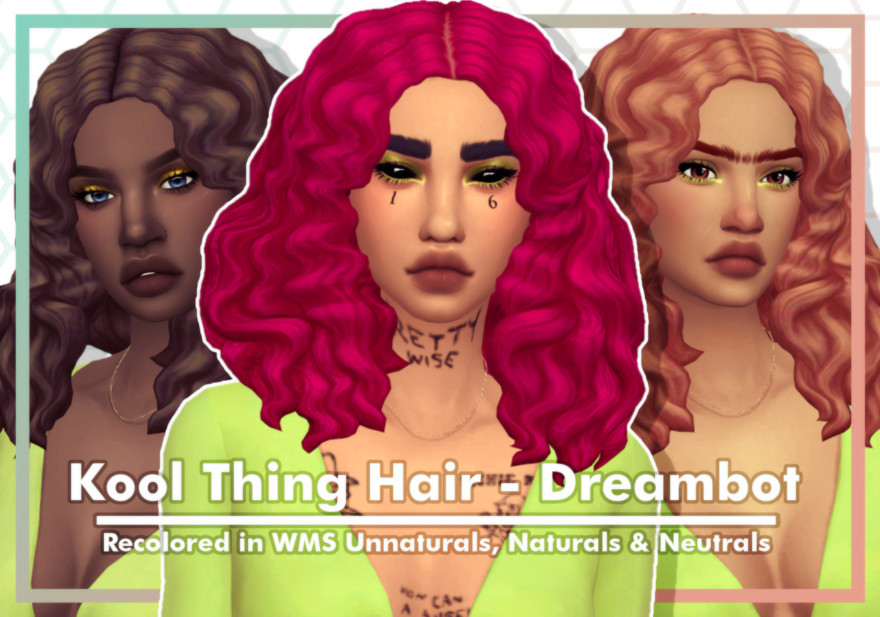 This hairstyle is perfect for your Sims who don't want to put a lot of effort into their hair every day but still want to look cute.
More of a natural look, the Kool Thing Hair- Dreambot is a relaxed, mid-lengthed option to keep things looking relaxed and casual.
Even though this hair's general style is rather natural and low maintenance, the colors you have to choose from are sure to blow your mind away.
Anything you can think of from lime green to bright yellow is available to you so you can keep using your favorite hairstyle, even when it's time to switch up the color.
18. Going So Low Hair

Curly hair is one of those things that looks go no matter what you do with it. Of course, it looks great down, with your ringlets blowing in the wind, but sometimes a Sim gets busy.
Whether you want to tie it up to look more put together for date night or your Sim is getting ready for a jog around the block, a ponytail can come in to save the day.
The Going So Low Hair features a low pony that's perfect for really any occasion. Better yet, your Sims curls stay formed and prominent, even when they're tied back with this style.
This hairstyle is especially perfect for your more formal occasions, with the illusion of their hair being elastic, how intricate!
17. Margo Hair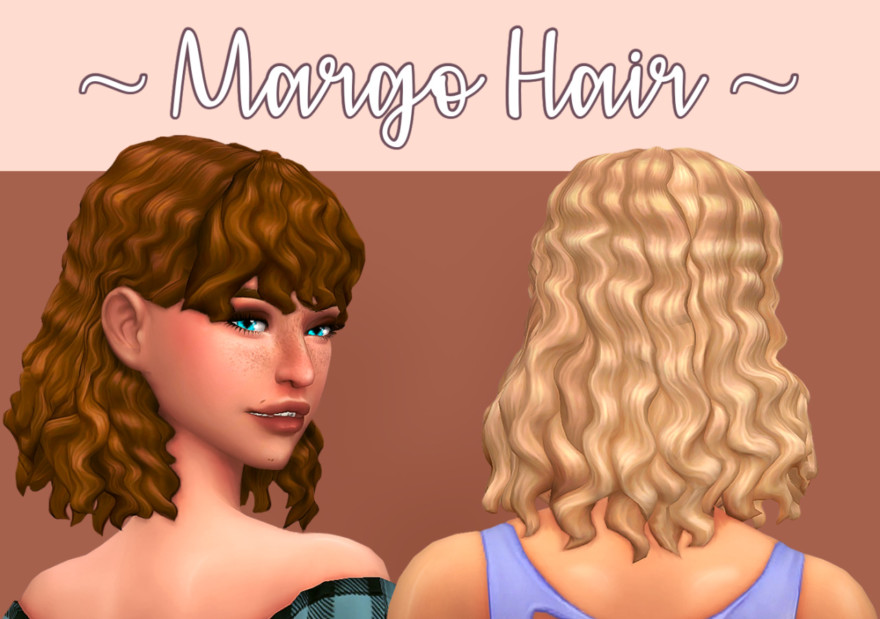 While the Margo Hair comes in a package with another hairstyle, we all know that we're here for the curls.
This style gives me cute librarian vibes, the girl who would rather stay indoors and watch interesting documentaries than have to deal with a bunch of other Sims on a Saturday night.
Retro-inspired bangs and short cut curly hair is just what we needed to create our cutest Sims.
You can even go ahead and wear your favorite hats along with your new girl-next-door haircut!
16. Darlene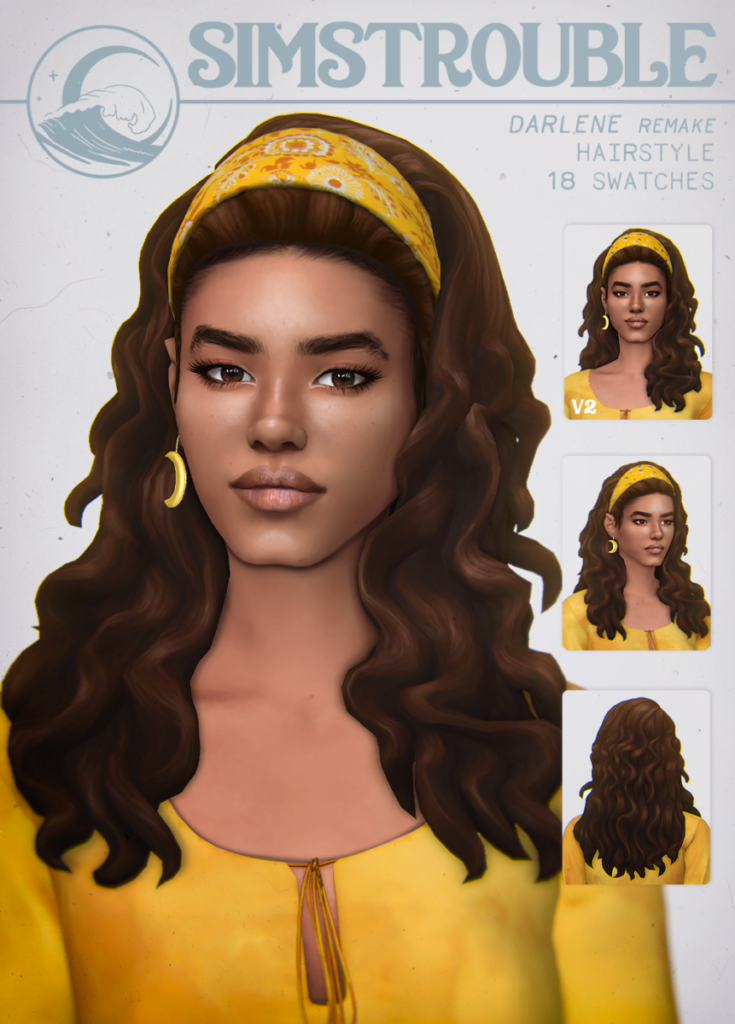 What I love about this hairstyle, other than being another great option for curly-haired Sims, is the fact that it looks like it was straight from the '60s-'70s era.
With those styles coming back into fashion, you need to have your hair matching the rest of the aesthetic, and the Darlene hair is here to deliver that for you.
If you're not a big fan of the yellow headband featured in the thumbnail, don't worry! The headband comes in 60 swatches, so you can reuse the same look with whatever outfit you come up with.
15. Up & Out Curls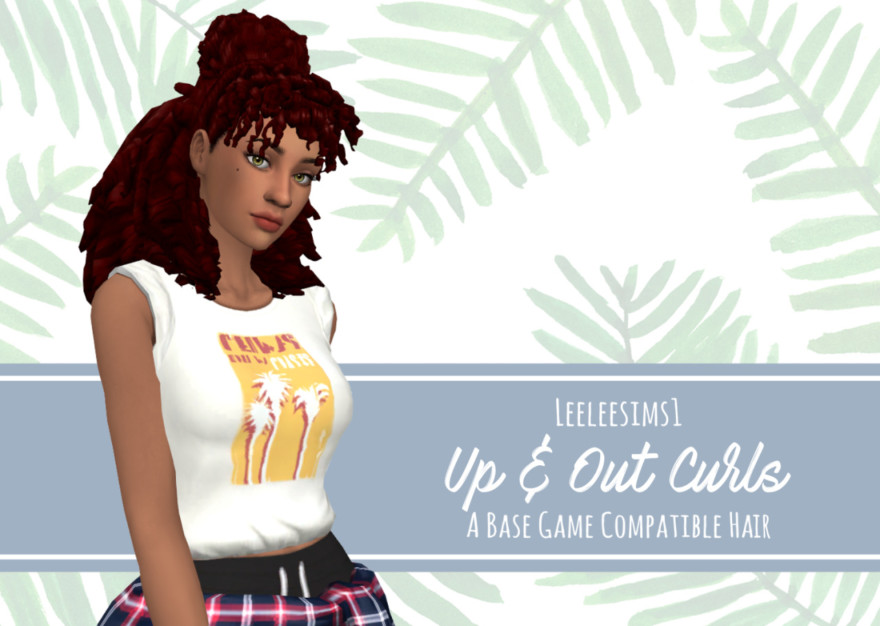 This style has about as much personality as your Sim does- a lot! We love the volume, we love the perfectly defined ringlets, and we love the half-up-half-down look. It's got everything!
The Up & Out Curls hair is the perfect style for those days your Sim spends by the beach, enjoying the summer sun, or even going on a casual hike while camping.
Complete with bangs, this is the perfect warm-weather hairstyle that will keep your Sim beating the heat and staying cute.
14. Jesse
Saying that curly hair doesn't look good cut short is one of the biggest lies that has ever been told, and the Jesse hairstyle is here to prove that.
Here, the curls are a bit more relaxed (maybe she just recently stopped bleaching her hair, we've all been there before) while still keeping a bit of bounce that curls are known and loved for.
With over 75 swatches to choose from, you'll have a hard time not incorporating the Jesse hair into your Sims style rotation.
13. Tori Hair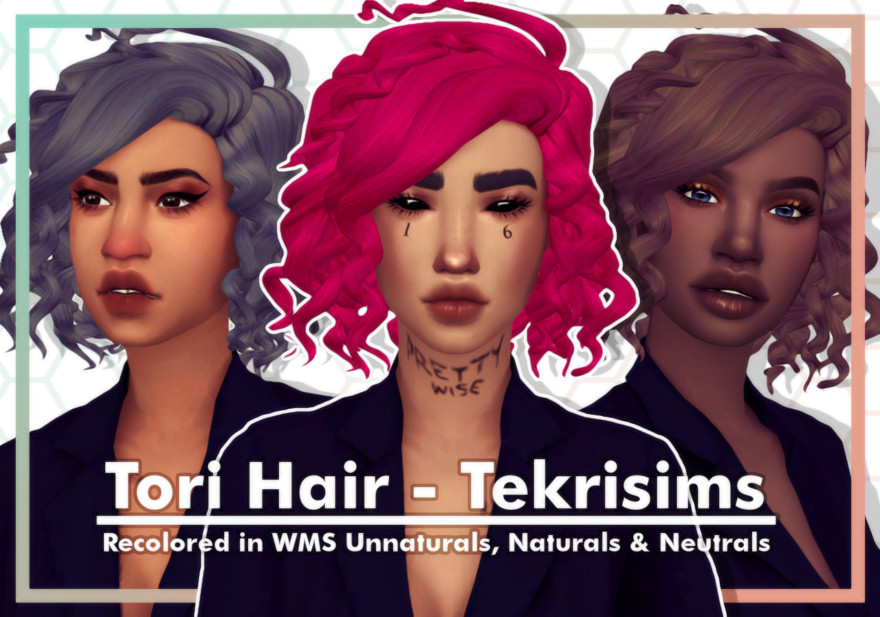 The Tori Hair by Tekrisims is one of the edgiest takes on curly hair we've ever seen.
A short bob style with side-swept bangs is a wonderful option for all of your punk and alternative Sims that you've got in your household because they need a new look to manage their curly hair, too.
Like some of the other styles we've seen in this list, there are many color options for you to choose from with this hairstyle- everything from natural colors to bright colors that are sure to make your Sim stand out from the others.
12. Helia Hair

The Helia Hair is something that reminds me of a hairstyle that someone scholarly would want to sport.
Is that just me? Something about the high ponytail and framed bangs makes me think that any Sim that would choose this hairstyle knows a thing or two- especially about what to do with their hair.
11. Theresa Hair

From the same creator as above, the Theresa Hair is less of a scholarly-looking style and more of something that has me thinking of if Hocus Pocus was trendier.
It's better kept, it looks neater, and the curls are so lovely, they're something to dream about.
This hairstyle is a great option for anyone who's looking for a long curly-haired style because even though getting your hair long with curly hair is a challenge, it's not impossible.
10. Kanu Hair

When we think of curly hair, a lot of us think of tight curls that bounce as the person moves. But, curls don't always have to be that prominent.
Sometimes a soft, relaxed curl is just as good and even a great option for people who don't have naturally curly hair but wish they did.
The Kanu Hair is a great example of everything we just talked about. This hair is a beautiful long, half-up style that would look great for special occasions such as dates and even weddings.
When your Sim needs to dress up but doesn't want to be too over-the-top, this is the hairstyle for them!
9. Justine Hair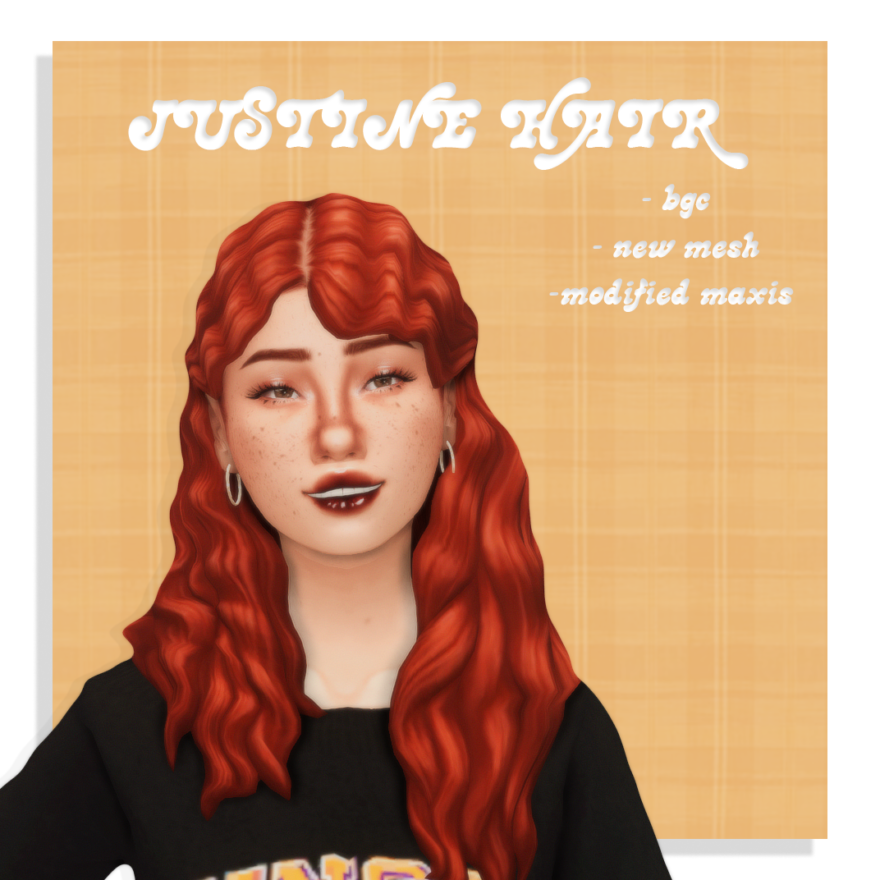 When I saw this hair, one of the first things that popped into my head was if Donna from That 70's Show had curly hair.
To channel your inner Donna, a smart girl who stands up for herself and doesn't take what people have to say to her sitting down, your Sim's got to have this look!
This style is another where the curls are relaxed and aren't as defined as some of the other options we've looked at, but looks like a casual style where your Sim washed their hair, tucked it behind their ear, and said, "I'm ready to start the day."
8. Cynthia Hair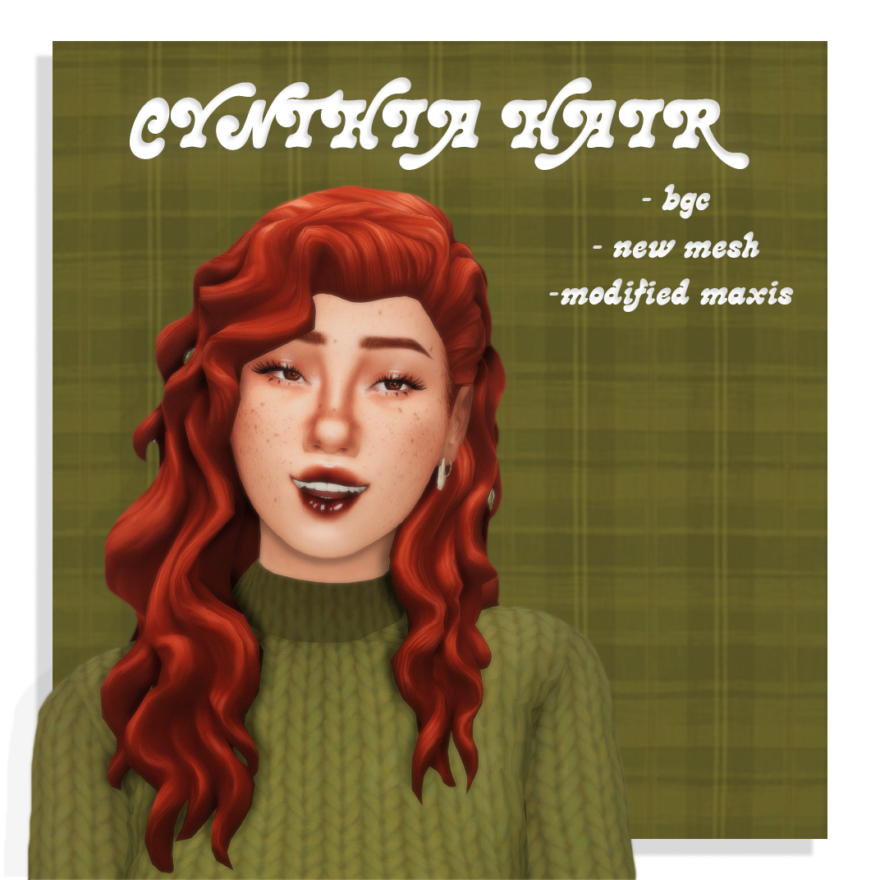 The Cynthia Hair is another casual, mid-length hairstyle for your Sims with curly hair to choose from.
It's not too flashy, but it's not too boring either, making it a great option for casual looks worn around the house or when your Sim is getting ready to get lunch with a friend.
The beauty of hairstyles like these is that they go with anything. Literally anything, a skirt? Of course. A pair of mom jeans with a tucked t-shirt? Absolutely.
The possibilities are endless, all tied together with your staple Cynthia Hairstyle.
7. Glenda Hair
If there's one thing I know to be fact, it's that curly hair makes for great buns.
They're so big and full of life, and hair accessories like scrunchies and barrettes make them look fun instead of lazy, even though, secretly, your Sim didn't want to put effort into their hair that day.
The Glenda Hair is an adorable bun that sits on top of their head, out of the way as they take on everything that the day throws at them.
With a single strand of hair pulled out in the front for a finishing touch, whether they're heading off to bed or going to the gym, they'll look put together without half the effort other Sims think they put into their look.
6. Expired Sweets Set
The Expired Sweets set is, of course, an adorable collection altogether, but what we're focusing on right now is the Lolli Hairstyle featured in the lookbook.
We love a nice pigtailed moment. They're great for just about any outfit and give a sense of youthfulness and innocence, which can sometimes be a nice change of pace.
The curls found in this hairstyle are subtle, making your Sims hair look like it was tied up right after they spent a day at the beach, relaxing in the ocean.
What could make it better? The scrunchies used as an accessory to keep the pigtails in place are a perfect finishing touch.
5. Royal Rumble

Another great option for anyone that's looking to get a good amount of length out of their hairstyle, the Royal Rumble hairstyle features a look that has been pushed to the side for an effortless look every time your Sim wears this hairstyle.
Reminiscent of some of the hairstyles that can be found in The Sims 4 base game, which makes this hairstyle extra fun to play with is that it comes with 76 colors to choose from- endless opportunities lie ahead!
4. Illithyia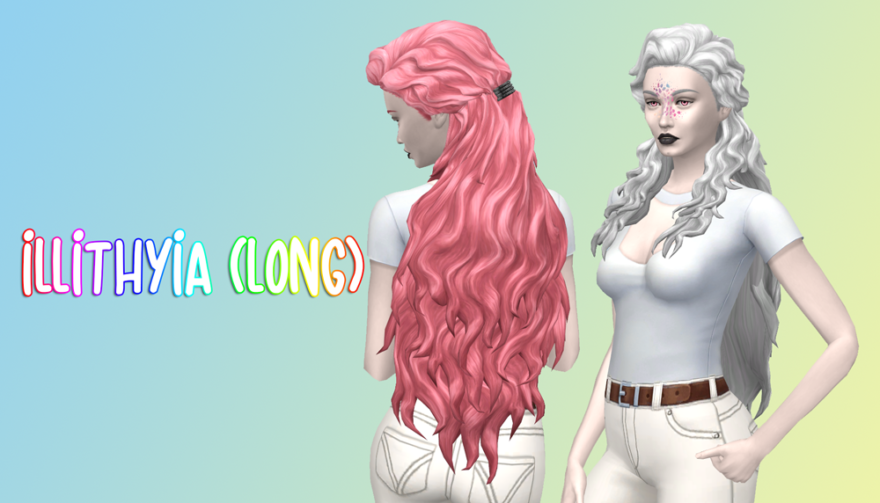 From the same creator as before, the Illithyia hairstyle is a recolor of a hairstyle originally created by Natailia Auditore and is one of the longest curly hairstyles we've seen so far!
Personally, I'm the person that loves length no matter what, and this satisfies that need I have deep down.
Since this recolor is from the same creator, you can also expect to find this hairstyle in 76 colors, as well as having an extra accessory of a small ponytail in the back of the hair for added detail and volume.
3. July Goods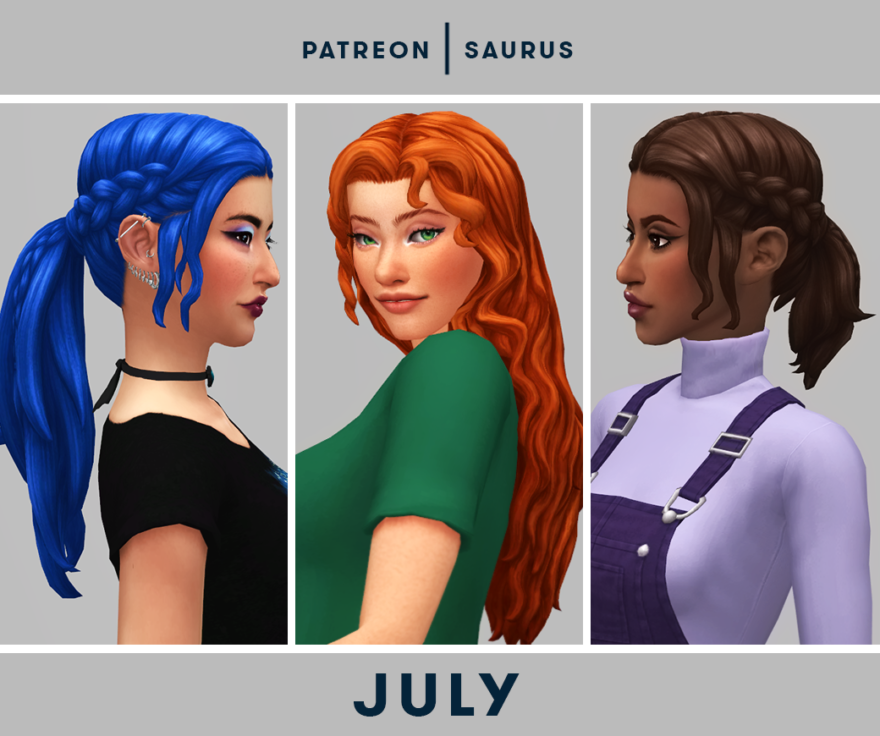 The July Goods collection consists of 3 main hairstyles, featured in various lengths and colors to fit your hairstyle needs.
One out of the three in the set are of the curly variety, being Coral, while all of them have some slight body and definition to at least categorize them as wavy if that's what you happen to be looking for.
2. Ancient Greek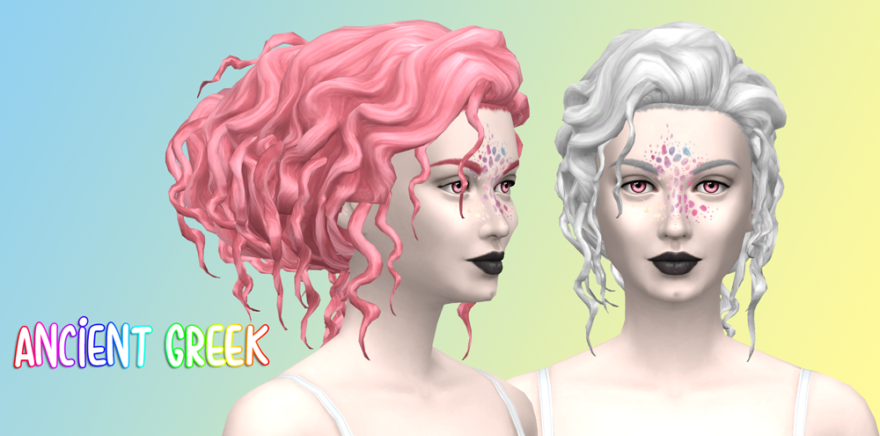 Here is a hairstyle that is curly but inspired by hairstyles that were worn in the ancient Greeks' time.
Refined, tied up, with each curl trying to make their presence known, this hairstyle would be a great option for either trying to create Greek goddesses in your game or even for your own Sim to wear for their more formal occasions.
1. Axa 2019
This collection seems a bit overwhelming, with 36 CAS options to choose from, there's so much to look at you might lose sight of what we're focusing on here.
Yes, the clothes are nice, but the hairstyles full of curls are what we came here for!
Not only are there curly hair options for women, but finally, our male Sims can get in on the curly action as well.
From shorter men's styles to longer women's styles accessorized with barrettes, you'll find something for everyone in your household if you use the AXA 2019 collection.
You might also be interested in: