Pigtails were our go-to hairstyle for a lot of us growing up, and they've made a comeback.
A quick and easy hairstyle for a lot of people when they want to spice up their typical lazy day ponytails is to make one into two – instantly adding something exciting and cute to their otherwise boring looks.
And great news, your Sims can wear pigtails too! To find the best pigtails for your Sims, keep reading because we're going to be talking about the top 10 best Sims 4 pigtails!
Best Sims 4 Pigtails CC
13. Nightcrawler – Bunny

No one said that pigtails couldn't look sophisticated! The Nightcrawler Bunny hairstyle CC comes in 22 colors, including brilliant pastels, reds, blondes, and a few black and brown shades.
These pigtails CC also works with hats for many fun casual combinations as well.
The creator also recommends turning off laptop mode, as well as setting the detail settings to "very high" to get the best visual experience possible.
12. Nightcrawler – Biscuit

Looking for a more punk tomboy pigtail look? Nightcrawler Biscuit Hair CC does just that!
This short pigtail look comes in 22 colors, including natural shades of blonde, brown, and black, with a few pastel options as well.
The hairstyle also features cute choppy bangs to complement the short pigtails that sit just behind your Sim's ears. However, this hairstyle does not work with hats.
11. Leahlilith Lala Hair

Many pigtails hair CC is straight/lacking in texture, but not this one! The Lala hair by LeahLilith offers great pigtails but with excellent curly hair texture.
LeahLilith Lala Hair CC has smoothed back hairline with two braids trailing down both halves of the head that lead to two voluminous pigtails.
This hair CC works with hats and works best when you have the Sims game details set to "very high."
This iconic hairstyle CC comes in a wide variety of colors, including natural shades from black to blonde and multiple ombre options.
10. Midge

The pigtails brought to you by Midge are the perfect example of how giving your Sims pigtails is a complete upgrade from having some pony that they throw their hair into.
Instead, these pigtails are accentuated by the bangs in the front and have a little extra height, which everyone looks for when they need the right pigtails.
Effortless and fun, this hairstyle is even compatible with hats for days you may want to accessorize with a cute headband or even something like a baseball hat.
But, if your Sim doesn't really rock having something on top of their head, then the hair wraps hiding their hair elastics look great on their own.
9. Momo Hair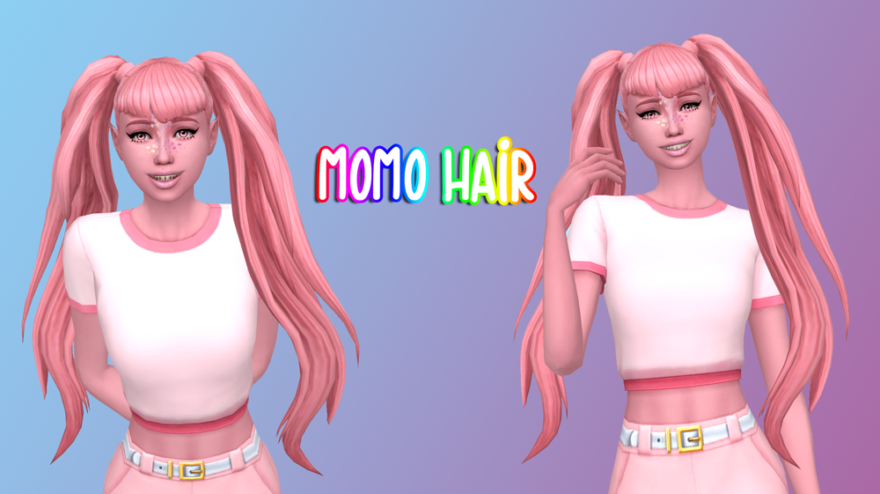 If you're looking for some crazy length to give your Sims pigtails even more personality, then Momo by Tumblr user Infinite Raptor is going to be your new go-to style!
Just like the one before, these pigtails feature bangs with the hair wrapped around your Sims hairbands for a look that's pretty impressive even though it didn't take them all that long to achieve!
An added bonus to the Momo Hair is that instead of only being able to choose from the hair colors that the Sims initially offers, it comes with 74 colors! Lavender, mint green, or even deep magenta- the possibilities are endless!
8. Wisp Recolor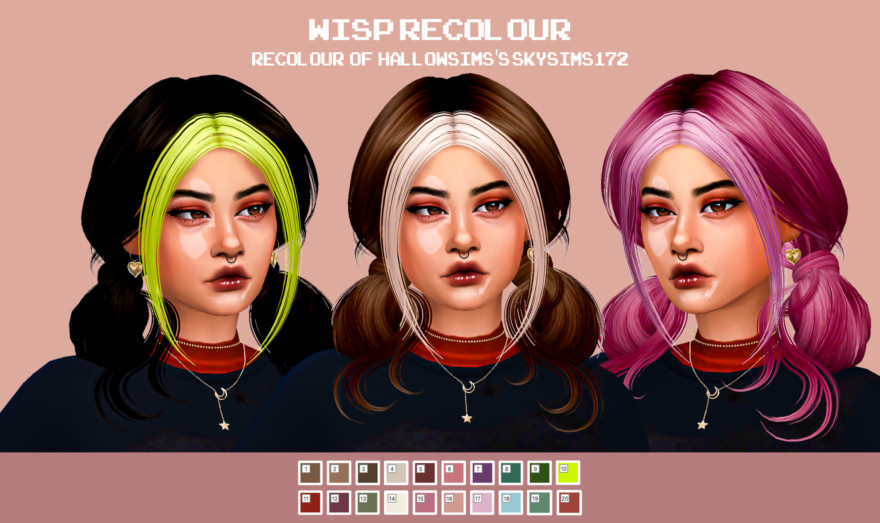 On top of being some already adorable pigtails, this one has a little something special that sets them apart from other, normal pigtails.
You guessed it, colored bangs! Having your bangs be a different color from the rest of your hair has been a huge trend lately, and I gotta admit, I'm in love with it too. Finally, now we can grant this beautiful style to our Sims!
These bangs feature in the Wisp Recolor are much longer than a lot of the others we've seen so far, framing your Sims fact and being ever so slightly shorter than the rest of their hair.
Additionally, the pigtails are relaxed and kept simple, great for their lazy days off relaxing around the house or going out to see some friends.
7. Ade- Loren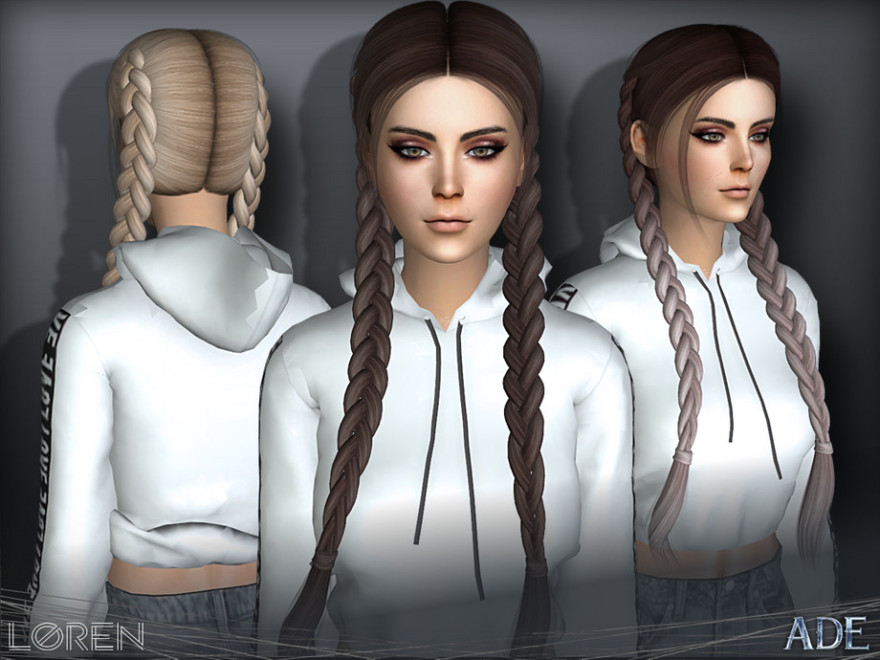 Pigtails can come in all different shapes and sizes, one of those being the iconic braided pigtails. Ade-Loren features beautifully crafted braids, along with length that you won't be able to pass up.
These pigtails would look great with any type of athleisure style or even common street fashion trends. But of course, pigtails are so versatile.
They would look good with just about anything your Sim wore them with!
6. Mimi Hairstyle Retextured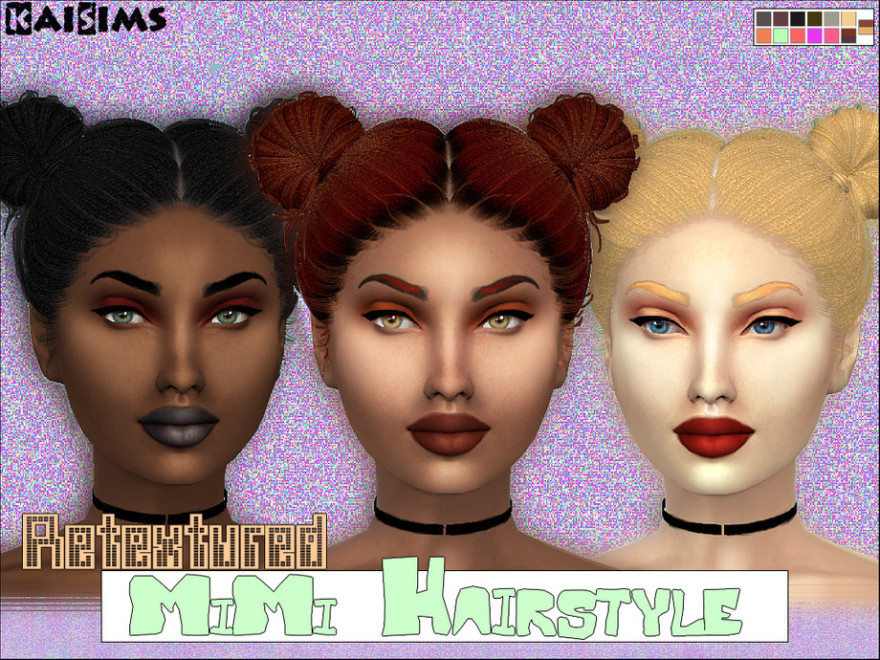 The classic pigtails usually consist of two pieces of hair, left alone or braided, hanging down on either shoulder of the person that's wearing them.
Everyone loves a classic, but it's only natural to want to experiment and change it up from time to time.
That's where the Mimi Hairstyle Retextured comes in to save the day. Instead of being an old-time favorite, the twist is that these are braided buns! Yes, buns!
With great texture and amazing design, you're sure to find a million ways to incorporate these into your Sims style.
5. Rosie Hair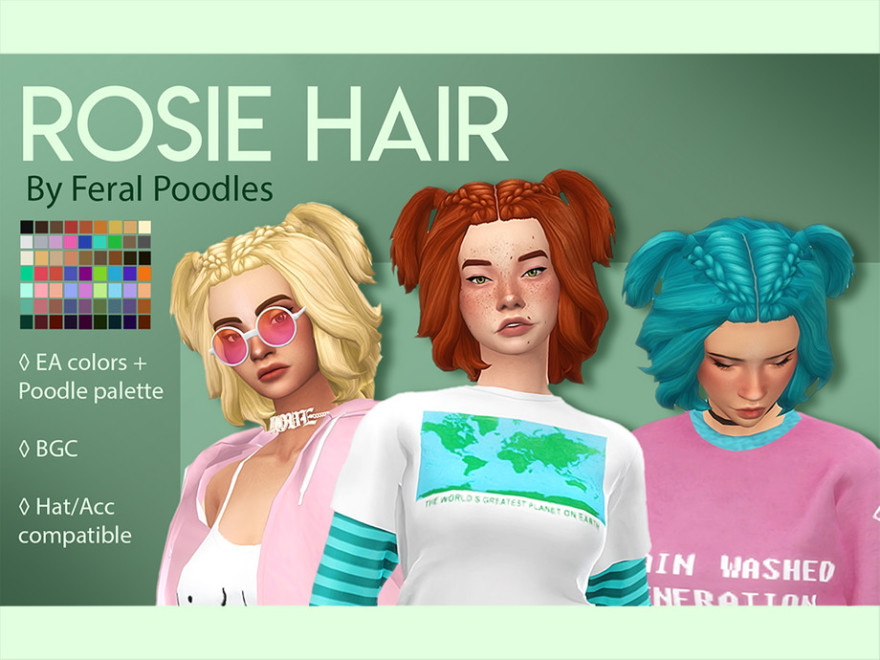 Half-up half-down is one of my personal favorite hairstyles. Why you may ask? Because its form and function serve for literally every occasion and will literally never go out of style, and honestly, if for some reason it does, I'm gonna keep doing it anyway.
But that's beside the point because they're here to stay, and that's made pretty clear with adorable styles like Rosie Hair.
Instead of the usual way this style is done, Rosie uses two pigtails as the half-up part to this look, which is something that most of us would have never thought of, but we're pretty happy someone did!
This is also a fantastic option for anyone who would much prefer a shorter style to a lot of the longer options we've seen so far.
4. Sassy Curls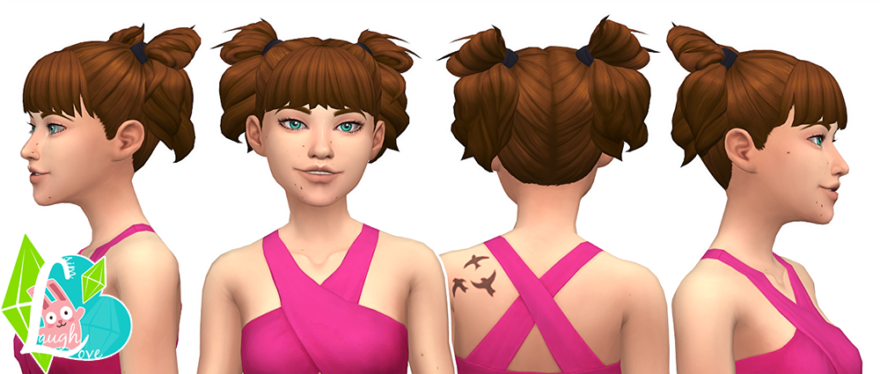 Sassy Curls is a style that your Sims could wear from the day they start preschool until the Grim Reaper finally comes knocking at their door- because it's compatible for toddlers through elders!
And why wouldn't you want to? These are equally as cute and fun regardless of what your age your Sim happens to be, and we love some versatility.
Another option for all of our short hair loving friends, this style adds dimension and volume to straight, lifeless hair that's usually seen in pigtails.
Keep in mind, though, if you want this style, you're going to have to ditch the hat because these are not hat compatible.
3. Loren Hair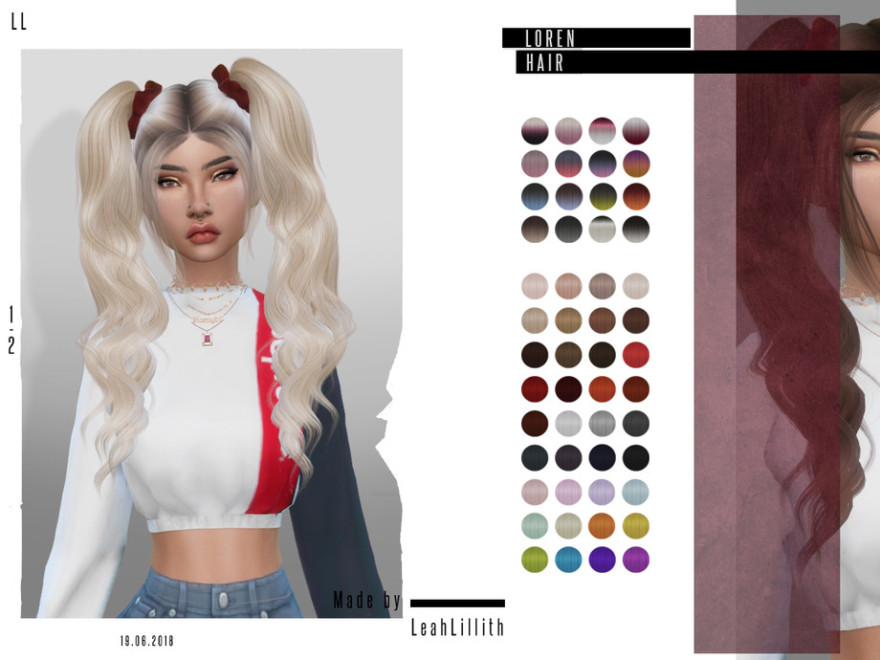 Curly pigtails are definitely where it's at. Curly hair, in general, is pretty great, but especially when it's tossed into a style as cute as this, what's there not to love?
Loren Hair comes with long hair and long bangs to match, which will perfectly frame your Sims face when they're sporting this look.
On top of being a pretty amazing option for hair, these pigtails come with scrunchies on top as an accessory and ombre hair colors for something new and unique every time.
2. POM POM

Seriously, I can't get over how cute these pigtails are. This has all of the elements to create the best pigtails- the half-up-half-down look that we've already established is the superior way to wear your hair, long beautiful hair, and instead of scrunchies or normal hairbands- pom poms!
With this hair, you'll be able to choose from 40 hair colors and 22 colors for your pompoms. So have fun with it. This one is a definite game-changer.
1. Usagi Hair

Usagi from Sailor Moon is probably the most iconic character to rock her pigtails, and a lot of us feel inspired to wear our hair the same way. So, it's only natural that we have to have an option for our Sims, too.
With the Usagi Hair, you'll be able to achieve the length, the waves, and the bangs that we all grew up knowing belonged to Sailor Moon and bring them right into your game.
You might also be interested in: