Gardening is one of those skills that every Sim should be at least a little familiar with. If you want to spice up your yard a little bit, plant some flowers and give your Sims a lot more color.
If your Sim enjoys the benefits of knowing where the food they eat came from, plant some fresh herbs and veggies to add to their next dish.
You can even sell what your Sim grows and sell it for some extra cash when money is tight!
Everything from growing fun produce to adding a pop of green into your Sims life, we're going over 20 of the best Sims 4 gardening custom content and mods so both you and your Sim can start showing off their green thumbs.
Best Sims 4 Gardening CC and Mods
33. Teien Zen Garden Set

A zen garden represents the ancient Asian tradition of seeking tranquility and inner balance through contemplation of nature.
The Teien Zen Garden Set is a great pack for any Sim who wants to create a zen garden.
It comes with everything your Sim needs to get started, including a variety of plants, stones, and accessories.
Creating a zen garden can help your Sim relax and de-stress. It's a great way to escape the chaos of everyday life and find some peace and quiet.
The Teien Zen Garden Set is the perfect way to get started with zen gardening.
32. Barrel Planter Pot

Barrel Planter Potcustom content adds a new type of pot to the game – a barrel repurposed as a vessel for planting plants.
There are several different colors available, each with its own rustic charm.
This up-cycled barrel shows that your Sim is committed to conservation and rustic gardening.
The rustic garden style is a popular choice for gardeners who enjoy the look and feel of a more natural, unstructured approach to gardening.
It also often features an emphasis on organic materials like wood, stone, and gravel.
31. Tennessine Garden

If you're looking to add a touch of natural beauty to your Sims 4 gardening CC collection, look no further than the Tennessine Garden!
This pack contains a variety of gorgeous plants that can be used to create a realistic and lush greenhouse or professional garden.
Whether you're looking to add some greenery to your Sim's home or want to start a successful business, these plants are perfect for any purpose.
What's more, the mod also includes several useful items that can help your Sim get the most out of their garden.
With so much to offer, the Tennessine Garden mod is a must-have for any Sims growing their own plants.
30. No Gardening Club Harvesting

Have you ever had a neighbor help themselves to the fruits of YOUR green thumb?
This mod stops gardening clubs from harvesting your Sim's hard-grown plants, meaning that your Sim can keep all of their hard work for themselves.
This is great for the game because it encourages players to garden and grow their own plants and operate their Sim's gardening endeavors independently.
There's nothing wrong with gardening clubs, but sometimes you want to be alone with your vegetation.
29. Gardening Event

The Sims 4's Gardening Event mod allows players' Sims to join in community gardening events.
Community gardening is a great way to bring people together and get in touch with nature.
These events are a great way to get together with other Sims and work on a project together.
The mod adds a new interaction to the game that allows players to join in these events.
In a sharp departure from the previous mod, this mod brings Sims together around the garden!
28. A la Ferme: Gardening

This gardening CC pack is a great one-stop choice for players that want a simple, classic garden.
The A La Ferme pack for The Sims 4 includes clean and classic gardening tools and fixtures, which can be used to create beautiful gardens in your Sims' homes.
This mod is perfect for players who enjoy gardening, as it provides all the tools they need to get started.
Additionally, the mod is well-made and easy to use, making it a great choice for beginners.
Fun fact: A La Ferme is French for "at the farm."
27. Farm and Orchard Raised Row Gardening Soil Squares

Farm and Orchard Raised Row Gardening Soil Squaresis a tiny but mighty CC that adds raised patches of soil to plant in.
The raised soil is more visually pleasing and realistic than the perfectly flat soil squares in the base game.
Grouping your trees together not only makes them look more appealing and natural but also helps strengthen their roots and support systems.
Planting a glorious orchard is a big undertaking. When your Sim is finished busting their back, they want to examine their handwork and see a dynamic collection of healthy trees or bushes.
Nothing breaks immersion like unrealistic flat squares of soil!
26. Farmer Trait

This mod adds a new Farmer lifestyle trait to the game.
Sims with this trait love to grow food, fish by the water and take care of animals.
They are happiest when they are working on their farm and feel fulfilled when they can provide for their family by growing their own food.
This mod is one of the best Sims 4 gardening mods because it takes gardening and farming and makes it an entire way of life for your favorite Sims!
25. Garden Outdoor Lamp Set

Few things are more peaceful than a nicely lit outdoor garden.
This CC pack comes with a delightful collection of lamps for illuminating your Sims' outdoor gardens.
The pack includes different styles and heights of lamps; there's sure to be something to suit any player's plans.
The lamps are just the thing for adding a touch of light and atmosphere to any garden and can be used to create a relaxing or romantic ambiance.
They're also great for brightening up any outdoor party and will add a touch of luxury to any setting.
24. Herbalist Aspiration

The Sims 4 Herbalsim Mod is a great addition to the game for those who are looking for a more challenging and in-depth aspiration and a more serious relationship with gardening, farming, and plants in general.
An herbalist studies and uses plants to treat ailments and improve the lives of others.
These Sims love to learn about their craft and provide a form of alternative medicine to their community.
This mod adds an herbalist aspiration, which includes new interactions, events, and tasks that allow your sim to learn more about this field of study.
It also provides opportunities for your sim to practice herbalism and help others who are seeking relief from their symptoms.
23. Mega Garden Terrain Set 2

If you want to create a breath-taking mega garden, even in the deserts of the Sims 4, then this Mega Garden Terrain Set 2 CC pack is for you!
Creating the perfect garden starts with great landscaping and terrain, which in the base game is limited. With this CC pack, you have access to 44 different terrain swatches, including different pathways, rocks, grasses, blacktop, and more.
The terrain switches also range in how "alive" your landscaping looks, including some that match the change of the seasons.
There are a few fallen leaf options to mimic a realistic fall season and dead grass and dried-up dirt options to mimic a neglected yard. This pack is perfect whether you want to create a suburban household or a spooky haunted mansion!
22. Summer Gardening Adventures

Gardening in the base game makes gardening seem seamless and clean when it most definitely isn't in real life!
With the Summer Gardening Adventures CC pack, you can make your garden truly look like your Sim has been playing in the dirt, hard at work.
This CC pack includes a gardening table, raised garden bed, a wheelbarrow, and more accessories that would be needed in real-life gardening.
You can place short fencing around your plants and scatter dirty pots and bags of soil around your Sim's garden to increase the realism. This pack also includes some décor growing plants to increase the size of your garden without increasing the work.
21. Kids Can Garden Mod

Ever wish your Sim's kids could help out in the family garden? Well, now they can with the Kids Can Garden Mod!
While it's not always realistic for kids wanting to help with hard work, some really do enjoy gardening, and your Sim's kids can now too.
The base game doesn't allow for a lot of interaction with kids until they grow up, and gardening is one activity they should be able to do.
With that said, this mod is built on the adult animations, so don't worry if the kids seem to move oddly when gardening.
20. Potted Herb Garden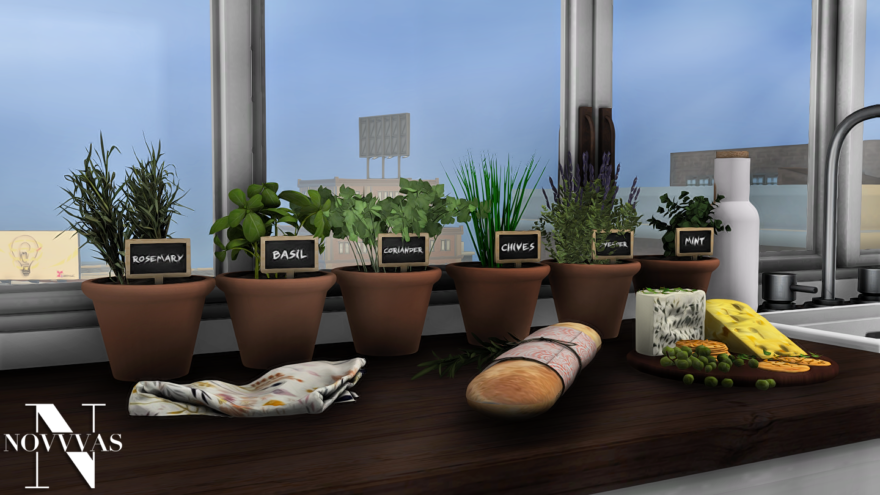 It might be hard for a lot of us to conceptualize what exactly we want out of our garden. How are you going to organize it? What are the best things for you to plant? Is your Sim going to have enough time to tend to their garden in between their full-time job and everything else they have to do?
Before you dive headfirst into becoming a plant parent, start small, so you know it's what you want your Sim to pursue.
The Potted Herb Garden is a great way to test their skills without having to invest a bunch of time and money into a possibly failed hobby. Simply grow these little herbs in your Sims kitchen, and you'll have fresh chives, rosemary, and more!
19. More Old Mill Stuff

Gardens are beautiful on their own. Mother nature takes care of that one pretty well. But at one point or another, you'll probably get the urge to accessorize your space to reflect the true gardener that your Sim is at heart.
More Old Mill Stuff is going to quickly become your go-to place to decorate your Sims garden with all of the tools and decor they need to make it their own.
Everything from crates prefilled with your favorite veggies, fences, and supplies for canning will be at your fingertips, so you can decorate and personalize to your heart's content.
18. Autonomous Gardening Mod

The Autonomous Gardening is perfect for when you have your Sims free will turned off because they won't stop staring at stupid things and wasting their time, but there are some mundane things you wish they could get done by themselves.
The best part is- there's no commitment to it at all!
With this mod, your Sim will be able to harvest, fertilize, and weed their garden without being told they have to.
You can customize this any way you want by making sure they don't harvest certain plants, and this command will only last for a couple of hours in-game, and you can change it depending on what their day has in store for them.
17. Cactus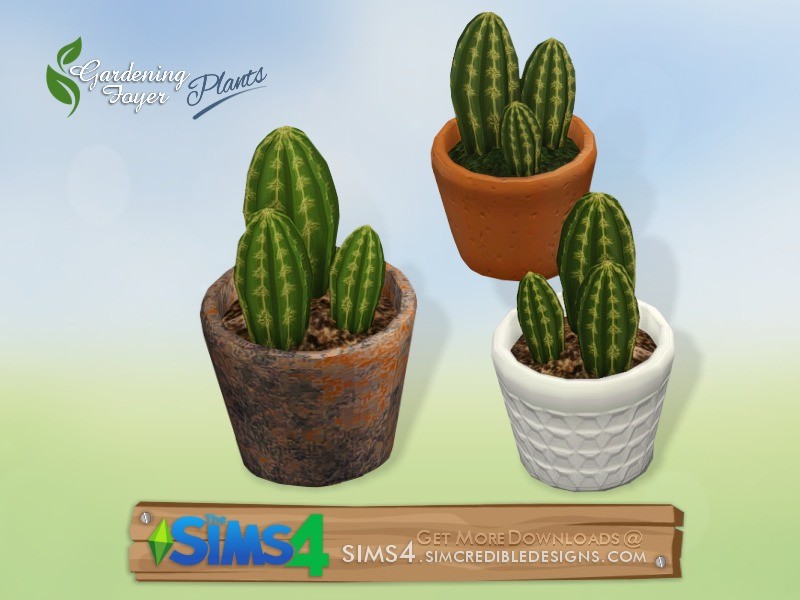 Succulents have been everyone's favorite plants for the last couple of years, and for a good reason.
They're great for anyone too busy to take care of a large scale garden, those who don't have much experience with caring for plants, and even for people who tend to be more on the forgetful side.
These cactuses are going to become your Sim's new best friend. They come with 3 different colored pots, so you can pick and choose what works best with your Sims aesthetic, and they can enjoy the benefits of having plants around the house without having to do the work.
16. Mushroom Collection

Personally, when I think of gardening, I much prefer the more obscure side of growing unconventional plants, incorporating them with something witchy, and living out my biggest cottage core fantasies.
Maybe the rest of the internet is kind of over that era, but it's something that I don't think I'll ever grow out of!
If you feel the same way or are even thinking of how you can change your garden with the seasons, then the Mushroom Collection is going to melt your heart.
A bunch of cute, squishy mushrooms to liven things up in your Sims yard. Better yet, these can even be used inside as decorations!
15. Garden Gnomes
The Sims is best known for their little inside jokes, one of the biggest ones involving gnomes. Gnome-themed shirts, pranks pulled on your Sims by these little mythical guys- you name it.
But now, the joke is on The Sims because these Garden Gnomes are way better than the ones they came up with.
Decorate your garden with some of these charming statues, and they'll do their best to stand guard and watch over your plants when you can't be there to tend to them.
They come in a variety of styles and colors for you to choose from, and they're just what you need to step up your garden's appearance.
14. Retail Produce Stand

We talked a little bit before about how gardening can be a great boost to your Sims income.
The better they get at gardening, the better the quality will be, and you might decide that it's time to let the townspeople get in on what you've grown- for a price, of course.
If you want your business venture to look more professional than selling them out of your pocket and into thin air, invest in a Retail Produce Stand!
Set up shop outside of your house or in a public lot, fill it with the best fresh foods you have to offer, and watch as the other Sims in your neighborhood line up to buy your inventory.
13. Fantasy Grass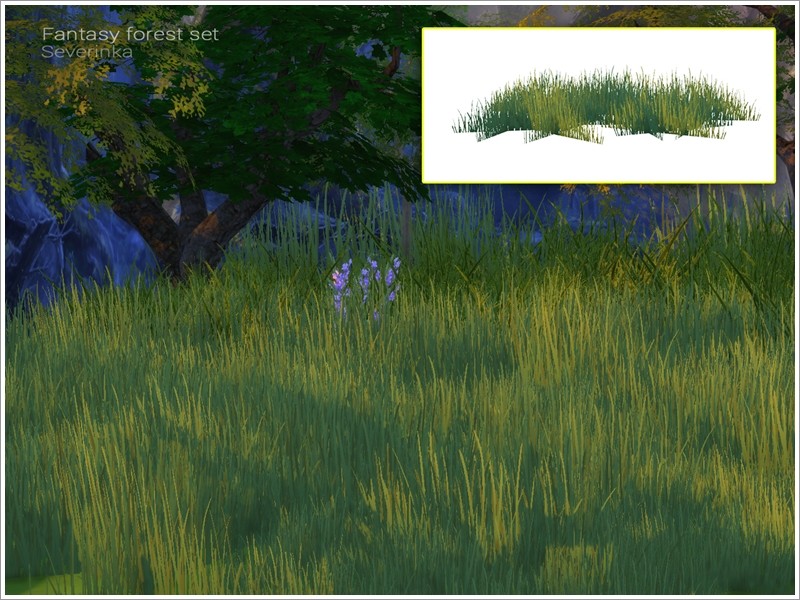 It sounds too basic to be thought of for a long time, grass is grass, and it's pretty uninteresting other than that. But, what if I told you grass can make or break the entire mood of your yard?
Whether you like to have cut patterns, the grass is dead beyond repair, or if you embrace the wildflowers that grow in it.
Fantasy grass lets every part of your lawn, even the most boring parts, be magical and beautiful.
With varying lengths and textures, it'll compliment any garden filled with vibrant colors and different heights for a look that will make all of your neighbors jealous.
12. Garden Signs

Keep your plants organized! When they're just starting as buds, it can be pretty confusing- what did you plant, and where is it in the sea of green?
Thankfully, Garden Signs are a simple yet incredibly helpful tool to ensure everything you have is labeled and in order.
And don't worry about your plants not being included, these come with signs for expansion and stuff packs such as Cats and Dogs to Strangerville, so you're covered no matter what.
11. Friendship Rocks

Friendship Rocks and pet rocks are such a subtle detail, they'll be a delight to find for anyone who isn't expecting it.
The small things are sometimes the things that mean most, and it can be a little too busy if all of your accessories in your garden are big and extravagant, so why not opt for some decorative rocks to add even more color?
These rocks are also a great idea for your Sims, who are trying to teach their children the art of gardening. Instead of having boring adult decorations, they can have something small for them too!
10. Animated Flowers and Bumblebees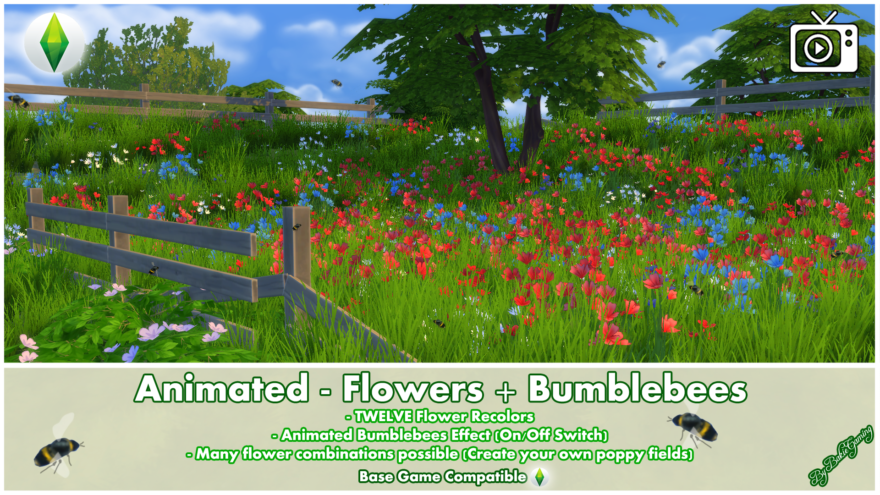 It wouldn't be a complete garden without bees! And who doesn't love bees anyway! They single-handedly carry the world on their backs, they give us honey, and they're adorable, fat blobs that fly around in the sky.
Of course, you could invest in something like a beehive and enjoy them that way in the Sims, but you rarely get to see them. With this mod, you'll be able to enjoy your flowers swaying in the wind and your bees roaming around happy and free.
9. Mini Greenhouse

You can't grow anything inside this greenhouse, but what you can do is put your potted plants on display for your Sim to see from the comfort of the great outdoors.
Step up your game by choosing some of the cut flowers you've put together yourself with the floral arrangement stand, or even one of the potted plants from earlier in this list and stick them inside of your own Mini Greenhouse.
8. Faster Gardening Mod

For one, I hate how long it takes for Sims to complete the simplest of tasks. I mean, really, who takes two hours to garden one plant? It's a pain for the player, and it wastes good time they could be used for something better. Thankfully, there's a mod for that.
The Faster Gardening Mod will help you do exactly that, garden faster! No longer will your Sims waste precious time weeding for longer than they have to. You'll finally be able to get all your chores done and have some time for fun all in the same day.
7. Animated Placable Insects – Jungle Butterflies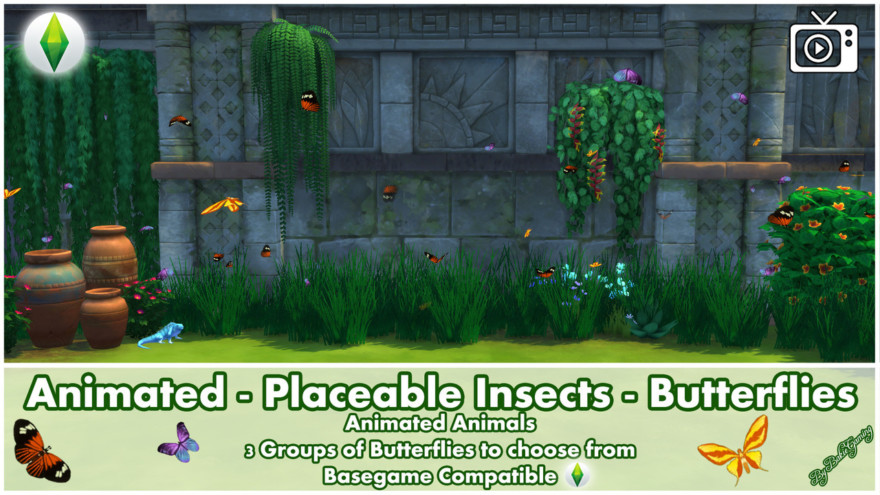 If you thought that the bees were cool, then just wait, what if I told you that your Sims could have an even more diverse garden than just adding bees? That's right, we're talking butterflies now!
I know for myself that I've always loved butterflies, with their colorful wings and grace as they fly across the sky, they're pretty irresistible!
Butterflies are a great accent for all gardens, from your normal fruit and veg gardens to your fairy gardens filled with mushrooms, herbs, and frogs.
6. Farm Crops

For those of us who want to achieve not just a garden but the ultimate farm- our choices for crops are pretty limited.
With Farm Crops, you'll be able to spice things up and add variety to what you find in your backyard.
Choose from plants such as banana trees, corn stalks, and even strawberry plants!
Remember though, these are just for decoration, so if you promise to put them in the produce stand at the end of the week, your customers are going to be pretty disappointed that you couldn't come through.
5. Harvestable Orange

Even though Farm Crops is just for decoration, there are plenty of crops that you can plant and reap what you sow.
They're a little more tedious because you'll have to download each individual file (most of the time) for every specific thing you want to harvest.
So, before you venture out and see what's out there, why not start simple with a Harvestable Orange?
A simple citrus fruit that is not readily available for your Sim, they'll be able to plant and watch their own orange tree grow. Better yet, your Sim will get special moodlets for eating the oranges they've grown!
4. Glow at Night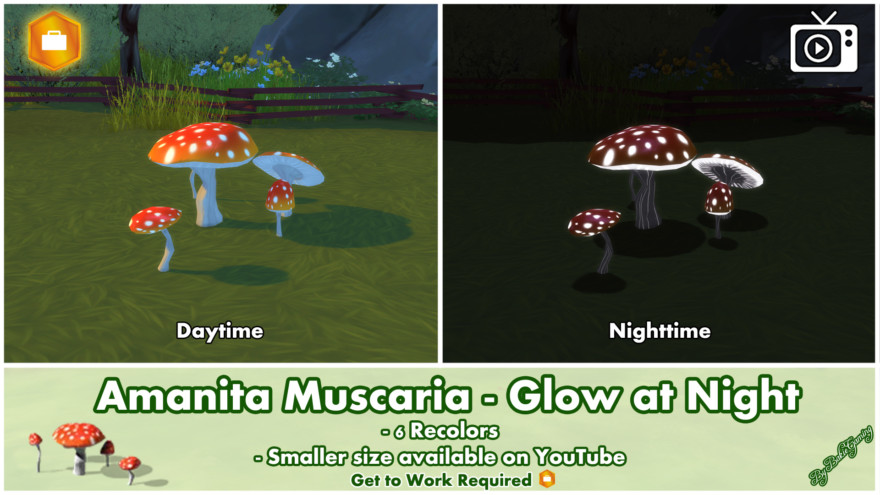 Gardening at night is a bit of a challenge since the sun has since set.
You could rely on some garden lamps, but most of the time, they're bulky and awkward, not to mention a lot of what's out there isn't the most attractive, either.
Glow at Night is a set of mushrooms that you can plant around your garden, strategically of course, because at night, you'll watch these little guys transform and emit light so you can water that last plant you forgot during the day.
3. Swamp Trunks and Trees

Your garden can now become larger than life! With the Swamp Trunks and Trees, you'll be able to feel like you're either living in a storybook or the jungle- or maybe a bit of both!
Place around some big trees, hollow logs to hide out in, and even tree roots that can serve as a beautiful decoration for your lot or even your town's park to bring excitement to children and adults alike.
2. Shrubby Lupin

Lupins are a fantastic option for a floral addition to your garden, they're taller than life without consuming everything else you have going on, they come in beautiful colors, and their texture is so unique it's hard to pass them up.
If you want something subtle that will leave an outstanding impression on your overall garden, look to Shrubby Lupin for some ideas! At only 100 Simoleons, there's no reason they can't join in on the fun.
1. Cottage Garden Stuff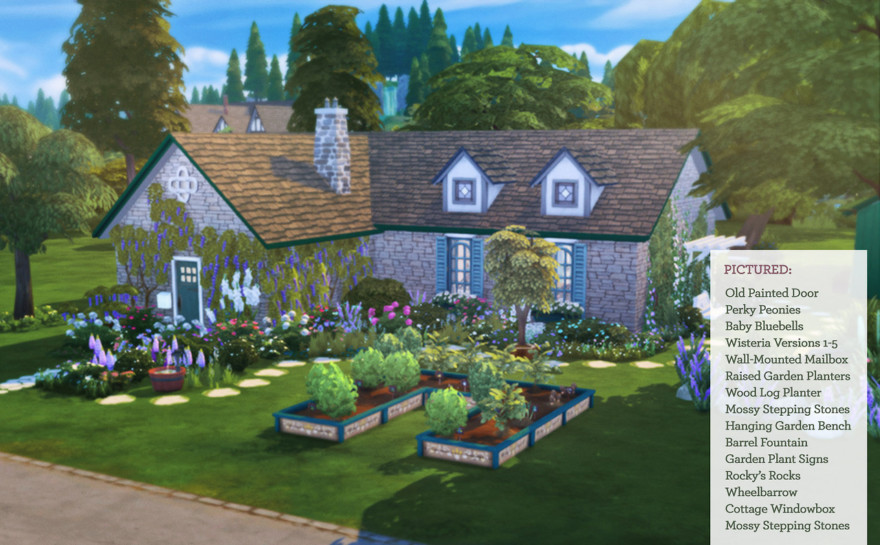 This is your ultimate resource for everything and anything that has to do with garden accessories. Watering can? Check. Garden hat? Check. Bluebells? Check!
And if you thought that was impressive, you'll be even more excited when you see just what this collection has to offer, a total of 171 items! Happy browsing and decorating the ultimate dream garden with the Cottage Garden Stuff collection.
You might also be interested in: