Is your Sims kitchen in desperate need of a renovation? Something more than just repainting the walls and putting in a new hardwood floor?
Sims are like us, they need to eat on a daily basis, and no one wants to cook in a run-down kitchen without all the necessary tools they need to create their meals.
For the five-star chefs, those aspiring to get to that level one day, and even the Sims that want to make their food in a space that they feel comfortable in, custom content for their kitchen is here to save the day.
To spice things up in the room where things literally get spice added to them, we'll be taking a look at the top 15 best Sims 4 kitchen custom content.
Best Sims 4 Kitchen CC
18. SMEGlish Microwave

Inspired by the incredibly sleek yet vintage-inspired SMEG appliances, the SMEGlish Microwave is a great appliance option for any Sim kitchen.
This microwave comes in eight brilliant colors: pastel blue, pastel pink, bright red, mint green, white, grey, dark blue-grey, and black.
This CC also has vintage dials, similar to how retro microwaves would have.
Whether you're looking to build a mid-century modern kitchen or a true to the retro-style kitchen, this microwave will fit with any theme!
17. INSPIRE Kitchen Shelf Oven

This is a stove option that is great for tiny homes or smaller Sim homes in general. The INSPIRE Kitchen Shelf Oven combines a functional oven with functional shelving.
This oven is a part of a full kitchen CC set, the Inspire Kitchen Set, but can be downloaded separately. The oven is placed in the center of a three-tier shelf and comes in both black and white.
The oven is a perfect addition for both modern and retro-styled Sim's kitchens, with how simplistic the design is.
You can decorate the shelves with the normal clutter you would find in any kitchen as well!
16. Kitchen Country

This is another country-style kitchen set that has an old-Western charm to it. The Kitchen Countryset features 17 separate items, including counters, cupboards, a stove, fridge, sink, shelving, curtains, and a wall clock.
Most of the items all come in different colors. The cabinets and the cupboards come in four colors: wood, white, black, and brown.
The curtains also come in different floral variations. The wall clock features pictures of flowers, a rooster, or a vintage French pattern.
You can also create with a rectangular or rounded island for your Sims to eat at, saving you space by not having to buy a separate dining set.
15. Expensive Refrigerator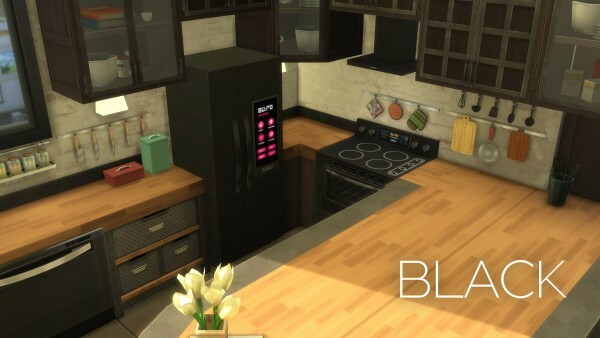 Nowadays, everything in the house is becoming high-tech, including simple appliances like the fridge. I must admit, it's something that I would add to my dream kitchen in a heartbeat if I could.
But, since I am but a broke college student at the moment, putting one in my Sims kitchen will have to suffice.
A stepping stone to making their house into a smart home, we have the Expensive Refridgerator. It comes with its own touch screen on the doors, giving your Sim easy access to all the fancy settings it comes with.
14. Vintage Gas Cooker

A complete 180 from the last pick on our list, we have a staple kitchen appliance that comes reminiscent of a time years ago- the 1920's to be exact.
Perfect for all of the vintage-lovers out there who like record players and old thrifted clothes, this stove might not be the most convenient, but it certainly fits the aesthetic.
Vintage Gas Cooker comes like how they used to, with 3 oven compartments, two of which are stacked on top of each other, and the classic four burners on top. A great choice because you know what they say, they don't make them like they used to!
13. Parenthood Counters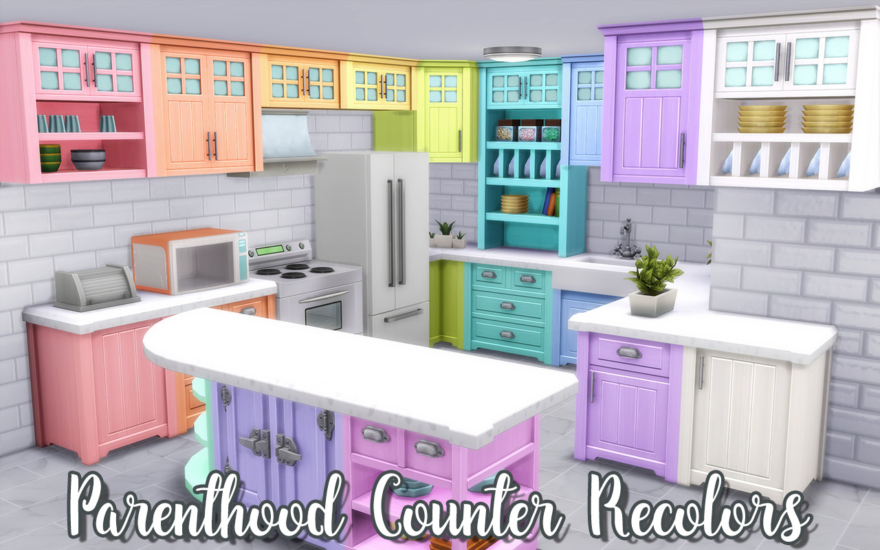 The more pastel, the better. That's what people who would die for the cute aesthetic would say, anyways. And if your Sims house is already decked out in pinks and light blues, then the Parenthood Counters are the obvious next step to creating the soft, colorful house of your dreams.
Not into pastels. But still, looking for a way to incorporate more color into your home?
This collection has your back, you can choose from the same colors in different shades from bold to dark to fit whatever mood you want to create in your kitchen.
12. Tiny Kitchen Counter
Not everyone dreams of living in a big, luxurious mansion. Instead, prefer smaller places with nice things that feel cozy and inviting.
Of course, I'm talking about tiny hoses, especially with the release of the Tiny House Stuff Pack, there's no reason why those who love the idea wouldn't opt for one of these spaces!
The Tiny Kitchen Counter allows you to give your small-scale home the love it deserves in the areas that sometimes feel like you can't afford to sacrifice practicality for overall looks.
This has the best of both worlds, sleek design, and great function!
11. Juice Blender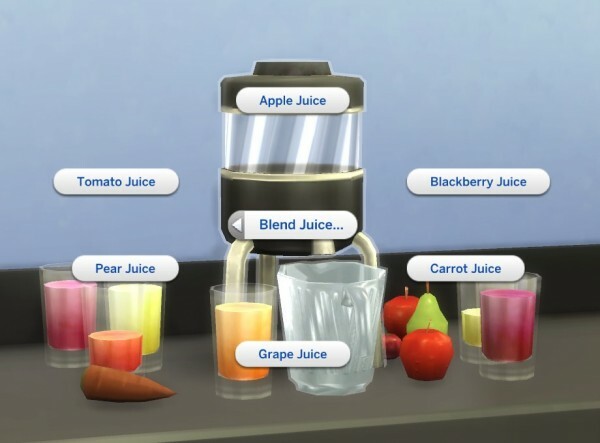 Dying to try that new juice cleanse everyone's raving about? Luckily, your Sim can hop on the bandwagon with their new Juice Blender!
Fully functional and ready to blend up every fruit and veggie imaginable, you can now make smoothies from the comfort of your Sims home for breakfast after their power workout.
Like with regular recipes, you can either use foods you buy from the store, purchasing them every time your Sim wants to make themselves a quick beverage, or you can use the produce from your own back yard if they have a green thumb.
10. Functional Muffin Maker

Can we talk about something serious for a minute? I've always wanted to use the cupcake machine in The Sims, it sounds so fun, and I love the idea of baking tiny cakes whenever I want to. Why haven't I?
The design is so awkward and clunky, I could never get it to fit right with the other things I had in my kitchen.
While it may not be for cupcakes, muffins will have to do because, with this Functional Muffin Maker, there's now a more attractive, less bulky way for my Sims to bake to their heart's content.
It blends in seamlessly with the rest of the counters, so much so you might not even notice it! You can even change the colors to match the rest of the wood in your kitchen, which adds bonus points in my book.
9. Kitchen Stuff 2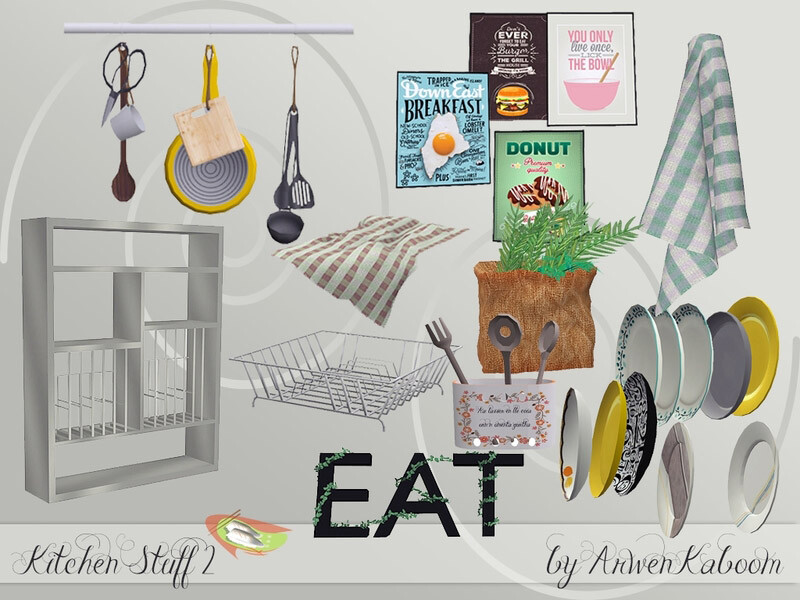 Every kitchen needs a little clutter to make it feel more like home. I mean, who lives in an empty house with nothing but the appliances it came with?
Instead, dress things up a bit with the things found in Kitchen Stuff 2.
Decorative plates, accent towels, posters for the walls, and even a dish drying rack! These are just a couple of the things you can find in this collection of rustic, homey decor specifically made with your Sims kitchen in mind.
8. Altea Kitchen Clutter Part 2

Looking for kitchen clutter, but with a different design than what we saw before? Everyone has a different style, I get it, and that's exactly why there needs to be more than one option to choose from, especially if you're designing multiple houses for multiple Sims.
That's why Altea Kitchen Clutter Part 2 has earned its rightful spot for the best kitchen custom content.
Instead of the homey, family feeling that we saw previously, this set gives a much more modern tone to the kitchen it's placed in. Some of the items you can find include a set of knives, dishes, a spice rack, and a convenient wire rack to hang all of your necessities.
7. Time To Bake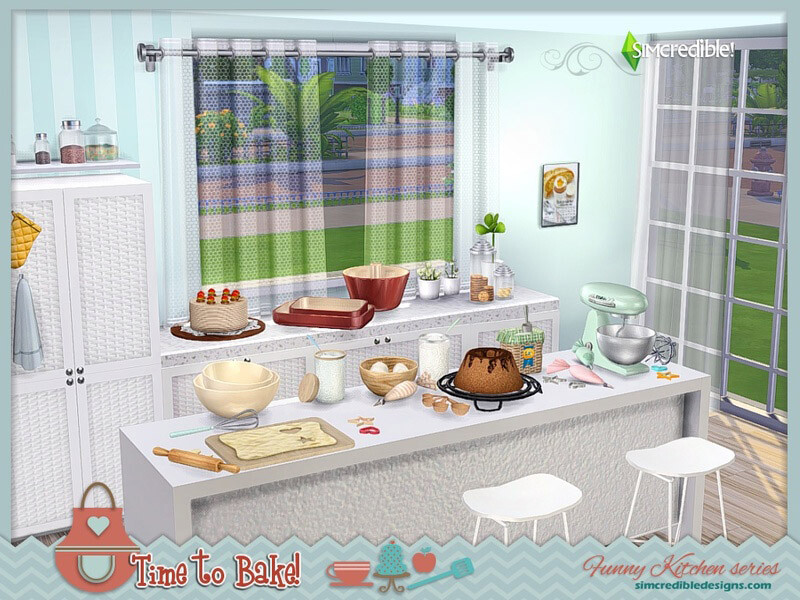 Get your Muffin Maker ready and your apron on because we're about to do some serious baking.
For all of your pastry and sweet needs, Time To Bake is a collection of all the best appliances and tools for your Sims to make the perfect pastry every time.
It comes complete with everything from cookie cutters, mixers, and even fully baked and decorated cakes so your Sim can display their talent in the kitchen. Perfect for parties or a way to make every room in their house feel like home.
6. Urban Chic Kitchen

For a lot of us, the idea of stripping down a room and starting from scratch is intimidating.
Some of us so get overwhelmed with all of our ideas that it's hard to figure out exactly what you want to add, and others think that the process of designing your own house seems tedious and would rather cut to the actual gameplay.
Either way, luckily, there are kitchens that are ready to go and designed to our exact likings. One of these kitchens is Urban Chic, which looks like a boho young adult living in the city got the exact budget they needed to decorate their dream kitchen.
Free-spirited and bursting with color and personality- the perfect kitchen for your Sims first home!
5. French Country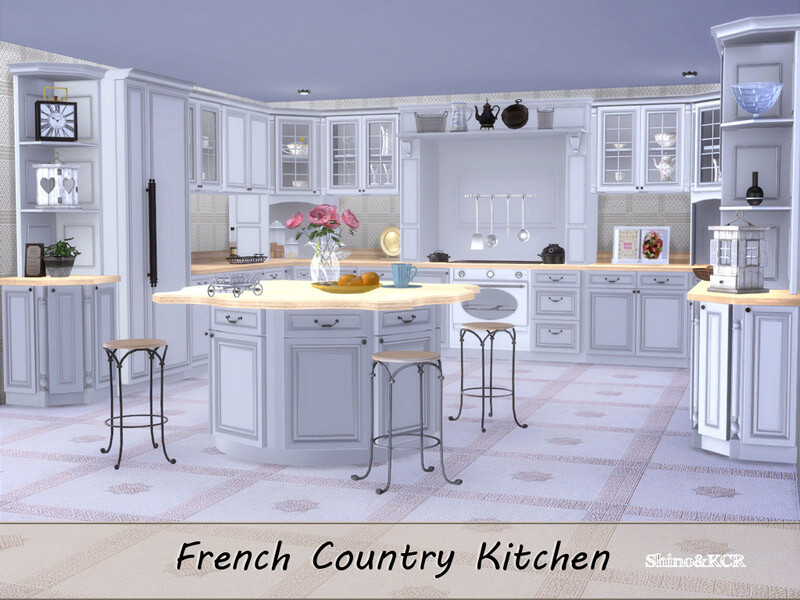 Another great example of a beautiful kitchen that has already been designed and ready to be used by your Sims is French Country.
A much different style than Urban Kitchen instead is a very monochromatic color palette consisting of white and light woods.
This kitchen design is perfect for the mature, responsible Sims in your neighborhood. They're the type that likes their coffee black made with a fancy coffee maker and enjoys wine and cheese parties.
And what better way to show who your Sim is than a beautiful space for cooking, with a matching island for them to enjoy their breakfast in the morning?
4. Sleek Kitchen CC Stuff

Let's face it, there are a lot of great collections for kitchen clutter. All with different designs and different things to add to your kitchen counters, it's hard to choose the perfect set without overwhelming your files that are already filled with custom content.
Here, we love a good collection filled with everything we need, and sometimes more, beautifully made so we can find everything in one place. You know where this is going.
Sleek Kitchen CC Stuff– fits exactly what we just established is hands down one of the best ways to make your search for custom content as convenient as possible.
Everything from appliances, counters, chairs, and even vases to decorate and set the tone for not only your kitchen but your dining area, as well.
3. Quintin Kitchen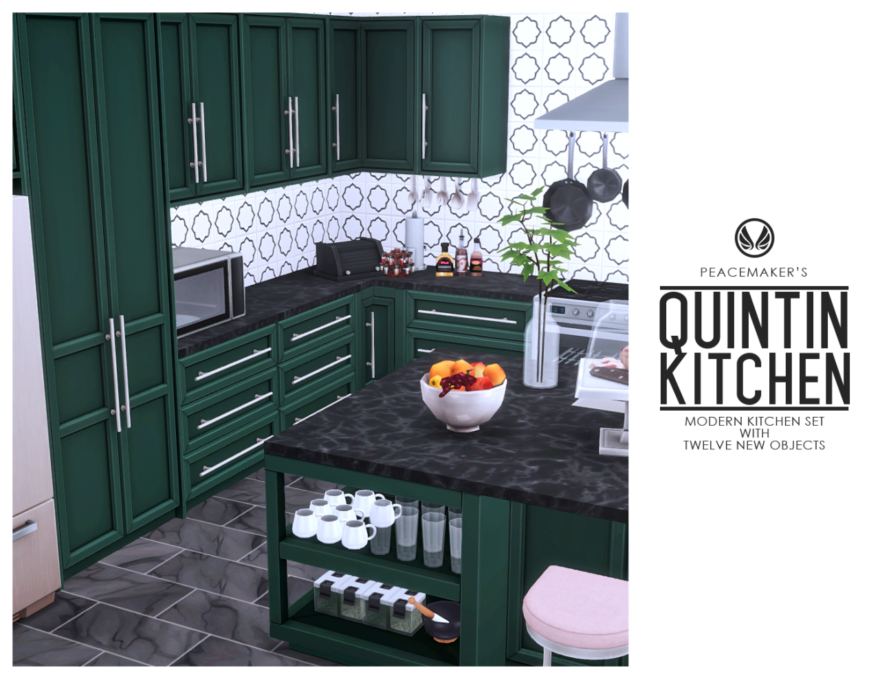 What makes Quintin Kitchen stand out from the rest is how beautiful the design is.
Tall cabinets, see-through doors, islands, and two sets of barstools? It looks like what you would expect from an expensive apartment in the city, and I won't lie, I'm obsessed.
You can choose between white or black marble on the countertops and a variety of wood colors, natural woods, and even more unconventional colors like dark green!
2. The Kitchen Stuff Pack

Similar to the Sleek Kitchen CC Stuff, we have another collection of custom content, beautifully placed all in one file to fully decorate your Sims kitchen.
The Kitchen Stuff Pack comes jam-packed with over 55 pieces of custom content, all designed to create a modern yet welcoming space for your Sims to cook and eat with family and friends.
1. Essa Kitchen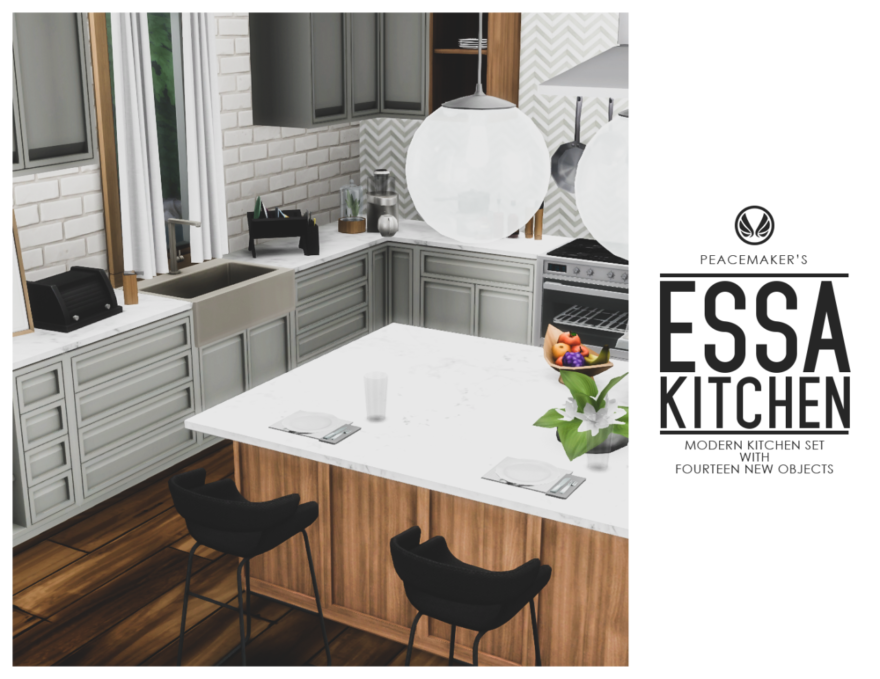 From the same creator as Quintin Kitchen, we have Essa Kitchen. Featuring the same tall cupboards and stone countertops, the difference is in the small details. Whereas before we saw big bulky drawer handles on all of the cabinets, in Essa Kitchen, you can barely see them!
Additionally, you can play with the idea of a backsplash with this set because you know you've been dreaming of having one ever since you saw it on an episode of HGTV.
You might also be interested in: