Dungeons and Dragons, Lord of the Rings, and all other high fantasy media love to use elves in their intricate, magical stories as part of their character line up.
These mythical creatures are most remembered for their pointy ears, which are a fashion statement on their own but are also usually associated with their medieval-style clothing and resourcefulness when it comes to living in the woods.
Back in The Sims 3, it was more normal to see mythical creatures like elves in-game with things like the Supernatural pack, even though they weren't one of the base game options, they were still more socially acceptable. But for all of us that can't get enough of the imagined world, we want more elves!
If you're looking to incorporate them into your game, then take a look at the top 21 best Sims 4 elf cc so you can give them everything to look and live like a true elf.
Best Sims 4 Elf CC
35. Blood Elf Eyes

Blood Elf Eyes CC adds a new eye color to the game that gives your Sims the appearance of being blood elves from the popular World of Warcraft video game franchise.
This mod gives your Sims a unique and eye-catching appearance that screams, "I'm not hungry for mana. YOU'RE hungry for mana!"
It can really help to add some extra personality to their looks.
Additionally, this mod is perfect for players who are fans of World of Warcraft, as it allows them to bring a little bit of that game into their Sims 4 experience.
The only issue is finding a reliable source of mana in the Sims world…
34. Marks of Night Elf

If blood elves aren't your cup of tea, there's an alliance alternative.
This Sims 4 elf CC adds the facial markings of the Night Elves from World of Warcraft, giving your Sims an otherworldly look.
The markings are very detailed and accurate to the original game.
They're also very versatile, coming in a few shades, and can be used with any skin tone or hair color for beautiful results.
33. Snow Elf Skin

The pale, glistening skin of the snow elves is beautiful and unique, and it can really make your Sims feel like they're a part of a different world.
Your Sims will stand out as the pristine eternal beings you imagine them to be.
This mod is great for players who want to add a touch of magic to their game.
The snow elf skin is perfect for creating icy winter scenes or for giving your Sims a mystical aura.
32. Toddler Elf Ears

Why should your little Sims be left out of the elvish fun?
The Elf Ears CC pack adds a set of elf ears to your toddler-aged Sims.
These pointy ears are a classic feature of an elf that gives your Sims an elven appearance. The ears are non-gender specific, so they can be worn by either male or female toddlers.
With this mod, players can finally complete a full elf family and be the most mysterious clan on the block.
31. Clara Dowling (Elf)

Clara Dowling is an elf, a magical creature that is known for their long life spans and otherworldly abilities. As such, Clara has some unique features that make her stand out from other Sims.
Her pointed ears give her a decidedly elfin look, and she also has bright green eyes that seem to glow with magic.
This is a great CAS system download for players who want a quicker way to introduce an elf into their Sim world.
Elves are a very popular fantasy race, and having one in The Sims 4 adds to the game's already impressive amount of diversity.
30. Realm of Magic Village

The Realm of Magic Village is a sprawling and marvelous elf city that sits at the heart of a great and magical forest.
The buildings in this city are all made from sparkling white marble that gleams in the light of the setting sun.
The central manner is a magnificent structure that towers over the rest of the city, and it is here that the elves hold their great balls and celebrations.
The manner is decorated with beautiful tapestries and murals, and it is always filled with the laughter of happy elves.
This mod is perfect because it adds an entirely new and unique world to the game.
It's perfect for players who want to explore every corner of the game world, and it's sure to provide hours of enjoyment for all fans of Sims 4 custom content.
29. Arcane Illusion Braid (Long Elf Hairstyle)

The Arcane Illusion Braid is a custom elf hairstyle for female Sims.
It's a long, braided style with intricate details that give it an ethereal quality.
This hairstyle is perfect for Sims who want to add a touch of fantasy to their look, and it's great for parties, special occasions, or just everyday wear.
The Arcane Illusion Braid is available in all the standard hair colors, so you can find the perfect one to match your Sim's personality.
28. Elven Palace

The Elven Palace is a magnificent structure fit for any elvish queen or queen.
The elves built this magnificent palace many centuries ago, carefully crafting every detail with utmost care and attention.
It features the finest of wood carvings and a grandiose design that is sure to impress.
Its eye-popping green roof detail gives this opulent structure an air of whimsy, too. Very befitting of the elves.
The palace could be full of luxurious amenities, including a lavish bed, a Jacuzzi, and even a grand piano.
Add a dash of elegance to your Sims world with this custom content structure.
27. Elven Eyes (Arcane Illusions)

For those players looking to add a touch of elven magic to your Sims' eyes, the Elven Eyes CC pack is perfect for you.
It comes with an array of stunning eye colors, each paired with a delicate, arcane makeup pattern just under the eye.
The patterns are intricate and beautiful and really help your Sims display their true mystical nature.
These eyes will give them the perfect start if you want to create an elven character.
Or if you just want to add a bit of fantasy flair to your game, these eyes are the perfect way to do it whether your Sims are actual elves or not!
26. Elven Fantasy Robes

Aside from their immortality, power, and knowledge, elves set themselves apart with their fashions, too.
The imagined world of elves is often associated with graceful, flowing garments that seem to flutter and shimmer as the delicate creatures move through the forest.
Elven Fantasy Robes is a selection of beautiful gowns that bring quintessential medieval-inspired elf fashion to your game and your Sims' closets.
These gowns are immediately recognizable by any true fan of the fantasy genre, and they add a touch of elegance and sophistication.
Even your non-elf Sims will feel like royalty in these dresses; they're really for everyone!
25. Moon Eyes

Have a deep wish to create the perfect Night Elves? Well, these Moon Eyes are one CC option for you, then! This eye CC comes in a beautiful silver-white, with flecks of blue and purple.
Although this CC doesn't come in different colors, it would be useful in creating subtle elves in The Sims. With the thin, black lining surrounding the white orbs, these eyes are also quite ethereal.
Paired with tattoos or other skin markings, these eyes are perfect for any type of elf Sim you are looking to create.
24. Black Phoenix Elven Suit

Every elf man needs an elegant elven suit, and this Black Phoenix Elven Suit is the perfect one for your Elf Sim. Created by DanSimsFantasy, this suit comes in five colorways: black, red, green, brown, and silver.
This suit is perfect for creating modern-day elven Sims, whether they run a successful business or are attending a fancy event. This CC is also extremely detailed, with a ruffled shirt, detailed patterns on the pant legs, and jacket collar.
No matter what color you pick, this suit is carefully designed to look lush and textured.
23. Marks of Wood Elf

Not all elves have markless smooth skin, in fact, many would have equally as beautiful markings! The Marks of Wood Elf CC provides multiple markings to give your elf Sim an ethereal look beyond just their clothing.
This CC is available in three colors and can make your Sim look as if the trees kissed them. The markings included in this CC pack feature dots on the legs, interlocking lines around the arms, and tree branch-like lines tracing the chin, cheeks, and forehead of the face.
This CC pack is perfect for making elven Sims that stand out more and paired with the Moon Eyes, your elven Sim will be a stunning mystical creature.
22. Elven Castle

Elves are essentially nobles of the supernatural world, so they need a home, or castle, fitting for them. With the Elven Castle CC, your elven Sim will live in luxury.
This beautiful white castle is Victorian in style and surrounded by nature and foliage. There are also many towers, peaked ceilings, and multiple floors and sections.
This castle looks like it was pulled directly out of the Lord of the Rings franchise and is a tremendous addition to your Sims game. So, if you're looking for the perfect home for your elven Sims, this house CC is the choice for you!
If you want to add an elvish Sim to your household but you don't know where to start, or maybe you're just bad at designing Sims from scratch, then finding Sims like this one that others have already premade for you is a blessing.
Nava Coffey is a young woman with elf ears and blue skin, and she's sure to add excitement to your game!
Some of her traits include loving the outdoors and being good. She's also an aspiring botanist, so get ready to have a house full of plants and spend plenty of time in the sun.
20. Lucrezia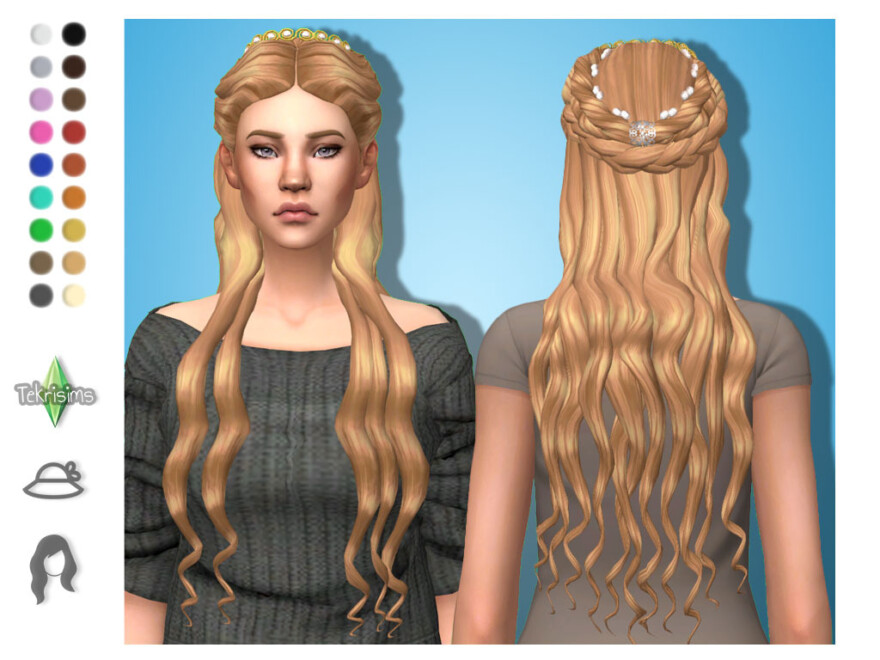 Lucrezia is a hairstyle that would work great on your Elf Sims or any Sims who are living in a world of adventure and fantasy, for that matter!
Classic long hair with loose curls, topped off with a braided crown piece, makes for a staple look for everything and anything that took place in the olden days.
If you're not feeling the let down look or are preparing to go off into battle, you can keep using the same hairstyle!
It comes with a pinned-up option as well, mostly consisting of braids, so you can keep your Sims hair consistent, no matter the occasion.
19. Elf Costume

Reminiscent of The Sims 3 clothing from Supernatural, we have the Elf Costume. On the more scandalous side, this costume is made out of ivy.
Yup, that's right, just ivy. Which, to be fair, is probably more accurate in terms of what elves would wear! Covers just enough to keep your Sim from getting charges of public indecency, plus it's pretty cute.
18. Elven Dress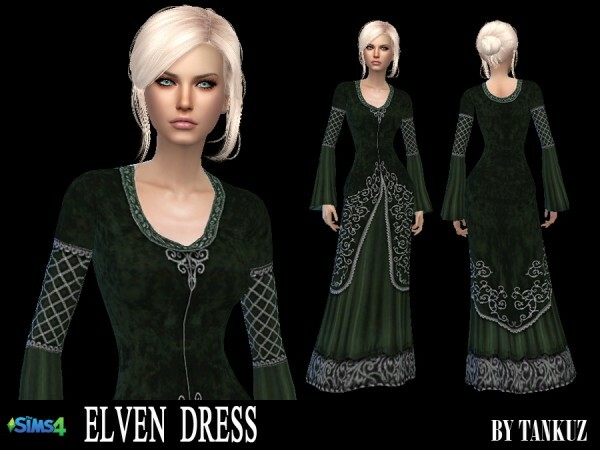 A dress that's definitely more modest than the one before looks like it came straight out of the Dark Ages. The Evlen Dress is a floor-length dress, perfect for your Elf Sims to wear while they're out on the town, tending to their garden, and reading books by the fire.
Complete with flared sleeves and 4 colors to choose from, you can switch up your dress of choice to fit the occasion and pair it with some of your favorite elf accessories.
17. Elf Ears + Earrings

What Elf would be complete without the signature elf ears? They're probably the most iconic, sought out ear style out there, add some jewelry to them, and they're close to what would be the perfect type of ears for any elf imaginable.
The Elf Ears + Earrings give just that to your Sims, with golden jewelry as a finishing touch.
Keep in mind, though, that these ears are on the big side. If you're looking for elf ears that are smaller and more dainty, then keep on reading- we have more styles and sizes in store.
16. CU Chulainn

What we have here is a recolored outfit for the male Elf Sims out there because they're going to need a cool outfit as much as the female Sims do.
This outfit is as good as it gets for an accurate outfit that looks like it was taken straight out of a time before phones, computers, and when magic had a bigger prevalence in people's lives.
With fur-lined boots, arm protection pieces, and even a place to put their sword, you might be tempted to use this outfit on your Sims who don't have a trace of Elf in their blood.
15. Vine Belt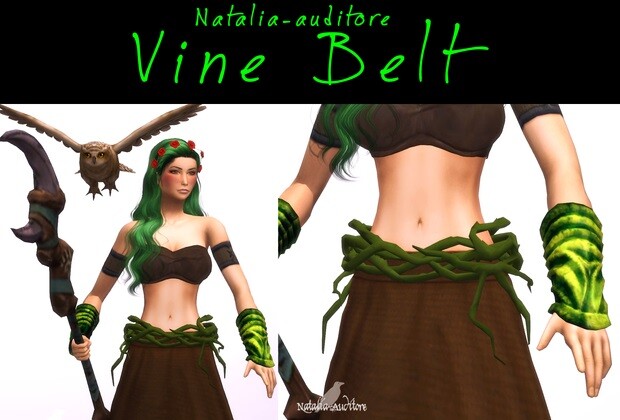 Even elves need to accessories their outfits! It's obvious that accessories are important for their finished look with the intricate boots, jewelry worn, and even pieces that they put in their hair.
So, something that serves a functional purpose and is directly inspired by mother nature herself makes sense to add for your elves.
The Vine Belt is what it says it is, it's a belt made out of vines! This belt comes in 7 colors, and the style isn't like your typical belt because it wraps around their body more than once. I
t's practical, and it says, "the forest is where I belong."
14. Elven Circlet

Speaking of accessories for elves, we have a piece of jewelry that may not be as practical as a belt, but it makes up for that with how beautiful it is.
Consisting of metal and jewels as it wraps around your Sims forehead in a teardrop shape, the Elven Circlet is an easy way to add something extra to their outfit if necklaces and earrings aren't doing enough.
There are 3 colors of metal to choose from, gold, silver, and bronze, as well as 3 colors of jewels. Play around with them until you find what matches your Sim best.
13. Zelda
While they're never called it in the game, the characters in Zelda have been said to be based on, you guessed it, elves!
They're so lovable that they're even included in one of the biggest video game series in Nintendo, which makes Princess Zelda's hair a perfect choice for all of your elves in The Sims.
While it's not an exact match for the hair she's seen having in the game, the curly bangs and long layered hair with flowers decorating the top is reminiscent on our favorite Hylian princess.
If you like the style but don't think blonde hair is what you're going for, you can still customize the color to whatever you prefer.
12. Tonian Ears

The Tonian Ears are another pair of large, pointed ears that make your Elf Sim look the part of being an elf.
While they're like most pointed ears that you can find, what makes them stand out are the ridges on the side, making them very distinct from human ears that have a small point to them.
If you're looking to use these ears on a family of elves, though, keep in mind that they're not made for the toddlers and kids in the household. They're going to have to grow up to earn their pointed ears!
11. Primrose Hair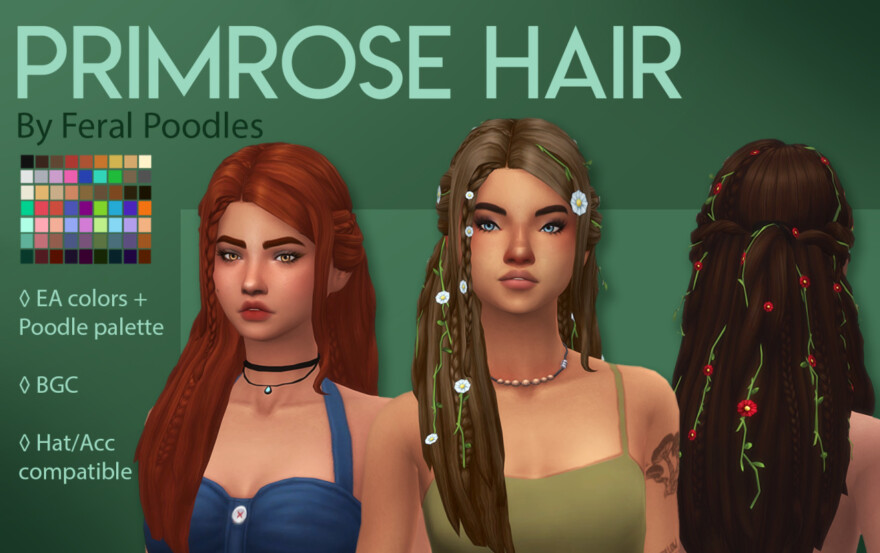 A hairstyle with flowers not just on top of the head but woven throughout the entire thing? Yes, please!
Primrose Hair is as whimsical as it gets in terms of hair for the Sims, and I think I'm just about obsessed with it.
You can choose whether you want the flowers or not, and with its pattern of braided strands mixed with those that were left alone, it's something that's hard to resist.
10. Moon Mark

One of the best things about creating your own version of a mythical creature is that they don't exist, so you have a lot of creative liberties when you're in the process of creation.
With that being said, a Moon Mark on their forehead has the perfect vibe for all elves, and even for other beings that you might be making.
This facepaint can be placed in two directions, facing up or down, and would be a great addition for your elves, that tend to only show their faces after the sun has set.
9. Monster Teeth 5

You can customize your elves to become whatever you want them to be by making sure no small details go missing. A lot of people don't think about what elves teeth would look like, but especially if they have a grimacing smile, that's going to become important later on.
Monster Teeth 5 sets your Sim apart from the humans they live among. Sharper, smaller, and sometimes even bloodier, they give the impression of something that's not quite a human, but not quite an animal either.
8. Thranduil Hair

Finding hair for your Sims that's reminiscent of preexisting elf characters from other media helps to get a rough idea about what your Sim should end up looking like.
So, if your base reference is Lord of the Rings, then you're in luck because there's hair that copies Thranduil that would work great on the males you're working on.
7. Dress Elf

A spin on a classic high low dress with long sleeves for Elf Sims, or Sims dressing as an elf for their next costume party.
While this one may not be the most authentic if you're trying to replicate a time in the past, it's your Sims game, so you make the rules, and not everything has to be historically accurate. You just have to like it!
6. Dark Elf Basic Set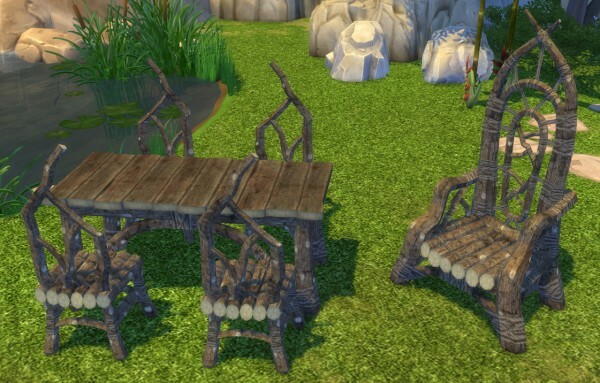 So far, we've talked a lot about ways to dress up your Sims so that they look like an elf. That's great and all, but what about making the place that they go home to every night match? It would look pretty weird if they lived in a modern-style home, which is why using furniture and decor specifically made for elves will help set the tone.
The Dark Elf Basic Set gives you the essentials you need so you can figure out what does and doesn't go with the vibe from there. Wooden style beds, tables, and chairs will help get you in the mood if you don't know how to achieve the look for their house that you want and need a starting point to go off of.
5. Sad Elf Ears Set

Instead of having massive ears that point up towards the sun, why not try a set of ears that point downward instead? Elf ears are like human ears. There's no set shape, they can come in a variety of styles!
With unique ears such as Sad Elf Ears, you can either make all of your elves have one style that differs from the norm, or you can use ear shapes to differentiate between various elf families you have living in your neighborhood.
4. Honey Bee Hair

A favorite detail in elf hair has obviously been incorporating braids. Not simply braiding hair into one or two braids keeps everything in one place, but only select pieces, which can also be said for Honey Bee Hair styles.
Instead of some of the other hairstyles we've seen so far, this one is shorter, so there's variety in styles to choose from. An added bonus is this one also uses a bun-like shape to create volume because honey bee, so like a beehive.
3. Ear Presets and Tattoo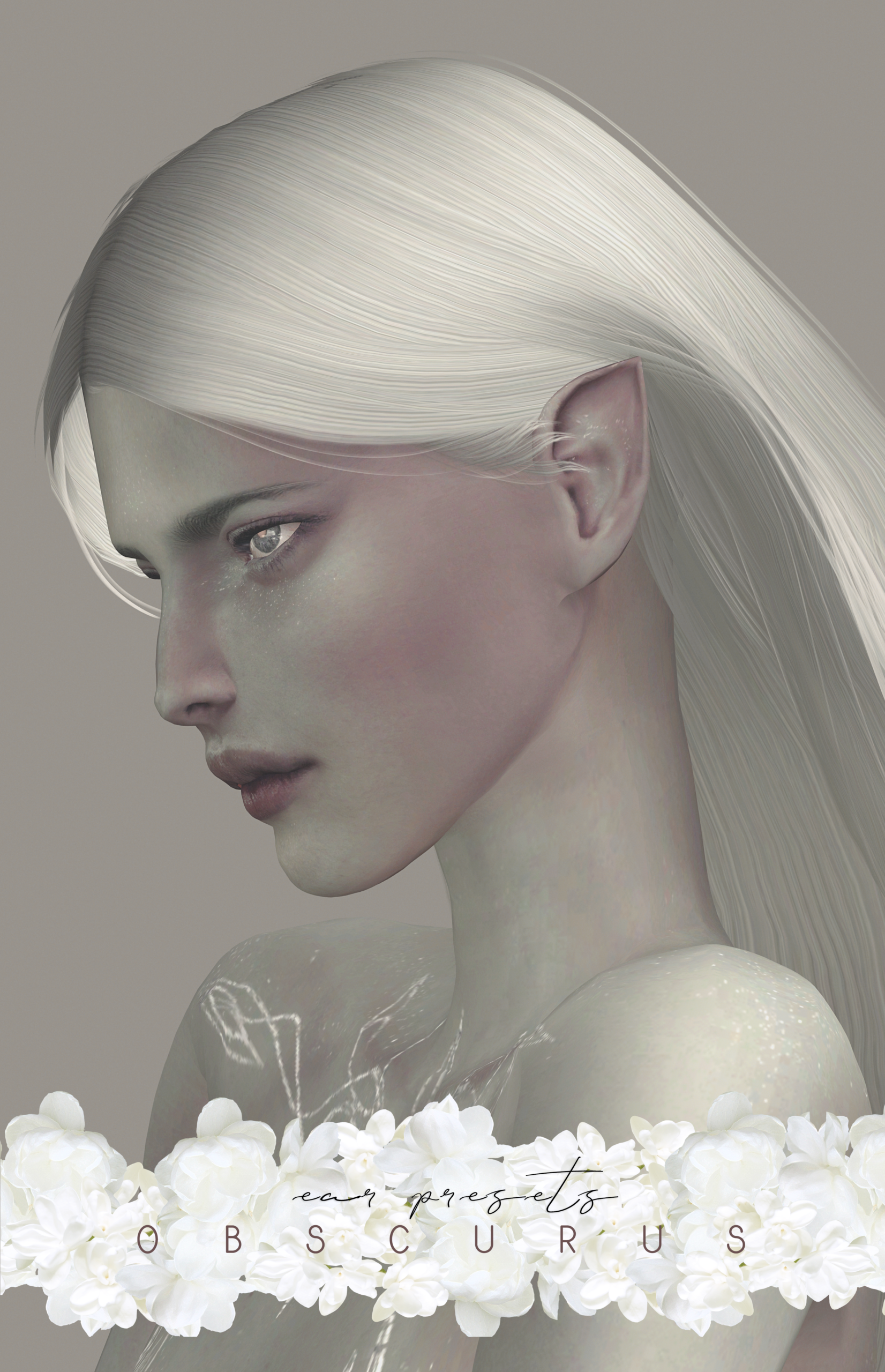 I like this one for two reasons, one obviously the ears are adorable. Instead of being huge, these one are much smaller yet still have a pointed end to them, so they're distinctly for the non-human Sims. But I can't help but love the tattoo design in this set because it's like no other tattoo I've ever seen!
A piece that stretches over the entire body with a stick-like design to it makes it the best tattoo possible for creatures that live in the forest. It even has it's own separate chest piece!
2. Autumn Rhapsody

Hats are an accessory that's hard to imagine an elf wearing, they're much too sophisticated for normal head accessories. Instead, they would prefer something like a crown, which is why Autumn Rhapsody had to be included.
The set comes with not just a crown that looks like beautiful golden leaves on the side of their head, but matching earrings, as well. All you need is a necklace, and you have a full set.
1. Maari Set

If Autumn Rhapsody doesn't showcase how prestigious your Sim is, then maybe you're thinking about getting a crown that looks more like the real deal. Thanks to the Maari Set, you can have a crown that looks more like your traditional crown while incorporating the nature themes that elves are drawn to.
You might also be interested in: