Enter the wonderful world of fairies in The Sims 4! Unlike for The Sims 3, we're not given an option to add creatures from fairy tales and use our imagination to the fullest, so instead, we have to improvise.
And what better way to create the world of our dreams and make things look exactly how we want them to than by using custom content?
Everything from wings, clothes, accessories, and yes, even mods, you'll be able to find here on this list of the top 16 best fairy mods and cc for The Sims 4 to make all of your wildest fairy-related dreams come true.
Best Sims 4 Fairy Mods and CC
20. Nymphalidae Fairy Accessories
This CC pack is full of amazing pieces to finish your fairy Sim creation. The Nymphalidae Fairy Accessories CC pack comes with wings, shoes, a crown, a purse, and a flower body decals.
Each piece comes in a variety of colors, ranging between 11 and 21 colors, depending on the piece. The wings are arched downward and look similar to the wings of a Monarch butterfly.
The sandals are open-toed and are ankle-length. The crown matches the wings in that it also has smaller Monarch-like wings that are on both sides of your Sim's head. Lastly, the purse and body decals add more floral touches to your fairy Sim, basking them in nature as more fairies are.
19. Fairy Wedding Dress

Even fairies have their special wedding day and need the proper attire! With this Fairy Wedding Dress CC, your fairy Sim will be ready in no time for the big moment.
This fairy wedding dress is more fun because it also comes in eight colors aside from traditional white, including pink, lavender, blue, and red. Each color is paired, aside from white, is paired with green accents.
This dress CC is designed to look like your Sim is dressed in leaves and flowers, as any fairy would be. This dress is also sleeveless, leaving your Sims arms open for additional decoration, such as fairy markings or tattoos.
18. Cute Fairy Tree

Fairies need a cute fairy house, right? You can have one at the ready with this Cute Fairy Tree CC. It's open-faced, so your Sim would partially live out in the open for other Sims to see, but fairies love being outside.
This two-floor home is connected to two large trees, features dazzling water fountains wedding altar, and is furnished with brilliant white pieces. This is a cute CC that is prefect for other fairy Sims to gather at.
The creator has not listed if certain DLC packs are needed for this house to work, so that is something to keep in mind when you download this CC.
17. Fairy Sparkle Wings 1

You can never have enough wing choices for your fairy Sim, and these Fairy Sparkle Wings 1 CC are the perfect addition to your collection.
This CC comes in 14 beautiful, sparkly colors, including yellow, greens, blues, purples, and black. These wings are perfect for the player who wants to recreate the perfect Tinkerbell fairies. These wings look partially translucent, giving the illusion that they are made of fairy magic.
In order for this CC to work, however, you will need to download the mesh, which the creator has included a link for as well.
16. Cole Skin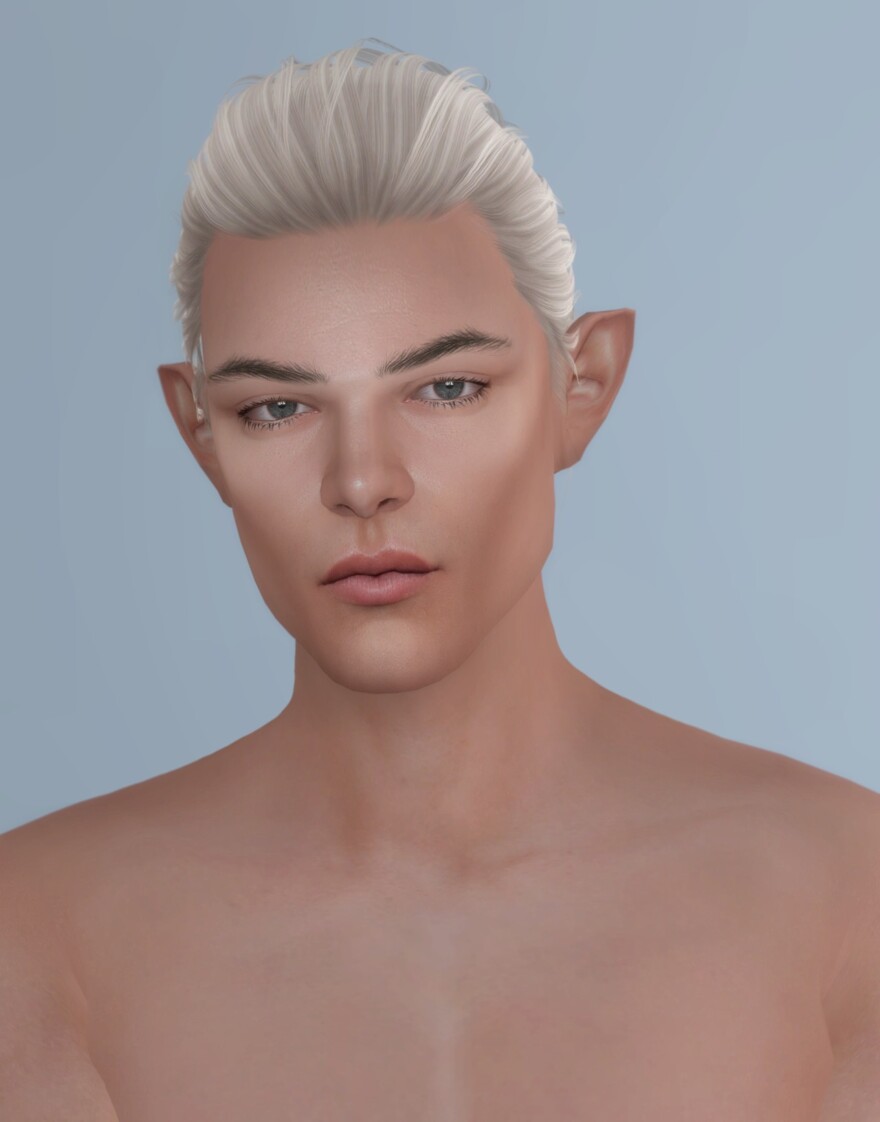 First things first, there's no right or wrong way to create a fairy. One of the biggest perks to creating a character that's based on fantasy is that you can modify just about anything and still be right.
One of the ways that many people like to use creative liberties in creating fairies is by using pointed ears, similar to elves, but less dramatic.
With Cole Skin, there are a variety of facial features to customize your Sims into having different lips and noses.
However, what we're really interested in are the ears, which aren't big enough to be considered elf ears, and are pointed outwards instead of up or down. The perfect touch for all of your fairies.
15. Fairy Stump

When it comes to fairies, everything in their lives should be just like they are. Inspired by the outside world, light and delicate, as well as being beautiful.
And in The Sims, decor is everything, it can make or break the spaces they live in and make them look more realistic.
A simple way to dress up a walkway, an entrance to the house, or even the garden is by using small decor like the Fairy Stump and Bird Lamp.
It's small and won't take up too much room, but it adds something extra to look at and liven up the place. Of course, it's inspired by tree stumps that are already found in the game, with extra details like flowers and a little yellow bird holding a lantern.
14. Fairy Costume Leona 3
Fairies clothing is another way to have fun while you create the perfect look for them.
Some classic fairies like Tinker Bell and her friends are seen wearing dresses that resemble different elements or pieces from nature, while others are seen with non-traditional clothing that may look more like skin at first glance.
Fairy Costume Leona 3 is a unique spin to an outfit a fairy might wear. First of all, it's not a dress, but rather a jumpsuit and fishnets with a glittery finish.
Second, it's not exclusively for fairy Sims, and you can use it for what the title suggests, a costume!
13. Poison Ivy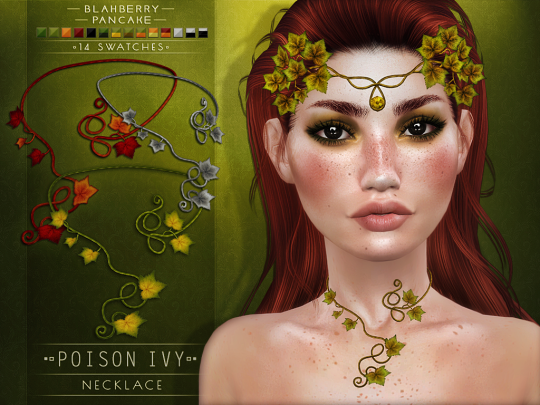 As mentioned before, a lot of attire for fairies are inspired by nature. Probably because they claim the forests as their home, they're thought to be resourceful and use what's around them to be properly dressed.
Of course, this goes for their accessories too, which is why Poison Ivy is a great option for adding something special to their finished look.
This set comes with two items, a necklace, and a circlet that both resemble ivy with matching leaves for details.
They both come in multiple colors, which look like they're for the different seasons, and add enough to give your Sim something special, but don't include anything too fancy for their natural taste.
12. Fairy Wings 01

What would a fairy be without its wings? It's hands down the most memorable feature of a fairy, so you can't forget them when you're designing your own!
Fairy Wings 01 keeps things simple, they're delicate, long fairy wings that are made to resemble a lot of our small magical friends in movies and television.
These wings come in 5 colors for you to play around with, and paired with other garments of the same color, you can create things like fairies for different elements and seasons with personality traits to match.
11. Fairy Hair Set

If you're feeling a little lost trying to decide which hairstyle is going to suit your fairy best, then I suggest you check out this Fairy Hair Set collected by Tumblr user BlueberryBobs.
It has 5 hairstyles to choose from, all of which can be found in one place, so you don't have to search the internet high and low for inspiration pictures.
Each of these hairstyles has been created by a separate creator, though.
This means that you'll have to pay close attention to any special meshes that the hairstyles need, or else you're going to be disappointed with the result.
10. Willow Wisp Silvermoon

Designing your own Sim is a hard thing to do. Personally, I get overwhelmed with all the choices I have to make and all the little details that it takes hours for me to make the Sim, which takes away from all the fun of actually playing.
Some people love this part, but if you're one of the ones who would rather get to actually running around the world as your character, then finding a premade Sim like Willow Wisp Silvermoon might help speed up the process.
As you could assume, Silvermoon is a premade fairy Sim with beautiful wings, purple skin, pearl-like designs on her body, and a beautiful white dress.
Now you can have a mystical Sim to play as in a matter of minutes!
9. Fairy Child Wings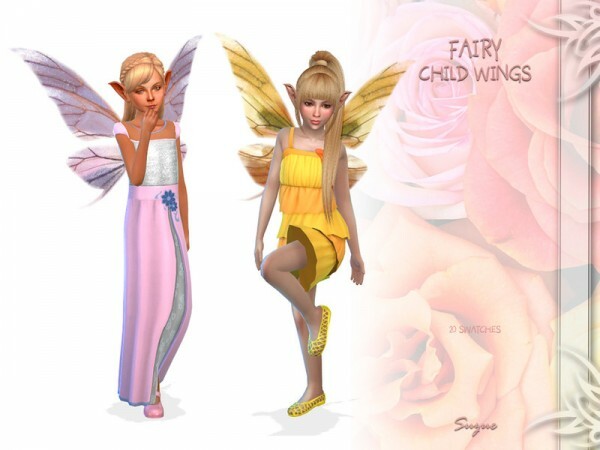 There are plenty of fairy wing options for older Sims, but what about for the younger crowd?
If you want consistency in your game, then it only makes sense to have the children with their wings rather than earning them when they're old enough to wear them as an accessory.
Fairy Child Wings allows the youngest of your household members to have a pair of wings of their own. They're small enough for a child to be able to function while they have them on, but they're big enough to be used as they're supposed to be.
And, if the Sim you had in mind isn't from a family of fairies, they can be used as part of a costume for their playtime.
8. Fall Fairy Farm

Ok, so you've got your fairy created and dressed up to your liking. Next step- where are they going to live? The city might not be the best idea, they're known for liking the great outdoors after all, and living in a modern-day house doesn't quite fit the vibes these guys are giving.
Instead of worrying about creating the house of their dreams, the Fall Fairy Farm comes as a premade lot for all of your fairies to reside in.
A whimsical, cottage-like exterior met with an even more magical yard filled with leaves, pumpkins, and mushrooms not only satisfies the needs of a fairy but satisfies the needs of all the fall lovers out there.
And yes, the interior of the house comes fully furnished as well.
7. S-Club Fairy Wings 01

Another set of wings that stands out from what we've seen so far, instead of being inspired by those we see in popular media, S-Club's Fairy Wings 01 looks a lot like butterflies that we might see in nature—combining one of the most graceful creatures out there with the elegance of fairies?
It's going to be hard to find something better than that.
6. Faerie Body Preset

Faerie Body Preset is an essential tool for creating fairies in The Sims. Think about it, when's the last time you heard of a fairy being the same size as a fully grown human adult?
Never, they're always smaller, much smaller in fact, and while they may not be pocket-sized, this allows you to create Sims smaller than the rest in your neighborhood.
Two important things to keep in mind when using this preset, though, it's only available for teen-elders, and the default gender is female. As long as you're ok with that, you're on your way to creating the perfect fairy Sim.
5. Fairies Ears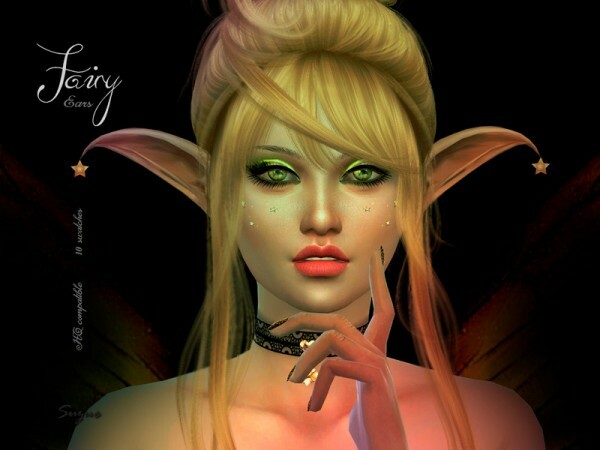 Like the other set of ears on this list, they're distinctly different from other creatures with prominent ears. Also smaller in size, pointing outwards, Fairies Ears have a unique twist to them.
The tips curve, and if that wasn't enough to sell you on using these, they even come with what looks like small earrings in the shape of a star.
4. Tera Fairy Costumes

Tera Fairy Costumes look like they're truly from another world. With an option for both men and women, you won't have trouble finding something to dress your Sims up, and both are equally as amazing as the other.
For women, we have a dress inspired by leaves, complete with a necklace made out of ivy and shoes to match,
For men, a two-piece consisting of a vest and shorts that are also made of what looks like leaves and various vines as details, and of course, matching shoes as well.
3. Fairy Forest Wings

Not all fairies are good. Some of them like to be malicious and play tricks on humans. They can't help it, it's how they stay entertained. For a fairy that likes to be on the mischievous side, light-colored wings with sparkles might not be their style.
With Fairy Forest Wings, they can be different from the rest and have their own pair of black wings.
2. Secret Fairy Garden

Secret Fairy Garden is another premade lot option for your fairies or humans that love the supernatural to live in and be surrounded by the things that matter to them the most.
It's no surprise that the highlights to this lot are on the outside, surrounded by flowers and bright colors. It's even a great place for a gardener to live in.
If the outside doesn't matter as much, then you're still going to love the shape of the house and the fully furnished interior. It even has a bridge to easily get from one side of the house to the other!
1. Fairy Mod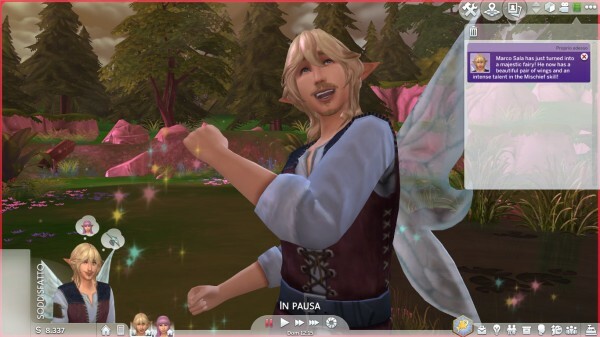 The best way to live your fairy fantasies to the fullest- using the Fairy Mod.
They're sure to feel at home with a world specifically designed for them, complete with Fairies Tree that unlocks a hidden realm filled with adventure and fantastical surprises.
You might also be interested in: