If we're talking wings, then we're going to have to talk about all the situations where you might need wings in The Sims.
They're used for a number of mythical creatures like fairies and pixies, give angels their signature look, and can even be used for an animal-inspired costume like dressing up as a butterfly.
Of course, your Sim doesn't have to be nonhuman to add some wings to their outfit, but if they are, then you've come to the right place.
For kids and adults, Sims of all kinds and species, and every costume party you're Sim will be invited to, this is the best place for you to go if you need help picking out the perfect pair of wings because we're going to be talking about the top 15 best Sims 4 wing custom content.
Best Sims 4 Wings CC
18. The Sims 4 Winx Onyrix CC

Many people grew up watching W.I.T.C.H or Winx Club, and many adored the wings featured in the shows!
So, bring your Winx Sim dreams to life with these incredible replica wings. There are six pairs of wings to pick from, ranging in dreamy, sparkly colors.
This Sims 4 Winx Onyrix CC pack includes the wings for each of the original Winx Club characters, ranging in colors from pink, blue, purple, and green.
Even if you're not a Winx Club fan, you can't deny that these wings are beautifully colored and would look great on any fairy Sim.
17. Glass Wings

This is a wing CC pack that considers all players of different graphic settings. The Glass Wings CC pack includes both patterned and non-patterned wings, which helps players whose graphics only blur patterns.
These wings are brilliantly colored and semi-transparent, with a wide range of colors to choose from. The pack includes traditional butterfly-style wings but also solid colors, including darker colors for different types of fairies.
The wings have been updated to be usable by toddler Sims as well, so your entire Sim family can be a household full of fairies!
16. Chain Wings

Make way for the Steampunk fairies with these Chain Wings! These wings are perfect for the human Sim who wants to join their fairy and demon Sim friends in the sky.
This wing pack provides your Sim will mechanical-looking wings as if they built them themselves to grant human Sim's with the gift of flight.
The detailing of these wings includes gears, a few scattered thin chains, and metal paneling in the center of each wing.
These steampunk wings come in four colors: gold, silver, bronze, and black. Each with its own complementary colors, such as blue, green, and red.
15. Tattoo Wings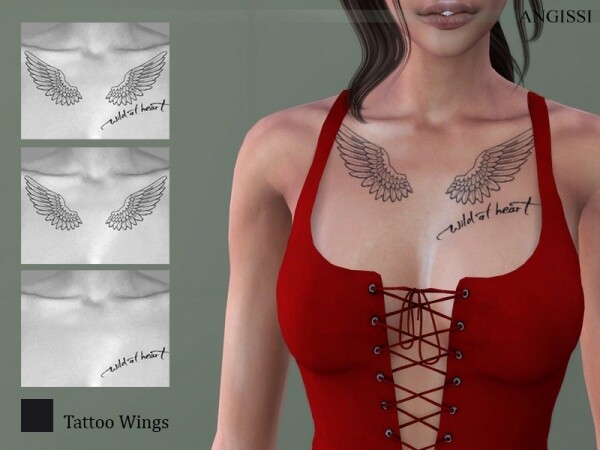 Human Sims might feel left out when the topic of wings comes up. They definitely weren't born with them, and wearing a pair of faux wings isn't always practical, but they still love the look, so what should they do? An easy solution- get a tattoo!
They'll be reminded of the thing they love every time they take a look in the mirror, plus who doesn't love getting new ink every now and again?
Tattoo Wings comes with 3 tattoo designs, two of which are wings that resemble those of an angel and go perfectly across your Sims chest. Now they can have all the fun of wings any time they want.
14. Neko Cat Accessories

While on the surface, this collection might look like it's more for a cat Halloween costume, it's got something in there that we're after, and of course, that's the wings that come with it. These wings may not be the most practical for, say, a fairy Sim, but they're great for costumey use all season.
Their design is unique because of taking a long, thin approach to the design, they're fatter and shorter, which is why they may not be the best for actually taking flight.
However, their fluffy texture and adorable curve at the end make them a great addition for any outfit that could be made better with some wings (and that's every outfit!).
13. Fairy Child Wings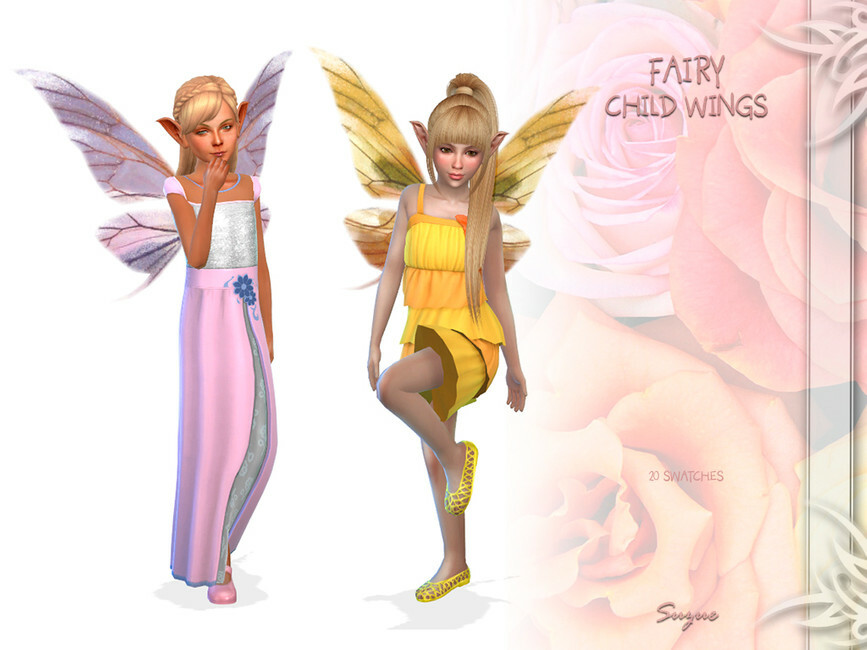 If your Sim just had a child that needs a pair of wings to match the rest of the family, you're in luck.
Fairy Child Wings are probably one of the closest sets of wings you're going to get to the real deal when it comes to fairy wings, which is perfect if their parents happen to be fairies too. It doesn't make sense for two fairies to give birth to a human!
These wings are delicate and beautiful, with golden shimmery accents that sparkle in the sun, they make your child blend right into any fantasy world you've created.
All you'll need now is a fairy dress to match.
12. Beauty Angel Wings

Okay, so maybe these wings wouldn't be the best for actually flying around, but they're too beautiful, not to mention.
Beauty Angel Wings features a winglike design, but instead of having the actual silhouette like most of them do, they give the illusion that rosebuds are blooming right out of your Sims back!
What matters most here is the element of magic and mythicality, which is perfectly encapsulated by these wings.
These would be perfect for a Sim that may not exactly be a fairy, but maybe some other mythical creature that lives in the woods among the flowers.
Have fun with them and create a new type of Sim around the wings.
11. Seraphim

Typically, we think of wings being on the backs of whoever has them. But, it's often forgotten that many beings have wings that are located on different parts of their bodies in a lot of stories across cultures.
The great thing about fantasy is that we can pretty much create whatever we want and do whatever we want until we're happy with the finished product. That's why something like Seraphim is an exciting find to come across.
Instead of being like your average set of wings, these come on your Sims head, giving them a unique design, perfect for whatever new creature you're trying to create.
Additionally, they come in 3 sizes, small, medium, and large, to either grow with your Sim overtime or give the illusion of playing with genetics.
10. Jupiter's Eagle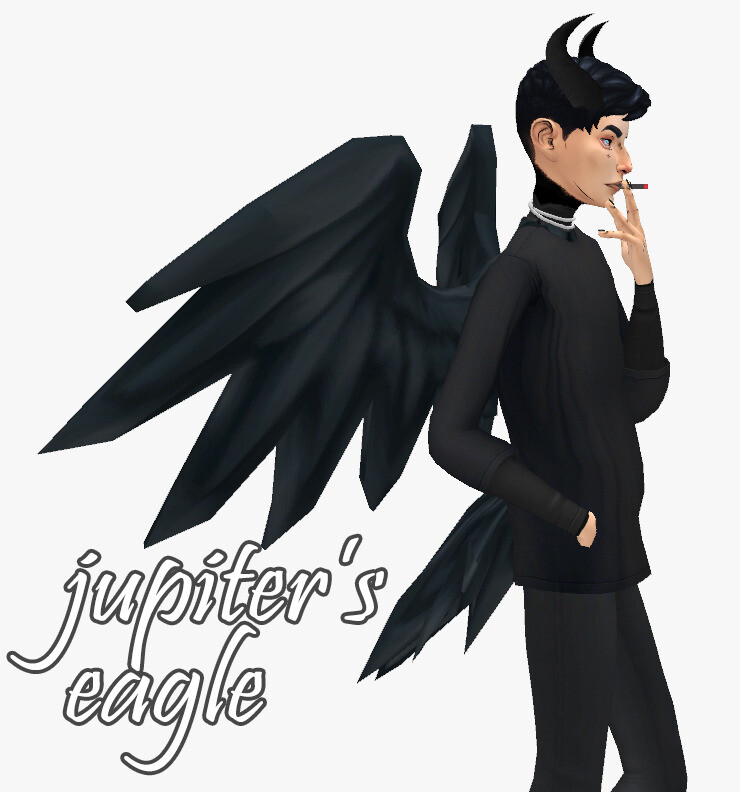 Like we mentioned before, wings draw inspiration from the things that already exist in the world with the ability to fly.
In this case, we're talking about birds, which are probably the most famous animals to soar the skies everywhere we look. Doesn't it only make sense to give our Sims wings that look the same?
With Jupiter's Eagle, not only will you be able to give your Sim wings that resemble the bird in the title, but they'll also have a new edgier side to them.
The wings give off a look that's both mysterious and dark, even in the lighter version.
9. Earthquake Wings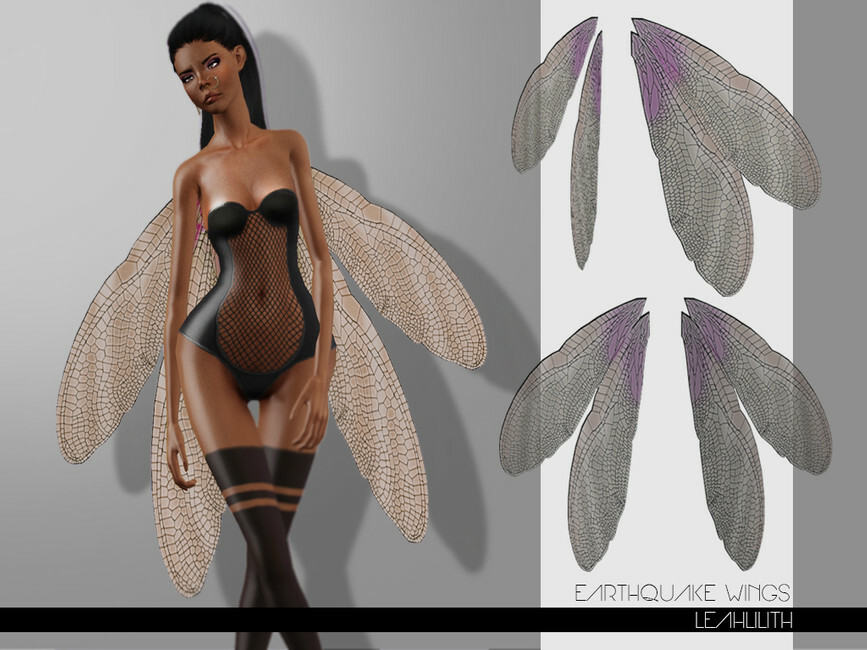 A unique take on wings for your Sims, Earthquake Wings sort of resemble the wings of something like a dragonfly, which gives them a much softer look.
They droop downwards and have an intricate cell-like design in them, which gives off a natural feel like your Sim was born with these wings, even if you just started adding them to their rotation.
8. Glory

This pair of wings says that your Sim is of royal status, even if they're not actually royalty. You know the type, they have high social status, everything they do is elegant, and they like those around them to know that.
Some may call that snobby, but whatever label you decide to put on it, these wings are sure to match the mood of the Sim.
Glory comes beautifully designed with individual feathers textured in the wings and gold detailing coming from the inside outwards.
Perfect for actually flying or even for decoration, they're a beautiful addition to any Sims features, and it's an instant confidence booster.
7. Butterfly Wings for Toddlers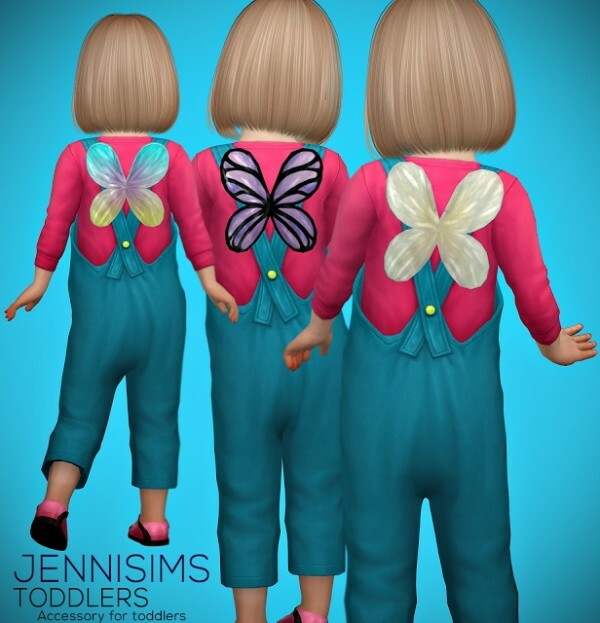 When you're a kid, all you want to do is play and have fun. Who can blame them anyway? If I had the opportunity to, I would still do that to this day.
Anyways, the point is that in order to maximize playtime, dress-up always comes in handy to let kids' imaginations wander whenever they please.
If your Sims child loves to play pretend and wants to explore the world with wings on their backs, let them!
With Butterfly Wings for Toddlers, they'll have a set of wings that's just their size, perfect for every game and whatever time they want to explore the world of butterflies.
6. Fairy Forest

Fairy Forest is a set of wings that looks like butterfly wings if they were made to look even more beautiful than they already are.
Their sheer, delicate design is perfect for all fairies that need a unique shape to their wings, and better yet, some sparkles to go along with it.
These wings come in three colors, white, black, and blue, which fit every type of fairy you could design, from good fairies whose personal mission is to make everyone around them as happy as possible to fairies who love everything to do with water elements!
5. Bax the Imp
These wings are one of my personal favorites because even though we may not think of them as much when we're trying to decide on what wings we should use, bat wings are one of the best styles to go with!
Especially for darker Sims who probably don't anything that's not black, they're edgy enough to go with their personality and style, but they're not too whimsical to clash. A perfect solution!
Bax The Imp has a great pair of wings, as described above, along with body presents, horns, and clothing to match the design. Mix and match whatever you like to make the perfect Sim.
4. Lacy Wings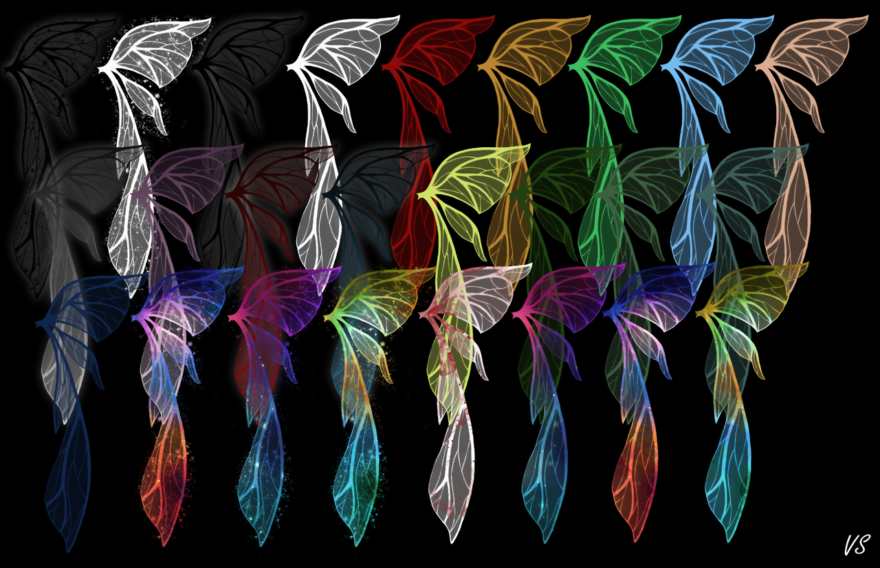 Lacy Wings take the classic fairy wing look and twist things by making the bottom pieces longer while keeping a lot of the same elements we all know and love.
The veins running through the wings give them texture and more of a realistic look, and there are so many colors to choose from, 25 to be exact, that you're sure to find the right-wing for every Sim.
Better yet, some of the swatches have sparkles and even multiple colors!
3. Mythical Dreams

If you wanted wings that looked like they came right off a butterfly for every Sim of every age, then you need to check out Mythical Dreams.
They look so much like the winged insect that other Sims will look at yours and need to look again to make sure they're not seeing things.
Are butterflies not your thing? Don't worry, because these wings also have a style where they look more like a moth than a butterfly. Regardless, whatever style you decide to go with, these wings will have your Sim's back (literally).
2. Magic Happens Collection

The Magic Happens Collection is everything you need and more to design the perfect fairy Sim, with, of course, wings included.
The wings in this collection are simple, with enough detail and bold color choices to make your Sim stand out from their other winged friends.
And if you're having a hard time choosing the right accessories to go along with their wings, those are included here, too.
1. Fresh to Pieces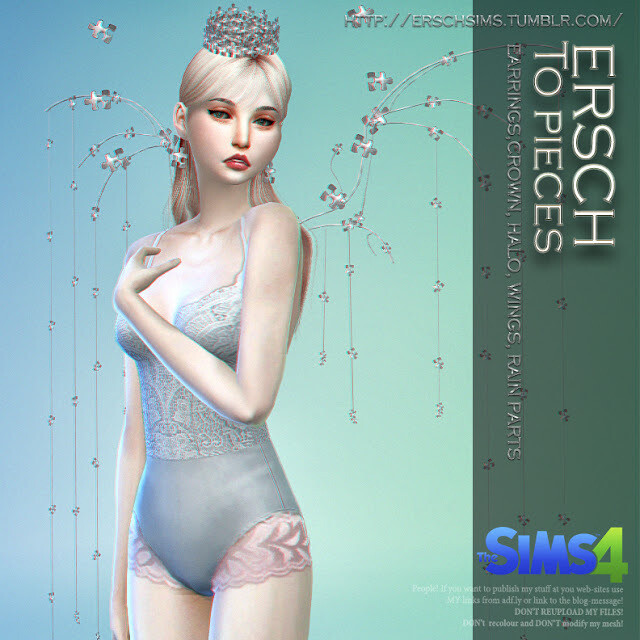 You might have to use your imagination with another set of wings, the Fresh To Pieces set features a pair of wings that aren't suited for flying but make a stunning accessory.
Whether you're trying to wow everyone at a party with your interesting taste in winged accessories or want to be a creature with branches sprouting out of their back, they're going to do just the job you need them to do.
You might also be interested in the following: