It might not be November, but your Sim sure isn't shaving any time soon!
Beards are loved by all, whether they can grow their own or not, and help your Sim look more mature (because really, what kid has a beard anyway?).
Of course, The Sims base game has some beards that are okay, but don't you want your Sims face to look its best every day?
If you're looking for some new facial hair options, then you're sure to find one on the top 15 best Sims 4 beards cc.
Best Sims 4 Beards CC
18. Automatic V4.5 Beards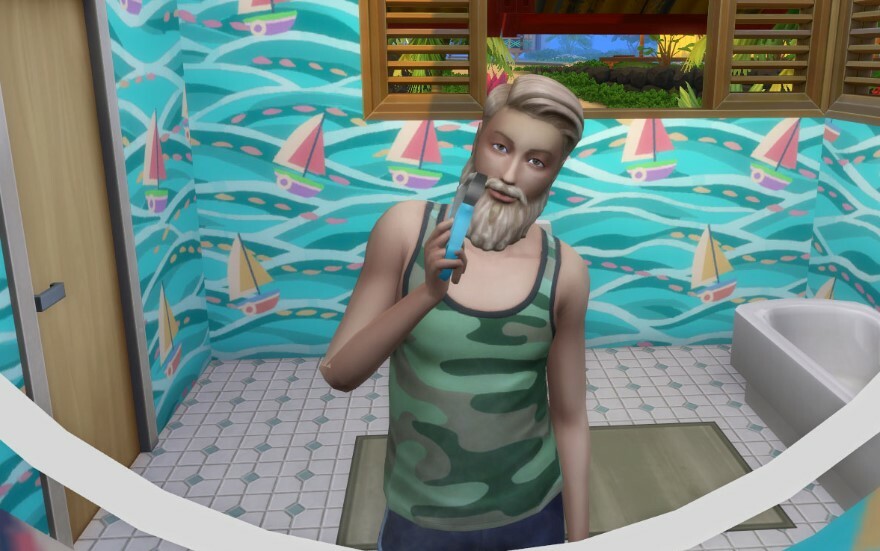 In the real world, beards are a naturally occurring thing that grows and need maintenance. So, the Automatic V4.5 Beards CC provides the same experience to your Sims!
This CC activates a growth cycle for facial hair on your Sim and adds interactions at any sink.
Clicking on a sink in Sims 4 will provide you will option to change your beard color and style your beard to short, medium, or long lengths.
You can layer this naturally growing facial hair with other facial hair options, and the time span of the beards can be altered as well.
17. Derek Beard M153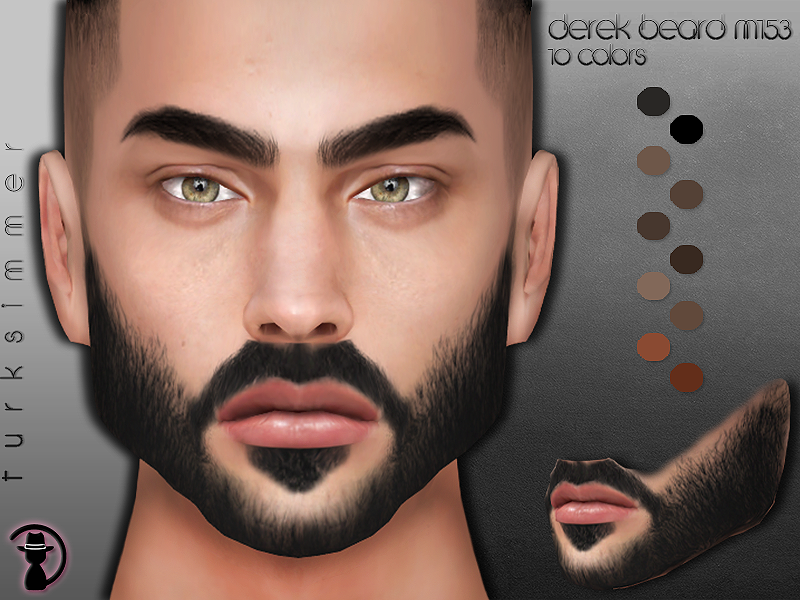 This beard is a great balance between rugged and stylish. The Derek Beard M153 CC offers full coverage along the chin and climbs around the Sim's lips to create a full mustache.
This beard comes in ten colors, varying from shades of blonde, brown, black, and red. This CC is designed for male Sims from Teen to Elder ages.
The attention to detail in this beard CC is outstanding, as the creator made sure to include individual hairs surrounding the bulk of the facial hair.
16. Curly Beards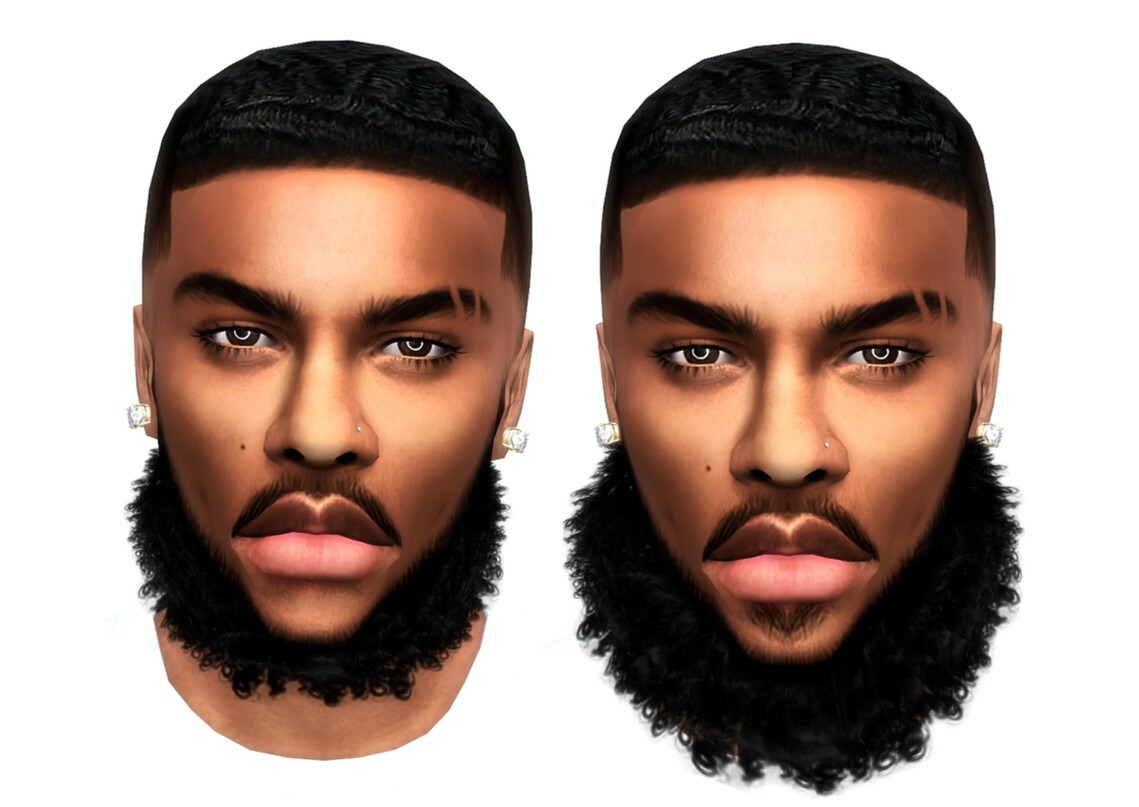 Much like other hairstyles in the vanilla version of Sims 4, curly facial hair is greatly overlooked!
The Curly Beards CC is a great addition to your Sims 4 game not only because of the diversity it brings to life but for the incredible texture these beards provide.
This CC comes in two versions: short curly beard and long curly beard. Both have a light blurring around the edges, creating the illusion of the natural layers of hair.
15. Beard N75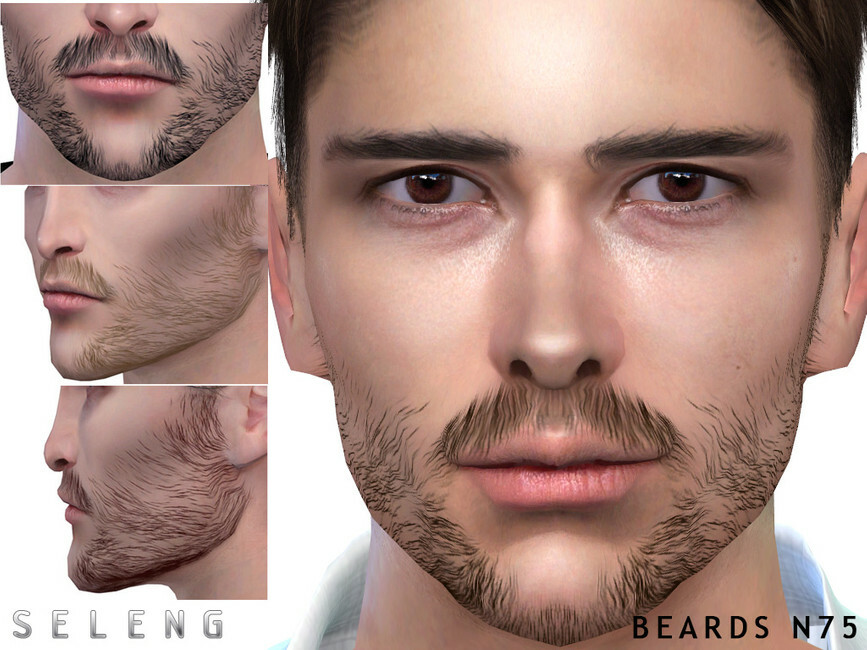 Not all beards are grown the same, some aren't are full as others, they have different styles and different shapes.
Basically, there are a lot of creative liberties you can have when it comes to your beard, but what about when your Sim has just started growing theirs?
Beard N75 is a little patchy, and it's a little scraggly, which makes it a good option for teen or young adult Sims, who may not have gotten the hang of proper beard care yet. Don't worry, they'll learn as they get older!
14. Facial Hair Style 5

Facial Hair Style 5 is an option for those who may want a bit more hair coverage, but they also don't want to look like Santa Clause with their beard.
On the thinner side, something that's well-trimmed compared to other styles, and has an extra patch mid chin to switch things up a bit.
It's a classic style, you can't go wrong with that.
13. Facial Hair Style 3

If you liked the last style, but you don't think your Sim is ready to commit to something as full as before, then you might be looking for something that looks like Facial Hair Style 3.
Instead of having a full, bold look, this one is a little lighter and doesn't have all the pieces connected as the previous style did.
Instead, we have a much more relaxed style and would look well on any Sim, regardless of how old they are.
12. Beard N06

For all the younger male Sims out there, this one's for you. Beard N06 is a youthful option for someone who has a good idea of what the perfect beard should look like, and they have the buzzed down, clean-cut style to prove it.
Unlike a lot of the other beards we've seen so far, this one is much bigger in terms of how far the hair reaches on their face.
All the way out to their cheekbones, coming back down to their chin to make somewhat of a geometric shape, without looking awkward in the process.
11. Beard N53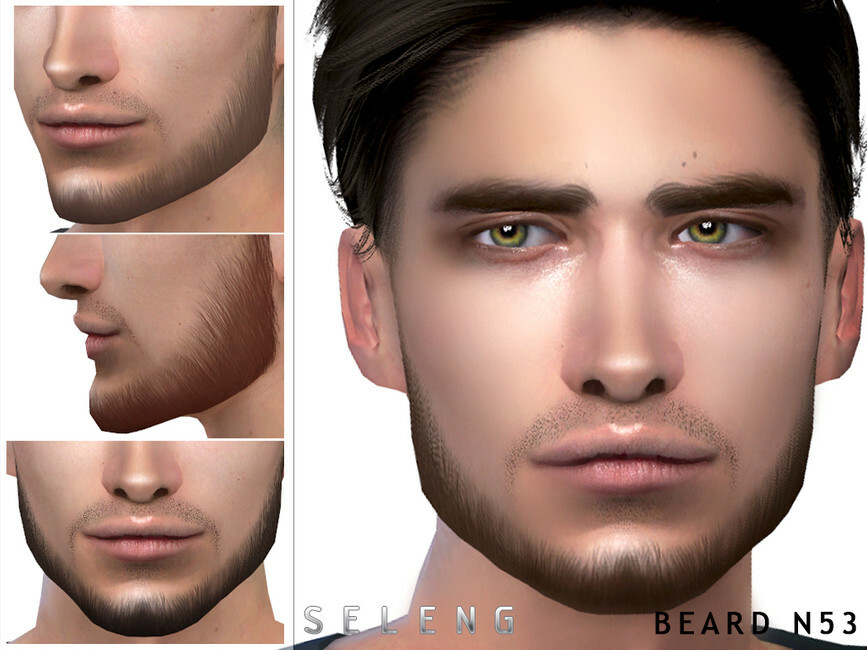 This beard says that the man wearing it probably works in an office. But, not just any office.
One where he's basically running the show- he's coming home every day with a hefty amount of Simoleans added to his bank account.
He's got his life together, he's organized, and he knows what beards look good and which ones don't.
That's why he decided to go with a safe yet handsome style for his beard like Beard N53.
This is another option for a beard that's trimmed down but doesn't go to the extremes of thick or thin. It all stays perfectly clung to their skin and doesn't need too much extra attention.
10. Beard N05

The trimmed look is definitely popular, which is why it's a good idea to have different options with the same general vibe for when you think it's time your Sim needs an appearance change.
There was nothing wrong with how they were shaving before, but everyone needs something new once in a while!
With Beard N05, they still get that same clean, "I just finished trimming" look, but sometimes, you need some variety.
What's great about this option is that there are 3 options, so you can choose how trimmed you want your Sims beard to be. Dark with some thickness to it, perfectly in the middle, or barely there- you decide!
9. Beard N45

Not everyone likes the trimmed-down look, some Sims want something that will stand out a little more.
Whether they naturally have thicker hair, so it just makes sense to have a thicker beard, or they've been working on growing the perfect beard for quite some time now and want to show it off, then Beard N45 is the perfect style.
Like with the beard before, this one also comes with different types of opacity. If you would like it to be a little on the softer side without sacrificing coverage, this one will also be of service.
8. Beard N43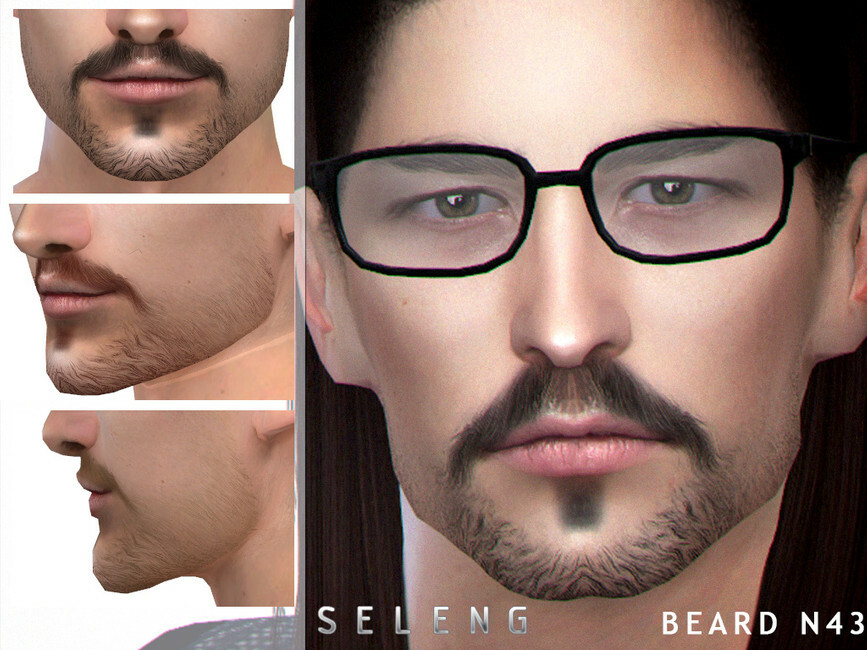 For a beard that isn't a full coverage beard, a goatee can be a great look when thinking about how your Sim should style their facial hair.
It's a great option, especially for those who might struggle a bit when it comes to growing the full thing, but they still have a little something keeping their chin warm.
Beard N43 is much more than just a goatee, though. There are still some stray hairs climbing their way up to your Sims face, so they have something that they can still call a beard!
7. Overnight Stubble

That party last night was pretty crazy, huh?
Maybe they got invited to the rager of the year and are way too tired to get properly ready for the day, or they live a busy life that doesn't always allow them the luxury of shaving in the morning, stubble is bound to creep up on your Sims face.
To keep the elaborate storyline going with absolutely no holes in the plot, Overnight Stubble keeps up with the events in your Sims' life, whether that means they get the chance to use their razor or not.
6. Beard N36

Who knew a low-maintenance beard could look so good? Let's face it, it's not like your Sim didn't have the time to freshen up, they didn't want to.
Who else wouldn't rather spend their mornings catching up on their favorite show or playing video games instead of spending hours in the morning cleaning up?
Thankfully, for your Sims who don't want to spend their precious time on vain activities, Beard N36 is an effortlessly good look for their beard.
Not quite stubble, but not quite a full-blown either, with all the coverage they could have asked for and little to no care required.
5. Sage Beard
Okay, enough is enough. No more of these small beards, we want to see ones with volume and personality! If you want your Sim to have a unique, stand-out style for their beard, then you might want to check out Sage Beard.
This one has spent years and years in the making, and your Sim couldn't be happier with the final product!
Everything from the mustache to the sideburns is luscious, luxurious, and thick.
This beard hasn't seen a razor in quite some time, and it won't for even longer because, with a beard as nice as this one, you won't want to lose it.
4. Beard N05

What makes this beard stand out from the rest is that you can't see all the individual hairs like you could with other options while it is on the shorter side.
Instead, everything is blended together like you would expect to see on your Sims head, except it's on their face.
This beard connects all of the necessary pieces together perfectly without losing the beautiful texture and style. Beard N05 also comes in 8 colors, so you can pick which one looks best on your Sim.
3. Luxuriant Beard

Another beard that comes with body and length, we have Luxuriant Beard.
This one might not be as long as it could be, but what matters is that it's well kept, with the same unison shape throughout the whole thing.
With this option, another unique feature it is the mustache part. It isn't exactly connected to the rest of the beard, but it still keeps the same thickness as all of the other hairs.
It's perfect for any man, regardless of his interests or personal style.
2. Beard N45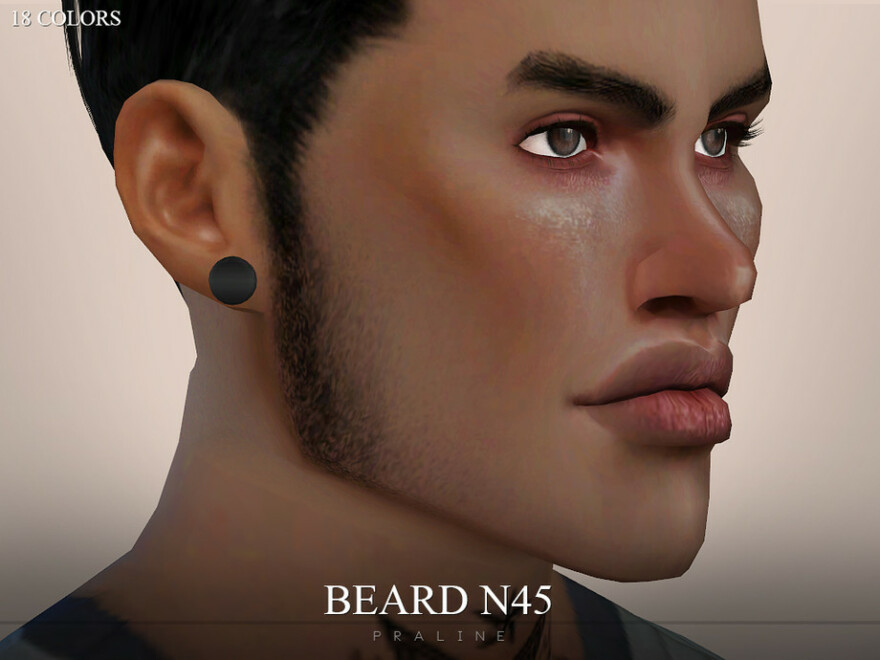 Your Sim might not be ready for a beard, there's no shame in that. But they have a lot of sideburn hair, and they don't know what to do with it.
The solution, let them wear something like Beard N45! Instead of being a full-blown beard, it's an extension of their sideburns for an option that's a little more subtle but still makes them look good.
1. Igor's the Fluff Beard

Big, fluffy, and beautiful- all words you can use to describe Igor's The Fluff Beard.
It has all the things that an experienced facial hair grower might want- some length, some thickness, but maybe not super drastic, either.
What makes this piece of custom content great is the fact that you can change how the mustache looks.
If you want to leave it be, you definitely can, and it'll look like a normal, uniform beard. But, you can also use the other option to have a handlebar mustache mixed into your beard!
You might also be interested in the following: