You've got makeup, you've got accessories, what could possibly be missing from your Sims appearance? Could it be adding a new tattoo? Nah, you've got that already. What about a new facial piercing? You probably have that too, don't you?
Of course- they need to get their nails done!
In The Sims 4, Sims' nails go unnoticed way too often. At least in The Sims 3, you could add werewolf claws and pretend like they were just really pointy nails.
But in this game, we have to get a bit creative and rely on custom content to make sure every part of their body gets the attention it deserves.
Don't worry, you won't have to call ahead and schedule an appointment at the salon to give your Sims nice nails because we already made a list of the top 26 best Sims 4 nails cc!
Best Sims 4 Nails CC
26. Blossom Nails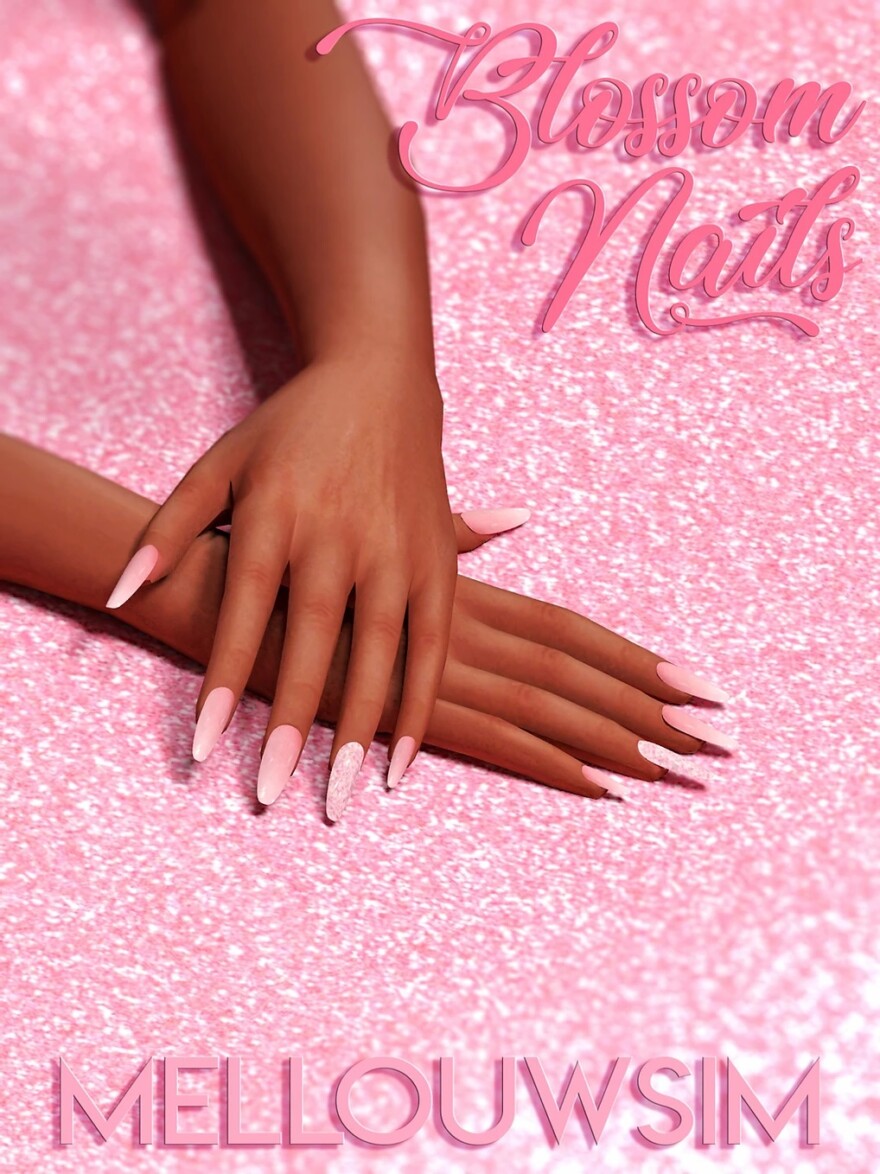 A classic staple for nail polish, we have Blossom Nails sporting a cute yet subtle pink color.
With a length that won't make your Sim freak about how they're going to get their daily tasks done paired with a bubblegum shade, they can't really go wrong here!
For some extra detail, these nails even come with the staple accent nail on the ring finger, which features chunky glitter in a similar color as the rest of the nails for consistency.
They're a great choice for a wedding, a date, or when your Sim wants to feel extra dolled up.
25. Pointy, Long, and Multicolor

These nails pretty much have everything covered that you could want out of a nail style. First, what's great about these nails is that you don't have to commit to a particular shape or length of nail.
Instead, you can play around until you get exactly what you're looking for in the nail itself.
Second, as the name suggests, there are a variety of colors to choose from!
Including colors featured in the thumbnail such as matte purple, light green, and dark blue, you can use these nails time and time again and never repeat a style.
24. Natual Nails Recolored

If there's something I really like about playing The Sims, it's making them look as realistic as possible, with creative liberties, of course.
I want them to feel like actual people, so my escapism feels like the real deal, and if you know, you know.
With that being said, something has always felt a little off-putting about Sims' natural nails, or is that just me?
Either way, with Natural Nails Recolored, you can get every part of your Sims looking, well, natural! A perfect choice for children who may not be old enough to wear real makeup yet, or Sims who couldn't be bothered to make a nail appointment every week.
23. Halloween + Autumn Nails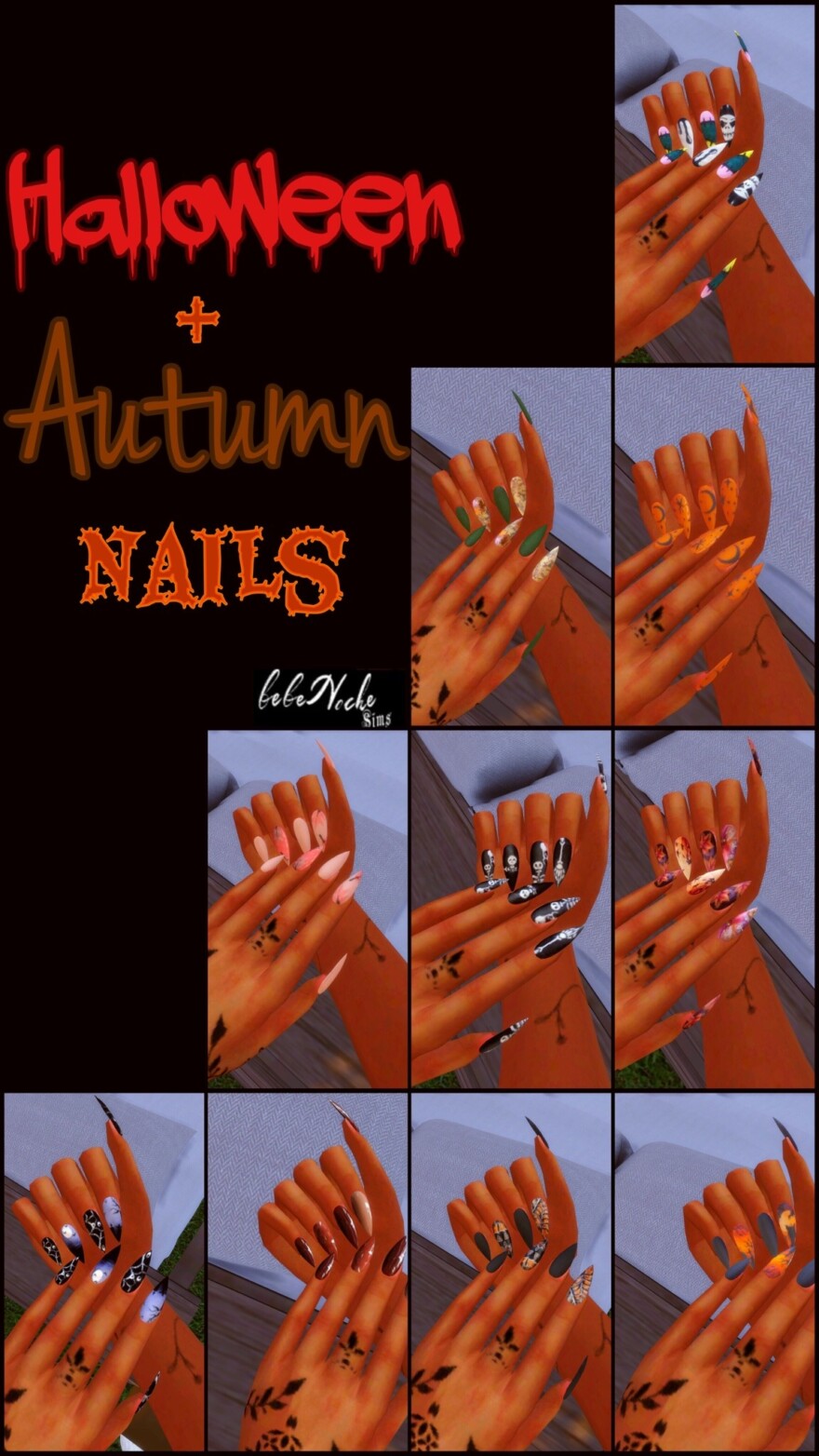 Where I live, we're in the dead of winter right now. But how I long for the days where the leaves were orange and red, and I was counting down the days until Halloween.
That may not be a reality for me, but in The Sims, the seasons come and go much faster, which means you need options that will fit what's going on in their world!
To get your Sim ready for pumpkin patches and apple picking, Halloween + Autumn Nails is the perfect solution for making them festive without going too over the top.
Paired with a cozy jacket and a pumpkin spice latte, there's nothing else that says fall quite as well.
22. Ombre Nails N16

Who doesn't love a good ombre? When done well, it's a good way to include every shade of your favorite color all in one place, instead of having to choose between the light or dark variety of whatever you were going for.
These nails are perfect for younger Sims, teens, or young adults, that love to incorporate bright colors whenever they can. Plus, the shape of the nail isn't too dramatic either, which is another reason Ombre Nails N16 may appeal to the younger crowd.
21. Pearl Nails

With a good nail design comes good nail art. And with good nail art comes the use of accessories.
Some of the more popular choices are things like rhinestones and even little gems to add extra shine to the existing details, but pearls tend to be a lesser-used choice.
However, with nails like Pearl Nails, it makes you want to go get something like these yourself!
These nails are perfect for classy Sims, who think that pearls are the perfect symbol of elegance and beauty, as well as the more dramatic Sims that like anything as long as it's bold and full of personality.
With over 30 colors to choose from and a different design on each nail, these are sure to become your new favorite nails for extra special occasions.
20. Trendy Nail Polish
Not everyone wants extravagant, statement nails, I get it. Some people prefer things to be toned down and subtle, and I don't judge, instead, I look for custom content that's going to satisfy every personality and style that a Sim could possibly have.
Maybe they're a busy working mom that doesn't have time for flashy nails or work an important job that doesn't allow for that kind of glam.
Regardless of what their backstory is, Trendy Nail Polish gets the job done for everyone's nail polish needs. A simple coat of one color for all nails that looks like it easily could have been done at home, and there's nothing wrong with that.
All that matters is that the color is adorable, and they have their nails painted.
19. Crystal Nails

What I love about Crystal Nails isn't just the variety of colors that it comes in, but the fact that finally, kids can have their nails painted, too!
This piece of custom content comes with two files, one for Crystal Nails, which can be used on older Sims, and Camilla Nails made just for kids.
Since they're kid-friendly, they don't come with any crazy shapes or lengths to go with it. Just good old fashioned paint on natural nails that the whole family can enjoy!
18. Matte Almond Nails

Matte nails are perfect for just about any occasion. They're a good, go-to nail design for when you want to keep things casual, but not too casual because, of course you still want your nails to look good!
Matte Almond Nails makes for a great option because your Sim doesn't need some special occasion to have them look like this, they look good with anything.
Another added bonus for these nails is the shape. Almond nails aren't too sharp, they're not too dramatic. Instead, they're rounded off with just enough length to make rings look especially good on your Sims hands.
17. Glossy Nails

Similar to the nails before, these also come in the beloved almond shape for a soft, refined look. But, instead of being matte and flat, these nails are shiny!
Glossy Nails by creator PralineSims, the same creator that brought us Matte Almond Nails, is a great way to switch up the color of your Sims nails without losing the shape or length that you loved before.
Feeling bored of the color you currently have? Don't worry because these nails come in 55 colors and are available for all Sims from teens to elders!
16. Ice Cream Nails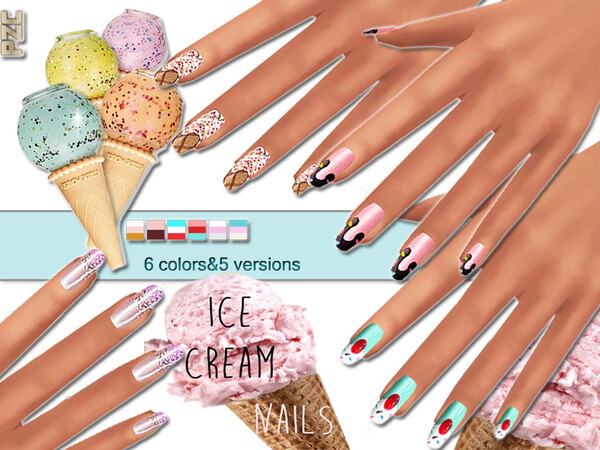 Nail art is an unappreciated form of art that tends to go under the radar. But do you have any idea how much talent it takes to create something so detailed on such a tiny canvas?
A good example of great nail art would have to be Ice Cream Nails, it doesn't just combine two things that I love, nail art and ice cream, but it's an adorably sweet way to style your Sims nails.
These are 6 designs to choose between, including ones that look like waffle cone ice creams with sprinkles and sundaes complete with cherries on top, and feature a classic square shape nail with medium length so any Sim could confidently wear this look.
15. Pride Pearl Nails

Pride day meets beautiful nail design in Pride Pearl Nails! Nails that were meant to have a different color on each finger, you could easily combine them to create the colors of your choosing to represent the group that your Sim most identifies with, or in any other order that speaks to you.
On top of having a long length and sharp point at the end, an extra detail that makes these nails stand out from the rest is the use of pearls as added details.
Instead of being like most nails that use pearls or gems as detail, these come with multiple on each finger, lining the base of the nail for the perfect finishing touch.
14. Nails Solid & Mood

With Nails Solid & Mood, your Sims can have dainty, cute nails in just seconds. I know it sounds like an infomercial, but it's true!
At the tips of their fingertips (literally), they'll have soft hues of nude, light blue, and even yellow in just about no time.
Solid colors, not your thing? Then you're in luck because there are multiple options that feature designs with color blocking, french tips, and stripes for every look imaginable.
13. Crystal Nails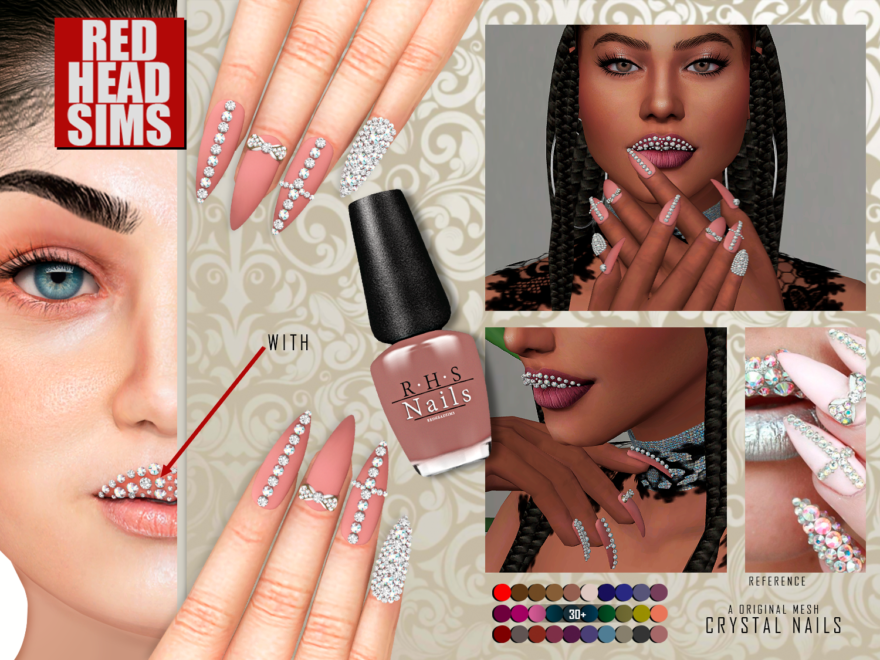 I know we already saw a design called Crystal Nails, but trust me, these are much different.
Instead of just coming in jeweled toned colors that resemble crystals, these nails have actual crystals to create unique designs and add bling to your Sims nails!
Some of the nail designs that can be found in this set are crosses, lines, bows, and some nails that are completely covered in crystals, so much so you can't even see the paint that's below it.
For those Sims who aren't afraid of looking a little extra, these are the perfect nails for them.
12. Nails 4 You Velvet

You've heard of matte nails, and you've heard of glossy nails, but have you heard of velvet nails?
Well, actually, probably, but the point Is that your Sims can have some velvet nails of their own, too!
Nails 4 You Velvet is a classic square shape nail with a little bit of length on them to make them look like they got their nails professionally done, with a nice finish on them to make them stand out from the rest.
I'll be honest, what I really love about these nails is the colors they come in. The bold, royal colors stand out from more natural colors that are typically seen on nails without being too in your face about it. The perfect balance.
11. Variety Nails #3
If you're the type that can't decide on your next set of nails and take forever at the wall in the salon choosing the right color, then you're going to love Variety Nails #3.
I know at first it sounds like it might be the opposite, but hear me out.
One file of custom content with a bunch of designs to choose from. They're all equally as pretty, and you want your Sim to wear more than one of them, so what should you do?
The solution- use one design from the set for each outfit! Then you don't have to decide because technically, you're wearing all of them, plus you get a bunch of new nails. It sounds like a win-win to me!
10. Eumacia Nails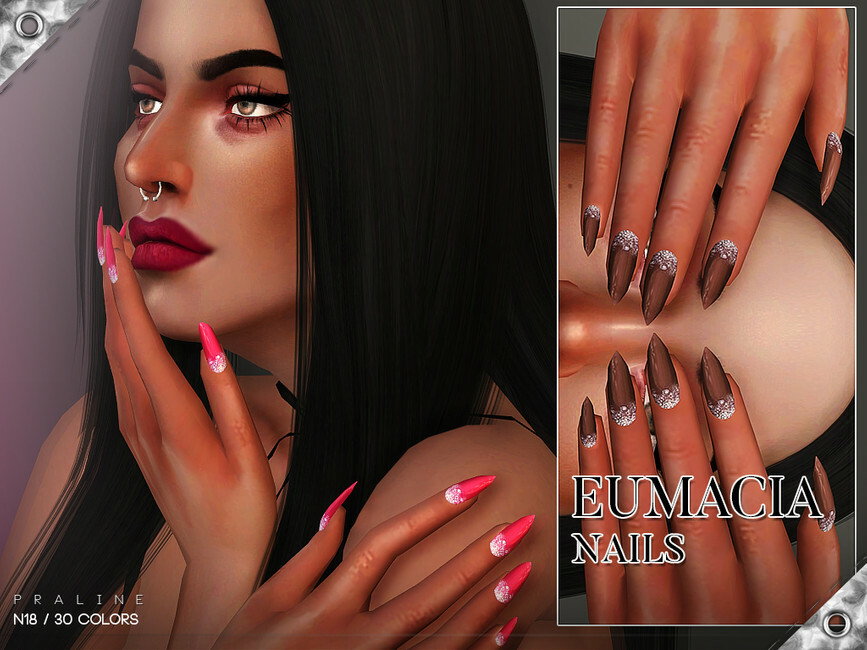 Another amazing design from PralineSims (can you tell we have a favorite nail creator yet?) is Eumacia Nails.
It's similar to a lot of the designs we've seen in the sense that it uses crystals to add detail to your Sims already painted nails. The difference, however, is in the way the crystals are placed on the nails, and it looks absolutely stunning.
Instead of being one, or maybe even multiple, all concentrated in the same spot, they vary in size and make for a trickling down effect on your Sims nails.
Think of glitters and gems cascading to the beds of their nails, sounds beautiful, doesn't it?
9. Flamingo Nails

If you're a nail art lover, but the Ice Cream Nails just weren't doing it for you, maybe looking for something a little more mature and dignified, then I think it's time you give Flamingo Nails a chance.
While they do incorporate the use of the famous pink bird, they do it in a way that's so artistic and unique, it's hard not to stop and stare at how amazing they are.
With the use of black as a contrast to the pink, in addition to the leaf details and use of crystals, they have a lot going on to them, but they're not overwhelming.
It would be easy to style these with a casual date look or something for a get together with your Sims best friends.
8. Cardi Nails

Extravagant, over the top, eye-catching nails for a Sim who has the personality to match, Cardi Nails are for the Sim who loves all things big, shiny, and bold. They have a nice blue-green color to them and have equally dramatic shape and length as they do design.
These nails are definitely for the Sims who have been to the nail salon more than once and are confident that they can do literally any task no matter how long their nails are, and we love it.
Make sure to properly accessorize because these nails would look great with some rings to match!
7. Paris Nails
With the same long length and dramatic pointed shape that the previous nails had, the Paris Nails stand out with their use of colors and design for the gems.
Instead of looking like little stones on your Sims nails, these have more of a diamond shape to them. Is it just me, or do these kinds of look like snowflakes?
On the nails that don't have something big and shimmery on them, they're more translucent, almost a light blue color, which definitely makes them more a more dialed back option for someone who still doesn't want to miss out on the glitz and glam of having nice nails.
6. Esmerald Nails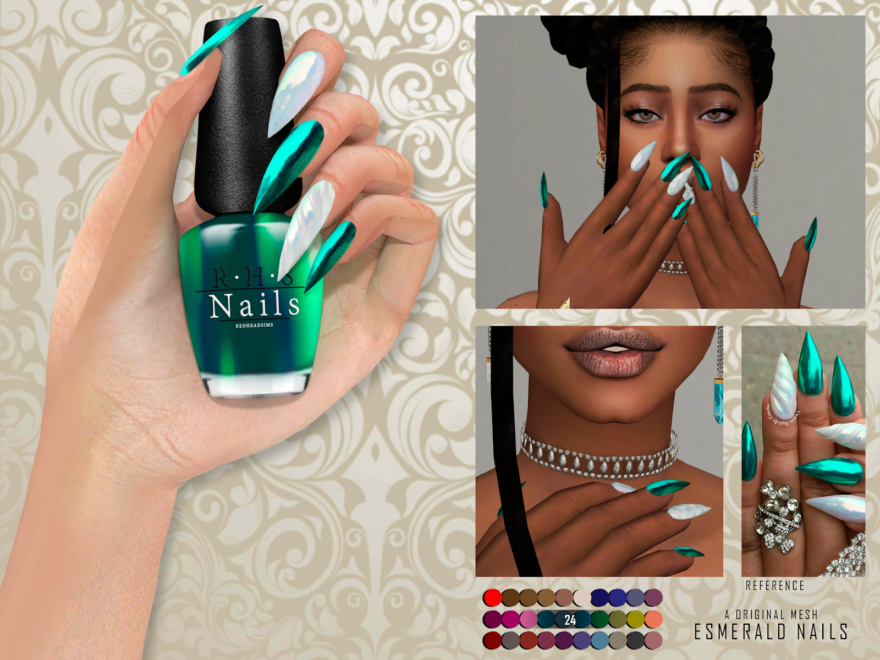 Esmerald Nails is another good option for nails with high shine that don't miss out on having sharp, pointy nails.
What's really cool about these nails is one color, in particular, that isn't seen a whole lot for nail color, opalescent nails!
Opals are one of the most beautiful stones out there, primarily white with hints of blue and purple as the light hits it, the color featured in these nails matches it perfectly, and it's a reason in itself to use these nails for your Sims next set.
5. Trendy Toe Nail Polish

Earlier, we talked about how Sims' nails don't tend to get nearly enough love as they should. But an even more neglected area than their fingernails would definitely have to be their toenails.
I have to admit, even I forget about it all the time, and their nails on their feet go untouched during the summer. But wouldn't having some freshly painted toenails make open-toed shoes and sandals look even better?
Before it gets warmer outside or you book that trip to the beach, make sure every part of your Sim is ready to soak up with the sun, and the best way to do that is to use Trendy Toe Nail Polish.
Available in a variety of glossy polishes, you can choose what best goes with their outfit for the day and change as needed.
4. Gold Leaf Nails

These nails are great for those who want to have flashy nails, but maybe the thought of adding rhinestones and pearls sounds like too much maintenance to keep the things on the whole time.
Instead of adding extra things on top of the polish, why not just a standout design to do the trick?
Gold Leaf Nails is exactly what it sounds like, a golden design in a leaf pattern. These would work well with girly Sims, Sims who need to look all done up for a special occasion, and even the ones who love plants so much they incorporate it into their style.
3. Khrystian the Nail Plug

Khrystian The Nail Plug is your go-to place for all of the glammed up nails you could ever imagine.
Compromised of multiple styles and designs, such as Basic, which is a long length with one overall color, to Krissy, which uses gems and shimmery colors to create dimension, you can't go wrong with this collection.
2. Bubble Pop & Sugar Milk

Coffin shaped, translucent nails, Bubble Pop & Sugar Milk nails look like they're from another world.
They're beautiful, dainty, but they still have the length and drama a lot of us want when we're deciding on the perfect nails, especially for our Sims. They come both in transparent and solid, and a bunch of colors for each version (up to 120 swatches!).
1. Nail Appointment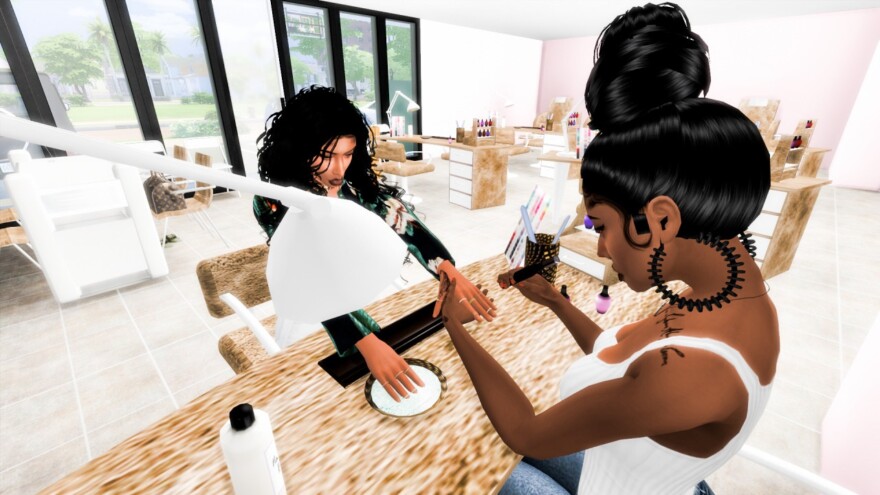 The next best thing to having a new set of nails for your Sims is to give them the ability to have the experience of getting their nails done.
A day of relaxation, pampering, and beauty, made possible with the Nail Appointment collection.
In this collection, you'll find everything you need to create your own nail studio, like chairs, a nail tech station, and a nail polish shelf.
You might also be interested in the following: