Need a little help cleaning around the house? Or maybe want a sultry outfit for a special night with the one your Sim loves?
Whether they can't seem to find the time to do all of the chores between their busy work schedule or simply like the look of maid outfits, it never hurts to have one handy in your custom content rotation.
Black and white, short or long, professional or not, whatever you're looking for, we've got it on the list for you! Here are the top 10 best Sims 4 maid outfits cc!
Best Sims 4 Maid Outfits
10. Victorian Maid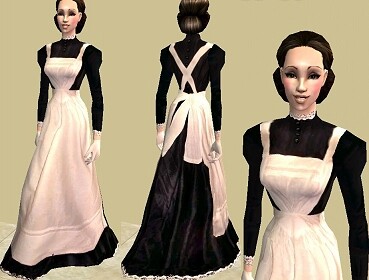 For most of us, when we think about maid outfits, the first thing to come to mind are the ones from our era.
You know the ones, the style you might find for a costume party with a small black dress and an even smaller white apron. But, we can't forget which maid outfit walked so our sexy ones could run.
That's right, I'm talking about Victorian Maid outfits. These would also be a creative costume choice or could be a historically accurate outfit if you're trying to make your Sims universe look like a time before electricity.
9. Maid Uniforms

These maid outfits are strictly for business. For the person you just hired to help out around the house, you might want to consider giving them a uniform before they get to work, and what better than a Maid Uniform?
They're a classic, practical, and functional option for all of the hard-working Sims you have in your game, plus, they'll look cute while they're making cash.
8. Rem and Ram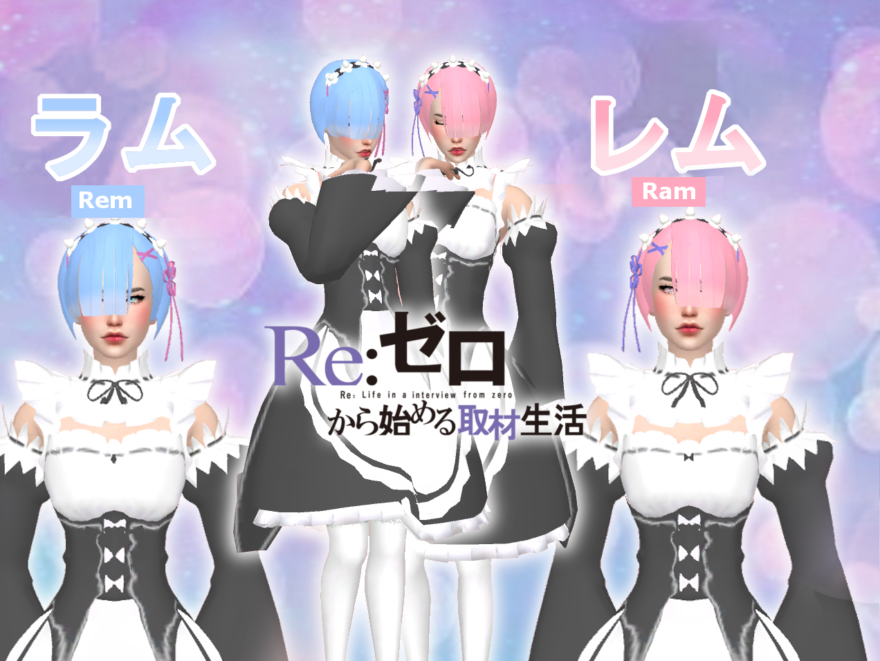 We're already looking at maid uniforms, why not some cool cosplay options, as well?
It's not every day we get to watch an anime that features a maid outfit in it, but when we do, it's something to get excited about, which is why you may have thought about incorporating Rem and Ram's outfits from Re:Zero!
Your Sim can decide whether they want to wear this outfit solo or match with a friend so that you can complete the full set. Either way, all you'll need is the matching hair color, and you're good to go.
7. Maid One Piece
A full, short-length dress, appropriately matching skirt, and even a cute collar to match. What more could you want from a maid outfit?
It's perfect for all occasions, whether professional or not, and your Sim looks cute without having to worry about putting all the right pieces together to get a great finished product.
Keep things simple, use Maid One Piece as your new go-to!
6. Maid Keyhold Dress

At first, this might look like your normal maid dress. It has all of the usual elements, short skirt, white apron, details on the sleeves. But wait, there's a heart cutout! That's right, this isn't your normal maid outfit, but a much cuter version.
Maybe you wouldn't want to wear it to work, but I can think of a lot of other times your Sims might want to slip into something like a Maid Keyhole Dress.
Not just the heart, but this dress comes with other details that make it even cuter, like the bow in the back and the fact that you can play around with color and have a maid outfit in baby pink.
5. Cinderella Maid Dress
Speaking of dressing up like characters that do chores for a living (or just to live in some cases), we have another character who a lot of us forget started out by cleaning up after other people.
Cinderella wasn't all pumpkin carriages and fairy godmothers, she had some struggles, too!
If your Sim is looking for a way to dress up like Cinderella but doesn't want to mess with the hassle of a larger-than-life ballgown, then you might want to check out the Cinderella Maid Dress.
I have to admit, even when she was dreaming of bigger, better things, she had an outfit that was full of style.
4. Maid Outfit

This one is one like most others, it's pretty work-appropriate if you ask me, but it still serves the purpose that it's supposed to, and that's all that matters, right?
Well, what if I told you this one had an option for men, too? Now you can have a staff full of people, both men and women, with a uniform that works well for everyone with the help of this Maid Outfit!
3. The French Maid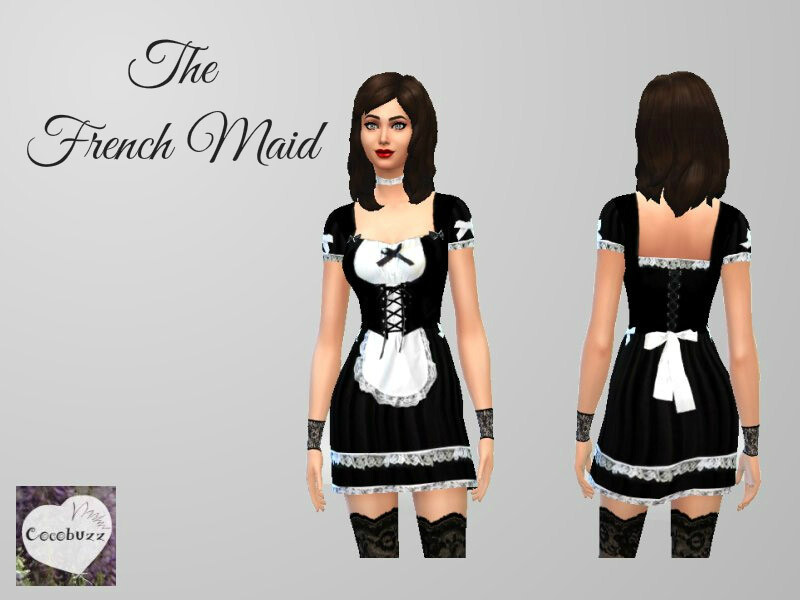 An iconic style in the world of maid outfits, The French Maid stands out with the most subtle of details.
First, the corset-like lacing on the front of the bodice is something that's almost irresistible if you want to kick your outfit up a notch.
Better yet, this dress comes with bow details just about everywhere you can imagine and even has lace accents at the wrist.
2. Heart Maid Outfits

This one is perfect for Valentine's Day, right after a date with a very special person, or even if your Sim just really likes hearts!
Heart Maid Outfits comes with a variety of options to choose from, 12 swatches to be exact, and even comes in a male version, so no one feels left out.
With a giant heart at the top, little hearts lining the bottom of the skirt, and a bow at the back to top it all off, your Sim will feel cuter than ever.
1. Japanese Maid Outfit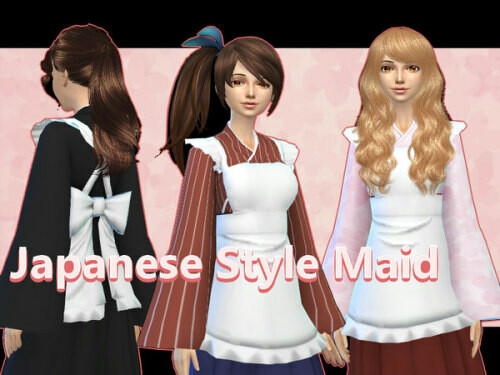 An outfit that combines covering up and keeping it cute into one dress, the Japanese Maid Outfit is a twist on what a lot of us already know to be maid outfits.
It comes with the usual white apron over the front, but it has long, wide sleeves and a longer skirt at the bottom, instead of something that's perhaps too revealing for your Sims comfort zone.