Let's talk a little bit about glasses. Most of us need them to see, we would be blind without them. Others of us like to wear them because we think they make us look smarter.
Regardless of the reason for wearing glasses, we know that there are good glasses, and there are less than flattering ones.
When you're picking out your newest frames, you don't want them to look like they did when you were in elementary school, but what other options are there?
Thankfully, styles for glasses have drastically evolved since I was young, so there's a lot more out there to choose from.
This goes for Sims too, they don't have to worry about being stuck with a pair of glasses that doesn't flatter their face or fit their style, there's so much custom content for glasses, they'll have a hard time choosing!
If your Sim needs some new glasses, you're sure to find inspiration here with the top 21 best Sims 4 glasses cc.
Best Sims 4 Glasses CC
25. Vittar Glasses

Looking to step up your Sims' style game?
Vittar Glasses, the hottest sunglasses on the market right now, are here to help
These ultra-trendy shades are perfect for adding a fashionable flair to any outfit.
Whether you're drawn to classy black or bold and vibrant red, there's a color option for every taste.
Just strap them on, and your Sim will be setting trends in no time!
Are you ready to infuse your Sims 4 wardrobe with some street-style swag?
Grab yourself a pair of Vittar Glasses today. Your friends will be dying to get their hands on a pair too!
After all, when it comes to style, you've gotta think ahead of the curve. Now go out there and get those likes on Insta!
24. LeathLillith Hype Glasses

These sunglasses have a bold and colorful racing flame design that is sure to turn heads wherever you go.
When you think of flame patterns, Guy Fieri might come to mind. These are the furthest thing from Diners, Drive-Ins, and Dives!
Retro is new again, and these multi-colored plastic pairs of glasses are right on trend. With a different shade to match your Sim's mood, they can wear a different pair each and every day.
23. Pride Pairs of Sunglasses

Are your Sims in the market for a stylish accessory that shows off their personal style and makes a statement? Look no further than Pride Glasses.
These glasses feature gorgeous designs inspired by different LGBTQ pride flags, including blue, pink, and white, purple, black and red, and other vibrant combinations.
Whether you're sporting them for Pride month or just want to make a fashion statement all year round, these stylish sunglasses are the perfect accessory for inclusive Sims everywhere.
So why not add a pop of color to your wardrobe today with this must-have Sunglasses CC?
Your Sims will be proud to show off their pride wherever they go in a pair of these comfortable and fashionable glasses!
22. Sparkle Sunglasses

Sometimes on the beach, you just NEED to be seen. What better way than oversize glitter frames?
These statement-making Sims 4 glasses are the perfect way to add a pop of glamour and edge to your Sim's look.
They'll have other Sims at the pool turning their heads and wondering, "Is that a celeb?"
Not yet! That's your Sim rocking their style, glasses CC, and all. All that glitter will dazzle in the sunlight!
21. Shine Forever Glasses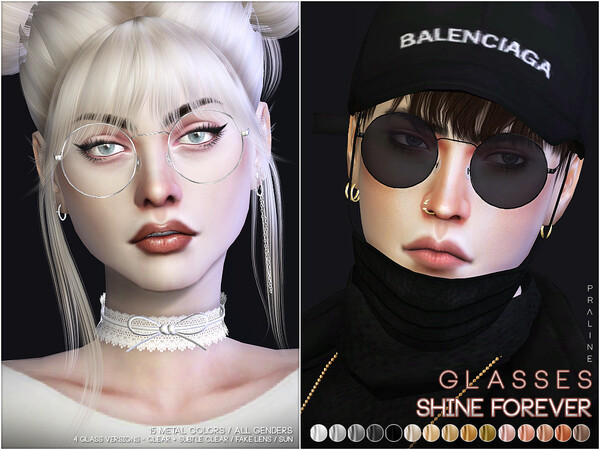 As most of us know, certain glasses fit certain face shapes, and if you didn't know that before, then now you do!
Rounded glasses best compliment square faces, so if this is the type of face your Sim was born with, a pair of glasses like Shine Forever might be just the style they've been looking for.
These frames are delicate and metallic, which some would argue is much better than the chunky plastic frames that can be found on a lot of glasses.
They come as regular glasses for everyday use, as well as sunglasses for the brighter days when their eyes need some shade.
20. Solitude Glasses

Retro-style glasses seem to be what everyone's been talking about lately. They're so popular that even people who have perfect 20/20 vision want to get their hands on a pair!
Cat-shaped frames, like what's seen in styles like Solutide Glasses, give your Sims face a look that says they're not only smart, but they feel like they were born in the wrong generation.
Another pair that comes with a thin wireframe for a more simplistic look that doesn't distract from the natural features of your Sims face and comes in 24 colors to choose from, like black, gold, and even aqua.
19. Opulent Glasses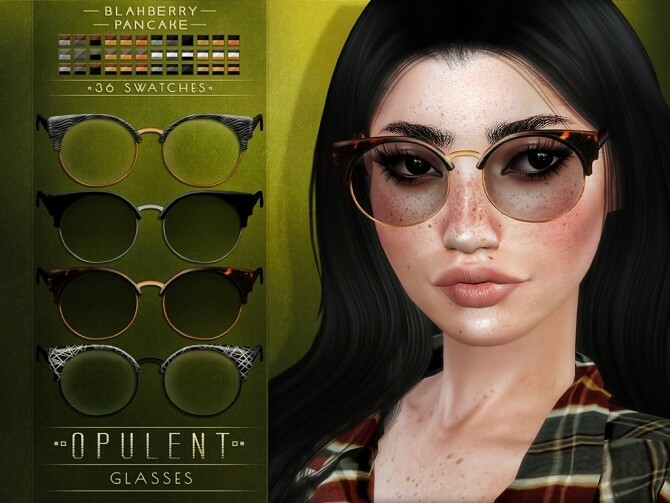 Both of the featured styles were great contenders for your Sims next pair of glasses, so much so it might be hard to choose between the two.
What if I told you that you don't have to choose, you could have the best of both worlds?
Introducing Opulent Glasses, a retro-style cat frame at the top with a circular lens throughout the frame.
These glasses don't feature the sleek, thin wire framing that we may have seen with the other two pairs, but instead, they have a little extra plastic at the top, which delivers just enough drama to make anyone feel satisfied with the look.
18. Glasses for Pets

Half the fun of having a pet is having someone there to love you unconditionally, something to take care of, and someone to be by your side through the best and worst of times.
The other half is dressing them up in cute clothes and accessories that they'll probably hate at first, but come to realize that it's not so bad once they get a bunch of attention while they're in their cute clothes.
Glasses for pets is something that definitely hasn't been talked about nearly enough.
Come on, just look at how adorable your Sims cat will be when they're wearing their stylish John Lennon-inspired round glasses!
A sophisticated look for all of your household's small animals, including cats and dogs.
17. Retro Heart Sunglasses

The boldest of fashion statements can be made with something as simple as the sunglasses your Sim decides to wear.
We all know and love heart-shaped sunglasses, and Retro Heart Sunglasses is a perfect pair.
With both red and pink lenses, they're great for Valentine's Day, a date with their significant other, or a staple piece for your Sims who have the wildest of fashion tastes.
16. Sunglasses for Men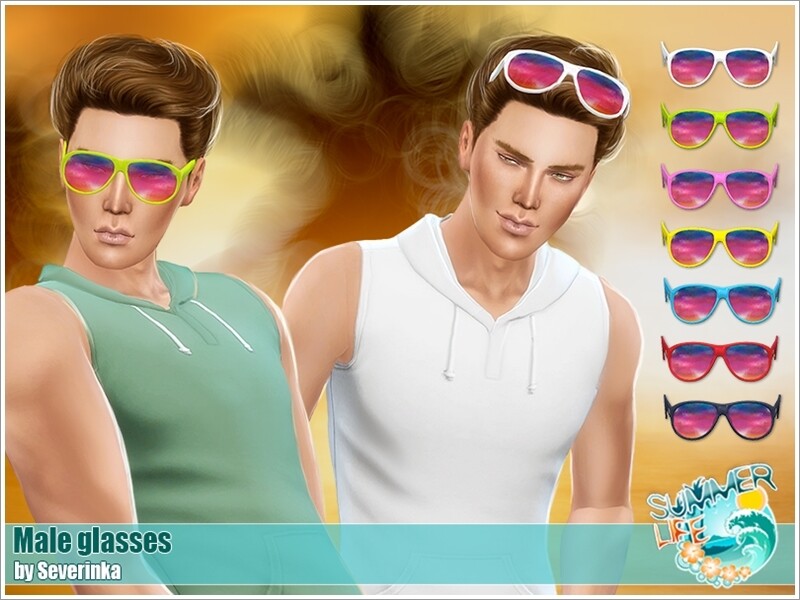 Men's sunglasses can take on some questionable styles if you ask me.
Especially for your younger Sims, you probably don't want them wearing something their dad would wear out to the beach, instead, a pair that's going to match their youthful personality.
Sunglasses for Men offers you a shape that will fit well with what they typically wear during the warmer months.
Whether they're out at the park for a day or taking a jog around the block, these guys will keep their eyes protected while also staying with the current trends.
15. Justine Glasses

A pair of round frames with a different approach than we've seen in similar styles, Justine Glasses have a thicker rim that makes your Sim look like they're the smartest one in the room.
These glasses come with 15 swatches, in colors like bright green and pastel blue, which are a refreshing change from the normal colors we see glasses in.
Mature, refined, with good taste- can be applied to both your Sims and this pair!
14. Grim-Bans Glasses

Speaking of glasses that come in unique colors, don't the same nudes and shades of black get old?
Speaking from personal experience, I think I've had over 7 pairs of glasses in my life, and they've all been in the same color palette, it's time for something new and exciting.
The same can definitely be said for your Sims. Of course, there are classic red glasses, but those get boring eventually, too.
If you really want to shake things up, then look into Grim-Bans Glasses!
The shape themselves are pretty standard, a cross between round and oval glasses, but the color of the frames is something to get excited about. Blue, red, pink, and yellow, swirled together for a whimsical color palette that's sure to make your Sim stand out.
13. Nexus Glasses Toddler Edition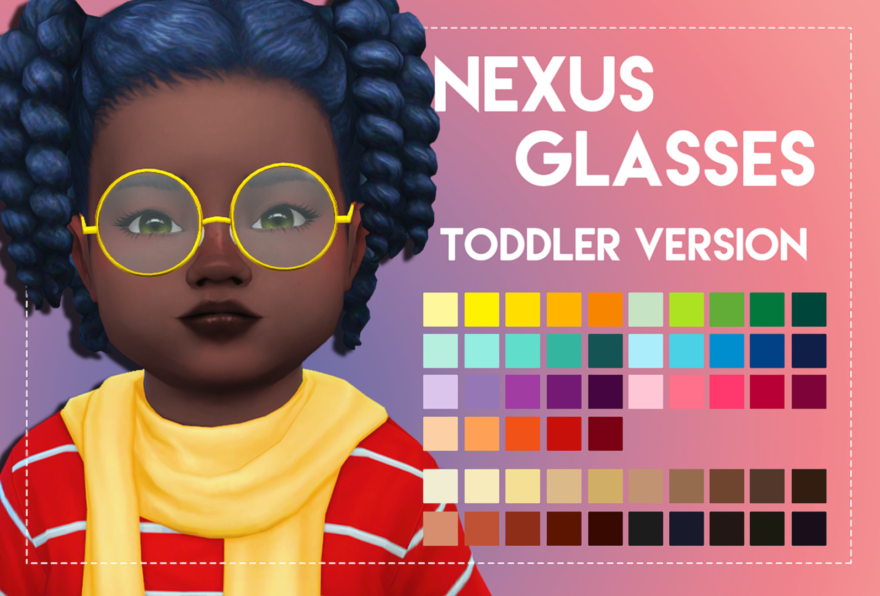 Not all of us were born with a good working set of eyes, some of us were born with eyes that barely worked from the beginning.
That being said, it can be rough on a kid when they're told that they're going to need some glasses, how will they ever be able to handle the four eyes jokes?
Instead of making them suffer from an ugly pair of glasses, Nexus Glasses Toddler Edition is a way to make your young Sims enjoy wearing lenses!
For an even more kid-friendly look than the round lenses give them, these glasses come with 55 swatches, so they can even have them in their favorite color.
12. Blomstra

If you're looking for feminine glasses, your instincts might tell you to go for something with a delicate frame, a pink color, or even heart-shaped lenses.
What if I told you there's a pair out there that would bring girly glasses to a whole new level?
Blomstra comes with thin frames around the lenses, a thicker nose piece, and flower details around the tops of the lenses!
Many of the color options for these glasses are cute and pastel to fit the vibe, too. Light pink, lavender, and baby blue are just a few of what you'll find for these adorable glasses.
11. Freja Sunglasses

From the same creator who brought us Blonstra, we have a pair of sunglasses that are equally as adorable as the ones that came before.
Freja Sunglasses feature the same rounded-off style with a thin wire around the lenses, but instead of having flowers at the top, there are some lovely pearls for a more mature look, but still cute.
10. Necklace and Glasses for Toddlers

Another kid approves pair of glasses come in the form of sunglasses because we all know their eyes are a little extra sensitive to the sun.
Thick plastic frames to withstand the most extreme playtime activities and roughhousing tournaments with their siblings, and some flowers at the corners that make your kids actually want to wear their glasses.
Oh yea, and it comes with a matching necklace!
9. Sirheo Sunglasses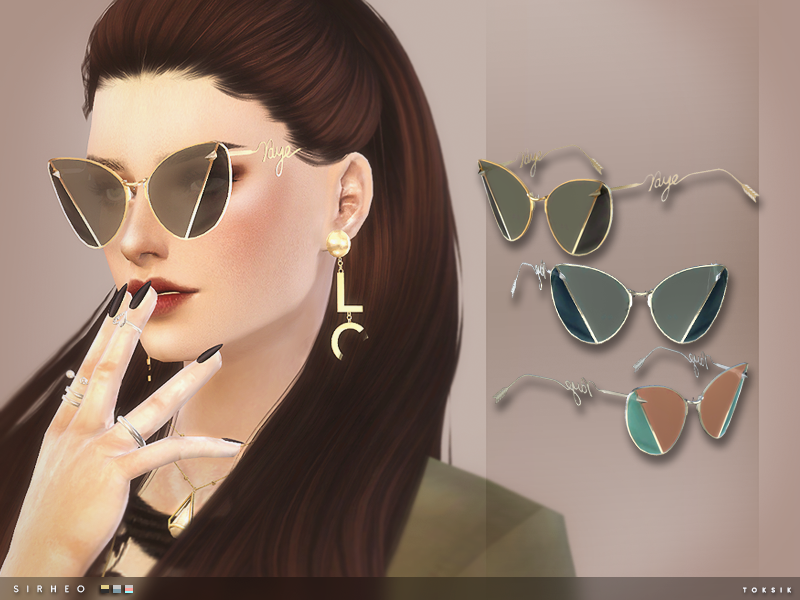 A pair of shades for the woman (or man) in your household that's all work, no play, but makes it fashionable.
Complete with a geometric pattern on the lenses that allow for two colors to be present, along with the logo on the sides of the glasses say that these are a luxury pair of sunglasses, and they worked hard to get their hands on a pair.
Sirheo Sunglasses come in 3 styles, with different metallic frames on each, as well as colored lenses such as pink and blue, blue and silver, and even gold and beige.
8. Sorya Sunglasses

Let's take a break from the bigger lenses for a second and talk about smaller frames.
Perfect for street fashion-inspired looks and a style reminiscent of the years most of us grew up in but maybe don't remember as much as we'd like to, Sorya Sunglasses is not only a bold statement piece to wear in place of traditional sunglasses but serves their purpose, too.
7. Touch Transparent Glasses
We love a good pair of gender-neutral glasses, their style is always in no matter what year we're living in, and it's one less piece of custom content to clutter your computer with.
One of Touch Transparent Glasses' most interesting features is that the frames around the lenses don't cover the whole thing. Instead, the top parts are left bare for a unique look without looking too over the top.
6. Octangular Glasses

You've heard of round frames, and you've heard of square frames, but what about a pair of glasses that makes you think back to geometry glass?
That's right, we're talking about Octangualr Glasses. As the name suggests, these lenses are an octagonal shape, which is something that I don't think I've ever seen before, but I'm definitely impressed!
These can be used as your Sims day-to-day prescription glasses with clear lenses, or you can switch it up and choose a variety of colored lenses to add as a statement piece to any outfit you come up with.
Truly a pair that was made for everyone.
5. Ousburn Glasses
These definitely aren't your average pair of glasses.
Tiny lenses, not all that practical, I must admit, but the reason you should try these out is that they're like no other pair of glasses, at least not any that I've seen, anyway!
Reminiscent of a famous musician's signature style, Ousburn Glasses would do well for your artsy Sims, Sims who are looking for something exciting to liven up their already adventurous style, or what I thought of when I saw these, someone who's recently picked up practicing magic.
4. Buddy Holly Glasses

This isn't up for debate. Nerdy square glasses have always been and always will be in style.
For all of your Sims who are proud that they're part of the IT squad or trying to make their way to Silicon Valley, they might find themselves drawn to the Buddy Holly Glasses.
Square, simple and sleek, perfect for all the nerds out there.
3. Oval Shaped Glasses

These say oval glasses, but to me, they strike me more like a rounded triangle, which is much better, in my opinion.
However you see the shape, one thing is clear, and it's that these are going to be universally flattering for just about any Sim who needs some fresh shades.
A classic style to fit all of your sunglasses needs.
2. Myneon Glasses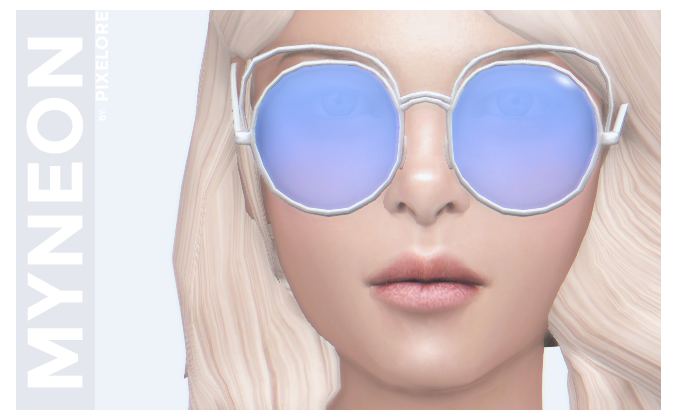 If you're looking for a pair of colorful shades instead of boring neutral tinted lenses, then you've come to the right place.
Myneon Glasses is a rounded sunglasses style that comes in colors like periwinkle and seafoam green so you can experiment with color without having to make too much of a commitment to it.
Even better, the frames have an interesting design that will make both you and your Sim fall in love.
1. Hire Glasses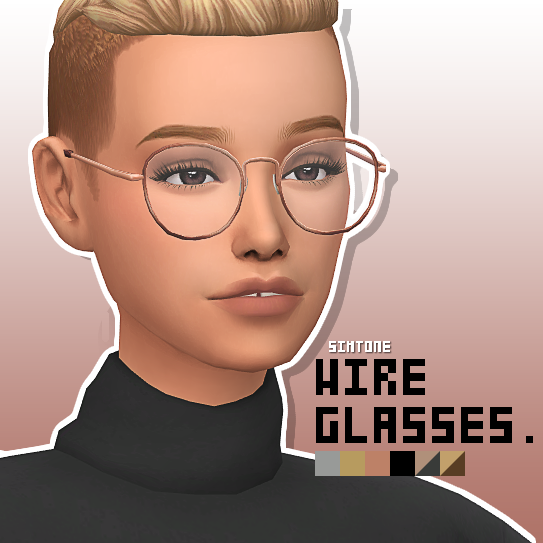 You're hired! That's what your Sim is going to be hearing when they wear these glasses to their new interview because the Hire Glasses make your Sim look together and professional, without having to put in any extra work.
They speak for themselves, and they're a good look whether they're at the office or it's their day off.