School is in session, and your Sim's school has a dress code- a strict one at that.
Maybe you've chosen to send them to a nice school where everyone has to look the same, or you think that the idea of dressing your Sims up in uniforms makes the experience more authentic.
Better yet, you're one of the people who think that school uniforms are a fashion statement of their own, and even though your Sim graduated a while ago, they're not ready to give up the skirt and blazer combo just yet.
School uniforms are such a universally loved style, whether we're still attending or not, it's hard to imagine playing The Sims without them.
Get your Sims dressed and ready to catch the bus before they're late to class, and find some inspiration for the perfect uniform with the top 15 best Sims 4 school uniforms.
Best Sims 4 School Uniforms
25. Back to School Uniform Vest

School uniforms are often seen as boring and unstylish. However, there is one piece of the uniform that can add a touch of style and flair: the sweater vest.
This Sims 4 clothing CC features two woolen vests in classic colors like blue and burgundy that will make your Sim fit in at any fancy private school.
Whether they're attending a school dance or giving a presentation in class, a sweater vest is the perfect way to show that they're stylish, classy, and confident.
24. Witch School Uniform

Your sims can rock this witchy school fashion CC top and skirt combo that comes in 55 stunning patterns!
Plus, the new mesh ensures that this custom content blends seamlessly with the game.
Whether you're looking for a classic black dress look or something a little more festive like a skull and bones pattern or striking colored stripes, there's sure to be a pattern that's perfect for your magical Sims 4 student.
Even if your Sim world has a whole coven of students, there's enough variety in this school uniform CC clothing to personalize each of them with a distinct style.
23. Persona 5 – Goro Akechi School Uniform

If you're a fan of Persona 5, then you'll be excited to know that you can now dress your Sims in Goro Akechi's iconic uniform jacket!
The jacket is available as clothing cc for the Sims 4, and it looks just like the one worn by Akechi in the game.
With this clothing cc, you can start recreating the whole P5 cast in your game or just lend Akechi's vibe to one of your original Sims Clothing from other media is a great way to add new experiences to the Sims 4.
22. School Uniform Dress

The plaid skirt is a classic staple of the school uniform dress code. It's versatile, comfortable, and easy to care for – perfect for busy student Sims who don't have time to fuss over their clothes.
But the plaid skirt can also be stylish and fashionable.
This School Uniform Dress CC includes a plaid skirt as well as a plunging neckline adorned with a bow.
There are five color variations for the skirt and the bow, allowing for a wide variety of Sims styles.
It's on the racier side of Sims 4 school uniforms, but plenty of players like to push the envelope when they play with life in the Sims.
21. Marin Kitagawa School Uniform

Fans absolutely love Marin Kitagawa's style from My Dress Up Darling! She always looks so put together and stylish but still approachable and fun.
We especially love her plaid skirts – they're always the perfect mix of preppy and edgy.
She always seems to find a way to wear them without looking like she's following the dress code too closely.
Now, your Sims 4 students can give her unique vibe a spin. The Marin Kitagawa school uniform includes a plaid skirt, long button-up, and edgy necktie.
20. Cheerleading Uniform

There's something about a cheerleading uniform that just screams "school spirit!"
Whether it's the classic long sleeve top and skirt combo or a more modern look, these uniforms always seem to bring out the best in everyone.
Download this cheerleading uniform custom content to your game to bring that spirit and flair to your Sims.
Maybe it's because they're so flashy and eye-catching, or maybe it's because they always seem to be associated with happy memories.
Whatever the reason, there's no denying that cheerleading uniforms are iconic.
19. Persona 5 Shujin Uniform

The fashion of Persona 5 is colorful, stylish, and just a little bit quirky – just like the game itself. It pushed school uniform fashion into a new, flashier future.
Now, your Sims can visit the world of P5 and bring back a piece of that style.
Pair this with the Goro Akechi CC from earlier in this list, and your Persona cast is well on its way.
This uniform worn by the protagonist of Persona 5 is a classic, striking black jacket detailed with the school emblem and many bold red buttons.
Even off-duty, the Phantom Thieves stand out from the crowd; your Sims should, too!
18. Loona Uniform Top + Skirt

This is a cute uniform that features an uncommon tie option: a ribbon tied into a bow! The Loona Uniform Top + Skirt is a simple yet charming set of clothing CC.
The shirt and the skirt do come separately, so you can use either piece in outfits that aren't only this uniform, but really, this outfit can be a cute casual look on its own.
This CC comes in 14 color swatches, and Sims from teen to elder can wear these pieces.
You will find the shirt with the other tops and the skirt in the bottoms, both in the character customization menu.
17. Teen School Uniform

This uniform can be downloaded in two separate pieces: the cardigan and the skirt. This version of the CC is specific for female Sims, but there are options for the boys as well.
The Teen School Uniform is a classic uniform option that features a pleated skirt and a long-sleeve button-up cardigan.
Underneath the cardigan, a white collar of a long-sleeve button-up shirt can be spotted with a tie around the neck.
Since these are separate pieces, you can mix and match the four colors: brown, emerald green, sapphire blue, and amethyst purple.
16. Cozy_yeons School Uniform

You can't get a better combination than a school uniform that looks as comfy as Cozy_yeons School Uniform CC.
This school uniform is simple, featuring long sleeves that appear slightly baggy at the ends and a signature plaid skirt. The outfit is one piece, with a small tie, and comes in five colors: red, blue, green, yellow, and gray.
This uniform also features a collar that mimics a sailor's uniform.
This uniform is great on its own for its intended purpose as a school uniform, but it would also look great highly stylized with jewelry and outrageous shoes!
15. UA Short Sleeve Uniform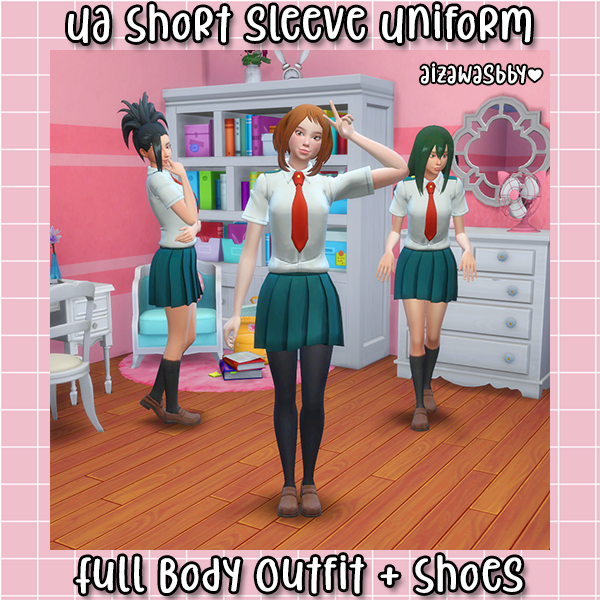 Like most anime fans and casual watchers know, there's a lot of uniform inspiration to draw from these shows.
Most of them take place while the characters are still in high school, and even though the design varies ever so slightly, die-hards still know which outfit belongs to which school. If you're one of the many My Hero Academia fans, then this custom content might seem a bit familiar to you.
The UA Short Sleeve Uniform is a perfect replica of what you can find the female students wearing in the show.
While it may not be the best to wear while it's snowing outside, if your Sims are living in a warmer climate, they'll get the chance to wear the classic great pleated skirt, white collared shirt, and red tie combination every time they're off to class.
14. Togahimiko Costume

Speaking of My Hero, it is important to note that all of the significant characters aren't wearing the same uniform.
Hero costumes aside, there's some variation that can be found amongst the secondary characters, and even though they're not always the best characters in terms of moral standards, their uniforms still look great.
Of course, I'm talking about none other than Toga Himiko. Even when she's in battle, covered in blood, she's still rocking her staple school uniform, consisting of a similar skirt design and pullover sweater, which is a great option for you Sims to wear when the temperature starts dropping.
Don't worry, the blood isn't included.
13. Lass
Another uniform idea that draws inspiration from popular media, we have Lass, a take on the uniform featured in Pokemon Sword and Shield.
This uniform looks more like what you may expect to find in a prep school, complete with a sharp blazer, proper accompanying patches, as well as a tie that's much shorter than the ones in uniforms we've seen before.
What's even better about this uniform is you can choose to have your Sim representing whoever they want! Think about it as they're schools instead of Pokemon teams.
A university specifically for training Pokemon? It sounds like a dream college!
12. Schoolin' Dresses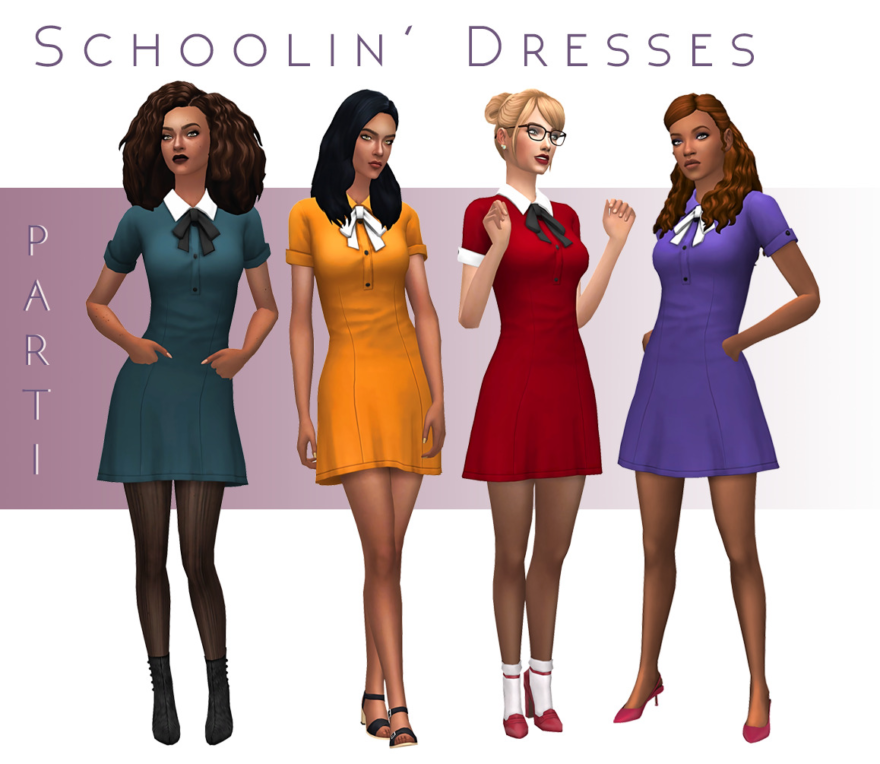 The beauty of school uniforms is that they can come in a variety of ensembles.
Of course, we have the classic skirt and shirt combo, but they can also have khaki pants and sometimes come in the form of a dress.
With Schoolin' Dress, you can create a uniform for your school that draws inspiration from other eras.
A button-down dress with a pleated skirt collared top piece and bow detail at the collar makes it not only fashionable but, more importantly, school appropriate.
11. Above the Time

A school uniform that looks like it came out of one of our favorite late 90s movie, Above The Time, is a uniform that allows their students to accessorize- within dress code limitations, of course.
Some of the best features about this set are the use of plaid in both the ties in the skirts, as well as the broach and chain accessory, the chain without the broach, and the use of chunky gold buttons to add even more style.
There are two designs for blazers, one closed with a sailor's collar and one left open with a more traditional pleat. Each uniform style comes with 25 swatches that include solid colored and plaid skirts!
10. S1 Uniform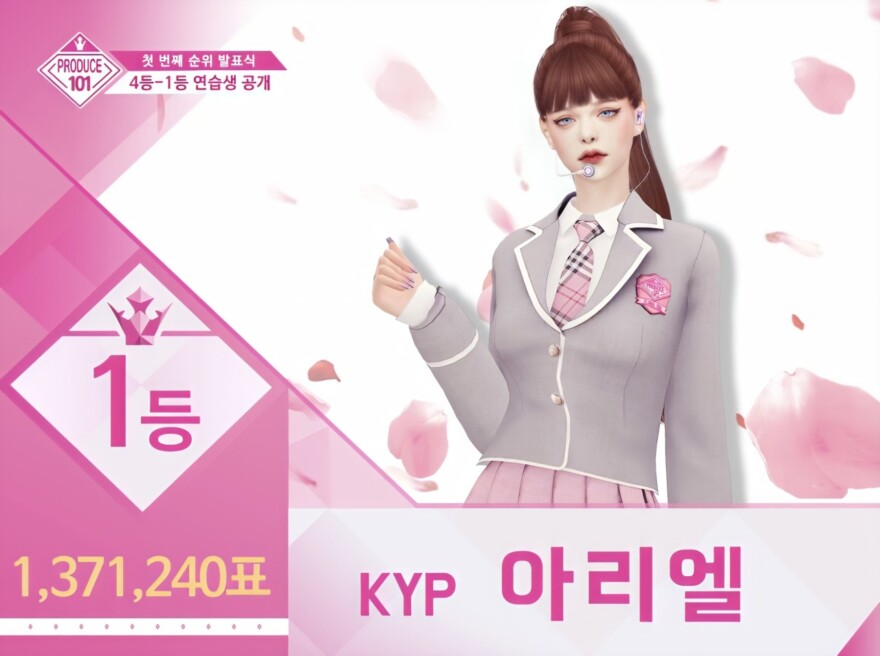 Blazers, neckties, pleated skirts, and knee-high socks, what could be missing from your Sims uniform?
All they need is a reliable pair of shoes to keep them comfortable throughout the day, and they're ready to learn! Inspired by K-Pop groups, S1 Uniform is a uniform style we would expect to see out in the real world, brought right to our Sims.
There are 12 swatches to choose from, the majority of the colors being in pink, yellow, black, and grey, and the knee-high socks have 10 swatches to choose from, as well.
9. Spring Knit Vests & Pleated Skirts

A refreshing switch from the typical school uniforms we've seen so far, instead of using a blazer for the top half of the uniform, Spring Knit Vests & Pleated Skirts uses a sweater vest to cover up and stay warm no matter what the weather may be.
The sweater vests come in a variety of cute designs and colors, even a pattern that looks like it was from Gucci.
What could possibly make this uniform even better? The ability to accessorize! This set comes with a matching hairpin (matching to your Sims sweater vest, that is) for an easy, discreet accessory that won't land them in detention.
8. Poongpa High School Uniform and Jacket
While this uniform keeps things simple, it doesn't sacrifice style in the process.
Poongpa High School Uniform and Jacket is a great option for the Sims who are wrapping up their time at school and, honestly, can't wait to get out.
It offers a mature, refined look for its students and can even be worn after graduation when they land that job at the office!
7. School Spirit Cheerleader Outfit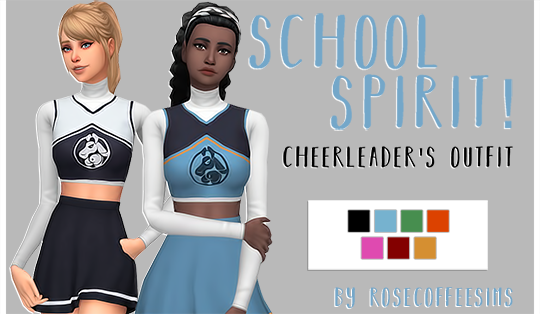 What's a high school without the cheer squad? A popular trope in movies and television shows, whether the girls have a good character design to them or not, one thing is for sure, and that's that the uniforms they're seen wearing are always some of the best outfits featured in the entire show.
The School Spirit Cheerleader Outfit is a classic cheer squad uniform that your Sims can wear whether they're actually on the cheer team or not.
They come with a long-sleeved, cropped turtleneck shirt underneath the upper layer of the top and the short skirt that we all know and love, so they're left unrestricted while they're practicing their routine.
6. Child School Uniform

Start them off when they're young! The teens in the house aren't the only ones who have a dress code to follow, but oftentimes the kids have a lot of the same rules they have to follow.
With the Child School Uniform, you can choose between whether they have to wear a skirt or a pair of shorts, and that's all you have to worry about as far as their school clothes go.
5. Playful Kiss School Uniform

There's a lot for school uniforms designed for girls, but what about the boys who go to the same school? There aren't as many options for a long pants look or even shorts, so it's hard to pass up when we find one.
That's why the Playful Kiss School Uniform had to be included.
This set features both an option for guys and girls, perfect for if you have a household with siblings that go to the same school.
A long blazer with dark pants and a royal red tie is all they'll need to be ready for school.
4. School Uniform BD99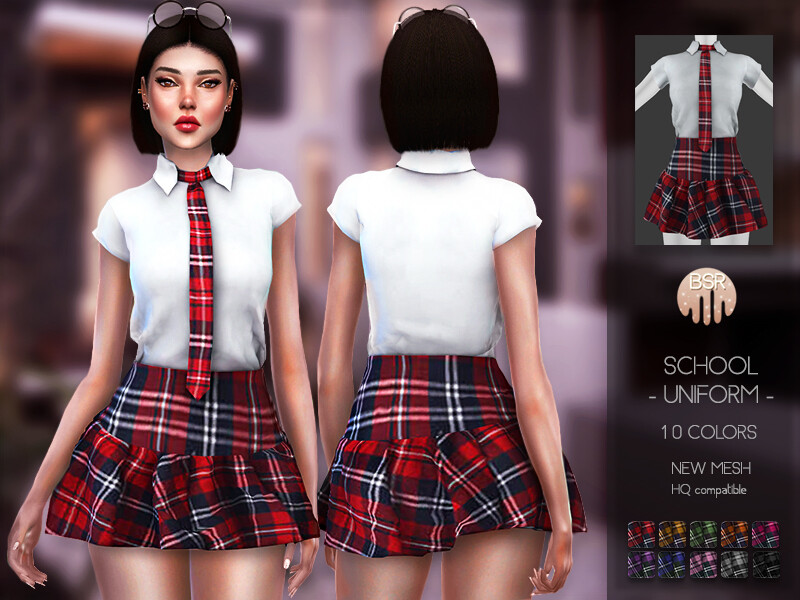 This is the kind of school uniform that comes to mind for many of us who didn't have to wear a uniform growing up.
Popularized by the media, we have styles like School Uniform BD99 that seem like a cliche, complete with a red pleated plaid skirt, matching red plaid tie, and plain white collared shirt on top.
While as a kid I probably would have hated wearing something like this to school, now that I'm older, I have to admit, the style isn't so bad!
I would happily wear it out on a normal day when I want to feel cute, but since I don't have one of my own, The Sims will have to do.
3. Class President

Class President has a different feel than your typical school uniform.
Does it have a lot of the same elements? Yes. Are they both from the same school? Yes. But there's something about the closed blazer in grey with black trimmings that make it seem more professional, as a class president should be.
It even has a patch on it to show off your Sim's success in the school.
2. Back 2 School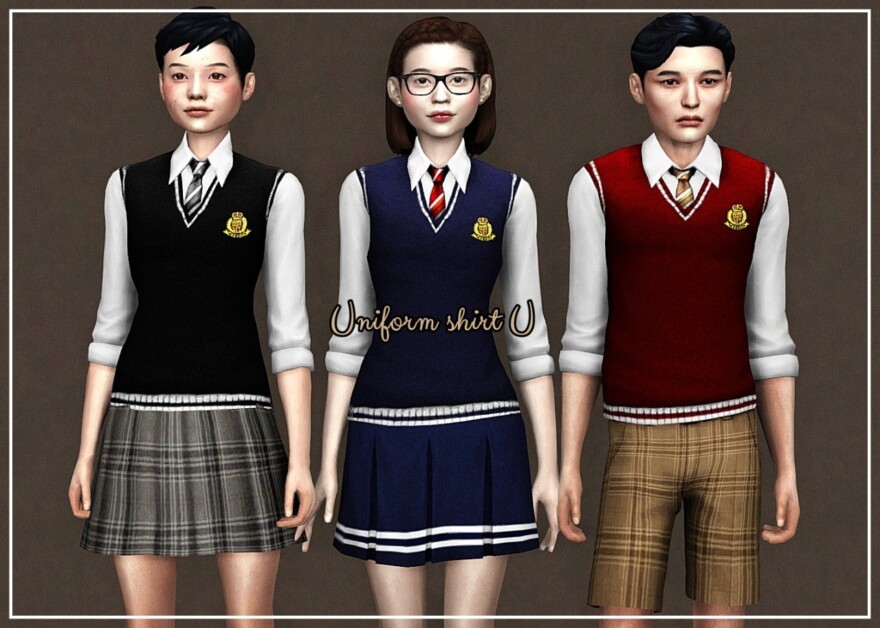 Having a hard time deciding whether you should go for the blazer or the sweater vest? Good news for you, you can have both! With Back 2 School, you can have both styles of uniforms in the same place.
It also comes with both a pant and skirt option so everyone in the school can use the same uniform from the same piece of custom content.
1. Ribbon Blouse and Pleats Skirt Set

This uniform is a uniform that is like no other. It definitely belongs to a school that allows the students to take some more creative liberties than others.
The Ribbon Blouse and Pleats Skirt Set is a pullover sweater and skirt ensemble, tied together with a ribbon bow at the color that matches the skirt.
It's comfy, it's cozy, and it's perfect for spending long hours in the library cramming for their next exam!
You might also be interested in the following: