As a kid, I always dreamed of having bunk beds. Something about being able to sleep on the top bunk was so fascinating to me, and even though I'm not a kid anymore, I still like to think about how cool it would be to have a bunk bed!
Whether it's for the kids in your Sims household or your adult Sim is still a child at heart, bunk beds are the way to go.
Why not change around your bedroom and add a cool new bed? If you think it might be time to add a bunk bed of your own, then take a look at the top 10 best Sims 4 bunk beds cc!
Best Sims 4 Bunk Beds CC
13. Loft Bed Set

If you've got an older Sim kid, it might be time to separate their rooms and give them a study area. Is your Sim also living in a smaller space? No problem!
The Loft Bunk Set provides four pieces, including a bed frame, bookshelves, a desk, and a chair.
All items are interactable, and three Sims can be occupying the space at one time.
You can also trade out objects underneath the bed as well! You can choose from 28 different colors.
This is a great bunk bed CC to have as your Sim children age because this loft bed can work for any age!
12. That's What She Said Bunk Bed Series

This CC set is the perfect all-in-one bunk bed set to have. The That's What She Said Bunk Bed Series includes several pieces to mix and match and create a beautifully modern bedroom.
You can choose from a bunk bed or a loft bed, with a single bed that you can add underneath. There is even a toddler's bed included!
In this set, there is also a dress, mini desk, ladder for the beds, an end table, and a desk chair.
This is a great set for Sims with multiple children who share a room or for bedrooms in small homes.
11. Puzzle It! Bunk Bed

Looking for a bunk bed with a bit more flare and intrigue than what modern beds have to offer? The Puzzle It! Bunk Bed is the perfect choice for you, then!
This bunk bed comes in vibrant colors, including green, blue, and pink.
Each colorway comes with a patterned blanket on the bed and is framed by a midcentury modern frame.
Since this is a top bunk-only bed, there is room underneath the bed to place décor and other bedroom items.
So, if the rest of your Sim home is mid-century modern, now you can match your children's room as well.
10. IKEA Toddler Bed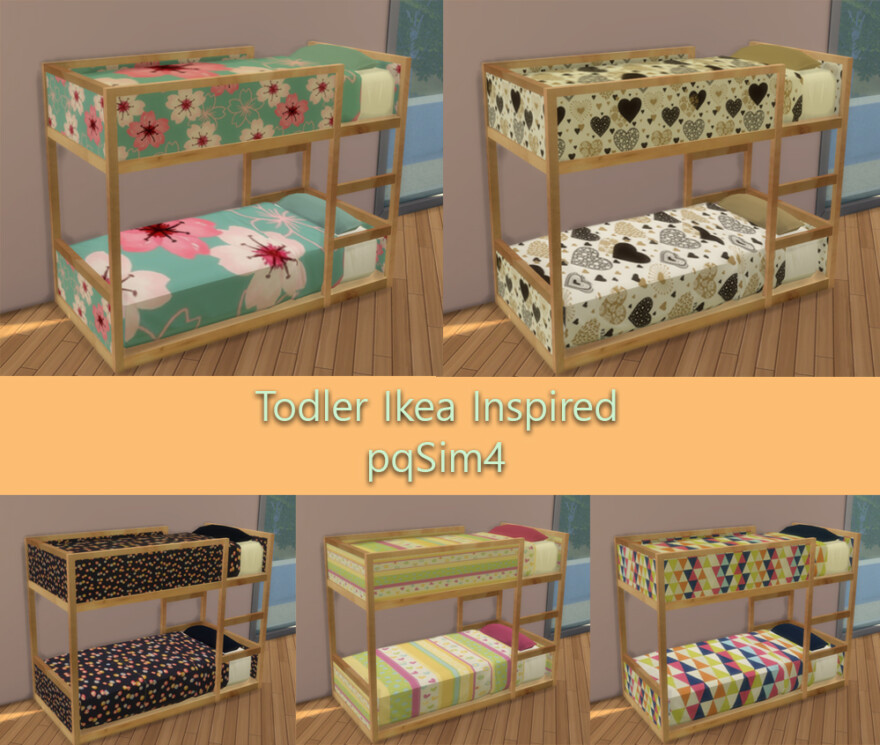 This Ikea Toddler Bed is a simple yet effective way to make it easier for your child Sims to share the same room.
Maybe your Sim just gave birth to a set of twins, but the nursery is a bit small. The solution? Save space by using a bunk bed.
While the frame on this bed may be a bit plain, there are 5 adorable, colorful bedding options for you to choose from to make this piece a little more exciting!
9. Toddler Cloud Bunk Bed Frame

The fun part about decorating young Sims rooms is that they're so exciting and whimsical, it's hard to say no to pieces like a bunk bed with a cloud frame on it.
Especially with all of the other cloud themed decor for toddlers bedrooms, there's no reason to say no!
Your toddlers will feel like they're sleeping among the stars in this bed. Whether you only have one kid that likes to have playdates with their friends or two siblings that can't be separated, this adorable bunk bed is a must.
8. House Loft Bed

Do you only have one child, but think that they would like bedtime a whole lot more if they had something fun to climb into, like a bunk bed? If so, then you're in luck because this House Loft Bed is the perfect solution!
Instead of being like traditional bunk beds that come with two mattresses, there's just the one on the top, so you still get the appealing factor of bunk beds- sleeping in the top bunk.
But, instead of having another place to sleep on the bottom, it's a place for your kid to play during the day time. Plus, it looks like their own tiny house!
7. IKEA Bedroom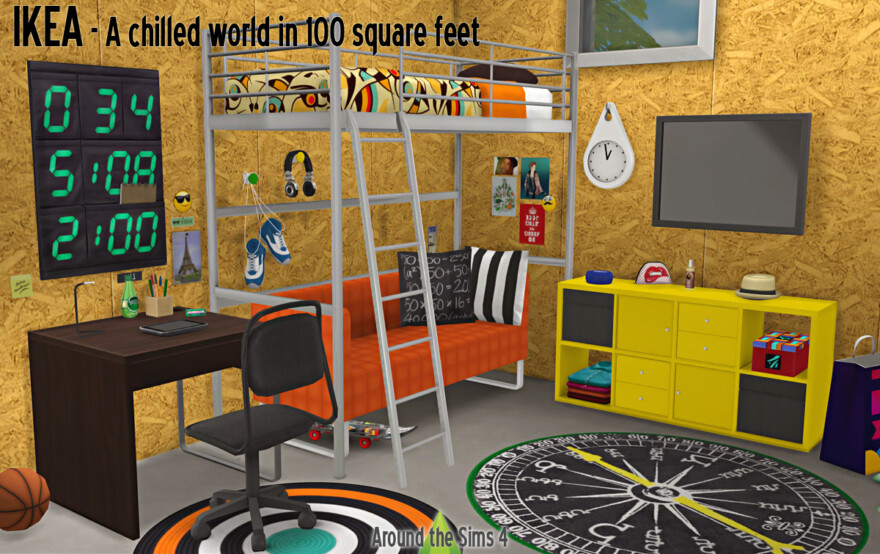 This Ikea Bedroom set has just about everything you need to make your Sims bedroom look like the catalog from your favorite Swedish furniture store. And yes, this includes a bunk bed, but this time, for adults!
Similar to the House Loft Bed, the Svarta loft bedframe included in the collection comes with only one bed, but of course, it's at the top of the ladder.
Instead of putting a play area at the bottom (which isn't as functional for adults but hey, maybe that's your Sims thing!), you can add other pieces from this collection like a dresser, a desk, or even a comfy couch!
6. Toddler Club House Bed V2

For your toddlers that need playtime all the time, the Toddler Club House Bed V2 is the perfect solution. Instead of being a wide-open space at the top with not a lot going on up there other than counting sheep, they can play on top during the day and get some rest at night, all in the same place.
What's the only downside to this bunk bed? The kids might fight over who gets to sleep in the clubhouse!
5. Triplets Dream Room

Sure, bunk beds are a great option for those with twins, but what about when that one in a million pregnancy happens, and all of a sudden, 3 new Sims join your household? Don't worry, custom content has got you covered.
This bunk bed comes with not one, not two, but three beds included, with an interesting yet practical design to it, made complete with stairs instead of one giant ladder for safe climbing to the top.
Now you don't have to sacrifice space in your nursery, even with 3 kids with Triplets Dream Room
4. IKEA Tuffing Loft Bed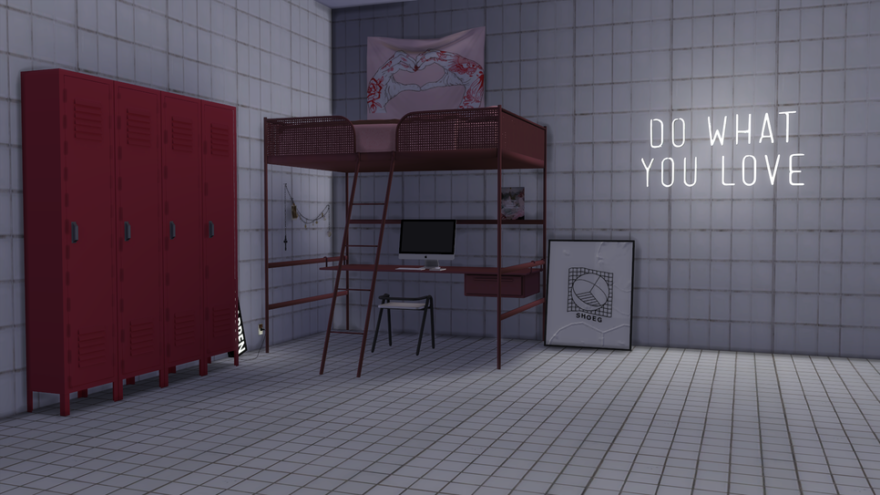 Another great option for adults living in small spaces or who prefer having their bed up high is the Ikea Tuffing Loft Bed.
Like what we've seen before, this loft bed gives your Sim the opportunity to make the most of the space they have and comes with a desk underneath to get their work and sleep done in the same area.
Along with the built-in desk at the bottom, this bed stands out from the rest because of its design.
What some may call a uniquely Ikea style, it's industrial with the opportunity to add some color, like purple, blue, or even yellow.
3. Marketb Vello Loft Bed

Finally, some normal bunk beds for adult Sims! All beds, no workaround here with the MarketB Vello Loft Bed, this comes as your standard set of bunk beds with two sized mattresses, the bigger of the two being at the bottom.
Maybe your Sims are really good friends and want to share the same room, or they've been married for too long and need some time to sleep in their own bed once in a while.
Either way, this bed is the solution to all of your Sims problems.
2. Tam-tam Kid Bedroom

Everything you need to design your child's bedroom with the essentials included, and by essentials, of course, I mean a bunk bed.
The colors featured in this set's palette are neutral yet kid-friendly with bright reds and greens and give an outdoorsy feel to the place they can call their own.
This bunk bed comes pretty standard but has drawers at the bottom so they can pick up their toys at the end of the day and a small roof over the top bunk for some extra privacy.
In the Tam-Tam Kid Bedroom set, you'll find even more furniture for your kids' bedroom, like shelves, a small desk, and even a crib for their earliest stages.
1. Toddler Clubhouse Bunk Bed

The ultimate bunk bed for the little ones, a bed that comes with a clubhouse!
Instead of having only one kid get to enjoy the fun of having a clubhouse as part of their sleeping arrangement, this bunk bed has the clubhouse on the side, so both kids can play with it during the day, and everything is the same at night.
No fighting involved, just play!
You might also be interested in: