Events are a big deal in the Sims, a time for them to get together with their friends and family they may not have seen in a while, complete activities with the chance to win a prize in the end, and of course, getting to wear their best outfits.
Especially for the events that have a dress code, it may be one of the only times your Sims get to wear their most fancy clothes, especially their formal dresses.
However, some formal dresses work really well for weddings, but wouldn't look appropriate for something like a funeral. Or maybe it would work well for a fancy dinner party, but not for an upscale charity event.
The fact of the matter is your Sims wardrobe needs versatility when it comes to their formal dresses.
If you feel like they've already worn the same couple of dresses a million times and they're ready for a change, then you're in the right place, let's look at some formal dress custom content!
Best Sims 4 Formal Dresses
32. Sifix Nellie Dress

When it comes to looking stunning and sophisticated, an elegant plain empire waist gown is a perfect choice.
This timeless dress style features a high, fitted waist that falls into a full, flowing skirt, creating a dramatic and feminine silhouette.
Nellie Dress is a beautiful formal dress for The Sims 4. It's made up of a plain, flowing skirt and a patterned bustier.
This dress would look great on any Sim and would be perfect for any formal occasion!
31. Hayden Dress

The Hayden Dress is one of the most stylish pieces of clothing you can add to your Sims 4 CC wardrobe.
This stunning and sophisticated garment feature flawlessly cut silhouettes and intricate details, bringing a touch of glamour to any evening event.
It's perfect for a night out on the town, blending nightlife style with classy formal patterns. Ball gowns aren't the only options in the world of formal dresses anymore.
What's great about this dress is that it's versatile and can be worn in a variety of different settings.
Whether you're going to a formal event or just want to look your best, the Hayden Dress is sure to turn heads.
30. Dress 11

Don't let the plain name fool you, this Sims 4 formal dress CC is a stunner.
Dress 11 is a must-have for any fashion-savvy player.
Its provocative cutouts and ice skater inspiration make it a unique and stylish option for any event.
Plus, the full-coverage gown is perfect for players who want their female Sim to look her best while showing just enough skin.
When you're dressing your Sim up for a formal event, do you want them to light up the room or fade into the curtains?
It's your call.
29. Reverie Dress

The Reverie Dress is a beautiful gown that would be perfect for any medieval-inspired occasion.
The sheer fabric on the arms and shoulders gives it a sexy yet modest look, while the gold star pattern across the entire dress makes it truly unique.
This dress would be a great choice for anyone who wants to make an impression at their next special event!
It comes in several colors to suit a variety of styles. We love this long dress in green because of how unique it is among other pieces of Sims 4 formal dresses.
28. Erinaok Girl's Dress
For little girls and little Sims, who dream of being princesses, nothing is more magical than a formal gown inspired by Elsa from Frozen.
These stunning dresses are delicate and ethereal, featuring snowflake embellishments.
The ErinAOK Girl's Dress is perfect for young girls who want to feel like a princess.
It is made with delicate materials and is adorned with snowflakes, making it the perfect outfit for a holiday party.
This dress is sure to make your little Sims feel special and loved. Plus, who doesn't love Frozen?
27. Opal Dress

The Opal Dress is one of the racier of our formal dress picks.
Whether you're headed to the red carpet or a black tie event, you can always rely on a short dress to make a statement.
It's 2022; these sexy and sophisticated outfits reign supreme as some of the most flashy but still formal fashion choices in the world.
With their sleek silhouettes and sparkling embellishments, short dresses are truly timeless.
This dress is perfect for anyone who wants to feel elegant and beautiful. The boning on the corset gives it a luxurious look, while the shortcut makes it playful and fun.
Whether you're going out for a night on the town or attending a formal event, this dress will make you feel like a million bucks.
26. Beth Gown Ii

If you're looking for the peak of modernity and formal fashion, you need to check out Beth Gown II!
This elegant dress features a v-neck neckline and empire waist adorned with gleaming gold accents.
The Beth Gown II is perfect for any black-tie function, from galas and weddings to award ceremonies and black-tie events.
This silhouette is one of the most classic in existence. No female Sim will look or feel out of place in this tried and true staple.
25. Arcane Illusions – Long Dress

This long black dress from the Arcane Illusions CC collection is an incredible masterpiece from a dedicated creator.
The dress is made from luxurious black fabric and is adorned with delicate lace details.
The chest cutout shows off your Sim's curves, while the padded fabric ensures a perfect fit and eye-popping silhouette.
This gown has undeniable magical vibes like the collection name suggests. It's a fact that your Sim will be the best-dressed at any ball or a formal affair in this work of art.
24. Olive Gown

The Olive Gown is an exquisite formal dress for The Sims 4. It takes loads of inspiration from historical high fashion and translates it into a sleek modern piece.
This gown is a floor-length mermaid shape with muted colors and fine leaf patterns detailed on the sides.
It's perfect for any occasion, formal or otherwise, or just to make an impression!
One of the best things about this dress is that it will suit any Sim with any kind of style.
Add accessories to make it glam, keep it plain to suit elegance, or pair it with a leather jacket and bold hairstyle, and it will be ready for the VMAs red carpet!
23. Galinda Gown
For players looking for one of the most show-stopping fairytale gowns in the world of Sims 4 CC, we've got something for you!
When we think of a fairytale gown, we picture something dripping in lace and dripping with voluminous fabric.
We imagine a sleek, form-fitting bodice that gives way to yards and yards of airy fabric cascading all the way down to the floor.
The Galinda Gown is huge, poofy, and features loads of volume that will make you feel like an otherworldly fairy princess who is as powerful as she is beautiful.
The clean colors and subtle crystal edging give this dress an expensive, ethereal, and mystical look, perfect for any special occasion.
22. Eliza Gown Ii

A player would like the Eliza Gown II dress because it is a beautiful, contemporary ball gown.
The world of refinement and elegance is one that is held dear by those with a sense of style.
In this realm, simplicity reigns supreme, a quality that imbues a design with its unassuming grace.
With effortless ease, refined elegance captures the essence of grace and sophistication in a simple and extraordinary way.
The plunging neckline and deep-colored fabric make this dress stand out from the ordinary.
Additionally, the lack of detail gives this gown the refined elegance that is perfect for any formal occasion.
21. Enchantress Gown

If you're a fan of The Witcher, then you're going to love the Enchantress Gown. With its rich velvet fabric and delicate beading, it seems to sparkle enchantingly in the light.
Whether draped across the bed or twirling around on the dance floor, it never fails to cast its sparkling spell.
It's inspired by the story and brings all the magic and adventure into a beautiful, wearable garment for your female Sims.
This dress is perfect for special occasions or venturing off into a world of magic, romance, intrigue, and style.
20. Scandalace Collection

This collection features four beautiful dresses, including three floor-length gowns and one calf-lengthdress.
The Scandalace Collection CC dresses range in shades of pink, and all include varying lace patterns. The calf-length dress is a soft pink that includes rhinestone detailing on the torso and a simple flared skirt.
One of the floor-length gowns is closer to a pink-white color and is sleeveless with a sweetheart neckline. There is also a long-sleeve floor-length gown option that features a nearly all-lace top.
The last floor-length gown is somewhat see-through on the top, with straps and a white sash belt around the waist.
19. Tulle Illusion Ball Gown

If you're looking for more of a princess-style dress, then this Tulle Illusion Ball Gown should be at the top of your clothing CC list.
This dress is floor-length and features a flattering halter neckline, which has been beautifully detailed with beads, rhinestones, and latticework.
Since this is a ball gown, the skirt is full of volume and offers the perfect poof fit for any princess.
The Tulle Illusion ball gown also comes in six colors, including two shades of pink, two shades of blue, purple, and yellow. For any formal occasion, including prom, this is a dress CC of choice.
18. Platina

This dress screams modern-day Bridgeton and Downtown Abbey. The Platina dress offers a nice balance of a flattering classic neckline with a modern shiny appearance.
The Platina dress is an off-the-shoulder with a scoop neckline that flatters the shoulders and collarbone. This dress comes in five colors, including silver and gold, as featured in the promo photo.
This dress is eye-catching in that it's exceptionally shiny, which would look stunning under the spotlight at your Sim's prom or at any other kind of formal event.
Whether it is New Years Eve or a business fundraiser, your Sim will certainly turn heads with this dress.
17. Sentateedea Dress

This dress packs a punch when it comes to glamor and drama. The SentateEdea dress is a floor-length, long-sleeve gown that features a stunning fur collar that drapes around your Sim's shoulders.
The neckline for this gown is a deep V-shape that adds a little scandal and appeal to the over aesthetic. Whether your Sim is a witch, a vampire, or just a glamorous person, this gown is fit for any formal occasion.
The Edea dress comes in 25 colors, with the promo photo featuring the gown in black and in crimson red.
The fur collar is separate to the gown and can be found in the Sock section of the clothing menu.
16. Myla Dress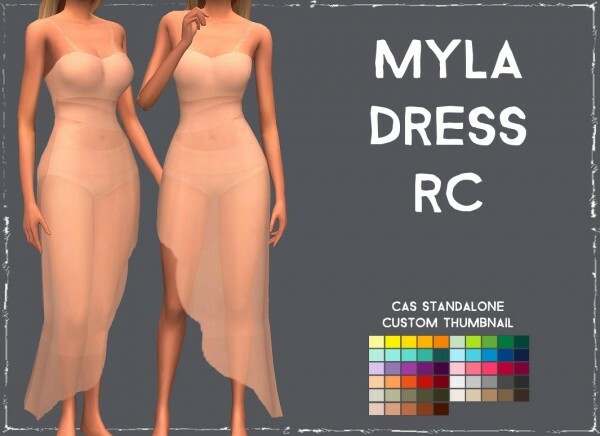 Reading the dress code for an event before you actually show up can be a struggle. How fancy is too fancy, and what would be too formal?
You surely don't want your Sim to stick out like a sore thumb whether they're overdressed or underdressed, and if it's not something like a wedding, it can be hard to understand the tone.
In these situations, you need a good dress that's somewhere in the middle. It's formal, it's dressy, but it's not flashy and doesn't make your Sim look like they more effort into their outfit than everyone else.
The Myla Dress is a great formal dress for expensive dates, and the thin straps with sheer fabric make it a great choice for the warmer months.
15. Alexis A-line

The Little Black Dress- a staple for everyone's wardrobe, and yes, that includes the clothes you have available for your Sims.
Really, the only thing that makes a dress fall into this category is that it's a shorter length, and of course, black.
But the great thing about them is that they're so versatile, they don't even necessarily need to be used for a formal event.
However, if you are trying to find the perfect dress for a special occasion, the Alexis A-Line dress is a good choice to look the right amount of dressy, nothing too much.
They can be used for nicer restaurants, important family events, and anything else your Sim may be invited to.
It's an easy outfit to throw together, and any accessories and shoes you choose are sure to match.
14. Olderania Dress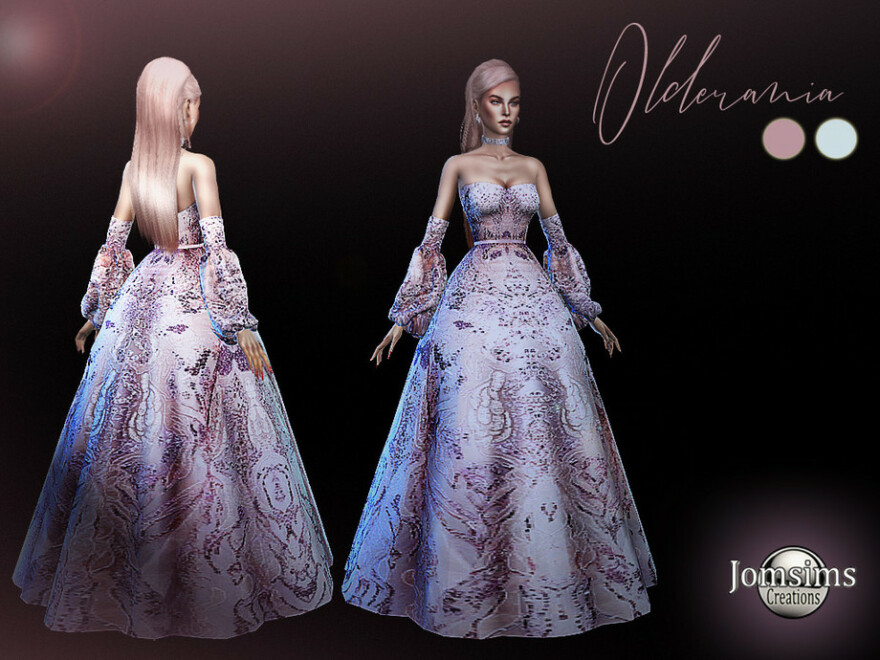 I think there's an association a lot of people have with big, ball gown style dresses and weddings.
Sure, they're a great pick for your Sims special day, but these types of dresses are much too beautiful to only be used for the event of a lifetime.
Some ballgowns, like the Olderania Dress, add enough personality with their details that you start to think, hey, maybe I could use this for other occasions too!
Speaking of the details on this dress, the most interesting one has to be the sleeves.
Instead of being just short or long sleeves, the bottoms are detached from the top of the dress and cover just your Sims forearms.
The dress comes in both white and pink, and the design on the dress itself is so beautiful it will make your Sim feel like a princess just by looking at it.
13. Chisami Low Back Halter Dress

I won't lie, I'm a huge fan of halter anything. Tops, tank tops, dresses, especially in the summer they're a great way to ditch the sleeves without having two awkward strings of fabric hanging off my shoulders, everything's out of the way just how I like it.
So, of course, when I saw the Chisami Low Back Halter Dress, I automatically fell in love.
Another long dress option for formal attire, this dress incorporates the contrast of having a long skirt with next to no sleeves.
Added with a slit on the side and the obvious low back feature, it's a good dress for all of your summer party needs, especially if your Sim likes parties that are more about wine and cheese rather than beer pong and keg stands.
12. Ds Design Bridal Dress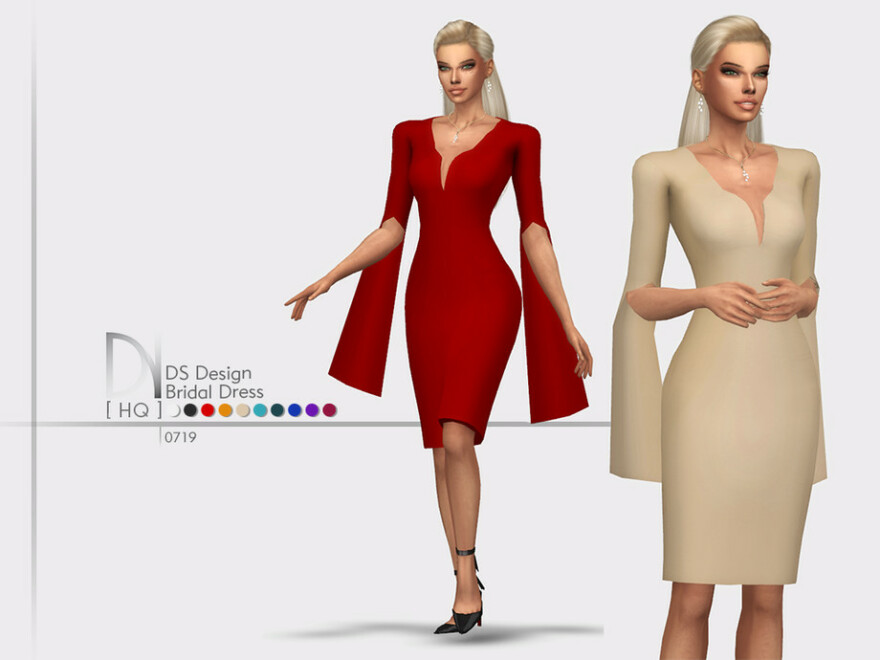 Formal dresses don't always have to be these long gowns that look like they're out of a Disney movie.
I know for my own personal style, long extravagant dresses aren't really my thing, and they don't suit every Sims body type and personality the same way.
But, we still want to feel pretty and dressed up, so there has to be some kind of middle ground.
Thankfully, there is. Short formal dresses are good for a variety of body types, formal events, and especially if you want to show off that new pairs of shoes you just downloaded to go with the outfit.
DS Design Bridal Dress is a great example of how short dresses can be just as formal as long ones, and with its sleek, modern design, it can be used for more than just weddings.
11. Dress DR378

This dress combines the right amount of scandal with the perfect amount of modest to create a good dress for all occasions, all seasons, and all moods that you may be looking to portray through your Sims outfit.
Dress DR378 comes with 12 swatches, and some of the main details to it include the halter top design, the bare piece in the middle of the chest, the slit in the skirt, and the sinched detailing at the top of the slit.
Talk about a show-stopping dress!
10. Alma Dress

Here's a way to look put together without spending a lot of time doing it.
Picture this, your Sim is minding their business tending to their garden or reading a book inside, and all of a sudden, their phone goes off.
But it's not just a normal text, they have an invite to a party going on right now, and they have to leave ASAP. What are they going to wear?
The Alma Dress is here to save the day. The dress comes with long sleeves, is off the shoulder but made with a thicker material, so you could literally wear it whenever for whatever the purpose may be.
You need a good go-to, last-minute formal dress in your rotation, and this one definitely does a good job.
9. Carmilla Dress

Are you having a hard time deciding whether a long dress or a short dress is the right move to add to your custom content collection?
I must admit, making a decision like this is hard, and it would be a lot easier if I didn't have to choose between one of the other.
Thankfully, with Carmilla Dress, you can have the same basic idea for the dress that comes in both a short and long version!
Now you don't have to worry, you can have the same dress for winter or summer.
8. Lillian Dress

Lillian Dress is exactly what you would wear for a night on the town with your best friends.
If you're planning on grabbing some drinks at the bar downtown this Saturday night, in The Sims, of course, then you should consider using this dress, maybe you'll find someone to take home with you!
7. Anastasia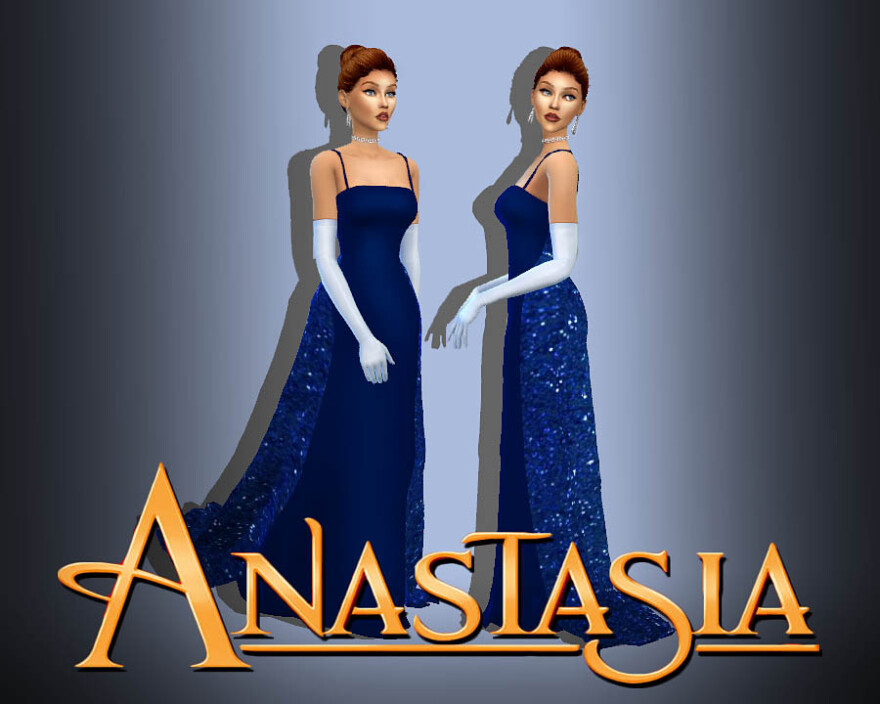 I think we can all agree that Anastasia was one of the most iconic films from our childhoods.
The story felt so much different and more moving than a lot of the others, especially Disney films (no hate to Disney).
But, the thing that really stood out was her clothes, which is why we had to include this dress based on Anastasias' formal gown.
Complete with white gloves, this floor-length, dark blue dress is one for the red carpet.
It encaptures everything we love from the film for our Sims to enjoy, and it's a perfect formal dress for when your Sim really needs to look their best!
6. Recolor Slyd Eliesaab Adult Dress

This dress is specially reserved for the best dressed Sims out there.
You know the ones, they look like they have their lives together, and whether they actually do or not is a different story, but you could be easily fooled by how well put together they always are.
Recolor SLYD ElieSaab Adult is a dress that does a good job of keeping the illusion to these Sims, and they look great while doing it.
One of the main details of this dress is the belt around the waist, as well as the dimension and shape that is created on your Sims body by the overall design.
The slits go in, then they flare out and let a little bit of skin show on both the top and bottom half. If I'm honest, words don't do this dress justice!
5. Aimara

Here, we have another dress that's ready for the red carpet at a moment's notice. Aimara is a skin-tight, floor-length dress with an open back that's ready to steal the spotlight.
This dress comes in 14 swatches, including neutral tones, because everyone knows a dress is even sexier in nude!
4. Layla Gown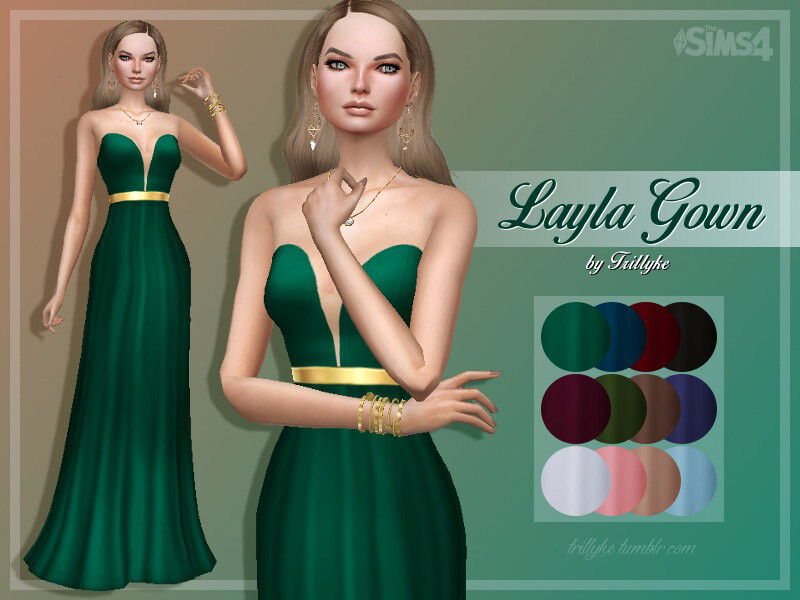 Simple yet elegant, the Layla Gown is something we would expect to be paired with the best accessories your Sim owns and a pair of gloves to match.
All the color options available for this dress are jeweled tones, which go well with just about any skin complexion or hair color, so you don't have to worry about your Sims clothes not matching well with their actual body.
Sleeveless, a deep-plunged neckline, and a simple gold belt around the waistline to tie the dress together, for a dress that has such a toned-down design, it sure does make your Sim look fancy.
3. Floor Length Silk Gown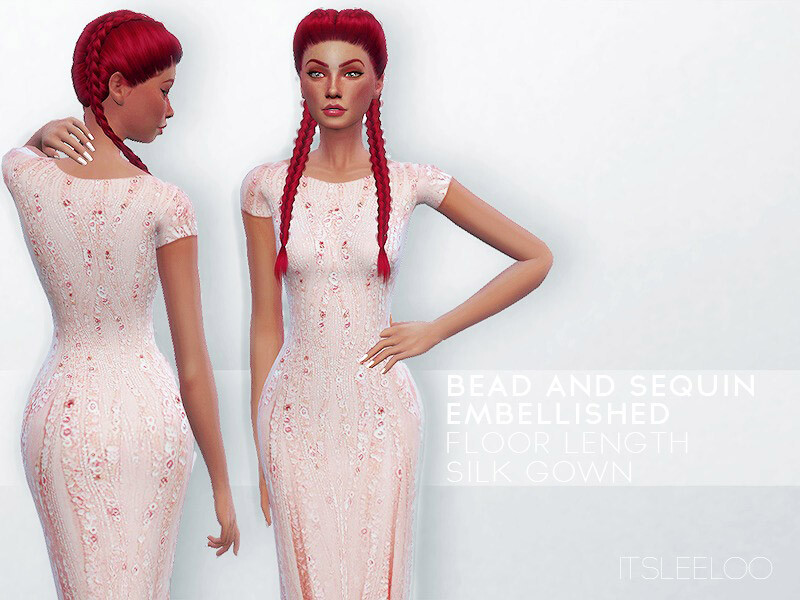 Ugly bridesmaids' dresses are a thing of the past. We get it, it's the bride's day, but that's no excuse to pick dresses for your best friends that aren't going to flatter them at all.
Instead, they need something subtle yet beautiful that's going to make them look good without drawing too much attention to themselves.
Floor Length Silk Gown is a great option if you're looking for some bridesmaid dresses to go with your Sims wedding.
Its pale pink color is pretty enough to look good on most Sims, and it has extra beaded and sequined detailing, so it's not too boring.
Now everyone can be happy with what they're wearing to the wedding.
2. Francesca Gown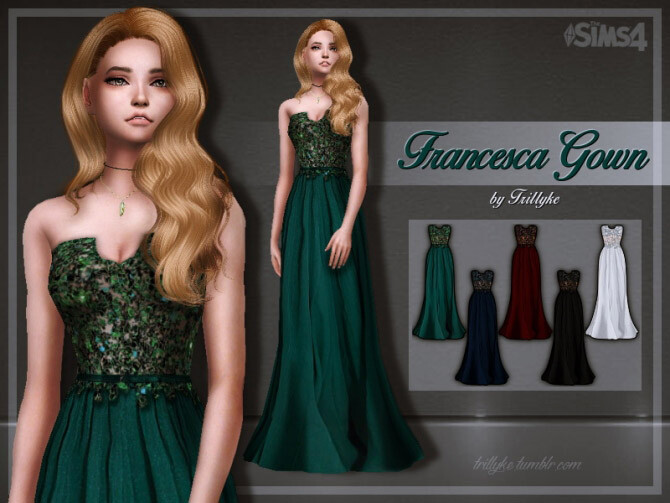 Another floor-length gown option for the fanciest of events that your Sim has the pleasure of attending, we have the Francesca Gown.
All of the details in this dress are concentrated at the bust, leaving all the attention to the top half of your Sim.
Combined with a unique neckline and intricate fold details at the bottom of the skirt, this dress is as realistic as it is breathtaking.
1. Sailor Neptune

We all know and love the traditional Sailor Guardian's attire, but what if there was a way to take the same basic concepts of their designs and make them more formal?
Sailor Neptune is a collection of clothing and accessories based on the Guardian that represents the planet with her signature blue hues, but the most amazing piece to the collection is the floor-length formal dress, which absolutely had to be included in this list.
A simple dress design in her staple aquamarine with a cape draping from the back of the skirt makes for a formal dress like no other, plus, it's an homage to one of the best Guardians!
You might also be interested in: