Do we hear wedding bells? Your Sims sure do! Tying the knot definitely isn't as much of a lengthy, stressful process for them as it may be for a lot of us, but you still want that day to be one that they'll always remember.
And what could be more important than making sure your Sim is wearing the best dress to fit the occasion?
If you're feeling the pressure of finding the best dress for your bride, then prepare to make your life a whole lot easier because we're talking about 15 of the best Sims 4 wedding dresses!
Best Sims 4 Wedding Dresses CC
25. Adele Wedding Dress

The Adele Dress is a classic wedding gown with elegant frilly half-sleeves.
It is the perfect choice for your style-conscious Sim to wear on her wedding day.
With its timeless silhouette and graceful neckline, this timeless gown is sure to make a statement that will leave guests breathless.
Furthermore, the transparent material delicately reveals just enough of the upper chest, adding a subtle hint of allure and romance to this stunning piece of wedding dress CC.
24. Ryn Dress

If you're looking for a chic and trendy wedding gown for your Sim to wear on their big day, look no further than this stunning halter top gown, the Ryn wedding dress.
Featuring a gorgeous neckline with ties that elongate the neck, this dress is perfect for any fashion-forward Sim.
For today's elite brides, wedding style is all about incorporating the very latest in fashion trends and high-end couture.
The sheer lace detailing that adorns the bodice adds a delicate and romantic touch, while the form-fitting silhouette hugs the curves in all the right places.
23. Guest Dress

The bride is the center of attention on her wedding day, and rightly so! She radiates beauty and happiness as she prepares to begin a new chapter of her life with the man of her dreams.
But a wedding is not complete unless the guests look good, too!
With its body-conscious silhouette and club-inspired design, this dress is perfect for the freer spirits on your Sim's wedding guest list.
Plus, it comes in a few different beautiful colors, from soft pastels to bold silver, so you can match it perfectly to your unique style.
Add in the diamond accents on the chest and shoulder straps, and you've got a piece of our favorite Sims 4 wedding dress CC.
22. Lace Flower Dress

Your blushing bride Sim will look ethereal in this head-to-toe lace dress.
Lace is synonymous with timeless elegance and sophisticated style. Whether frothy and whimsical or structured and bold, these beautiful gowns capture the hearts of brides the world over.
The CC creator really outdid themselves with this bridal gown. Not only is it completely lace patterned, but it also has romantic full-length long sleeves of see-through white fabric.
Any Sim bride who walks down the aisle wearing this will feel like she's living a fairy tale.
21. Bridal Lingerie

Your Sim can have the perfect wedding with the perfect dress; but what about after?
When it comes to quality lingerie, there is no better choice than a classy and stylish selection that perfectly captures the spirit of a strong, empowered woman.
Part of a dream wedding includes a dreamy night after the formal event, right?
This bridal custom content is like a dress your Sim wears after her dress.
Bridal Lingerie comes in classic off-white with a delicate crisscross closure down the front of the short-cut nightgown.
Your Sims new spouse will thank you for downloading one of the best Sims 4 wedding dress CC pieces.
20. Zoey Wedding Dress

If you're looking for an unconventional dress that will stand out from the crowd, then look no further than the Zoey Wedding Dress!
Designed specifically with southern belle Sim in mind, this stunning gown puts a unique twist on traditional wedding attire.
Boasting a chic cowboy-inspired look, it features whimsical details like colorful embroidery and delicate fringe accents.
Plus, to complete the outfit, the dress also comes with an authentic felt cowboy hat, adding a fashionable touch to the overall ensemble.
With its sophisticated style and charming flair, there's no doubt that the Zoey Wedding Dress is the perfect choice for any fashion-forward bride looking to add a little something extra to her special day.
19. Summer Wedding Dress

This style is perfect for hot weather weddings, as it features a sheer and airy upper body that allows your Sim to feel comfortable even in the heat while remaining absolutely stunning.
The matching bikini-style detail around the bust gives a stylish finishing touch to the look while still keeping her feeling cool and confident.
Whether it's an outdoor beachfront ceremony or a swanky urban affair, this beautiful and functional dress is sure to be an eye-catching addition to any wedding day ensemble.
18. Lorena Wedding Collection

If you are looking for a dress and jumpsuit option, look no further! This Lorena Wedding Collection CC includes a short skirt dress and a sharp jumpsuit with lovely lace long sleeves and a train.
Both CC include a white silk sash tied at the waist and off-the-shoulder sleeves, making for classy and modern wedding attire. This CC is a mix of white and ivory shades and only comes in this color scheme.
This collection is available for Sims ages, teen to elder. This CC is perfect for players who want more options aside from traditional princess-styled dresses.
17. Vintage Wedding Dress

Lovers of lace and layered dresses will fall in love with this CC. This brilliant whiteVictorian-inspired Vintage Wedding Dress CC is perfect for Sims 4 players who want a modern wedding dress with an old-fashioned twist.
This dress is a floor-length, off-the-shoulder piece that has multiple textured layers in a gorgeous floral lace pattern. Paired with pieces from the Sims 4 vampire pack or other Victorian CC, this dress is a great addition to any Sims playthrough.
This vintage dress can be used by teens Sims up to elder Sims and only comes in white.
16. Duchess of Cambridge Wedding Dress

If you want your Sim to feel like a queen, this dress CC is for you. With the Duchess Cambridge Wedding Dress, your Sim will be transformed in this full-bodied, princess-style dress.
This dress was inspired by the incredibly beautiful and luxurious dress worn by Kate Middleton and comes in five colorways. This CC is also an edit of BEO Creation's Cynthia wedding dress, so you will need both in order for the Duchess dress to work in-game.
Paired with a crown or tiara and gloves, this dress is perfect for your Sim's inner queen on her special day.
15. Amour Butterfly Dress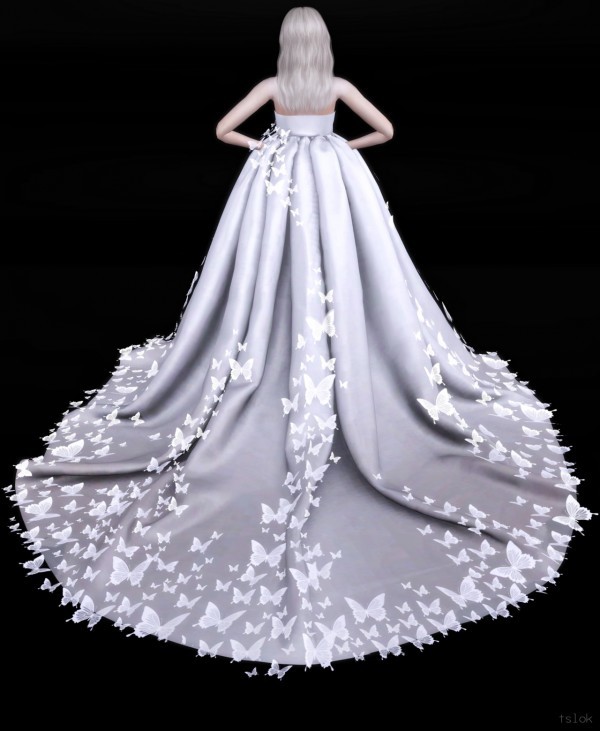 Everyone wants a whimsical, magical wedding day. What could be more fitting than giving your bride a dress covered head to toe in butterflies?
These winged friends will circle around your Sim as they cascade down the long skirt, making for one beautiful gown.
Better yet, this dress doesn't just come in your traditional white for anyone who's looking for something a bit more original.
Make all of their dreams come true with a dress that's truly one of a kind with the Amor Butterfly Dress!
14. Low V-cut Gown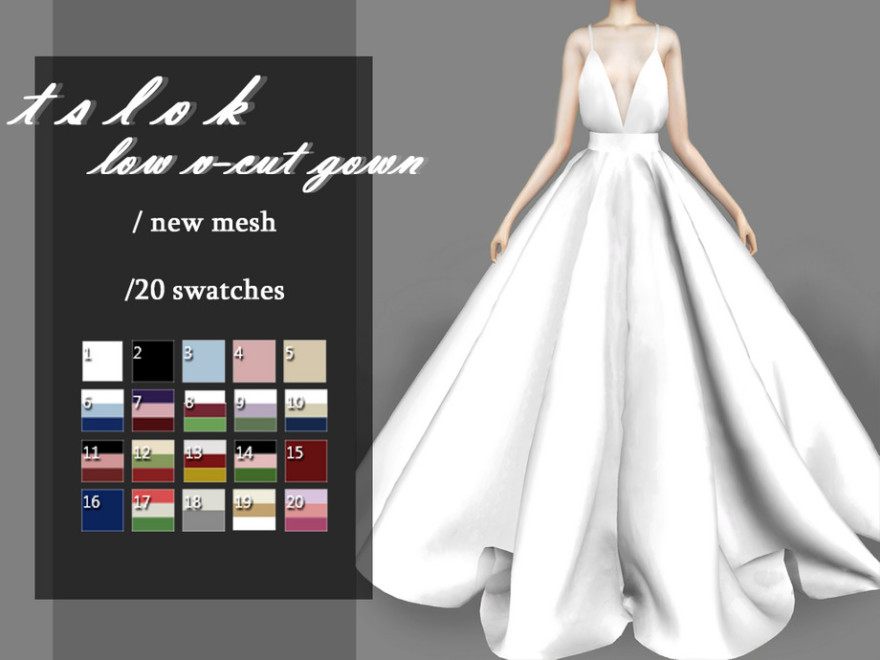 The perfect dress doesn't have to be something that's super sparkly and over the top. Especially for the girls that would much rather have something toned down and simple, there need to be good options available.
Luckily, this Low V-Cut Gown is just the thing they may be looking for.
A classic, elegant look complete with V-Cut, thin straps, and a long, full skirt to match, this dress is the perfect thing for your Sim to wear when they finally say I do.
If you love the style but wish there was something extra to spice things up, then you're in luck! It comes in 20 swatches, so you're sure to find something you fall in love with.
13. Bohemian Wedding Dress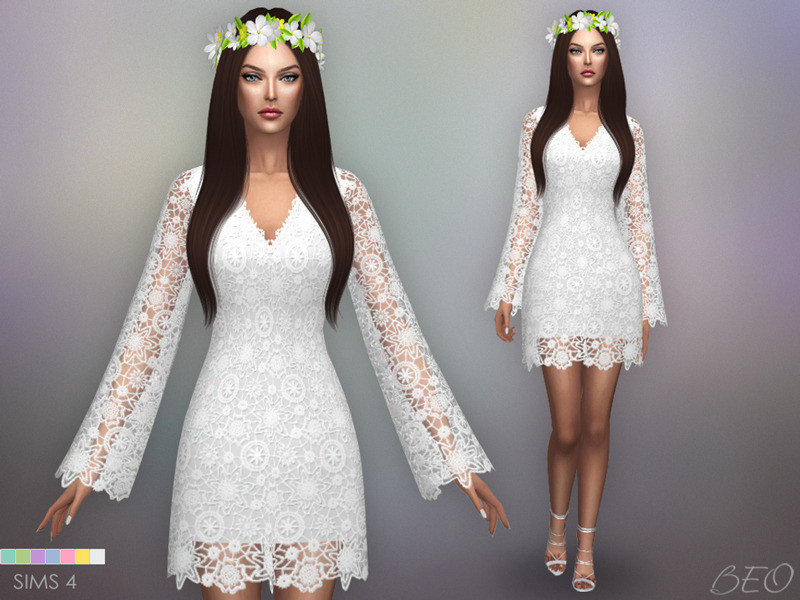 Let's admit it- not everyone wants to have a traditional wedding in your backyard where you have to rearrange everything that was already there just so your Sims can get married.
For those who aren't afraid to switch things up a bit, they're gonna need a dress that's as unconventional as their dream wedding destination.
The Bohemian Wedding Dress is a great fit for those who want to have a wedding that's as free-spirited as they are.
This short cut dress is a great option for Sims who would much prefer to have their ceremony in the warmer months, and no matter which color you decide to choose, your Sim is sure to look stunning in this lacey moment.
12. Edwardian Wedding Dress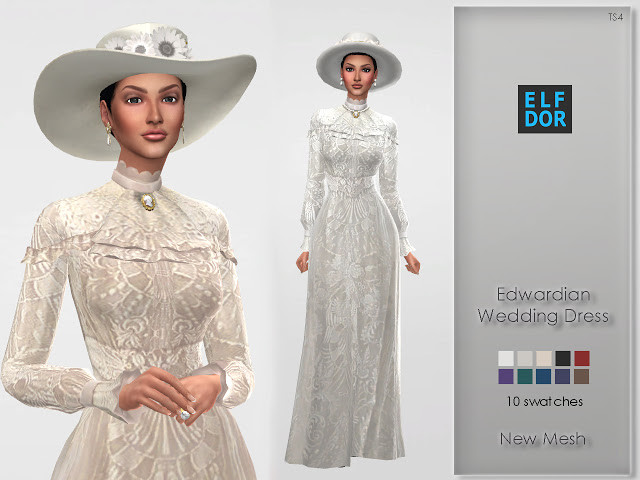 The Edwardian Wedding Dress is a great choice for history buffs, love vintage clothing, and even gothic Sims.
Its lace collar, intricate attention to detail, all complete with a beautiful cameo, is everything we could hope for in terms of adding something old to your Sims wedding day!
Make sure when you are dressing them up for the event to add an old-fashioned hat and some classic teardrop earrings to really set the tone, this dress is something everyone will be talking about for a long time.
11. Enna Dress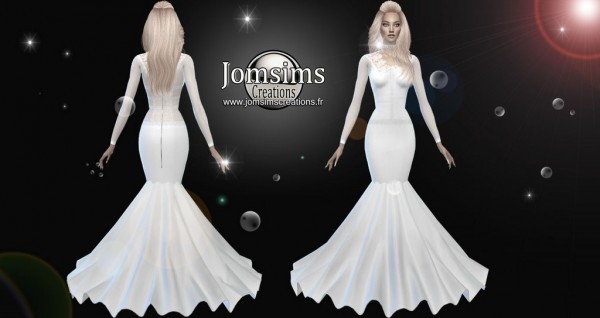 Who doesn't love a classic mermaid style dress? It's perfect for those who love to be a little bit extra but not too extra- the best of both worlds!
With the Enna Dress, your Sim will be able to show off all of their curves without being too revealing, perfect for when their parents and grandparents show up for the reception.
Unlike a lot of other wedding dresses, this one also comes with sleeves, making this dress an amazing choice for tying the knot when the snow is coming down!
10. Romantic Wedding Dress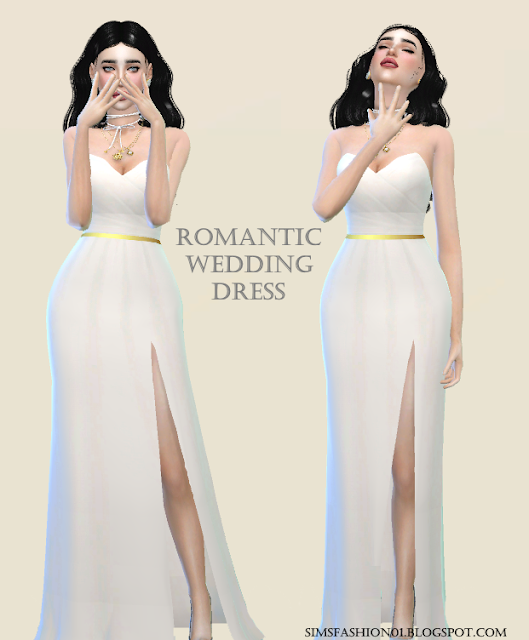 On your Sims wedding day, they should feel like a goddess. What better way to achieve that than with a dress that looks like it's from ancient Greece?
Straight from goddesses like Athena and Aphrodite, this dress is simple yet elegant, with its relaxed shape with a slight slit to show off a little leg action, the Romantic Wedding Dress can't be beaten.
Of course, this dress isn't too plain and boring. It has an extra something to make it stand out. This dress features a dainty gold belt to add some sparkle and shine to your bride's outfit of choice around the waist.
9. Bridal 2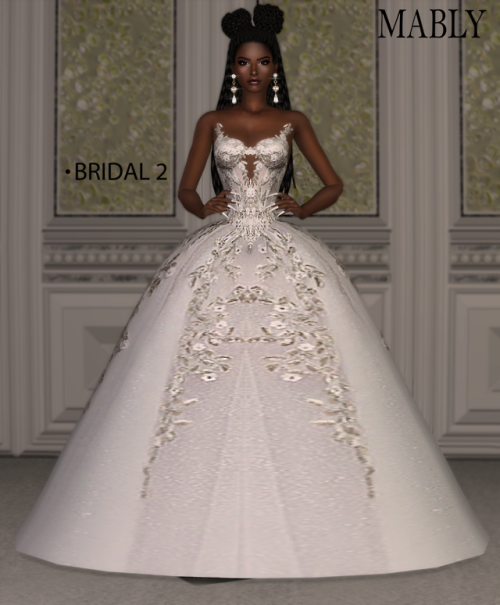 When your young, you imagine the dress you'll wear as you walk down the aisle looking like something straight out of a fairy tale. The bigger the skirt, the better, and don't forget about the jewels and sparkles to make you feel like a princess.
What better way to encapsulate these fantasies and translate them into your Sims game than with a dress like Bridal 2?
Instead of keeping the sparkles at the bodice like a lot of other wedding dresses typically do, this one features the detailing going all the way down the skirt in leaf life designs and even has a scandalous cut out on the chest for an added wow factor. All that's missing is the tiara!
8. Wedding Dress 5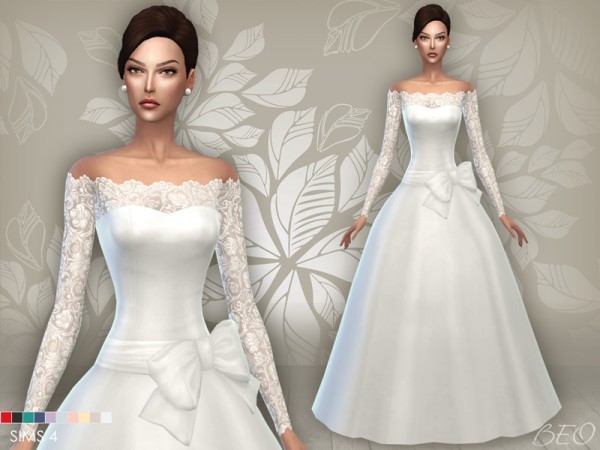 Not everyone is trying to pull off the sexiest look for their weddings, and it's ok if that's definitely not your Sims style.
If they would do much better in a dress that's more on the modest side, then Wedding Dress 5 is going to be a hit.
Featuring long lace sleeves, it covers up enough skin to be reserved and refined. However, it does come as an off the shoulder style, so it's not too boring and prude!
Additionally, the waist is given its own detail with a bow to the side for a little bit of excitement amongst what would otherwise be a rather traditional style gown.
7. Castle Dress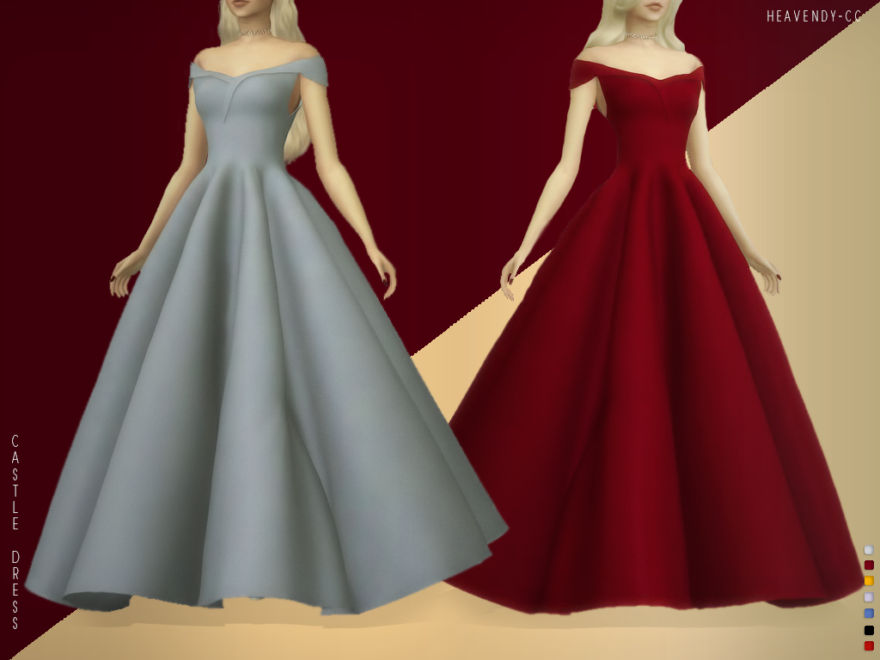 Everyone knows the saying less is more, and with the Castle Dress, we couldn't have said it better ourselves. Sweetheart necklines are a match made in heaven for those who are flirty and innocent.
They're cute, but they also know how to dress for the occasion, and that's what makes this dress such a beautiful choice.
This is especially an amazing dress because while it may not have a lot going on in terms of detail, it makes up for it with the fact that you'll have a bunch of color choices if you're really looking to avoid being stuck with a white dress.
6. Wedding Dress 7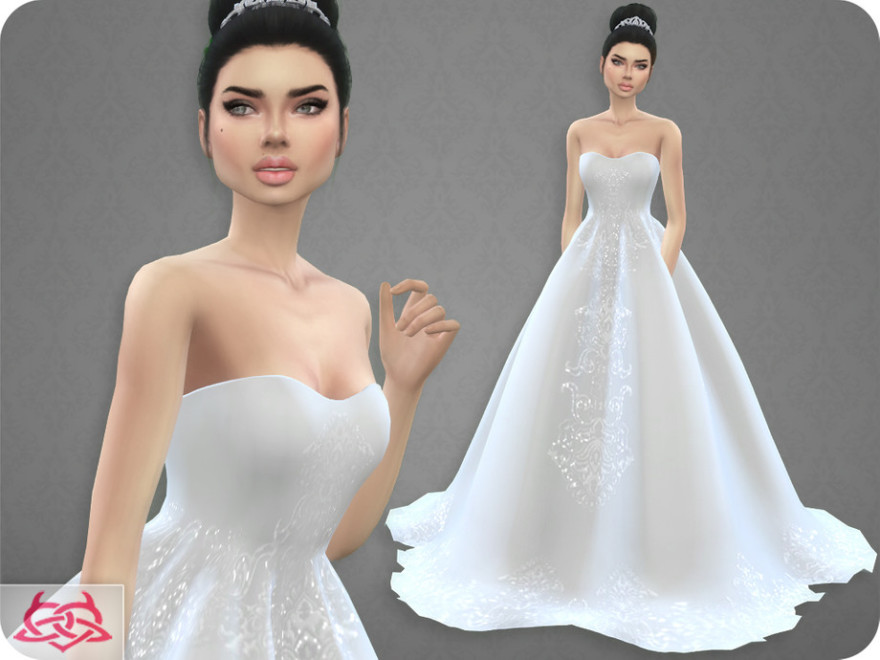 This dress created by Colores Urbanos is a dress that's sure to make your Sim look absolutely stunning.
It adds just what they need to look as special as their special day with just a touch of glam and a sleeveless top to match.
Whether they're getting married under the arch in their backyard or somehow in the bathroom at that bar downtown, they'll be serving looks that no one is going to forget when they're wearing something like Wedding Dress 7!
5. Wedding Dress 12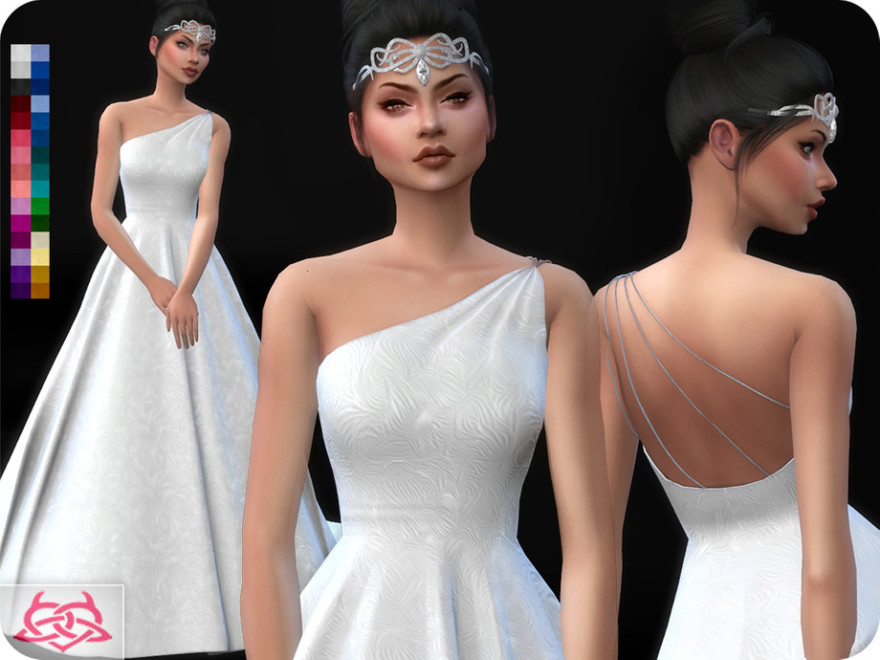 Another creation from Colores Urbanos, we have Wedding Dress 12. This one has a style that's reminiscent of what we saw above in the Romantic Wedding Dress, except a whole lot more stylish.
Instead of being a dress with little shape and minimal details, this dress features a draped sleeve that goes across one shoulder, giving it a truly unique look.
Additionally, that strap goes across your Sims back with rows of jewels to add a little bit of shimmer. Add on the subtle print featured across the entirety of the dress, and you've got yourself a recipe for the perfect wedding dress.
4. Gram Set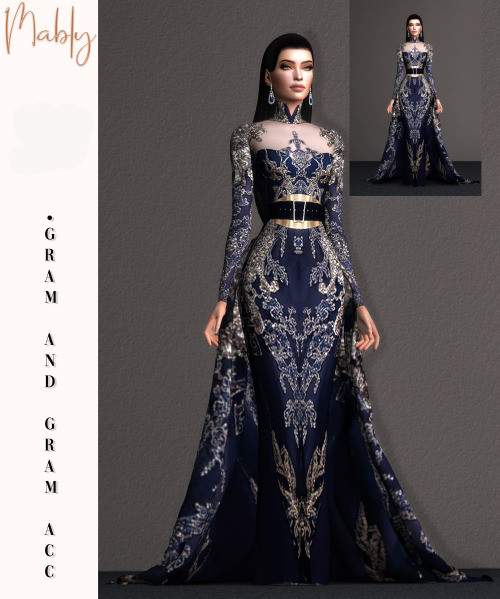 The Gram Set is what you need for your Sim that is trying to go as over the top as possible- and they're not apologizing about it!
This dress serves looks that we would expect to see somewhere on the red carpet, complete with it's beaded detailing found all over the dress, mesh collar, belted waistline, and even a cape coming off of the skirt!
No white wedding dress found here! Instead, the Gram Set comes in a lovely royal blue color, perfect for making a long lasting impression when your Sim marries their one true love.
3. Bridal 13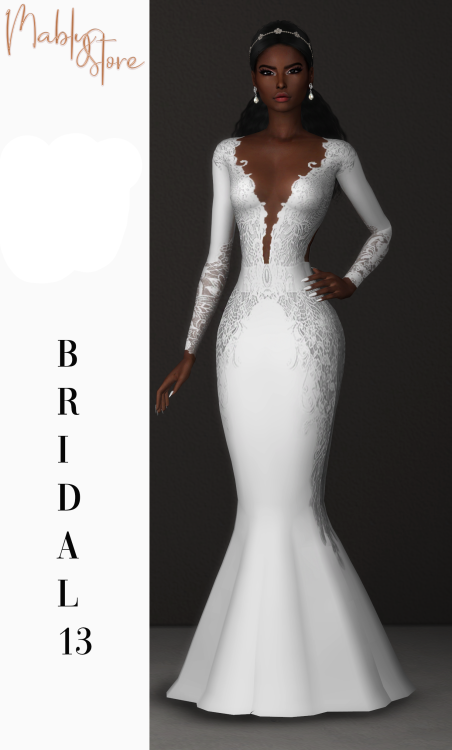 With Bridal 13, you'll be able to look simple and elegant without having to sacrifice all of the little details that make the perfect wedding dress so great.
One of the best parts of this dresses it's plunging neckline made up of lace edges, give it just the touch it needs to be what your Sim needs.
2. Wedding Collection Part 3
Wedding Collection Part 3 features 5 dresses for you to choose from, so you're guaranteed to find a dress you're Sim is going to want to say yes to.
All of these dresses feature silhouettes that are a little bit flowier, but not so much that it looks like they're wearing a ballgown.
Topped off with the right amount of lace and beaded detail, there's something for everyone!
1. Bella Dress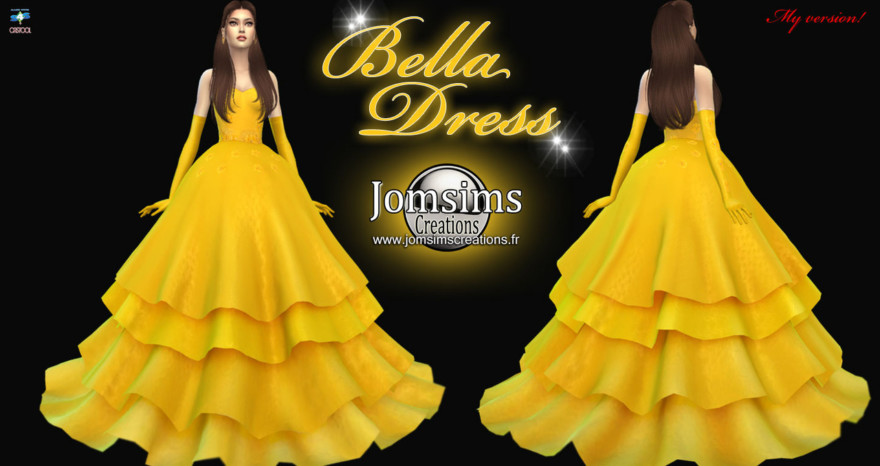 Belle's dress from the live-action Beauty and the Beast had everyone dreaming of getting the opportunity to wear something as magnificent as what we saw on screen.
Even though that not be a reality for a lot of us, at least our Sims can wear the look!
Complete with gloves to match and the iconic yellow we've all grown up in love with, being a Disney Princess on your wedding day is the best situation possible.
You might also be interested in: