Aspirations are what give our Sims meaning and purpose. They're just like us, they have larger than life dreams, and they'll do small things every day to move towards what they want most.
But, if you're a long time player of The Sims, you may have already tried out most if not all of the aspirations that the game gives you, and you're looking to switch things up this time.
It's time for a change and sees what else your Sims may want out of their lives.
If you'd like to get a new experience out of aspirations, then take a look at this list for some inspiration, here are the best Sims 4 aspiration mods you can choose from!
Best Sims 4 Aspirations Mods
20. Fabulous Farmer

This aspiration is all about farming, and it provides players with a wealth of new opportunities to enjoy their time in the game.
This mod focuses on the gardening features in the base game and adds several new commands and rewards for your Sims to explore.
Technically, a Fabulous Farmer is more of a botanist and gardener, but there's no reason why players can send their Sims out into a real field to plant some corn, right?
19. Treasure Hunter Aspiration

Becoming a treasure hunter is a new aspiration for your Sims in The Sims 4.
This mod adds a whole new set of goals and tasks for your Sims to complete in order to become the ultimate treasure hunter.
As a renowned hunter of treasure, your Sims can explore the world for hidden treasures, dig in search of lost treasure hoards, and more.
They'll need to be cunning, intelligent, and brave if they want to become the best treasure hunter in the digital world, so put their skills to the test and see just how far a Sim can go with a shovel and a dream.
18. Photography

This Photography Aspiration mod for The Sims 4 is something that should have been a part of the official photography content.
It adds a whole new dimension to the game, letting you really focus on your photography skills and become the next Ansel Adams!
There are tons of new options and details included in the mod, from different camera types to new photo editing tools. You can even set up your own photography studio!
We definitely recommend this mod to all of you shutterbug Simmers out there.
17. Self-sufficient Aspiration

Many modern consumers today are adopting the growing trend of minimalism and self-sufficiency.
The Self-Sufficient aspiration mod for The Sims 4 is a great way to add an extra challenge to the game while also promoting sustainability.
This mod adds a brand new aspiration called "Self-sufficient," which tasks your Sim with growing their own food, recycling materials, and crafting all of their own needs.
This can be a great way to add an anti-consumerist lean to your virtual family and maybe get inspired to do the same.
This mod really makes you think about what you're doing in the game and how you can make things more sustainable.
16. Grow Up Aspiration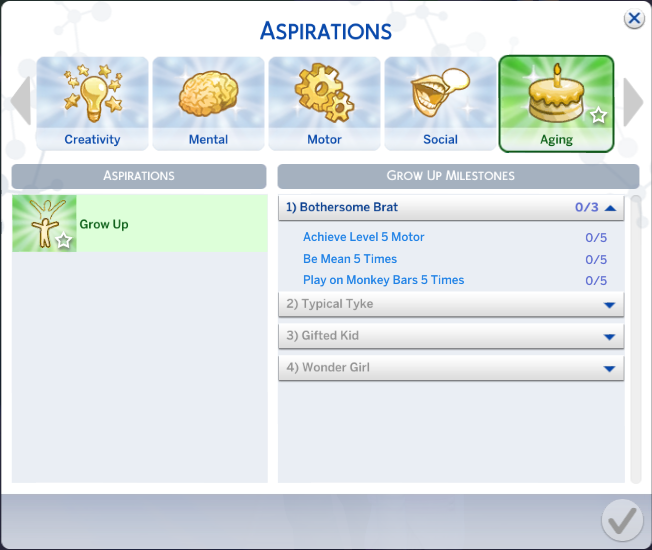 Arguably, children's aspirations are the most boring. You barely have anything to choose from, and what they can do is already is pretty limited.
This makes many us want to skip out on the first couple of years of a Sims life, which means we're missing out on a lot. So, whenever we can find something new to add to their lives, we're pretty excited!
The Grow Up Aspiration is for those who say they can't wait to grow up!
They want to know what it's going to be like for them when they're finally adults- having their first kiss, having a job, and most importantly, not having to listen to their parents anymore.
If they grow up well, they'll be able to experience positive moodlets when they're older, too!
15. Master Thot Aspiration

Maybe it's time for us to normalize this and let our Sims indulge a little.
The Master Thot Aspiration will let your Sims act however they want, no matter how greedy and selfish, and yet somehow, there will still be people on their phone for them to send suggestive texts to.
This aspiration will help your Sim with skills such as video games, bartending, and you can expect to see some whims like sending flirty texts or playing video games for hours on end.
14. Ultimate Stan Aspiration

I can admit to being a stan for a couple of celebrities in real life. It's hard not to, they seem so amazing the way they appear on social media and in films they appear in, we wish we could have the chance to get to know them.
Sims aren't safe from becoming a stan, especially not with this aspiration.
If you give the Ultimate Stan Aspiration to your Sim, they'll become absolutely obsessed with everything that has to do with celebrities.
Randomly, your Sim will become either a Weirdo or Celebrities Friend, which will affect the chance that their attempts will be successful or not. Send emails to celebrities, swipe an item from their home, get autographs, and more!
13. UFO Investigator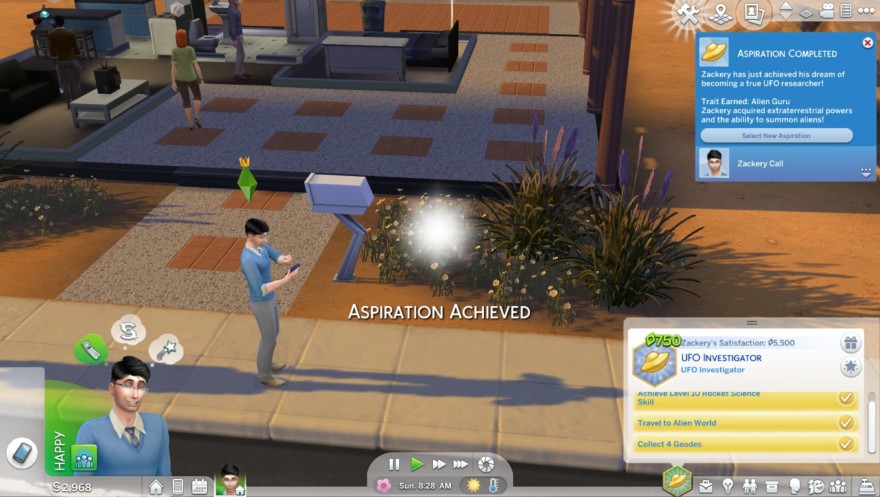 Have you always been a fan of all things supernatural and extraterrestrial?
Then giving your Sim the UFO Investigator aspiration might be the right choice for you! With inspiration drawn from the good old days of Sims 2, your characters sin Sims 4 can share the same love and obsession with aliens as they used to.
You'll be able to collect samples, build on your rocket skills as you build up a ship, and even travel to an alien world so they can get a good look up close and in person.
If that wasn't enough, some of the rewards for successfully completing stages of this aspiration include learning an alien secret handshake, as well as using their phone to contact aliens.
12. Gold Digger

Your Sim wants the most luxurious life possible filled with only the best and most expensive things- the problem is they definitely don't want to work for it.
How could they possibly get the best of both worlds? That's right, they could become a Gold Digger.
They'll be able to marry just for the money, and that's it.
Doing whatever it takes to get the things in life they think they deserve, whether they actually do it not, and don't feel shame about their methods. I mean, if it works, it works, right?
11. Retirement

These Sims have the ultimate end goal in sight- they want to retire!
They find joy out of saving up their money so they can enjoy trips, collecting things from their family members that are sentimental and have more value than money can offer, and they love the idea of being able to pass down their things onto the younger generations.
After working their whole lives, your Sims deserve a good retirement.
Not having to work anymore, experiencing the world and all that it has to offer, all before they finally have a face to face conversation with the Grim Reaper.
Somethings, the most rewarding aspirations can be the most simplistic.
10. Whimsical

Life doesn't have to be planned out down to the little details, or even much at all, especially when you have Sims that have the Whimsical aspiration.
They crave the freedom to do whatever they want whenever they want, and the more whims they complete throughout their lives, the happier they'll be.
With the Whimsical aspiration, your Sims will gain the bonus trait of being a Quick Learner, and once they feel as though they've been as free as they possibly can be, the reward is Long-Lived.
See what your Sim will choose to do with their newfound freedom!
9. Homesteading

Put your Sims green thumb to the test and give them the Homesteading aspiration.
Living off the land is what they were born to do, they'll be able to eat all of the fresh fruit and veggies that they grow themselves, spend plenty of time outside, and even build up their gardening skills faster than other Sims.
Once you complete their aspiration to the fullest, they'll become experts on how to truly live off the land.
Everything they grow will be of the best quality, as well as catching only the freshest fish that the world has to offer them. Self-sufficient, skilled, and eco friendly, that's what we like to see!
8. Class Clown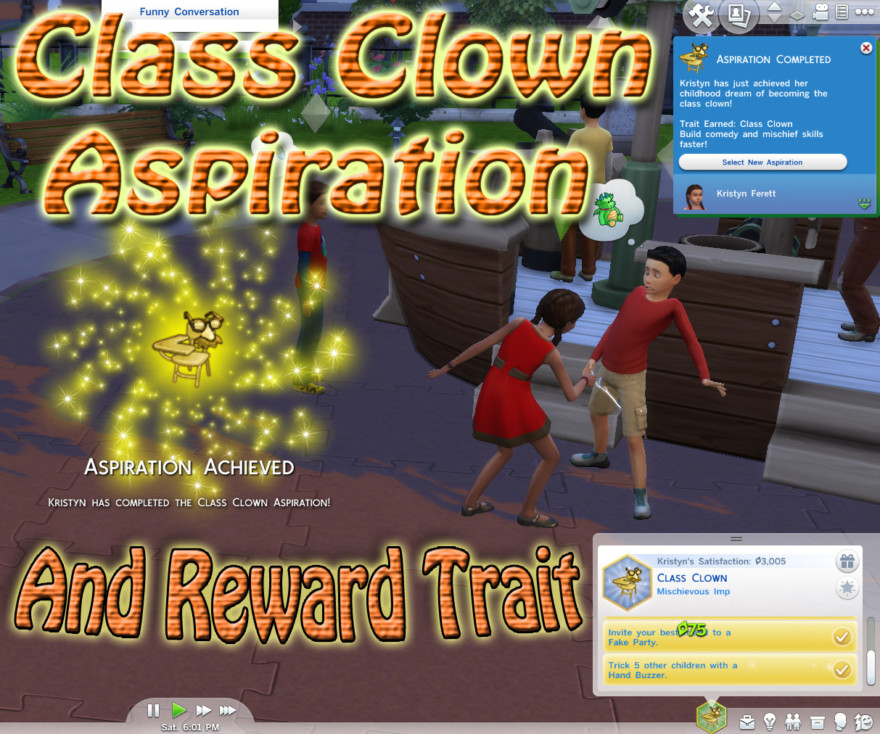 We already talked about how we'll do just about anything to make it more fun to play through the younger Sims in the family.
The Class Clown aspiration is a fantastic choice for your more sociable children Sims, and who doesn't love a good class clown?
Skills that will come naturally to these kids include comedy and mischief, as one would assume, but keep in mind that these Sims will need a little more social interaction than others- so let them bring their friends over after school!
7. Dracula Aspiration

This aspiration should really get you inspired to try out what life is like for vampires.
Who cares if you're a good vampire, it's not your Sims job to try to convince the world that they're not like stereotypical vamps in movies and books. Quite the opposite, actually, they have the Dracula Aspiration!
Channel one of the most powerful supernatural characters out there through your Sims.
One of the most important things to keep in mind with this added to your Sim is that they'll never be able to be cured of their vampirism, so make sure this is really what you want to do before you commit.
But, if this is for you, enjoy removing weaknesses, turning others into vampires, and gaining enemies all around you!
6. No Regrets

Your Sim shouldn't have to feel embarrassed or shameful of the things they've done in life. In fact, they shouldn't live their life with regrets at all!
This aspiration starts off when they're a teenager, doing things that teens do like playing video games, and being proud of it.
It continues to follow the Sim through life stages, indulging in the activities they should be enjoying and having the most fun in life.
Instead of being concerned about boring things like making enough money or making a big family, these guys are here solely to have a good time.
Once complete, they'll be told that they've lived a full and happy life- a life with No Regrets.
5. Perfectly Balanced

Sims don't need to be the biggest jock in town to be healthy or even by following some crazy diet. They need to be balanced, which can be achieved through the Perfectly Balanced Aspiration.
While they will still want to maintain some fitness skills, they'll be more interested in practicing yoga and meditation rather than becoming a gym rat.
Once you reach a state of inner peace and balance, you'll find that this aspiration has some pretty cool rewards for completing it.
Some of these rewards include being able to Cool Down, Help to Find Zen and Take a Breath, allowing them to keep it together and stay calm and collected, no matter what life throws at them.
4. Famous Pastry Chef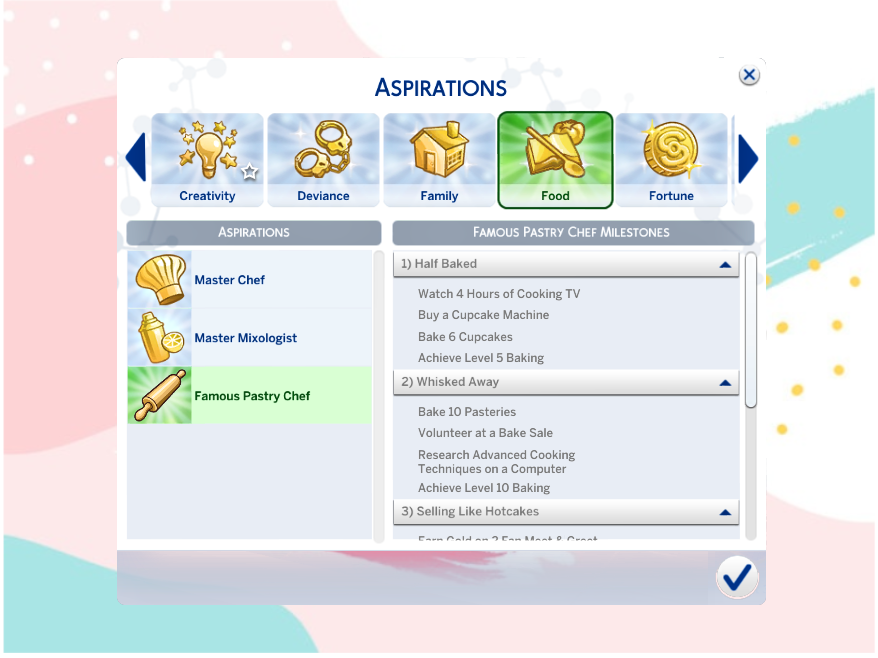 Cooking and baking are two completely different things.
Your Sim may not get as much fulfillment from cooking as others, but anything that has to do with pastries and sweets happen to be their expertise.
And since this is the case, wouldn't it make sense to have an aspiration that's almost like it was custom made for them?
With the Famous Pastry Chef aspiration, your Sim will be able to bake to their heart's content. If they're able to achieve World Renown Baker's status, they'll become gain Chefs and Unstoppable Fame traits.
But, as you work their way to the top, you'll see that they'll dream of cupcake machines and opening up their own bakery to prove to the world how good they are.
3. Mother Plant Resurrection Aspiration

This aspiration is specifically for the StrangerVille expansion pack, so if you're looking to get even more of your money's worth out of this mysterious town, think about trying to use the Mother Plant Resurrection Aspiration.
Your Sim is going to want to know as much about this town as possible, exploring all of the secret areas it has to offer, gathering information, working their way up to the ultimate task- resurrecting the mother plant.
The best part about this aspiration is that after it's completed, your Sims rewards will be worth the wait, including resurrecting ghost Sims, extending their own life, and going back in time to their previous life stage.
2. My Own Business Aspiration

Small businesses are where it's at! Let your Sim get the best experience out of being a business owner by opening up their own shop and getting to work.
To move your Sim up this aspiration, they'll have to do things that are pretty expected out of a business owner- hiring employees, greeting customers, and earning more and more the longer they stay open.
The My Own Business Aspiration not only works with retail shops but can also extend to other businesses like restaurants and vet clinics, so whatever your Sim is passionate about, they'll be able to make it work.
1. Rags to Riches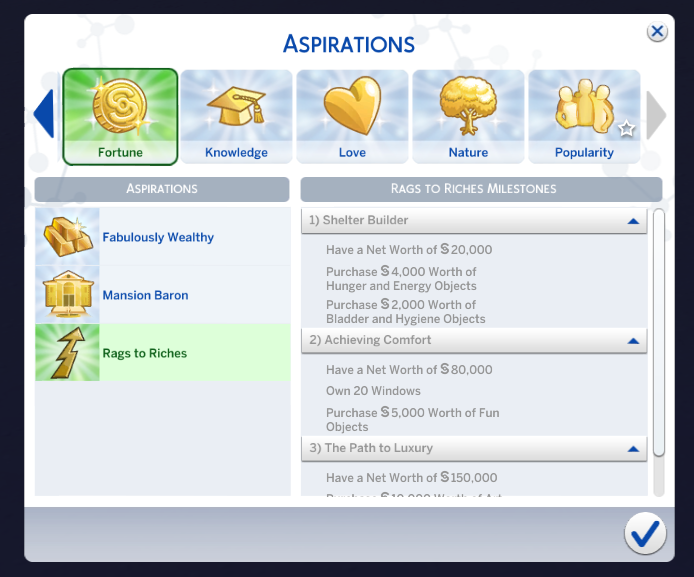 Play your Sims life on hard mode with the Rags to Riches aspiration. They came from next to nothing, but they're not going to let that determine their fate.
Instead, they'll spend their whole lives chasing money, upgrading their house, and buying new things until they feel like they've finally made it.
You might also be interested in: