Ah, weddings! The special time of the life of every sim! It is the part of our favorite Sims 4 that we love the most: the simulation of real-life milestones. But, to have a truly spectacular wedding in Sims 4, you usually need a lot of good CC content.
And today we gathered for you the best of the best: top fifteen CC creations for a smashing sims' weddings. Enjoy!
Best Sims 4 Wedding CC
18. EA Rainbow Dress

Sometimes, the shades of white and ivory become underwhelming. Why not have a bit more fun on your Sim's wedding day? This EA Rainbow Dress provides the pop of fun and color you need!
In this CC, there are two dresses that have been remade with seven new rainbow colorways for both. Both come in bold and muted rainbow options, in case you are also looking for a subtle option.
One dress also comes in glitter as well, for an extra pop! The dresses come in white, blue, pink, ivory, and full rainbow.
17. My Wedding Stories

There is always a plethora of items and clothing CC for Western weddings, but what if your Sim wears a hijab or wants to wear a pantsuit? My Wedding Stories provides more diverse options!
Included in this CC pack are nine items: a hijab, suit, shirt, jumpsuit, and three new hairstyles. Every item is base game compatible, and the hairstyles are all hat compatible.
The Linda jumpsuit, Elijah Shirt, and Shirt are all available in 19 colors. The MunaHijab also comes in 15 color swatches!
This CC pack provides options for every Sim, increasing the diversity in your wedding!
16. Wedding Clutter

A wedding isn't a wedding without décor! This Wedding Clutter CC pack comes with 22 new items to use in decorating your Sim's wedding and reception.
While the Wedding DLC pack does provide several key pieces of furniture and décor, combining this CC pack with it will provide more diverse options.
This CC pack comes with drinks, candles, cakes, and other desserts, flowers, dinner plating, and even a ring box for display. This CC set is a great option for setting up a wedding photoshoot for your Sims.
15. Rustic Romance Stuff

This massive stuff pack is an amazing creation by the Plumbob Tea Society, which gave us a lot of unbelievable CC totally for free.
All the things in the Rustic Romance Stuff pack are dedicated to the dream weddings for your sims.
The vibe of the pack is a garden tea party, rustic style, and delicate colors. All the items in the pack look very elegant, and they are perfect for classy modern weddings. The best thing is: there's a lot to choose from!
The pack consists of seventy items, including furniture for outdoor and indoor ceremonies, decorative wood and glass items, various candles, and flower ornaments. And that's just a buy mode!
In the CAS part of the pack, you will find a collection of gowns and suits for toddlers and kids, gowns for bridesmaids and best man, and, of course, wedding dresses.
There's a lot more you can find in this fantastic pack that can turn an ordinary sim wedding into a romantic and unforgettable celebration of love.
14. Amour Butterfly Dress

If your sims want a wedding, they should properly prepare for it. And, the bride must have a unique, spectacular, and one of a kind wedding dress! Are you looking for one? So here it is!
The astonishing Amour Butterfly Dress is a true show-stopper. It is something that is unique, even for sims. A long romantic dress, covered with 3D butterflies, is a gown to remember.
You cannot find anything more stunning!
The dress is available in traditional white and sassy red color for your untraditional sims.
13. Magical Wedding Venue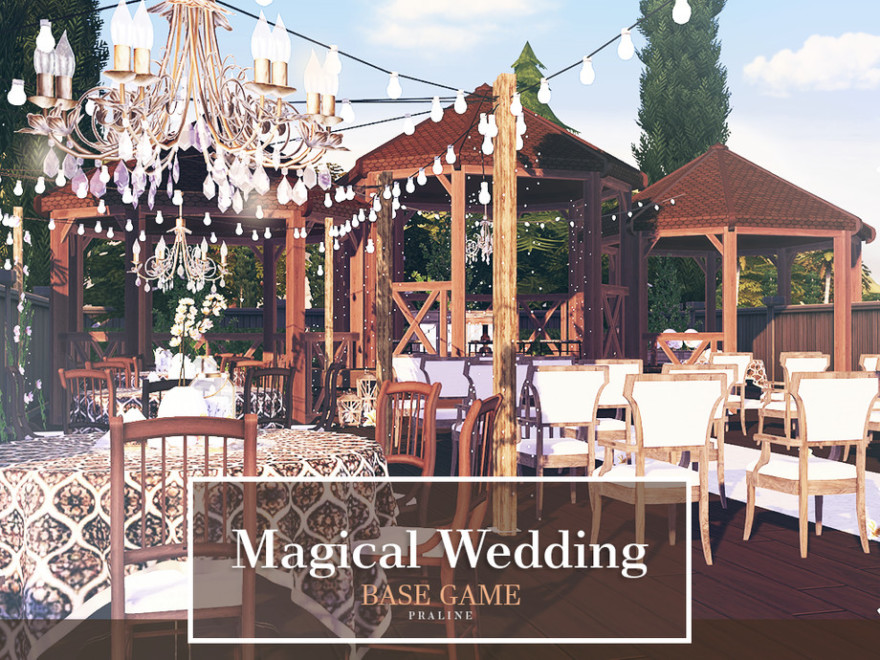 The second most important thing about wedding planning is choosing the right venue. Thanks to all the beautiful CC creators, we can now find the best places for this important day on the web.
This excellent Magical Wedding venue is a place for sims that loves modern touch on a fairytale.
A little gazebo decorated with lights, flowers down the aisle, and romantic wedding furniture… all these things create an atmosphere for an exceptional wedding!
12. Perfect Wedding Chapel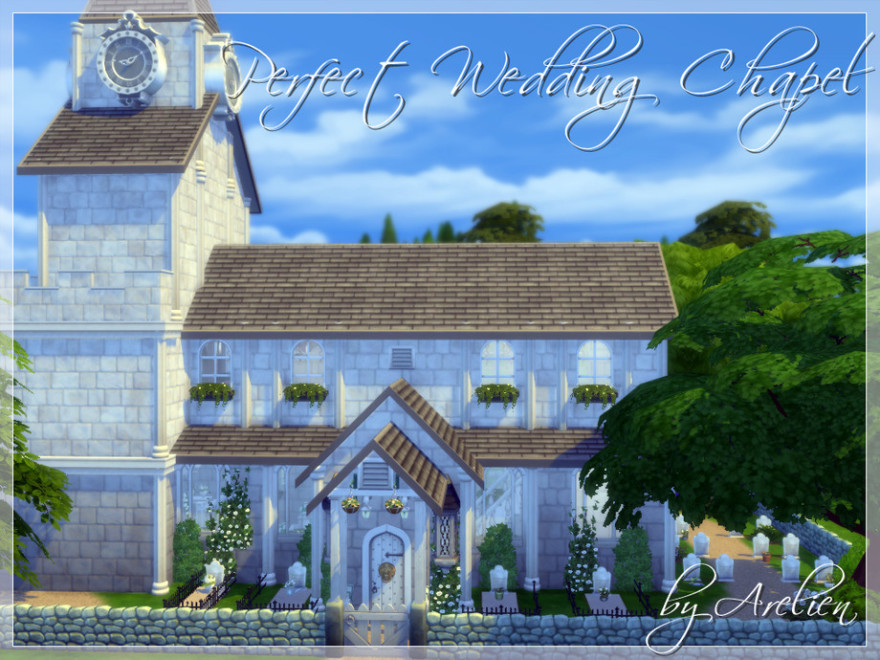 Religion does not exist in the Sims 4 without the mods, but in the end, it is your world to play.
That's why if it is your wish, your sweet sims can say their wows in this Perfect Wedding Chapel and get the blessing from the Watcher.
The Chapel has an amazing altar room for the ceremony and a perfect place on the second floor for the reception.
Also, there is a lovely churchyard and gardens around the building for your guests.
11. Wedding Set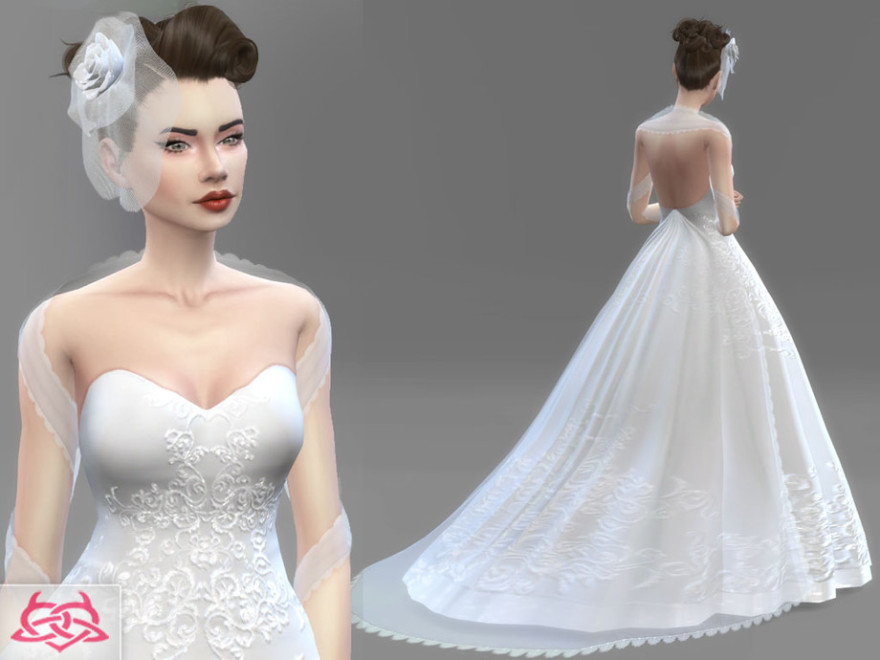 The bride is stunning! Oh, what a gorgeous set for every sim girl. It is aclassy and elegant gown and accessories made for a traditional and sophisticated sim.
The set consists of the gown and elegant simplistic headpiece that strangely fits that grand dress. The gorgeous ball gown has few recolors to satisfy all your wishes.
Undoubtedly, the best part of this dress is its decorations: beautiful folds, silver embroidery, and simple shawl on the hands.
10. Wedding Set 2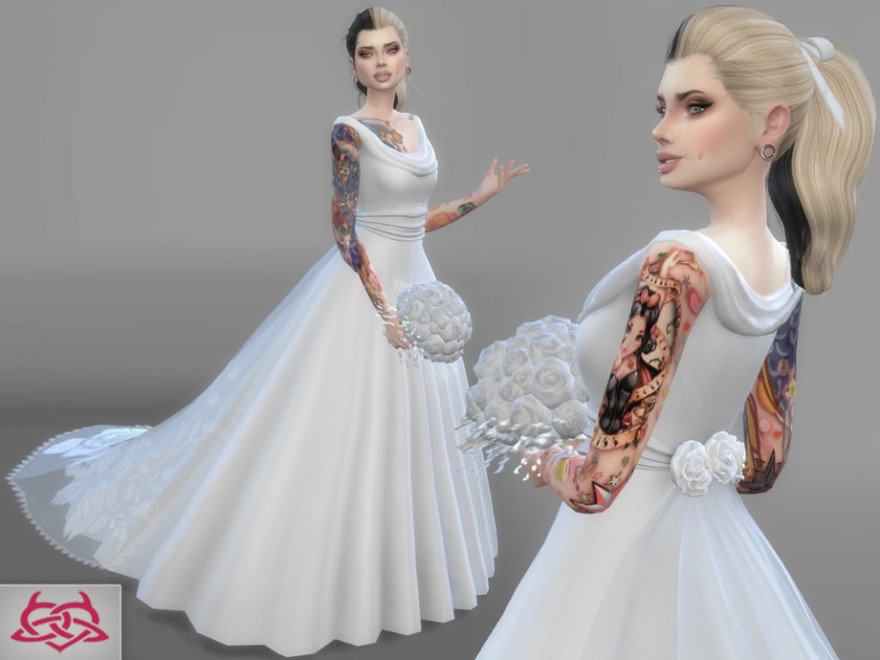 The set for an English rose or a rebel flower. In the Wedding Set 2, you will find an elegant, but the nonorthodox gown and a wedding bouquet.
The set has red, black, and white recolors for peaky girls to choose from.
The dress has a vintage 50s style neckline with a complementary belt, decorated with roses. Also, a little transparent train emphasizes huge but delicate flowers on the hem that puts the look together.
The rose bouquet is a nice simple accessory that turns every gown into the special wedding one.
9. Greenhouse Wedding Venue With Boho Botanical Theme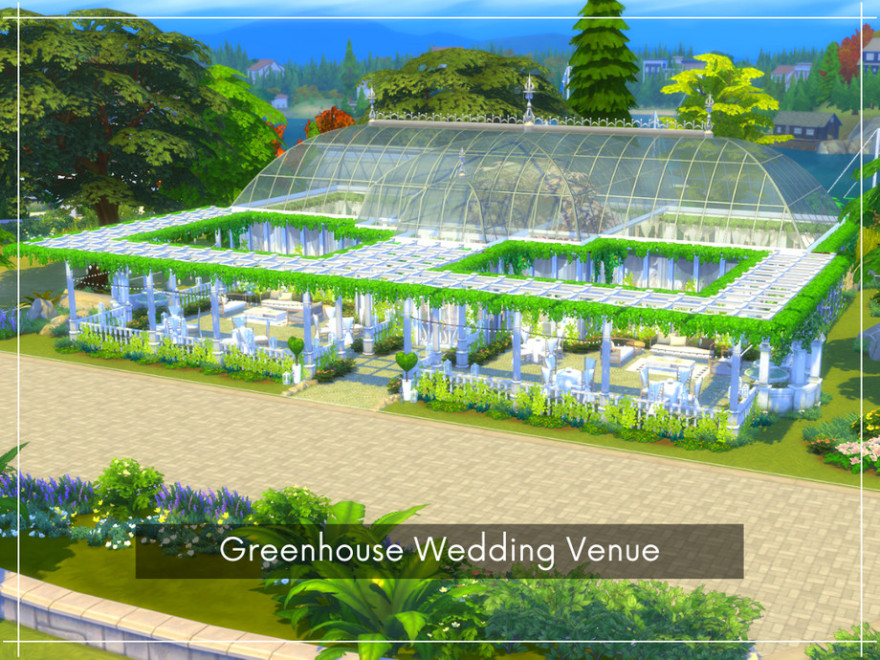 Greenhouses are very in trend for weddings among the real people now, so why not choose this kind of place for your long-awaited sim wedding?
This fantastic creation is to die for, and every boho-style enthusiast in The Sims 4 will approve that.
The Greenhouse Wedding Venue is a gorgeous build that has everything for the perfect sim wedding: the arc, bar, chairs, reception area, kitchen, piano, and a beautiful tree in the middle of the room, cause why not!
It is the best place for celebrating love in The Sims 4 world.
8. Wedding and Bridesmaid Dresses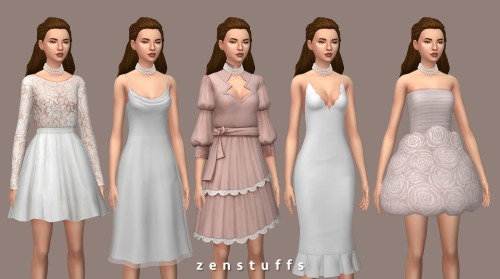 And this time is for the bridesmaids! The set presents a wide variety of dresses that can be used as short cocktail dresses for a reception party on your sim bride, but we offer you to look at them like on the bridesmaid gowns!
Imagine your sim's little sister in one of these pastel creations near your sim on her wedding day! Isn't she cutest? The set has A LOT of dresses, and they can be used for the guests at the party.
We think this collection will work well for storytelling and sims soap opera recreations if you like this kind of gameplay in Sims 4.
7. Wedding Nails N14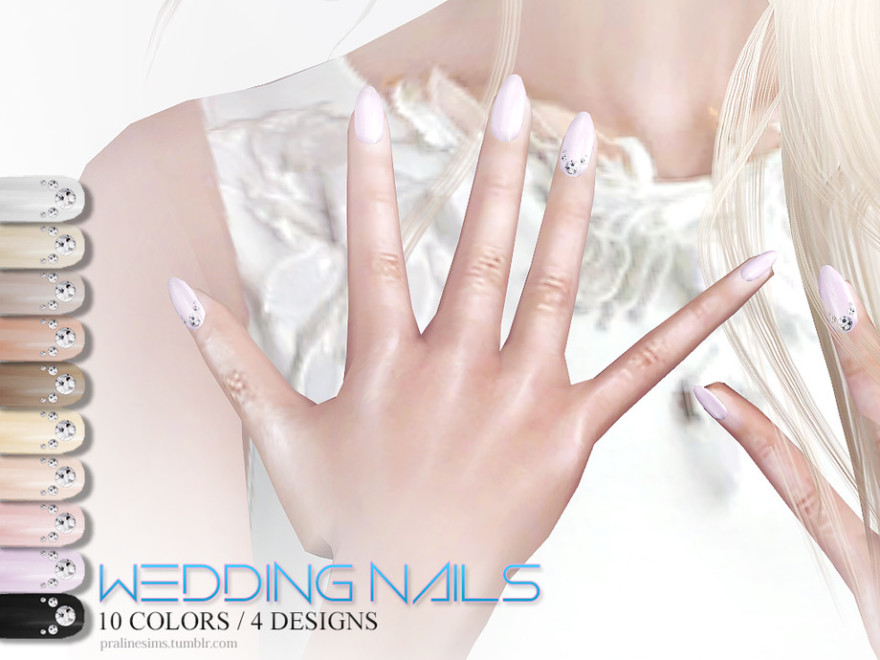 The blushing bride needs the best look for her special day! These amazing Pralinesims' wedding nails are that final touch you've been looking for so long.
The nails set has ten stunning recolors, from off-white to the sophisticated black.
That is a decent range for an elegant and classic sim or a punk-rock girl with a quirky taste. The nails also have three different designs with glitter and one clean design.
6. Tobias Wedding Suit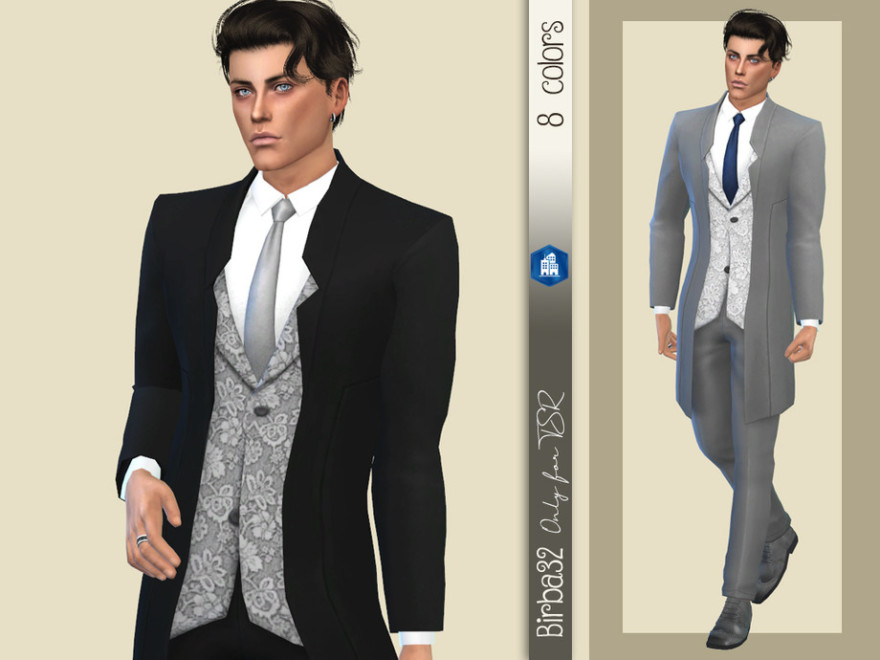 Despite a bride usually being the center of attention on every wedding, grooms also deserve to look stunning on their special day.
This wedding suit is an elegant but not boring outfit for your sim wedding.
A long jacket with an embroidered vest will be a fashion statement everyone will love on your sim.
The outfit has eight different recolors for you to choose from. Please note that this suit requires a City Living pack to work.
5. 1920S Wedding Fashion Set

Here is something special for our historical simmers!
The outrageously stunning 1920s Wedding set has it all: your bridal outfit with all the accessories, groom's suit with a proper hat, and even guest's attire! Oh, just look at that cloche hat.
This set's creator got its inspiration from the real 1920s photos, so the creations look pretty accurate. It is perfect for your Downton Abbey sim story, right?
Every outfit accessory and dress have a few recolors fitting for the wedding ceremony. Trust us, and you will not be disappointed by these amazing creations once you add it to your game.
4. Bridal Shop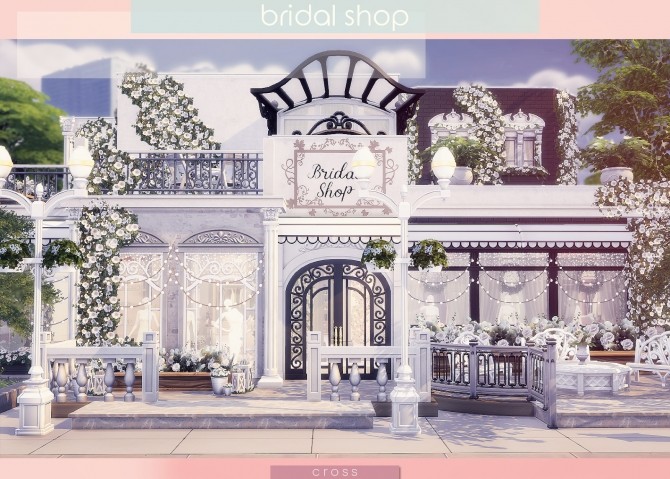 We think this creation was made to give your sim brides that Kleinfeld experience we all hope for our wedding dress search.
Your sim now can go to this sweet shop and have a great time looking for their dream outfit!
There are a lot of flowers and love in this shop and, of course, you can run it too, and the wedding season will be every day in your game save.
The store also has a little bedroom and restroom for your sims, so if sim works late, he or she can take a great nap!
3. Daisy & Rose Set of Veils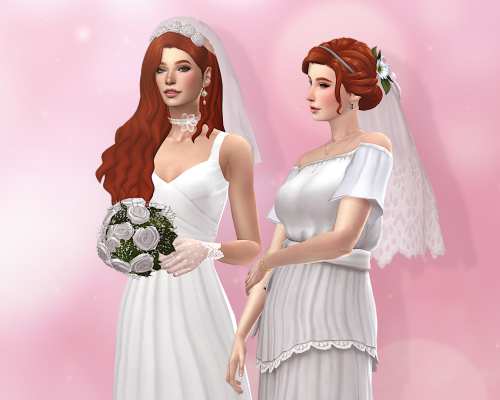 The most important accessory of your wedding outfit is a lightweight veil. The Daisy and Rose set present you three different designs for blushing sims to wear.
Here you have one veil design with colorful daisies and two designs with classic roses. The rose ones have variation for high and low up-dos.
There are plenty of swatches for you to fit any dress you choose.
2. Wedding Clothes for Guests and Grooms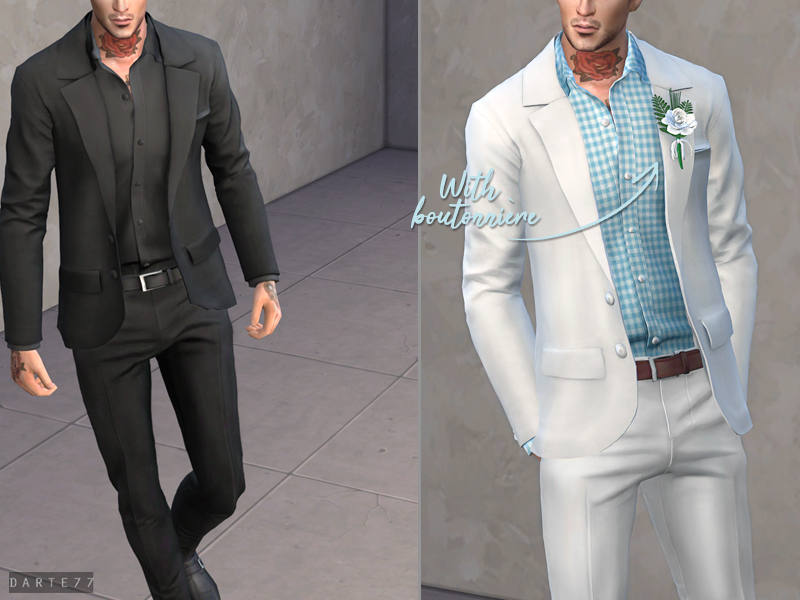 This modern set of wedding suits is an epitome of style for your wedding. No more awkward and ugly slacks and pants —only stylish and cool outfits for grooms, best men, and guests.
The set consists of three objects: slim-fit trousers, an open jacket, and a slim-fit jacket. But, thanks to the variety of swatches, you now have a lot of options to choose from.
Your sim can rock in a more relaxed chequered shirt with blue trousers or in a formal black suit that fits like a glove. Nevertheless, your sim will look like a sexy god on this wedding day.
1. Wedding Dress Collection

We just cannot stand not to include this set into this list.
Every simmer knows that there is no such thing as too many bridal gowns in your game. Every sim is special, and she deserves a dress of her dreams.
In this set, we have three beautiful gowns: The Alessia, The Gabriella, and The Lorenza dresses. All of them have very delicate designs, but every one of them is special.
The Alessia is a sexier modern one, The Gabriella is fashion-forward and modest, and The Lorenza is a classic laced masterpiece.
Those are the gowns for spectacular sims weddings, and they deserve to be represented in your game.
You might also be interested in: