Vampire occult is popular in The Sims universe, and many simmers enjoy playing with these dark creatures. It is no wonder that Sims 4 CC content for vampires is presumed to be one of the best fan-made stuff in the history of the franchise and everybody uses it if they can.
Today we share our personal favorites with you and just the best CC finds on the web that will make your vampires even more magnificent in your Sims 4 save.
Best Sims 4 Vampire CC
Vampire Sun Immunity1

While lurking in the dark and being a mysterious vampire is cool, the restriction to only nighttime activities can get old. The Vampire Sun Immunity mod allows your vampire Sim to rejoin the land of living during the daytime.
This mod makes your Sim immune to the ghastly sun rays that would normally cause them to die within seconds.
Created by RevyRei, this is a mod to have if you want the perks of being a vampire without the annoying fact that they can't be in the sun.
Your Sim can return to the beach during the day, enjoy plasma in the park, and overall living a normal Sim life while still being the spooky blood-drinking creature they are.
Plasma Pack from Plasma Fruit

Aside from feeding on other Sims, your hungry vampire can make blood bags from frogs or fish, but that doesn't always sound appealing. With the Plasma Pack from Plasma Fruit mod, you can create plasma bags for your vampire Sim the cruelty-free way.
Created by LittleMsSam, this mod allows players to gather the plasma fruit found in-game and turn it into plasma bags.
What makes this mod even more appealing? Plasma bags made with this mod quench thirst 50% better then vanilla game bags. And if you're familiar with vampire Sims, they need their thirst quenched constantly.
This mod is especially useful for players who aspire to be the Good Vampire.
Bright Eyes for Vampires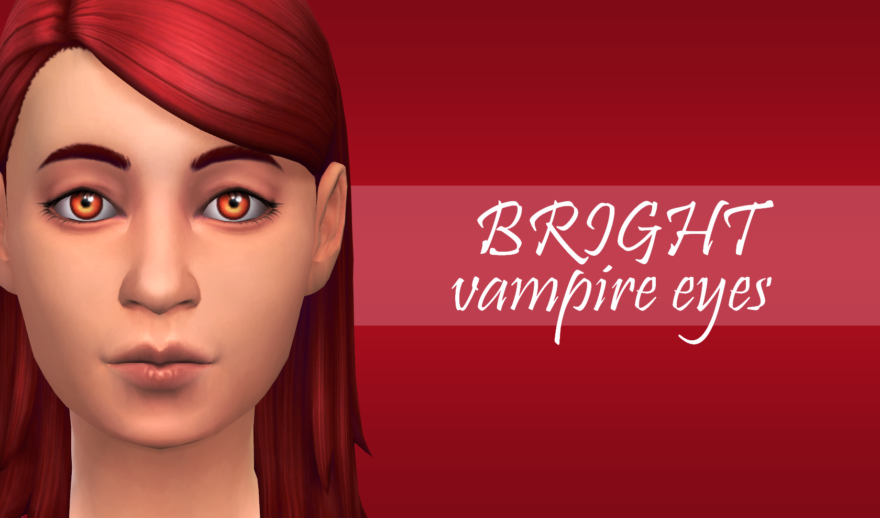 Vampires in The Sims 4 have many cool and unique features, including their special powers and the dark form of being.
But, one of the most notable things about vampires must be their unusual eyes. But what if you can make them a lot more special?
This particular set offers a replacement for standard vampire eyes on these perfect maxis match variations with some added options. These eyes called bright for a reason: they look like fire!
The addons also include some exotic variations like black sclera and cat-eye pupils. Those are perfect occult eyes for your vampire sims.
Vampire Initiation Ritual

Turning into a vampire is a special time in your sim's life. So why don't your sim throw a party where all his or her loved ones will witness the ritual?
Thanks to this event, your future occult apprentice can now organize a gathering as a Vampire Novice and call the sim-vampire and sim-human guests, and of course, Senior Vampire, to turn your ward into the unliving creature.
The event has goals, and if you are successful with your initiation ritual, the outstanding award will be waiting for you at the end of the party. Good luck!
Immersive Vampires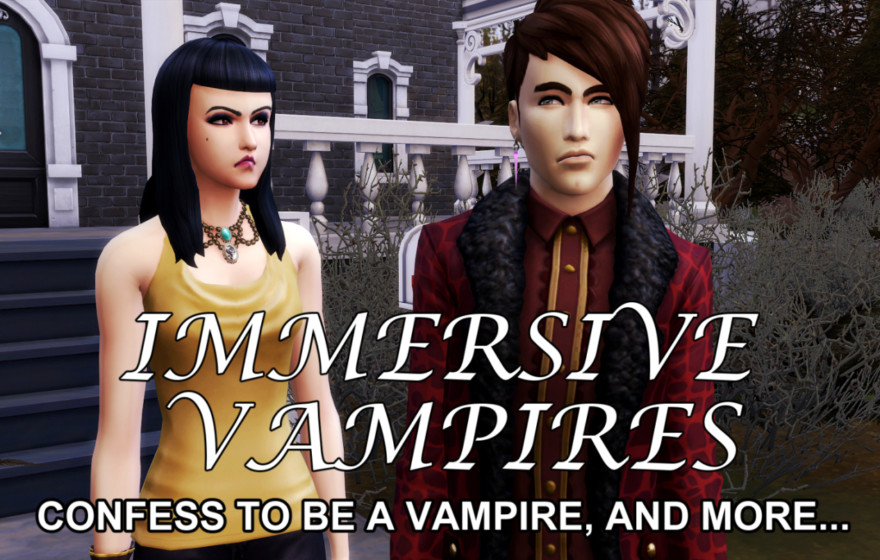 This cute mod gives a little more life and interactions between your vampires, other vampires, and regular sims. You know, it is all about socialization in this game, so new interesting interactions are always welcomed.
Now you can confess that you are a vampire to other sims with very mixed, happy, or sad results.
Your sim can have friendly or meaningful conversations with others about their opinions on vampires, reassure sims about them, and many other exciting things to talk about.
This is a small addition to your vampire gameplay, but we find that this mod adds a lot of gameplay value into the game.
Child Vampire Manifestation mod

Let's just say that vampire kids are not so occult as we would like them to be in The Sims 4. Do you want them to be a little more exciting and bloodier? Here you have a special mod!
The Child Vampire Manifestation mod makes your kids a lot more vampiry and dangerous for society (as how they should be).
Your sweet kids now can drink from other sims, eat plasma fruits, and enjoy plasma packets.
The mod also unlocks some vampire abilities for your kids, so your sim children will be the proper part of the vampire society.
Vampire Slayer Pose Pack

We all loved Buffy the Vampire Slayer in the 90s and wished to be this fierce and cool girl that saves the day. Luckily, in The Sims 4, you can simulate a lot of your favorite things, including some elements of this amazing show.
Today we present to you a fantastic Vampire Slayer Pose Pack for your magical photoshoots. There are six poses that work for couples — one hunter and one vampire, and they full of passion and danger.
You can also choose from one of the four poses for a single hunter that is about to kill his vampire prey.
Vampire Skin CC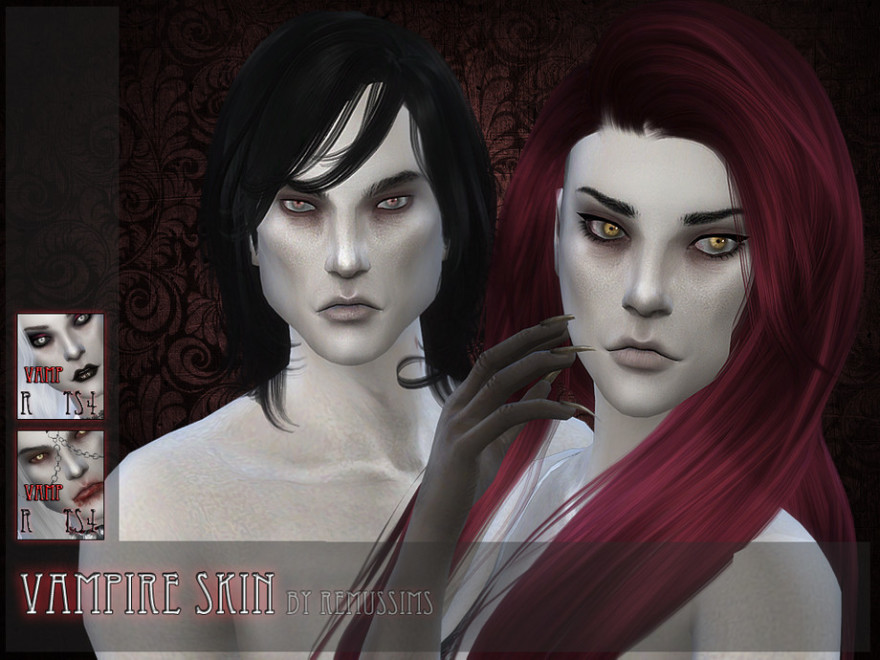 Vampires are literally dead sims, and nothing in their faces should be alive.
That's why we highly recommend to add these fantastic skin tones to your game and make vampires look a lot more dead than with standard EA options.
Skintones works both for females and males, and they have that pale, grey, and glowy appearance of a very dead, but very active corpse.
Skintones have a lot of face details, which will make your vampires even more devious looking. This is truly a set of nightmares in the skin tones department.
Drink Deeply Kills

Vampires should be very deadly and dangerous in real life, but in The Sims 4, we have relatively powerful and rather annoying sons and daughters of darkness.
But with this mod, your sims will be in constant danger of being killed by a ravenous vampire.
How this works: once your vampire bites a sim and you choose "Drink Deeply" interaction, your not so sweet ward will drink all the blood from the poor sim's body, and that unfortunate soul will die.
You can choose either you want your sims to die from Exhaustion or Hunger during this process.
GPME Halloween Vampire Set

Extremely cool and beautiful set of makeup that wasmade explicitly for your lovely vampire sims.
Bloody and crusty lips, soulless eyes, veins in the under-eye area, and deep cheekbone contouring awaits for your sims in this set.
Everything in the GMPE Halloween Vampire Set looks deadly, dangerous, and awesome! You can wear this stuff on your sims, and everyone around will know who they are!
Vampire Trait

Why can't vampirism be a part of your personality? With the new and glorious Vampire trait, your sims now will be able to add this aspect of the gameplay into his or her personality.
This trait adds some exciting perks for your vampire or a sim who wants to be a vampire. Your sim becomes "an ultimate sucker," and now romantic and evil interactions feel more natural for this sim.
You will see that your little monster is better in cooking, athleticism, social, mischievous, and logic skills than other sims. Not bad, ha?
This is an excellent trait for the simmers who often play with vampires and love how different they are from other sims.
Ghoulish & Ghastly – Vampire Pack Build mode Addons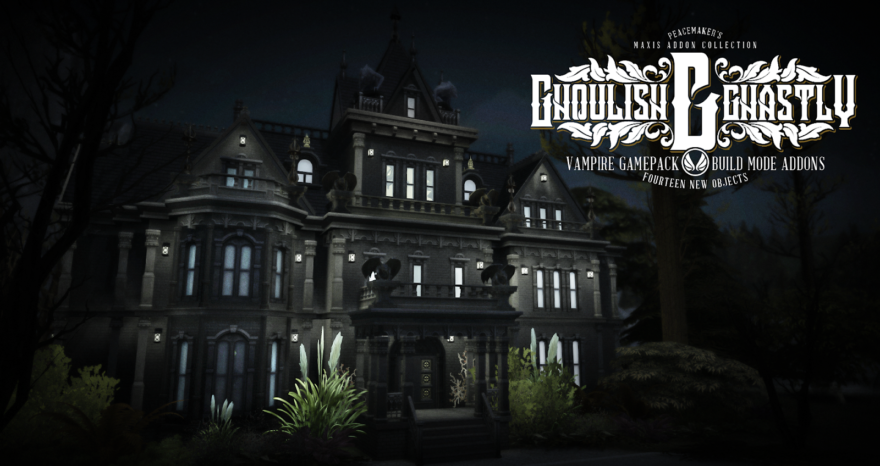 The beautiful addon for the EA Vampire Pack is presented by lovely people Sensational Designs. Ghoulish & Ghastly is an extraordinary build mode items set that perfectly fit and complement all the stuff and overall vibe of the EA's game pack.
There are twenty new objects in Victorian style, including big and small windows, entrance doors, double doors, and various archways.
Just imagine how haunted and creepy looking houses you can build with all these items!
Ancient Vampire Skintones

This one is for the people who appreciate classic vampires and want to do a proper makeover for Vladislaus Straud, the top vampire in The Sims 4.
With this creepy skin tone, any vampire will look awesome like hell and very devious. You can see in all the details of the skin tone that this vampire was alive once upon a time, long before civilizations were born.
The skin tone set was made both for male and female sims so that you can make your Dark Lords and Ladies.
Vampire Stuff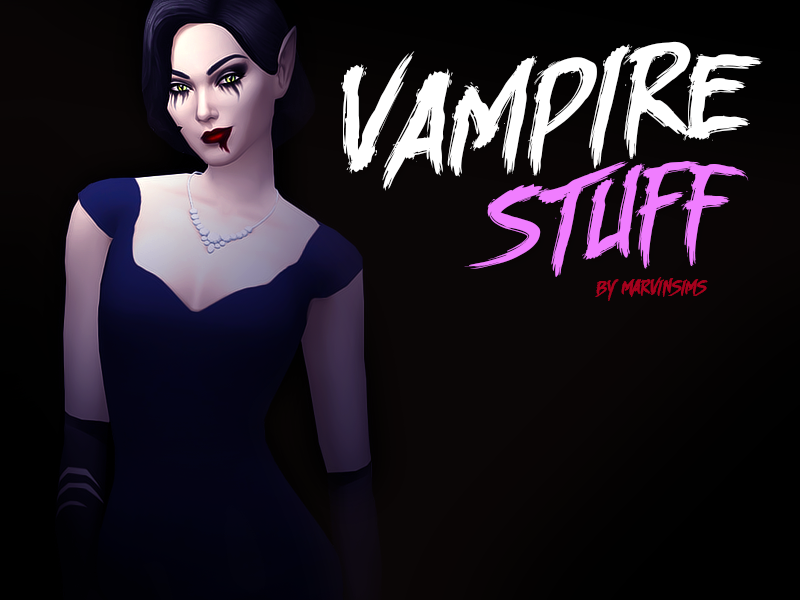 This is just good old-fashioned maxis match stuff pack that was made to make your sims look a little more unique and different. Yeah, the best kind!
In the Vampire Stuff, you will find a lot of fantastic things for your female vampires: elegant and seductive vampire dress with eight swatches ripped gloves and stockings, and some beautiful makeup.
As for makeup, it looks like your vampiress just found and killed her victim: everything is smeared and dripping.
That is the stuff that makes the femme fatale, the femme extremely fatal!
Toddlers Vampire Dress

Your little ghoul is a toddler now, and she needs a proper dress that will fit her deadly genetics. Here we have a Victorian style dress for all the toddler vampire girls in your world.
It looks so good on this little sim that we cannot imagine any other dress on our vampire toddlers now. In this set, you will get seven swatches of this beautiful velvet gown.
All the swatches are dark and very fitting to your young dark girl's personality.
The Forgotten Woman

Vampire mansions usually are so grand and exquisite that only something extraordinary can fit in well there. But this spectacular statue is one of a kind thing that will be perfect in every spooky house of your occults.
The Forgotten Woman can be a representation of the thirsty ancestors of your vampire sims, which was bitten and made vampires.
With all the blood dripping on beautiful white or black marble, the statue creates a dangerous atmosphere in every house.
Along with drippy versions, the statue has forty-five colorful swatches for you to choose from. But be careful! Someone said the statue might be cursed.
Vampire Coffin Beds for Adults and Toddlers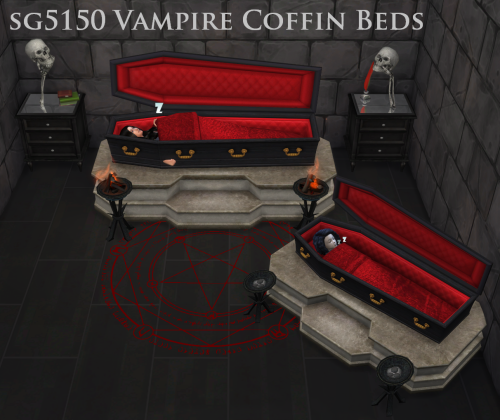 There's a proper bed for all the vampires in Sims 4! Classic coffin beds are something very crucial for every simmer that loves traditional vampires in their game.
They look spectacular and fit very well with all the other Sims` stuff that was made for vampires.
And yes, you heard it right, this time, the creators thought about the toddlers, and we have a little coffin for them. It is only proper for every little monster to sleep in this kind of bed as adults do.
The bed has four recolors of the inner draping and one black recolor of the coffin's outer part.
Monster Teeth

Not all vampires were born the same. And to differentiate them from each other, you can use these awesome Monster Teeth set from Remussims. Oh, what a scary look they have!
Monster Teeth has a whole nine swatches of creepy and dangerous sharp biters. Some of them are very thin and sharp, some of them thicker, and some even have blood on!
The teeth fit all the sims from teens to elders and can be found under the teeth category in the CAS. The set is fully HQ compatible.
Victorian Vampire Lookbook

Stories about vampires were wildly popular during the Victorian era, where death was around the corner all the time.
So it is only proper for us to present to you this amazing set of Victorian vampire clothes that comes with an undeadly charm.
Dresses and men's suits were inspired by the 1880s-1890s period with all the fitted corsetry and elegant bustles on the dresses' back.
Those dresses will be a perfect addition to your gameplay if you want to make a great clan of the ancient vampires that do not fond of modern fashion and like being outdated.
Vampire Tattoo Set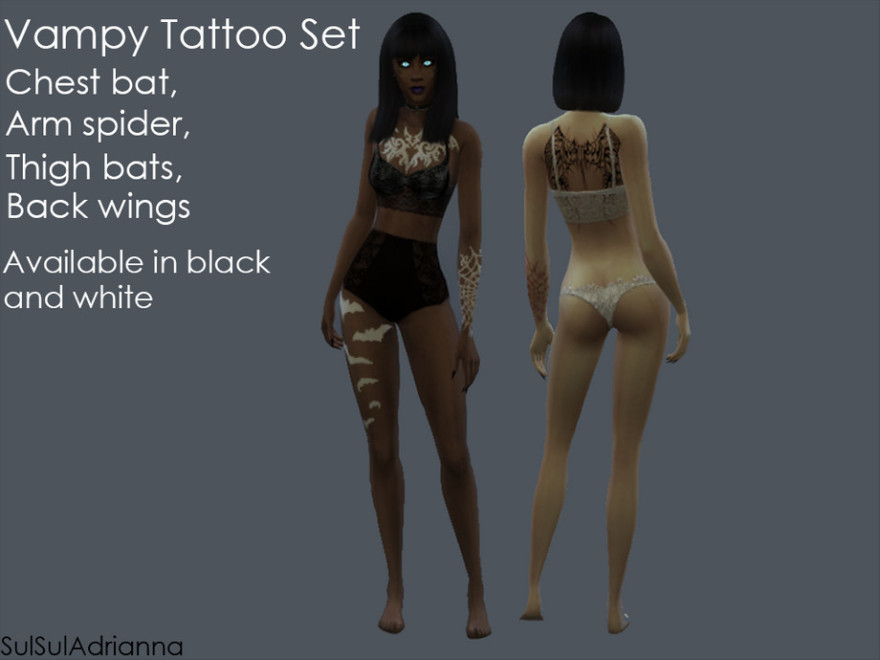 And this set was made for fashion-forward vampiresses that deny old rules, and they love to be modern sim vampires. The Vampire Tattoo Set has all the notorious tattoos that your dark ward can want on her body.
The set includes an arm spider, a flock of bats all over the thigh, a huge bat on the chest, and spectacular back wings. All the tattoos have black and white recolors, and they are all fully compatible with the base game.
Yes, you can make a vampire wannabe in your game even without the Vampires game pack.
You might also be interested in: