A tattoo is a special form of art that is performed on a human or, in our case, on a sim body. It is a beautiful way to open up your creativity, and in The Sims world, you can paint beautiful pictures on your wards too!
Today we've gathered some of the best CC tattoos that were made by the talented Sims community. Enjoy our top twenty and make your sims unique with those impressive tattoos!
Best CC Tattoos for the Sims 4
30. Tree of Life

The Tree of Life back tattoo Sims 4 CC is a masterpiece of inked art. The tree of life is a popular tattoo design, often imbued with deep symbolism.
From the roots curling around the spine to the delicate leaves spreading across the shoulder blades, it's a stunningly realistic depiction of a tree in all its glory.
The tree of life conveys a sense of groundedness and vitality.
This tattoo CC is equally perfect for your nature-loving Sims as it is for any Sim that just enjoys intricate artwork.
29. Cracking Star Rib Tattoo

If you're looking for a new and unique tattoo to get in The Sims 4, then you'll want to check out this eye-catching piece for your virtual people.
The Cracking Star Rib tattoo is perfect for anyone who wants a star design that stands out from the rest.
The star is made to look like it's bursting right through the side of the abdomen, making it a truly stunning sight.
And if you're looking for something with added meaning, the Cracking Star Rib Tattoo also features words like "family" written within its design.
This tattoo is for your Sims who want something that also holds special significance; then the Cracking Star Rib Tattoo is definitely worth considering.
28. Triangle Peony

The Triangle Peony arm tattoo is a beautiful and intricate design that is perfect for Sims who love floral tattoos.
The flower itself is a colorful peony inside a geometric triangle, with delicate leafy detailing surrounding it. This tattoo is extremely detailed and looks stunning against any skin tone.
For those players that need versatility, the flower in the triangle comes in several colors to match any outfit or vibe. We are sure you'll love how cool and fun they are!
27. Cosmic Dune

This piece of Sims 4 tattoo CC is a cross between edgy style and the world of magic.
Cosmic Dune is an ethereal and out-of-this-world full-body tattoo for Sims in The Sims 4.
It features intricate golden designs that flow all over the arms, legs, face, stomach, and chest.
They are mystical and angular, with a striking beauty that is sure to turn heads. This mod is perfect for Sims who want to add a touch of the exotic and otherworldly to their look.
Or for any secret practitioners of magic.
26. Old School Sleeve

When your Sim is getting some body art that's as permanent as ink, make sure you pick something you won't regret; consider something classic.
Old School Sleeve is a familiar black full-sleeve tattoo.
It's an old-school design that never goes out of style. We bet most readers know at least one person with a typical full-sleeve.
The detail in the artwork is amazing, and it's sure to impress anyone who sees it. This is a must-have mod for any Sim who wants to look their best while still looking dangerous.
25. Birds and Butterfly Tattoos

This Sims 4 tattoo CC pack is like the Old School Sleeve for your female Sims.
It includes bird and butterfly designs on the torso and stomach area of female Sims.
Birds and butterfly tattoos are a fun, airy choice for any player looking to express their love of freedom.
The detail in the tattoos is incredible, and they really add to the look of your Sim. There are several designs to choose from.
Some are simpler than others, but they're all perfect for your simulation game family.
24. Tattoo Rose

This is one of our more subtle entries, but it's one of the sleekest.
The Tattoo Rose hand tattoo is a beautifully detailed design that can add a touch of toughness and beauty to your Sim at the same time.
It's perfect for those who want something unique and different, and the flower itself is known for its symbolism of love and passion.
This mod is perfect for anyone who wants to express their love for The Sims 4, and it's sure to turn heads when you walk by.
Download the Tattoo Rose CC today, and start expressing your Sim's unique style in a bold new way!
23. Ssb Traditional Color Tattoo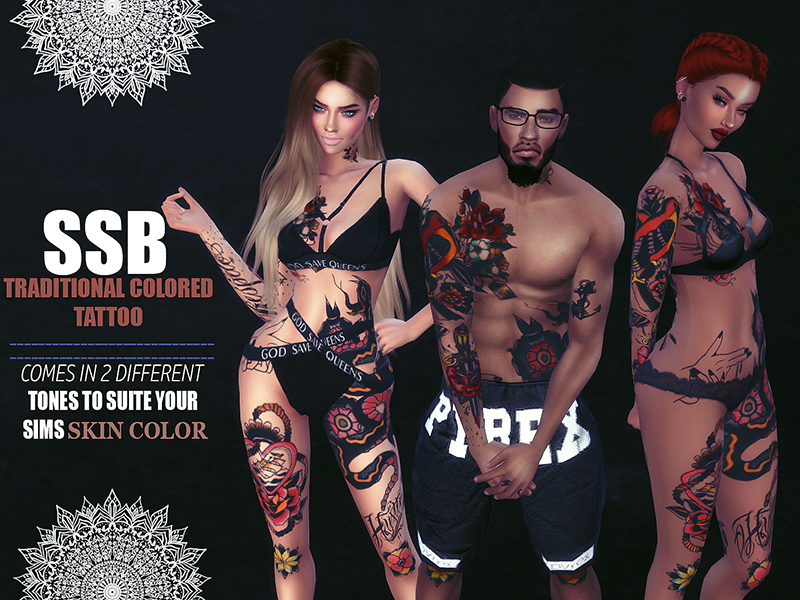 In older cartoons, you might notice a sailor having an anchor or sailboat tattoo or the classic heart with an arrow tattoo. The SSB Traditional Color Tattoo CC covers your Sim in a plethora of classic tattoos!
Some of the tattoos include a ship in a herd on the thigh, a snake wrapping around the right leg, and text scattered around the entire body.
The colors are vibrant, and there are two tones available for both light and dark skin.
The details in these tattoos are incredible, and it's a great choice for old-style fans.
22. Tattoo 1804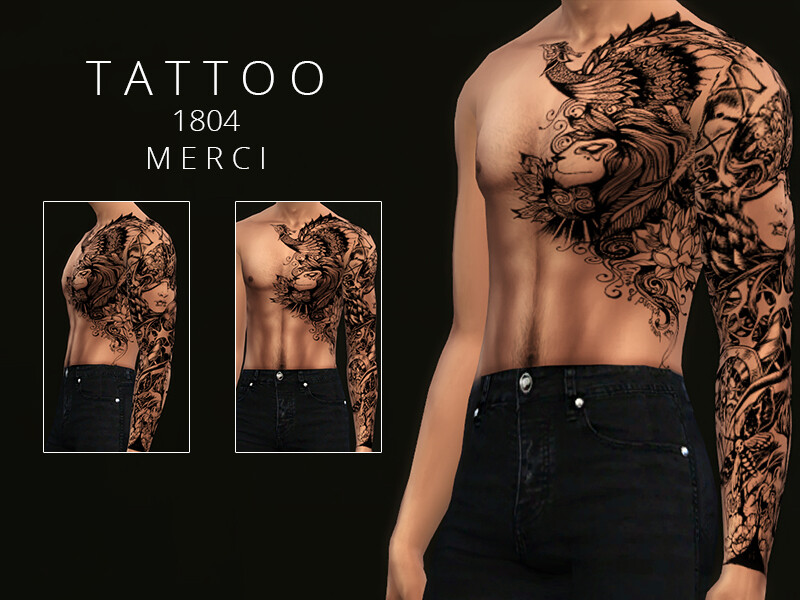 This tattoo CC covers the left arm and upper torso, featuring incredible details and multiple images.
The Tattoo 1804 CC is a monochrome tattoo that features a female face on the arm, a lion head and peacock on the torso, and some scattered flora and fauna as filler.
This tattoo CC is a unisex CC that can be used by Sims from Teen to Elder. Out of the many tattoo CC, this is one that goes above and beyond in terms of detail.
21. Fallen Roses Tattoo Set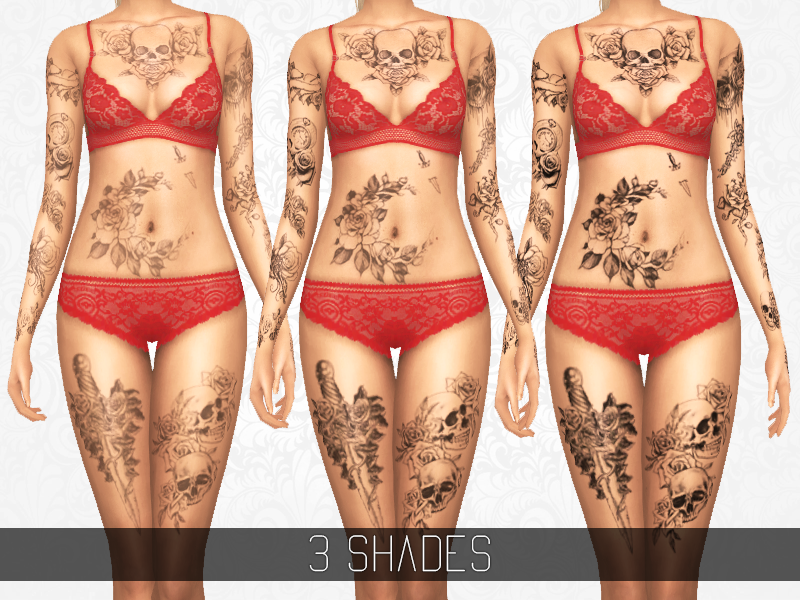 Skulls and roses have become common and popular tattoos for people in real life to get, so of course, Sims should have great options to choose from!
The Fallen Roses Tattoo Set CC includes multiple tattoos for most of the Sim's body, including chest, stomach, legs, and arms. These include skull and rose imagery mostly, but also includes a mask on the thigh and daggers.
All tattoos in this CC set come in three levels of color tensity, or three shades, ranging from light to dark.
20. Vampire Sinner Tattoo Set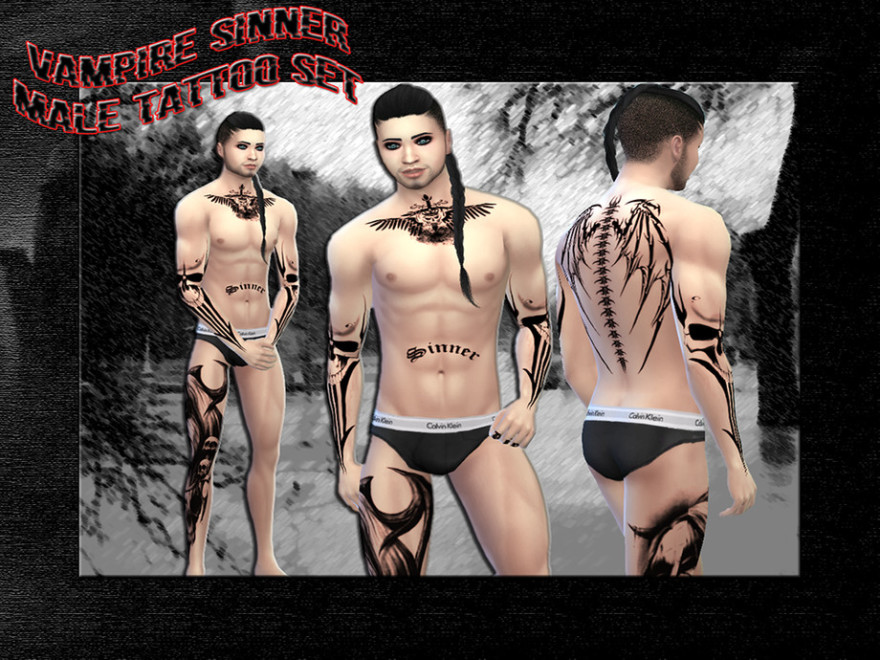 Dark vampires are the perfect candidates for tattoos! They are edgy and full of mystical charm that makes us all go crazy. The Sinner Tattoo Set was specially created for this part of the occults in The Sims 4.
Male sims must use this set, and it has several variations: you can download full body or separate versions (for the stomach, legs, upper chest, and die finger) in dark or light ink.
The set has a strong mythology vibe, and it will look perfect on your sweet vampire in his dark form!
19. Ravens Song Women's Tattoo Set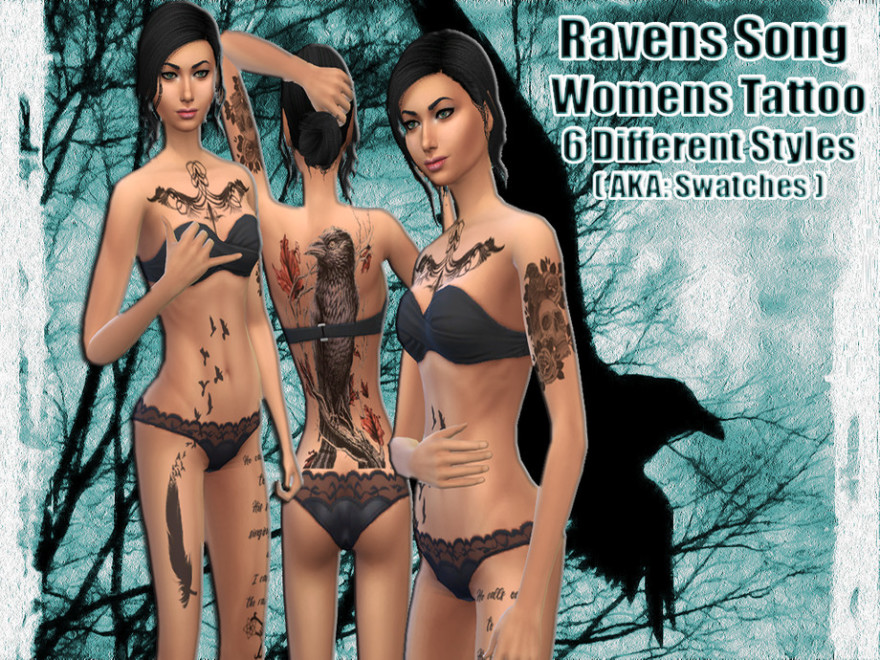 Ravens are one of the most mysterious birds in the animal world. They can be a good or a deadly omen for you, but some people like them because of their incredible wit.
To honor this awesome bird, we present to you this unique set of tattoos for female sims that share our loveof ravens.
The set has a gothic feel that helps your sims achieve that underground or alternative look of the punk-rock goddess.
Or you can just use them on your sims if you like crows. The set also has different versions with faded and fresh inks for your choice.
18. Taty Tattoo Face Overlay 03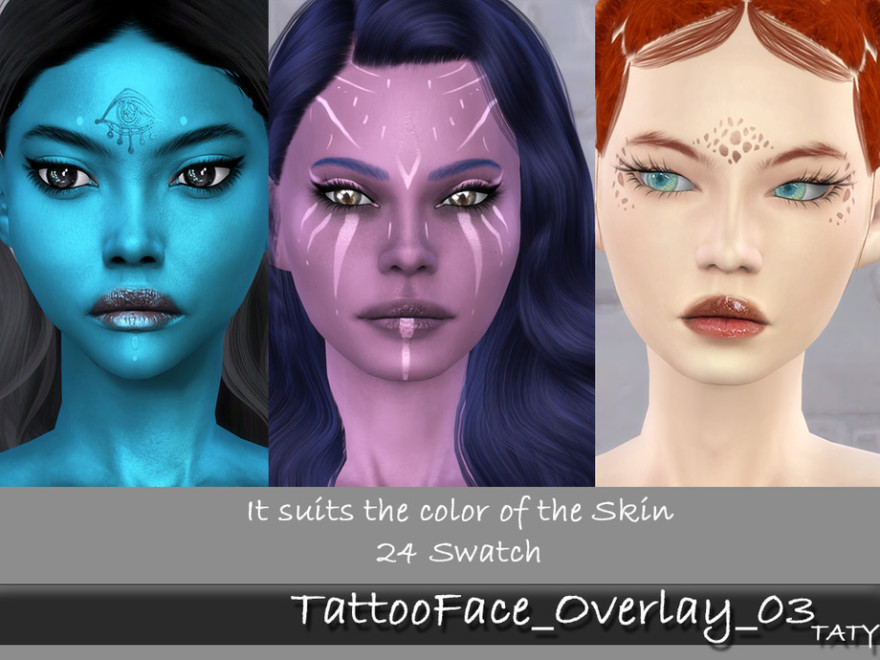 This is a unique set of face tattoos that can be used in your gameplay almost in all cases.
We reckon that you can use them for any type of occult you would like to create in the game or for a sim with an edgy taste.
Almost all tattoos in this set are simple geometric figures, but they look very cool on the sims' faces.
The lovely creator made twenty-four whole swatches of these tattoos, so you will be able to fit them to the sim with any skin color.
17. Random Tattoo V30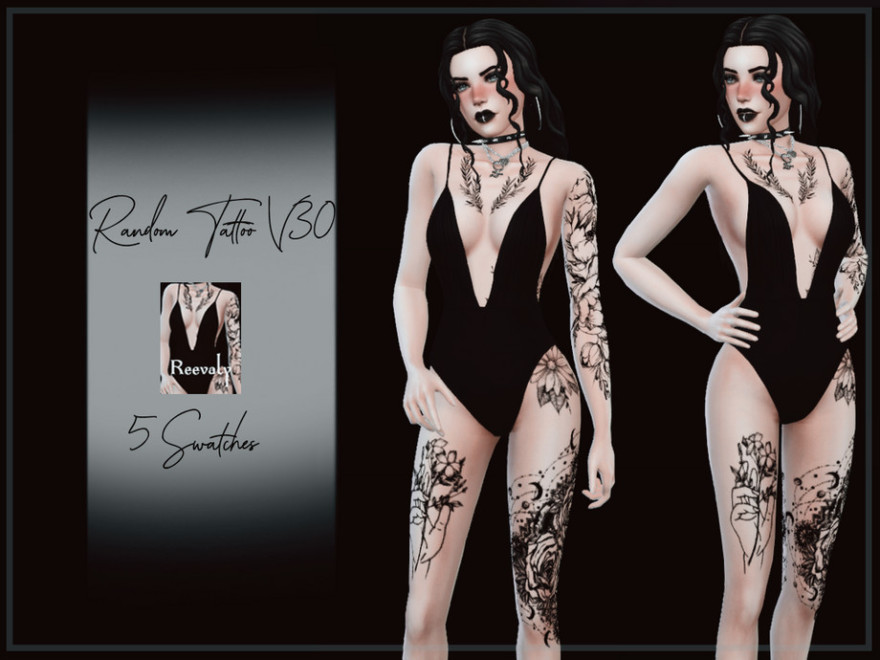 The base game compatible set of beautiful flowery ornaments for your amazing female sims.
Gorgeous roses, daisies, and wildflowers will emphasize the femininity of your sim and, of course, will give her a very cool look.
Those particular tattoos can be used for all kinds of sims: they can look soft on sweet, family-oriented book lovers, or edgy on aspiring music artists.
The set has five different swatches, and you can use these tattoos for any of your female sims from teens to elders.
16. Base Game Compatible Tattoos
What a weird name, and what a gorgeous set of tattoos! The collection by Jennisims is a set made in heaven for simmers who use tattoos all the time, and they like to have options.
What makes this set remarkable is the fantastic variety of designs that you can use from it: there you can find an elephant image, bloody hands, abstract figures, geometric patterns, flowers, and many more.
The set is very diverse, and it will be a helpful addition to any simmer's game save.
15. Tattoo Parlor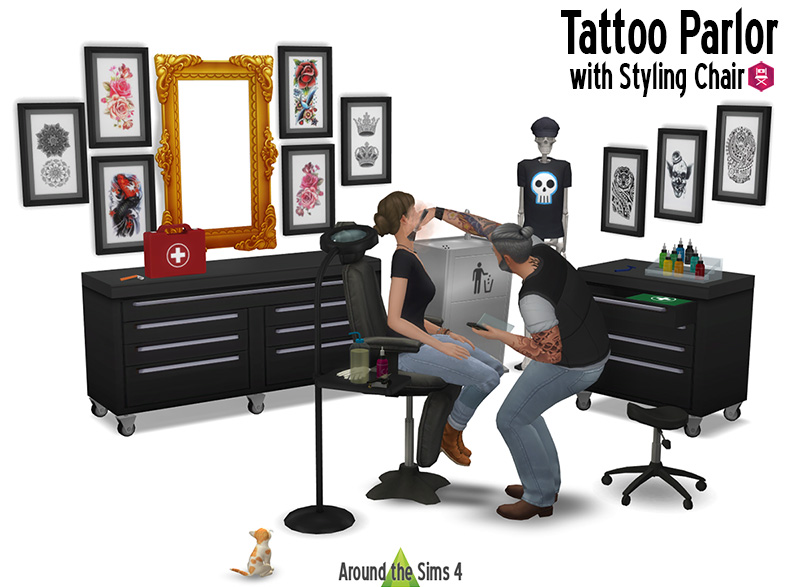 Good news for all the simmers that enjoy playing with the retail system in the game!
This amazing creator made a beautiful set of furniture for us to create our own tattoo salon.
Of course, you cannot truly do tattoos on other sims in The Sims 4 like it was in The Sims 3, but you can do their makeovers with mods like MC Command Center and make the tattoo parlor work this way.
The set also will work with a beauty salon theme since it also has a styling chair included.
Overall it is fantastic furniture and decoration set for storytellers and simmers who love making photoshoots in Sims 4.
14. Tattoo Artist Career

This one is for actual gameplay! The base game compatible career has two versions for teens and for adult sims to participate in.
Your sim will walk through the difficult path from the tattoo artist's Apprentice and to a Legendary Tattoo Shop Owner in the end.
This is a rabbit hole career that adds fascinating gameplay into your game and a little more variety for you to play with. You also should use Neia's Career Mod for this mod to work.
13. Ex's and Oh's Tattoo Set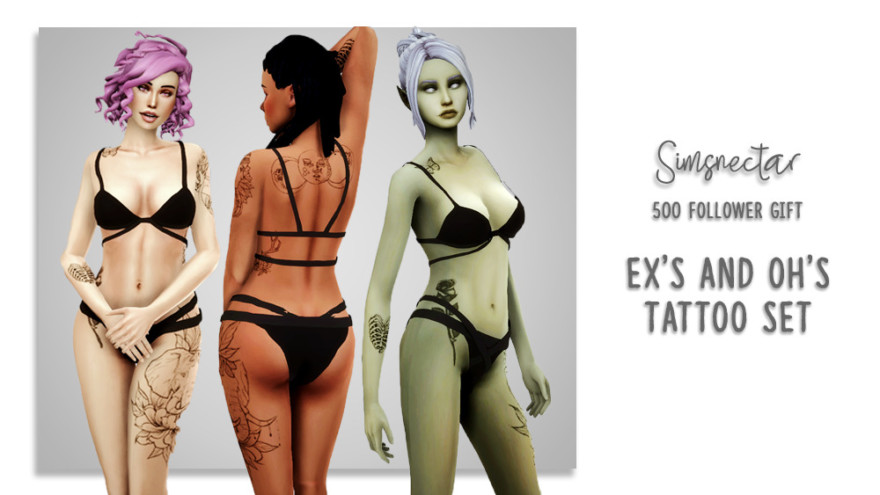 This is a stunning set of tattoos that are dedicated to successful or not relationships, which arenow ended for good or for worse.
You can use these tattoos on your sims as a memory of their deceased spouse, or just an ex-boyfriend who is in the past now, but should be remembered.
The set offers you seven different tattoos that can be used as one or separately, depending on your taste.
There's a beautiful rose on the lower part of a stomach, sun and moon on the back, a heart in the bone cage on the hand, a butterfly on a shoulder, a huge elephant with flowers on the calf, etc.
You can see that this set represents a lot of emotions that can now be painted on your sim's body as a friendly reminder of the existence of love.
12. Tattoo Collection №13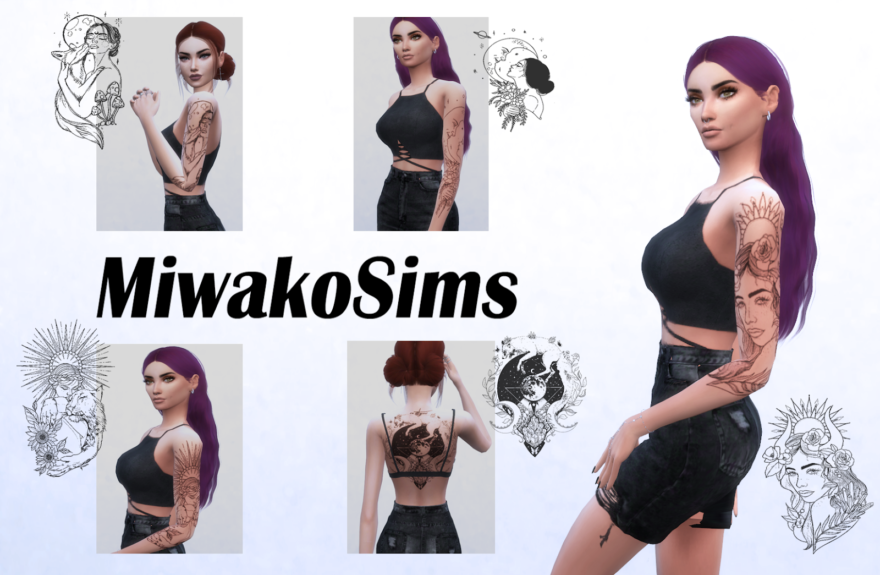 Beautiful set of complex tattoos for your female sims. In the Tattoo Collection №13, you will find five gorgeous swatches of tattoos for your sim ladies` biceps and spines.
All of the tattoos are base game compatible, and they represent different feminine symbols. You can call them"the women's power" tattoos.
They picture gorgeous mythical women with moon or sun and have a lot of mythological accents on them.
Those tattoos are something different from all you've seen before, and we recommend you to add them into your game if you love tattoos with a powerful message on your female sims.
11. Crystal Space Baby Body Tattoo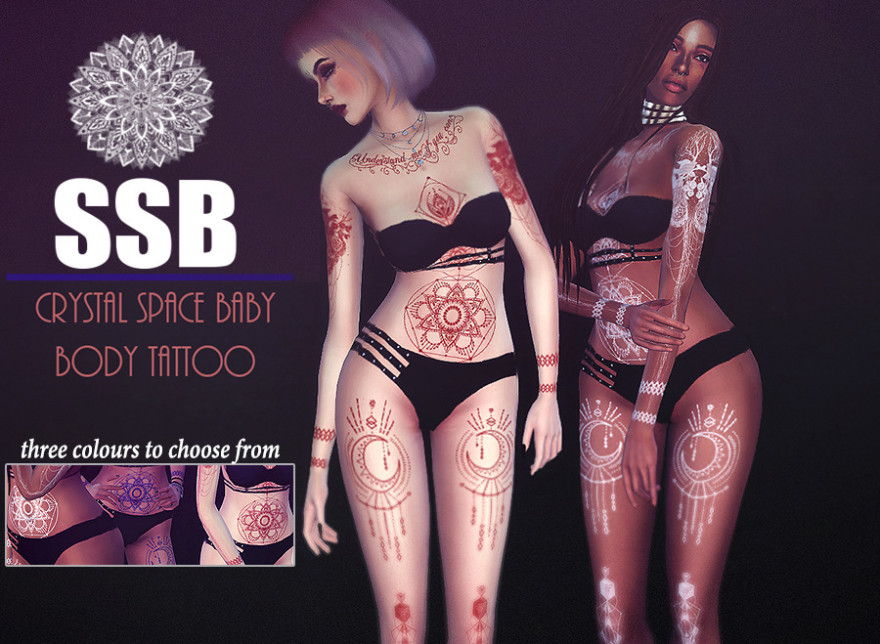 A unique full-body tattoo for sims that do not like the ordinary and boring way of living.
The Crystal Space Baby is a mix of eastern sacred body images with some south Asian ornaments that creates a mysterious look for your sim.
The set has many interesting swatches: no classic black or dark blue, only light blue, red, and white.
Let us tell you that they look incredibly gorgeous in those swatches. It is truly something special for you to enjoy!
10. Color Roses Tattoo 2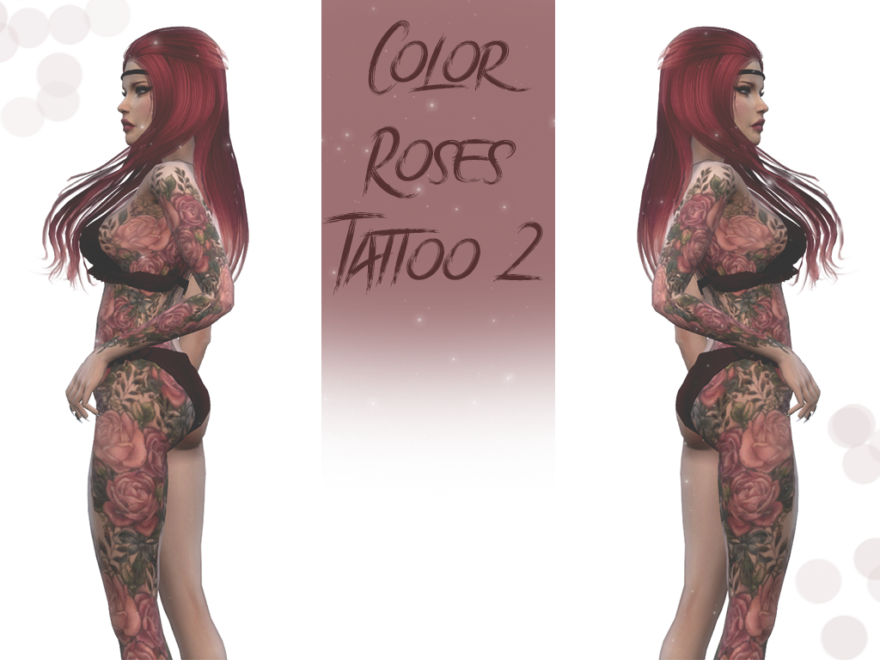 Oh, what a fantastic full-body tattoo for your sim! It is like a bed of roses all over the left part of your sim's torso, hand, and leg.
The set works for all females from teens to elders and has six amazing swatches.
You can see how incredible and detailed flowers look on your sim's skin, and it is definitely an alpha content, but oh so stunning one!
With this tattoo the common phrase "beautiful like a rose in May" has a whole other meaning now.
9. Old School Tattoo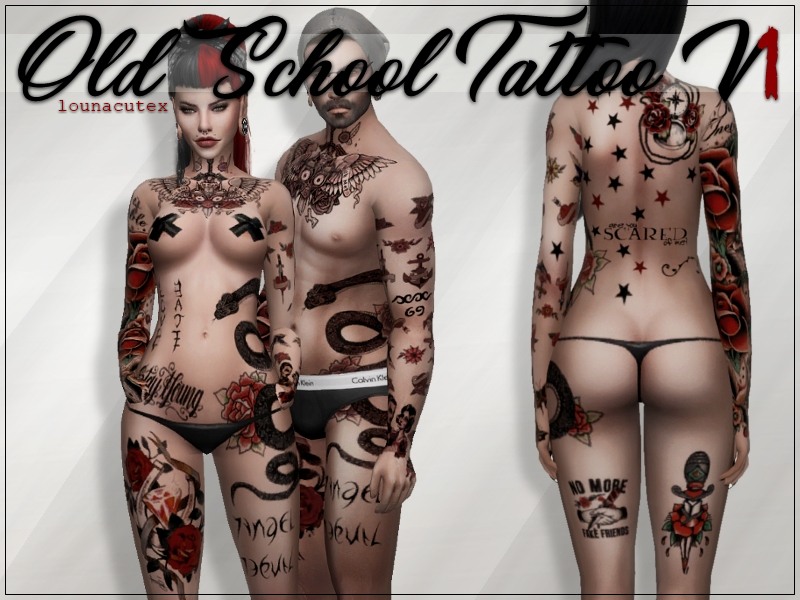 It is a nice set of vintage-looking tattoos that looked so trendy during the tattoo art renaissance in the 20th century.
Colorful swatches of this creation give you endless opportunities of using them on your sims. It is an artistic set that includes darker and lighter tones to fit it perfectly on your sim's skin tone.
Although those tattoos can be used by females and males of all ages(from teens to elders), we think they will look especially cool on your grannies and grandpas.
Not every elder likes to knit; some of them do want to rock on!
8. Familiar Taste of Poison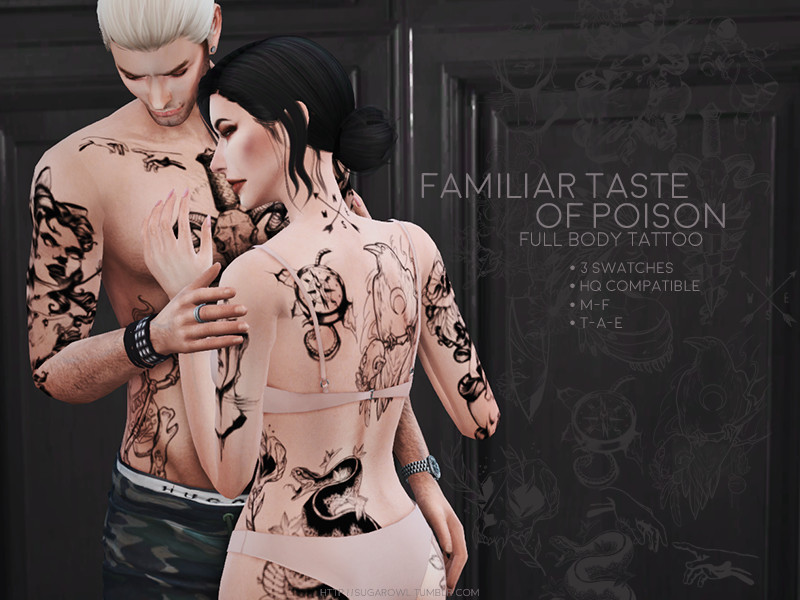 Stunning full-body tattoo with a very poetic name: Familiar Taste of Poison. In this creation, the author made a wonderful couple of tattoos that complement each other and look perfect on every sim.
The male version of this tattoo has a lot of little images all over the upper part of the body, for example, a knife with a goat head and a ribbon on the chest, two hands on the collarbone, and others.
The female version has more tattoos with animals, birds, and flowers, but both variations perfectly match each other.
The set has three swatches, and it is totally HQ compatible.
7. Geometric Tattoos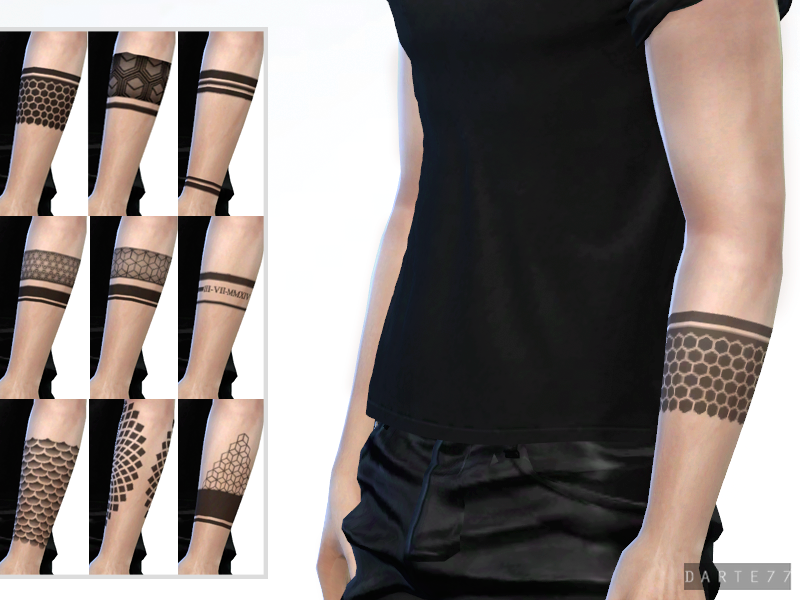 There's a lot of times in life when simplicity is the key to success. Like in this case, we have a fantastic set of plain but charming male geometric tattoos.
This set was created for male sims who love to show their strict side.
The set has nine different designs, from fish scales to the simple lines around the wrist and forearm.
And the best thing about it is that the set has three shades from light to dark, so that you can use it on a wide variety of skin tones.
6. Skin Detail and Tattoo Ultimate Collection

Yes, you heard it right! It is the ultimate set of tattoos and skin details for your sweet sims that are available on the web.
The set has an astonishing variety of different freckles, face tattoos, beauty marks, and of course, simple traditional tattoos for your female and male sims.
In this ultimate collection, you will find almost everything you need to make unique sims with nothing but ordinary bodies.
As for tattoos, the set has a lot of basic swatches that most of us like: butterflies, geometric ornaments, abstract things.
5. Gypsy Girl Collection of Tattoos

It is truly the most colorful and fun set of tattoos on this list. There are bright bluebirds, vivid red flowers, and excellent greens in this set that you can put on the body of your sim girls.
Those tattoos are a splash of color that can be something you didn't know were missing from your game. We assure you that it is a set that attracts the eyes.
4. Restless Soul Tattoo Set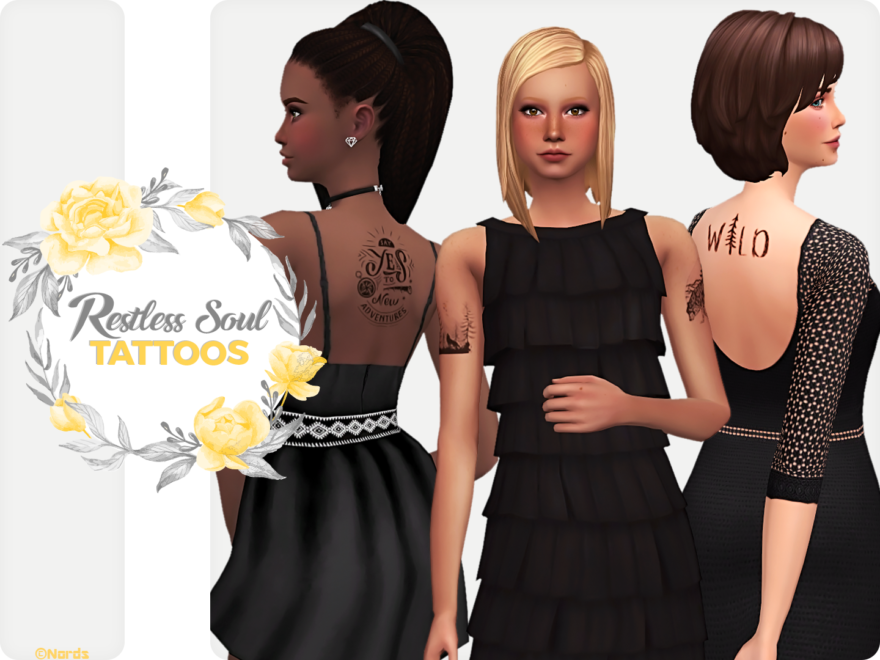 As the author said, this is the set for all "the free spirits inside your sims."
The creation was inspired by many great stories of people who love to be wild and free, and we sure your sims will like tattoos with this kind of a backstory.
The set has sixty-two different swatches of tattoos for various parts of a sim's body.
There are eighteen swatches for upper back, eighteen swatches for a left arm, eighteen swatches for a right arm, and eight for the upper back.
3. Tattoo Set by Glaza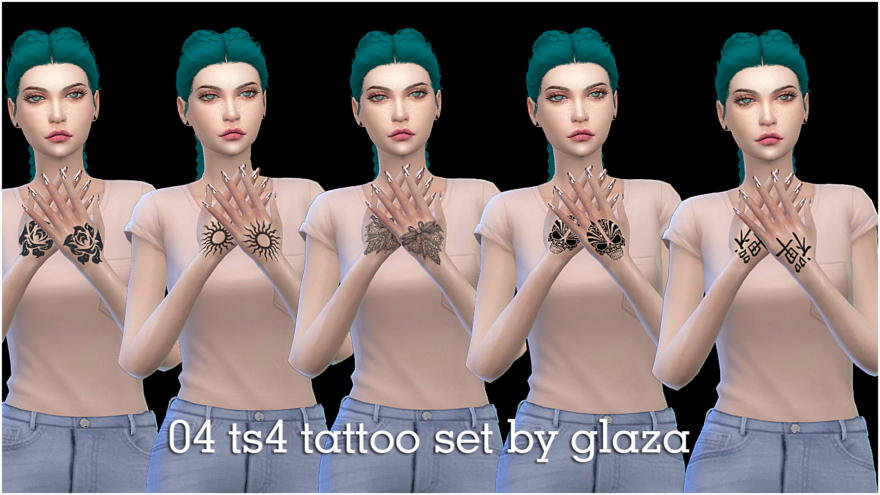 We love everything that is not ordinary and dull, so when we saw this tattoo Set by Glaza, we just gasped!
A fantastic collection of the tattoos for the back of your sim's hand is just something to die for!
The set has an only one-color variant, black, but a whole six swatches! Our personal favorite is a leaf one (it is like a beautiful lacey glove on your hand), but all the others look awesome too!
Just look at those huge roses or stylish skulls with all the detailing — they are simply perfect!
2. Makeup and Tattoos Collection by Jennisims

Talking about edgy! This set is a mix of tribal fury, wounds, and dirt you can get in the battles well known for every warrior.
With this set, your sim now can get the impressive tattoos once allowed only for spectacular soldiers in ancient tribes.
The set consists of different tattoos and makeup elements, clearly inspired by a Native American heritage. These tattoos look very fierce and will be perfect for prehistoric recreations in The Sims 4.
Let your girl show all the glory of these amazing ornaments to all the sims in the world!
1. Back Tattoos Set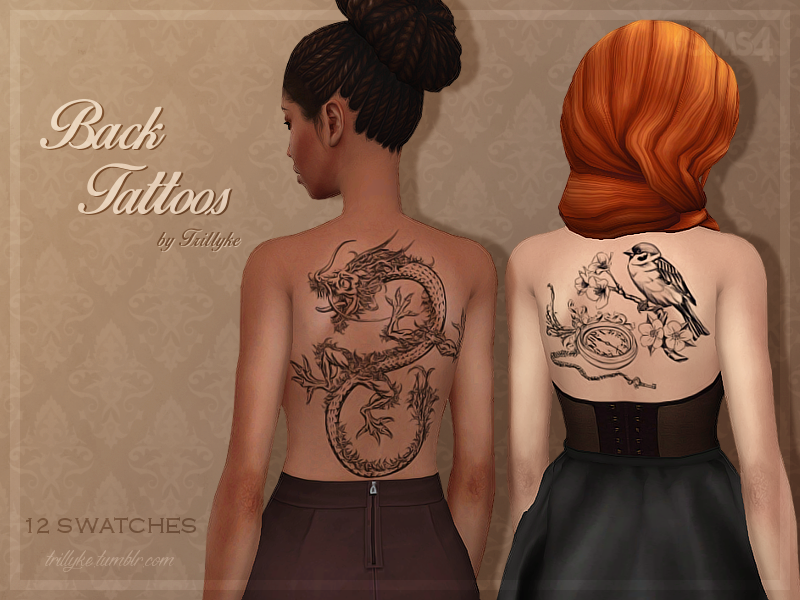 The last one, but certainly not least, the Back Tattoos set, is a perfect ending point in our journey through the world of CC tattoos.
These twelve base game compatible designs are something we all look for in good tattoos for your sims: great quality, interesting swatches, and cool appearance.
From simple flowers and butterflies to complex dragons and dream catchers: this set has it all!
The tattoos are made for female sims, and they look perfect on all skin tones.
You might also be interested in: