What is your dream job? Maybe a famous painter, or a doctor, or perhaps you wished to be an accountant as a kid. But what about your sim?
With all the awesome simmers on the internet, you can find a lot of mods that can make the craziest dream jobs happen! With this thought in mind, we made our list of CC creators' best custom jobs.
We hope you will like it and add some of these fantastic careers to your game.
Best Custom Careers for the Sims 4
35. Bookstore Clerk

Are your bookish Sims looking for a fun and creative way to make some extra money and a career track that suits them? Why not let them become a bookstore clerk?
This career mod for the Sims 4 lets your Sims take on a part-time job as a clerk in local bookstores. With part-time hours, this job is great for your teenagers.
It's a great way to meet new people and get paid to do something they love – reading!
Plus, who doesn't love being surrounded by books all day? It's a fun and unique Sims 4 career for those special Sims.
34. Greeting Card Retail Merchandiser

If you're looking for a fun and creative way to make a living, look no further than the Greeting Card Retail Merchandiser custom career custom content!
In this career, your Sims will be responsible for organizing and stocking the card department at various retail locations.
Duties include unpacking orders, checking inventory, ordering new products, and setting up seasonal displays.
This job is perfect for Sims, who love being creative and working with their hands. And the best part is that you can work your way up to your own office and boss other people around!
So what are you waiting for? Start your new career today!
33. The Selvadoradese Owl Career

The Selvadoradese Owl Career is the unique way to experience classic film noir mystery vibes that you might find in The Maltese Falcon.
You can play through the story as any of the iconic character archetypes, each with their own unique perspective on the events unfolding.
The career is divided into chapters, each one representing a different stage in the mystery.
You'll be engaged from start to finish as you try to solve the case alongside (or against) some of cinema's most memorable types of characters.
With hours and wages based on EA's own careers from the base game, The Selvadoradese Owl Career is a rare gem among Sims 4 mods that add a little extra excitement to your game.
32. Custom University Electives

Sims 4 University got you down? Bored of the same old tracks? Custom University Electives is here to spice up your game with some new and exciting courses!
This mod adds new elective courses for your students to take and works in custom skills from other mods, giving them a wider range of things to learn.
Plus, each course ends with either an exam or a written assignment, so your Sim can really show off what they know!
This mod requires the Discover University expansion pack.
31. Education Transportation Career

Do your Sims have a passion for education and transportation? If so, the Education Transportation Career mod is just what you've been looking for!
In this career, you'll be responsible for transporting students to and from school following a scheduled route.
It may not be as glamorous as a singer or modeling career, but it's just as important!
There are no small jobs for Sims.
You'll also need to ensure their safety and maintain order among students while they are on the bus.
As you work your way through the career path, you'll find more responsibility but also flexibility and a bigger salary.
30. Journalism Career

This mod for The Sims 4 introduces a whole new world of investigative fun as a journalist.
As soon as your Sim joins the Journalism career, they'll receive a brand new trait – the journalist trait.
This will give them access to special social interactions and objectives that will help them work their way up the career ladder.
From intern to editor-in-chief, your Sim will have to use their wit, charm, and skills of observation to uncover secrets, solve mysteries and get the scoop on all the hottest stories!
29. Ultimate Dancer Career

For anyone with a passion for dance, the Ultimate Dancer Career mod for Sims 4 is a must-have.
With this mod, you can pursue a career in dance and choose from a variety of styles, including ballet and modern styles.
A career in dance will test your Sims' worth ethic, physical strength, and artistic passion.
If they make it through the five different levels of this career track, they'll eventually have a full life as a dancer.
It is not the most lucrative track, but it is more fulfilling than a life as a businessperson if your Sim is on the creative side.
28. Makeup Artist Career (10 Levels)

Does your most glamorous Sim have what it takes to be a makeup artist?
With this career CC, you can find out!
This mod adds a ten-level career as a makeup artist, with opportunities to work in high-end salons, fashion shows, and more.
You'll start out as a student, learning the basics of the trade. As you progress through the levels, you'll gain the ability to give makeovers to clients and even become an editor at Sim Vogue.
Be prepared for some drama! If you're interested in the weird and wonderful world of makeup artistry, this mod is definitely for you.
27. Fitness Coach

It's time to get fit!
With this new Fitness Coach career mod for the Sims 4, you can now pursue your dream of becoming a personal trainer.
This mod adds a new multi-level career track, each offering new challenges and rewards.
As you progress through the ranks, you'll gain access to better equipment and facilities, and you'll be able to train more Sims.
You'll also unlock new abilities, such as the ability to give fitness assessments and create custom workout plans.
26. Baller Career

Sims 4 career mods can be about living out a fantasy. The life of an NBA superstar is one of the most common aspirations in real life, too!
This mod allows you to create a sim who is passionate about basketball and wants to make a career out of it.
You'll need to practice your shooting and dribbling skills, as well as learn how to manage your finances, in order to be successful across the mod's three different levels.
25. Career Megapack by Midnitetech

Midnitetech used to offer their career mods in separate packs but now offers all career mods in one package. Why should you have to choose between any of these amazing career mods?
This Career Megapack includes several career mods, a few including accounting, astronomer, firefighting, modeling, paranormal, tailoring, and witchcraft. This is only a short list compared to the 100+ careers in this megapack, too!
This mod pack is downloaded in one zip file that needs to be unzipped in your Mods folder. The creator also notes that you will need the DONTDELETEME file at the top of your Mods folder in order for this zip file to work properly.
24. Mortician Career

Not everyone's dream career is necessarily pleasant, but this Mortician Career mod is a perfect option for any player who wants a grimmer career option.
The Mortician Career includes 10 levels for your Sim to be promoted up to, where they will go to work every day except for Wednesday and Sunday in the beginning.
Your Sim's pay will start at 10 Simoleons an hour, and they will need to build logic and charisma skills for their new job.
What makes this career more interesting is the 16 chance cards specifically made for this career, including paperwork mistakes and dilemmas with customers.
23. Event Planner Career

Planning parties and other events can be a fun career, especially when you see the final result!
The first level of the Event Planner Career mod has your Sim earning 18 Simoleons per hour, working five days, eight hours a week, starting at 10 in the morning.
In order to thrive in this career, your Sim will need to improve several skills, including charisma, comedy, dancing, mixology, writing, and logic. In time, your Sim will be earning 350 Simoleons an hour!
Your Sim will be working from eight to ten hours a day, too, earning between 0.2 and 0.3 of paid time off each work day.
22. Game Developer Career

Sometimes playing video games just isn't enough, so this Game Developer Career mod allows your Sim to combine the programming and video game skills to create games themselves!
As a dream of many gamers themselves, this career mod is a great addition to have, especially if playing the Sims has inspired you to one day make your own games.
This Game Developer Career mod doesn't branch out into separate careers but does have 10 levels that you can work your way up to the top of.
In this career, your Sim will be working starting at 9 am to 5 pm, making 23 Simoleons an hour per day, except Thursdays and Saturdays.
21. Linguist Career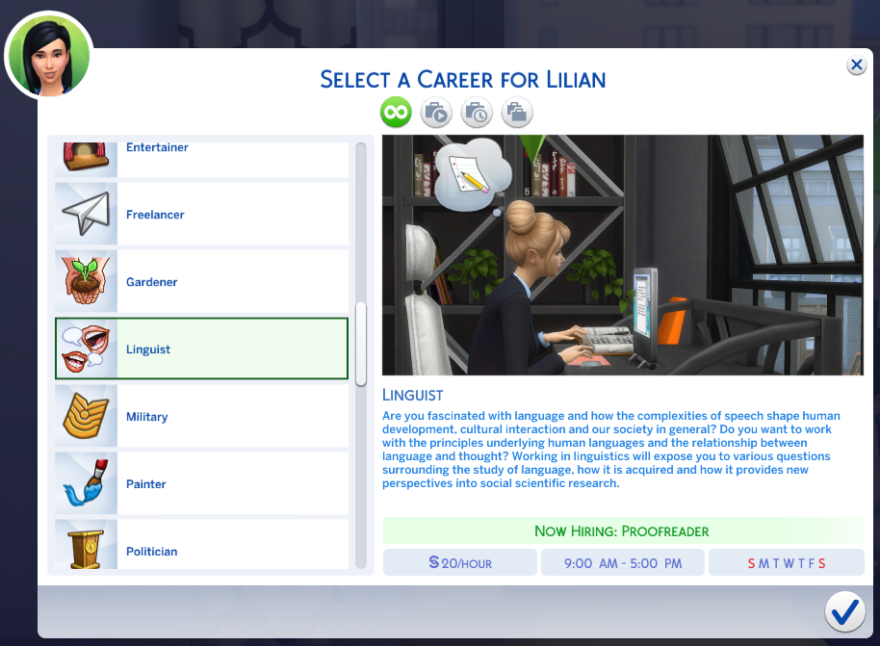 Let's start with something outstanding. The linguist career may look a little bit boring to you, but this particular mod is so good and well done that all your sims may now wish to devote their lives to words.
This mod has so much to offer to you: now your sims will have new custom buffs, incredible interactions, fascinating events, and a lot of new notifications.
It is one of the most well-developed custom careers that was made for The Sims 4. The career has seven paths: linguist, proofreader, lexicographer, digital copywriter, advertising copywriter, translator, and interpreter.
Every career track has many tasks for you to do, involves many skills, and overall provides a good representation of the real-life linguist career.
20. Bakery Career

Oh, sweet rolls, baguettes, cakes, and waffles. We love to eat all these things, but some of us (and their simselves) would like to make them as well!
We present to you a new and improved version of the classic Culinary career in The Sims series — the Bakery Career.
You start as an honest trainee, walk through all the chores, and become the Famous Baker or Famous Pastry Chef. And here you are — on the top of the cupcake throne and having a great time!
The career has two branches you can choose from, and it is an easy and fun job for every sim who loves to eat and feed. Like a piece of cake!
19. Cat Whisperer Career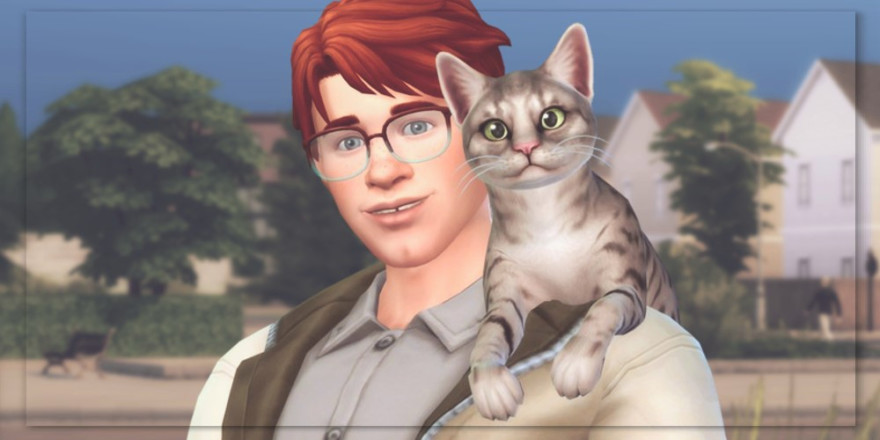 All the world's cat lovers unite and get this fantastic job as a Cat Whisperer in The Sims 4! Career rewards, awesome wages, and of course, a lot of cats to speak and listen to: this is a career worth downloading!
In this career, you can choose from two cool branches.The first one as a Cat Rights activist: your calling will be the protection of the cats' well-being in your world and raise some money for them.
The second branch of the career is a Cat Film Maker. This is a perfect job for those who love their furry friends and the nice bling of a sweet coin.
Making your little friends famous and popular is a great way to be around your favorite meowing fellas all day long and still making money. What can be better?
18. Turbo Careers Mod Pack
This mod changes the game in a way that makes The Sims 4 above average simulators.
Now, most of your careers in The Sims 4 have an open concept along with the Doctor, Scientist, and Policeman jobs that came with the Get to Work pack. Just imagine how cool is that!
Being a master cook, brave astronaut, or a talented painter now is a hundred times more fascinating and exciting since you can follow your sim to his or her work and see how the day is going.
The mod is very cool, and you definitely should try it!
17. Opera Singer Career

What should you do if "La Traviata" or "Rigoletto" left a lasting impression in your heart? Or maybe Diana's Damrau voice keeps your sim sleepless at nights? Then we've got a perfect job for your little ward! The Opera Singer Career!
Be the perfect voice of the sims community and rock that scene! Earn a lot of money and huge fame with your golden voice, and soon enough, you will be a legend of The Sims world.
16. Ministry of Magic Career

All fellow Harry Potter fans, here is the one for you!
One of the most interesting and fantastic aspects of the Harry Potter world is the Ministry of Magic and its weird and complicated system that makes all ofus think: that's a cool place to work!
In the Sims 4 Ministry of Magic Career, you will get a whole seven branches to choose from!
All the descriptions are very accurate to the original story, and you can have the entire family working for the magic government in completely different careers! Warning: not for muggles!
15. 9-5 Career Pack
This is a very cool mod for all the people who want for their sims regular jobs that we, real people, do.
It is a great mod to add realism to your game since most of us can work as an office clerk (included in this pack), butnot as an astronaut.
The pack offers twenty ordinary jobs: dentist, retail assistant, car mechanic, server, secretary, TV presenter, teacher, librarian, housekeeper, etc. Pick one of them and make the life of your sim as simple as you wish.
14. Priest Career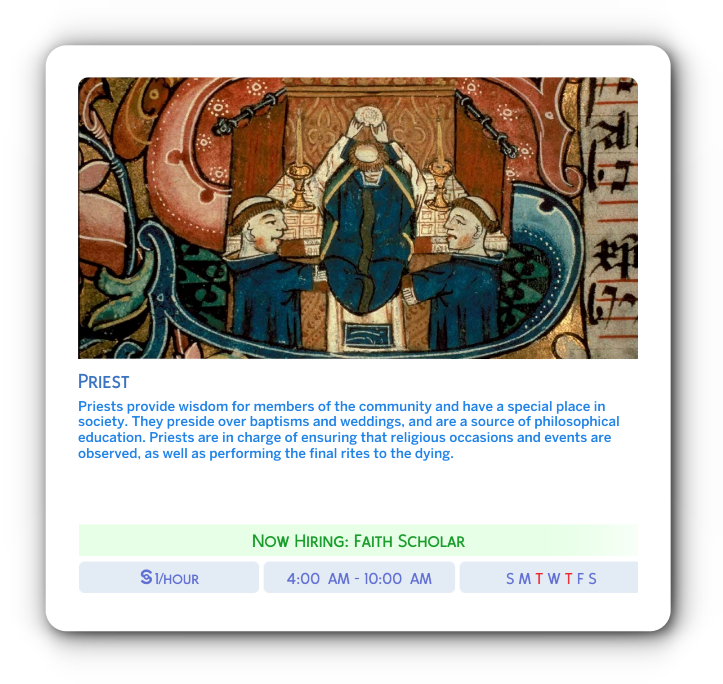 Dear, Watcher I have a confession to make: this career is incredible! The Priest career is a new addition to the sims career family that is true to its original source, The Sims Medieval.
Your sim now is a part of a church, the Jacoban or Peteran, and the hearts and souls of devoted sims are in your hands. Or maybe clergy is your calling?
The priest career is one of the most fascinating custom careers, and you can create some fantastic stories with it in your game.
13. Archaeology Career

Sims historians say that once all sims were flat, they couldn't have babies in hospitals, have pets, and they were immortal.
But since we don't really believe in gossip, your sim should become an archeologist and find out if all the legends are true.
In the new and sparkling archeology career, your sim will work on different skills, do various tasks to become a master in this field, and discover all the secrets of The Sims world.
But don't forget, there will be some challenges, but your work will definitely be rewarded.
12. Unlimited Jobs Mod

Highly realistic mod: in real life, many of us can have two or three jobs to afford the things we need.
Of course, in The Sims 4 world, sims have fabulous salaries and can live lavish lives in Oasis Springs or Windenburg.
However, if you want to add extra realism to your game, this mod is perfect for you.
The mod will help you create a lot of unique stories and achieve awesome milestones in your sim's life. It is a very freeing mod, in our opinion.
11. Health and Medical Administration

Serving in a healthcare system is an honorable role that your sim can take in the Sims 4 world only as a doctor.
But, with a little help from this mod, your sim can now take place in the healthcare system as administrative staff.
Starting from the simple receptionist work, your sim will be growing in his or her career and helping other sims to improve the health of the whole sims society. What a noble job!
10. Hunter Career

Let's look at this fun and unusual career inspired by the famous manga/anime series Hunter x Hunter. The job is very detailed and well-developed: it has whole eleven branches to choose from!
The author created a massive career with the work from home options, promotion objectives, and many cool surprises for manga fans!
It is one of the best careers we've ever met in The Sims 4 CC world, so if you are a manga fan, you will have a lot of amazing experience with this mod!
9. Youtuber Career

These days YouTubers are new celebrities, and we all wondering: what our lives could be as YouTubers? So, the lovely ItsMetroi made that happen!
We present a sparkling, unbelievable, and fabulous life as a YouTube star for your sims!
This rabbit hole career offers you to try your sim in the range of ways you can make it on YouTube: from vloggers to makeup gurus.
Your sim will have an experience that any other typical YouTuber may share, and we sure he will love it!
8. Political Causes Have Realistic Names

Don't you hate that tacky names a particular area of the game gets? We all love The Sims team's humor, but sometimes things just need to be called differently.
In this case, our lovely mod creator made a beautiful mod that renames all the causes of the political career that came to us with the City Living pack.
No more "Speak for trees" or "Foundation for Less Mischief" causes. Now your sim will advocate for important issues like the "Racial Equality Movement" or "Reformation Movement."Sims are for causes that matter!
7. Wedding Planner Career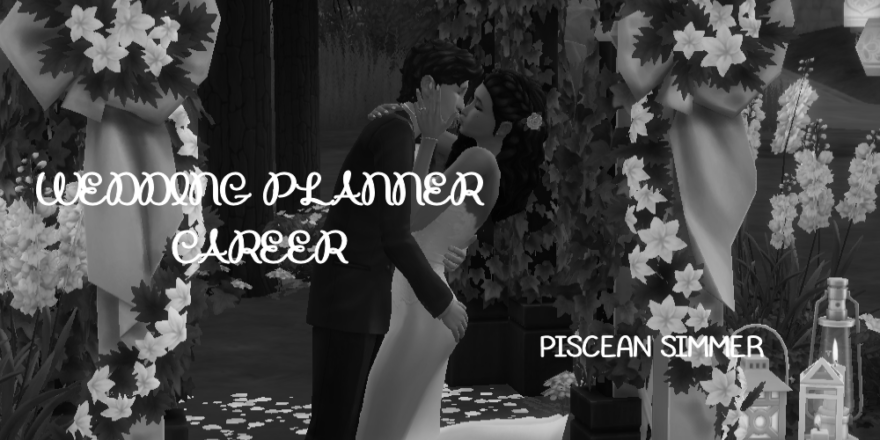 Does your sim have style and good taste that will help other sims have a fantastic wedding? Does your sim love to celebrate the love? And, will your sim enjoy being a master wedding planner?
With this new career, every sim can now become the most important person in sims' weddings — their planner! Choose flowers, help with bridezillas, and make a buck while making dream weddings possible. Best job ever!
6. Accountant

Accountants are the supermen of our business lives. These people keep us out of trouble and help with all our profits and losses.
Being an accountant in The Sims 4 is a cool idea, and a lot of players wanted this career for a long time because The Sims 2 had it. And we had fun!
Start as a Bookkeeper and walk your sim through the road of numbers and balance to the incredible opportunity to become a Finance Minister.
The job requires logic and charisma skills from a sim, but it will give him or her many simoleons in return. Salute to the genius of numbers in The Sims 4!
5. Self-employment Career

Being a business owner is a very good way for your sim to make some cash and be with their family more often.
But, if the family of your sim does not like the idea of their child being a free artist or a master in candle-making, or you want sims around to know that your sim is a business owner, you can now become a part of a self-employment career!
This job fills up your career panel, and now your sim is self-employed, and you can give him as many tasks as you want or run the business with more official status. This mod was created for role-playing, but we can see a lot of areas you can use it in The Sims 4.
Your sim now can say that he owns a business, like a restaurant or a vet clinic, and other sims will not consider him or her as unemployed. It is just that tiny thing that makes a huge change in your whole life simulation process.
4. Stock Broker Career

Huge career for the true climbers in The Sims world. This amazing job has twenty-six levels (that's a long ladder to climb!) and offers you an unforgettable experience of becoming the top broker in The Sims 4.
The job brings lots of simoleons with it, but the career path will not be easy: your sim will have to learn various skills, make a lot of effort and work long hours to make the dream happen.
This career offers you something different than regular sims jobs, and it is surely a fascinating one!
3. Ultimate Military Career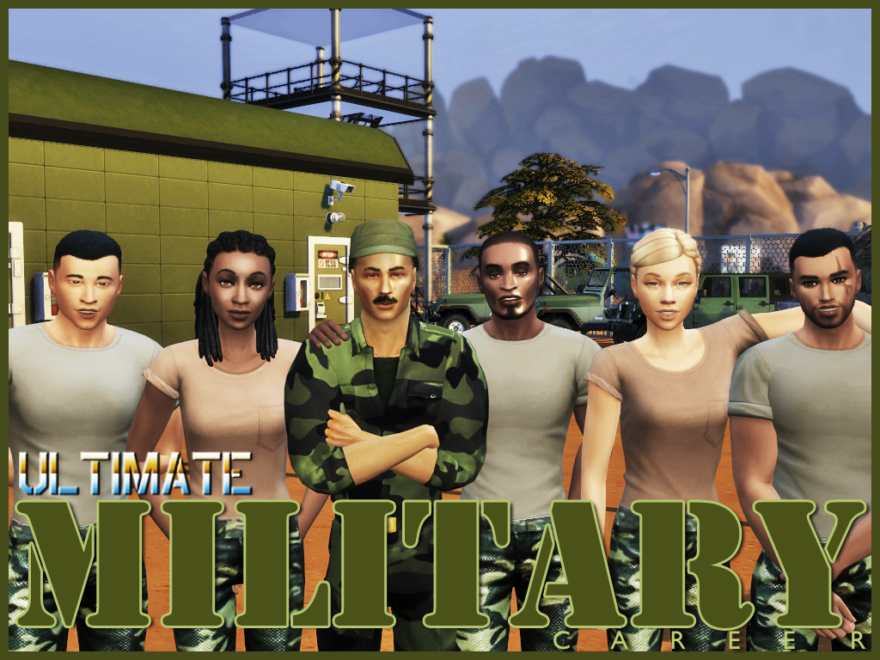 The Sims universe has a military career in every game since the beginning of the franchise. But, this mod takes the classic sims career to the next, and may we say awesome level!
In the Ultimate Military Career, your sims will be serving their country and protecting all the things sims love: grilled cheese, llamas, chicken jokes, and lamps of clay.
The career has five branches for you to choose from: the air force, army, coast guard, marine corps, and navy. Actual ranks, military details, and fantastic themed CC waits for you in this amazing career for your sims!
2. Supernatural Stalker Career

Everybody loves sims, but some sims hate occults! That's why they will like a new Supernatural Stalker career where they will become a master occult hunter.
Of course, the mod requires some packs, and if you have Vampires or Get to Work, you will have the time of your life with this job.
The career has four branches that open you a door to a world of ghosts, vampires, and yeti hunting in The Sims 4. So spooky and delicious!
1. Journalism Career

Brave journalists are the voices of free speech and democracy. That's why having this kind of a career in The Sims 4 is very cool!
This mod is a rabbit hole career with standard ten levels, but oh, we don't think that it is an ordinary job.
You will conquer the world of words and freedom of speech and making a career at telling the truth to the sims!
You might also be interested in: