Sims have to look their best when they're going about their day to day lives. The beauty of finding clothing mods is we can dress up our Sims the way we want to, even if we can't afford to actually do so ourselves or don't feel confident enough.
It can be overwhelming and exhausting to find the best of the best of the best that exists out there with so much out there.
Lucky for you, here is a list of the top 28 best Sims 4 clothing mods, so you can achieve your dream Sim without the stress and hassle of searching the internet for hours on end.
Best Sims 4 Clothes Mods
30. Missy Cropped Pants
This loose-fitting cargo Missy Cropped Pants is a great clothing CC addition to Sims' wardrobes with funky fit flair!
These pants come in 15 color swatches, including bright orange, a stunning green, and a mystifying purple, as shown in the promo photo.
These cropped pants make for a great addition for players looking to dress their Sims in more of a dystopian, cyberpunk fashion or who are aiming for the peak male K-pop idol look.
The photo shows these pants paired with chunky white sneakers, but they would also pair well with chunky black boots.
29. Cozy Set 113 (Top+Cardigan)

Looking for the perfect top for your Sim to run errands in a while still looking comfortable? This Cozy Set 113 is a perfect choice, as it features a cute crop tank top with an oversized cardigan that wraps around your Sim's shoulders.
In the promo photo, this set comes shows off a fuzzy texture in a cute chocolate brown colorway. This CC item also comes in 11 other colors.
The Cozy Set CC is useable by Sims who are aged teen to elder and for female Sims only. The pants are a separate download, but this top set would also look cute with a pair of jeans or sweatpants and sneakers.
28. Jacket Shirt
Traditional button-down shirts are good as business casual, but around here, we strive for more than being good enough for just the office. We want something new, something stylish, something exciting!
We can wear a piece when we're trying to look more mature and for when we have a casual dress-down day.
The Jacket Shirt is like if the button-down was reinvented. A hybrid between a cardigan and a normal top, it's features include chunky buttons on the front with 13 swatches to choose from.
Watch how the mood changed when you pair it with your favorite pair of jeans compared to a pencil skirt. You'll see how versatile it truly is!
27. Boba Fett's Armor Cleaned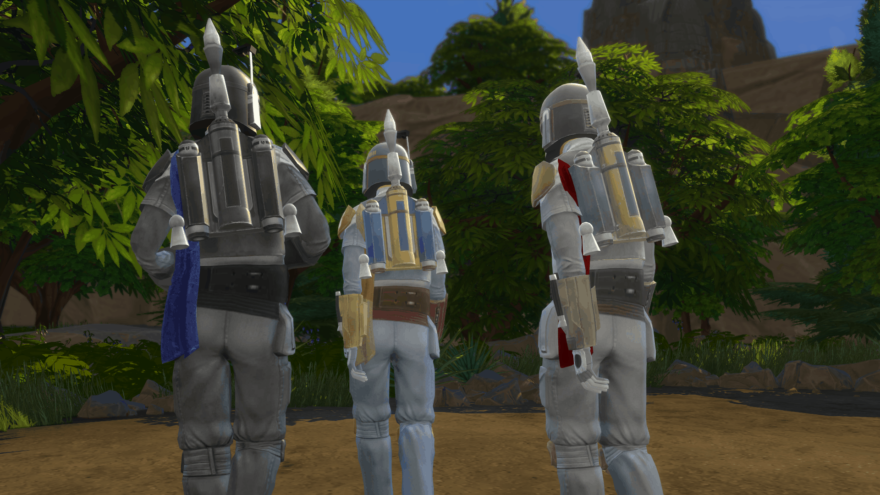 This clothing mod is a great option for all of our nerds out there because if you're a fan of The Mandalorian, then you have to check this clothing mod out!
With the addition of the Star Wars Expansion Pack that The Sims recently released, having better armor is going to be essential.
Complete with armor and helmet, your Sim can dress the part whether they're actually partaking in the expansion pack's activities or not.
No rules apply when you're playing the Sims, so feel free to wear your revamped armor out to the library or to class!
26. Tifa Lockhart
A game release from 2020 that had everyone more excited than they had been in a long time was the Final Fantasy VII Remake release.
It lived up to it's potential, and a lot of us found ourselves finishing the game and being left with a hole in our hearts where the game had previously been.
You could always replay the game, but another option to fill your need for Final Fantasy is to play as them in your Sims game!
This clothing mod allows you to dress up like Tifa Lockhart and comes with everything you need to make your Sims cosplay (or your Tifa character if you want to pretend that your Sim is her!) as accurately as possible.
25. Male Jumper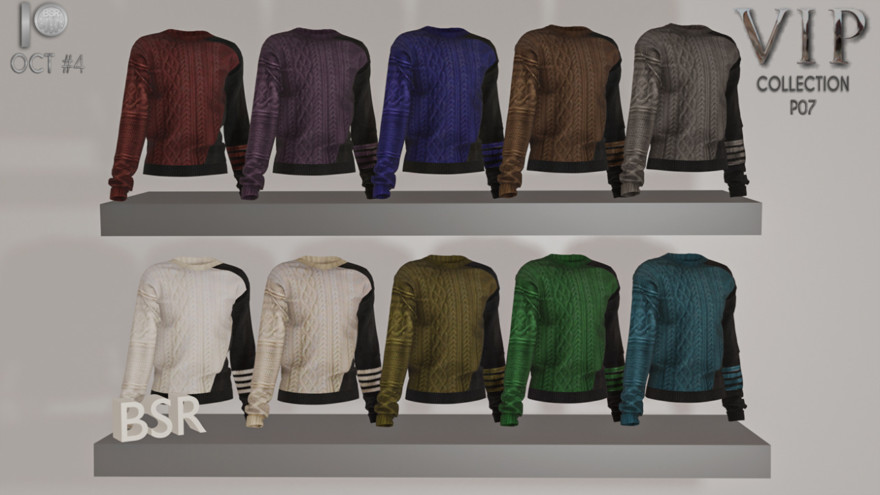 I'll go ahead and say it, a lot of the male clothing options are underwhelming.
It's unfair that our lovely female Sims have hundreds of options to choose from when they're picking what they're going to wear, while the guys are left with sweats and a t-shirt. Why not step up their wardrobe and give them something much more appealing?
The Male Jumper is a simple sweater with a unique print to it. Avant-garde prints are perfect for your male Sims who love art and design, want to present themselves well, or even need a simple solution to clean themselves up without having to do too much work.
Not to mention, this jumper is well-textured for a lifelike effect and comes in 10 colors so they can wear their new sweater more than once without having to repeat an outfit.
24. Velvet Dress
From the same creator that gave us the Male Jumper, we have an equally fashionable option for the ladies with this stunning Velvet Dress. Velvet has quickly resurfaced in popularity.
It's been seen on tops, bottoms, skirts, and even sometimes in shoes, and now it's made its way to dresses for your Sims to wear, as well!
It's not your mother's dress, and it's probably not something you would wear around them, either.
But for those nights where they're invited to the most popular party late at night, or they have a date and want to look extra sexy, this cut out pink velvet dress is sure to wow everyone around them and leave a great impression.
23. Converse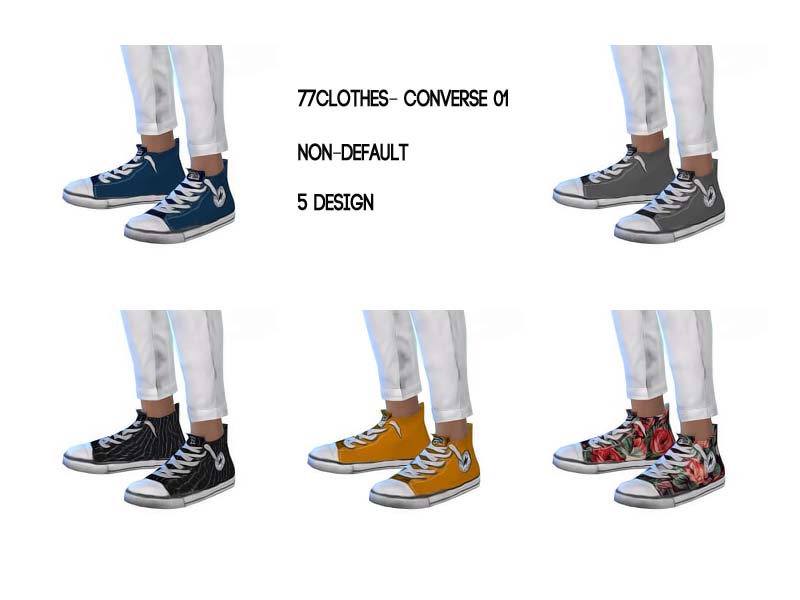 The converse is a staple shoe that has been around for years.
They're comfortable, they can be worn with just about anything, and they're nostalgic for many of us who had this as our go-to shoe when we were in grade school. Now, it's our Sims turn to rock the converse!
Whether you're thinking of designing a workout outfit for their next run around the block, or you need a casual shoe when nothing too exciting is going on, you can count on these shoes to pull the look together and keep your Sims feet feeling comfortable.
22. Ramira Top
Two worlds collide as this shirt combines the elements of a sweater with a normal long-sleeved shirt.
We're always looking for something new and exciting to try out when we want out Sims to have an updated look, and having a piece as bold as the Ramira Top is just the thing you were looking for.
It's made complete with its ribbed detailing, off-the-shoulder style, and cropped length, making it an easy top to wear for your Sims everyday outfits. It's not too much, yet it's not too simple- it's just right.
21. Shirts & Denim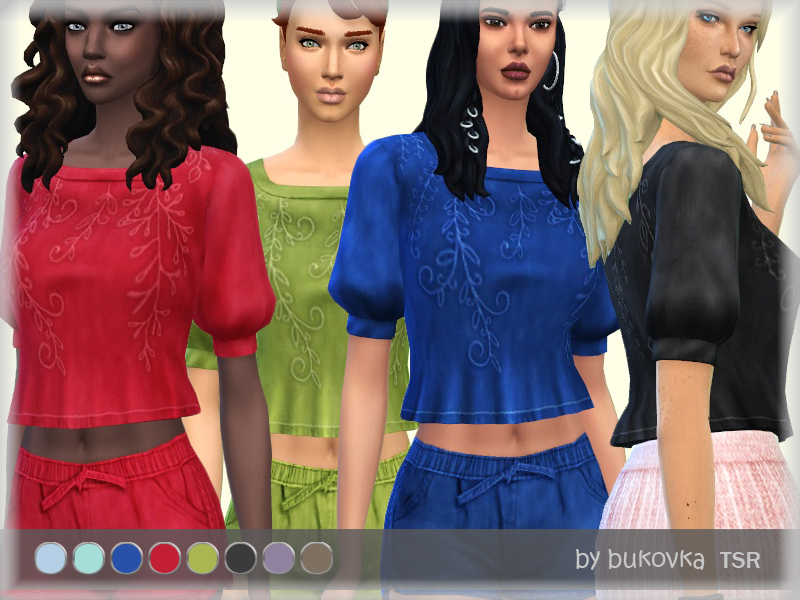 Matching two pieces are a great way to create cohesion in an outfit, especially when they match. This set by Bukovka is a great example of how a two-piece is a great way to dress up your Sim.
With embroidered details on the top and matching fabric for both pieces in the set, this can be worn on fun spring days, paired with a pair of comfortable shoes and your favorite accessory.
20. Slinky Cowl Neck Bodysuit
Nothing is more annoying than when you finally find the right tank top that you want your Sim to wear in the summer, and it doesn't tuck into their pants.
Personally, I've always been a fan of the tucked-in look- I think it looks much cleaner than having their shirt awkwardly fit over the top of their jeans. What's the easiest solution to this problem? Bodysuits.
If you're also a fan of having your Sims tops tuck in, then try looking at this bodysuit. The Slinky Cowl Neck Bodysuit is great because it's basic, and everyone needs a good amount of basics in their collection!
It also comes in multiple colors so that you can choose your favorite to pair with jeans, leggings, or skirts for every occasion you need a tank top.
19. High-rise Skirt
People seem to love the 90's, it reminds us of when the world seemed simpler, and people were happier. Maybe that's just because their clothes were a lot cooler than ours are today.
The industrial style was really popular in the '90s, and it's perfectly embodied in this High-Rise Skirt.
This skirt is a long skirt, just barely reaching the ankles, and features chunky pockets and a zipper that makes us think of the mall goth aesthetic that was popular at the time.
18. Bakugo T-shirt
For all my fans of My Hero Academia, this one is for you.
We all love Bakugo, even though he comes off as a rude prick sometimes. We can't help it. We want to see him succeed, even if that sometimes means rooting against Mydoria (which is really hard to do, admittedly).
If you want to spread your love for this anime into your Sims 4 game, you can easily do so by simply wearing a graphic tee of one of your favorite characters for the show.
17. Kim Kardashian Met Gala Dress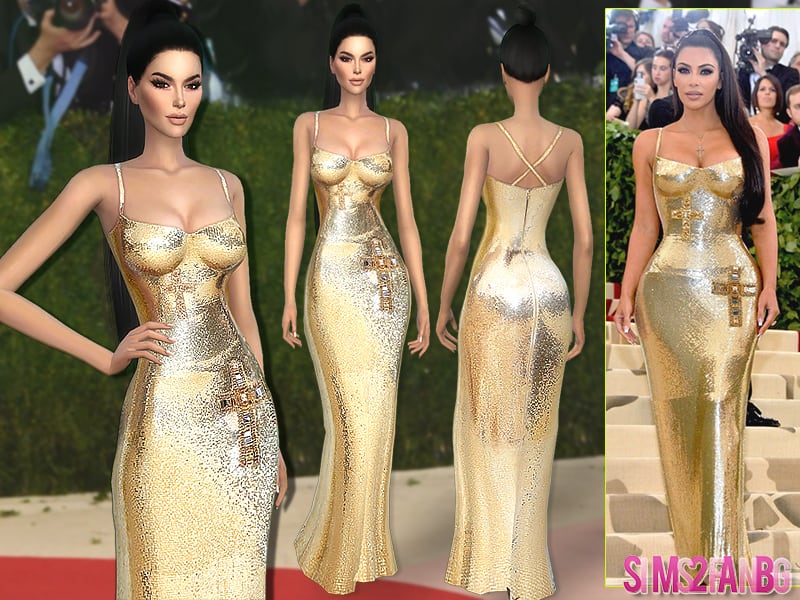 The next time your Sim gets invited to a super formal event, make sure that they look a little extra. After all, they deserve it! Why not go to a fancy party dressed up in a super iconic dress, Kim Kardashian's Met Gala Dress, from 2018? There's no rule that says that you can't!
Of course, to fit the mood, you're going to have to find some super shiny jewelry and shoes that are as extravagant to match the dress's mood, but then the look comes together, your Sim will look like an A-list celebrity!
16. Socks Kitty Paws
Your cat-obsessed Sims will love wearing socks that have kitty paws on the bottom of them!
Now they can match their feline friends as their relaxing around the house with these thigh-high socks at all times of the day.
What makes these socks even better is that the paw detail is subtle. If your Sim were out in the world wearing these with shoes on, no one would know about their cat secret- so go ahead and pair these with a skirt and wear them outside. We won't tell anyone.
15. Bandana Top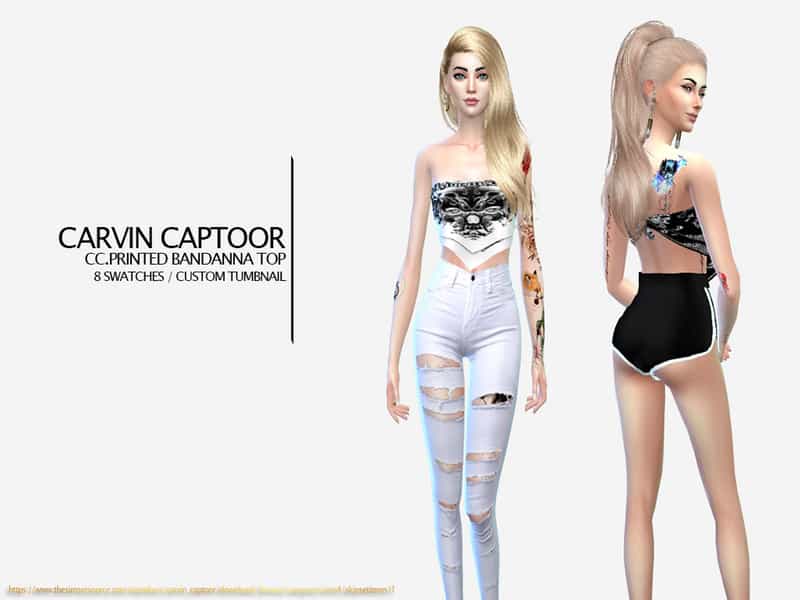 This cropped, loose-fitting top is essential for the hottest months your Sim is going to have to face. There's no reason they should have to beat the heat by sacrificing style. Instead, opt for wearing a Bandana Top.
The title says what it is, officially making bandanas one of the most useful, versatile accessories available to us.
No longer are we left with this awkward piece of fabric that they don't know what to do with.
Paired with a pair of jeans or shorts, your Sim now has a creative shirt that will have their friends thinking, "Why didn't I think of that?".
14. Gilet Design Dress
The Gilet Design Dress is a simple way to make your Sim look girly and youthful.
Having a layered look added to a dress is a great way to bulk up for seasons like spring, where it may not be warm enough to wear the top layer on its own, plus it looks modest and sweet.
This dress option comes with multiple color combinations, with some of the tops even having fun prints on them, so you can find the perfect dress for your Sims mood and personality.
13. Athletic Shorts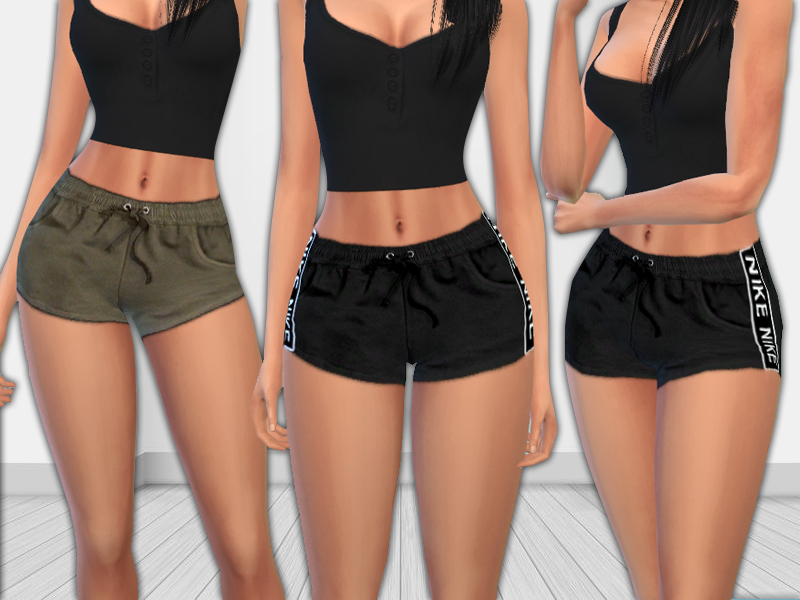 Every girl needs a reliable pair of casual shorts, and girls in the Sims are no exclusion.
Casual shorts are a necessity for our sporty Sims, whether they're just hitting the gym or they're playing a sport with a group of friends.
Not to mention, for other Sims who may not be as athletic, shorts are wonderful for wearing around the house or to bed.
Whether your Sim likes the look of athleisure or wants something comfortable and functional for when they're running around, these shorts are sure to keep them covered while they look cute and ready for action.
12. Cotton Dress
Have you ever seen a dress more adorable? Admittedly, I tend to play the Sims without children, but this Cotton Dress makes me want to add one to my household!
The lovely pastel colors in the dress are complimented with the floral design, which is a great option for when you're looking to dress up your little girl in something sweet and feminine.
Not to mention, dresses are fantastic for children because they allow them to move freely and with ease while your parent Sim can feel confident in their child's style choices.
11. Shakeproductions 275- Swimwear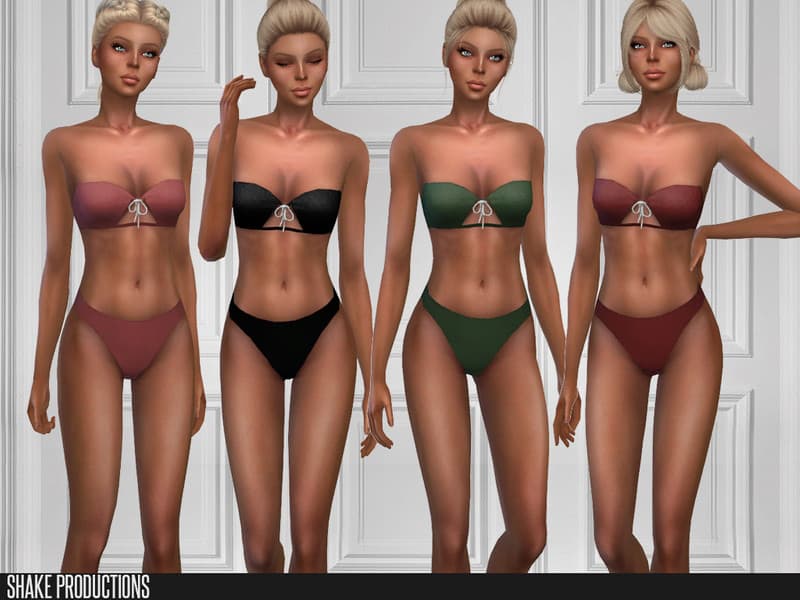 Swimwear is another category where The Sims base game is lacking in. The options are boring. We've all seen the colors before- we need something new!
Our Sims want to look sexy in their swimwear at the beach or by the pool, which are the vibes that the swimsuits we've been provided serve us. Therefore, we turn to clothing mods for a better solution.
The ShakeProductions 275 Swimwear is exactly what we meant when we said we want a cute bikini. With the bow tie detail in the middle of the chest, it's a simple piece that shows off a little skin, making it perfect for relaxing by the water.
The color options are also fantastic, with basic options like black and dusty pink, that will soon become your Sims new favorite to wear in the summer.
10. Ribbed Button Front Bodycon Dress
On relaxing summer days, your Sim should have a simple daytime dress that they can rely on to dress them up while the sun is beating down.
The Ribbed Button Front Bodycon Dress hugs your Sims curves in all the right places while keeping the design to a minimum with small buttons running down the front and basic colors like black, dark blue, and purple.
9. Violet Ahs Top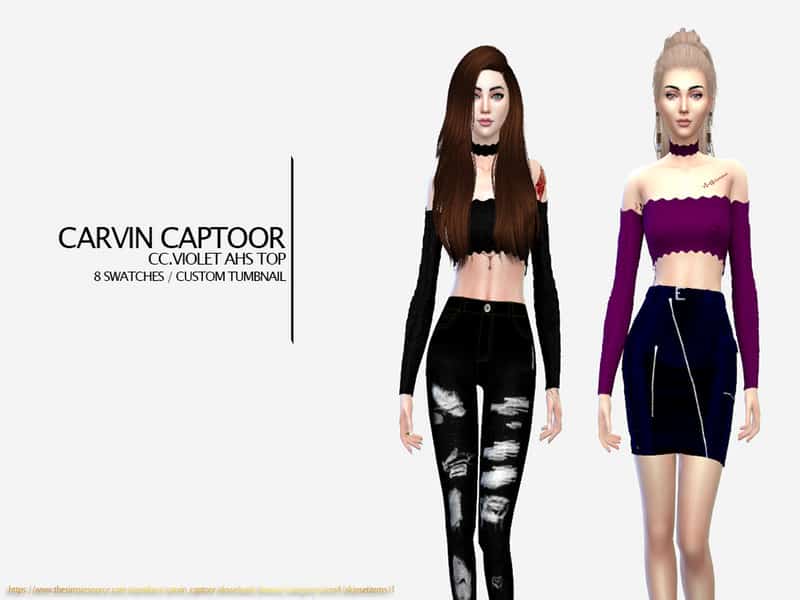 A cropped, off the shoulder top is just what your Sim needs when they're trying o make a good impression with their clothes, but they don't want to be too loud about it.
The kind of piece that's sure to get a compliment or two, but not make them the center of attention. As a fellow wallflower myself, I can definitely say that that reigns true.
This crop top is exactly what I mean by that. Paired with some distressed jeans and even a pair of heels for when it's girls night, you're sure to have yourself an outfit that you'll love seeing your Sim dressed up in.
8. Panda Overalls
Another option for the kids out there! What better for your toddlers than having an adorable set of panda overalls?
They can dress up like one of their favorite animals whenever they want to, with a sleepy panda bear face on the front of their clothes.
7. Goth Mini Dress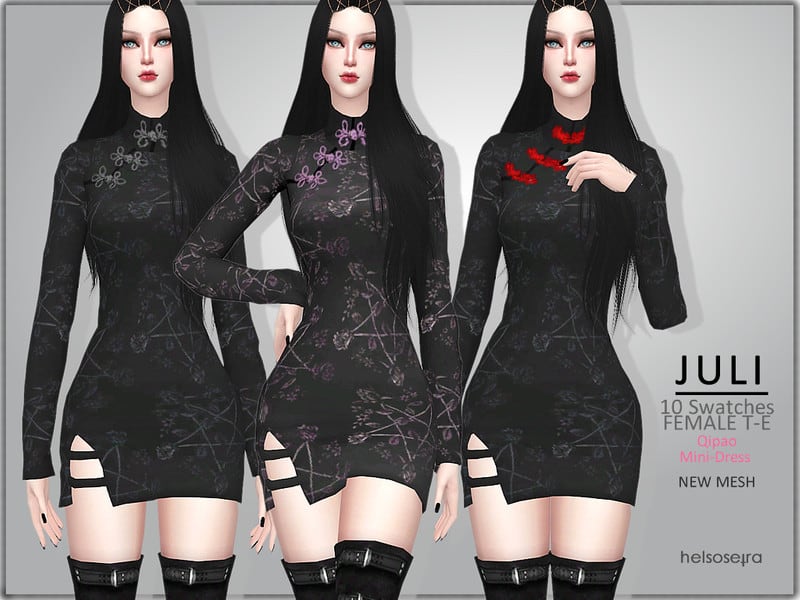 The alternative kids need some clothes to choose from, and the Goth Mini Dress makes it easy for them to choose their favorite.
Whether they're an angsty teen going through a phase or an adult that likes all things dark and creepy, this dress gives off just the look they were hoping for.
Some of its main details are the collar, the wrap-around style of the dress itself, and the slight slit at the leg.
Paired with the thigh-high boots similar to what's shown in the thumbnail of this dress, your gothic Sim is going to kill it when they wear this dress.
6. Ceres
A simple, golden ruffled skirt for all of your girly clothing needs.
High-waisted so your Sim can pair it with crop tops and flowy enough for it to covey a free-spirit feeling, the Ceres skirt is perfect for trendy, and boho Sims is alike.
5. Casual Top Tees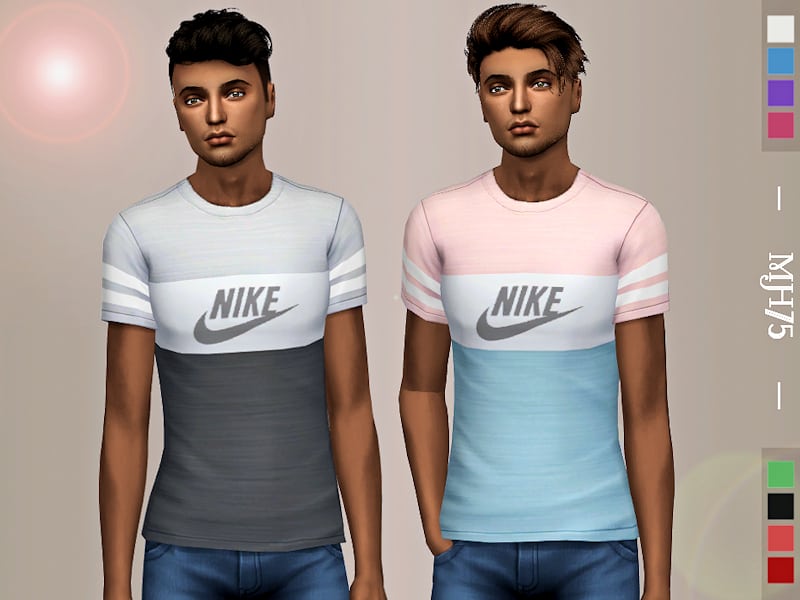 Not every day has to consist of wearing something super fancy. A simple Casual Top Tee will suffice.
For the days your Sim is stuck at home working their day away or not up to much at all, they can look to these t-shirts with the Nike logo to keep them covered.
4. Billie Eilish Style LV
Billie Eilish is one of the most popular pop singers in today's world, known for her incredible vocals and her unique sense of style.
This singer can often be found wearing an outfit that prioritizes the ultimate comfort, and who can blame her?
This LV outfit inspired by similar looks she's been spotted in is no exception. Now your Sim can dress like your favorite artist!
3. Genius Empress Dress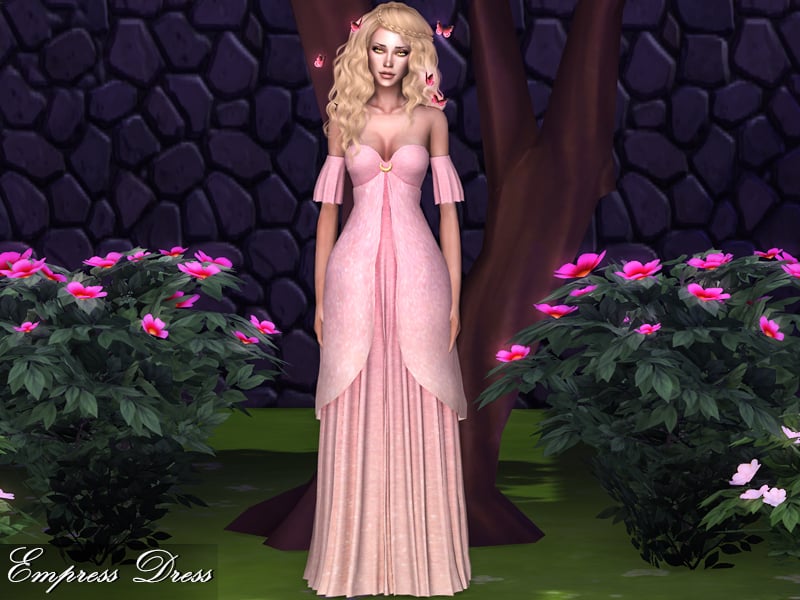 The Genius Empress Dress is something straight out of a fantasy novel. It looks like it comes along with romance, adventure, and sword-wielding knights.
If those elements are your thing, then this dress will help you create the most magical medieval scene in your Sims game possible.
2. Shake-productions 106-4 Leggings
Basic, boring black leggings serve their purpose, but if you've learned anything so far, it's that there's always a more exciting option waiting around the corner.
These leggings by Shake-Productions will give your Sim both comfort and an exciting twist to their normal legging options.
1. Slice of Life Mod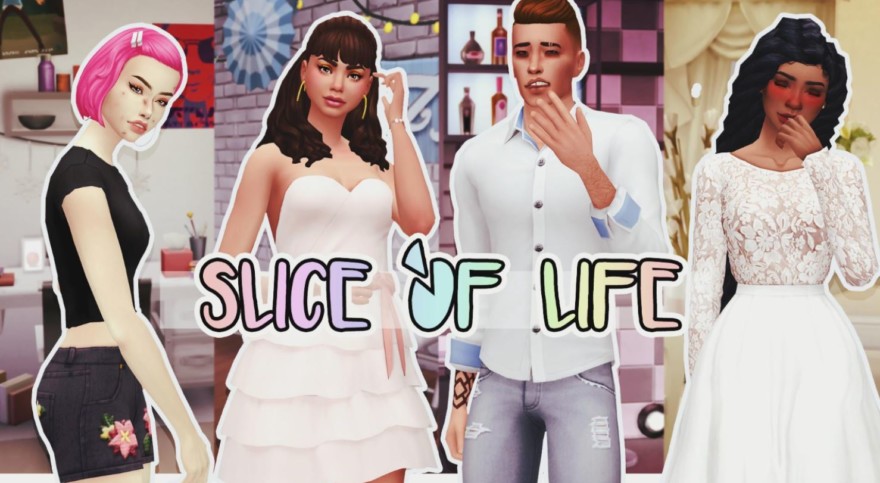 Finally, if you're looking to make any and all of your Sims outfits look better, you need to equip this mod to your game.
The Slice of Life Mod is simple, it enhances the way that your Sims look- including their clothes!
For the best, most realistic gameplay that you could ask for while playing The Sims 4, look to this mod by KawaiiStacy and watch how the quality blows you away.
You might also be interested in: