Nothing is more exciting than getting to dress your Sim up to your heart's content.
Finding the best outfit for lounging around the house, hitting the gym, or meeting up with friends at that super-secret nightclub is half the fun of playing the game!
If you're feeling bored with what's originally offered to you in terms of clothing options, then you're in the right spot. These are the top 30 best Sims 4 CC Clothes!
Best Sims 4 CC Clothes
40. Toddler Dress

This piece of Sims 4 CC clothing is a clean, classic dressy look for the most stylish Sim toddlers.
Toddlers are cute little people that you can dress up in all sorts of fancy clothes. You can give them a pirate hat or a princess crown, or even dress them in some medieval armor!
In The Sims 4, there is a plethora of custom content to keep your little ones looking stylish.
This outfit is a simple long-sleeved top with a fun patterned skirt, perfect for formal events or playtime around the Sim household.
39. Sweater Vest High School Years

This clothes mod includes preppy sweater vests for your Sims to wear. The sweater vest is a love-it or hate-it garment; we love them.
Nothing beats a sweater vest when you need your Sims to look like presentable gentlemen.
This CC pack contains four different eye-catching patterns that range from classic to wild. Whether your Sim is going to school or visiting the club, a dapper sweater vest is a good choice.
We're partial to the leopard print sweater ourselves.
38. Jung SU

This piece of clothing is perfect for sims who want to add a touch of formality and modesty to their outfit.
The tight-knight skirt and bolero jacket come in grey or beige, and they are sure to make any sim look great.
The bolero jacket is especially perfect for sims who want to cover up their shoulders or arms, and the skirt is long enough to ensure that sims remain modest.
This piece of clothing is sure to become a favorite in any sim's wardrobe. There are some distinct English and Sherlock-y vibes with this outfit.
37. Esteban Top

The Esteban Top is a slick tank top that adds to any low-key Miami look.
This breezy shirt is the perfect blend of masculine, relaxed, and stylish for your male Sims.
There's no doubt about it, tank tops are one of the most stylish and versatile pieces of clothing a man can own.
Hitting the gym or just heading out for a casual day in the sun, a tank top is the perfect way to show off your muscles and keep cool at the same time.
36. Skeleton Tank Top

Relive your Hot Topic days through your digital family with this Sims 4 clothes mod that adds a skeleton-printed tank top shirt.
This top for female Sims is edgy, fun, and definitely makes a statement. But the best part about it is that they're still pretty and girly.
For players looking for a way to make their Sim stand out from the crowd, this is definitely the shirt for you. Just don't be surprised when all the other Sims start asking yours where they got it.
35. Slinky Side Cut Out Crop Top

This top screams Instagram fashion.
Cutouts are a big trend right now. They're super fun and sexy and can add a touch of spice to any outfit. They're incredibly versatile – you can wear them with jeans, skirts, or even shorts.
And, if you're feeling really daring, you can wear them with nothing at all.
If you're looking for a trendy Instagram fashion top with revealing cutouts for your Sims, we would definitely recommend this Sims 4 custom clothes mod.
34. Sequin Strapless Mini Dress

Sequins aren't just for pop stars and showgirls; anyone can give the sparkly material a try.
CC creators outdid themselves when they made this sequin mini dress. It boasts a beautiful, prismatic scale texture with colors that evoke the seas.
A sequin mini dress is the perfect party outfit. It's fun, festive, and flattering; it will make your favorite Sim stand out in a crowd.
If you're looking for a head-turning outfit that will get you noticed, a sequin mini dress is the way to go. If you're worried about them looking over-the-top, don't be. A little bit of sparkle goes a long way.
So go ahead and let your Sim shine brightly in a sequin mini dress. They'll be the life of the party – and look amazing doing it.
33. Bianca Dress

The Bianca dress is a great addition to any sims wardrobe and character creation. This dress is perfect for the summer season and pool parties, with 21 colorways.
This dress CC is a high-low dress, shorter in the front and longer in the back, and looks like a two-layered dress.
Alongside solid color choices, this CC also contains patterns, such as clouds and flowers. It is also off-the-shoulder, so this dress could be great for when your sims go on dates!
This CC is a great option to download for a fun summer outfit and for players who want their sims to have a cottagecore, fairytale look.
32. Couch Potato Set

Sims 4 has more pajama options and some clothing choices that look kind of comfy to lounge in, but the game doesn't come equipped with clothing specific for lounging, which is where this CC comes in!
The Couch Potato set comes with clothing and hairstyles and hats that all come in a wide variety of colorways.
This CC pack is built for both feminine and masculine-presenting sims, including ponytails, pigtails, and short hairstyles that are hat compatible.
The clothing features baggy T-shirts and jogger pants and comes in 25 colors, while the hairstyles come in 18 colors.
31. Scarf Collection

Scarves aren't only for winter; sometimes, your sim needs a light scarf to finish any outfit in fall or spring. This Scarf Collection features four scarves, each with its own set of color swatches and patterns.
Scarf number 1 is bundled up, cozily protecting your sim from any chill. Scarves two and three are more relaxed, hanging loosely around your sims neck and both come with a variety of interesting patterns.
Scarf number 4 is a shoulder scarf, for those days, your sims need a preppier look.
All four scarves are wearable for both male and female sims and can be found in the necklace section of your accessories.
30. Kressley Collection
The guys in our household need to feel fancy, too. There's also never enough bright patterned options for the men who like loud and in your face prints that are sure to get them noticed.
The Kressley Collection comes with a variety of boldly designed blazers for you to choose from, perfect for any party or date night where they know they're going to have to dress their best.
29. Ripe Stripe Joggers

Everyone needs a staple pair of joggers for when they decide to hit the gym, or like an athleisure look for hanging out at home while they're busy at their computer job writing the next best-selling children's book.
These Ripe Stripe Joggers are reminiscent of Adidas joggers, making them sleek, stylish, yet relaxed, the perfect look for someone who wants to dress down but not look like they were lazy while constructing their outfit.
28. Affinity Jeans

Everyone loves a good high-waisted pair of jeans. They're always made out of the best materials, look flattering on every body type, and give your look a vintage feel, no matter what you decided to pair them with.
Dressed up or dressed down- it doesn't matter! The beauty of high-waisted jeans is they fit with every combination imaginable.
These jeans come in a variety of colors to choose from and come with two versions- one with rips in the knees and one without. Not to mention, the belt is a great finishing touch.
27. Coven Set

Whether you're looking for the perfect thing to wear to your Sims next Halloween party or they're someone that loves crystals and tarot cards, the Coven Set is a mythical set of pieces to help channel your Sims inner witch.
From spooky jeans with a rope belt tied at the waist to celestial dressed covered in moons and stars to fit the mood, these can be mixed and matched to your heart's content to create the perfect witchy look.
26. Candy Top

Not every piece in your Sims wardrobe has to be over the top and crazy. A casual top can sometimes be just what they need to create looks for when they're doing the mundane at home or running around town.
Dyoreo's Candy Top is casual with a hint of sweet, featuring rainbow buttons running down the front of the cropped shirt, and comes with a total of 20 swatches consisting of both ribbed and standard fabric options. Everyday outfits just got a whole lot better!
25. Dynamite Jumpsuit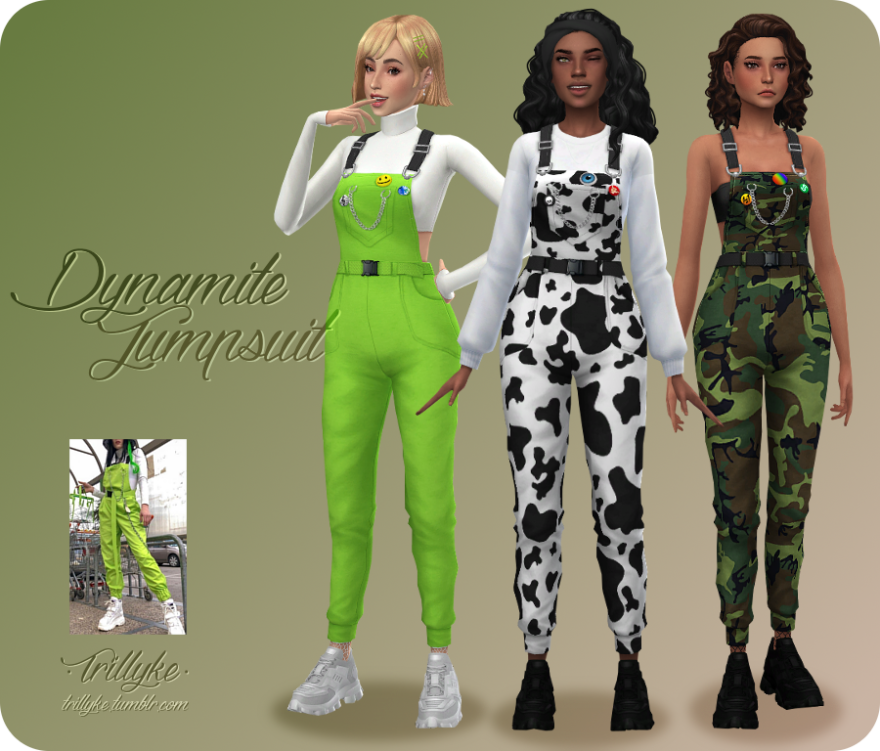 Arguably one of the most versatile articles of clothing out there, jumpsuits have made a comeback for an older demographic and, well, we're in love with them.
Already paired with a cropped, long-sleeved turtleneck, the Dynamite Jumpsuit offers an edgy twist to an otherwise cutesy ensemble.
There are a wide variety of colors and prints to choose from, including animal prints and plaids, making it a functional option for all seasons and all occasions. Pair this with your cutest pair of boots, and you're ready to go!
24. Rolled-up Sleeves
When we're getting the kids dressed and ready for school, we can't forget that they want to look stylish, too. They don't have time to wear a boring, basic top. They need options!
The Rolled-Up Sleeves top is reminiscent of a school uniform, with more color and personality that will make your Sim's kids want to wear it. The sweater over a button-down top is a classic, and it's here to stay.
23. Go Baby Pants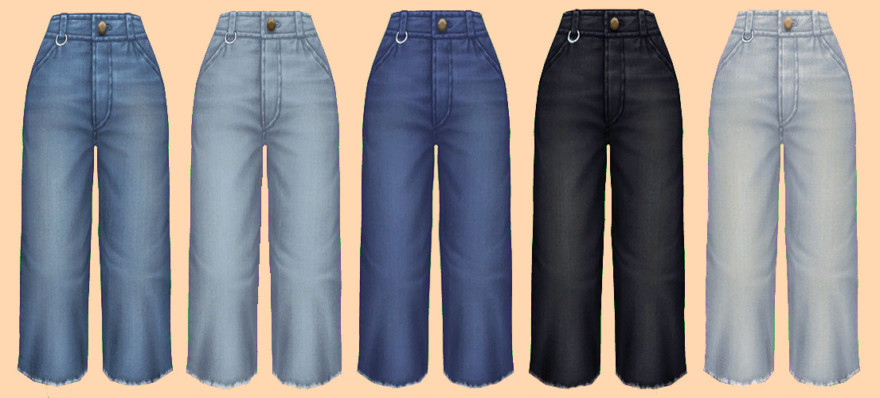 Boring, basic jeans will never be an issue you have to struggle with again. Each set of jeans in the Go Baby set is unique, featuring different washes, patterns, and accessories to create a unique look every time you use them.
A personal favorite of these is the black pair with moons and stars on them. I could easily see myself pairing that with a black turtleneck sweater and feel like my Sim could conquer the world.
But, if that's not your style, you could use the butterfly print for a softer look, or even the black jeans with chains for an edgy, alternative style. The choice is yours!
22. E-boy Collection

Our alt boys need some love, too. Luckily enough, here is an entire collection dedicated to making sure their style is up to par with their fashion standards.
Not only does this collection come with options for crop tops they can wear, but it completes the entire look with earrings and socks, making this your go-to place to find everything they need to look their best as an E-Boy.
21. Color Pop Set

Nothing gets me happier than seeing an outfit that's already been assembled for my Sim. I swear, most of my time playing this game gets wasted away by hours and hours of me trying to figure out what goes best with what. Sets like these make my life 10x easier.
The Color Pop Set comes with vest and sweater outfits centered around vintage-inspired fashion with a girly feel. Bright colors, adorable jean skirts, and clunky buttons make this the perfect outfit for nerdy Sims, students, and everyone in between.
The bright colors and detailed textures make them irresistible- I almost want to wear these myself.
20. Aurora Dress
Next time you find yourself with an invitation for the whole family to go to a formal event, try dressing your young girls up using the Aurora Dress!
It's age-appropriate for children of all ages and provides them with the style and function they need to match the occasion while factoring in the fact that they're definitely going to wander off and play at some point.
This dress comes with 10 colors to choose from, has an adorable Peter Pan collar, and makes your child look as cute as a button when they show up to their next family gathering.
19. Chonk Sneakers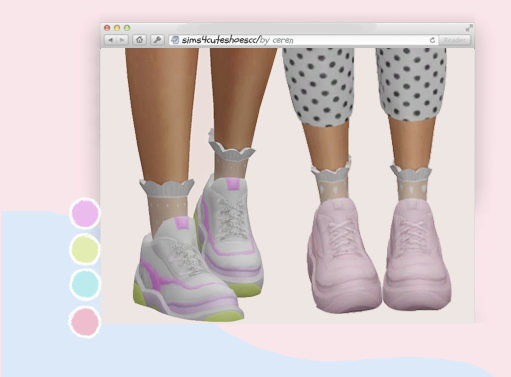 Every great outfit needs a great pair of shoes to match. How else are you going to go out into the world and show off your Sims great sense of style?
Wearing these Chonk Sneakers is a great way to add a pop of color to what your Sim already has on. Not only is the color subtle enough to pair with various color palettes, but the chunky style keeps them up to date with the latest trends in footwear.
Casual, put together, doesn't matter, the Chonk Sneakers can be used all the time!
18. Kai Turtleneck

Keep your boys warm with a super soft, super cozy turtleneck when the weather gets a little too chilly than they'd like.
Your man doesn't have to sacrifice style when he has to head outside on the coldest days of fall, and he doesn't have to look like a marshmallow, either.
Sometimes an oversized sweater paired with a comfortable pair of basic jeans does the trick just fine!
This isn't your grandpa's turtleneck, either. It's a modern style suitable for all of the young adults in your household to enjoy, complete with 9 color options to choose from with a mostly muted color palette and a yellow version if you're feeling playful and fun.
17. Toni Top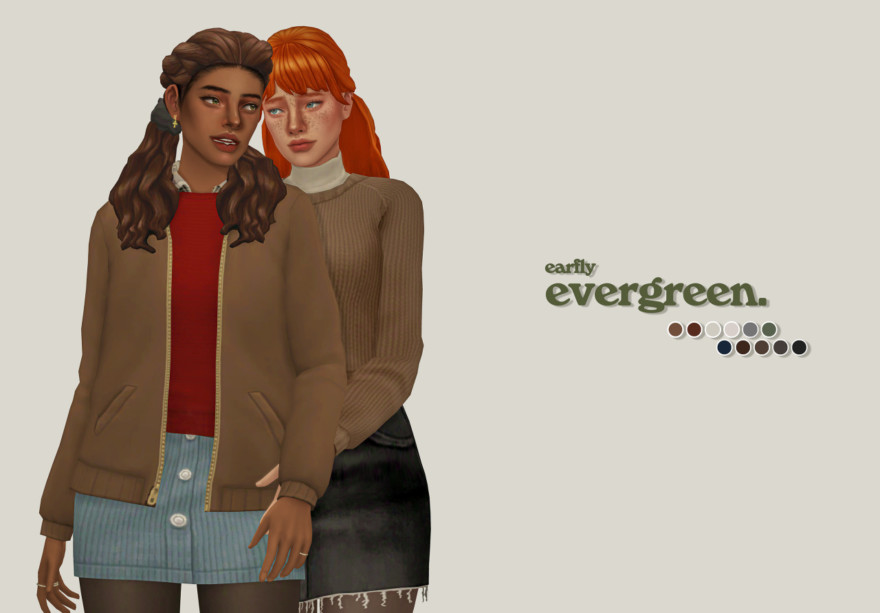 The Toni Top, part of the Evergreen Collection, is a sweater that screams fall. Maybe it's just me, but fall is one of my favorite seasons to dress for.
The Earth tones, the comfy clothes, and the fact that I can layer as much as I want to make me want to brew a cup of tea and snuggle up on a couch- it doesn't get much better than that.
These are the exact things that Toni Top screams at me when I see it.
Pairing one of these neutral top options with a pair of mom jeans and some warm boots is what I consider to be the perfect outfit for taking a walk and enjoying the weather before my Sims town is covered in snow.
16. Kristen Dress

Your Sims dress for that big party they just got invited to don't have to be extravagant. As they say, less is more. With the Kristen Dress, that couldn't be more true.
While it's rather simple, with one all-over color on the entire dress and plain thin straps at the top, the wrap-around asymmetrical design makes it worth talking about.
Adding a dainty necklace and your favorite shoes will have your Sim looking their best, whether they wear this dress to a gathering with friends or a first date they want to make a good impression on.
15. Transparent Floral Top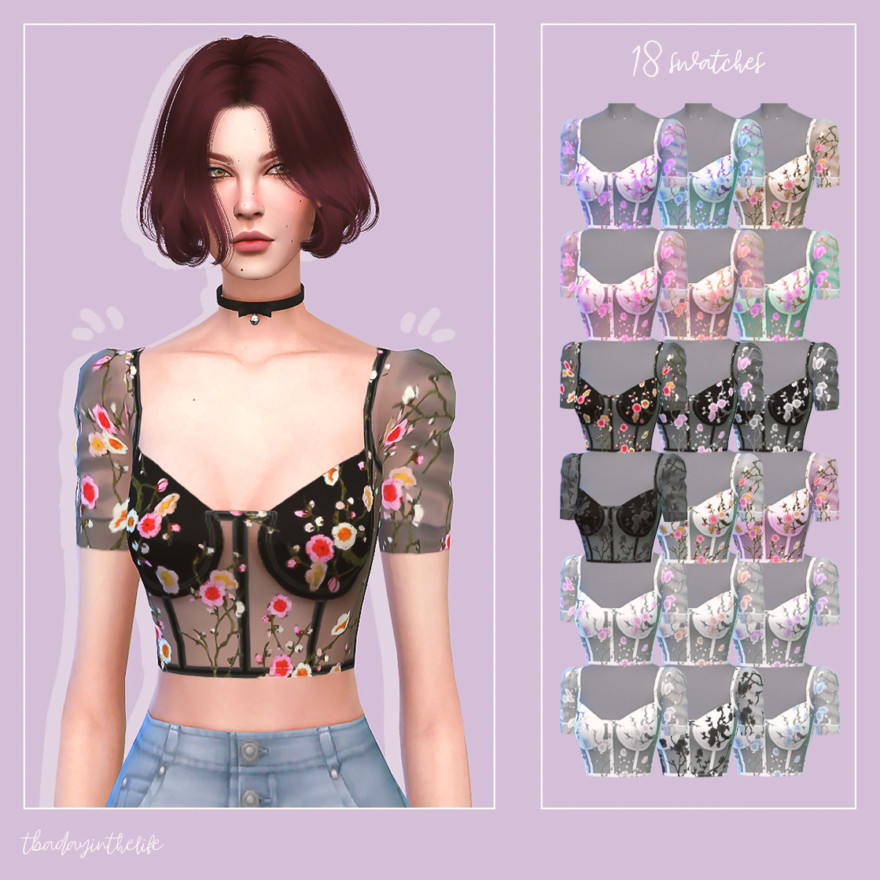 I don't know why these transparent, peasant-style tops are as popular as they are at the moment, but all I do know is I'm obsessed with these.
They're the perfect combination of soft and rebellious, making them versatile, no matter what style you've decided matches your Sim's personality. Better yet? They pair equally as well with pants and skirts, to dress up or down depending on where you're planning on wearing it to.
Your color options range from a subtle lavender purple all the way to an all-over black style and make any spring or summer outfits you design around the Transparent Floral Top look like they took your Sim hours to get ready when in reality, the shirt did all the work.
14. Kiro Duffle Coat

Does your Sim need an updated winter coat to keep them warm in the most brutal months? For an outerwear option that can be used time and time again, the Kiro Duffle Coat is the best choice, by far.
A little more sophisticated side as far as jackets go, it not only provides your Sim with style they need to look their best when they face the snow, but it comes with length, ensuring that every part of them is as warm as possible.
You don't have to worry about them freezing while building a snowman in the yard with their kids, the Kiro Duffle Coat has got your Sim covered.
13. Overall Skirts

Did you love the jumpsuit option above but wish there was something girlier to fit the aesthetic that you've created for your Sim?
An overall skirt provides the same youthful vibes that the jumpsuit gives while dressing them up ever so slightly in preparation for whatever their day brings them.
Choose between textured, plain, and even paint-splattered overalls for those artsy Sims who find themselves in the middle of creating their next masterpiece.
Paired with a pair of thin-framed glasses and canvas shoes, your Sim will be the one others can help but stare at when they go out on the town.
12. Strawberry Dress
The internet went nuts over the strawberry dress. The strawberry dress embodied everything we wanted to be, a cute girl living in a cottage in the forest, baking pies, and reading novels, unbothered by the chaos going on around them in the outside world.
Something about the color palette of pinks and reds and a print that's good enough to eat is a recipe for a fashion-design success and can now be your Sims new favorite dress to wear when she wants to quit her day job and collect frogs.
11. Christmas Pack

Finally, a set of Christmas clothes for the whole family that doesn't look like it's straight out of a cheesy Hallmark movie.
Clumsy Alienn's Christmas Pack is functional, features clothes for young boys and girls, as well as for mom and dad, with fun pop culture tees, sweaters that have a flannel tied around the collar, and more!
Your Sims family doesn't have to be that family that wears matching reindeer tee shirts when they go to Christmas dinner, they can look like themselves and feel comfortable while they do so.
10. Cheetah Love
Y2K is an acceptable style for your Sim to wear all the time. This tank top can be worn by itself or layered with a baby tee as shown in the thumbnail and is sure to have your Sim thrown back in time to when they wore these kinds of tops when they were in middle school. The times have changed, but this style sure didn't.
Cheetah Love comes with options to have a heart on the front if you'd like and additionally has 18 swatches so you can feel like it's 2002 again.
Add some iconic rhinestone accessories to your Sims look, and you're sure to fall in love with what you've created.
9. Our Last Winter

Our Last Winter comes with some puffy winter jackets that are absolutely to die for. Zipped open so the whole world can see the final result, the jacket comes paired with a cropped top underneath for an additional component to your Sims outerwear for fall.
Additionally, Our Last Winter comes with jean options! While you're searching for what's going to keep your Sim warm outside, you'll be able to snag what's going to cover their bottom half too.
Works equally as well on young adults as older Sims, so everyone in the household can have a chance at wearing such a great jacket.
8. Virgo Jeans

Who knew there were so many options for denim! There are denim jeans, skirts, shorts, skinny jeans, straight-legged jeans- who has the time to find and download everything that's out there?
Thanks to Virgo Jeans, everything you could hope for denim bottoms is all neatly organized and compiled into one place for your convenience.
And don't worry, these don't all come in the same color, either. There are so many to choose from, with 21 color options and distressed versus not, you're certain to never have to go searching for jeans again.
7. Little Sims on the Prarie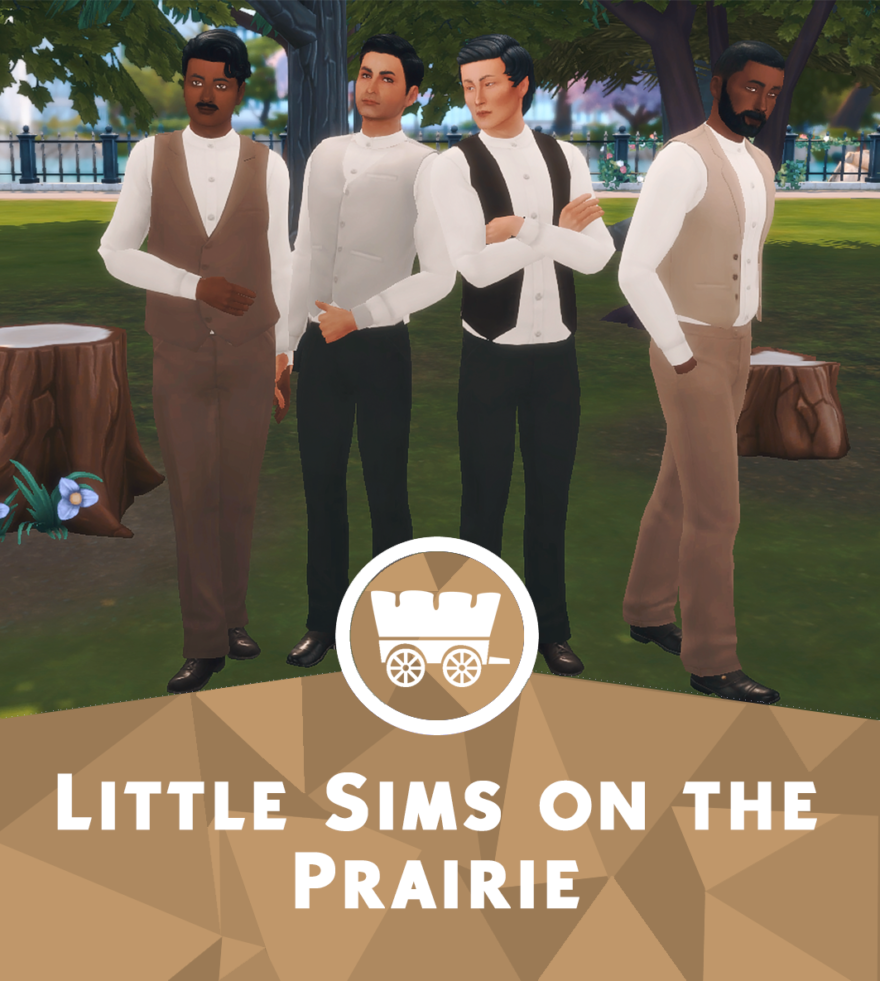 When the world was raving about cottagecore and its love for the aesthetic, I couldn't help but notice there weren't that many options for men to get in on the fun.
Who's to say that the concept of gardening, making bread from scratch, and mushroom-inspired decor isn't appealing to those who find themselves being more masculine?
When I saw the Little Sims on the Prarie package, my mind immediately thought of all things cottagecore, off the grid, and quaint.
The muted color palette chosen for the items in the collection are similar to what we see for females, and the clothing cuts and styles reminiscent of something we haven't seen in quite some time (we're talking a couple of hundred years ago!) are all on-brand for the style that everyone's been obsessing over.
6. Milkshake Top

A quick and easy, casual top for your everyday shirt needs, the Milkshake Top delivers it's 70's inspired style with bright, fun prints and small details on the sleeves and neckline for a shirt you'll want to get your use out of.
Who can say no to warm Earth tones, vibrant flower designs, and bold stripes that make you want to add a conversation pit to your Sims home?
Whether you're a fan of designs that pay homage to decades from the past or you're a huge fan of That 70's Show, the Milkshake Top is here to help your Sim serve looks.
5. Color Block Sweater

For those days where your Sim can be found doing the laundry and straightening up the house, they need to be as comfortable as possible while they're doing tedious tasks.
The Color Block Sweater is just what your Sim needs to look their best while they're kept busy being a responsible adult. It's bound to happen at some point. Why not have an outfit for it?
4. Castle Dress

Is your Sim about to get married? Are you worried that they won't look like a princess straight out of a fairytale when they tie the not? If these have been concerns for you, then you might find just what you're looking for in the Castle Dress!
This dress is straight out of a dream, with its sleek design and flirty sweetheart neckline, they won't be able to say no when choosing the most elegant, extravagant dress.
Your Sims not getting married, you say? For any formal event where you want them to steal the show, this beautiful gown is sure not to disappoint.
3. Miko Overalls
Toddlers need outfits that are going to allow them to explore the world and play until they tire themselves out.
Overalls are objectively the best choice, and when there's an adorable set of overalls versus something plain and boring, it's gotta be used as much as possible.
Your toddlers will have endless amounts of fun in their comfy overalls because they deserve the best.
2. T-shirt Dress

Perfect for going to bed, having a relaxing day spent inside, or when it's too hot for pants, T-Shirt Dresses have been the popular choice to wear for a while now.
Messy buns, ponytails, hair worn down, it really doesn't matter how you style a T-Shirt dress because there's no wrong way to do it!
1. Female Autumn Collection

The Female Autumn Collection is everything you need to get your Sim ready for the leaves changing. Complete with staple fall colors like oranges and greens, sweaters, pants, and even a bonus hat, this collection is irresistible for everyone who loves fall fashion.
You might also be interested in: