Korea and its culture fascinate all of us with its uniqueness and very own way of living.
You cannot mistake Korea for any other Asian culture because it has a unique self-contained path that we all find more than impressive.
In The Sims 4, you cannot find a lot of Korean items.
That's why we present to you this made with a pure love list of the best Korean CC for The Sims 4.
Best Sims 4 Korean CC
20. K-pop Exo the War Album Tee

Is your wardrobe ready for The War, EXO's highly-beloved fourth studio album?
You can show your support with this stylish K-POP EXO The War Album Tee.
Featuring the album artwork on the front and a small EXO logo on the back, this t-shirt is perfect for any Sims-playing fan of the world-famous K-pop group.
There's something about band tees that just screams "cool."
Maybe it's the fact that they rep a musician or artist that you love, or maybe it's the fact that they often come in cutting-edge styles.
And let's be honest: they always look great with a pair of ripped jeans.
19. Korean Designer Abode

This Sims 4 Korean CC is a luxurious home inspired by traditional Korean architecture and is full of beautiful plants and natural light.
It's the ideal place to relax and entertain guests in style and unreal comfort.
With its opulent details and stunning design, the Korean Designer Abode is sure to take your Sims' homes to the next level of luxury.
We would love to live in this oasis full of well-kept plants and natural light.
Download the mod today so your Sims can start living their best lives!
18. Shine Forever Glasses

These Shine Forever Glasses will make your Sims look like Korean streetwear superstars!
When it comes to expressing your Sims' personal style, there's nothing more important than accessories.
The right mix of jewelry, hats, glasses, and other adornments can take a simple outfit from boring to eye-catching.
In the world of streetwear, where individualism is prized, accessories are a must.
They're super trendy and chic, and they'll definitely up your style game. Shine Forever Glasses come in 15 different tint shades to suit any outfit or time of day.
17. Fandom Masks

Introducing the Fandom Masks mod for The Sims 4!
There is one group of people who see face masks as a fashion statement.
These people are often young and trend-setting, and they view face masks as an opportunity to express their individual styles.
This small piece of cloth adds a new opportunity to customize your Sims' looks.
This awesome Korean mod lets players give their Sims face masks decorated with the logos of your favorite k-pop bands, including BTS, EXO, BLACKPINK, and SHINee.
Whether you're a diehard fan or just looking to add a little bit of k-pop flavor to your Sims' lives, this mod is a must-have!
16. Korean Faux Leather Skinny Pants

These Korean Faux Leather Skinny Pants are tight and shiny; they will definitely turn heads when your flashiest Sims wear them out of the house.
These unique pants are super trendy in South Korea right now.
They're made from a synthetic material that mimics the look and feel of leather, but without the heavy price tag, but your Sims don't need to be concerned with that.
They're also surprisingly versatile: they can be dressed up or down, depending on the occasion.
15. Liner CC11

This makeup CC is the perfect choice for creating K-pop-inspired looks.
The Liner CC11 includes one style of eyeliner that comes in five colors: black, brown, grey, navy, and red.
The way that the eyeliner is designed varies greatly from the base game eyeliners, as the Liner CC11 is not drawn upwards but outward to highlight Asian eye shapes.
This makeup CC pairs well with base game and other mod makeup and can seamlessly blend in with eyeshadow.
When creating your K-pop idol, the right makeup makes a huge difference!
14. K-pop Idol Makeup

This is another makeup CC that is necessary for those who want to create a K-pop star. This K-pop Idol Makeup CC includes eyeshadow, blush, and lip gloss, each with four colorways.
The colors consist of reds, pinks, and oranges, which highlights your Sims' natural beauty.
K-pop idols don't overdo makeup nearly as often as American pop stars, as they strive for the most natural looks possible.
This makeup CC pack is perfect for any Sim, really, but when creating your idol, this is the CC pack to have.
13. K-pop Girl Group Dance Poses

All K-pop idols are expected to meet incredibly high standards when it comes to their performances, especially with their synchronized dance routines.
The K-pop Girl Group Dance Poses CC is Poseplayer compatible and features 15 poses.
Each of the poses are in reference to popular K-pop idol groups and their music, including IOI, Oh My Girl, and many more.
It can be fun to create photoshoot moments with all of your Sims with these poses, making it easier to show off their outfits and overall aesthetic.
12. Kick It Hair

Can't forget the male Sims when it comes to K-pop idol creation! The Kick It Hair CC features a signature slicked-back hairstyle for male Sims.
The hair's detail is fine, showing many hair strands for thorough detail.
The slicked-back nature, however, does not leave all of your Sim's forehead exposed, as one thick strand perfectly frames your Sim's face.
This CC is hat compatible and is available in 35 colors. Most of the colors are natural shades of brown, black, grey, and blonde, but there is also a nice range of pastels and a bright red option.
11. Anna

This long hairstyle is quite common among Korean popstars. The Anna hair CC provides your female Sims with luscious, wavy locks that also come in 14 colors.
The colors include ranges of blonde, brown and black, with pink, red, and blue available as well.
This hair is clearly thoughtfully designed, as the strands are easily identifiable, and the coloring is even and realistic.
Pair this hair CC with the many K-pop makeup and outfit CC to create your perfect K-pop idol!
10. Traditional Korean Male Outfit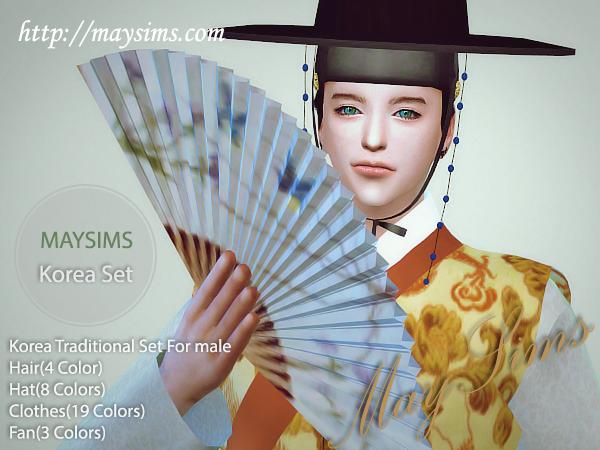 This set has a lot to offer for all the Korean CC enthusiasts. Here you will find clothes, hair, a traditional round hat, and even a fan.
The men's hanbok has a different look, but they complement women's very well.
In this set, the hanbok has nineteen different recolors: a decent variety for a whole sims world to dress like that if you want to.
As for the hat and other accessories, they will just blow your mind with its simple beauty and incredible flowery designs.
9. BTS Canvas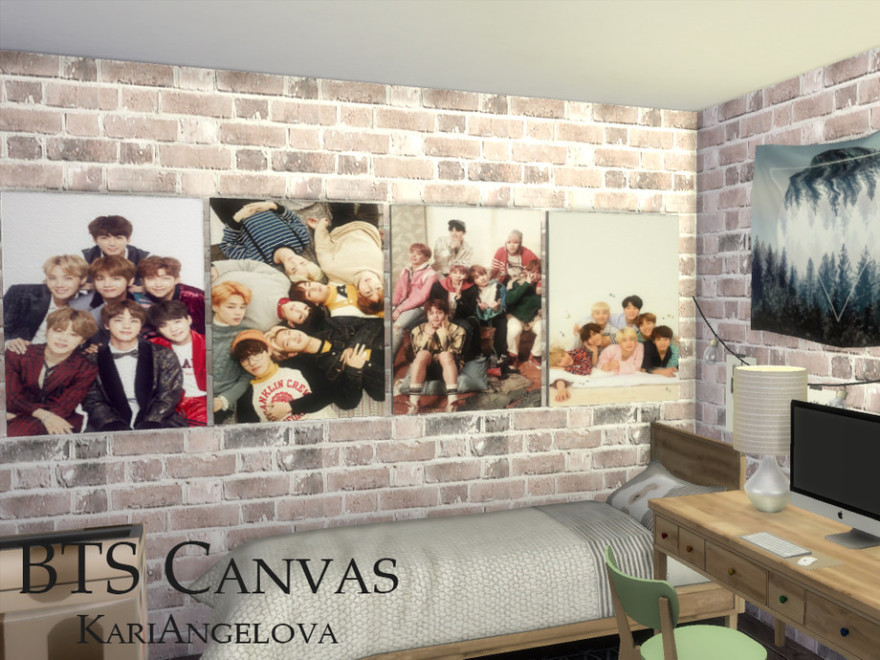 Korean pop music, or K-pop,is a wild trend right now. Even if you don't like this kind of music, we sure you have already heard about BTS. They are massive and for a good reason.
So what about adding some BTS canvas into your sims' bedrooms? Sounds amazing? Great!
Here we have a set for you that consists of four variations of the BTS posters. High-quality picturesare an exciting addition to your sims' rooms.
8. Asian Eyelid
Not adding the Asian eyelid to The Sims 4 base game is a huge missed opportunity made by the devs team.
We all want diversity and representation of all the races in The Sims 4, so until devs will fix it, you can use this awesome Asian Eyelid mod, created by Joy Kim.
The eyelids are considered to be face details and come in forty different swatches with many undertones and nuances.
This is a great thing that makes your Korean and other Asian sims look a lot more like real Asian people and a great addition for even more realism in The Sims 4.
7. Korean Food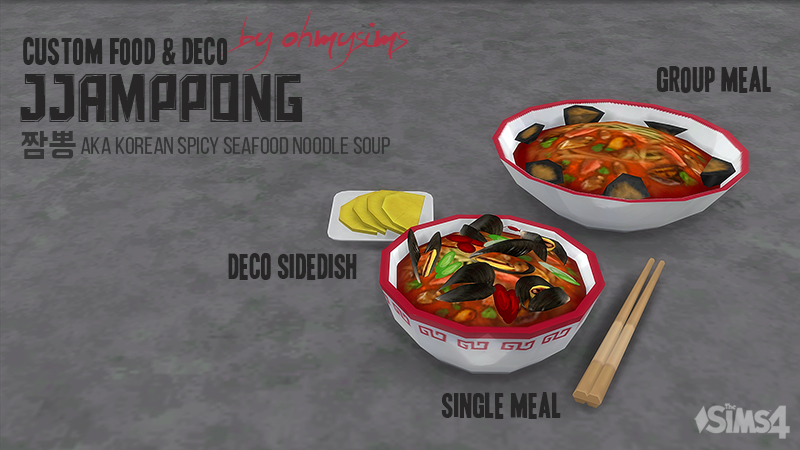 Oh, we love adding new foods for our sims in the game! And what can be better for your gameplay than adding different food from all around the world? This one is for Korea!
This little collection we've gathered for you includes Jjamppong, Jjajangmyeon, Cup Ramen, and Instant Ramen. There's a lot to taste, so let's go!
Jjamppong is a traditional savory soup with different seafood and noodles.
It is spicy, so your sim should be brave to taste it. You can also use this dish in your restaurants if you have the Dine Out pack.
Jjajangmyeon is Korean stir-fried black bean noodles. A lot of people who tasted it said that it is delicious! And now your sims can grab a bite from this fantastic dish.
Cup Ramen and Instant Ramen is just something that everybody in the world associates with Asian cultures.
Yes, we are sure that every sim will love these ramens in your world. But do not get too much because it might be spicy!
6. House Hanbok

Beautiful outfit for male sims that need something to just put on while they are in the safe of their homes.
This hanbok is not as fancy as one we've shown you previously, but it doesn't have to be that.
It is just a simple dressing gown your male sims can wear at home or to bed as pajamas. They are still very cute, though.
5. Saebae Pose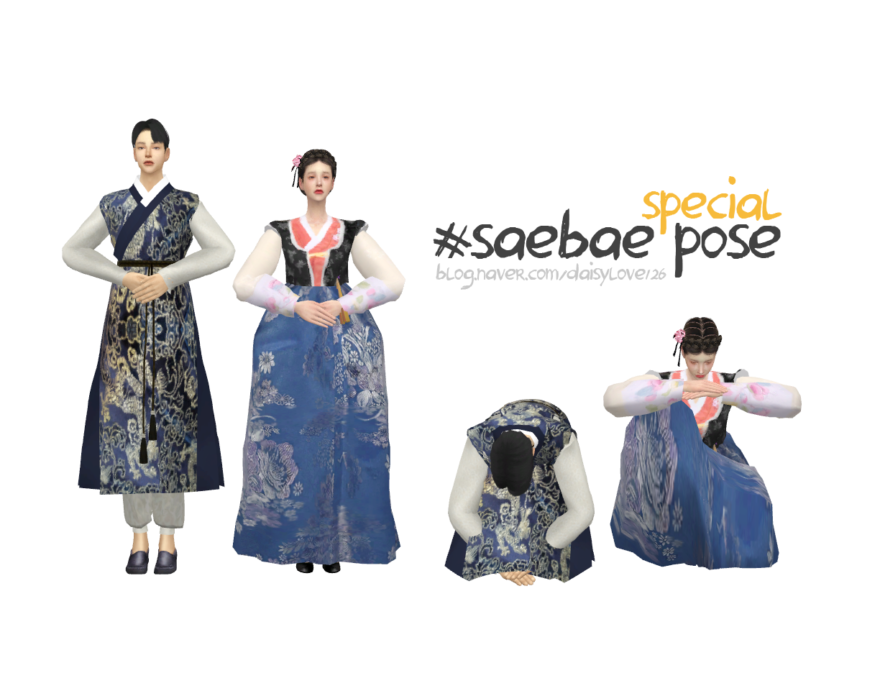 This pose is a traditional way of greeting in Korea. You can add this pose to your game for CAS or have it in-game.
This mod is a very good way to expand your Korean part of The Sims 4. This is a very nice touch for all the simmers who love Korea.
You will need Andrew's pose player for these poses to work.
4. Seoul Apartments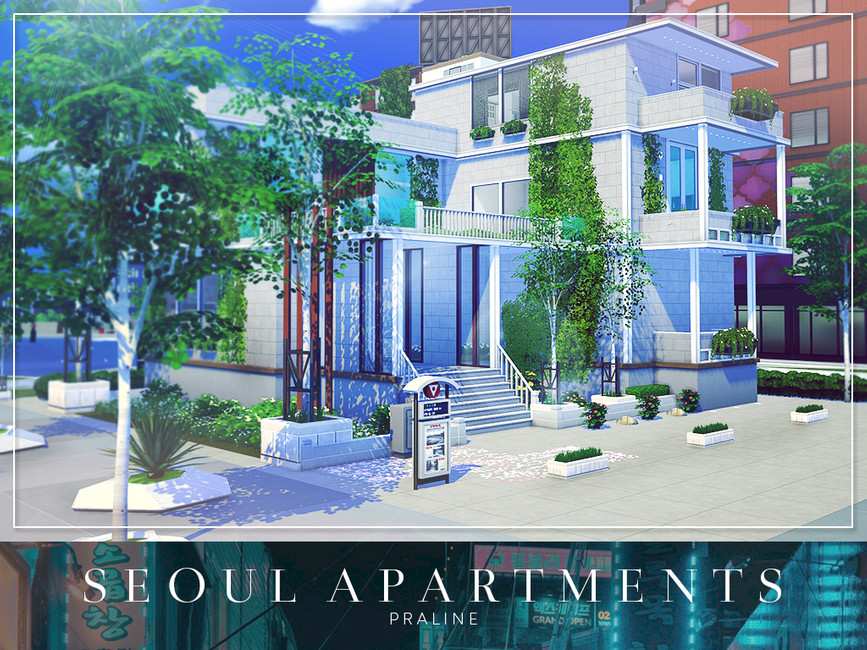 Fabulous apartments with modern Korean design that is fully furnished and ready for your sims to move in!
The talented Pralinesims created something extraordinary and very much inspired by a fast flow of Korea's capital.
It is a stylish house, but it has some traditional elements, and it feels very Asian and very authentic to Korean culture.
No doubt that it is a very modern home, but we do believe you will love this gorgeous house in your Sims 4 cities.
3. Korean Hanbok Set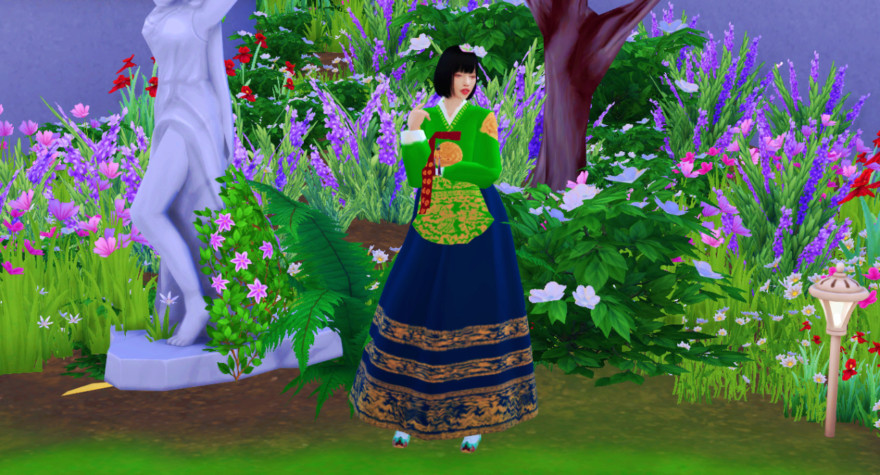 Hanbok is the traditional clothing in Korea. You can see some parallels with Chinese and Japanese traditional outfits, but oh boy, how different they are!
These gorgeous clothes are an authentic representation of the Korean way of life, and you must have them if you play with Korean sims.
The set includes Dangui in fourteen vibrant swatches, a stunning headwear with a flower on it, and traditional flower shoes.
This set has a very authentic feel, so we highly recommend you to try it in your game.
2. K-pop Star Mod

It's time to become a legend! A legend of the K-Pop scene in The Sims 4. Kawaiistacie presents a mod that will walk you from nobody to the next Korean pop superstar.
There's so much stuff in this mod for you to explore: go to the auditions, speak to fans, find sponsors and make merch for your fanbase.
But avoid scandals, or you may never become a K-pop star!
The mod requires Get Together, City Living, and Get Famous packs to work.
1. Korean Snacks and Soju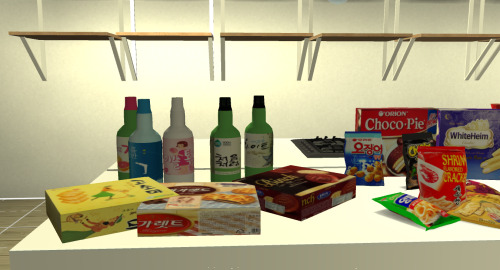 This set offers you many Korean snacks and drinks that can, unfortunately, be used only as a decoration in your game.
However, you will find them very authentic, and this set will help with your gameplay if you love playing in the Korean drama style.
Here you will find some sweet cookies, Choco pies, various drinks, and Oreos, etc.
This set can be used with the Get to Work's retail system: you can open your own Korean convenience store and make a lot of simoleons out of it.
All we can say is Kaching!
You might also be interested in the following: