Everyone needs a furry companion by their side, even your Sims. Of course, after your Sim adopts their new best friend, they're going to need all of the best custom content with it so they can give their pets the luxurious life they deserve.
Best Sims 4 Pet CC

Your dog deserves the best of the best, and that's why you need to pick up a Navy Shirt for Large Dogs! Who said that dogs couldn't rock a stylish, on-trend shirt?
This Sims 4 pet CC lets your furry friend strut their stuff in any of four different trendy and comfy patterns.
Choose from a boat pattern, an anchor pattern, or two other friendly options. Let your dog show off their unique style with a Navy Shirt for Large Dogs!
You simply must get one of these fantastic tops for your Sims' canine companion!
39. Cat Dress

Calling all cat lovers! If you're looking for the perfect outfit for your pets in the Sims, look no further than this frilly feline dress.
This cat dress features a classic silhouette that is topped off with layers of ruffles; this dress is sure to turn heads.
If you're going for funny or fancy, it's the perfect outfit to let your Sims' cat shine.
And with its three different colors and playful vibe, your pet will feel like a true star as they strut around the house.
So what are you waiting for? Get ready to pounce on this fabulous frock and start dressing up your kitty in style!
After all, pets truly are members of the family, and they deserve nothing less than the best.
38. Akita Panda Dog

The Akita Panda Dog is an amazing pet to add to your collection of Sims 4 pet mods.
With its fluffy, shaggy white fur and jet-black markings, this animal is the perfect combination of cute and majestic.
In addition, the Akita Panda Dog has a calm, friendly temperament, making it easy to train and great for families with young children, we assume.
The Akita Panda Dog is unlike anything else in Sims 4: Cats and Dogs. This adorable mod is worth a try if you're looking for a cute, gentle giant.
37. Dog Hoodie

We are absolutely obsessed with this hoodie that you can get for your dogs. There's no better way to turn heads than with a dog decked out in super chic attire.
This amazing accessory is not only super stylish, but it also comes in a variety of different swirly patterns.
It doesn't matter if you want your Sim's precious pooch to be a showstopper with a pink-black hoodie or a cool guy with some fun yellow hues; there's no doubt that this innovative new piece is perfect for any dog-loving gamer.
Let's face it, even in real life, animals in people's clothes are the best.
36. Gary the Snail Cat Costume

A ton of Sims 4 players out there have been fans of Spongebob even longer than they've been fans of The Sims.
When we saw this new mod that makes your Sims' cats look just like Gary the snail from Spongebob, we knew that we had to try it out!
This mod was clearly developed with a lot of love. Your simcat can totally rule with those big eyes, well-defined shell, and iconic patterns.
Watch this aquatic feline explore his surroundings for hours of entertainment. Truly, this mod adds some of the best laughs to the Sims 4 gaming experience.
35. Angelic Set for Dogs

As any Sims player knows, the world of The Sims is a fascinating place filled with all kinds of strange and wonderful creatures.
From giant robot creations to mermaids who can swim through the depths of the ocean, there is no limit to the creative possibilities in this virtual world.
The Angelic Set mod, which gives dogs tiny halos and sketched wings that make them look like little angels straight from heaven, feels right at home, among other popular pet stuff.
This mod is sure to bring a touch of magic into your Sims' daily routines as they live with their fluffy little angels.
34. Darth Meowder Hat

Get it? Meowder?
Finally, we have some pet CC that adds a Darth Vader helmet for cats! How did it take so long?
At first glance, it might seem like a strange choice – after all, what would cats need with the dark lord's iconic helmet? – but there are actually some very good reasons why this mod is so amazing.
Firstly, wearing the Darth Vader helmet has numerous effects on your feline companion.
Not only will it give them a menacing new look, but if their coat is black, it will also reflect the sinister nature of the infamous Sith lord.
Having a Darth Vader-themed Sims kitty is just plain cool!
33. Apollo

Does your Sims 4 family dream of having a loyal, oversized, and totally lovable dog at their side? Look no further!
With this awesome new addition, you can bring home and care for an affectionate and friendly Saint Bernard named Apollo.
This massive pooch is sure to steal your Sim's heart with his big brown eyes and gentle demeanor, adding an extra level of fun to the gameplay.
Whether your Sim is running errands around town or lounging at home recovering from a hard day in the office, Apollo is sure to be by their side, cheering them on every step of the way.
32. Thundercats Cape

If you're a big fan of the classic cartoon series Thundercats, then you know how cool that epic emblem was!
Now, in The Sims 4, you can treat your cats to their very own authentic-looking Thundercats cape.
This one-of-a-kind accessory perfectly captures the distinctive silhouette from the show.
Your kitties will look absolutely amazing, swishing and frolicking around in this fabulous new piece of pet CC.
31. Butterfly Antennae

These swirly and whimsical butterfly antennae will really let your imagination run wild as you design the most fabulous customized cats for your Sims families!
Turn even the most ordinary kitties into celestial creatures with these elegant accessories – just attach a pair to those cute little heads, and watch them flutter gracefully through the air.
So if you love designing truly unique pets in The Sims 4, don't wait another minute – start stocking up on unique custom content!
30. Rainbow Cat Skin

This amazing mod allows you to customize the appearance of your cat by replacing its default fur with a bright rainbow gradient.
When it comes to choosing clothes for your digital pet, the only limit is your imagination!
Transforms your Sims' average house cats into magical creatures worthy of any fairy tale.
With its iridescent purple, blue, and green fur shimmering in the sunlight, this is truly a dream come true for any cat lover like your Sims 4 families.
29. Mecha Wings for Large Dogs

We are obsessed with styling our Sims' dogs.
There are so many cool accessories to choose from, but nothing compares to the rainbow tech wings for large dog models.
With their shimmering rainbow hues, these mesmerizing wings perfectly embody all of the elements of fantasy that we love.
Imagine your Sims running around with this furry friend, soaring through the skies together like true winged warriors.
Your dogs will ooze style as they strut around the family home. The only downside is the fact that these wings aren't actually functional, pretend-play only.
28. Sparkle Zebra Cat Collars

Cats are the ultimate symbol of luxury and class.
With their sleek, always-groomed fur and regal demeanor, these feline companions always put on a good show for anyone who's lucky enough to catch a glimpse.
So why not take your Sim cats' style to the next level with a special pet CC that gives them sparkling zebra-pattern collars?
With these one-of-a-kind collars in place, your kitties will truly look rich!
Whether they're lounging around in their luxurious cat beds or strutting around the neighborhood in search of their next meal, your kitties will be sure to cause a commotion wherever they go.
27. Cat Skull Sweater
This edgy cat sweater is the pinnacle of feline fashion!
This brilliant little creation gives your cats a wickedly cool sweater with a badass skull pattern that perfectly complements their elegantly fierce feline attitude.
Whether you're looking to create some furry punk rockers or simply want to adorn your proudest cat with some rad threads, this mod is sure to satisfy all your desires.
Get your paws on it today!
26. Three-tailed Cats

Furry felines come in all shapes and sizes, and they can be customized in a variety of ways to suit your style.
But what if we told you that there was a Sims 4 pet CC out there that would let you have three-tailed cats?
With this mod, your Sims will be able to own cats with three tails.
Whatever their origin may be, one thing is clear: three-tailed cats are truly magical beings that hold a special place in our hearts.
Perhaps it was only a matter of time before such wondrous creatures are brought into the real world.
25. Control Your Pets

Many players weren't too thrilled when the Pets DLC pack for Sims 4 was released and soon realized that they couldn't control their pets!
Thankfully, the Control Your Pets mod fixes this! While not exactly CC, this mod allows you to have more say as to what your pets do.
Now, you will be able to maintain your pets a bit easier. A happy pet is a happy home!
24. Three-legged Pets

While a lot of what the Sims 4 offers is realistic enough, there are still details that would increase representation, including with pets.
The Three-Legged Pets CC is a cosmetic mod that allows you to alter your pet's physical appearance by "deleting" one of its hind legs. This does not impact any animations, though!
This mod is strictly for adult cats and dogs but is one that allows players to create a more realistic representation of their real-life pets!
23. Pets Eye Modification

Not all pets in the real world have perfect eyesight, and this mod helps players recreate more realistic pets that are missing an eye or are completely blind.
The Pets Eye Modification allows players to modify their pets' faces by "deleting" one or both eyes.
This mod is restricted to adult and elder cats and dogs only but is one that allows players who have or had pets with a similar condition to have some representation.
However, your pet cannot wear a hat at the same time as this mod, but they can wear other accessories!
22. Pets Center

Most pet lovers love to have places to take their precious pets, and the Pets Center CC makes this a more inclusive possibility!
The Pets Center adds three new buildings to your Sims 4 game, including a Pets Clinic, Café, and a park.
Each building is incredibly decorated and detailed, with pet-related items and themes throughout each building.
The entire CC pack is sleek and modern in design, with plenty of items designated for pet use. This is one CC pack worth downloading so your Sim can enjoy traveling more with their pet!
21. Canned & Dry Food for Cats and Dogs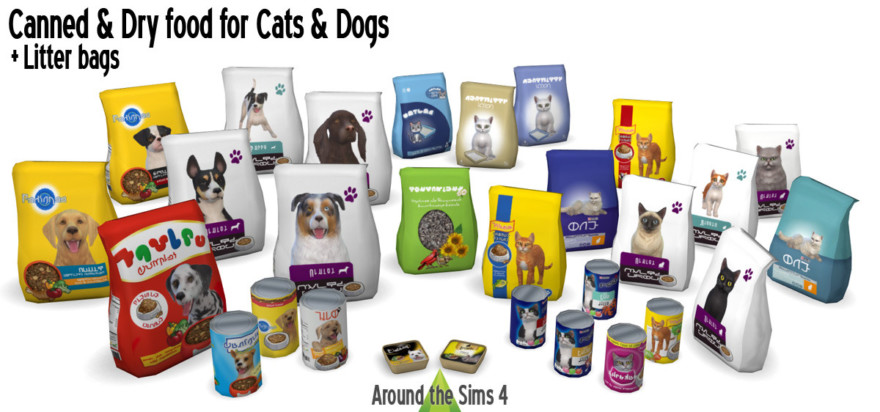 It goes without being said- having a stockpile of food is a great idea when it comes to the basics of taking care of your pets.
With the Canned & Dry Food for Cats and Dogs, you'll be sure to have everything you need to ensure that your pets are always well-fed and comfortable with all of the brands that they love the most.
Try adding it to your veterinary clinic for your patients to take a look at when they come in for a check-up, or even as some extra clutter around the house. The best part? This collection even comes with bags of litter for our feline friends.
20. Sturdy Birdie Bird Cage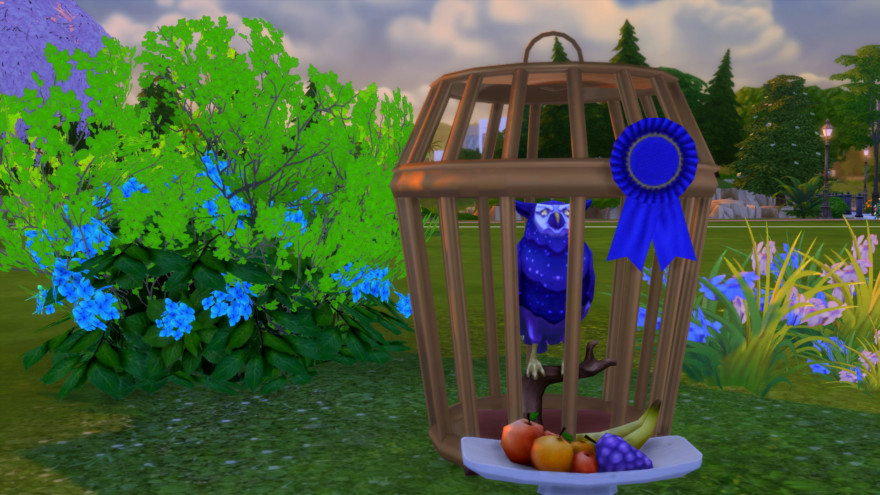 Birds don't get nearly as much love as they deserve. They're low maintenance, beautiful to look at, and your Sims can wake up every morning to their birds singing to them.
How could it get better than that? Of course, if you think that this might be the perfect pet for your Sims' household, you're going to need the best cage you can get.
Introducing the Sturdy Birdie Bird Cage! A simple yet aesthetically-pleasing design makes for a birdcage that will fit in just about any room you decide to put your bird in.
Birds of a feather will be comfortable and well-cared for with their new home.
19. Macaws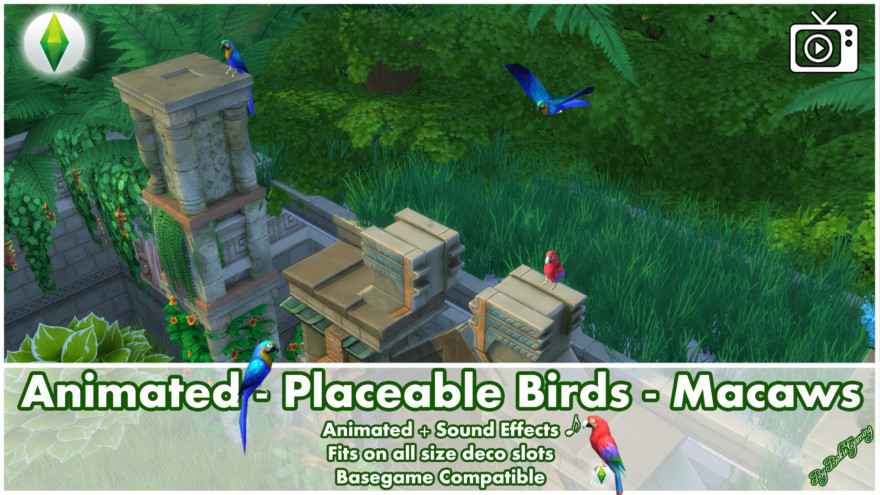 You may have seen the custom content above and thought to yourself, wait a minute. The Sims 4 doesn't have birds. That was The Sims 3! But you already know the answer here. That's where custom content comes in yet again to save the day.
Macaws are beautiful, brightly-colored birds that are sure to bring life into your Sims home.
These birds created by Bakie are fully-animated and feature sound effects so you can bring the jungle back home with you and make every day feel like an exciting adventure. Now that birdcage you just downloaded will be put to good use!
18. Functional Chicken Coop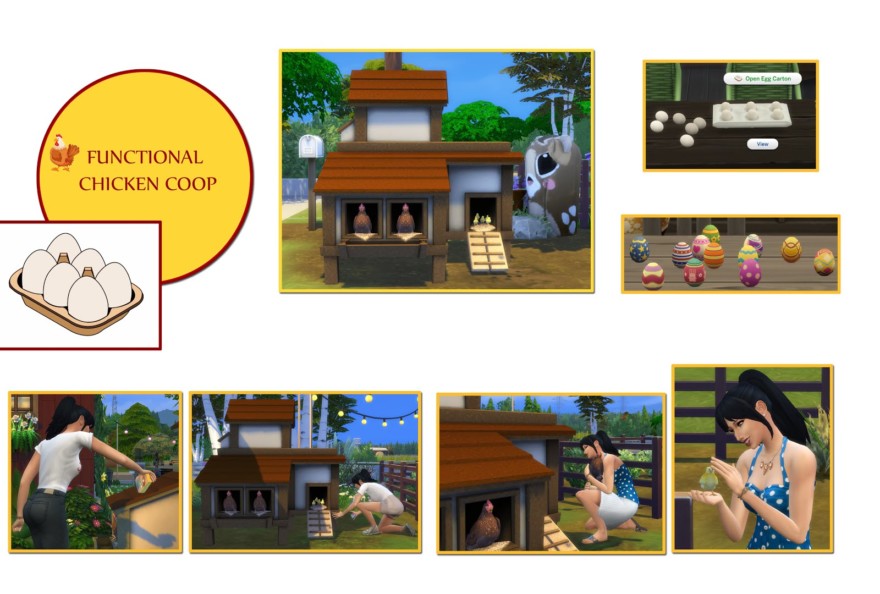 Pets don't have to be conventional. That's just a suggestion. Maybe you'd like to make a farm for your Sims to work and live on, or even as simple as thinking that chickens are one of the greatest animals around.
Either way, you're going to need a functional chicken coop to make your Sims dreams a reality.
With this coop, it gets better than simply having an extra decoration in your backyard. You can feed your chickens, collect their eggs, and even cook dishes using the eggs you've collected with the help of some handy mods that have been created for the Sims 4.
What could make this chicken coop even better? You have the chance to collect a golden egg from your chickens, acquire fun Easter eggs, and interact with your chickens to your heart's content. But watch out, though!
If you're not careful with your farm animals, you run the risk of spreading disease.
17. Nature's Kitty Litter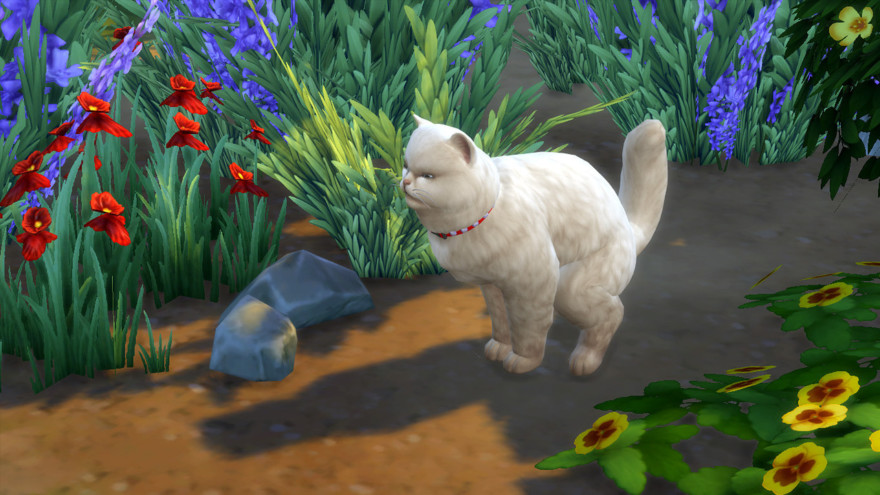 Sometimes, when a cats gotta go, a cats gotta go. It's only natural, and if your cat is busy exploring the outside world, they may not have time to take a break and run inside to take care of their business.
Creatively disguised as stones hidden around the world, Nature's Kitty Litter is a discreet way for strays, outdoor, and all cats in between to use the restroom at their leisure and have nature take care of the mess for them, so you're not left behind with a bunch of pee puddles around the garden.
16. Bandanas for Small Dogs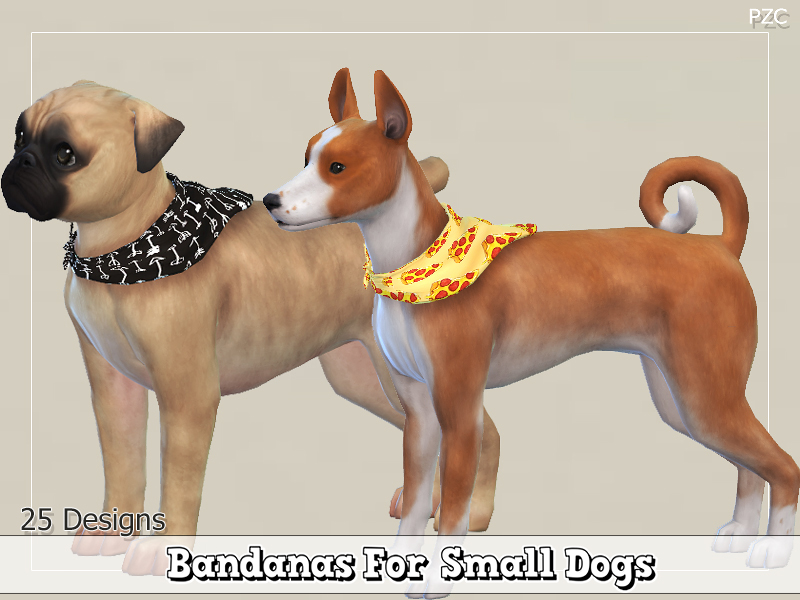 Your Sims' dogs deserve to get dressed up now and again. If you're looking for a fashionable yet functional way to accessorize your smaller dogs around the house, these bandanas may be just what you've been looking for.
Instead of going the more traditional route with a collar when your dog is chilling at home, bandanas offer a wide variety of colors and patterns to spice up their look without having to sacrifice your pet's comfort.
They come with a total of 25 different designs to choose from, with unique choices like bananas, sunny-side-up eggs, and Pikachu for all personalities and occasions!
15. Pet Bed Fruit Cocktail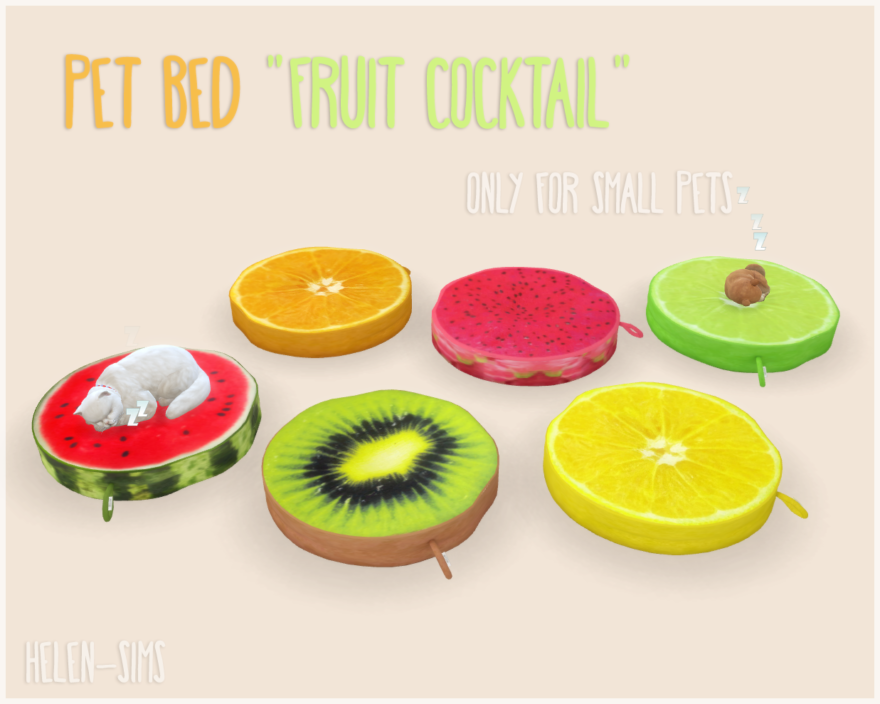 At the end of a long day of chasing their tails, playing with an endless array of squeak toys, and exploring the world around them, your pet is going to need a stylish and comfortable place for them to get some good quality rest.
With the Fruit Cocktail Pet Bed, not only will your small pets be able to curl up and relax, but you don't have to sacrifice the theme of your room to meet their needs.
You can choose from a bunch of different fruit designs with everything from kiwis to dragonfruits, and watch as it becomes your pet's new favorite place to go when they're ready to close their eyes.
Keep in mind when you're checking out this pet bed, though, this one will only be able to fit your small pets, so, unfortunately, your bigger dogs won't be able to get in on the fruity fun. Don't worry. We'll have some adorable options for them too!
14. Thick Crowns for Cats

Throughout history, cats have been associated with being regal and having high status.
Even though we may not put them on as much of a pedestal now as they used to be, cats are still one of the most loved pets across the world, I mean, who could resist those whickers and pointy ears?
And while the times have changed, cats' attitudes certainly have not, and they continue to act like royalty around the house.
It's only fitting that your Sims' cats would have an accessory that matched the way they think about themselves.
With a crown that was specifically designed for your Sims' cats, they're sure to look the part they play as they knock things over off the counter, acting like they own the place.
13. Teddy Bear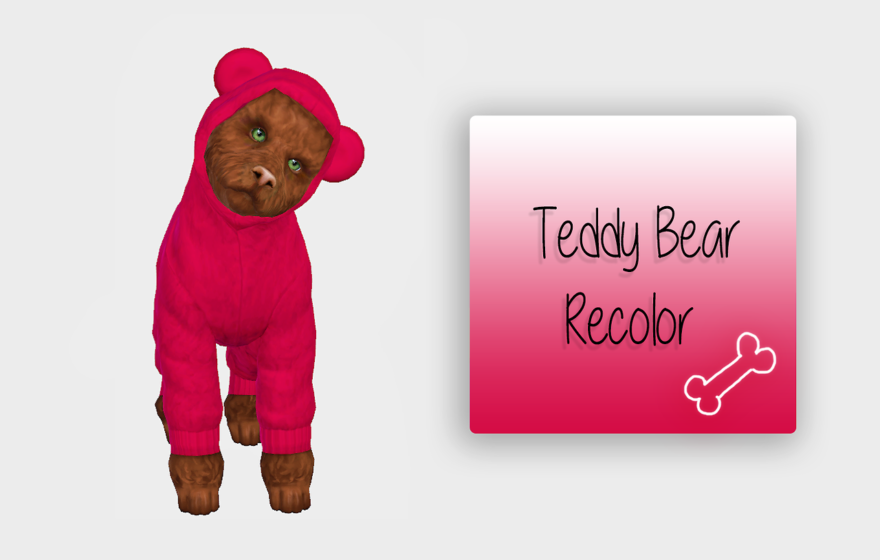 Your small dogs are already as cute as a button, but dressing them up in a little teddy bear outfit? It's a recipe for a cuteness overload!
Your tiny pooch is going to be kept warm and cozy in an onesie complete with a hood for the full teddy bear effect, and you won't be able to resist having a life-sized plushie running around your Sim's house all day long!
Not a big fan of the traditional brown teddy bear look? Have no fear. The teddy bear suit for your small dogs comes with 30 color swatches, so you can play around and find the best color for them to wear.
12. Halloween Package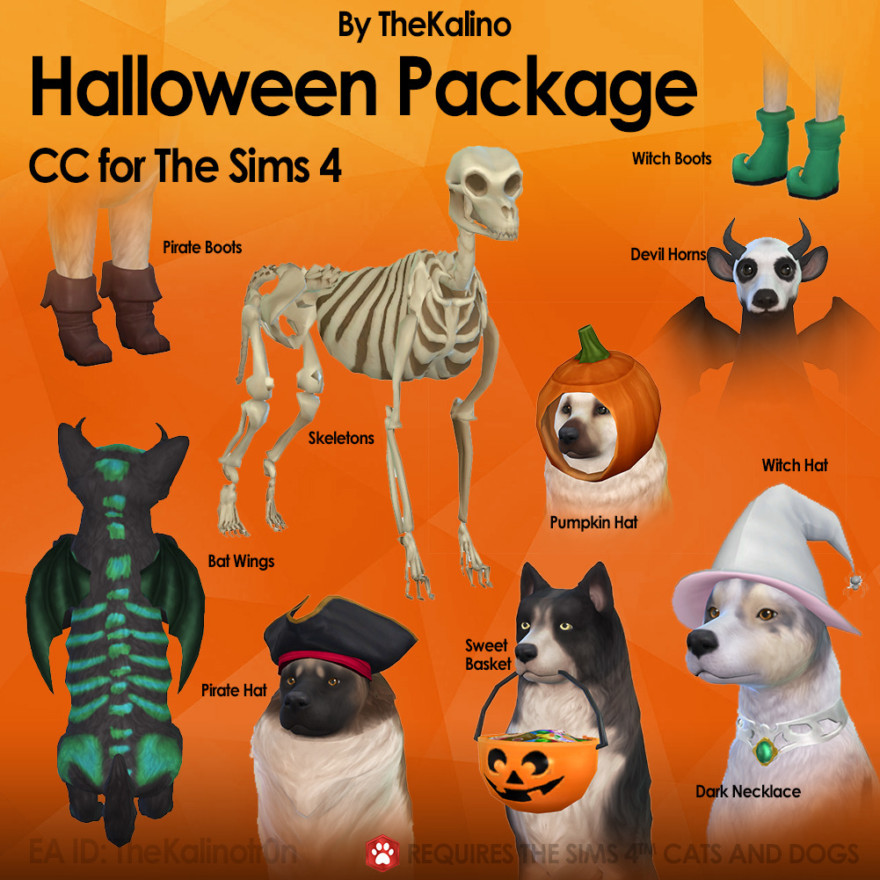 When the spooky season rolls around, dressing your pets up for the holiday is almost irresistible.
Costumes are arguably way more adorable when they're on a furry friend, and that's just a fact. When your Sim is getting ready to go trick-or-treating around the neighborhood, why not dress up the dog, too?
The Halloween Package by Kalino is your one-stop-shop for everything Halloween for your dogs, from pumpkin headpieces to a chilling skeleton costume.
You'll be sure to have everything you need to switch things up for multiple Halloweens to come.
You can even try to dress your Sim up to match their pets. That'll have them winning first place at the costume contest!
11. Twinbrook Tandem Pet House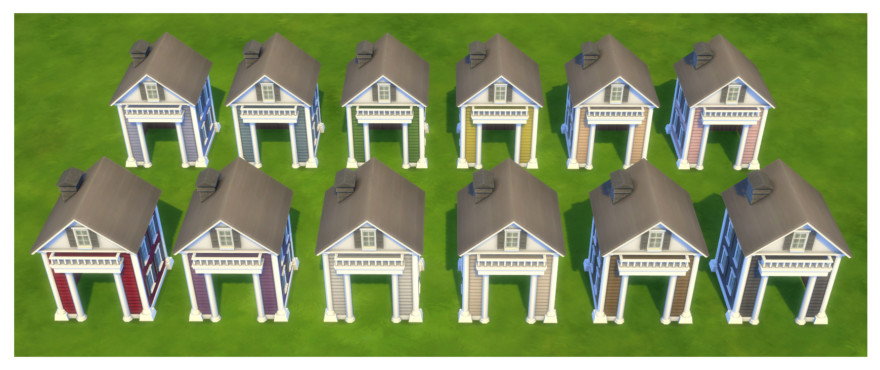 Regular pet houses serve their purpose, but let's admit it, they look bland and boring. Your pets deserve the best, I think we can all agree with that, and the Twinbrook Tandem Pet House is an option that won't have you settling for second best.
Treat your pets to a house of their own- this pet house is friendly for all four-legged friends and can house big dogs, small dogs, and even cats!
Complete with details such as wooded siding, a fenced-in balcony, and a window at the top, your pets are sure to make themselves at home when they return to their pet bed for a good night's sleep.
10. Striking Cat Eyes
Cats are already known for their beautiful eyes, whether they have a set of piercing blue eyes or each of them being a different color.
But what if we could change our Sims' cats' eyes to be whatever we wanted them to be? That's where the Striking Cat Eyes comes into play.
With this custom content option, you can have fun playing around and making all of your in-game cats as unique as possible. Want to give your cat purple eyes? Go ahead. Orange? Of course!
One eye light pink one eye baby blue? Try it out! You'll have endless fun discovering all of the possibilities these eyes can offer!
9. Wool Sweater for Dogs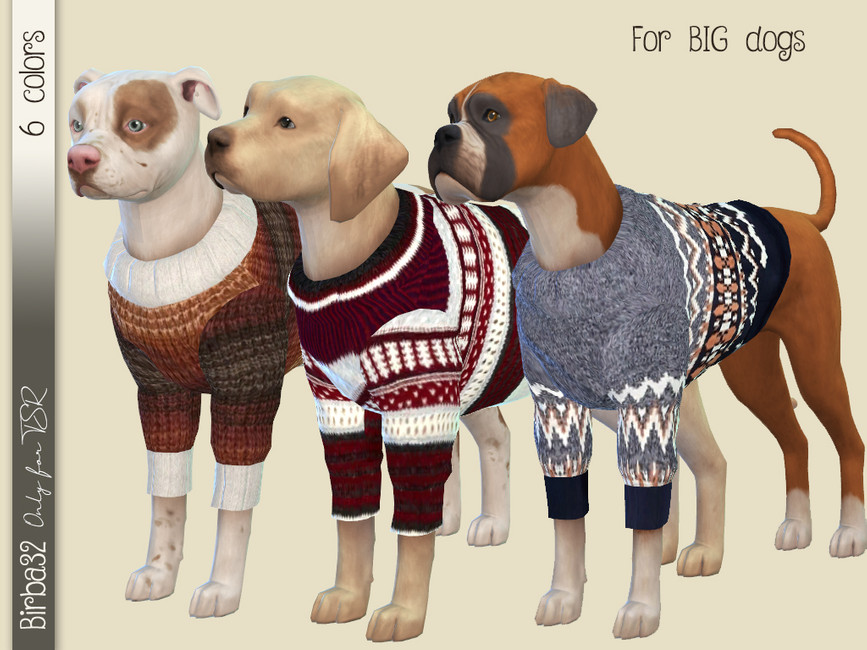 When the snow starts falling, your dogs need to be kept warm and cozy. They're still going to want to go on walks, and you're going to want to make sure that your dogs don't have to shiver while they're trying to enjoy their favorite outdoor activities.
What's the solution, you might ask? A wool sweater made just for them!
Available in 6 styles, your big dogs will be snuggled up as you dress them in argyle prints, plaids, and all things in between. Not to mention, they're so stylish, your Sim is going to want a matching sweater to get in on this fun.
8. Dragon Package

Have you ever found yourself wishing that you could have mythical creatures as pets in The Sims? Your wish has come true!
Your big dogs can be transformed into fire breathing dragons with the Dragon Package, complete with wings, claws, and dragon heads (ok, maybe they won't breathe fire, but you get the picture here).
Whether you want to create a medieval scene in your Sims games full of knights in shining armor or want to become a mother of dragons yourself, the Dragon Package is surely not to disappoint.
7. Globe Fish Tank

For the Sims that are too busy with their jobs and what life throws at them to get a pet but would still like something to take care of, a fish might be the right choice.
While, admittedly, there's not too much that you can do with a fish, it's a great opportunity to teach a child responsibility or liven up an otherwise dull and lifeless room.
Why settle for a boring, rectangular fish tank? The Globe Fish Tank is a great alternative for anyone looking for all the benefits having pet fish can offer while having a sophisticated, scholarly option to show off their marine habitat.
6. Service Dog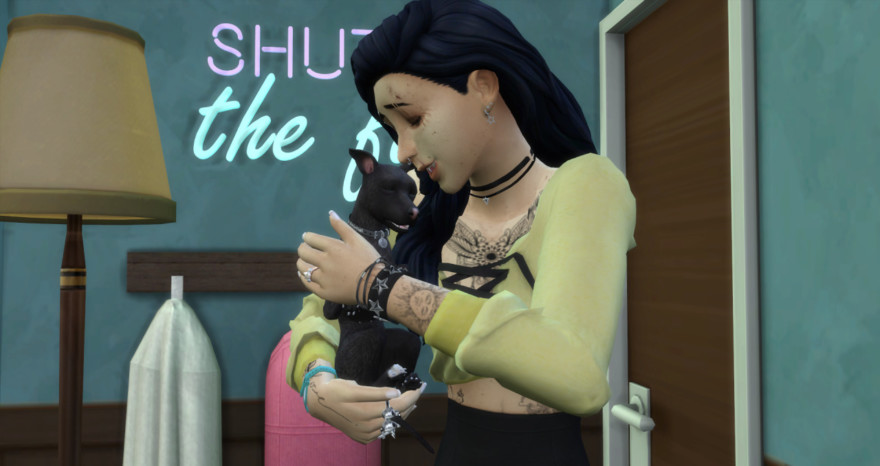 While most of us think of dogs as being your best friend, someone to play with and snuggle up with on the couch, others think of dogs a little bit differently.
They can be their aid in the daily challenges that they face, someone to rely on when they need help the most, and even be the thing that ends up saving that person's life.
We like to have everyone included, even people who need service dogs. For those Sims in your household who need a service dog's assistance, you can turn your everyday pets into a hero with this CAS trait!
5. Adoption Papers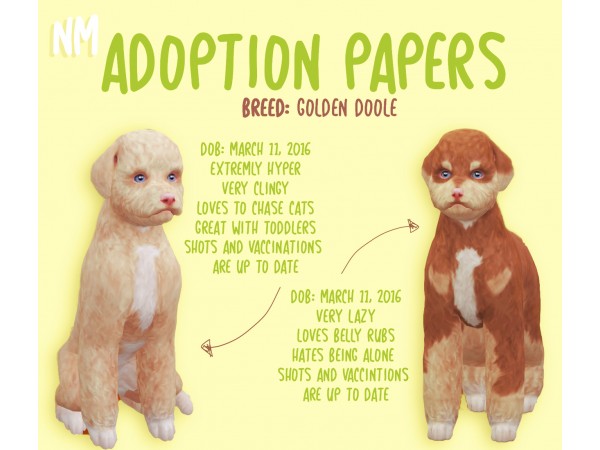 The Sims' goal is to make things as realistic as possible while getting to do whatever you want at the same time. We already established that you could adopt a dog in The Sims, but what about having the physical proof of adoption after the process is over?
With pet Adoption Papers, you can take a look at traits about the dog, such as whether they're good with children or not, and even get a breakdown of what breed the dog is.
A perfect way to make the process more official as you're welcoming your newest member of the family.
4. Pet House Small Set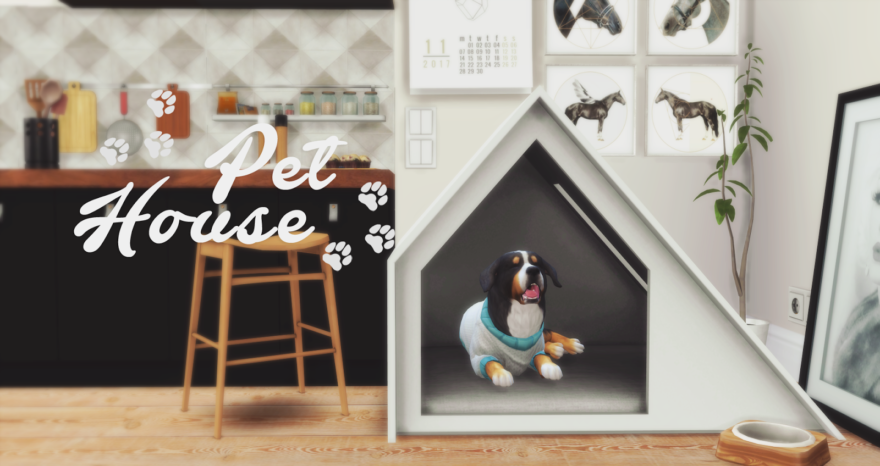 What if you could give your pets the perfect place to sleep in a while keeping them indoors? After all, the outside world can be scary- who knows what kind of animals might try to attack your pet at night?
With the Pet House set, you can give both your bigger and smaller animals a tiny house of their own to reside in, without having to kick them out in the cold when it's time for bed.
3. Muttropolitian Dog Set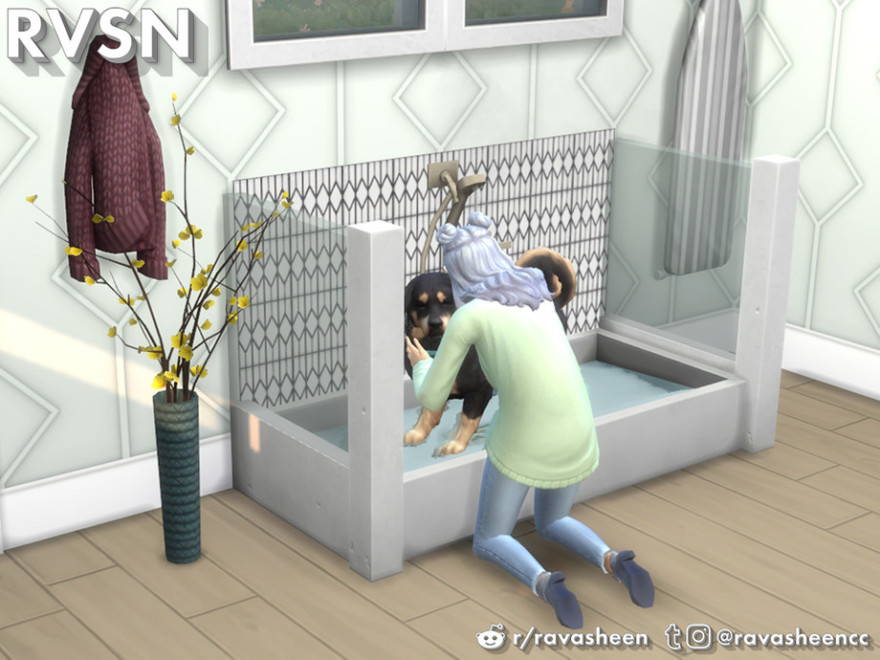 Everything that you could dream of for your dog all compiled into one nice, neat set.
The Muttropolitan Dog Set is an opportunity that Simmer dog owners can't pass up- obstacle courses, dog baths, and even modern food bowls all make this set complete.
Treat your dog to a day of relaxation and care, they deserve it.
2. Pigs
Pigs aren't always what people think of when they think about the "perfect pet," but these little guys are so adorable, you'll want to start designing your pig pen right away.
Pig noses are the best way to disguise your game-provided pets into barnyard friends, they may not oink, but they'll fill that pig-shaped hole in your heart!
1. Small Animal Package (PT. 2)

In The Sims, we already have a couple of small rodent pets to add to the family. They may not do much, but for children who don't know how to care for animals yet or lovers of all animals, they have a lot to offer. However, there's not a whole lot to choose from.
With the Small Animal Package, you can now use those cages dedicated to the animals that can fit in your Sims hands and allow new friends to live in there.
Choose from options like tortoises, geckoes, and mini pigs the next time you're looking for a new pet to bring home.
You might also be interested in: