Medieval times is one of the most asked historical periods to be recreated in The Sims 4.
We guess simmers just love playing with this era, and it will be very cool to turn you Forgotten Hollow or Sulani into the Medieval village.
But, until developers give us this expansion pack, we present you our top ten favorite medieval-style CC content we found on the web.
Best Medieval CC for Sims 4
13. Medieval Bakery

The Medieval Bakery CC collection provides all of the medieval décor items one could possibly need to open their bakery or renovate their Sim's cottage house!
This set includes 16 items, including a large fireplace oven made from stone and wood, display shelving, larges piles of hay and wood, and more.
Combining this CC pack with other décor items, such as baked goods and dining ware, your Sim can have the medieval kitchen or bakery of their dreams.
12. Small Kingdom in 3rd Period with No CC

Looking for a medieval castle that is impressive yet doesn't require multiple DLC and stuff packs? Well, then, this medical CC is for you!
This Small Kingdom in 3rd Period with No CC download is anything but small in size.
Each and every detail found within this building was painstakingly crafted to look like a classic medieval castle.
This build is complete with long rugs, stone walls, hundreds of sconces, and pieces of hardwood furniture.
Don't forget the multiple sets of armor displayed in the hallways! Your Sim can roam in leisure through the halls and the courtyard, feeling like royalty.
11. Medieval Dress for Girls

Medieval dresses for children are often a bit too simplistic to many, but these Medieval Dress for Girls CC provides a pop of texture and pattern.
This clothing CC comes in ten colors, some solid and some with patterns. The patterns include floral designs and other assorted patterns.
You can choose from brown, blue, white, grey, green, and even brighter colors, including purple and red.
The dress is long-sleeved and is floor-length, with a leather corset piece wrapping around the girl's torso.
10. Sims Medieval to Sims 4 Religious Outfit Conversion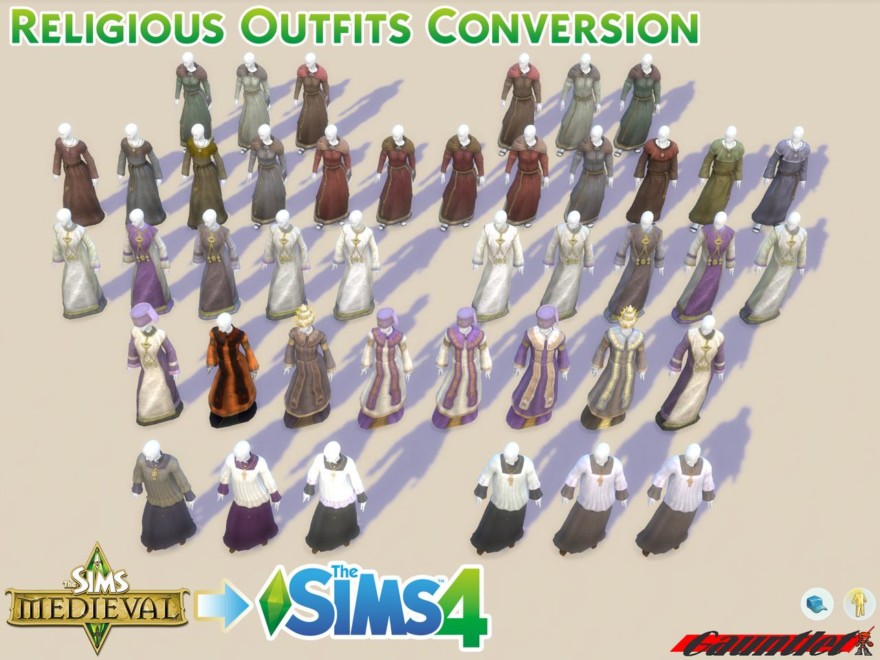 You cannot imagine medieval times without religion and worship. Though you cannot actually be religious in The Sims 4, you can add some things to your game to mimic this medieval life aspect.
That is why we present you with a beautiful conversion of the religious attire from the Sims Medieval to the Sims 4.
Create a brave Peteran priest or a noble Jacoban father and make them convert your sims into the true faith.
You will find a lot of outfits for female and male sims in the set: more than thirty different swatches!
9. Crowns, Helmets, and Hats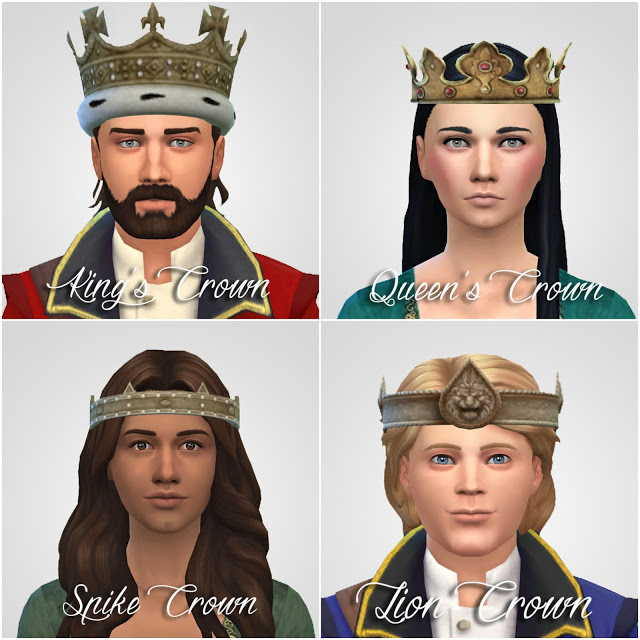 How can you distinguish the king from an ordinary peasant? Stylish clothes, elegant manners, or beautiful features? Of course not! The headwear is your answer!
We present you with an awesome set of different medieval hats, helmets, and crowns to make your brave knights, wise kings, and fair ladies look proper in noble society. Also, there is a decent number of variants for ordinary folk.
The set has various options for male sims (such as warrior helmets or king's crowns) and for female sims (veils, crowns, and headscarves) to wear.
8. Medieval Themed Careers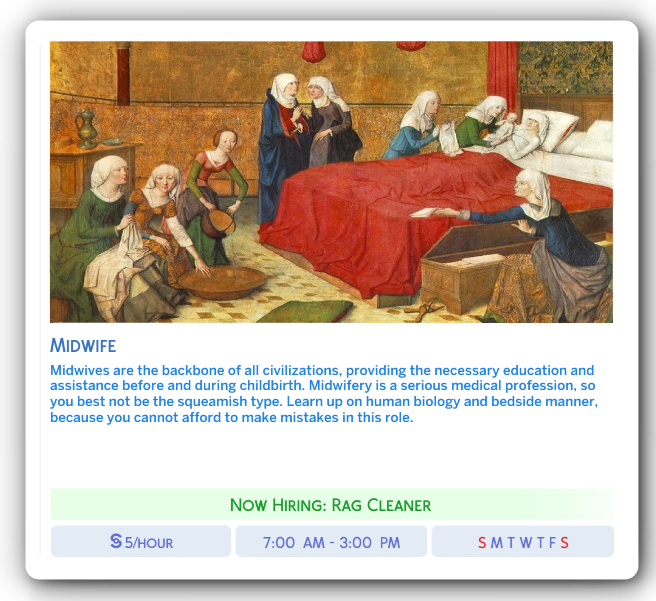 In Medieval times our ancestors did a lot of things that we don't do nowadays, but they sure were fun and can become an occupation for your sim today!
Get to work as a noble knight, his loyal page, a wise midwife, or a saint priest (the job has Peteran and Jacoban branches).
All these jobs have historical descriptions, so you will learn a lot of new and exciting information from those descriptions.
The careers are all rabbit holes, and work from home option is not available, but they sure bring a lot of Medieval feel into the game.
7. Animated Old Windmill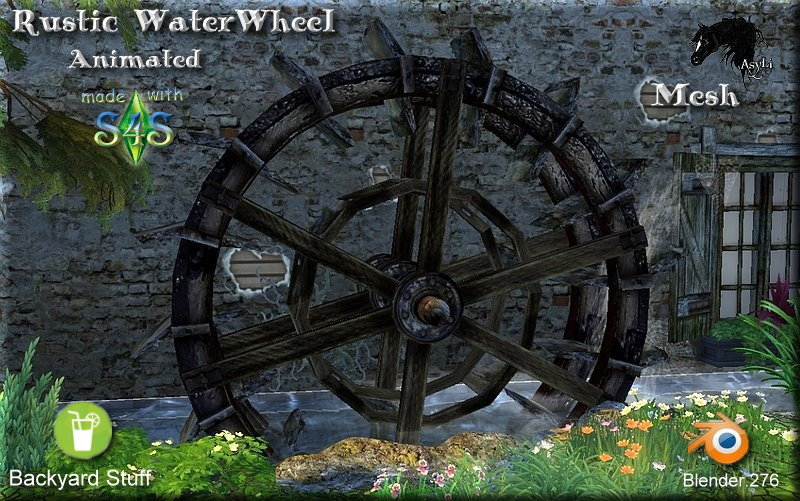 This CC looks insane! A full-sized windmill with an animated rustic water wheel is a dream come true for the historical simmers and simmers who want a farmer's pack.
As we said, the windmill and water wheel are animated and will be the perfect part of your little farm, if you play like a peasant, or wide lands, as a noble landlord.
And what about the awesome sounds of the windmill! Yes, this set is a true masterpiece.
6. 16th Century Gowns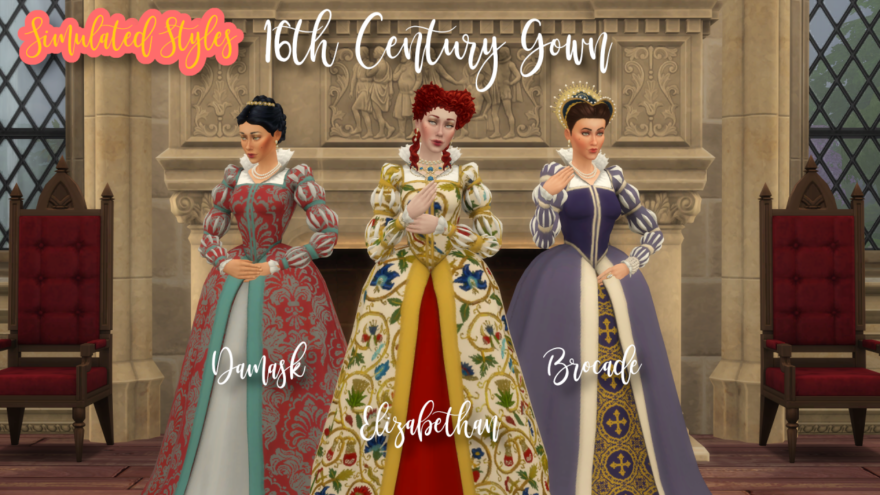 We have careers, we have hats, now let's have a gown! The set of gorgeous noble dresses for some stunning court ladies.
The set has three base game compatible gowns in three different styles: the red and turquoise damask one, the yellow and red Elizabethan one and, the violet and golden brocade dress.
All the dresses have beautiful detailing, and they are maxis match.
Surely, those dresses will look the best on the queen or her ladies in waiting, so you must immediately build a castle and create a medieval kingdom where ladies will be able to wear such gorgeous gowns.
5. A Royal Bundle

The royal clothes to fit the royal crowns! The set of astonishing attire for the noble of nobles, the best of the best family in the whole sims world.
In A Royal Bundle set, there is clothing for the queen, the king, and all little princesses and princes.
The clothes have green and red swatches to match the royal colors, and you also get another set of crowns with the Bundle! And that crowns are adapted for the head slider to look properly on regal heads.
4. Tsm Rustic Kitchen & Bath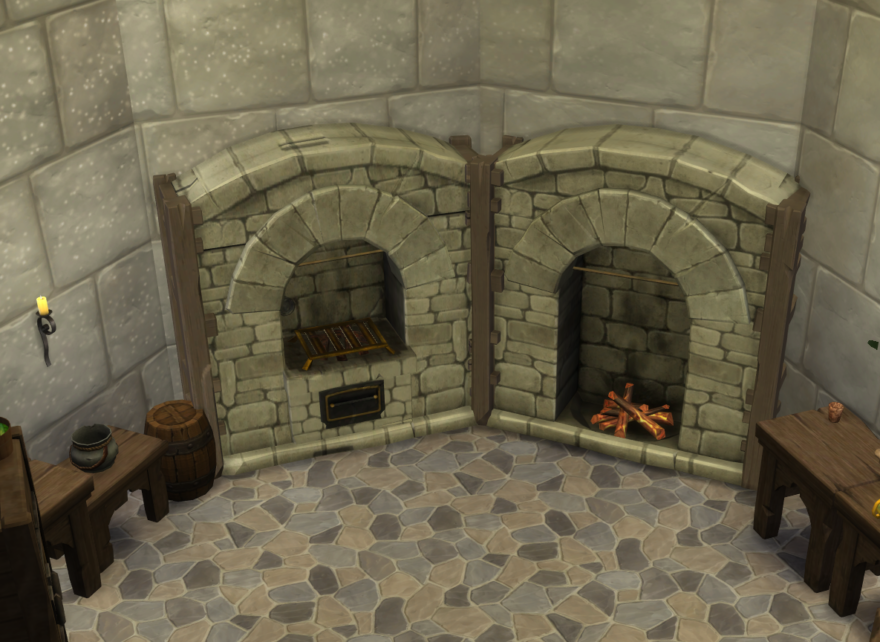 Let's take a bath and cook some porridge in Medieval style, shall we? Oh, but your sims cannot do it with these confusing new technologies and weird stuff on their kitchens. They are ordinary medieval folk, you know.
For this matter, our lovely CC creators made this amazing Rustic Kitchen and Bath set with a distinguished medieval style in their minds.
In this set, you will get simple wooden counters, a stone stove, interesting bar stools, etc. for the kitchen, and a wooden sink, toilet, and bath for your bathroom.
The set looks like it is handmade furniture and plumbing that have seen better times and has been used by many generations of sims.
3. Medieval Cookbook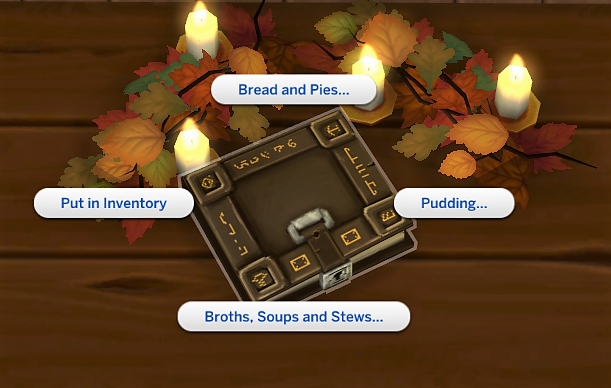 No more "sushi,""white cakes," or "lobster Thermidor" on my watch! Just a portion of real food for honest people of The Sims 4 Medieval world: gruel, stargazy eel pie, turnip soup, and carrot pudding. The true medieval delicacies!
With the new (ha!) Ye Olde Cookbook, your sims now can cook authentic food from the old days. Now you can dive into medieval life to the fullest with all the awesome and sometimes disturbing dishes.
2. Katvip's Library Set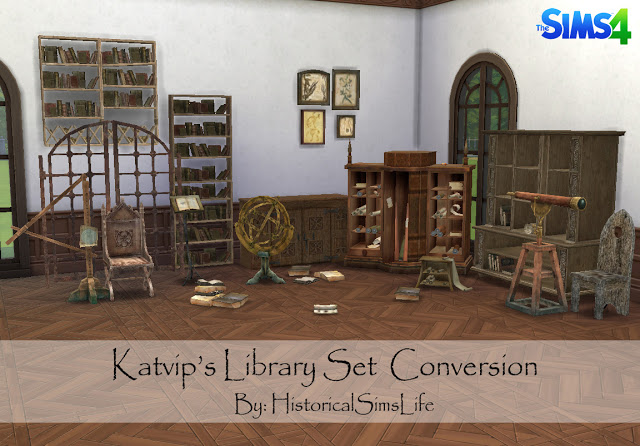 It is a huge set of various furniture for the only sims` medieval place of knowledge: library.
Since all your sims can write and read, you can help them gain some knowledge by visiting a town library or making their own with this set.
Oh, what amazing stuff waits here for you: golden astrolabe, a human-sized telescope that we all want in the game, gate, paintings, and, of course, bookshelves! Everything is made of wood and metal and looks very cool!
The set also includes chairs, tables, and many decorative objects, so you can make a decent room only using this special collection.
1. Sims 4 Miscellaneous Pack 2

All the great stuff is usually made before us. That's why in this massive stuff pack, the lovely creator converted a lot of medieval-themed things from previous Sims games for our joy.
Of course, you will find here our old friends from The Sims Medieval, Sims 2, and Sims 2 PSP: doors, fireplaces, benches, statues, tables, and fountains!
Everything to make your world look like an old medieval village.
You might also be interested in: